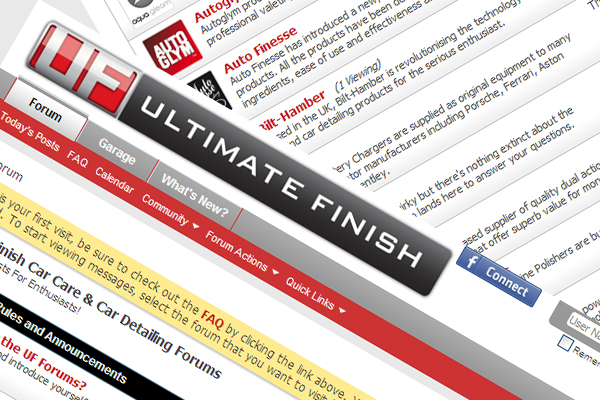 For some time now our customers have been asking us to build a forum to cater for the many topics and questions that car care and detailing enthusiasts would like to ask. We have been working long and hard to achieve this and we're pleased to announce that it's finally up and running!
The Ultimate Finish Car Care & Detailing Forum is a place for like-minded automotive enthusiasts to get together and ask questions, discuss techniques and offer opinions on all things related to car care and car detailing.
The forum has many features including:
The 'Garage' – where members can show off their beloved cars, whether it be a 'Restoration project', 'Daily Driver', 'Seriously Modified' or 'Concours Winner'
Sub-forums relating to all the individual Car Care and Car Detailing process's
Sub-forum covering all aspects of Machine Polishing
Product Suggestions – want Ultimate Finish to stock it? tell us and we'll do our best
Sections devoted to the other 'stuff' including Car Covers, Car battery chargers etc.
In addition many of the leading manufacturers are hosting their own section of the forum, so you can pose your product or technical questions directly to them: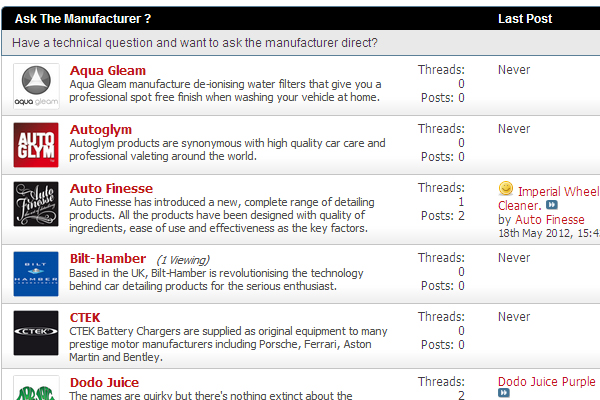 There's also a section where you can view the many cars that have been into the Ultimate Detailing Studio for all levels of service, from serious paint correction to new car protection.
To celebrate the launch, Ultimate Finish is giving away 4 Gift Certificates worth £50 each to the best forum posts up until the end of May. In addition there are 4 Gift Certificates worth £50 each to the most complete garage entries made before the end of May.
So don't delay, register now, it's free and you may be in with a chance to win £50 to spend online at the Ultimate Finish!