A Guide To CTEK Car Battery Chargers & Conditioners
Under the current circumstances, it has meant that for many of us, our daily driver has become somewhat dormant. For some this has even meant a loss of charge in your car battery, or potentially no charge at all. We here at UF have had more than our fair share of demand for info on suitable chargers to help those in need, not to mention queries about battery chargers in general.
There are certainly plenty of benefits to using a battery charger or conditioner and thanks to the CTEK range, it really isn't such the daunting prospect you might of once thought it was.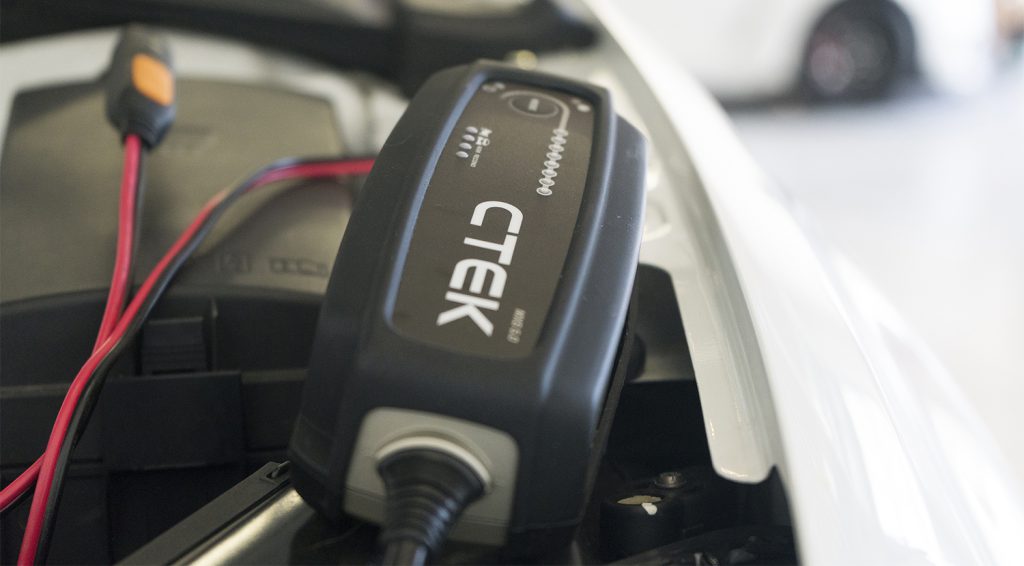 Goodbye Traditional Chargers
The disappointment of jumping in your car, then turning the key, only to hear 'CLICK' and nothing more, is hard to beat – for many, the prospect of having to recondition or replace the battery is also a somewhat complex and daunting one.
You hunt around for the right sized spanner, open up the bonnet on the car, roll up your sleeves and struggle with the nuts on the top of the battery. With some heaving out comes the battery, you lug it indoors, pop it on the kitchen work surface (which doesn't usually go down very well!) and plug in the charger, leaving it on overnight before having to lug the battery back to the car and screw it all back into place.
It's not a very good way to treat a battery – if batteries are allowed to fully discharge on a regular basis and remain discharged for a period of time, they lose the ability to fully hold a charge. Put simply – you have to buy batteries more frequently than if the battery were properly maintained. Well not anymore.
This is where the CTEK range of smart chargers and conditioners come in to their own, enabling the battery to be kept in peak condition.
The Advantages of Smart Battery Chargers
Unlike traditional car battery chargers which pour power into a battery at a constant (and usually rather high) rate until the moment you disconnect it, CTEK Car Battery Chargers feature "intelligent" computer-chip technology which means you can leave them connected indefinitely to your battery – without having to disconnect the battery from your vehicle. No spanners, no grease and no mess in the kitchen.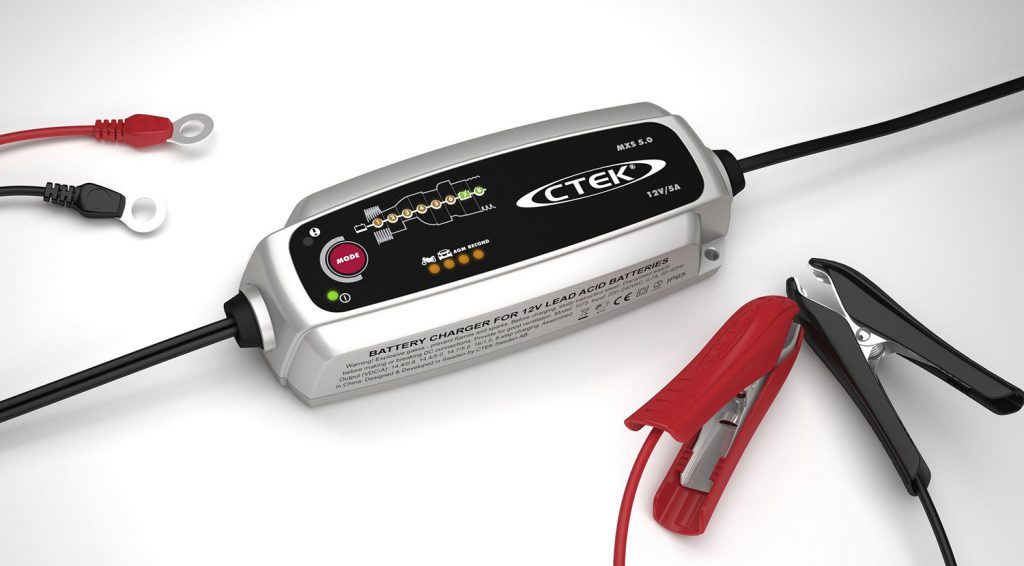 All CTEK units have a conditioning mode which maintains a constant watch on your battery ensuring it is maintained in tip-top condition. And because they're all 'smart' charger conditioners you don't have to worry about over-charging the battery or damaging sensitive electronics. CTEK units are specifically designed to take the aggravation out of keeping your battery fully charged.
Chargers To Cater For All
CTEK has a range of chargers for a wide variety of applications in 6V, 12V and 24V; motorcycles, lawn mowers, electric fences, leisure batteries in caravans and motor-homes, golf buggies, tractors and HGVs. They even have a marine battery charger range, specifically designed for jet skis and boats.
Why Choose a CTEK Charger?
Simple plug 'n' play connection
No need to disconnect battery from vehicle
Suitable for all lead acid batteries including GEL & AGM
Fully automatic, 'intelligent' charging & conditioning system
Can be left connected indefinitely
Non-sparking, surge protected & reverse polarity protected
5 year warranty
IP65 rated (splash & dust proof)
Additionally, CTEK has a selection of accessories to compliment the range of charger conditioners including a Cigarette Lighter Adaptor allowing for easy battery charging through the 12V socket, Battery Status Indicators which let you know whether the battery requires charging, and additional eyelet connector leads – handy when you have more than one battery requiring attention!
With all this going for them it's not surprising CTEK units are supplied as original equipment by many leading car & motorcycle manufacturers including Aston Martin, Ferrari, Jaguar, Porsche, Rolls Royce and Harley Davidson!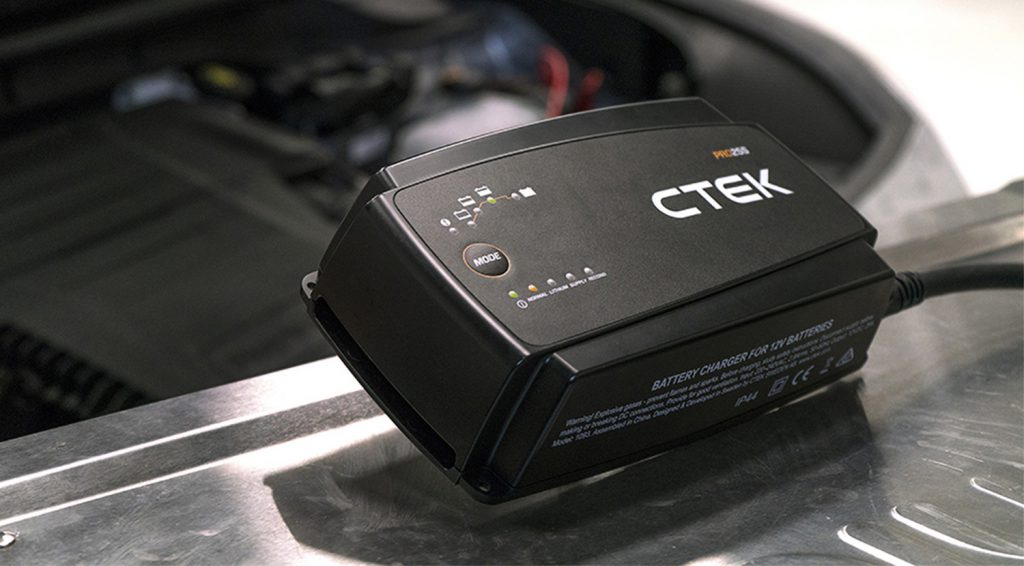 So for peace of mind when leaving a car for a while, with a CTEK charger in place you'll know your car is always ready to go whenever you next need it.
Featured Chargers & Conditioners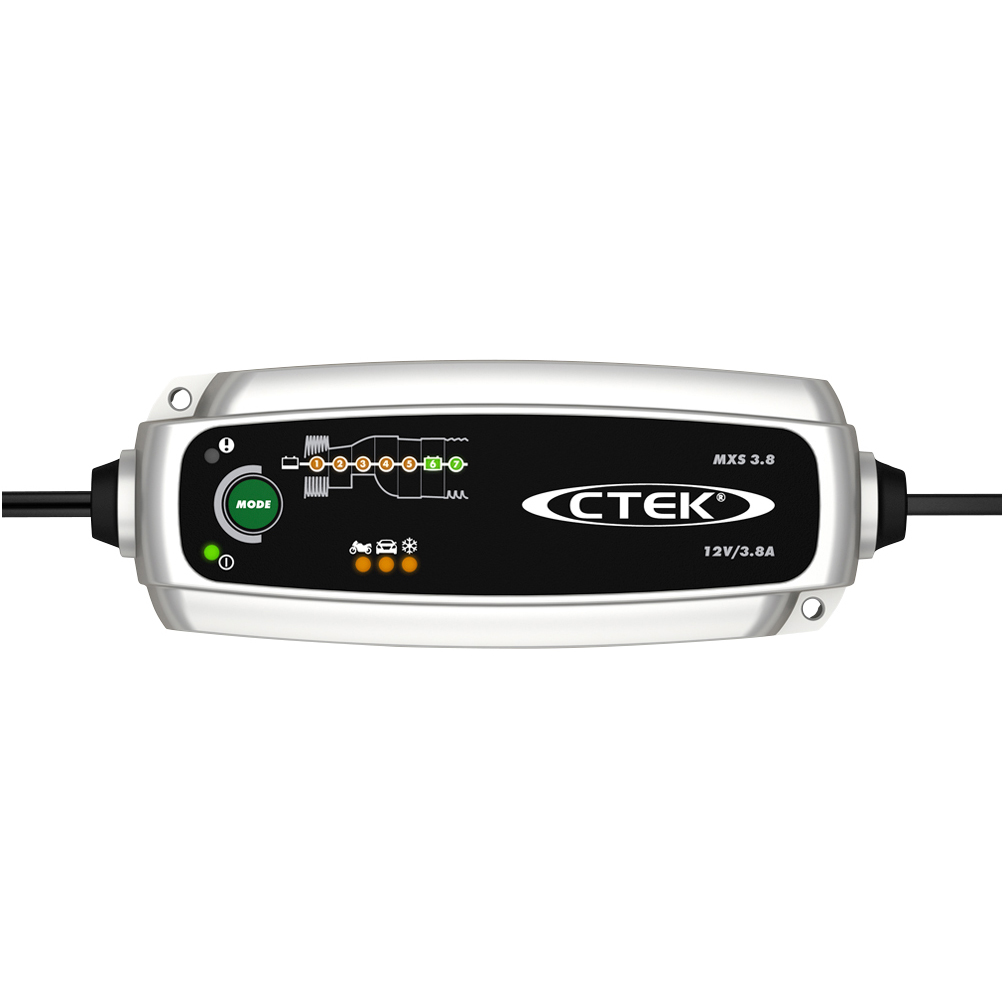 CTEK MXS 3.8 (Charger & Kit) £78.00
Suitable for 12v lead acid batteries including GEL & AGM
Charges batteries with a capacity of up to 85Ah
Conditions batteries with a capacity of up to 130Ah
Can be left connected for months without over-charging the battery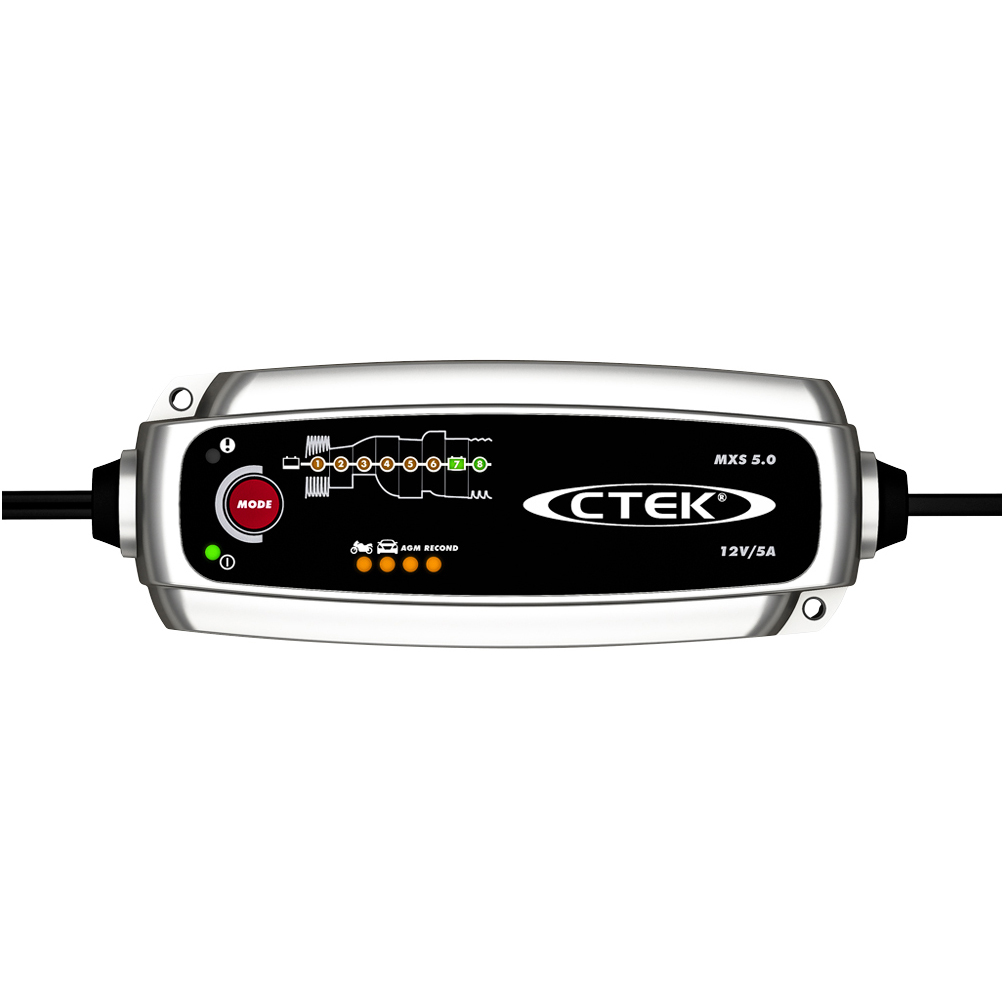 CTEK MXS 5.0 (Charger & Kit) £89.00
Suitable for all types of 12v lead-acid batteries (inc GEL & AGM)
Charges batteries up to approx 110Ah & conditions larger batteries up to 160Ah
Can be left connected for months – ideal for occasional-use vehicles
Selectable Recondition mode for sulphated / deeply discharged batteries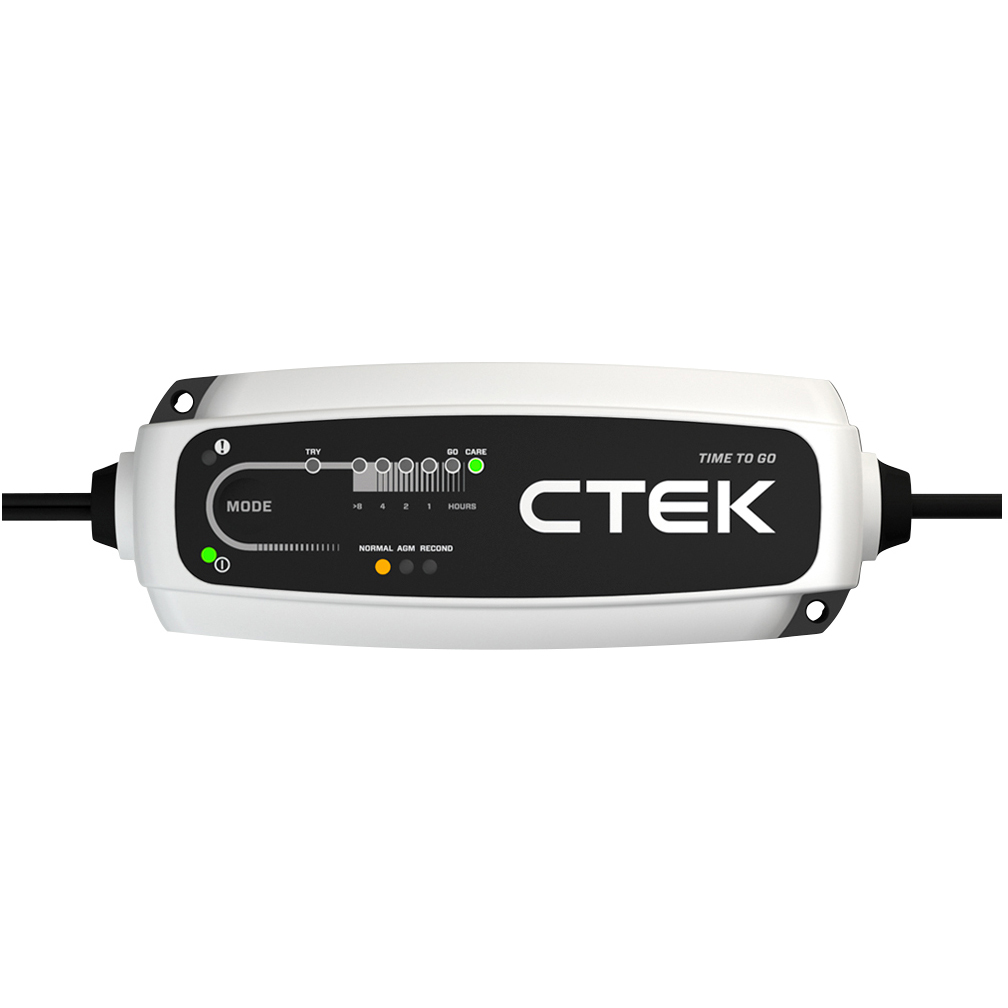 CT5 Time To Go 12V 5A Charger & Maintainer £105.00
3 selectable charge programs (Normal, AGM & Recondition)
Suitable for all types of 12V lead-acid batteries (WET, MF, Ca, AGM and GEL)
Tells you when your battery will be ready for use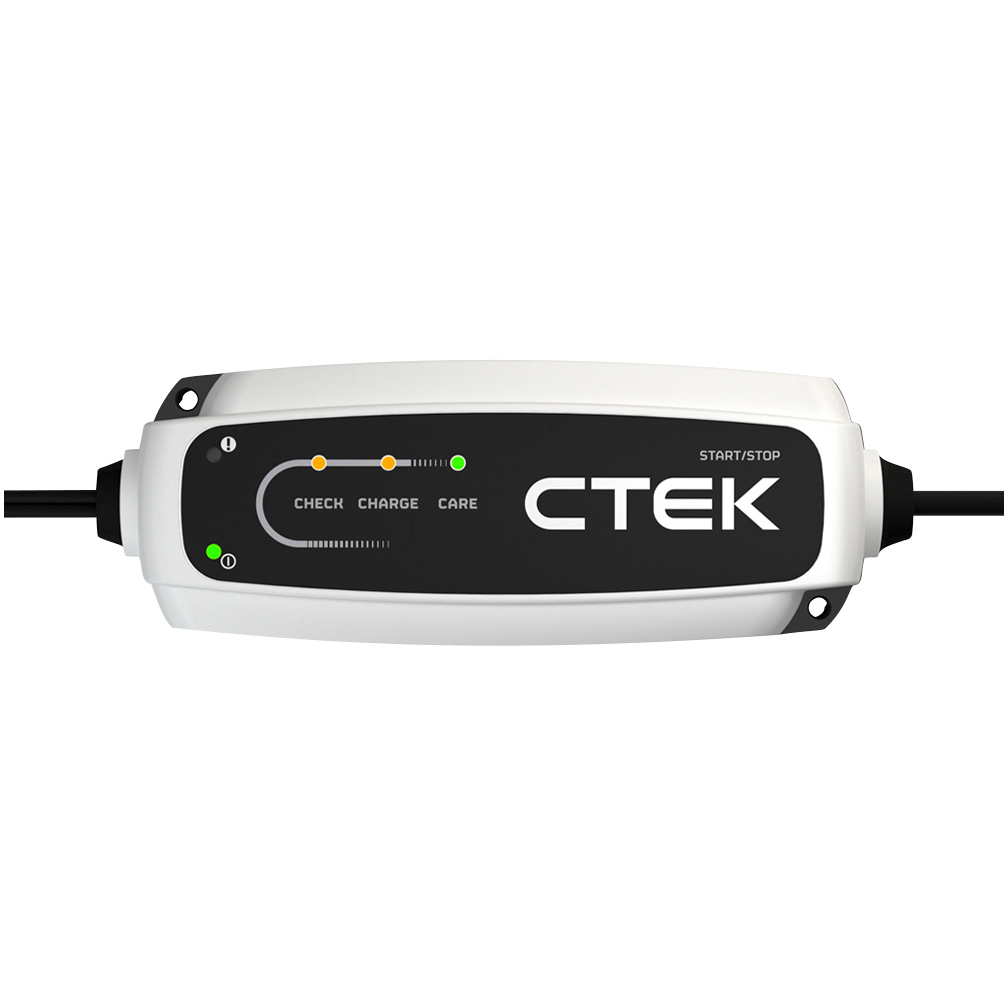 CTEK CT5 Start Stop 12V 3.8A Automatic Battery Charger £99.00
Multi Step fully automatic charging cycle
Suitable for all types of 12v AGM and EFB lead-acid batteries
Charges batteries of up to approx. 110Ah
Fully automatic – switches to conditioning mode after initial charge
If you have a question about Battery Chargers or anything detailing related, give us a call on 01474 360 360 for expert advice.

Shop The World's Best Car Care Products – Ultimate Finish