UHD Ceramic Coating: New From Autoglym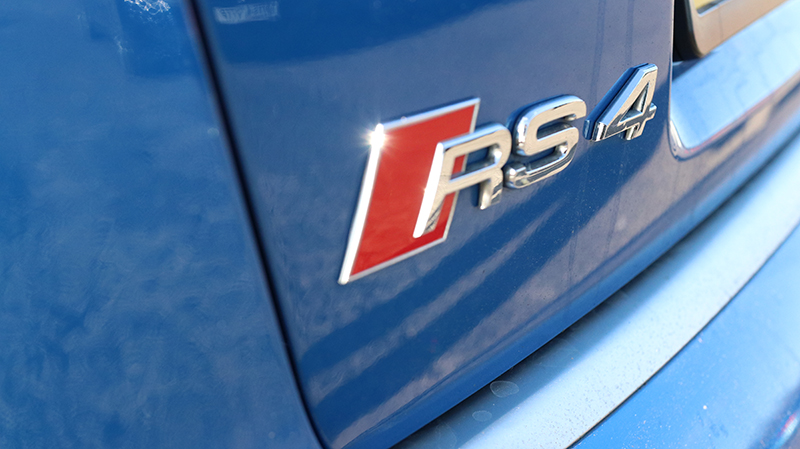 When our friends from Autoglym paid us a visit at the UF Detailing Studio late last year for a catch up, we were teased about an upcoming new addition to their Ultra High Definition range for 2020. Autoglym's first ever Ceramic Coating would soon be landing and we were eager to give it a test right here in our studio prior to the launch.
With the UF online store already offering many ceramic coatings from well renowned detailing manufacturers, some of which we use for detailing services in our studio, we were excited to see how UHD Ceramic Coating would compare. Meticulously developed at Autoglym's laboratory within their Hertfordshire headquarters, we were assured this would be a major player alongside similar products on the market today. Autoglym boast that once you've fully coated a car, you'll get outstanding gloss levels, with impeccable water beading properties, up to 12 months protection and regular maintenance washes on a coated car will be a whole lot easier. Sounds good doesn't it? So without further ado, let's get started.
Pre-Wash & Washing
For this product evaluation we selected a blue Audi RS4 and seeing as the car was only used sparingly by its owner, it required minimal preparation. With the focus on Autoglym, we would also be using three products from their Polar range as part of the pre-wash/wash stages.
First up is Polar Blast Snow Foam, which works in tandem with the Polar Blaster Foam Dispenser Gun. The Polar Blaster is compatible with all Karcher K-Series Pressure Washers and also the option that we were using from BigBoi – the WashR. We top up the Polar Blaster with Snow Foam and begin to coat the RS4 from the ground up in the thick white coating until completely 'whited out'. Allowing five minutes dwell time, all the larger particles of surface dirt and grit are agitated, safely, minimising the chance of inflicting unnecessary swirling or scratches in their removal.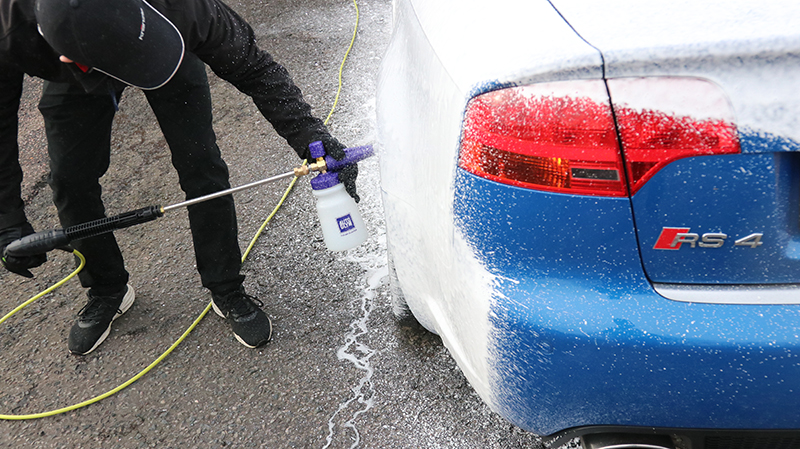 The high-clinging quality of the snow foam to vertical surfaces on this Audi is certainly very impressive.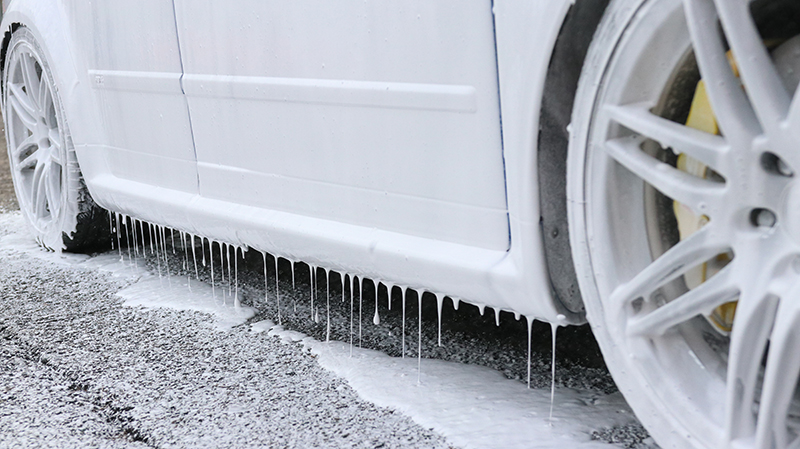 Next, the RS4 is treated to a wash using Polar Wash, which is also applied via the Polar Blaster and pressure washer. The application process for this is much the same as the snow foam phase and for best results, once the car is blanketed in the shampoo, we gently caress the Audi with an ultra-soft wash mitt to ensure all dirt is shifted.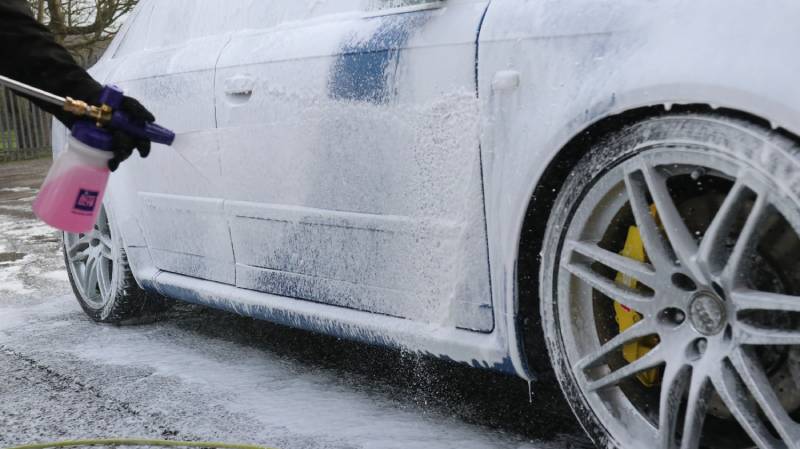 Finally, we rinse with an Aqua Gleam De-ionising Water Filter and dry off using a BigBoi Touchless Car Dryer.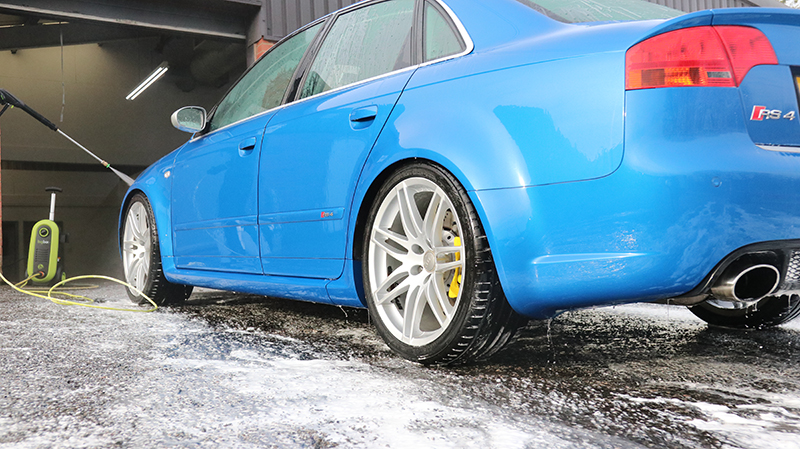 To bring the Audi to a swirl-free high gloss finish, the paintwork was also given a light refining treatment courtesy of a RUPES machine polisher.
What's In The box?
As always with the Autoglym UHD range (and for those of you who have had the pleasure of taking delivery of UHD Wax, you'll be well aware), the package is impeccably presented and there is a very premium feel to the contents.
Included is a bottle of Preparation solution, plus the Ceramic Coating itself. You also get two cloths, Green cloth number one is used for preparation and red cloth number two for finishing. Finally, the ceramic applicator pad – a very sturdy and robust applicator which sits comfortably in the hand is cut to shape, making application to panels very precise.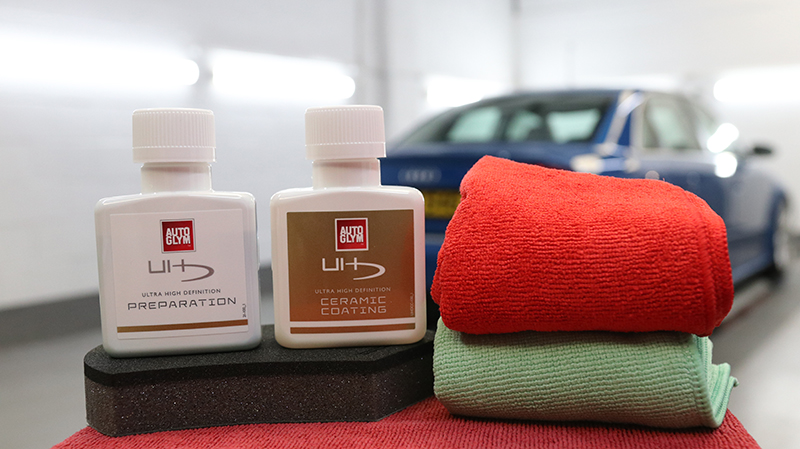 Preparation Of The Paintwork
Part one of the Ceramic Coating Treatment is to prepare the surface using the Preparation solution and Preparation Cloth – this is highly essential to ensure the second step of applying the ceramic coating is successful.
The product is dripped directly on to the Preparation Cloth, then wiped over the paintwork in uniformed straight lines. All areas that we are going to coat with the ceramic sealant are covered. The remaining residue is then wiped away using the dry sections of the Preparation Cloth, rotating the cloth frequently to ensure it does not become saturated.
Now that all surfaces had been careful prepped and were squeaky clean to touch, we could be sure the Audi was completely free of polish or silicone residues which could easily interfere with the bonding process of the sealant application that was next on the agenda.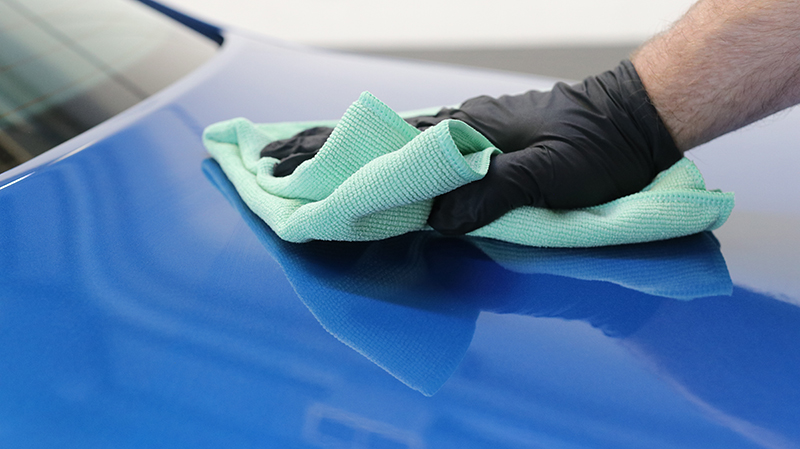 Protection with UHD Ceramic Coating
Prior to starting, it's always important to understand your application process. UF's pro-detailer would be treating one panel at a time in order to ensure a rigid structure of application. The Ceramic Coating product is introduced to the Applicator Pad (sparingly) and once again, applied in uniformed straight lines to the first panel.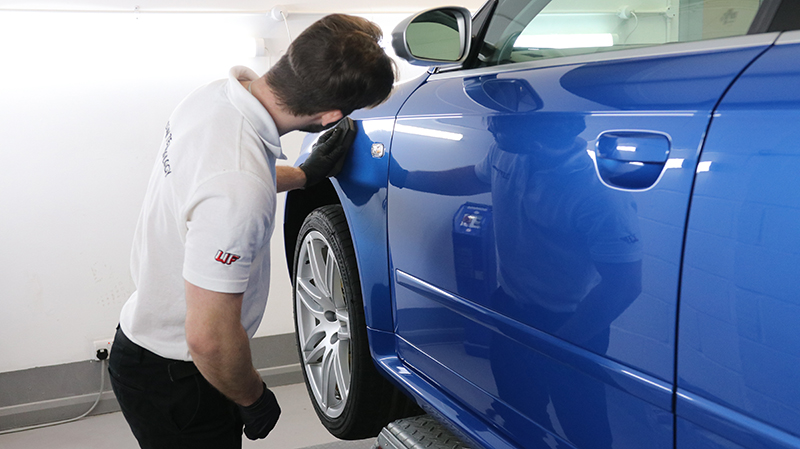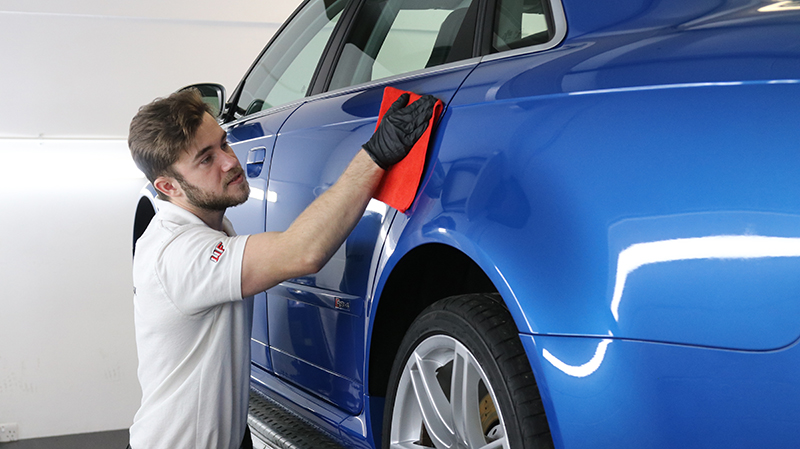 As the UHD Ceramic Coating begins to dry on the panel, it also begins to evaporate. Small beads and a film on the surface become visible – this means it is now time to buff the product away with the Red Finishing Cloth. With the temperature in our studio stable, the drying time is around 3-5 minutes, but as advised on the product, you should always use the first panel you treat as a guide to how the application for the remainder of the car will go!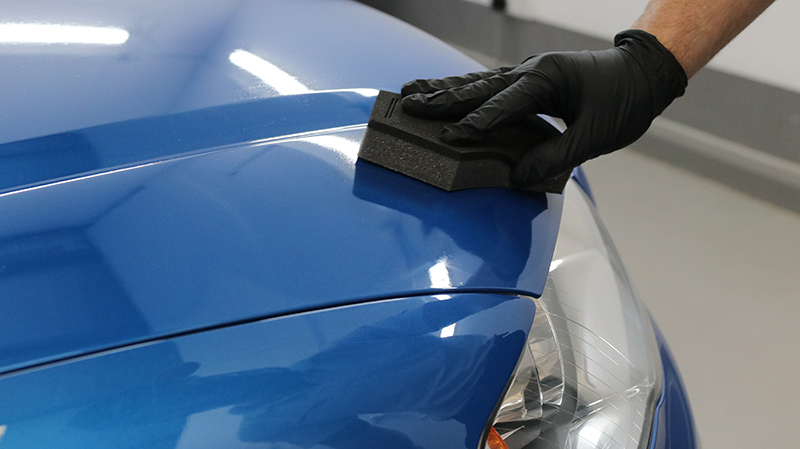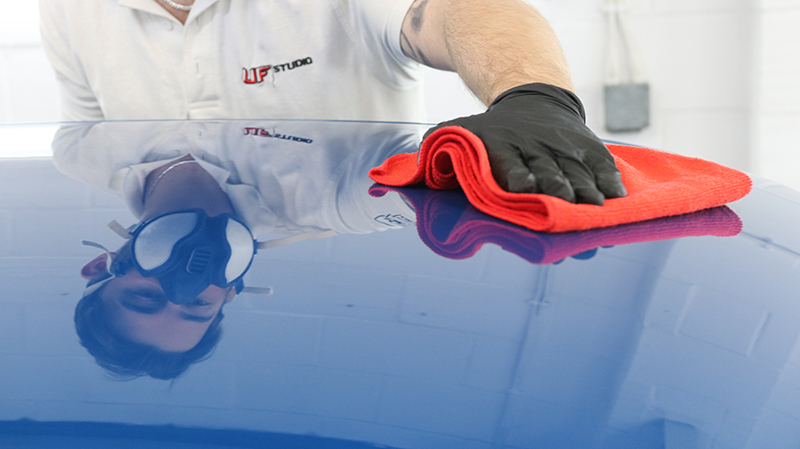 Once the whole car had been treated it is left to cure for four hours – the depth of shine and gloss were now beginning to become visibly more impactful the further we went through those four hours of curing.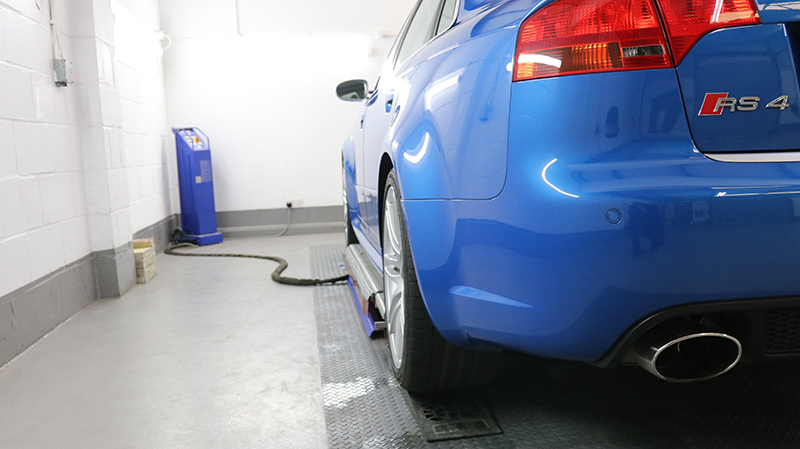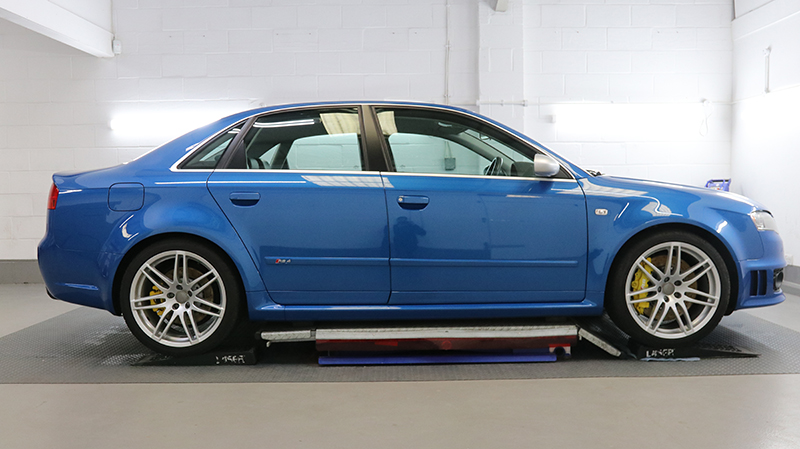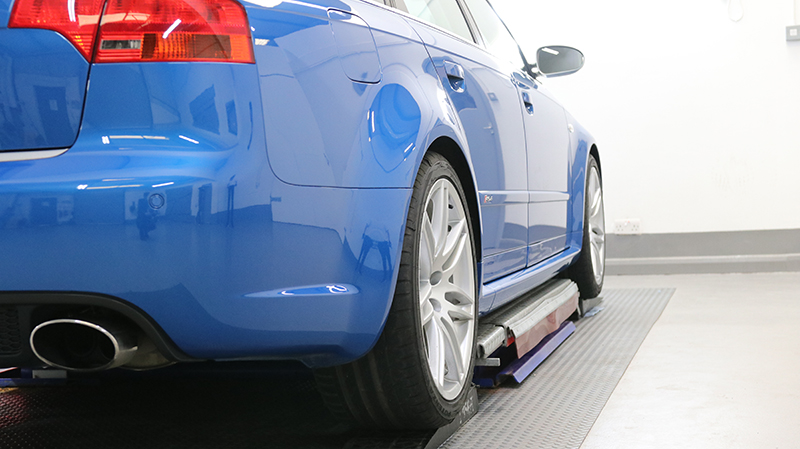 UF's Conclusion
UHD Ceramic Coating certainly proved easy to apply, assuming you have access to controlled conditions and it really was very simple to buff away thanks to the finishing cloth provided. With the gloss and shine levels almost instantly surging during the curing time, we were certainly pleased with how this Audi's blue paint looked given how short a process it was all in all.
With that in mind, hastened curing times of UHD Ceramic Coating are sure to be music to the ears of detailers looking to maximise efficiency in their busy schedules – it should prove very popular indeed. We will be revisiting the Audi periodically in the coming months to assess how the coating is standing up and if the protection remains locked in for the 'up to 12 months' as stated!
Featured Products Used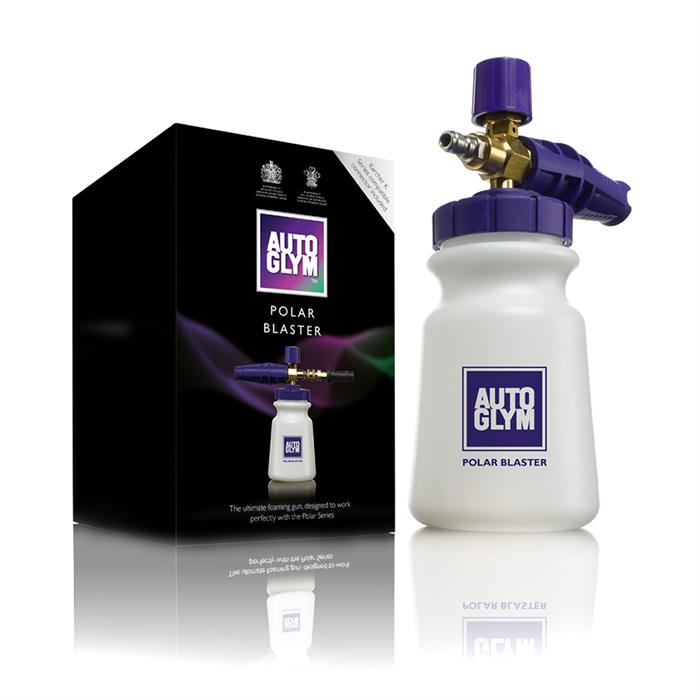 Autoglym Polar Blaster £42.50
Suitable for BigBoi WashR & Karcher-K Series
1 Litre reservoir bottle
Variable spray pattern – select horizontal or vertical
Adjustable dilution controls Product: Water ratio, affecting foam thickness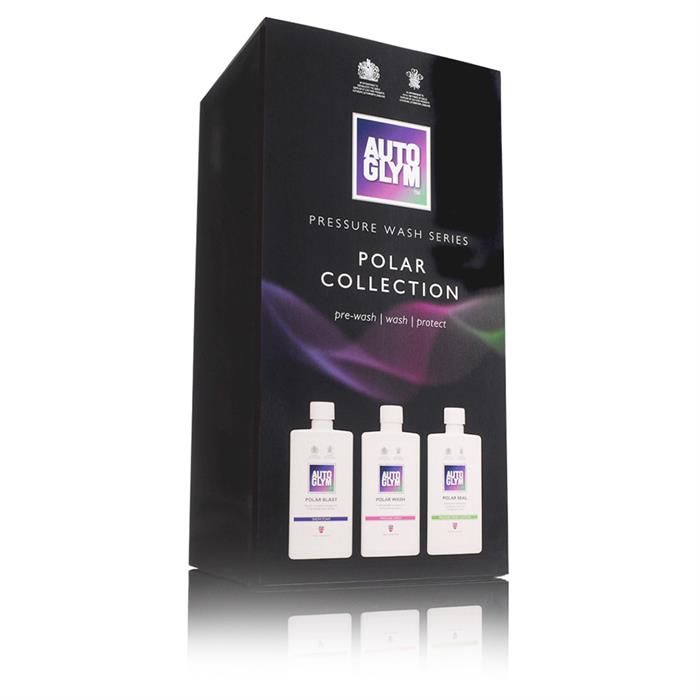 Autoglym Polar Collection £24.50
Autoglym Polar Blast 500ml – powerful high-cling pre-wash Snow Foam. Thick foam lifts dirt & grit away from car's surfaces. For use with foam lance & pressure washer or foam gun & hose
Autoglym Polar Wash 500ml – shampoo designed for application via pressure washer. High-foaming cleaner for washing dirty vehicles. Helps protect paintwork from wash-induced swirls & scratches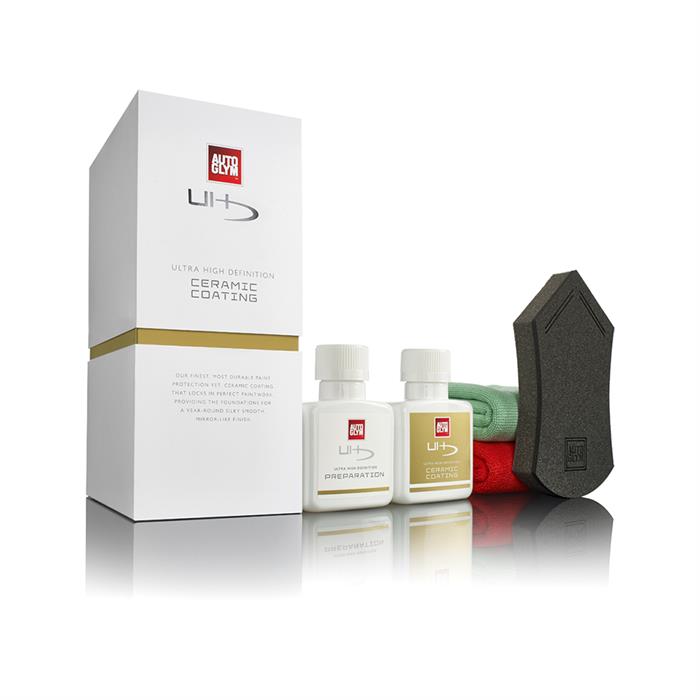 Autoglym UHD Ceramic Coating £59.95
Ceramic coat producing ultra-high gloss levels
Semi-permanent coating which will bond to paintwork, locking in an immaculate finish for up to 12 months
Provides the platform to maintain a clean vehicle featuring a high beading finish.
Shop The World's Best Car Care Products – Ultimate Finish
UF Detailing Studio – Award Winning Detailing. Call 01474 360 360