Matte & Satin Paint: Choosing The Right Car Care Products
With several variations of paint finishes in the automotive world now in circulation, there is also an array of choices available when it comes to choosing the appropriate product to get the best results.
For owners of vehicles that wear a matte or satin paint finish, selecting the correct product is especially important as many products which may work perfectly well on a standard paint finish are often unsuitable where matte, satin or wraps are concerned.
In this blog we are going to be taking a look at the importance of using products specifically developed to work on these surfaces, including some featured recommendations that are available from the UF online store in our Matte & Satin range.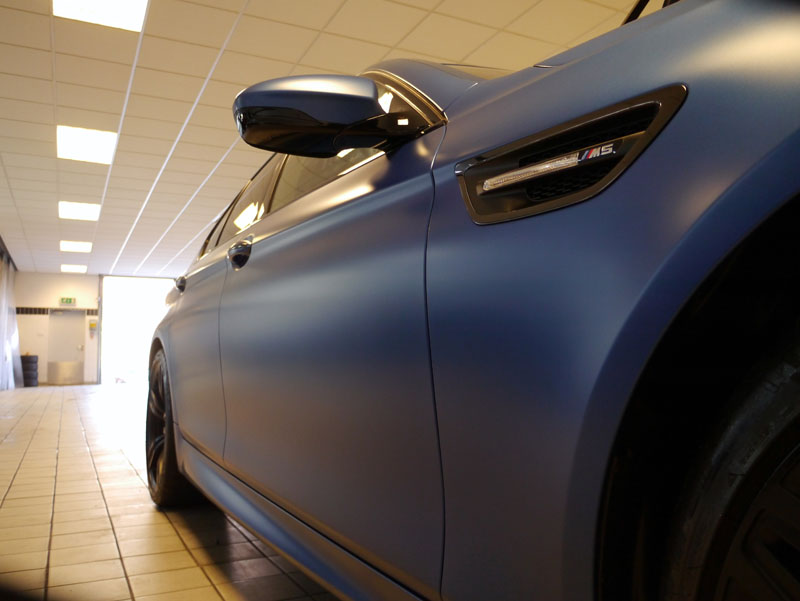 Why Maintenance of Matte & Satin Paint is Different
The idea of this type of paint finish is for it to permanently look dull, which on the face of it is rather unusual! Why would you want paint to look this way? Well for one, opting for a matte or satin paint job will provide the perfect excuse not to wash, polish and wax your vehicle quite so frequently.
When you place a satin or matte painted car side by side with a vehicle donning a much more commonly found gloss finish, it is plain and simple to see the differences.
The shine and mirror-like finish of the standard paint is like chalk and cheese when compared to the unmistakable dull finish of a matte or satin. Therefore, applying a product that is designed to enhance gloss and shine, is simply not suitable for use on this occasion and can actually compromise an original finish if used.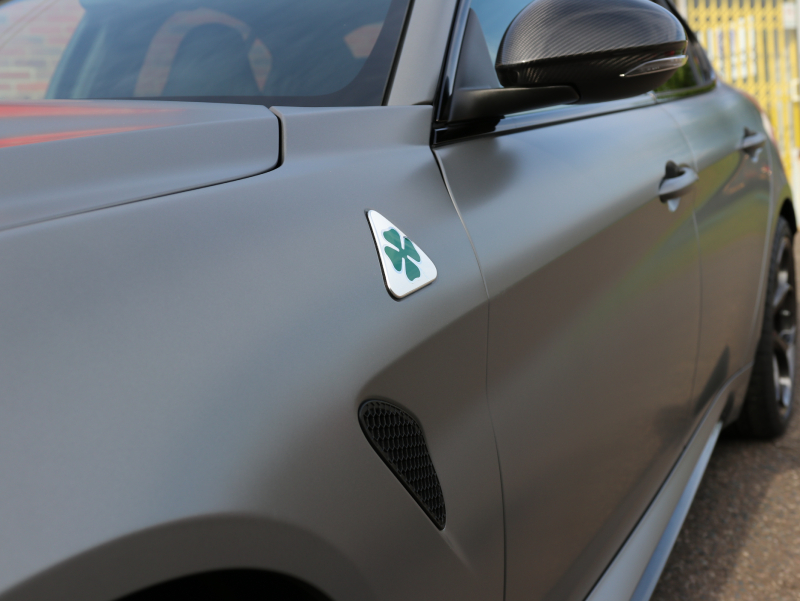 Ordinarily, a thorough car detailing process would feature the use of various degreasers, followed up with the introduction of a detailing clay bar to help remove firmly bonded contaminants prior to machine polishing.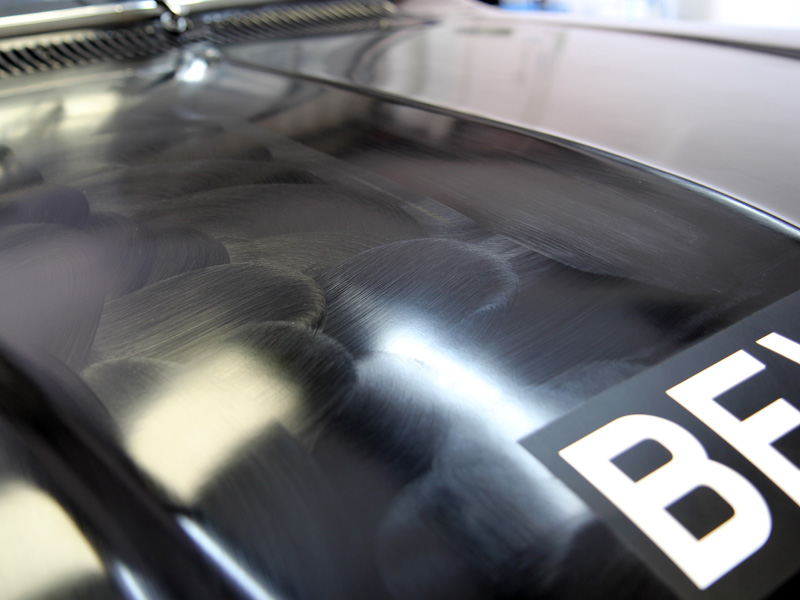 Due to the delicate nature of these paint finishes and to an extent, thanks to the rise in vehicle numbers now produced (or altered) to a matte or satin finish, it has meant an influx of fully dedicated cleaners and sealants have emerged from some of the leading manufacturers in car care. Here is a selection of some we've handpicked from the online UF store!
Angelwax Luminosity Matte Shampoo £18.95
New to UF, Angelwax bring an array of thoughtfully constructed products to the detailing table, including a specially dedicated range for matte painted surfaces. Luminosity Matte Shampoo is a pH neutral product designed specifically for the cleansing of matte paintwork and matte wrapped vehicles. Given the sensitive properties of the matte surface it will come in to contact with, careful and meticulous engineering was carried out to ensure Luminosity is completely free from waxes and silicones.
All this means you can be safe in the knowledge that the highly concentrated pH neutral formula will safely clean your bodywork thoroughly without damaging the matte surface. Containing excellent lubricating properties and also wax safe, Luminosity will ensure there is nothing left other than an all important gloss-free finish.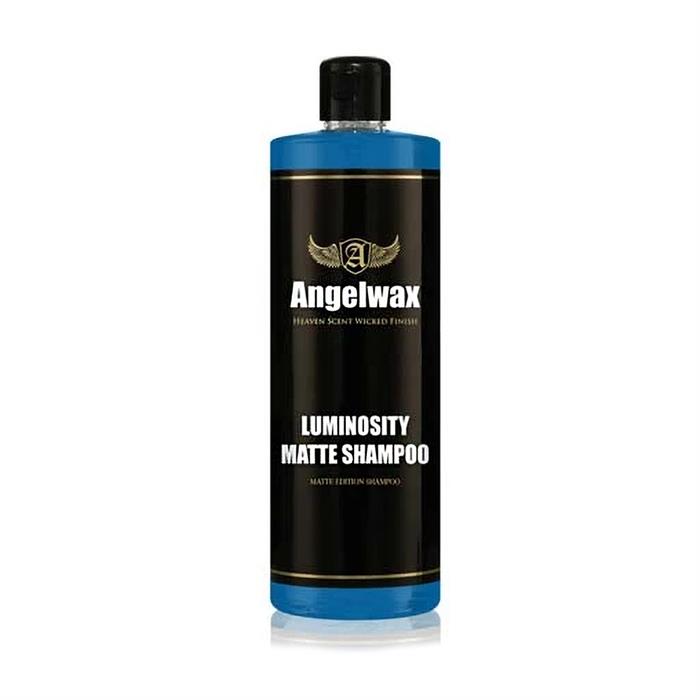 Engineered especially for matte paint or wraps
Wax safe
pH Neutral
Highly lubricating
Gloss-free finish
Scholl Concepts NoGloss Matt Spray Wax £13.00
Most wax-based products are designed for gloss finished paintwork. With the ever-growing popularity of satin and matte paint finishes, new products are needed to keep them looking cared for.
NoGloss Matt Paint Spray is a sealant in an easy, spray-on formula which also adds a layer of protection to the finish. A quick application will soon remove dust, fingerprints and light dirt very easily – more importantly, it will do so safely without jeopardising the finish of the paintwork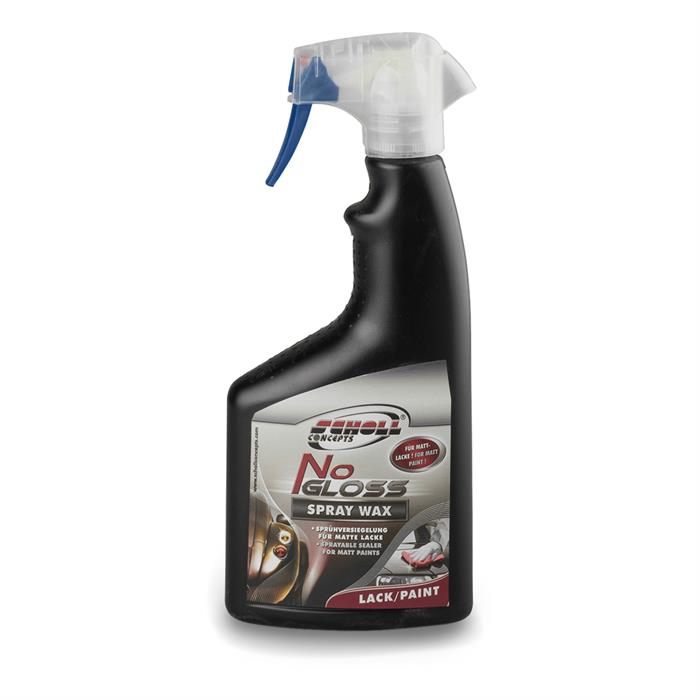 Specially designed for satin & matt paint finishes
Adds protection to delicate satin & matt paintwork
Will not add gloss
Removes dust, light soiling & finger prints
Swissvax Pre-Cleaner Opaque From £39.00
Before applying a wax to your freshly washed paintwork, it is imperative that the surface should always be properly prepared with a pre-wax cleaner treatment. Similarly to the more universally tailored products, an ordinary paint cleaner will mar satin or matte paintwork, so this calls for something a little different once again.
Thankfully Swissvax have put together a range of bespoke products that are intended for use on such surfaces and we've handpicked two as part of this blog. Pre-Cleaner spray has been specifically developed for satin matte paint finishes and will easily remove contaminants such as tree sap, grease, bug squash, tar and fingerprints without impairing the satin or matte finish of the surface.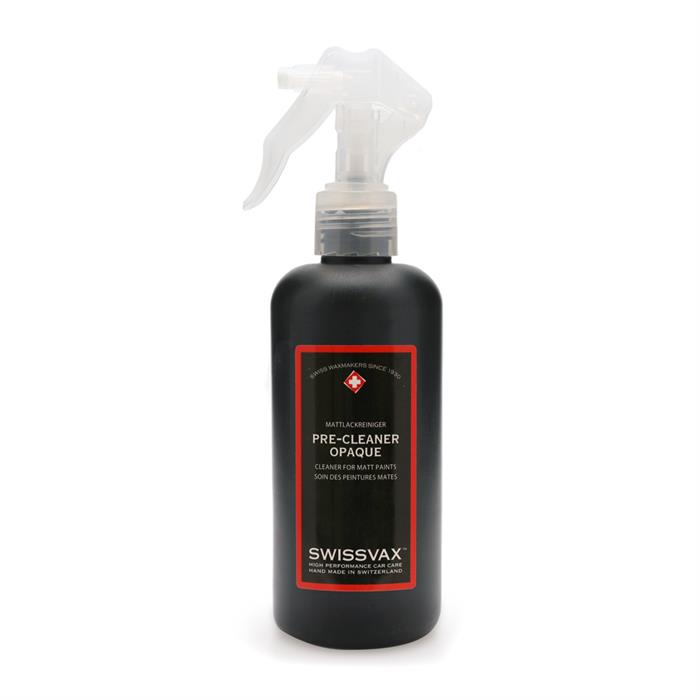 Designed especially for matte or satin paint
Wax safe
Removes sap, grease, fingerprints & more
Prepares surfaces for waxes
Swissvax Opaque Wax For Matte Paint From £59.00
When it comes to wax, you will do well to find a supplier of one that will deliver such a premium product – it is fair to say that wax is instilled in the DNA of Swissvax. Such is their pedigree for producing a wax for all occasions, they have also ensured owners of matte or satin finished vehicles can still enjoy the very best protection and finish.
'Opaque' is a Premium wax specially developed for satin matte paintwork types (incl. foils) and features a 40% by volume pure Brazilian Grade One Carnauba – all this means you can enjoy long term paintwork protection against a multitude of environmental and industrial contaminants without damaging your precious satin matt appearance.
Designed especially for matte or satin paint
Contains 40% by volume of pure Brazilian Grade One Carnauba
Zero gloss enhancing properties
Durable protection
Nanolex Matte Si3D Set From £66.95
With the vast majority of ceramic coatings designed with traditional gloss finishes in mind, aiming to increase levels of shine and reflectivity, it obviously makes them somewhat unsuitable here.
However, the more you think about it, because matte finishes tend to be particularly sensitive and prone to marring, a ceramic coating is actually the ideal solution to ensure the surface is protected from any potential damage. It would only be right that in a detailing world where ceramic coatings are now the 'talk of the town', there is something to cater for the Matte and Satin crowd – introducing the Matte Si3D Set from Nanolex.
The kit contains everything required for the application and preparation of the surfaces and once fully laid down, you can enjoy extreme hydrophobic properties, not to mention long lasting protection against a whole host of contaminants. The icing on the cake is you can be sure that any future wash maintenance sessions will also be made that little bit easier thanks to Si3D's ability to keep surfaces cleaner, for much longer.
Provides protection against staining from bird droppings
Repels adhesive contamination such as tar & tree sap
Resistant to chemicals, protects against industrial fallout
Inhibits brake dust build up
Provides UV protection, helping prevent pigment fade
Easy to apply & buff
Strongly hydrophobic, helps keep surfaces cleaner, longer
Designed, developed & manufactured in Germany
Shop Matte & Satin products with Ultimate Finish here.

Visit Ultimate Finish for the best car care and detailing products from around the globe.
Have a question on any of our products? Email sales@theultimatefinish.co.uk or call 01474 360 360.
Our team is on hand, Monday to Friday, 8am-5pm.