Meguiar's Photo Shoot At The 'Ultimate Detailing Studio'
Meguiar's adverts and calendars are a familiar sight in magazines, workshops, garages and offices around the world. The theme is always the same – images of smiling, happy people who are all absolutely passionate about their cars!
There's usually an interesting story behind the picture too. We got to find out more about the Meguiars way of thinking when they called us to ask if they could borrow the Ultimate Detailing Studio to take some photographs of a very special Mark II Ford Escort and the father and son team who had lovingly restored it. Of course we said yes!
So on a grey and slightly chilly Monday morning the Escort, the owners and Dom from Meguiar's arrived at the Ultimate Detailing Studio. Photographer for the day was Matt Howell, who has photographed many of the rich and famous including Stirling Moss, Richard Hammond, Jenson Button and Lewis Hamilton and works with some of the biggest automotive magazines including Evo, Car and Bike.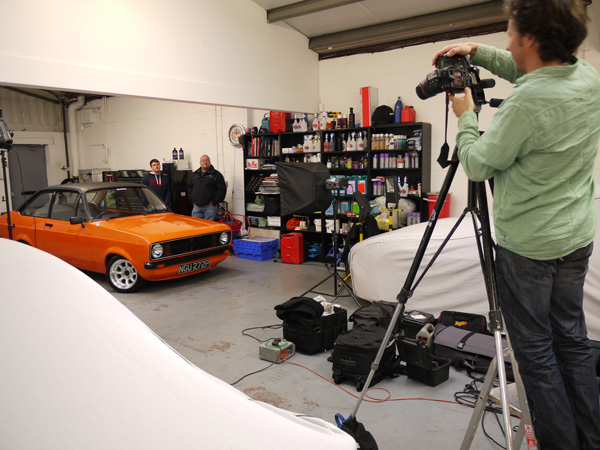 The Escort in question started out life in 1976 when it was bought by a lady as her retirement present to herself. She and her husband drove it around for many years until one day it was spotted by one of the present owners. On his motorbike he sidled up to the driver of the Escort whilst they were sitting at traffic lights and gave his phone number saying, "If you ever decide to sell it…" A year went by during which he spotted it again, but still the old couple were not ready to part with it. Finally in 2006 the phone call came. Now in their 90's the owners had decided it was time to let it go to pastures new and father and son team, Gary and Gary (yes, really!)  jumped at the chance. Over the course of the next 5 years they lovingly restored it, piece by piece.
The initial thoughts had been to make it a track day car – but things seldom run to expectations! Originally built as a 1300 Automatic Poplar Plus, the Escort is now a 2 litre, 5 speed manual. Although still in its original colour, Signal Orange, the original brown vinyl roof is now black and the original interior has been re-trimmed, also in black. It's been lowered two inches and now has a host of new features including adjustable suspension, twin carbs, stainless steel exhaust, new brakes – and of course – very shiny paintwork! Not bad considering they've done all the work themselves on the driveway in front of their house in South East London – in all sorts of weather (with the aid of a couple of B&Q gazebos, tied together with tie-wraps!)
Gary and Gary are really enthusiastic about all their projects, which currently include a Mk I Escort, a Mk 1 Fiesta, an Escort Cosworth plus a number of others! "If its got character.." said Gary Snr, "we'll have it!" finished Gary Jnr! "We recycle as much as possible between all our projects, we don't believe in waste" said Gary Snr.
When Meguiar's spotted the car at a show last year they realised the story behind it was a classic "Meguiar's enthusiast" tale. Having been to the Classic Ford show it featured in Classic Ford magazine in July of 2011. Catch it this year at all the shows and you may even spot it on the Meguiar's stand too!