Meguiar's Hybrid Ceramic Wax Collection – New Products For Summer
It just so happens that all the spare time so many of us have had at home during the current climate has also been coupled with some truly glorious weather. So it would be rude not to make sure your vehicle is 'smartly dressed' for summer, using a selection of the latest products to come onto the market with us here at UF. Introducing Meguiar's Hybrid Ceramic Wax Collection.
This blog's attention focuses on three new offerings from the much loved Meguiar's – all of which have a special Meguiar's Hybrid Ceramic Wax flavouring to ensure your car will be beading like crazy when it finally does see some moisture!
All three of these hi-tech Hybrid Ceramic Wax offerings from Meguiar's contain SiO2, meaning they'll deliver on all levels, to clean, shine and protect. The question is, which is your preferred type of product application? Here's our full run through!
Hybrid Ceramic Liquid Wax £27.95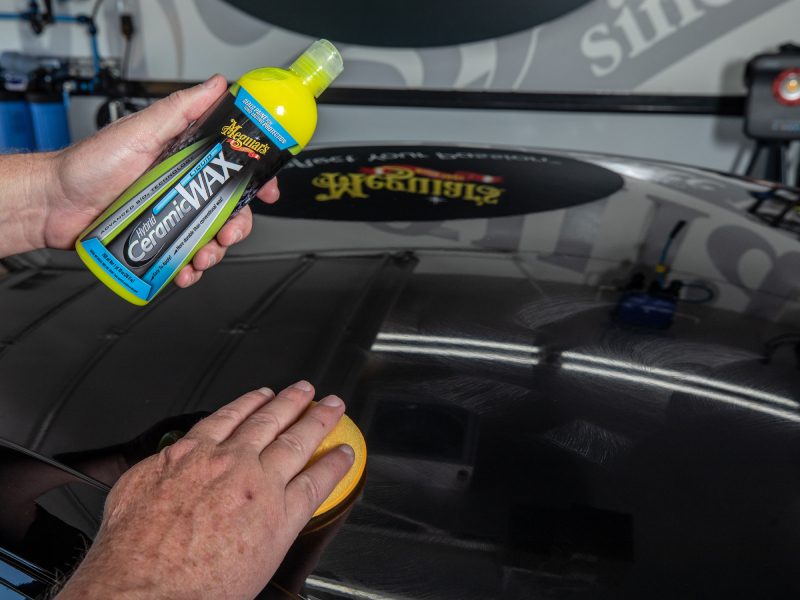 Meguiar's Hybrid Ceramic Liquid Wax is simple to apply, just like a conventional liquid wax and can be done so either via application by hand or dual action variable speed polisher (DA polisher).
The formula gives a slick, protective, water beading layer which seals paintwork from environmental fallout and can also be used on chrome or plastic trim to act as a top coat over a traditional wax or pre-existing sealant.
Out of all three of these products, this is the one that will require the most 'elbow grease' from a user perspective, but don't let that put you off. Application is incredibly slick, whether you choose to use a machine or by hand.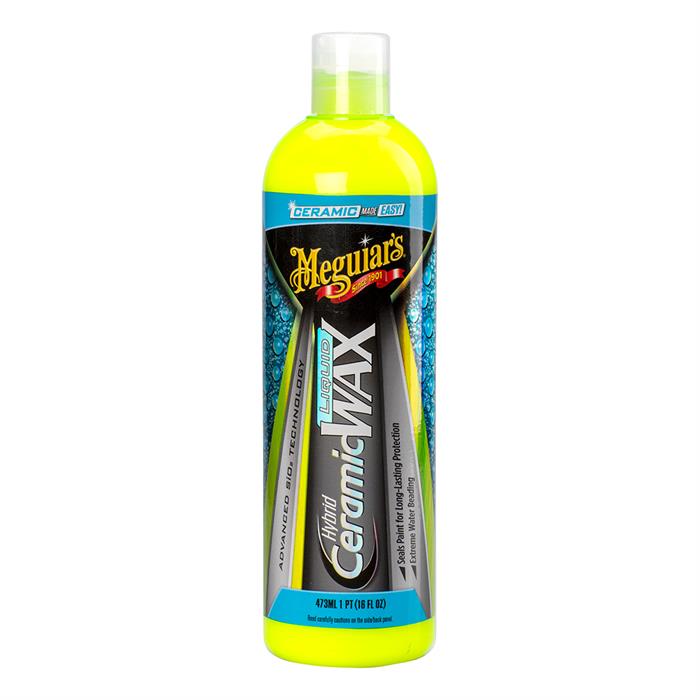 Hybrid SiO2 advanced Hybrid Ceramic technology
Seals paint for long-lasting protection against the elements
Extreme water beading properties
Easy to use – can be applied like a traditional liquid wax
Will not whiten non-painted trim or rubber
Hybrid Ceramic Spray Wax £22.95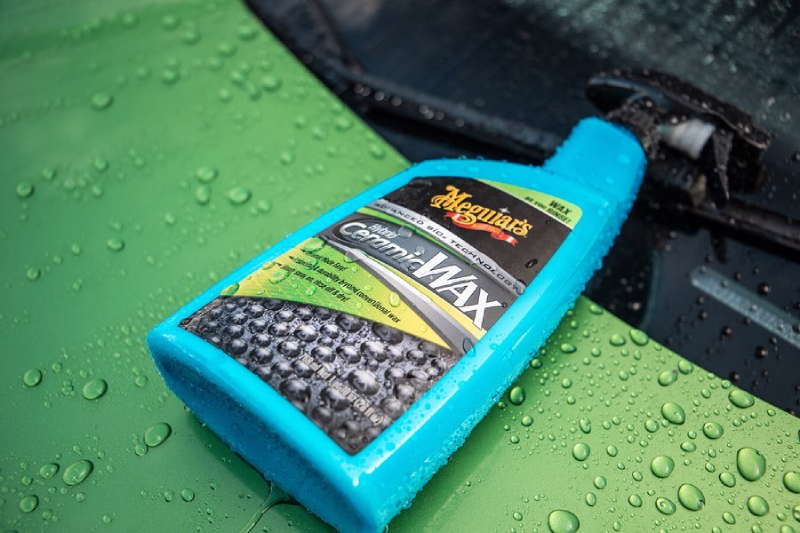 Meguiar's Hybrid Ceramic Wax features all-new, advanced Si02 hybrid technology and delivers ceramic protection for your paintwork and durability well beyond that of a conventional wax.
Like all of Meguiar's trigger spray products, the application of the product is extremely easy – always good to hear! Once the vehicle is washed and all traces of soap are safely rinsed away, Meguiar's Hybrid Ceramic Wax can then be sprayed on, followed by a second rinse with a strong stream of water. The final rinse being key in helping to spread and lay down the protective wax layer evenly.
Unlike so many wax products, Hybrid Ceramic Wax will not cause any whitening issues if and when it comes into contact with plastic trim and once fully coated, you can sample some of the finest hydrophobic properties on offer, with water prolifically beading over the surface.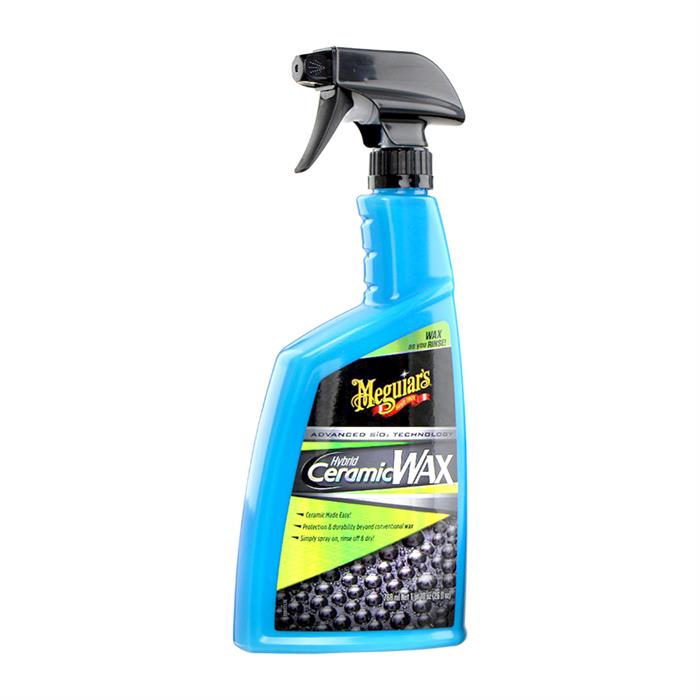 No rubbing, curing, buffing or mess
Hybrid ceramic wax protection
Enhances water beading properties
Hybrid Ceramic Detailer £19.95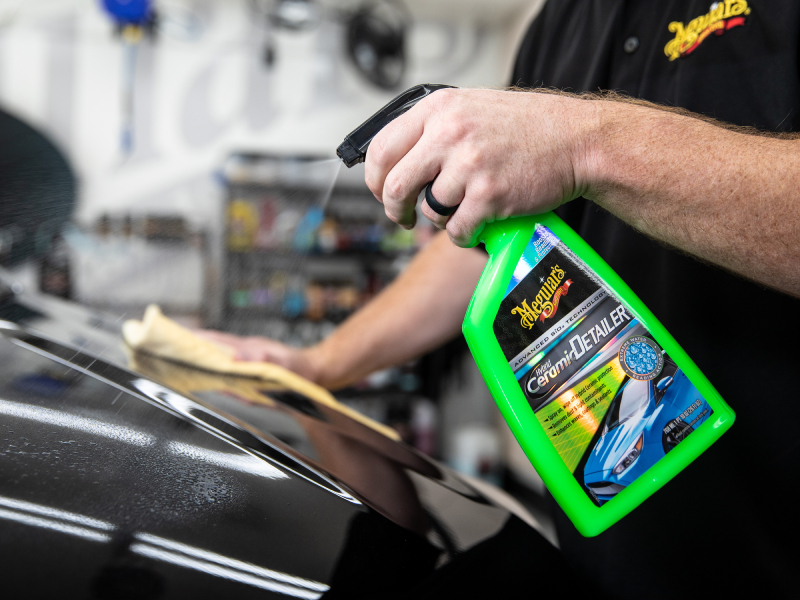 Meguiar's Hybrid Ceramic Detailer bridges the gap between washing and waxing in the form of Hybrid Ceramic protection. The ideal product for use in between the application of the above Meguiar's Hybrid Ceramic Wax or Meguiar's Hybrid Ceramic Liquid Wax, it will enable the enhancement of any pre-existing hydrophobic water beading protection that is in place.
Versatile, Hybrid Ceramic Detailer can also be used to remove lighter contaminants, dust or fingerprints to keep up a 'just washed' look. As with the previous two products, you will also benefit from the addition of a layer of hybrid, SiO2 ceramic protection which will yet again deliver outstanding water beading properties.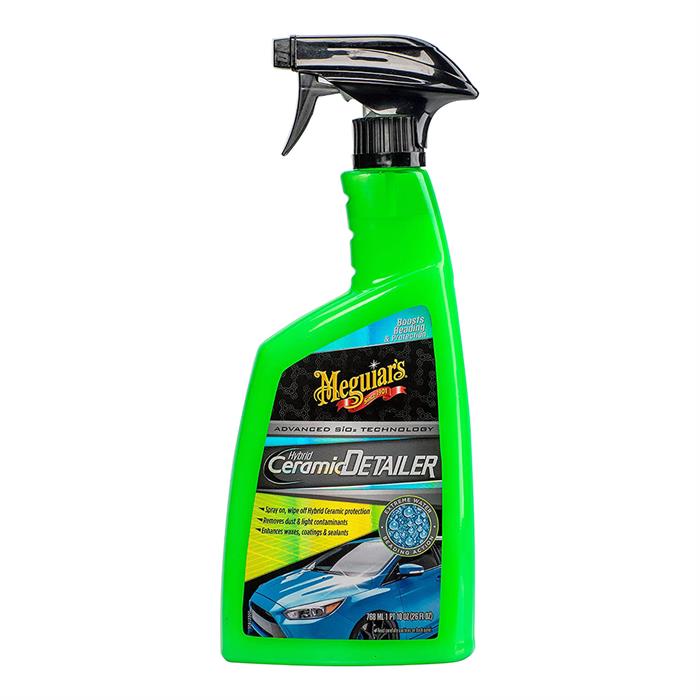 Shop the full Meguiar's collection with Ultimate Finish here.

Visit Ultimate Finish for the best car care and detailing products from around the globe.
Have a question on any of our products? Email sales@theultimatefinish.co.uk or call 01474 360 360.
Our team is on hand, Monday to Friday, 8am-5pm.