SANSOM Car Care: Bigger & Better For 2021
It has obviously been an extraordinary year for everyone in 2020 and despite the unusual conditions we've all been faced with, that hasn't stopped the months flying by at what seems like a whirlwind speed.
One of the examples of just how quickly time has passed by was when we here at UF looked and saw it had been a full year since we welcomed one of the brightest new brands in the industry to our product offering back in November 2019 – SANSOM Car Care.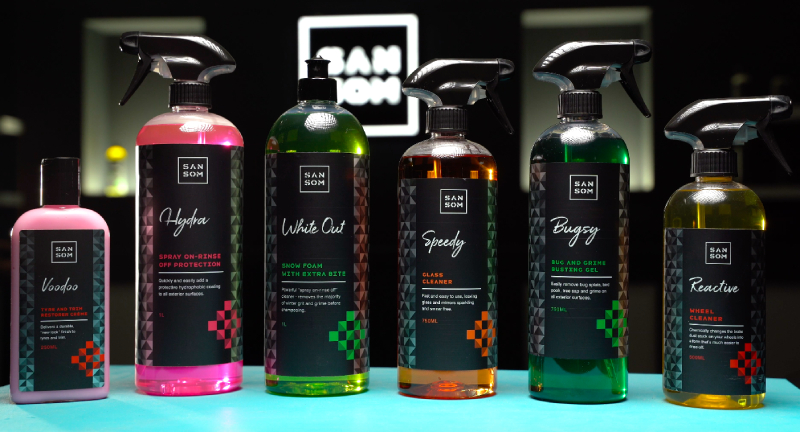 Fitting then that our latest blog takes a look at this fast-evolving brand and given the circumstances faced in their first full year of operating, it really has been a triumphant debut year.
With a growing product portfolio and customer following, we were keen to take a look at how their first year went and also gain an insight into what we've all got to look forward to in 2021!
SANSOM'S Debut Year Like No Other
The saying goes 'what doesn't break you, makes you stronger' and that certainly applies to several new businesses that had to deal with everything 2020 had in stall for them. The perfect point in case, certainly in our industry of 'coming out fighting on the other side', SANSOM are still standing strong.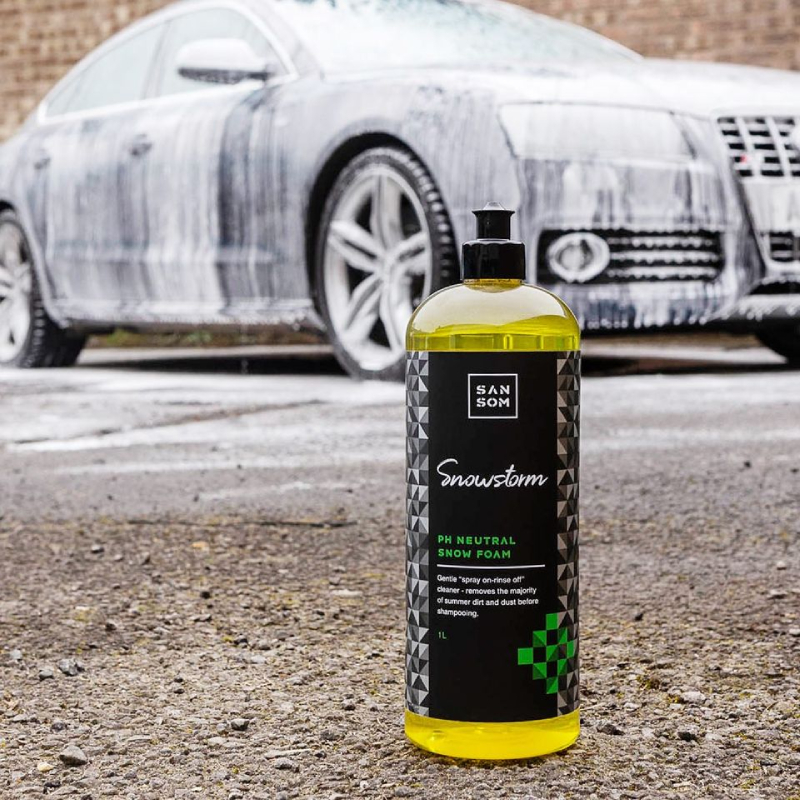 We are lucky in some respects that detailing and car care revolves around a service, past time or hobby (whatever it may be to you) that can still be enjoyed even when under a lockdown environment. It allowed plenty of house-bound enthusiasts the opportunity to finally dust off their car maintenance equipment and give their vehicle some much deserved attention.
One of the biggest advantages for online sellers, is that many consumers also had a whole lot more time to browse the latest brands and invest in those jobs that have been on their 'to-do' list for quite some time.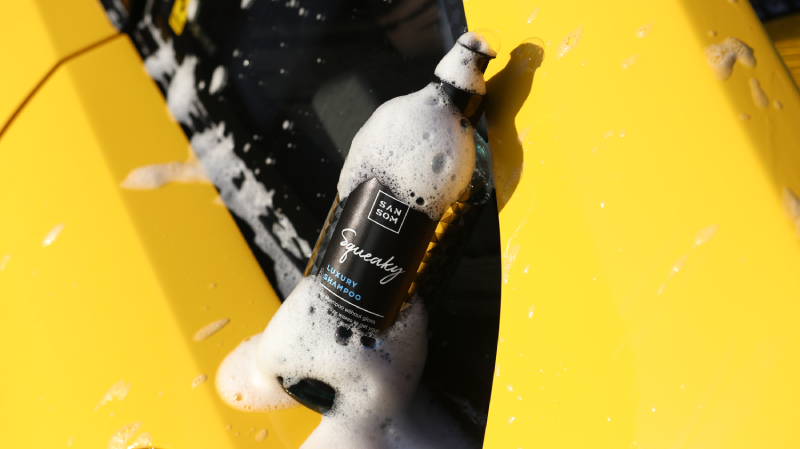 SANSOM have certainly benefited from this and we continue to see growing interest in their extensive product range, which comes as no surprise, but the year itself certainly provided a fair few hurdles in order to meet demand and keep products on the shelf.
When we caught up with the founder of SANSOM, Sam Hogan recently, he confirmed to us just how challenging it had been to maintain a steady production line. In fact, speak to most car care product manufacturers and they will tell you a similar story.
The pandemic has driven demand for domestic cleaning products through the roof and that in turn has made the simple trigger spray we all take for granted on our most loved car care products somewhat of a rare commodity. A major headache for the likes of Sam and his fellow manufacturers, but thankfully in Sam's case, a solution was sourced and the show could roll on as we prepare for the busiest period of the year on the production line
SANSOM Keeps It Simple – Pre-Wash, Wash & Protect
Staying true to their word from the outset, SANSOM continue to keep it simple and it's definitely struck a chord with a broad customer range. There's a defined balance of the products having enough quality to stand up to the day-to-day rigours a professional detailer may face, but there's also nothing over-complicated that might scare off your weekend warrior.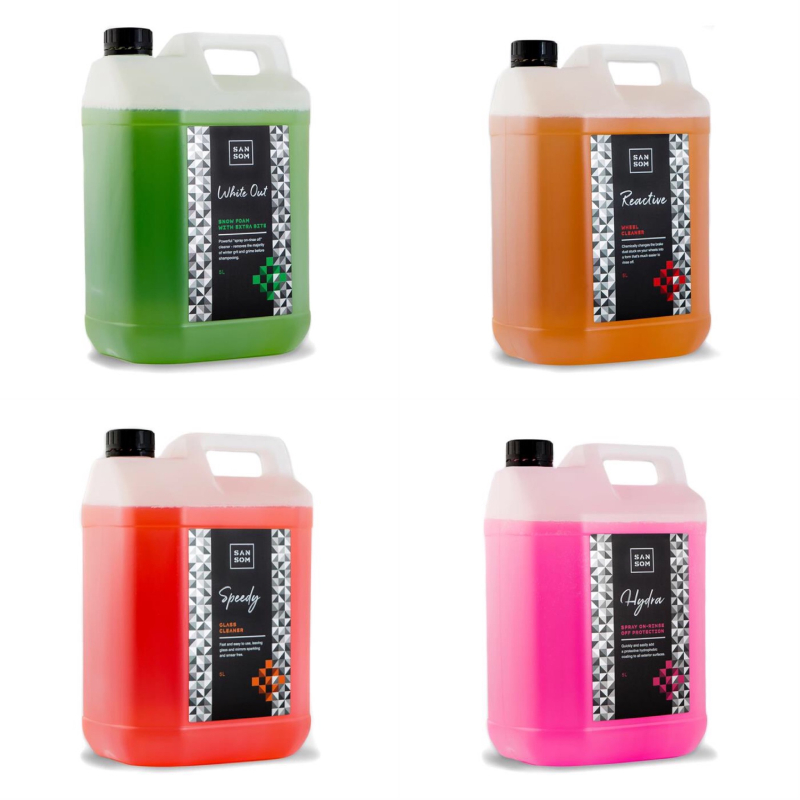 Such has been the success and popularity of the first bunch of core products offered from SANSOM among the professional detailer network, requests have now been met to offer White Out Snow Foam, Reactive Wheel Cleaner, Speedy Glass Cleaner and Hydra Spray On Rinse Off Protection in a trade sized 5L, all of which are now available for pre-order from UF as part of our exclusive SANSOM offering.
SANSOM have also been busy expanding their range of accessories, including applicators, brushes, buckets and wash mitts – all of which we are excited to get our hands on as they've been carefully crafted to work in tandem with the rest of the product offering.
So, if you are in the trade and are looking to top-up, be sure to consider what SANSOM has to offer. We preview all of the above in a bit more detail in our product feature section below and for those of you who aren't in the trade and are looking for suitable Christmas gift ideas for someone special (including yourself), check out these 500ML and 1L offerings!
Reactive Wheel Cleaner From £9.95
The sensitivity of the materials that make up a car's wheel mean it is always paramount during the cleaning process to ensure you're not going to harm or put surfaces at risk in any way. Throw into the mix the stubborn nature of the iron particles that the brakes on a car shed on to the wheel and that makes the cleaning process all the more challenging without harming the cosmetic appearance.
Reactive has been specially formulated for use on wheels, the product chemically changes the brake dust stuck on your wheels into a form that's more easily rinsed away with water. True to SANSOM form, application really is a cinch and the results are great. Simply spray on, allow to dwell (you'll notice a colour change), agitate with a suitable brush if necessary, then blast off with your pressure washer or hose. It's a terrific product, offering brilliant value.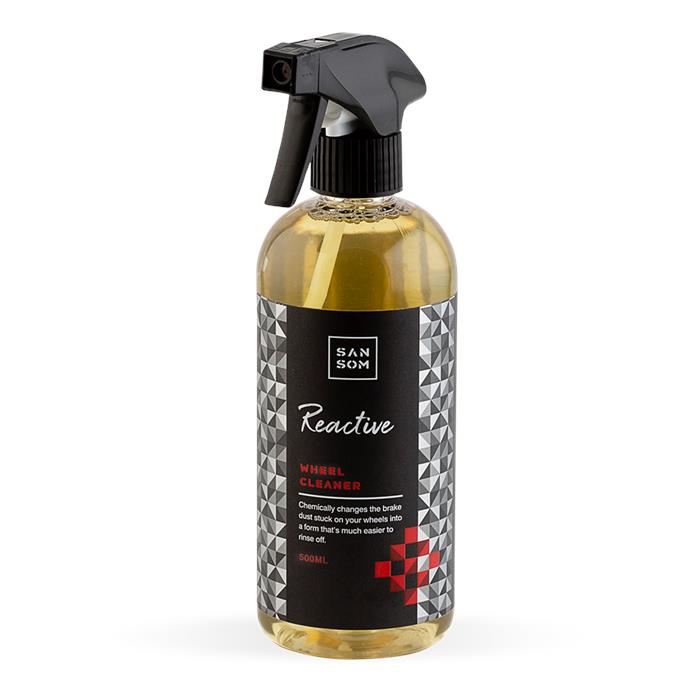 Watch the chemical reaction taking place as a deep colour purple is produced
Unlike most general-purpose fallout removers or ferrous iron removers, Reactive has been specifically formulated for cleaning wheels
Non-acidic – pH neutral – high strength formulation – doesn't smell too bad
White Out Snow Foam From £9.95
'Tis the season for an extremely filthy car, meaning the importance of snow foaming during your car maintenance session becomes all the more important. White Out Snow Foam is specially formulated to tackle the heavy soiling that typically builds up when driving in the autumn and winter months and offers excellent safeguarding during pre-washing.
As the foam is distributed over your vehicle and left to dwell, it will seep into hard-to-reach areas and also dislodge bigger pieces of dirt that are stubbornly bonded to surfaces. With all those contaminants safely loosened you can then rather satisfyingly blast off with your pressure washer ahead of an easier wash phase.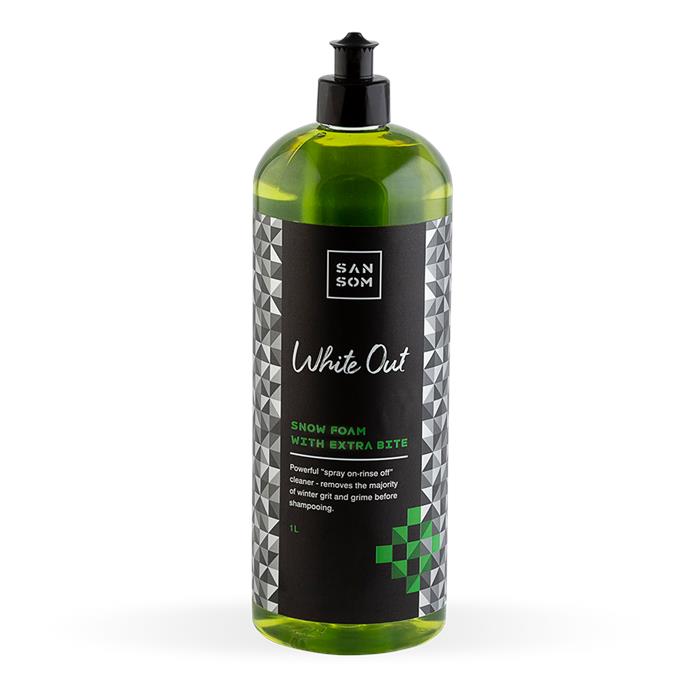 Strong cleaner that breaks apart oily films
Dissolves and dislodges mud, salt and grit
Helps to remove as much crud as possible before touching your paintwork with your shampoo and wash mitt
Ideal for treating vehicles through the winter months
Squeaky Luxury Shampoo From £9.95
The world of car shampoo has a lot to offer and with that, there can often be a lot of additional confusion as to what you are actually getting inside the bottle. With the influx of variety now bringing conditioners, waxes and all sorts of other additives to do more than one job, finding a dedicated car shampoo for cleaning alone has become a little trickier – not the case with SANSOM Squeaky however!
Squeaky is a 'pure' vehicle shampoo that's made to get your car "just squeaky clean" and nothing else. Plain and simple, Squeaky is a car shampoo that will clean your vehicle to a very high standard.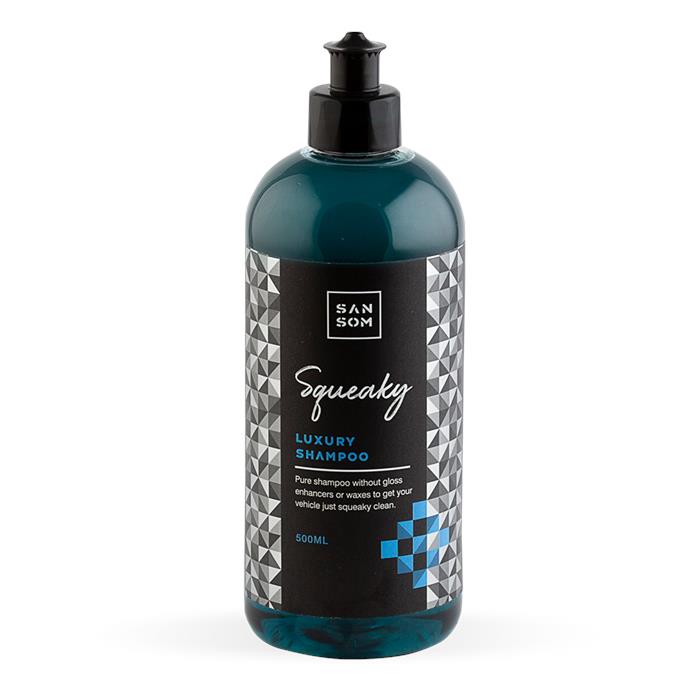 Cleans effortlessly and rinses away easily to give a streak free finish.
Contains no salts, silicones or fillers found in cheaper shampoos
Comprised of a blend of surfactants, detergents and lubricants
Contains no gloss enhancers or waxes which often hamper effective cleaning
pH neutral formulation means it won't strip any existing wax layers
Consistent foam lasts and helps to lift and encapsulate grime
Highly lubricating – lowering friction between wash mitt and paintwork reducing the chances of marring the paintwork as you wipe
Speedy Glass Cleaner From £7.95
We tend to think that Speedy really captures what SANSOM are all about in a nutshell. Delivering quality, quickly, with no fuss, Speedy has become a firm studio favourite here and also among our customer base.
A real pleasure to use, if you're looking for smear-free, squeaky clean results, then Speedy Glass Cleaner has the answer. Simply spray on to the surface, wipe on and off with a microfibre cloth and enjoy a super-clear finish. Speedy also comes with a pleasant scent and contains no alcohol or vinegar so it's even safe to use around the house to remove sticky fingerprints and alike!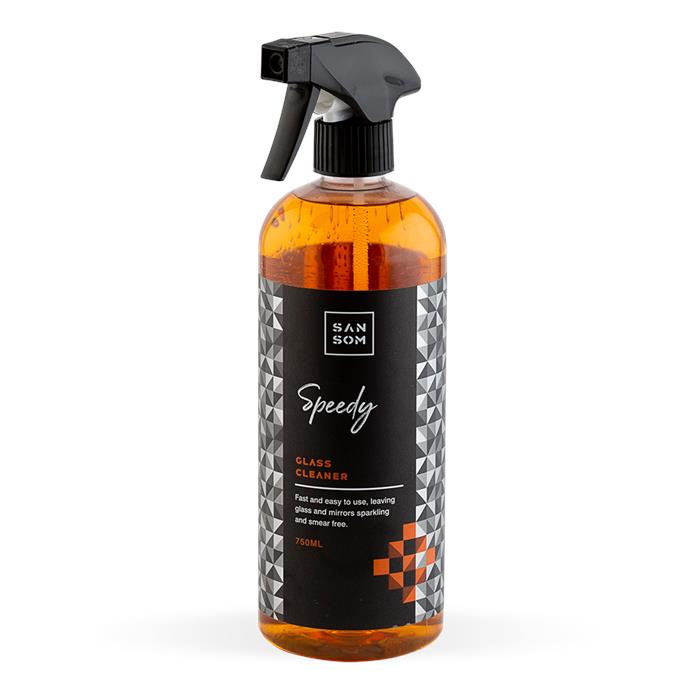 It's unlike most glass cleaners out there – no alcohol or vinegar
Smear free formula – smells great – works fast
Just spray, wipe and buff until dry – it only takes seconds
Use inside and outside
Leaves glass and mirrors sparkling
Also safe to use on plastic and acrylic
Hydra Spray On Rinse Off Protection From £16.95
Finishing off your SANSOM car care maintenance session, we move on to Hydra and the protection phase. The demand for this kind of easily applied hydrophobic coating has really gone through the roof in the last 12-18 months and Hydra has had a bit of a head start on most as it was part of the original SANSOM collection in 2019.
If you're looking for intense water beading properties, but you're not looking to invest in lengthy curing times or laborious application methods associated with some of the pricier alternatives that are out there, then Hydra certainly fits the bill. The easy spray on spray off product is safe for use on all hard exterior surfaces and offers a durability that can't be argued with, especially given how reasonably priced it is.
Simply apply to a freshly cleaned, wet vehicle, then rinse off. Better still, if you're using SANSOM's pH neutral Squeaky Shampoo during future maintenance washes, the coating will be rejuvenated and last for many months after.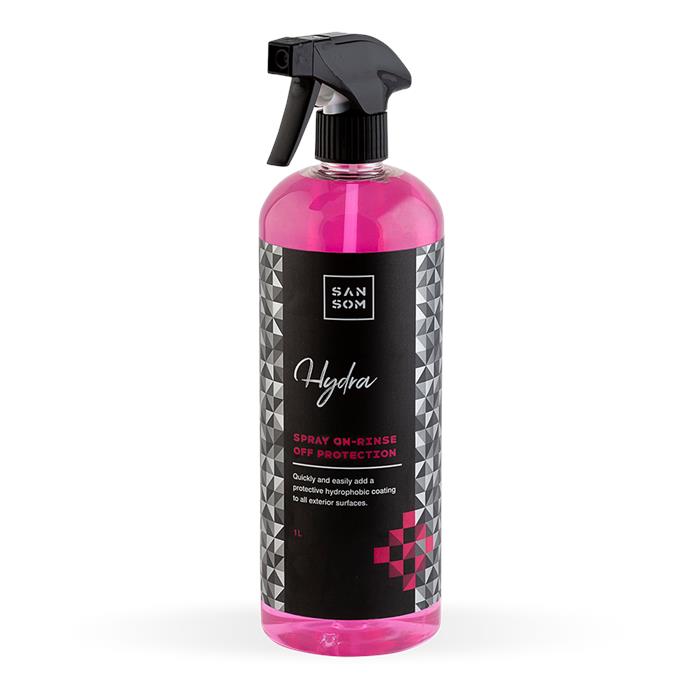 Hydra immediately bonds to the surface to make it hydrophobic
Water instantly beads up and rolls off
Makes drying your car easier
The hydrophobic coating will last for many months and is rejuvenated after every wash if you are using a pH neutral shampoo
Hydra is suitable for use on all non-porous exterior hard surfaces on your vehicle including paintwork, glass, wheels and plastic trims
The full range of SANSOM Products can be found here.
Visit Ultimate Finish for the best car care and detailing products from around the globe.
Have a question on any of our products? Email sales@theultimatefinish.co.uk or call 01474 360 360.
Our team is on hand, Monday to Friday, 8am-5pm.