SANSOM Car Care: How to Car Wash With Joe Huntley
We are lucky in the world of car care and detailing that we have so many fantastic products to choose from when it comes to the weekly maintenance wash. However, with so many options on the market, sometimes, choosing the right product for your task in hand can often become a tricky decision in itself.
For example, you are in the market for a car shampoo. Now do you want a shampoo and conditioner? Or maybe a wash and wax? Or maybe even a ceramic based shampoo? The options can seem endless and if you just want to get the job done well, but within a reasonable time frame, then take a look at what SANSOM have to offer.
We hooked our resident detailer Joe Huntley up with a collection of SANSOM goodies, before he put them to good use on a rather filthy Jaguar XF. You can view the full video of Joe transforming the Jag below or alternatively, check out our nifty links to some of the featured products being used below.
SANSOM Maintenance Detail | Jaguar XF transformation car wash
If you didn't have the time to take in the full video just yet, don't forget to check out the links in the featured products below. We've included handy shortcuts that'll take you to exactly the point where the products are being used.
SANSOM Reactive Wheel Cleaner from £9.95
You will instantly see the chemical reaction taking place as Joe uses Reactive and a deep colour purple being produced as a result. Unlike most general purpose fallout removers or Ferrous Iron removers, Reactive has been specifically formulated for cleaning wheels. Combining iron removal with other degreasers and cleaning agents, they remove the oily dirt and grime that also build up on your wheels. On top of that, Reactive uses a non-acidic – pH neutral – high strength formulation, it even doesn't smell too bad.
Watch Joe using SANSOM Reactive Wheel Cleaner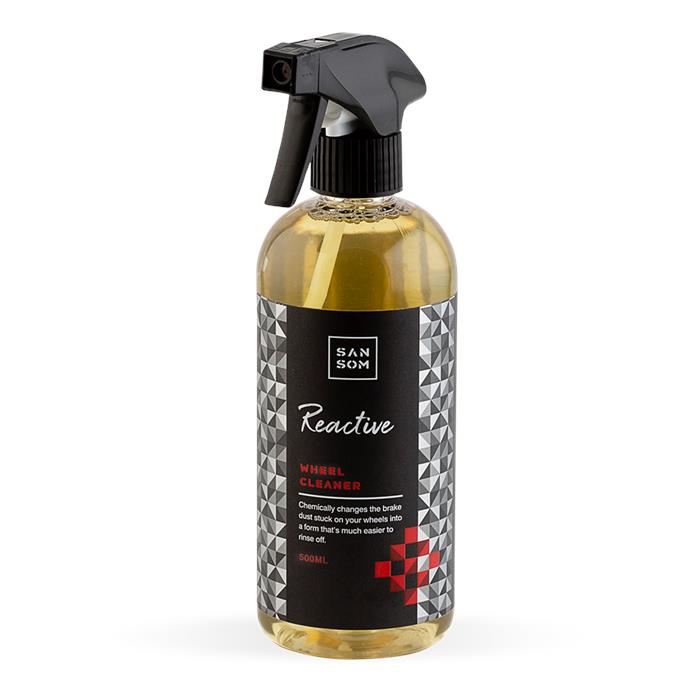 Non-acidic pH Neutral formula
Specifically formulated for cleaning wheels.
Chemical reaction takes place & deep colour purple is produced
High strength formulation – doesn't smell too bad
SANSOM White Out Snow Foam From £9.95
Formulated to tackle heavy soiling that typically builds up when driving in the autumn and winter months, White Out is a strong cleaner that breaks apart oily film, before dissolving and dislodging mud, salt, grit and more.
In essence, White Out will remove as much crud as possible before you begin touching your paintwork with your shampoo and wash mitt.
Watch Joe using SANSOM White Out Snow Foam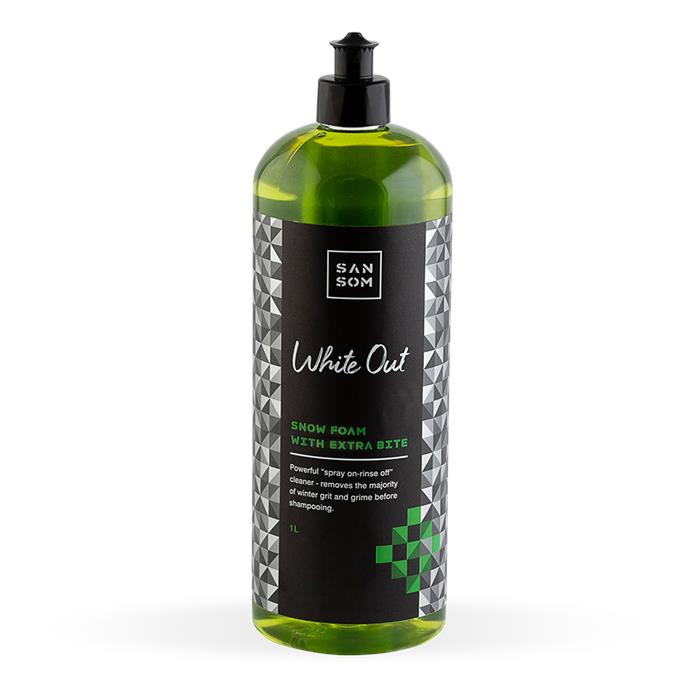 Pre-wash foam cleaner
Breaks down mud, salt, grit & other contaminants
Non-contact solution
Ideal for use in the winter months
SANSOM Squeaky Luxury Shampoo From £9.95
Fast becoming one of the products that SANSOM lovers keep coming back for (and we think Joe probably will after trying it too!), Squeaky Luxury Shampoo is one of those 'does exactly what it says on the bottle' type of products. There are no confusing gloss enhancers or waxes, just a high-quality, luxury shampoo providing oodles of lather.
Using a blend of sophisticated surfactants, detergents and lubricants, Squeaky is a pH neutral formulation too, meaning it won't strip any existing protective coatings that may be in place on a vehicle.
Watch Joe Using SANSOM Squeaky Luxury Shampoo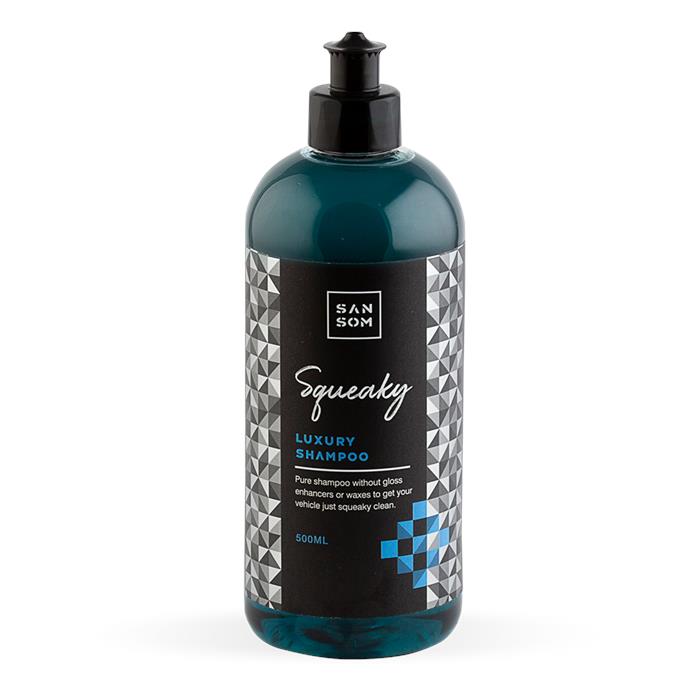 Cleans effortlessly & rinses away easily for a streak free finish
Contains no gloss enhancers or waxes
pH neutral formulation means it won't strip any existing wax layers
Consistent foam helps to lift & encapsulate grime
Highly lubricating – lowering friction between wash mitt & paintwork reducing the chances of marring the paintwork
SANSOM Hydra Spray On Rinse Off Protection From £16.95
Hydra is the quick and simple way to add a long-lasting protective coating to all exterior hard surfaces including paintwork, glass, trim and wheels. In Joe's video he actually uses Hydra on the wheels after cleaning, then later on moves the product on to paintwork and trim, demonstrating the versatility.
Once coated, Hydra will provide instant hydrophobicity and beading making for a much easier drying process with your microfibre towel. Offering several months protection, if you continue your future maintenance washes with a pH neutral shampoo such as Squeaky, you'll extend the durability of the Hydra coating even further.
Watch Joe Using SANSOM Hydra Spray On Rinse Off Protection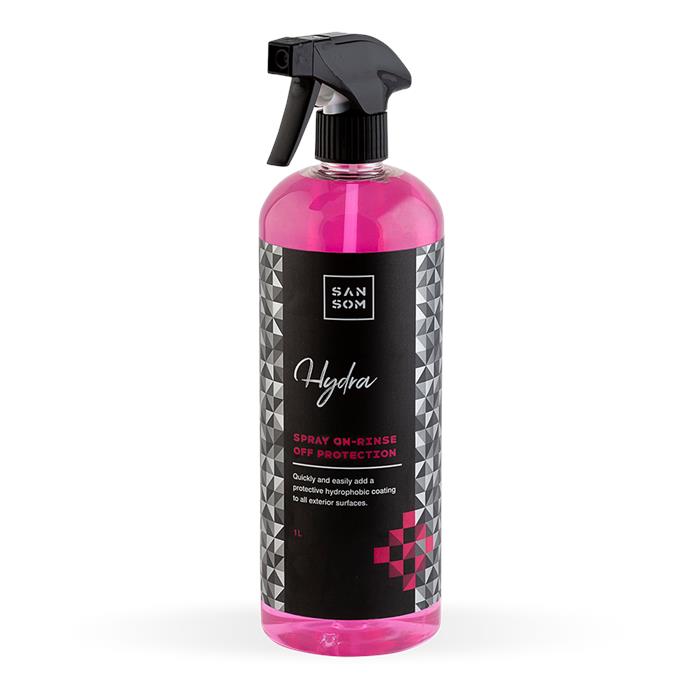 Simply spray Hydra onto a clean & wet surface, then rinse off
Hydra immediately bonds to the surface making it hydrophobic
Water instantly beads up & rolls off.
Makes drying process easier
Many months protection
Hydra is suitable for use on all non-porous exterior hard surfaces on your vehicle including paintwork, glass, wheels & plastic trims.
SANSOM Cabin Care From £4.95
Cabin Care cleans and sanitises all vehicle interior surfaces, providing peace of mind for you and your passengers on every trip.The powerful cleaner cuts through grease, grime, dust and dirt with ease and is the ideal tonic for muddy foot prints on door sills, foot rests, the backs of seats or even your boot.
Containing anti-microbial agents which kill viruses, bacteria, yeast and mould spores – all the nasties that you don't want to hang around on surfaces.Cleanse all the areas that are touched by your hands, such as door handles, steering wheels, gear sticks, touch screens and your dashboard in general.
Cabin Care is also highly effective on fabrics, breaking down the germs that typically go on to cause unpleasant odours.Tested to all the relevant quality standards, Cabin Care is safe to use, works fast and doesn't leave a residue behind.
Watch Joe Using SANSOM Cabin Care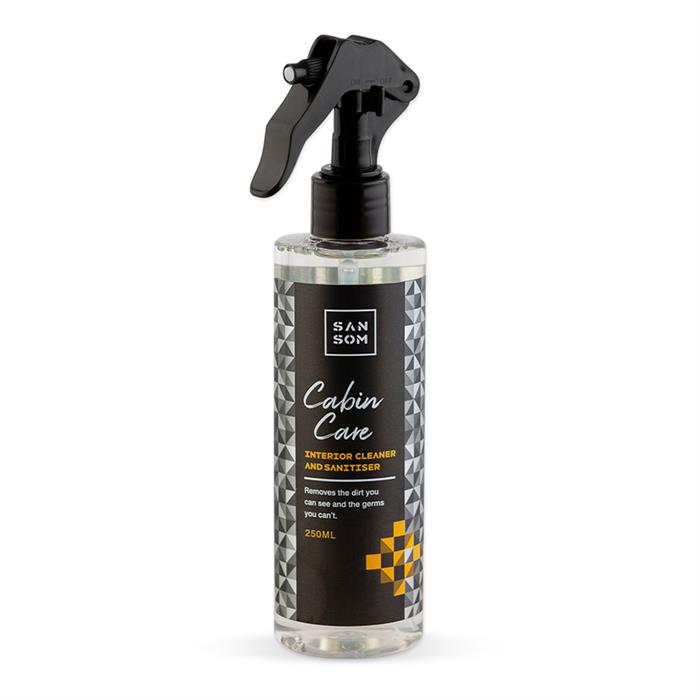 Powerful interior cleaner
Cleans & sanitises
Target grease, grime, dust, dirt & more
Suitable for use on all interior surfaces including fabrics
Kills viruses, bacteria, yeast & mould
Fresh smelling scent
The full range of SANSOM products can be found here.

Visit Ultimate Finish for the best car care and detailing products from around the globe and bring your 'dirty daily' back to life!  
Have a question on any of our products? Email sales@theultimatefinish.co.uk or call 01474 360 360.
Our team is on hand, Monday to Friday, 8am-5pm.