The Sunday Times – Lift the sheet and rub in the £2,000 lotion
David Williams recently asked Ultimate Finish to contribute to an article he was writing for the 'In Gear' Section of The Sunday Times.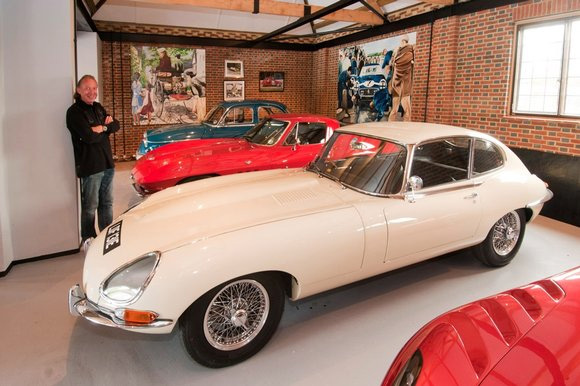 Tony Robinson spends more time polishing than driving (Andrew Hasson)
You probably think you're spoiling your car if you wash it more than twice a year, but you're left for dust by a group of owners whose cars lead a life of pampered luxury. Whenever he can, Tony Robinson steals away from his family at their grand home in Sussex and crunches across the gravel drive to spend time with the other love of his life.
The rendezvous? His ventilated, hangar-like garage, boasting workshop-grade lighting and a squeaky-clean dustproof floor. Once past the sophisticated alarm system Robinson is a world away from domestic and business concerns. Today, though, he has a problem. A self-made man enjoying the rewards of a publishing and exhibitions business, he needs to run a 20-minute errand from his manor house, set in 120 acres.
The problem is which of his 25 or so cars to choose. The merest hint of rain and there's no way the cream 1967 Jaguar E-type 4.2 series 1 coupé will be leaving his garage, in which hang paintings by the motor sport artist Paul Smith. The Jag looks as if it emerged from the factory seconds ago, and it's going to stay that way, to judge by the haste with which Robinson uses a tissue to eradicate the fingerprints after I help him close the bonnet.
What's it to be, then? The moody-looking blood-red 1966 Corvette Stingray? The immaculate Ferrari Testarossa, the pristine Ferrari 550 Maranello or the showroom-condition 1960 Panhard? Robinson plumps for the venerable 1971 Citroen SM.
You laugh: Robinson must be an eccentric, a one-off. But no. Britain, it seems, is home to an extraordinary number of folk who don't just admire or cherish their cars. They obsess over them. As a nation, we lavish more than £1 billion annually on tending our cars, according to the used-car seller Carcraft. The "pamper generation" cossets its vehicles to the standards normally reserved for prized wine or art collections.
It's a world in which a sponge must be used only once for fear of defiling the paintwork with a particle of grit, where there's a differently graded cleaning brush for every crevice, where the talk is of where to find the best polishing cloths, where, sometimes, only £2,100 tins of wax will do — and where driving on salty roads would be like leaving your Rembrandt in the rain.
Take Chris Saunders. Sitting at the desk in his conservatory-cum-office in Bristol, he should be concentrating on his garage and property business. But he admits to spending much of his time gazing at a rare 2011 gold and brown Triumph Thruxton 904 S Ace Cafe Special motorcycle. So special, in fact, that it lives feet from his desk, propped on its side-stand and lovingly polished almost daily. You won't find a sign of wear on the £18,000 machine: it's never ridden and has only 10 "rolling road" miles on the clock. Connected permanently to a trickle charger to keep the battery just so, and occasionally started to keep its juices (and Saunders's) flowing, it's pristine.
Not all of the pamper generation are men. Kate Umfreville's limited edition £10,000 Ford Racing Puma may be worth a fraction of a Ferrari but it too benefits from an exhaustive cleaning regime and, when garaged at her home near Brighton, it sleeps beneath fine cotton bedsheets. The 45-year-old's pamper rules? One cleaning swipe only with the sheepskin mitt before it is purged in a bucket of clean water. Only then can it be returned to the soapy-water bucket. And only the finest microfibre cloths for drying the car afterwards, thank you very much: "Chamois leather's too abrasive."
Umfreville, who works in IT, says the effort is worth it: "When I do take it out I really enjoy it — though it never goes on salted roads. I admit I don't like people touching my car. You can look, but you can't touch."
The passion felt by those such as Umfreville for their four-wheeled pets supports a multi-million-pound industry. "It's a world where different rules exist," explains Ian Barkaway, founder of Barkaways in Kent, which specialises in Ferrari restorations.
"Some collectors leave their cars in damp garages and don't drive them, which is an automotive death warrant," he says. "For others only a climate-controlled air chamber, a yearly coat of paint protection costing £500 and an exacting car care regime will do."
For the real obsessive, temperature and humidity controls are de rigueur, along with security systems that would shame a bank. Flats in Henry Moore Court, a new development in Chelsea, will cost £5m-£14m and come with a heated underground garage boasting double-gated entry, heating of the ramp in icy weather and ceiling heights designed for gullwing doors.
Naturally cars kept in such surroundings can expect the best treatment. Jez Gilman is the owner of Ultimate Finish, purveyor of car waxes and shampoos to the pamper generation. His website offers a wide and baffling array of polishes, each designed for a different brand and age of car. One, at £70 for 200ml, promises an "optimum water-repellent film on the painted surface" of "post-1988 Japanese vehicles".
The grandaddy of them all is Swissvax Divine Personal Hand Blended Wax, the preparation of which assumes the mystery of a detective novel.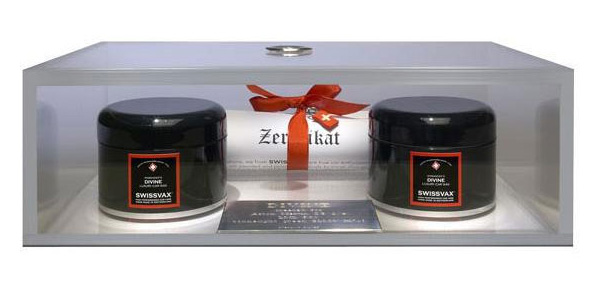 "The customer is asked to supply the precise make, model, year and chassis number of their vehicle," says Gilman. "This is relayed to the car manufacturer, which traces the code number of the original paint. Only then can the two 200ml tins of wax be created to match the paint, and it's utterly unique to that car."
Just in case anybody picks up the wrong can when they're polishing the family Ford Focus, the Swissvax product, made with white carnauba wax, includes a silver plaque recording the intended vehicle's vital statistics. Yours for just £2,100 for two 200ml tins.
Car pampering is not, however, confined to the super-rich. Mark Byrne, an IT consultant from Surrey, is not wealthy but he has lavished a large proportion of his income transforming a 1995 VW Golf Mk 3 to exhibition standards. He estimates that he has spent £25,000 on improvements and polishing — for a car now worth £8,000. "You might think it's a bit OCD," says Byrne, whose carpeted, hermetically sealed garage bulges with power polishers, microfibre cloths and valeting brushes.
"My friends say I should get a girlfriend. I did, but when I said I wanted to work on the car overnight before a show and she said she wanted me to be with her, that was it. You may think I'm obsessed, but I just want everything to be perfect."
Kate Umfreville is another who spends more time polishing than driving (David McHugh)
Treat your car like a princess
The cloth – In a world where a chamois is "too abrasive", only a microfibre cloth will do. Spun from man-made fibres up to 100 times thinner than a human hair, the cloths are used to buff up wax and remove any drops of water left after washing — the cause of the dreaded water spot, a mark left on paintwork by minerals that become concentrated as the liquid dries. Try the Mothers range — cloths finished with a satin edge to prevent scratching, starting at £10 a pop.
The brushes – From static-creating devices designed to sweep dust and hair from seats to the supersoft brushes made to clean wheels and tyres, there's a specialised tool for every surface of a car. Try the Meguiar's range, from £9. What do you mean, you don't care if the inside of the wheelarch is free of grit? Amateur.
The wax – Car nuts know that every wax must exactly match the paint. To order Swissvax's Divine personal hand-blended wax customers must supply not just the make of car but the year and chassis number, too, so that the code number of the original paint can be traced. Only then do boffins hand-mix a pair of tins of white carnauba wax to the right hue. Yours for £2,100.
The garage – Like a work of art or a vintage bottle of wine, a classic car needs to be preserved in the right atmosphere. State-of-the-art garages are insulated from the elements and have their own heating systems; the floors are finished with a hard resin to prevent dust particles from accumulating. A high ceiling is essential, of course — to stop your Lamborghini Countach's scissor doors from being chipped.
The apartment – The car-pamperer's dream is to park their wheels inside their home. Enter Porsche Design, which is collaborating on the next best thing: a $560m (£360m), 57-storey apartment block in Miami where owners can drive into an oversized lift that will spirit them up to their apartment, where they can park the car. As with a similar building in Manhattan, a glass wall allows the proud owner to gaze at their pride and joy all day.