UF Hosts First Ever Kamikaze Collection UK Training Day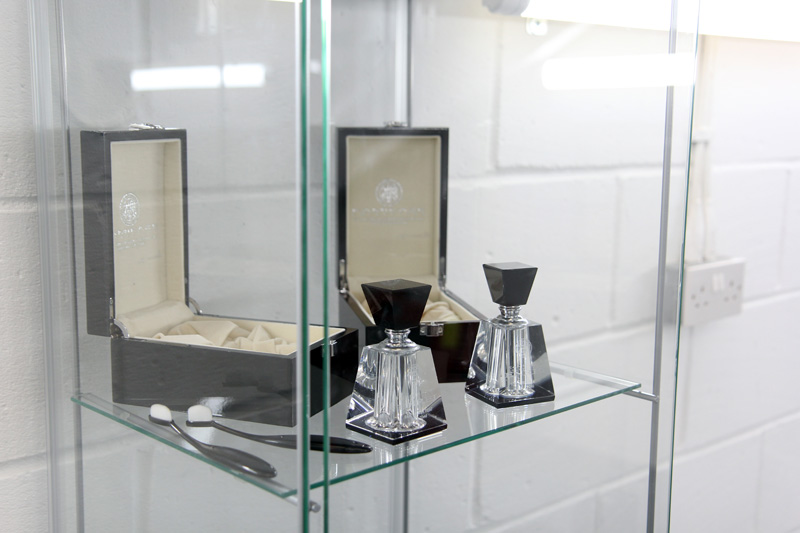 Kamikaze Collection is a revolutionary range of high-end boutique car care products designed and manufactured in Japan, home of ceramic coatings. Combining state-of-the-art technology with traditional know-how, Kamikaze Collection prides itself on delivering truly innovative and unique products without the typically associated hype. Employing the 'kaizen' approach, Kamikaze Collection focuses on continuous improvement to ensure their customers benefit from products that really do add value.
The Japanese car care industry has pioneered the growth of the glass coating industry, historically based around inorganic chemistry. Durability and hardness of the coatings have been the main focuses and key selling points of these coatings, but for Kamikaze Collection CEO, Kai Morita, many of these claims were overstated or unrealistic. As users of these coatings have begun to discover, many of them simply aren't performing in line with their marketing promises. As such, users have started to become wary of the hype.
Kai created Kamikaze Collection in 2013 to bring high performing products to the car care market, products whose performance would speak for themselves without employing marketing tactics. Instead, through hard work and persistence, Kai has been growing the reputation of Kamikaze Collection by striking up key relationships with partners and respected detailers around the world.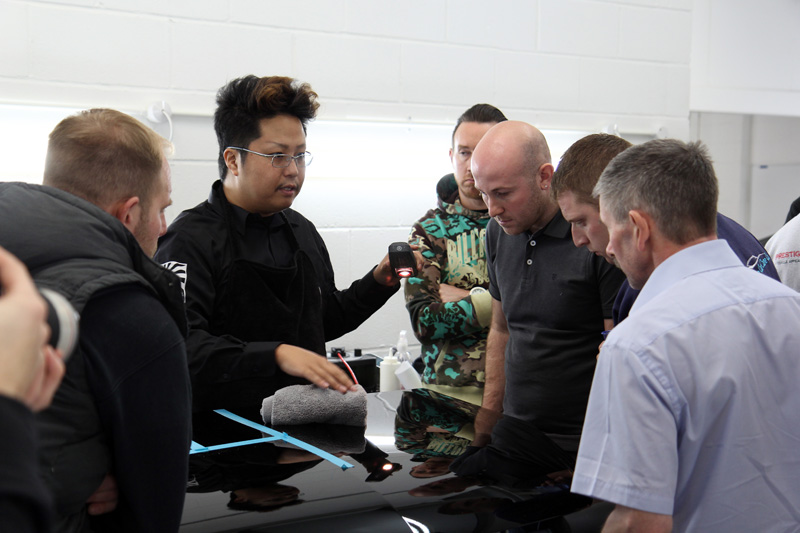 How Is The Kamikaze Collection Ethos Different?
A coating should be a sacrificial layer – it's meant to take the onslaught that clearcoats would otherwise be subject to. As a sacrificial layer, it may be replaced at intervals to ensure the continued protection of the clearcoat.
Clearcoats are subjected to a myriad of potentially damaging elements. Coatings based singly around organic or inorganic chemistry cannot offer protection from all of them. Better protection is derived from combining the uniquely protective elements of both.
Multiple layers of a single coating are redundant – one layer or a combination of two products with different properties should be sufficient to provide protection from the elements and to deliver a show-winning shine.
Anti-Ageing Theory – paintwork and its protective coating are like skin, they require specific products to ensure their appearance and performance remain at their best. Using inappropriate products will cause the coating to age more quickly, so the right maintenance products are essential.
In line with their theories, Kamikaze Collection has produced Miyabi Coat, ISM Hydrocarbon Coating and Infinity Wax Hybrid, all available to professional detailers and car care enthusiasts alike. Recently, though, Kamikaze Collection has released, ENREI Coat, a two-step sealant that combines organic and inorganic elements to provide superior protection from chemical and environmental contamination whilst delivering a candy-gloss shine.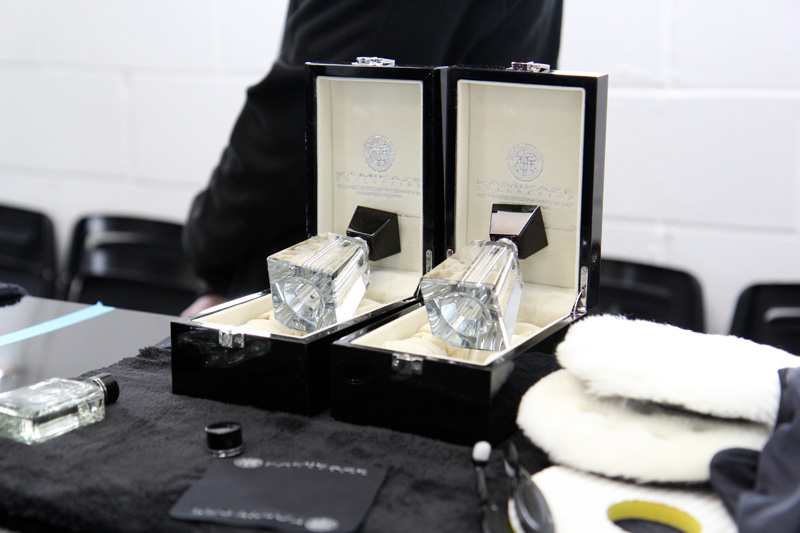 It is the first of their products to be reserved for professional detailers only. As such, in order to preserve the reputation of their first pro-only coating, only those professional detailers who have attended a training day are able to offer ENREI Coat as a service to their customers.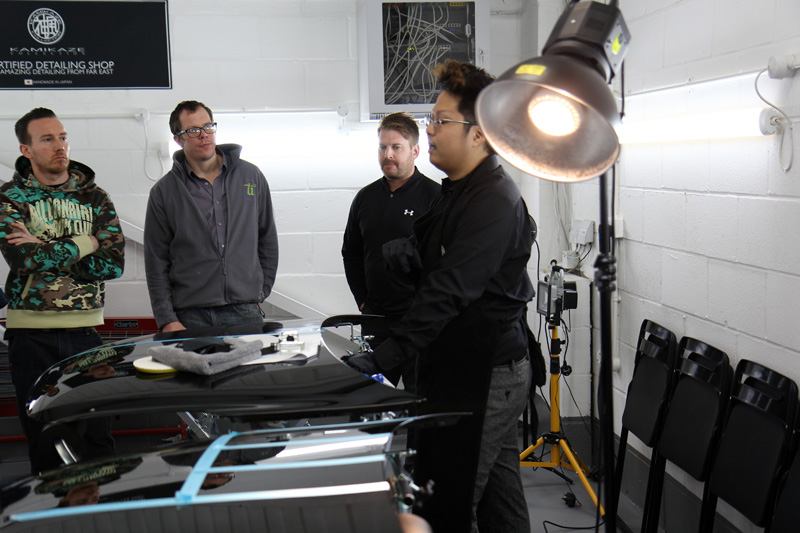 Often, coatings are released with claims of longevity and performance, yet over time customers become disenchanted as they fail to live up to the hype. This can be down to a lack of understanding as to the optimum application methods. ENREI Coat is only available to professional detailers who have attended a training day and as such Kamikaze Collection is better able to ensure the application is performed correctly, preserving the performance and, therefore, the reputation of their products. – Jez Gilman, UF
To ensure Kamikaze Collection International was represented in Britain for product enquiries, sales and training, Kamikaze Collection UK was set up. The first training day was arranged for December 2016 with UF hosting the event at their headquarters in Brands Hatch, Kent.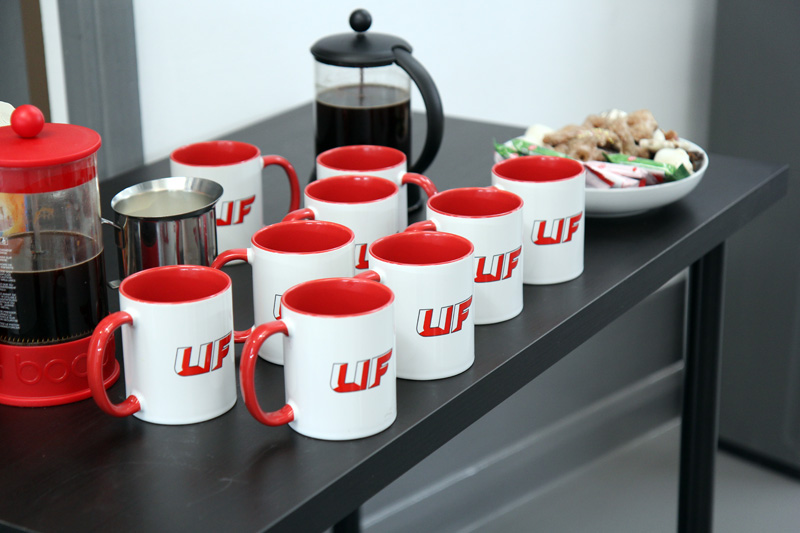 Initially, a handful of companies were invited by Kai to become the first Kamikaze Collection Certified Detailers in the UK:
Clive Ford – Ultimate Shine Autos, Stirling, Scotland
Darren Wilson – The Complete Car Care Company,  Lisburn, Northern Ireland
James Walker – Ti22 Vehicle Services, Wales
Jay Purcell – Miglior Detailing, Lancashire
Barry Polding – Top Car Detailing, Cheshire
Derek Ginger – Prestige Detail, Bedfordshire
Kevin Choules – Seal-It Wax-It, Berkshire
Jonathan Davoine – Perfect Car Care, Derbyshire
Charles Dujardin – Auto Wax Works, Oxon
Bradley Griffin – Concours Detailing, Hampshire
Rob Barnard – R & R Detailing, London
Nick White – SL Restoration, Sussex
Ed Staples – Divine Detail, Surrey
Matt Back – UF, Kent
Daryl Benfield – Offset Detailing, Essex
I've been using Kamikaze products for some time now and have long been a fan because they're easy to work with and the results are amazing. During the training day, I was really struck by the level of attention Kai has applied to the application methods. Having worked with him to redevelop the Kamikaze backing plates, I've come to respect his holistic and total attention to detail and the passion he has for his products – it really is second to none. During the day, Kai demonstrated several products including the Orange Peel Removal Pad. Another truly innovative product by Kamikaze, the pad is designed to eliminate the wet sanding stage which will save detailers huge amounts of time. As they say, an amateur will tell you how long something will take, a professional will tell you how fast they can do it. Kamikaze products definitely support the professional! – Clive Ford, Ultimate Shine Autos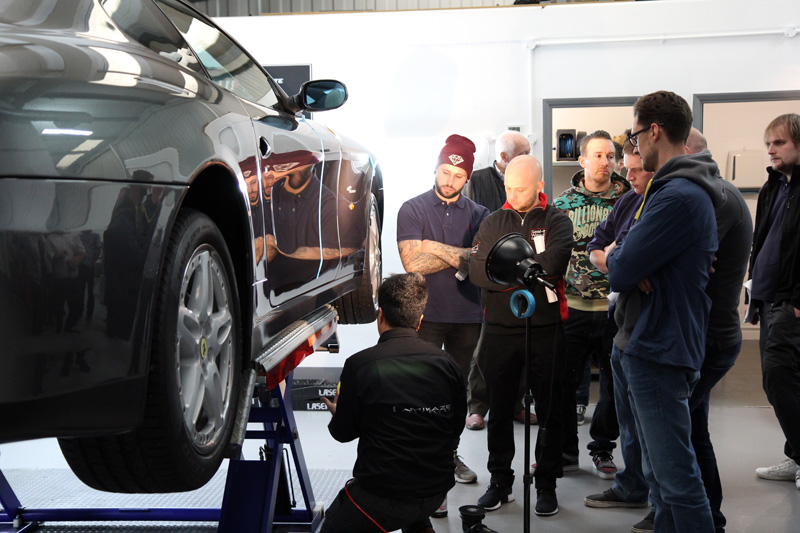 As well as demonstrating the Orange Peel Removal Pad, Kai also discussed Ichiban Finishing Compound, a jeweling polish developed with the traditionally softer paint finishes typically found on Japanese marques in mind.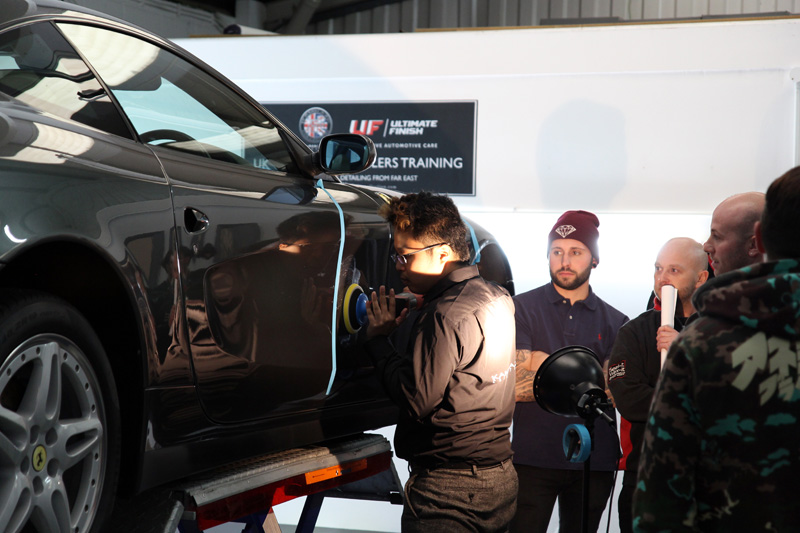 Stance Rim Coat, the new protective coating for alloy wheels was also on show. Unlike many other wheel coatings which typically are also suitable for application to other lacquered surfaces, Stance has been specifically designed to protect wheels. As the closest moving part of the car to the ground, wheels are subjected to a particularly hard time. As well as collecting a lot of dirt, grit and grime they also have to endure being drenched in liquids containing abrasive particles and harsh chemicals. This could be it rainwater contaminated with diesel or sand and road salts used for keeping the roads clear in icy conditions. As such they require a particularly tough coating that can repel all of these types of contamination successfully. Stance Rim Coat does not have to be applied thickly: 30ml of Stance Rim Coat is sufficient to coat six sets of wheels.
Attention then moved to an additional, professional-only coating soon to be released: ISM PRO Hydrocarbon Coating. Although is carries the same designation as the enthusiast product (ISM Hydrocarbon Coating), the pro version has been newly developed incorporating cutting edge German technology with the ultra-low molecular weight hydrocarbon technology developed in Japan. The result is a coating that repels water almost as well as ENREI whilst delivering an even glossier shine than the original ISM Coat.
The thing I really like about Kamikaze products is their integrity. I am a Japanophile and I can see the ethos of the culture running through the products. I believe with any product line, the products take on the characteristics of the manufacturer and this has never been truer than with Kamikaze Collection. The care, the attention to detail, the devotion to continuous improvement, the thoroughness of the training – every bit of it is dedicated to providing customers with products that perform and a service that delivers the very best. When you meet Kai, it's clear that for him, it's not about the money, he really cares. – James Walker, Ti22 Vehicle Services
For all the detailers who attended, the key message from Kai was on the application process for all the coatings.
With a lot of sealant manufacturers, the application instructions simply provide guidelines as to how long you should wait between applying the coating and wiping the residue, or curing times between layers. Kai actually demonstrated specific techniques, specific methodology, precise actions and timings for the application as well as giving details on curing times. It was an eye-opener and so well presented, Kai really does have a great sense of humour as well as a unique level of intensity he brings to his work. – Matt Back, UF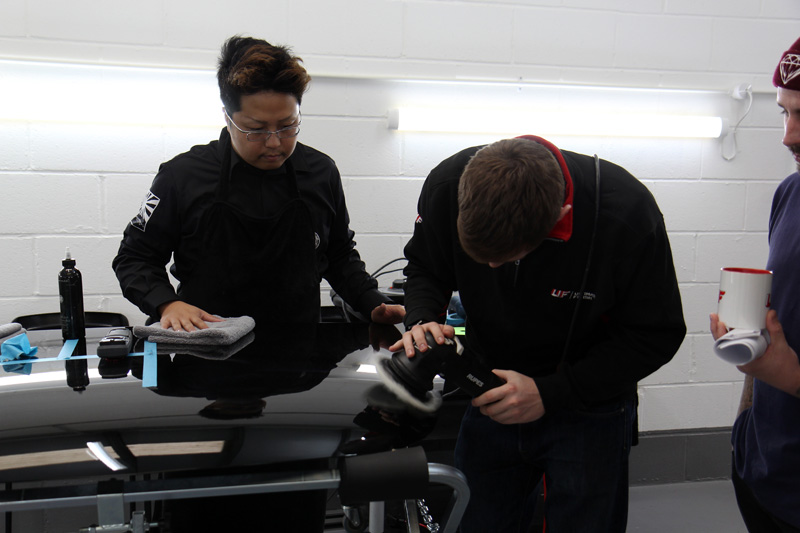 At the end of the training day, all the detailers were presented with their Kamikaze Collection authorisation certificates.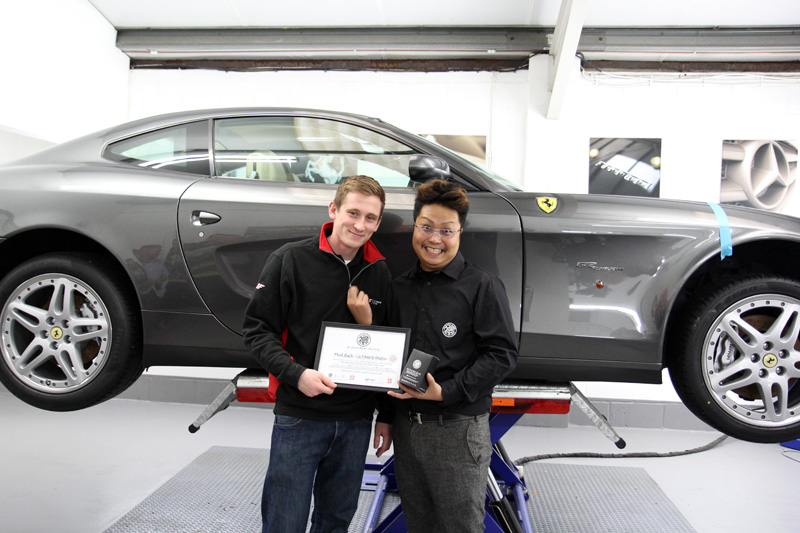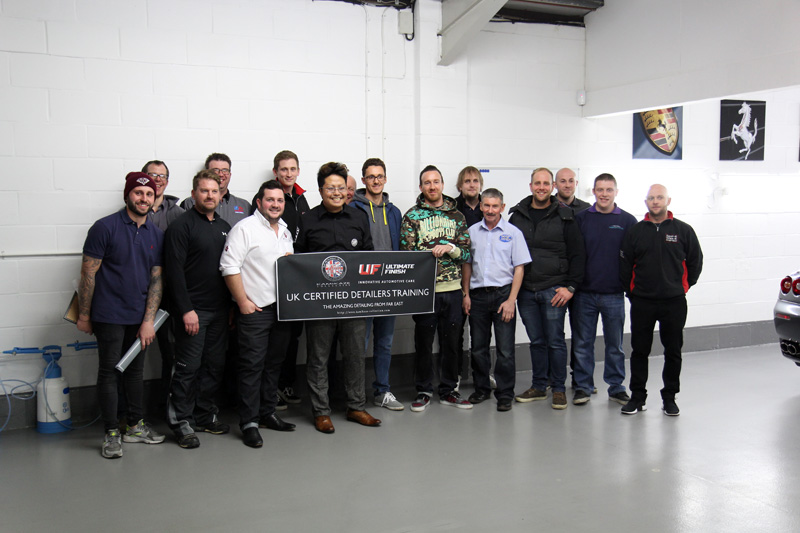 More images from the training day can be viewed on the Kamikaze Collection UK Facebook page.
A further Kamikaze Collection UK Training Day will be hosted at UF on Friday, January 27th, 2017. To register your interest please complete the questionnaire here.
Kamikaze Collection ENREI Coat is now available as a service at UF Detailing Studio – Award Winning Detailing. Call 0333 800 8004 to discuss your requirements.