AC Cobra – Prestige Fully Tailored Indoor Car Cover
The benefits of an outdoor car cover are obvious to most people, particularly if they're going away for a period of time or simply won't be using the car for a while. Outdoor covers protect from weather, UV, industrial and environmental fallout, bird lime splatters, critters, etc.
The need for an indoor car cover may be less obvious, but it's still worth considering. If your vehicle is going to be left in car storage for any length of time it's even more worthwhile. A good quality indoor cover will protect your vehicle from dust and minor knocks, meaning that when you return to it, your car will be as you left it – ready for you to drive without having to wash it first.
Apart from the practical aspects of an indoor cover, there's something rather satisfying about a car beneath a fully tailored, well made cover; it adds a sense of mystery!
A customer recently brought his AC Cobra replica into our Brands Hatch facility for long term storage. Originally manufactured by AK Sportscars, the 'AK 427' is one of the finest cobra kit replicas available. For all annual car storage contracts Ultimate Finish include a Prestige Tailored Indoor Car Cover made to order by Specialised Covers and on this occasion the customer chose a blue cover with the 'no cost' option of contrasting white piping, the completed cover can be seen below.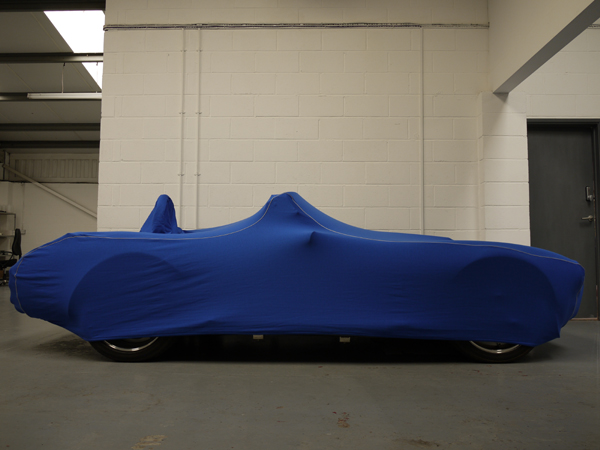 Specialised Covers began making fully tailored car covers in 1981 and since has built up an enormous portfolio of patterns. A British company, all manufacturing takes place within the UK and their skill and dedication to providing only the highest quality workmanship means they are now official suppliers to many prestigious car manufacturers including Audi, Bentley, Mercedes and Lotus.
The Prestige fully tailored indoor car cover is fully lined, protecting comprehensively against dust, pollen and scratches to keep your car in pristine condition. Prestige can be fully customised with a choice of 9 matte and 5 metallic colours, matching or contrasting piping and if required, single colour vinyl logo, full colour vinyl logo or embroidered logo.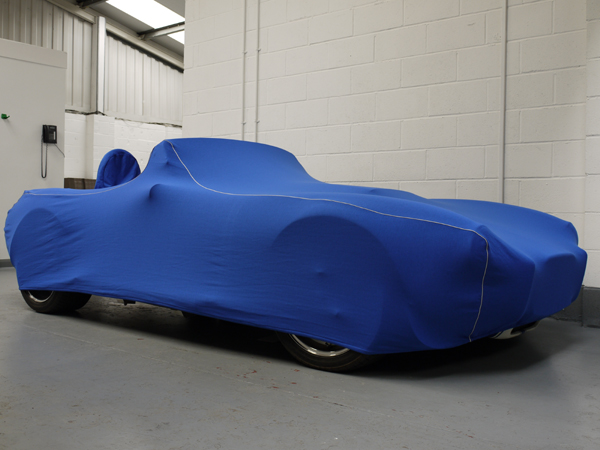 Specialised Covers also make fully tailored outdoor covers, their most popular material being Stormshield. Not to be limited to cars though, they can also make a cover for your motorcycle or caravan!
If you are considering a fully tailored car cover, call one of our team on 0845 838 1200 and we can talk you through the options.