3-Day Pro Detailer Training Course – An Event For Everyone!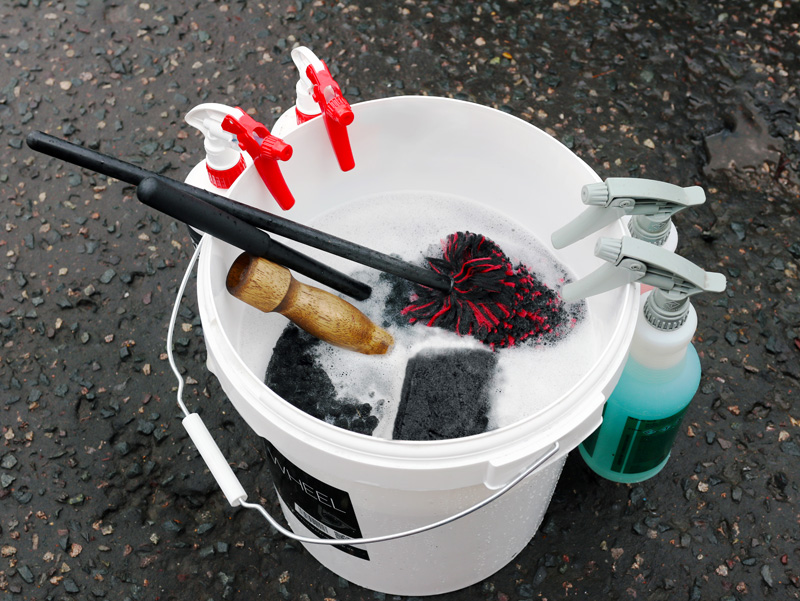 UF has over twenty years' experience in the car care industry and the award-winning UF Studio is recognised as a principle UK centre for automotive cosmetic restoration. A member of the International Detailing Association (IDA), UF is committed to delivering industry-leading standards, helping enthusiasts and professionals achieve the best possible results through detailer training.
One of the modular car care training courses offered by UF at their Brands Hatch detailing studio, the three-day Pro Detailer course includes an intensive session on decontamination and cleaning procedures, followed by instruction on machine polishing products, equipment and techniques, before finishing with a detailed look at ceramic coatings and the various substrates, inside and outside the vehicle which require protecting.
The comprehensive and varied nature of the course appeals to a variety of people as represented by the eclectic mix of participants at the most recent event.
Dave – a passionate car care enthusiast and owner of classic cars, Dave has spent thirty years looking after his and his wife's vehicles. Recently made redundant, he's now considering opening a detailing studio of his own near his home close to Goodwood race circuit. He's been buying his products from UF Direct for a long time and so picked UF Studio for his training requirements.
Steve – has been running his own mobile valeting business for five years now. The next step on his business plan is to move into his own premises so he can offer clients full paint correction services and increase his range of last step protection offerings by gaining accreditation with a ceramic coating manufacturer. This would allow him access to some of the professional-only ceramic coatings, typically the most durable and swirl resistant protections available. Based in Solihull, Steve is eventually looking to expand his business and to offer mobile services so clients can continue to have their cars maintained at their places of work and their homes.
Deon – operating a team of mobile valeters in Ghana, Deon is a serious motorcycle enthusiast. Deon was keen to learn about the different products for decontaminating vehicles as the challenges in Ghana are quite different than those here in the UK. In addition to heat and heavy downpours of rain, dust is a major issue and potentially a damaging one if not removed carefully prior to cleaning a car. Deon was also keen to learn more about ceramic coatings and to gain a better understanding of the different coatings available.
Jeremy (Jez) – a gardener by trade, Jez lives in southwest France near the Pyrenees. One of his customers has a collection of classic cars, primarily Ferrari, and needs someone to carry out corrective cosmetic work to bring each car up to showroom standard. The cars will also then need maintaining on a regular basis going forward. Happy to add the service to his current offerings, Jez decided to come along to the 3-Day event so he could gain a deeper understanding of each process required to keep his customer's cars looking their best.
Ionut (John) – currently a car care enthusiast, John is looking to set up his own studio in his hometown of Birmingham. He's been buying products from UF Direct for many months to maintain his own cars and those of his friends and family. From the advice he'd received from his phone calls to UF Direct, he was confident the Pro Detailer course would teach him what he needed to learn to successfully launch his own detailing business.
Ash – a mobile valeter based in Worcester, Ash wants to increase the services he can offer to clients. A relatively new business, he is looking forward to soon getting his own detailing studio and on completing this course, will be able to offer his clients the full range of paintwork correction services as well as a variety of ceramic coatings.
Will – having recently finished his A-Levels, Will is working part-time at a car-oriented retail outlet whilst he decides on his future. Passionate about all things car care related, he's seriously considering a career in automotive detailing although initially, he's looking to work for a detailing outfit as opposed to setting up on his own. Before committing to this path, however, he decided to complete the UF Pro Detailer training event as, in addition, to giving him a comprehensive insight into the processes, it would give him a certificate on his successful completion of the programme.
The training day began with decontaminating and cleaning products and techniques.
No matter how many years people have been looking after their cars, there are always new things they discover when they attend one of our courses. There's a significant difference in the level of attention that goes into detailing as opposed to valeting or 'enthusiast care'. Many of the participants are astounded by the lengths we insist on going to when preparing a car but they soon see why we do it and they appreciate the difference! – Matt Back, Master Detailer, UF Studio
The wheels and wheel arches were the first areas to receive attention and the participants all took turns washing the rims using Wheel Woolies, brushes and wheel sponges so they could experience different tools and learn how to correctly use them.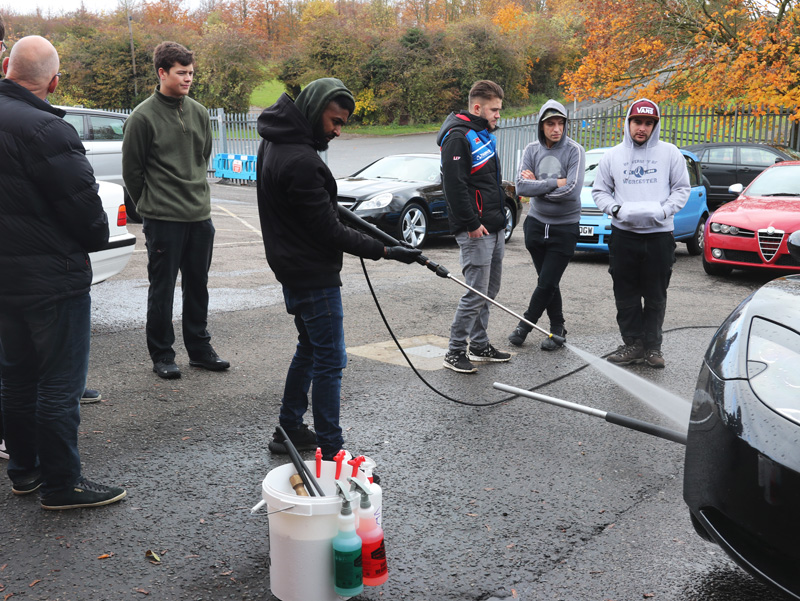 After washing the wheels, the participants were introduced to a dedicated iron contamination remover. Most of the participants were aware of this type of product although not of the science behind how they work.
Contamination on wheels is mainly brake dust which is 92% iron particles caused by abrasion of the cast iron brake rotor on the pad, the remainder of the dust is from carbon content within the brake pad itself. When the particles bond to the wheel's surface, they begin to oxidise and swell which eventually will compromise the lacquer resulting in costly wheel refurbishment. Iron fallout removers contain active ingredients that chemically react with iron particles, shrinking them and causing them to break their bond with the lacquer. The products change colour to indicate the presence of iron particles – when the colour has changed to a deep red, the solution can be rinsed off, safely removing the brake dust with it. – Matt Back, Master Detailer, UF Studio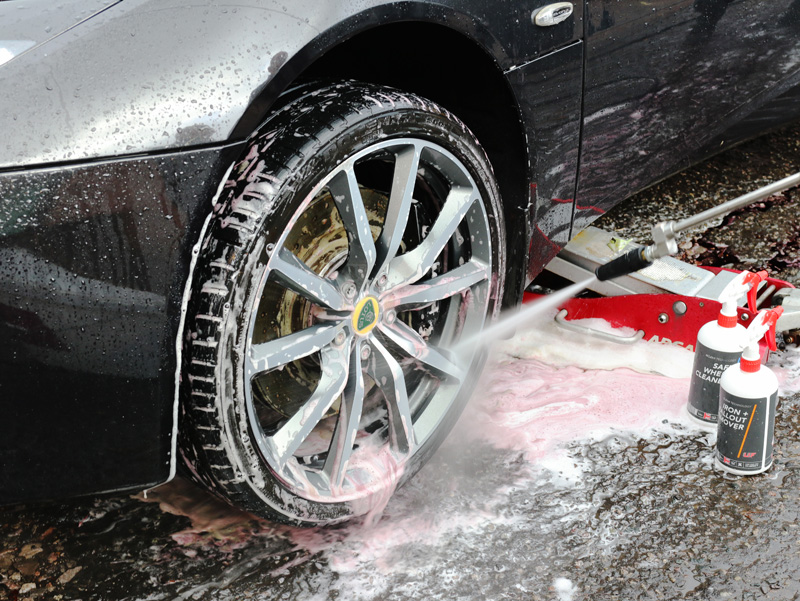 After running through the process of degreasing and the benefits of pre-cleaning with snow foam, further decontamination products for removing adhesives such as tar and bug squash were demonstrated.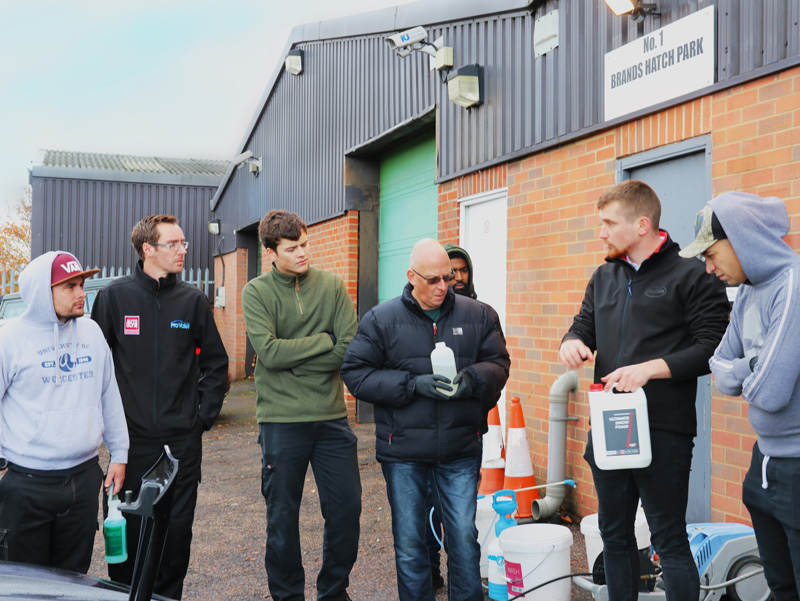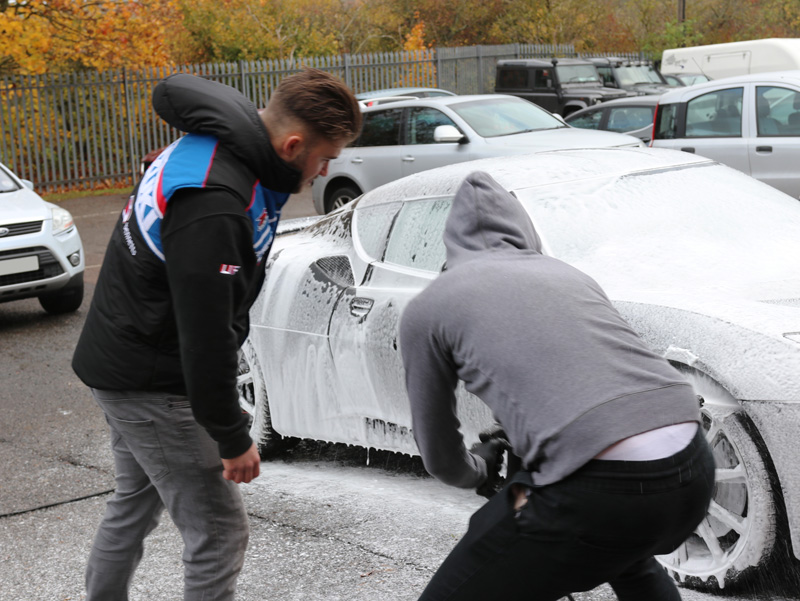 The main wash process was explained and demonstrated with detailed instruction on the use of two separate buckets (wash and rinse) with grit guards to keep washing solution separate from rinse water to help maintain the integrity of the clear coat. Every inch of the vehicle must be clinically clean and where appropriate detailing brushes used to ensure contamination is lifted out of areas that tend to trap dirt, leaves and other fallout.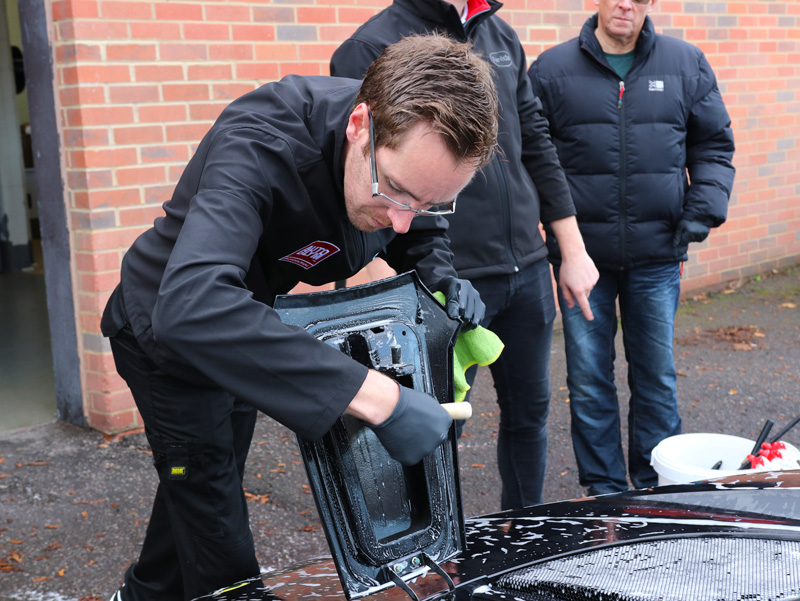 Instructions on correct rinsing procedures were then delivered and participants introduced to various safe drying methods using microfibre drying towels, as well as touchless car drying using the BigBoi BlowR Pro.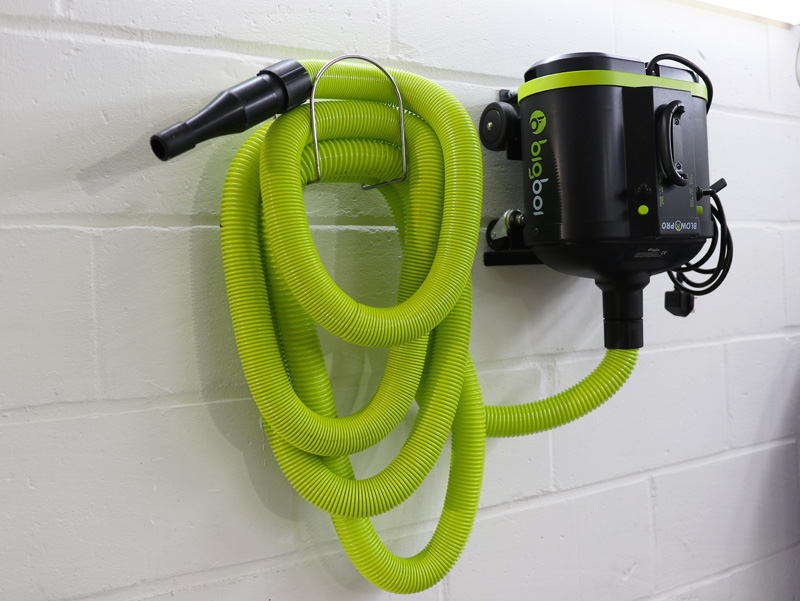 Attention now turned to machine polishing, a stage most of the participants were particularly keen to gain a deeper understanding of. Following an appraisal of the job at hand, in this case a black Lotus Evora, paint depth gauges were used and the process of taking multiple readings over each panel explained.
Paint thickness can vary, not just from panel to panel but even within a panel, particularly over curved areas. These are susceptible to burn-through especially when using a rotary polisher, so it's essential to know how much coverage there is. Taking readings can also highlight areas that have been 'smart' repaired and also areas that have been entirely repainted, probably following an accident of some kind. If an area has been repainted, the paint may react differently and machine polishing 'smart' repairs can remove the paint completely. – Matt Back, Master Detailer, UF Studio
A variety of rotary and dual action machine polishers were available for the participants to experiment with along with a range of foam and microfibre polishing pads and carefully selected compounds from RUPES, Menzerna and SCHOLL Concepts.
Different types of pads require different care, for example, when foam pads become clogged with product, setting the polisher to a slow spin, you can use a detailing brush to release compound build-up. With microfibre pads, if the fibres become clogged they stop cutting and the best way to clear the compound is to use a compressor.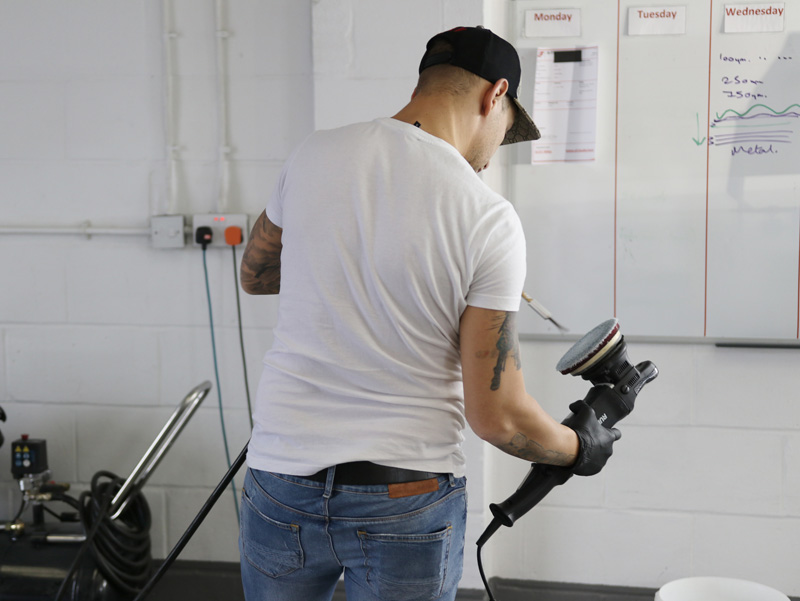 Under close supervision, the participants were encouraged to try out different machine polishers, compound and pad combinations, with instructors on hand to answer any questions.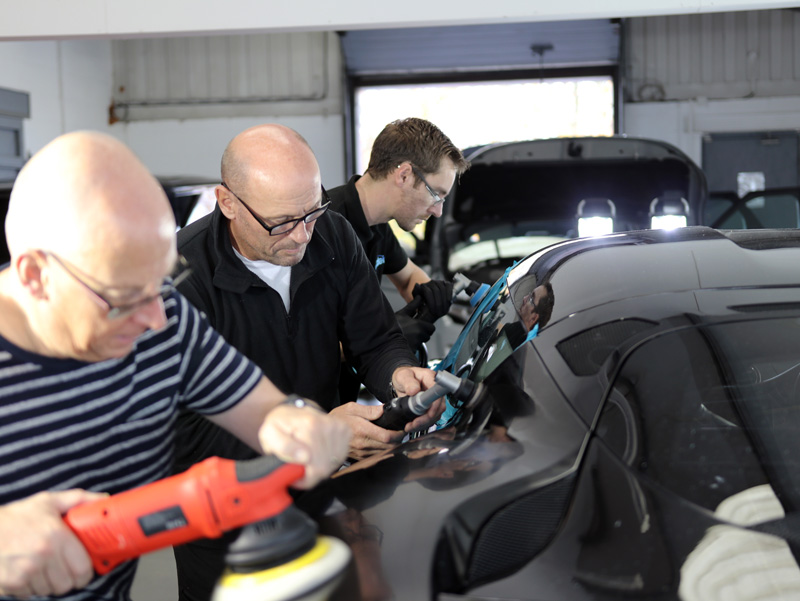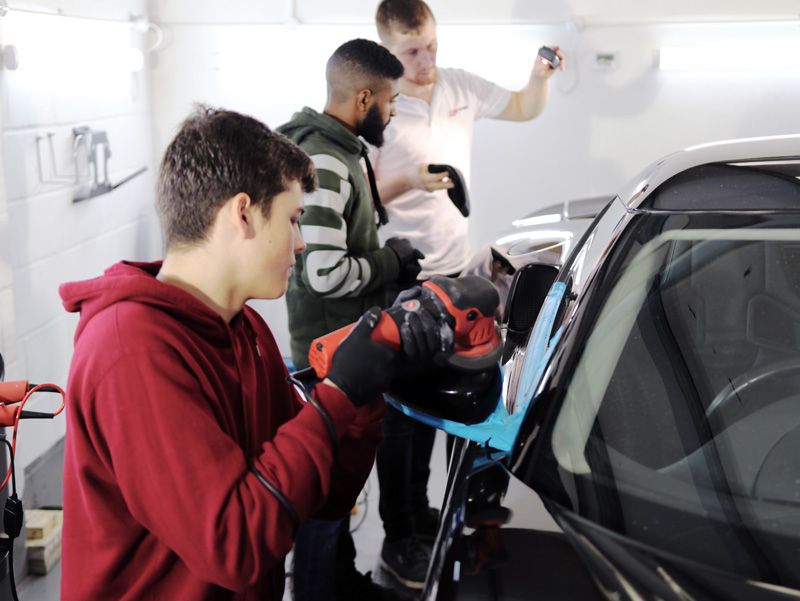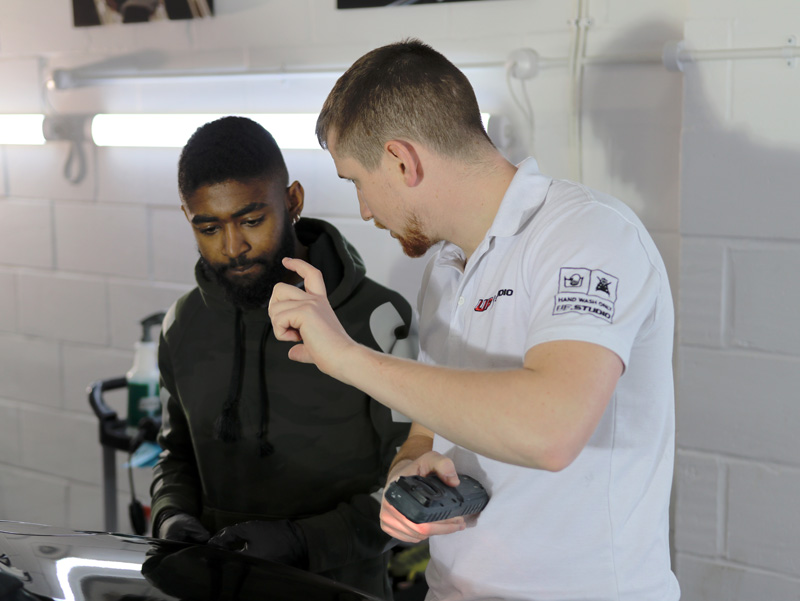 Also on hand to try was the all-new FLEX PE-150 Cordless Rotary Machine Polisher and a range of RUPES BigFoot Dual Action Polishers, including the Nano iBrid. Versatile, having the option to be battery-operated or connected to mains electricity, as well as switching between a rotary action and two random orbit modes, the iBrid is useful for machining narrow areas such as door pillars.
Glass can also be machine polished to remove contamination, hazing and discolouration.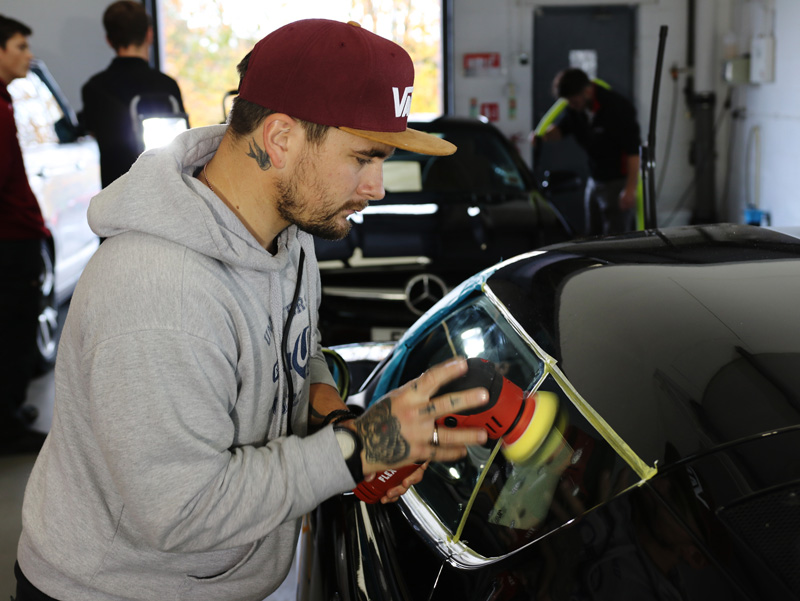 After machine polishing, participants were taken through the pre-sealant application preparation stage before being introduced to consumer ceramic coatings including Kamikaze Collection Miyabi and Gtechniq Crystal Serum Light. In addition, coatings for protecting other substrates, such as Gtechniq's popular hydrophobic sealant, G1 ClearVision Smart Glass along with products for exterior plastic, rubber and metal trim were also demonstrated.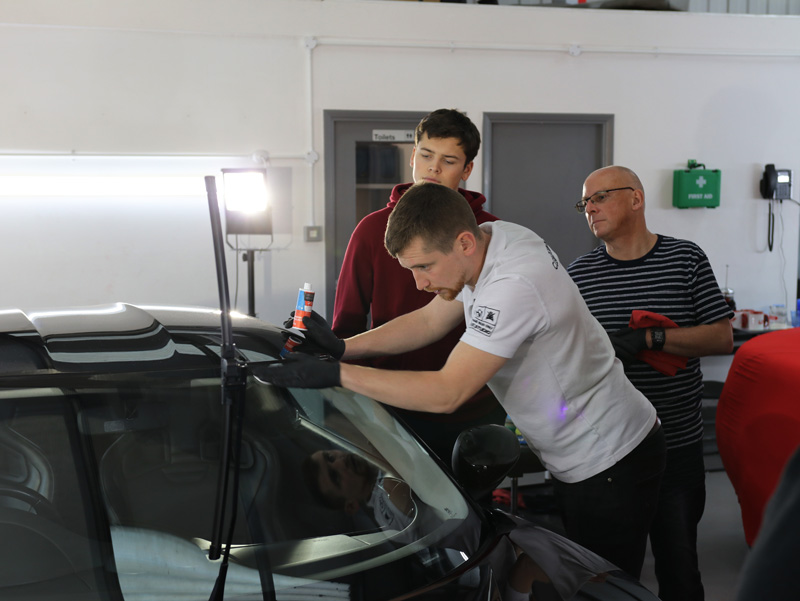 Participants were also instructed on the full processes for cleaning and protecting interior surfaces including fabrics, plastic and leather. With all surfaces and substrates covered, the 3-Day event drew to a close.
I've really enjoyed every part of this course and am feeling more confident about all aspects of detailing. I was really surprised by just how much time goes into the preparation stage; the level of attention to detail is amazing. – Jez, course participant.
John enjoyed the experience saying:
Everything was explained in detail and it was so useful being able to see and experience the difference between the various machine polishers. I'm new to this so I know I need more experience but this training event has given me a great start.
Deon had never tried machine polishing prior to attending this course. He remarked:
I'm feeling way more confident now, so I can go back to my team and show them what to do. Matt was a great instructor, he was very patient and explained everything really well.
Dave, an enthusiast who has spent many years taking care of his own vehicles was full of praise for the RUPES BigFoot LHR15 ES Mk 2 and actually has one at home.
There was so much information packed into the 3-day event. I particularly enjoyed the machine polishing section of the training, gaining greater knowledge from Matt.
Will said:
When you read the information on different bottles of compounds, they all say the same thing so it was great to be able to try lots of different ones out. They all react differently with different paints and that's not something you can easily try at home but here you can, and that was a big help.
Steve found the paint correction stage interesting and useful:
It was great to have the opportunity to try different combinations of pads, polishes and machines and see what you can achieve. The FLEX XFE 7-12-80 was a revelation. I tend to use a FLEX PE14-2-150 most of the time, but the XFE was so lightweight and easy to use, it was definitely my favourite discovery!
Ash also found a favourite polisher:
I was really impressed with the RUPES Duetto – lightweight, well-balanced and really versatile as it can be used for wet-sanding as well as paint correction. My main 'a-ha!' moment was machine polishing glass – I don't know why but it's not something I'd considered doing previously other than polishing by hand! I'm really glad I came on this course, I've learned loads and made some good friends too!
At the conclusion of the course, each participant was presented with a certificate of completion.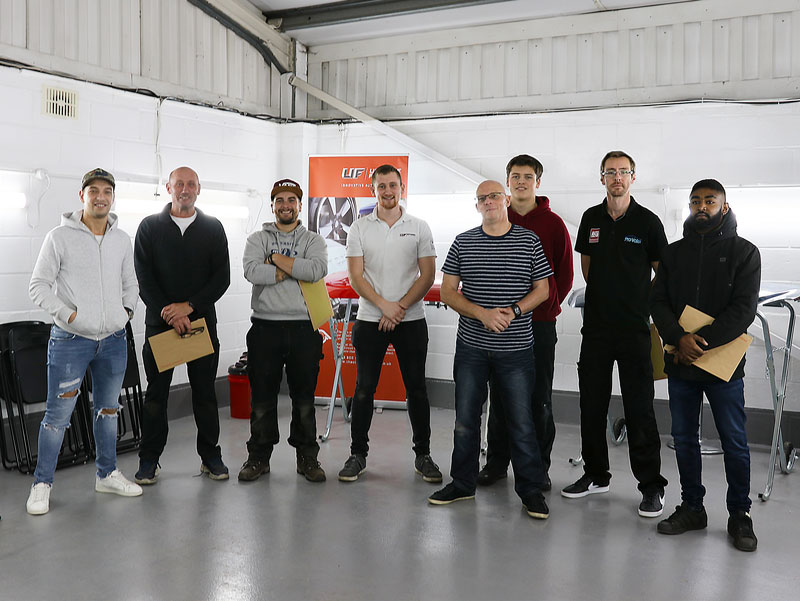 For participants seeking manufacturer accreditation, UF offers training courses from RUPES and FLEX Machine Polishers, Colourlock Leather Care and Kamikaze Collection for those wanting access to professional-only ceramic sealants.
UF Studio – Award-Winning Detailing & Training
UF Direct – Shop The World's Best Car Care Products