Machine Polishing Advanced Training Course – A Tale Of Two Daves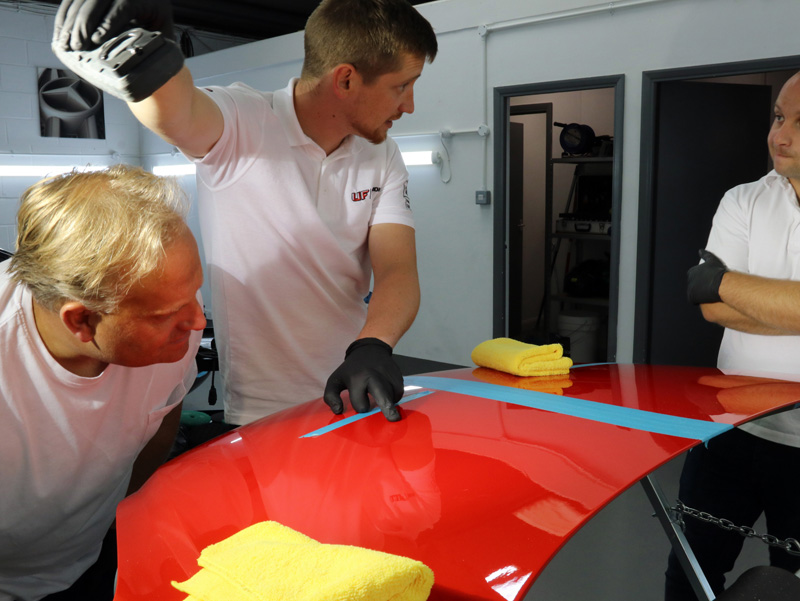 UF has over twenty years' experience in the detailing industry and recently introduced a range of training courses tailored for both car care enthusiasts and detailing professionals. Each course provides a complete overview of the techniques, products and processes required to restore and maintain the cosmetic appearance of a vehicle.
Customers have been enquiring as to the availability of in-house training for some time now. In response to this demand, we have introduced a variety of modular courses to cater for the training requirements of the car care enthusiast and detailing professional, whatever their level of experience. – Jez Gilman, Managing Director, UF
Earlier this month, UF hosted the first Machine Polishing Advanced Training Course, a 2-day event designed to enhance attendees knowledge and gain increased practical experience using a variety of machine polishing tools on a range of substrates. The first two to take up the course were, helpfully, both called Dave! Luckily, one Dave is a detailer (henceforth referred to as Detailer Dave) who was looking to bolster his understanding of machine polishing, experience using a wide variety of machines and also to hone his wet sanding skills. The other Dave is a car care enthusiast (Enthusiast Dave) and construction business owner who wanted to learn enough about machine polishing to take care of his fleet of vans.
Day One: In preparation for the event, two bonnets were freshly painted. The red bonnet was prepared with a solid softer paint finish compared with the blue bonnet which had a metallic and therefore harder finish. The differing finishes were ideal for providing participants the opportunity to practice on both and to experience the effect the same pad and compound combination has on different grades of clear coat. A selection of matting, cutting, polishing and refining pads and compounds were made available along with a variety of dual action and rotary machine polishers from RUPES and FLEX.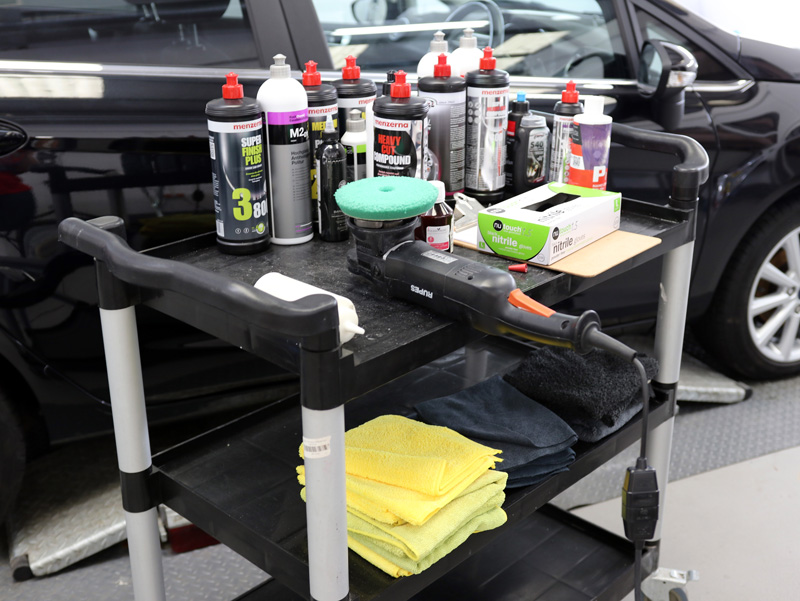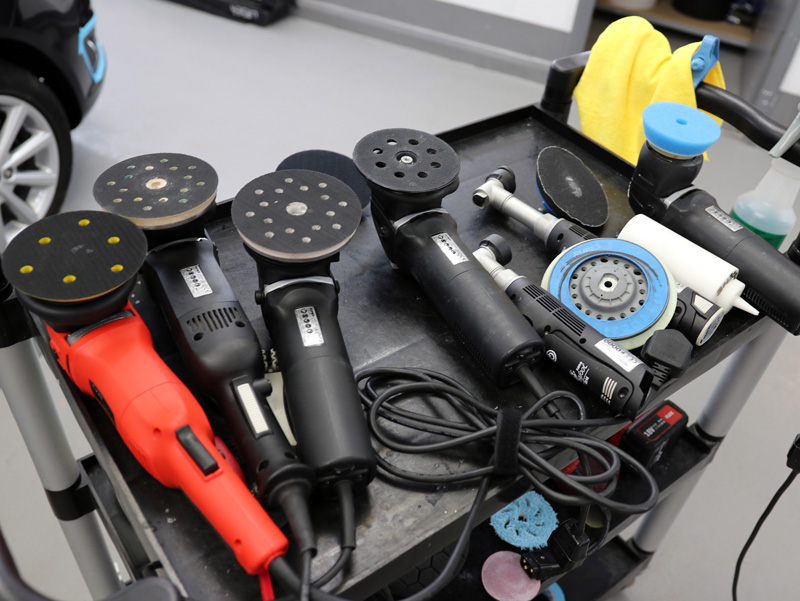 Various defects including emulated wash swirls and deeper scratches had been deliberately installed on the bonnets and the day began with close inspection of the paintwork with a SCANGRIP Sunmatch Detailing Light.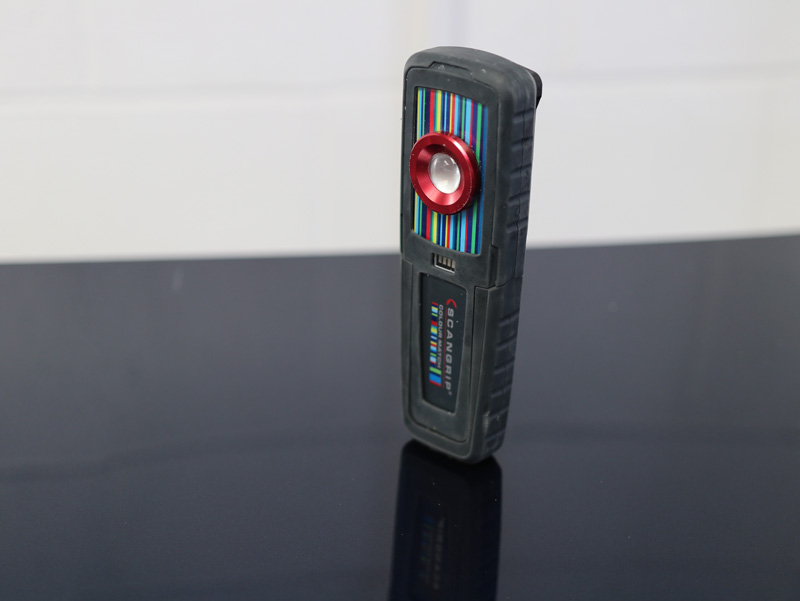 Without the correct lighting, it can be difficult to thoroughly inspect paintwork. My studio has bright lights but I find that with white paintwork these can bleach out blemishes. The Sunmatch is great as you can move it around to catch the panel at every angle and better illuminate all the defects properly. – Detailer Dave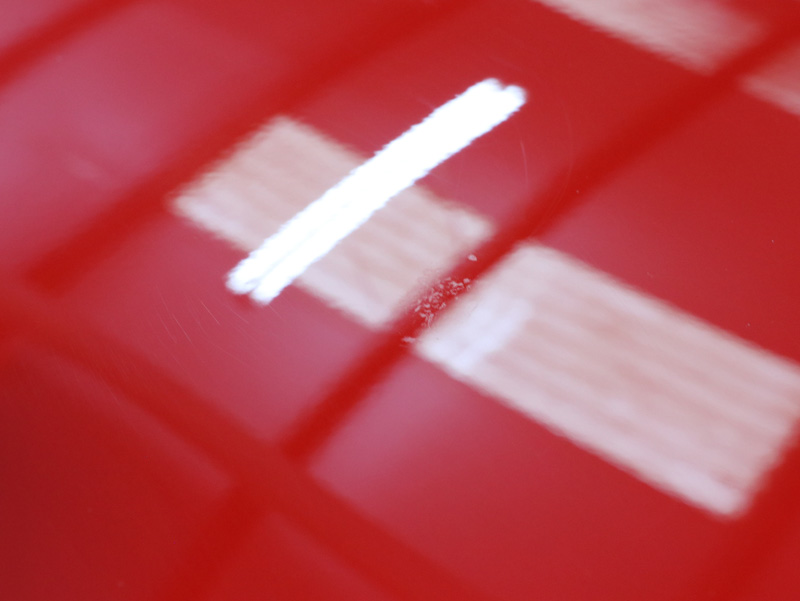 Prior to commencing machine polishing, a Defelsko Positest DFT Paint Depth Gauge was used to measure the paint thickness on the panels. A range of pads and compounds were introduced, with an explanation as to their primary use and the differences in their performance. Both participants were encouraged to experiment with different pad and compound combinations to examine the results they achieved.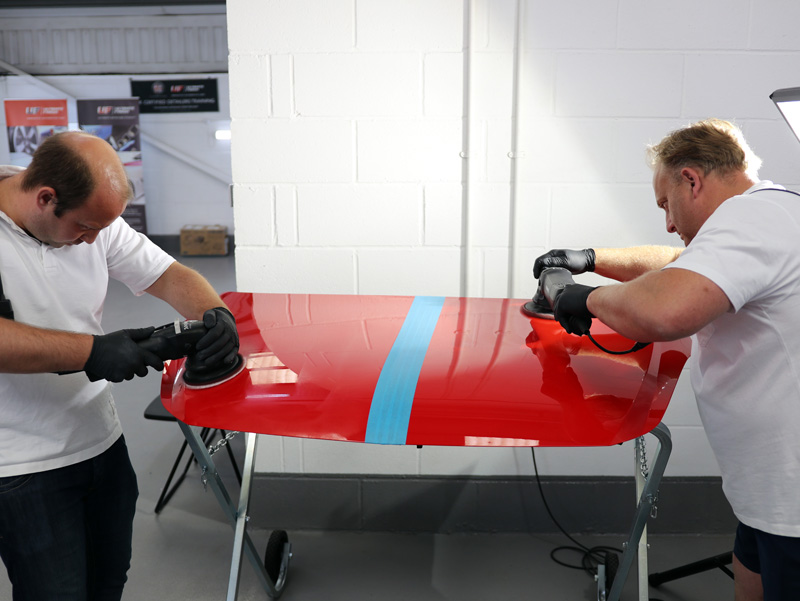 Participants were encouraged to experiment with different pads and compounds to see the effect and also to give them the opportunity to try out products they'd not previously come across. With static bonnets it doesn't matter if the student initially gets it wrong, it's the experience that's important! – Matt Back, Master Detailer, UF Studio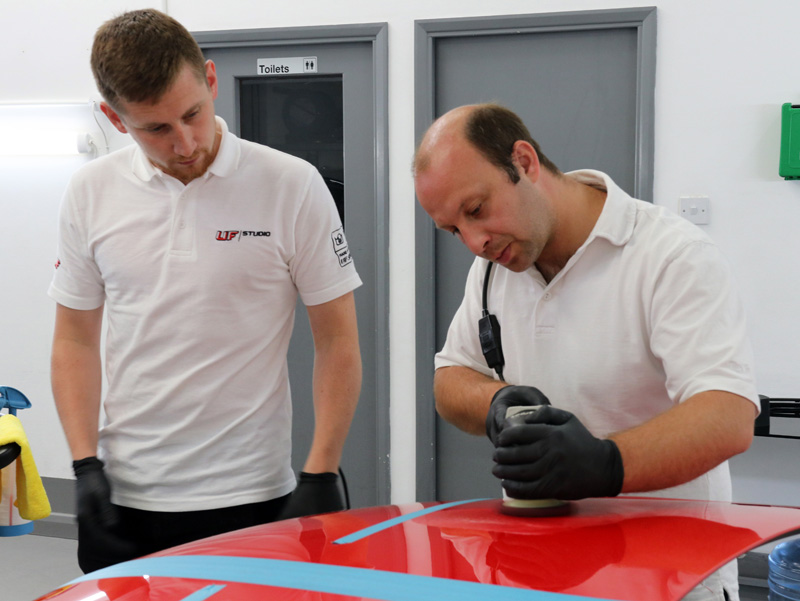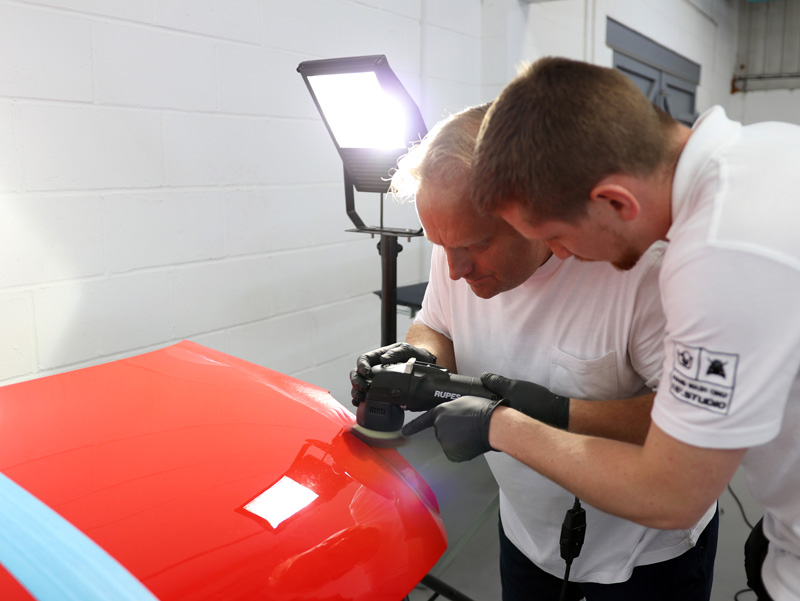 Particularly when starting out with unfamiliar pads, machines and compounds, stopping to check your work frequently is essential – that way you can quickly gauge whether the combination is too aggressive, too fine or whether further passes are required. – Matt Back, Master Detailer, UF Studio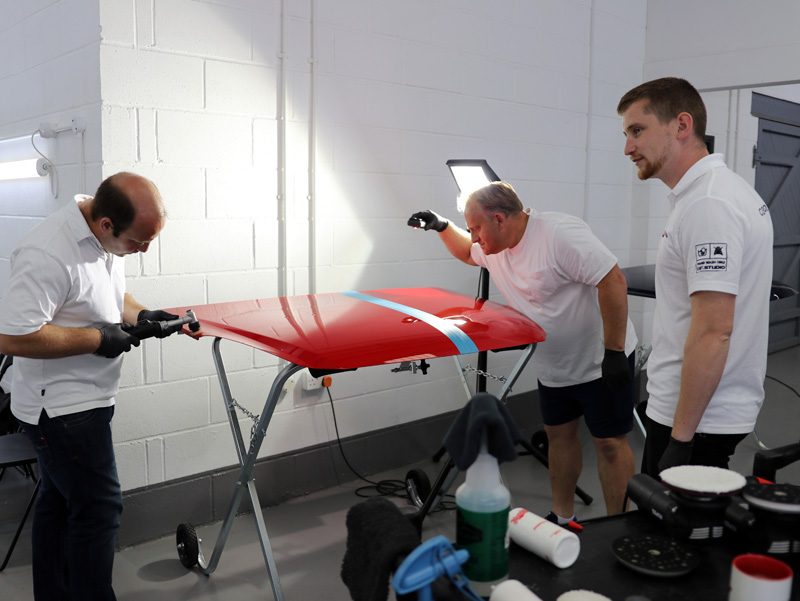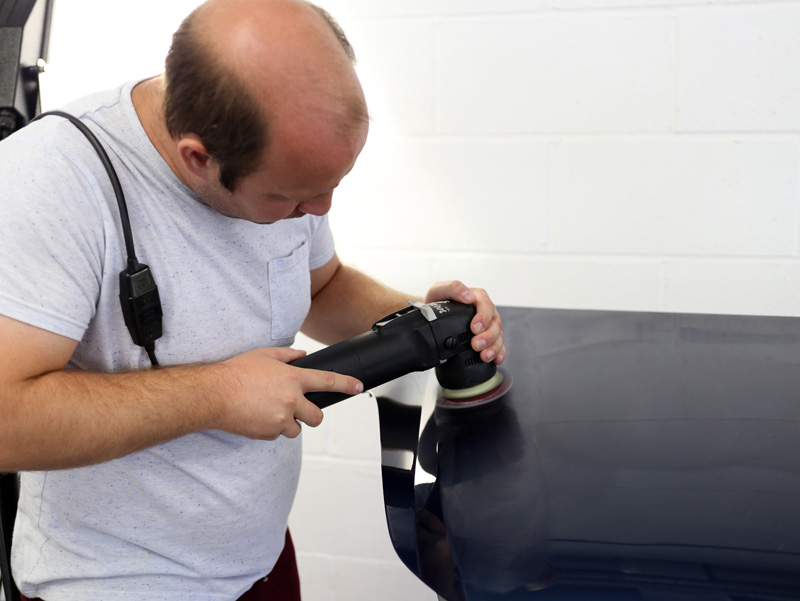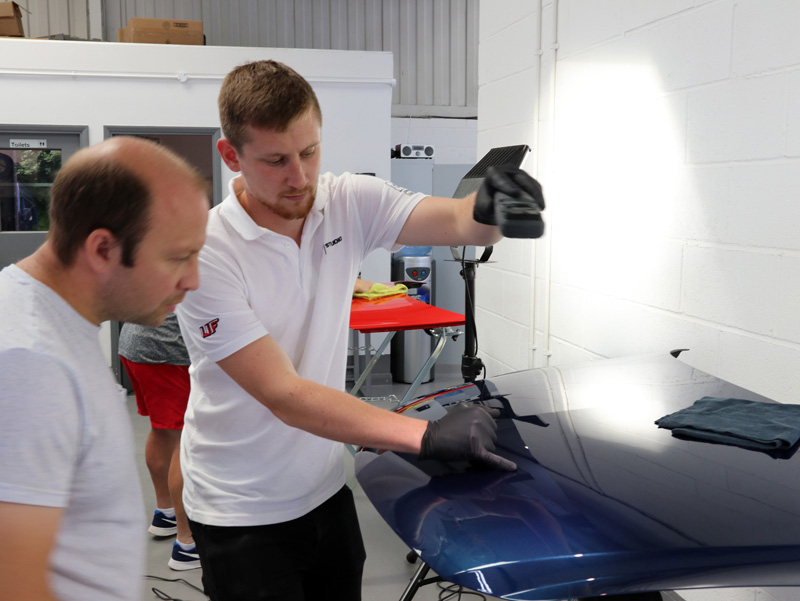 Having spent time experimenting with different dual action polishers, FLEX's PE-150 Cordless Rotary Polisher and PE14-2-150 were demonstrated. Both Detailer Dave and Enthusiast Dave were familiar with using rotary polishers although neither had experienced these specific machines.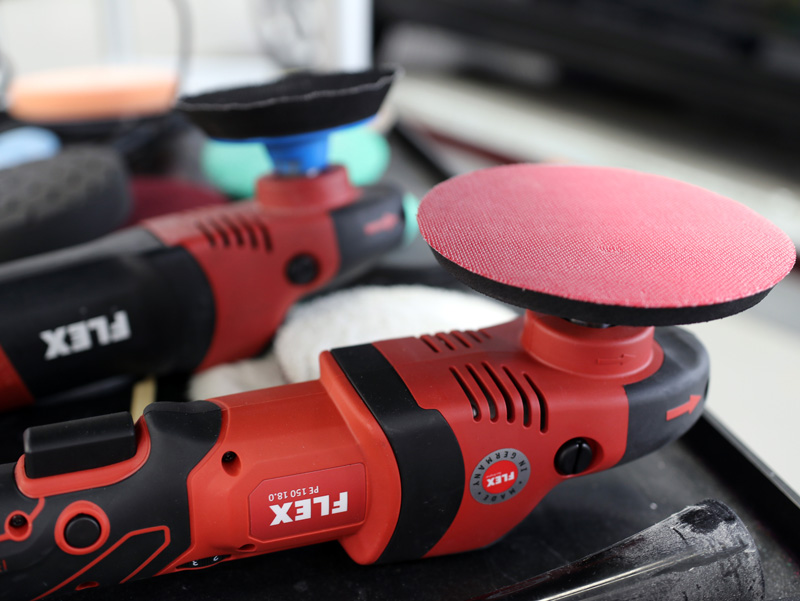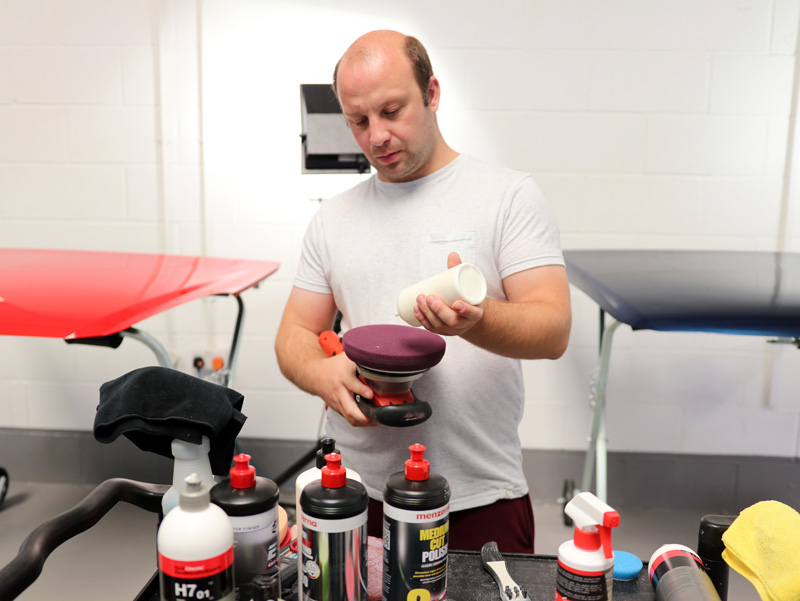 The RUPES Nano iBrid polisher was introduced and was a big hit with both participants, Detailer Dave describing it as "infinitely useful, particularly along narrow edges such as wheel arch rims, bonnet and boot curves". Enthusiast Dave described it as "a lot of fun"!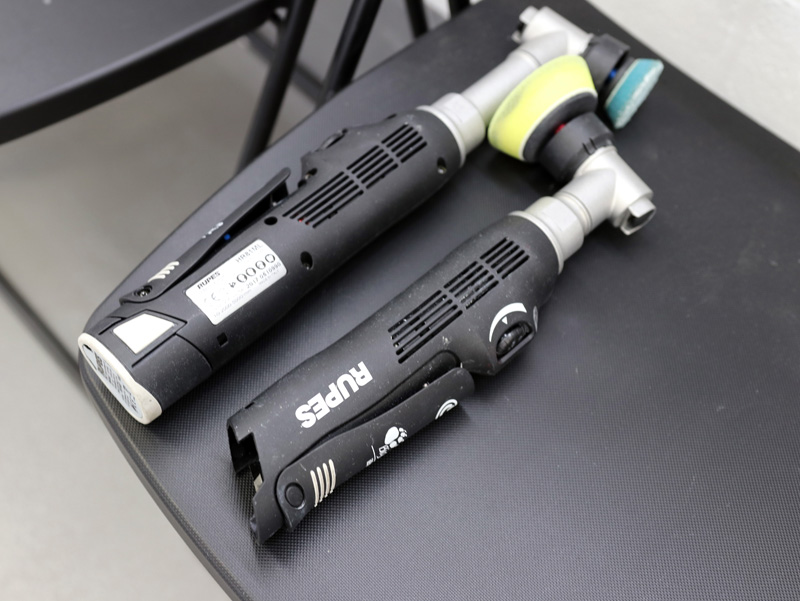 To prolong the life of machine polishing pads, it's essential to maintain them properly. The participants were shown how to brush out polish residue regularly throughout their use to help prevent the foam pores from becoming clogged, keeping air circulating within the foam. This ensures the pad continues to provide the expected level of cut. Many pads can be cleaned in a washing machine but there are also specialist products available specifically designed to thoroughly clean all foam, wool and microfibre machine polishing pads.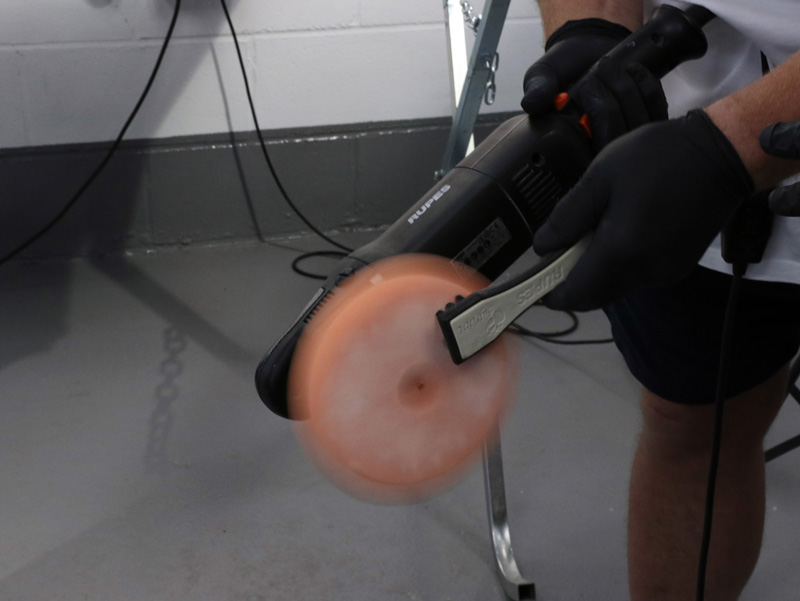 Day Two: The second day of training began with an introduction to the FLEX XC 3401 Orbital Polisher. This dual action machine has permanent direct drive which reduces heat generation making it ideal for temperature-sensitive paints.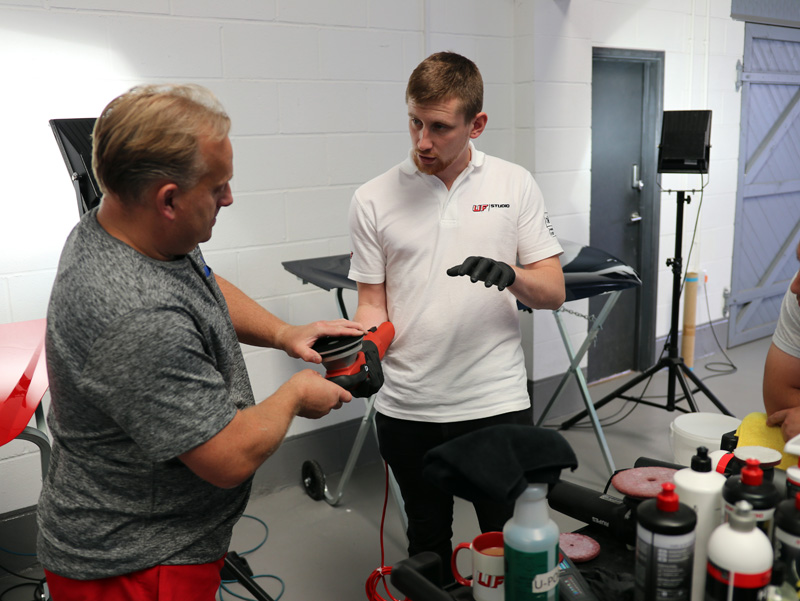 After having had the opportunity to experiment with the forced rotation polisher, the day moved on to wet sanding techniques.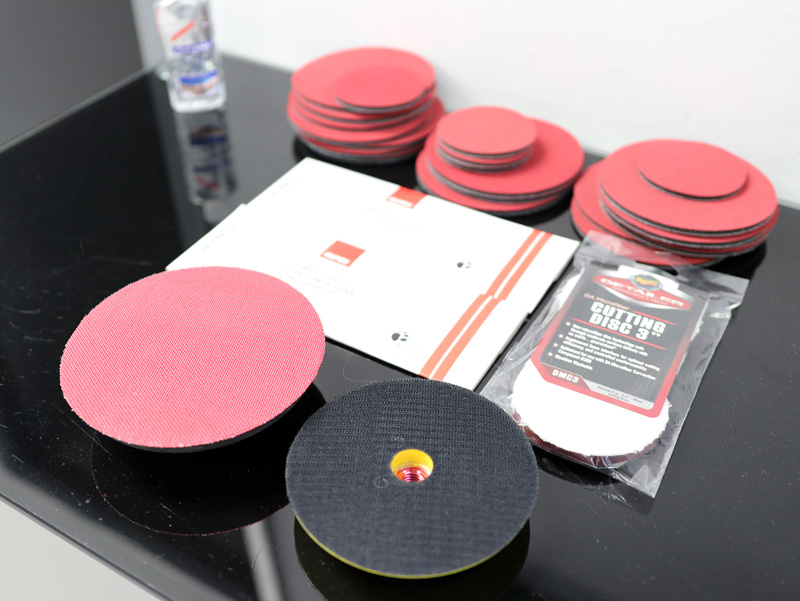 Wet sanding can be used to eliminate heavy defects such as intense orange peel, oxidation or deep scratches. This technique should be used with caution as, in uninitiated hands, the process has the potential to cause significant damage to paint and can easily result in the complete removal of an area of clear coat. – Matt Back, Master Detailer, UF Studio
As with machine polishing, wet sanding should be approached using the finest grit first before moving on to a coarser grade if required. For today's training session, RUPES 3″ X-Cut Foam Abrasives were used: 1500 grit is the heaviest, 2000 is medium cut and 3000 grit is the finest.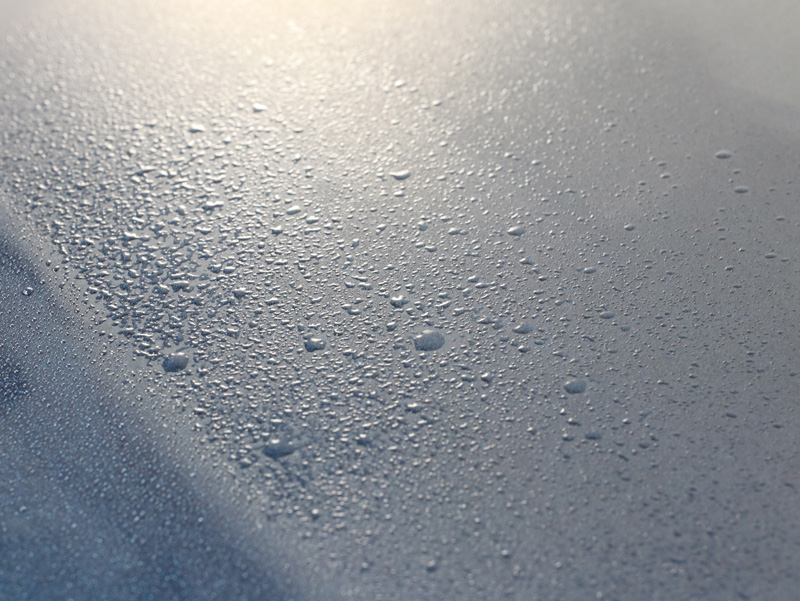 The pads were used with a RUPES BigFoot LHR 75E Mini. First, water is sprayed onto the panel to provide lubrication and then the area is worked for a few passes.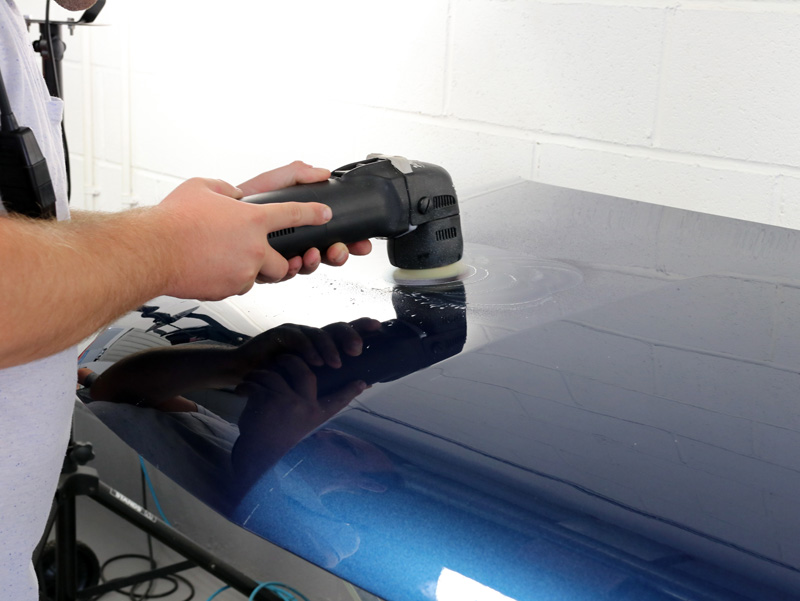 It's easy to get carried away when wet sanding, becoming focused on eliminating the scratch. However, care must be taken and judgement used to decide how much the visibility of the deep scratch can be reduced. Entirely removing the clear coat is not advisable as it will leave a flat spot on the paintwork, as well as removing all the protection clear coat provides, so on occasions, you have to accept the scratch cannot be entirely eliminated. – Matt Back, Master Detailer, UF Studio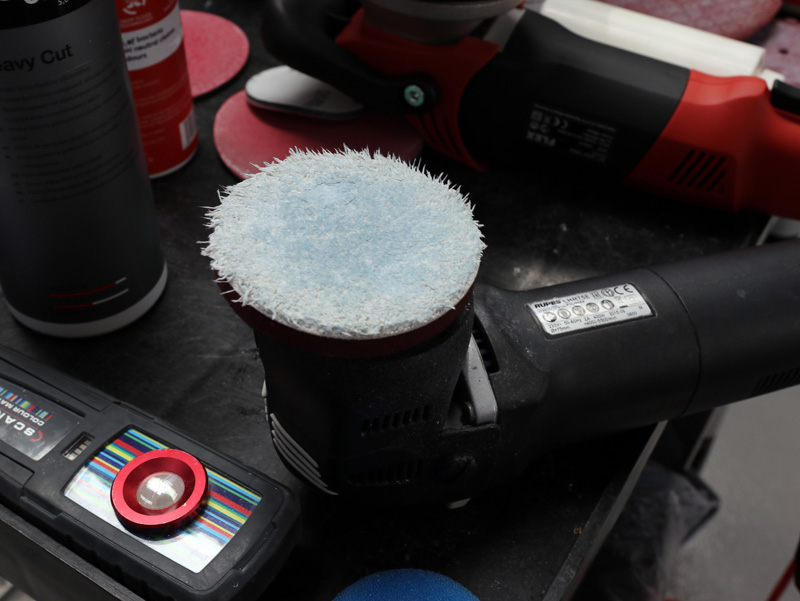 Wet sanding is an extreme measure so it's critical to take paint depth readings prior to commencing work and that you stop to check your work regularly with a paint depth gauge and with a detailing light. – Matt Back, Master Detailer, UF Studio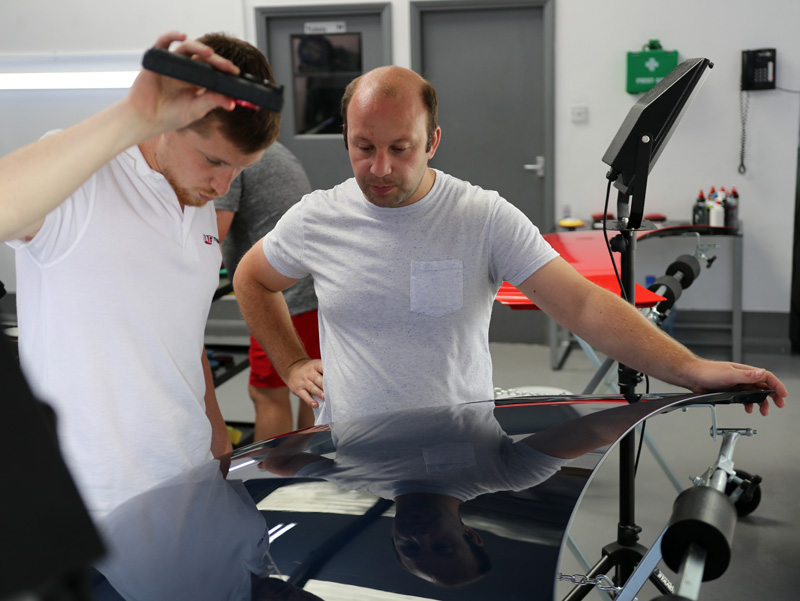 Depending on the defects, wet sanding can be a three-step process, working from heavy through medium to a fine grit. Followed by the machine polishing stages, using a compound, a polish and then refining (if required) to bring the paintwork back up to a defect free finish with optimum gloss. – Matt Back, Master Detailer, UF Studio
The participants were given some time to continue experimenting with the panels.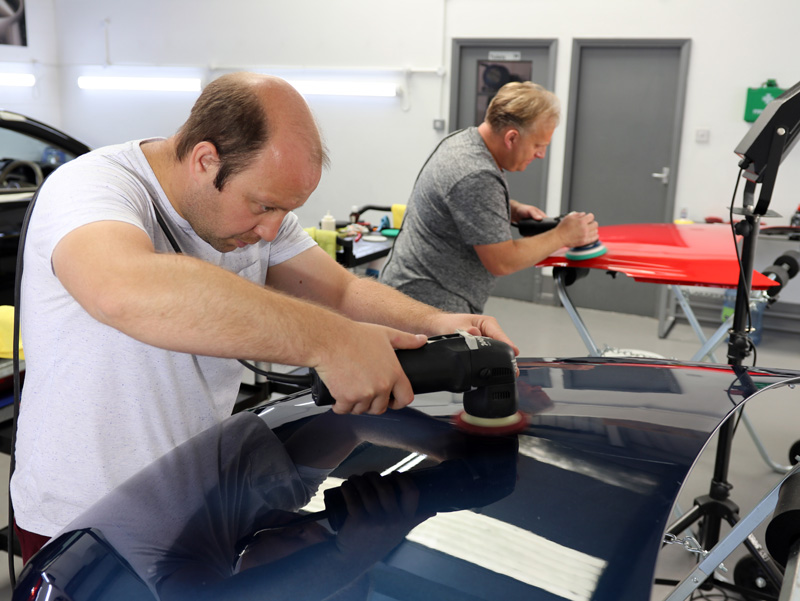 The final stage of the day was to machine polish a volunteer's car but first, as a confidence-building measure, both participants were encouraged to purposefully burn through the paintwork on a test bonnet.
People are understandably worried about burning through paintwork and it's a valid concern. However, particularly with a dual action polisher, it requires a highly aggressive pad and compound combination and a good deal of pressure. Giving the two Dave's an opportunity to try it shows them how far they would have to go to achieve burn through. – Matt Back, Master Detailer, UF Studio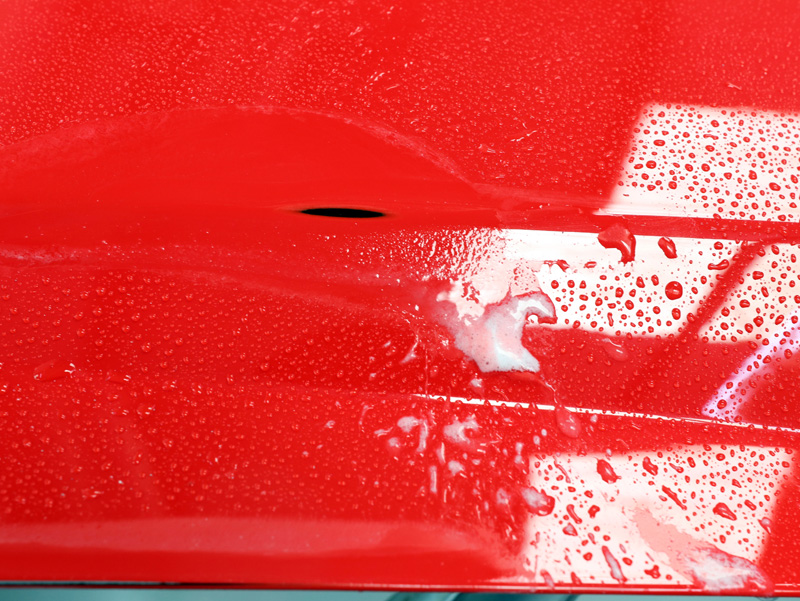 The participants then moved to working on a donor car taking it in turns to work on the boot, where the majority of the substrate is plastic and the metal bonnet. The paintwork was significantly scratched, swirled and generally, tired.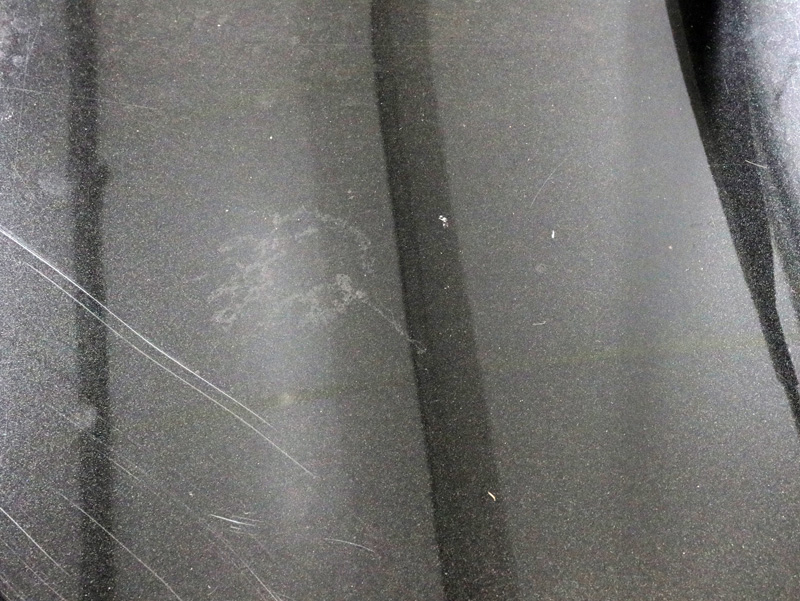 I was surprised at how differently the plastic reacted compared to the metal bonnet. The heat built up really quickly even with a moderate pad and compound combination. It was a real eye-opener and something to bear in mind, particularly when working on bumpers. – Enthusiast Dave
The remainder of the afternoon was allocated to practice with Matt on hand to answer questions and assist at all times. At the end of the second day, both participants were presented with a certificate of completion.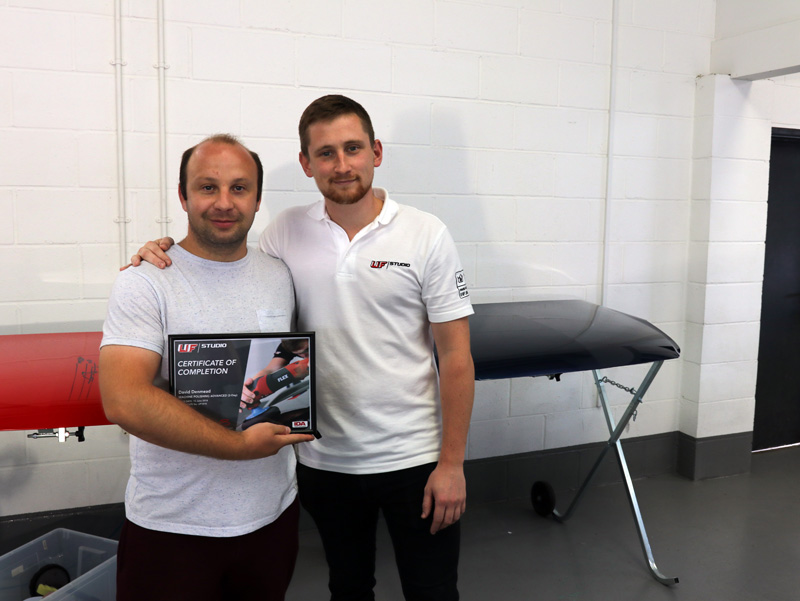 As a detailer, I was looking for an intensive machine polishing course that would give me the opportunity to learn only about the processes I wanted to brush up on and allow me to experiment with different tools. Every course I had looked at previously wanted me to complete a full detailing course over five days, so when I spotted this 2-Day Advanced course in UF's newsletter, I signed up. The RUPES BigFoot Duetto has to be my favourite find of the event – it's so smooth and easy to handle. I also discovered Koch Chemie's H8.02 and Kamikaze Collection Banzai – brilliant for softer paint finishes and best bit: no dust! Matt's training style was highly effective: he can machine polish AND he can train, which is a rare combination! He doesn't give you the answer, he lets you analyse your own work and pushes you in the right direction. I certainly feel a lot more confident now in working with very soft paint finishes and have a much better understanding of wet sanding, which is exactly what I came here for. – Dave, Specialist Detailing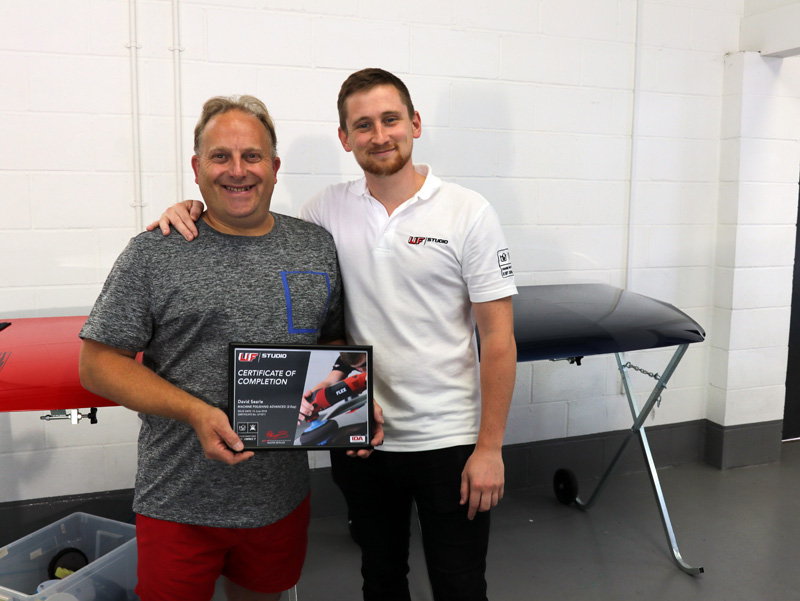 I have five company vans that need looking after and as they're advertising my business, they need to look good and be easy to keep clean. It's expensive to keep getting someone else to do the work which is why, when I spotted this course in the UF newsletter, I signed on straight away. My plan is to machine polish, prepare and then protect each van with a ceramic coat. Matt was great, he encourages you to try whatever you think you need to do and then makes you think about the results, so you gain a deeper understanding of what you're doing than you would if someone simply gave you the answers. I'm confident I can now tackle my vans and make a good job of them. And I might have to get that iBrid – that polisher is just so much fun! – Dave, Enthusiast & Business Owner

We're delighted with the feedback from the participants. It was interesting to note that both had been looking, without success, purely for machine polishing training. One of the main reasons we offer modular courses is so that customers can pick and choose the detailing processes that they're interested in. – Jez Gilman, Managing Director, UF
Car Care and Detailing Training Courses are available at UF Studio, Brands Hatch, Kent. For further information, upcoming dates and to book a place, please click here.
UF Studio – Award Winning Detailing and Training.
UF Direct – Shop the World's Best Car Care Products.