Detailing Training Courses For Enthusiasts & Professionals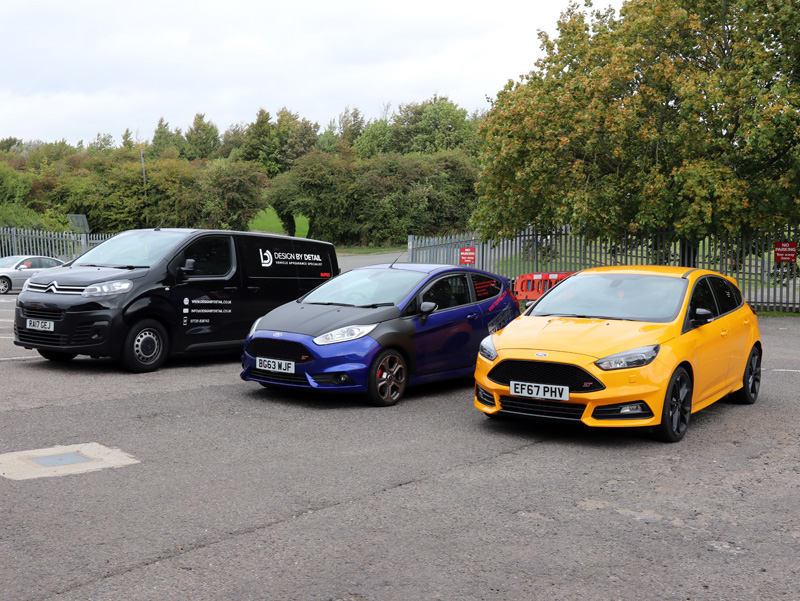 The popularity of car detailing has risen enormously in the UK over the past few years and the reasons behind this are varied. Of course, a significant portion of the population has always enjoyed spending some time at the weekend therapeutically washing and polishing their cars. In an age of austerity, even those who haven't previously given much thought to car care have started to appreciate the benefits of preserving the cosmetic appearance, particularly as typically, we're all keeping our cars for longer.
The car care industry has grown exponentially, with a myriad of products and a whole raft of new processes having been developed over the past few years, all with the aim of helping car owners maintain their vehicles to a higher standard than ever before.
Detailing training for pros or enthusiasts
For the everyday consumer, the topic of 'proper car care' can be confusing. For professional detailers too, the number of products and tools available to them has risen significantly and for many, determining which to select can be a time-consuming and costly process of elimination. UF Training Courses are designed to help car care enthusiasts and professional detailers overcome all these challenges.
For the enthusiast, our 1-Day Car Care Course is an ideal introduction to every aspect of modern car care processes. Attendees learn how to safely decontaminate, wash and dry their vehicles and then are introduced to machine polishing before they learn about the different types of protective sealants, waxes and coatings they can use. The 1-Day Machine Polishing Course focuses purely on machine polishing, introducing a variety of dual action and rotary machines and giving them a working understanding of the different types of pads and compounds available to them. We offer 2-Day versions of both courses too for those enthusiasts who want to gain a deeper understanding and for professional detailers either looking to brush up their knowledge base or to try out the latest products and tools available before they decide which they need for their business. – Matt Back, Master Detailer & Trainer, UF Studio
The Car Care sessions begin with decontamination and cleaning, introducing attendees to the different types of contamination typically found on vehicles before giving them the opportunity to practice non-contact decontamination methods.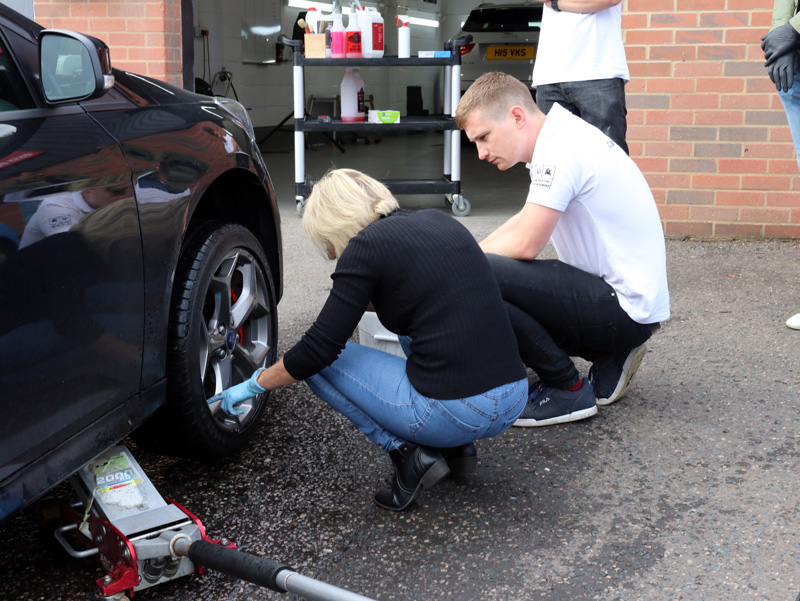 The key to a good finish lies in ensuring the preparation stages are carried out meticulously. Any final wax or sealant won't produce the highest level of shine if the paintwork hasn't been properly and thoroughly prepared. Contamination is not only unsightly but also can be harmful to lacquer. For example, bird droppings and brake dust are highly corrosive and tar can become embedded into clear coat. Products are available that have been formulated to target these specific contamination types and during our training courses, we show participants how to use them effectively. – Matt Back, Master Detailer & Trainer, UF Studio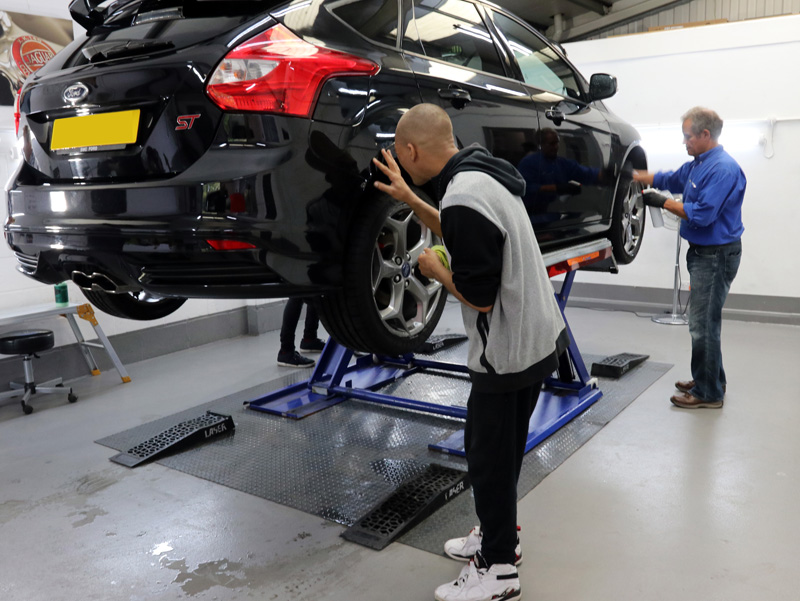 Learning about machine polishing
Machine polishing is a popular segment of the 1-Day Car Care training event. To start with, attendees are taught how to use a high-intensity detailing lights to spot and identify paintwork defects.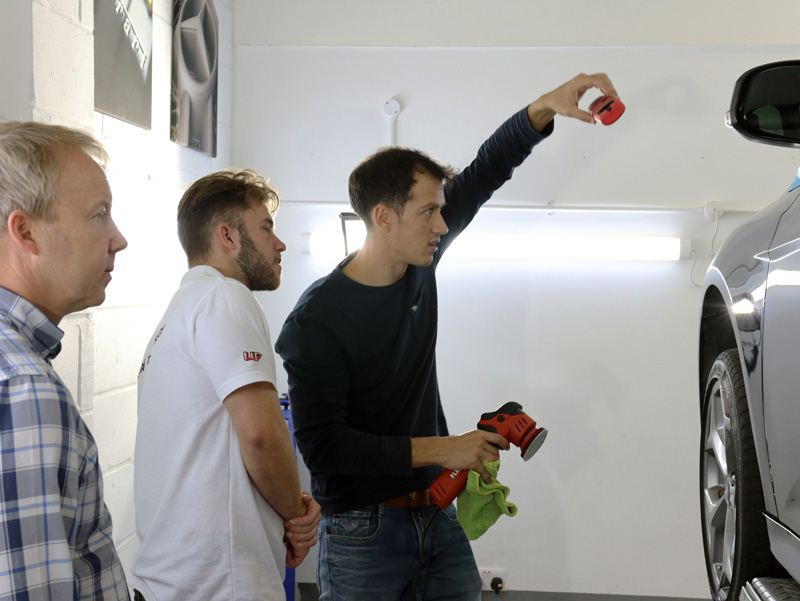 After being introduced to a variety of dual action polishers, attendees were taught about different machine polishing pads and compounds and instructed in their uses before being given an opportunity to practice under close supervision.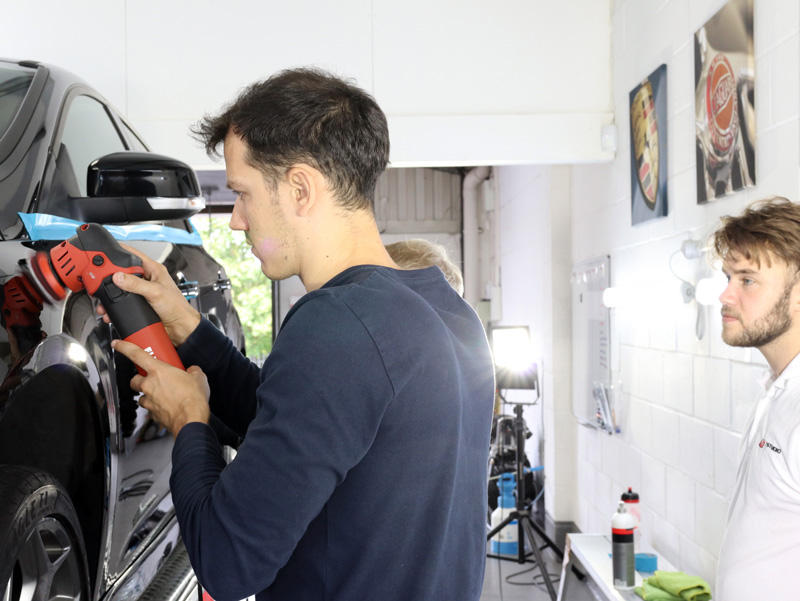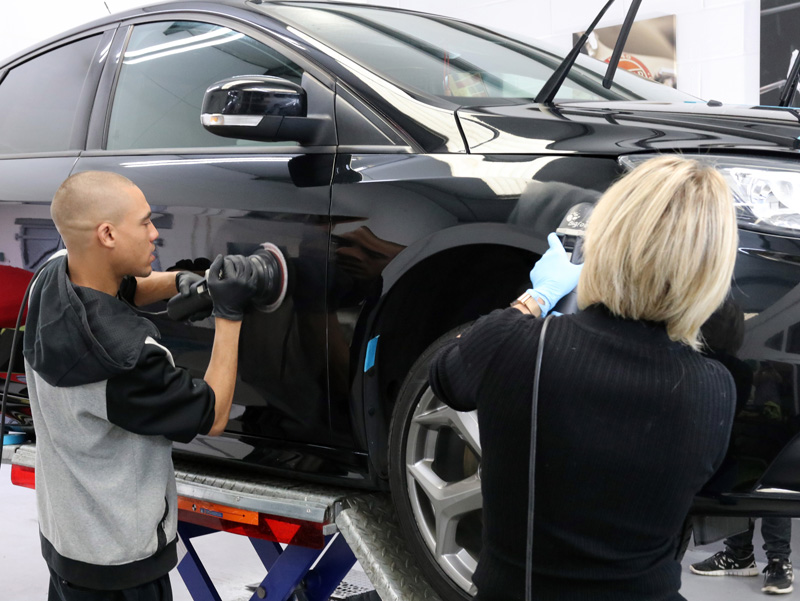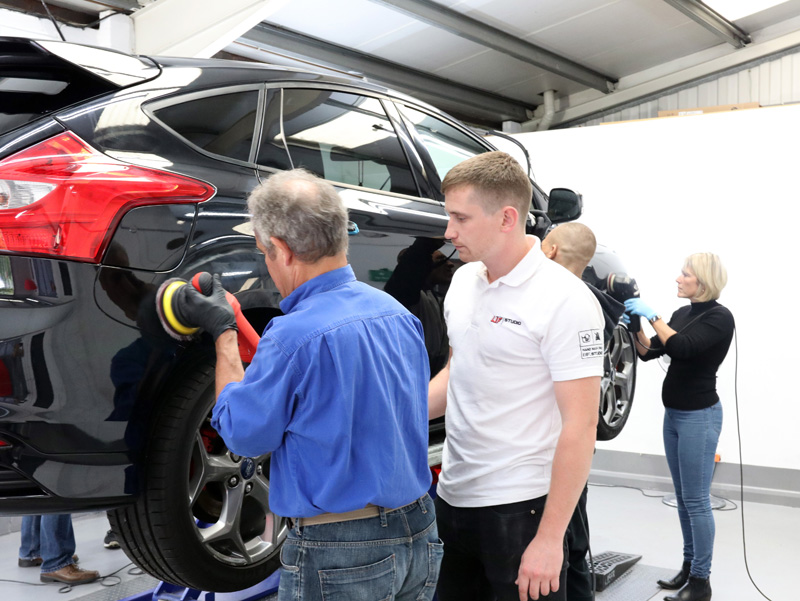 Underlining the appeal of the detailing training courses was the selection of attendees at the latest 1-Day Car Care Training event. One had been sent by his boss so he could learn how to take better care of his classic cars. Another attendee was, himself, the owner of several classic cars and he wanted to understand how to look after them properly. One attendee is setting up her own motorcycle detailing business and, as motorcycle fairings are usually plastic, she required some specific help and information.
Plastic panels react differently to machine polishing than metal panels: plastic does not conduct heat as effectively as metal, so heat builds up in an area more quickly. It's essential to understand how this happens and how you can tailor your pad and compound combination so you can achieve results without damaging the panel. I spent some time with Michelle discussing this issue and answering her questions. This is a perfect example of the reason we limit the available spaces on our training events: so we can tailor them and offer specific advice based on the individual attendees' needs. – Matt Back, Master Detailer & Trainer, UF Studio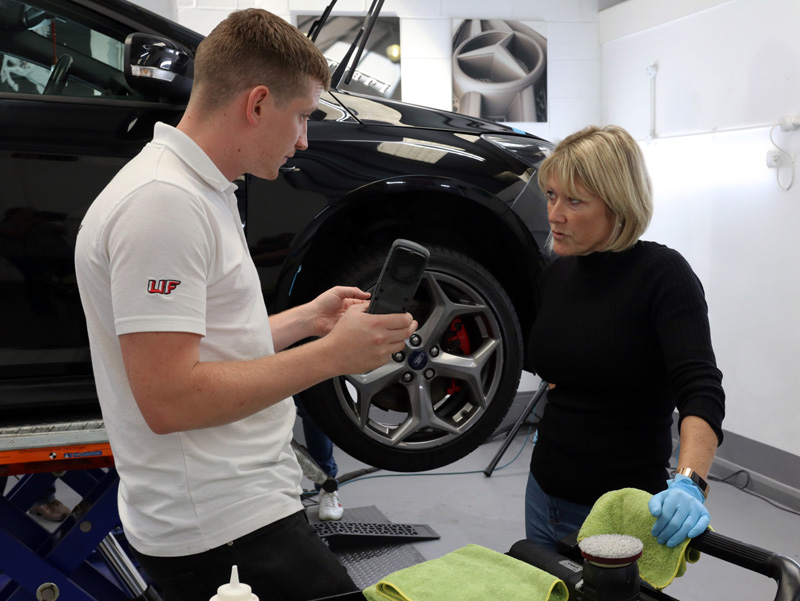 2 & 3-Day Training Courses
Machine polishing is a complex task and as a result, UF offers one and two-day training events dedicated solely to the subject.
As well as being popular with enthusiasts, we've found professional detailers also find value in the training events. It gives them the opportunity to try a range of machine polishers and make an informed decision before investing in one. It also means they can try out the latest pads and compounds and polishing systems, and with so many being released, detailers find this a good way of investigating without committing to litres of product which they may then discover they don't like working with. – Matt Back, Master Detailer & Trainer, UF Studio.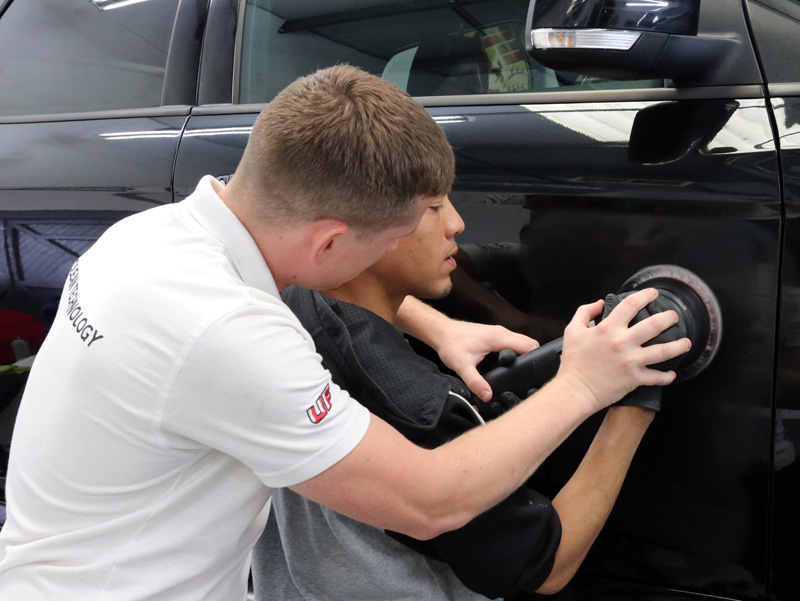 Manufacturer specific training
Whilst the many of the detailing training events are open to everyone, some are specifically for established professional and established detailers seeking manufacturer-specific accreditation. These events include RUPES and FLEX, manufacturers of machine polishing tools and systems, and Colourlock Leather Care & Repair products and processes. In addition, Kamikaze Collection International, specialists in the design and engineering of innovative car care solutions and high-performance ceramic coatings, has appointed UF as their UK distribution and training partner.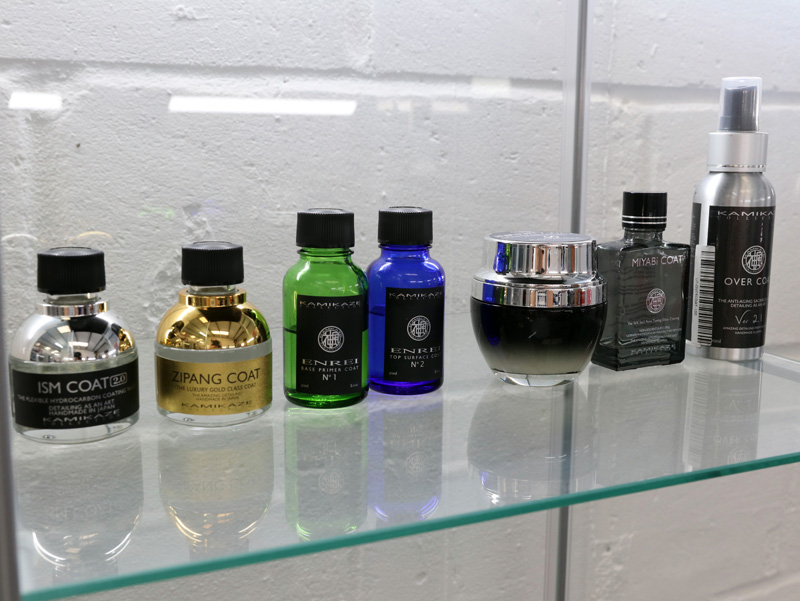 Whilst most Kamikaze Collection products are available to enthusiasts, two of their ceramic coatings, Zipang Coat and ENREI Coat, are available exclusively through the Kamikaze Collection trained and certified detailer network. This is due to the specific manner in which the coatings must be applied in order to ensure maximum performance and longevity.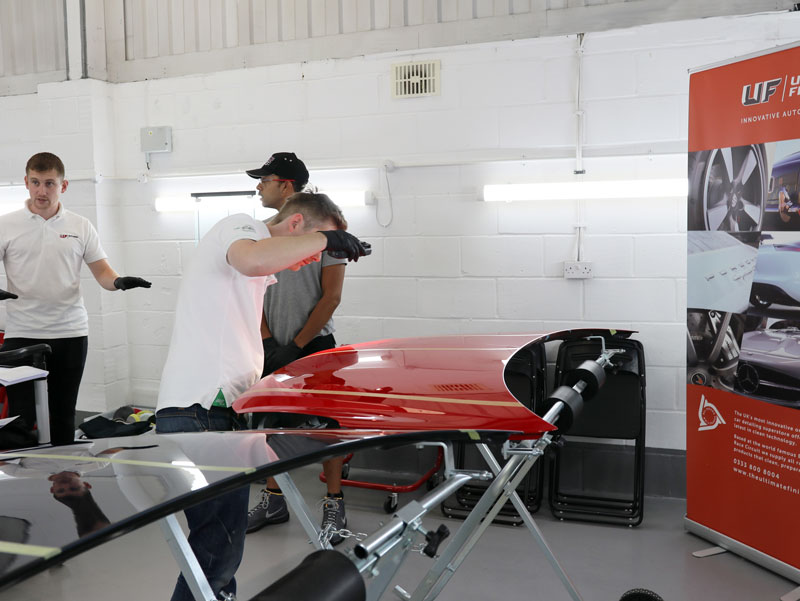 Kamikaze Collection eschews the idea of promoting 'the best coating' saying instead it is preferable to simply be 'better' than anything else. They have put an enormous amount of time and effort into researching and developing not only the engineering of the actual products but also into the optimum method of application that ensures the coating protects effectively for as long as possible.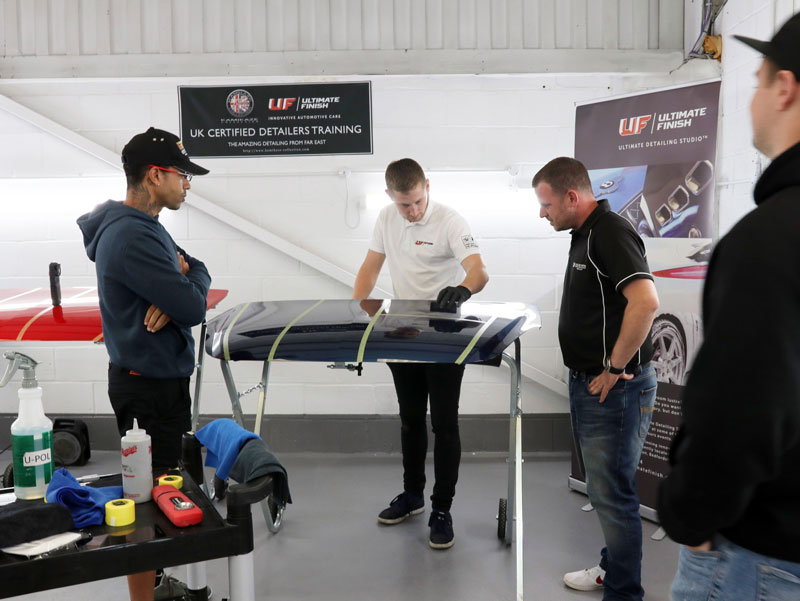 By ensuring each detailer is trained in the correct application methods, Kamikaze Collection is able to enforce quality control, so the reputation of their coatings will not fall victim to bad press as a result of inept application procedures.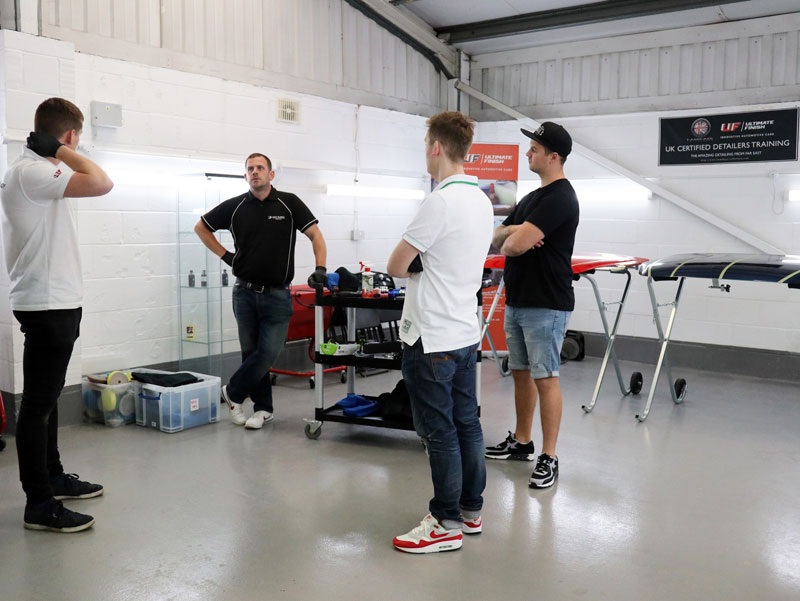 We have put a lot of time and effort into identifying the types of detailing training courses our customers would find valuable, whether they're professional detailers, enthusiasts, or whether they're thinking about starting their own detailing business. Our courses provide everything they need. We even run a 5-day course that includes the basics of marketing, customer management and company branding for those who know they need a holistic approach. – Jez Gilman, Managing Director, UF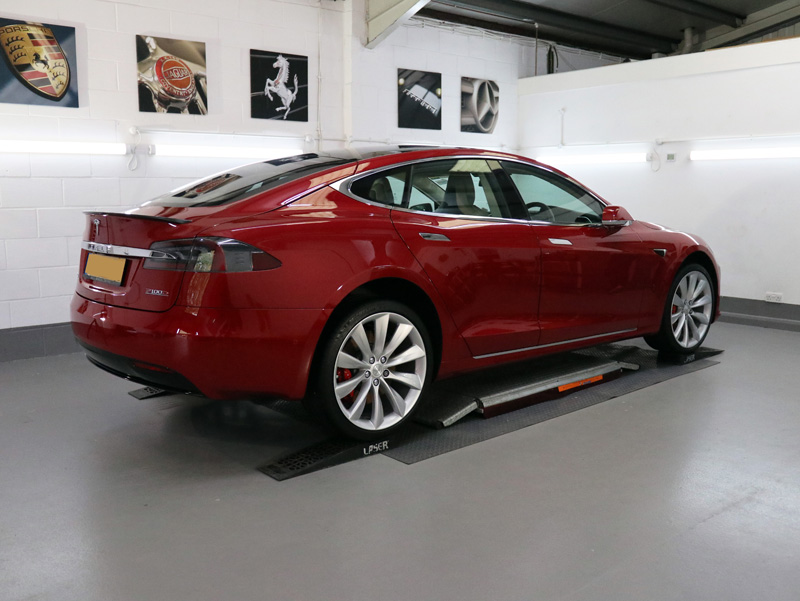 UF Studio – Award Winning Detailing & Training Centre. Call 0333 800 8004 to discuss your requirements or complete the online enquiry form here to receive a call back.