A Slice Of DTM Glamour At The Ultimate Detailing Studio.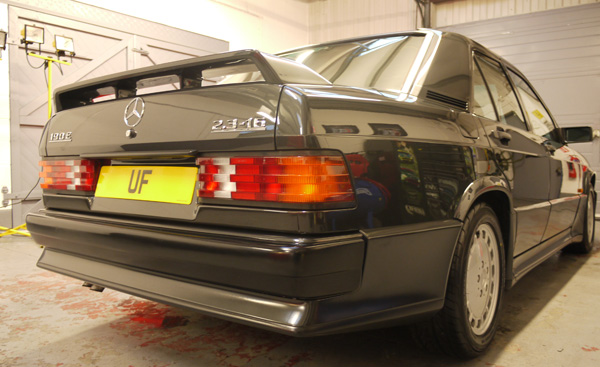 Machine polishing can be a tricky business and all too often customers bring their cars into the Ultimate Detailing Studio and ask us to fix the damage caused by poor machine polishing techniques.
None sorrier than a Mercedes 190 Cosworth delivered to us a couple of weeks ago by a very concerned and disappointed owner. The Cosworth paintwork showed the classic marks of a none-too-clever machine polishing session. Having brought other vehicles from his private collection to us he knew the Cosworth was in safe hands.
A classic piece of racing mastery, the 190 Cosworth was launched at the Frankfurt Motor Show. In the late 1970's Mercedes had been competing largely in rallying but the 190 Cosworth had been designed with DTM racing in mind. During its heyday the 190 Cosworth won the coveted DTM championship and set no fewer than twelve endurance records.  So this example of German / English racing history deserved a little TLC.
So Master Detailer, Rob Tomlin got to work. After a good deal of inspection (and accompanying tutting sounds!) with a 3M Sun Gun Rob planned a course of action and began to work.
The paintwork exhibited hard circle marks all over the body – classic indication that the previous machine polishing 'detailer' had allowed compound to harden on the polishing pad.  To get rid of these Rob used a 3000 grit Trizact pad, followed by 3M Fast Cut Plus on a Sonus SFX-3 pad. 3M Polishing Pad and 3M Extra Fine Compound used together fined out the work before a final finish with Menzerna.
With the paintwork restored to a glossy lustre it was time for a coat of Swissvax Onyx wax, perfect for a car that doesn't come out to play in the winter! A dab of Swissvax Autobahn Wheel Wax for gleaming alloys and a spritz with Swissvax Crystal Glass Cleaner, made the Cosworth look, as Rob put it; "Brand New!"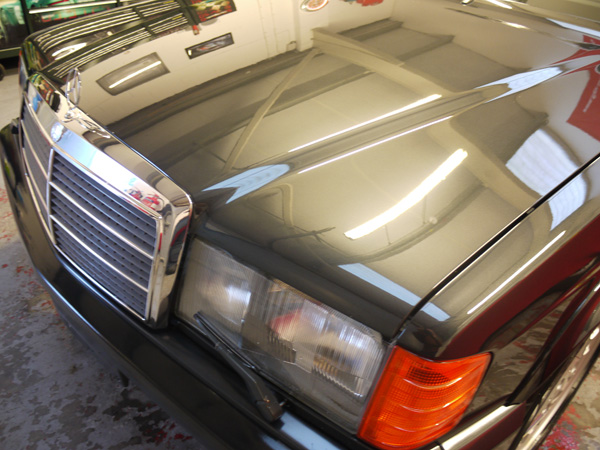 Tags: Ultimate Detailing Studio, 3M Extra Fine Compound, 3M Sun Gun, Swissvax Onyx, Swissvax Crystal Glass Cleaner