BMW E30 325i Cabriolet – Full Paintwork Correction Treatment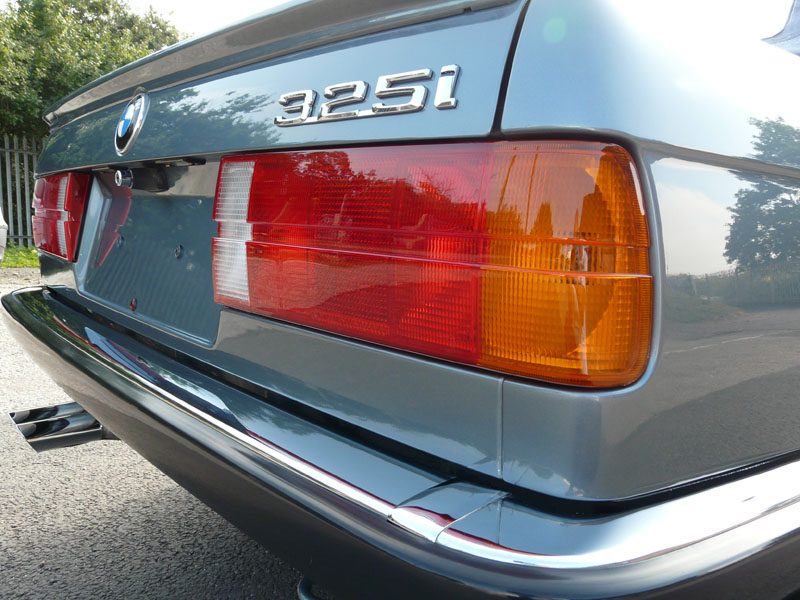 Manufactured between 1981 and 1994 the E30 is probably BMW's most iconic model type and at the time, the 3-series 325i was the model to have. These days there are fewer and fewer good examples around, but after a lengthy countrywide search our customer found one that was remarkably original – and he was understandably keen to do the car justice!
Once the deal was done, the car was collected and brought straight to our Brands Hatch studio for a thorough appraisal. Upon consultation with the customer, it was decided to complete a Full Paintwork Correction Treatment to remove swirl marks, acid rain etching and minor scratches. In addition to the paint correction, the customer requested that we carry out a number of additional services including – Alloy Wheel Protection, Glass ClearVision Treatment, Fabric Protection, Convertible Roof Protection and an Engine Treatment. As a final finish, the protective Nano Quartz Coating used to seal the paint would be further enhanced with a layer of Swissvax Crystal Rock, this 'State Of The Art' wax contains a class leading 76% by volume of pure Brazilian ivory carnauba.
First on the job sheet was the engine bay and prior to the degreasing process, all the sensitive and exposed electrical components were carefully protected with 3M Blue Masking Tape, then Meguiar's Super Degreaser was sprayed over the engine and allowed to work. A little agitation with a brush was required on some of the more stubborn areas and then the whole bay was rinsed clean.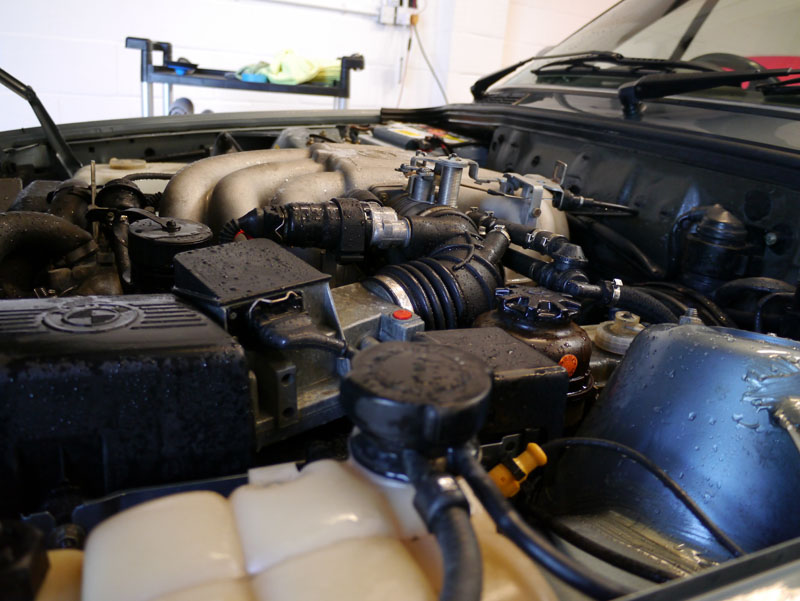 When cleaning and detailing an engine and bay you have to be careful with sensitive electronic components, and this is never more true than when working on classic cars. I made sure that I wrapped all the sensitive parts with waterproof 3M tape before I started – Master Detailer, UDS
The whole of the bodywork was treated with Valet Pro Citrus Tar & Glue Remover to remove any tar spots or tree sap residue, then Valet Pro Dragon's Breath was sprayed on to neutralise any iron particle contamination, typically derived from brake pads and long term storage. The car was then thoroughly degreased using Bilt-Hamber Surfex HD, also used on the boot, bonnet and door shuts. The final part of the de-contamination process was to cover the car in Ultimate Snow Foam, a thick, high foam pre-wash cleaner which lifts dirt particles away from the bodywork allowing them to be freely rinsed away.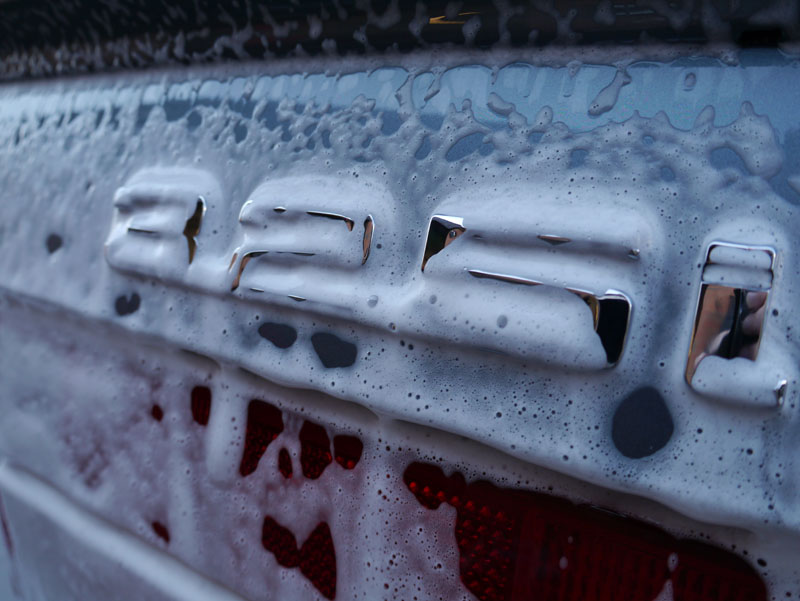 The (original) soft top was then washed using a solution of Gtechniq W2 Universal Cleaner to remove general driving dirt, thoroughly rinsed and left to dry. Finally the E30 was washed using the Two Bucket Method to prevent cross contamination of dirt particles (and therefore paintwork contamination) and then given a final rinse using an Aqua Gleam pure water system.
Clean and dry, the E30's cirrusblau metallic paintwork was clayed using a fine-grade Dodo Juice Square Sponge Clay Pad – a re-useable pad which effectively pulls any remnants of bonded contamination away from the surface of the paintwork. Then, using a 3M Yellow Polishing Pad on a FLEX PE14-2-150 Rotary Polisher, with SCHOLL Concepts S3 Gold High Performance Compound, the paintwork was restored, removing 25 years' worth of swirls, fine scratches and acid rain etch!
For the refining stage, our detailer used a SCHOLL Concepts Black SofTouch Waffle Finishing Pad with SCHOLL Concepts S40 Anti-Swirl Compound. Afterwards, the paintwork and wheels were cleansed using Nanolex Premium Paint Cleaner, an IPA based panel wipe designed to ensure the paint was completely free of polish residue.
Although there were blemishes on the paintwork (not surprisingly for a 1988 car!) they didn't require a particularly heavy compound to remove. The paint was great to work with, quite hard but not sticky and it refined perfectly with the Black Waffle Pad and S40 combination – Master Detailer, UDS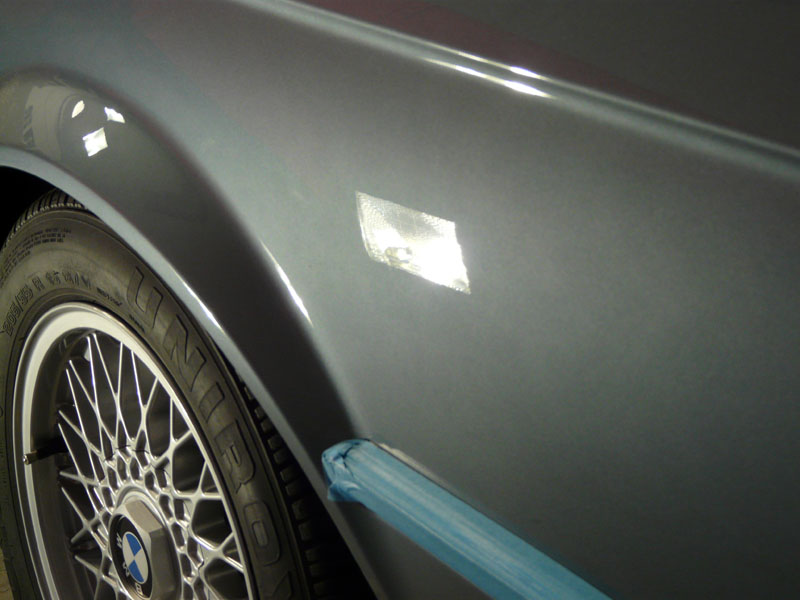 For the protective nano-coating, Nanolex Ultra Paint & Alloy Sealant was applied in a very thin layer to both the paintwork and the wheels. The Ultra Paint & Alloy Sealant is the newest addition to the Nanolex range, providing extremely high levels of water beading and gloss. 'Ultra' leaves treated surfaces feeling slick to the touch and this slickness encourages water and dirt to slide away from the surface, making future washing and maintaining the car much easier.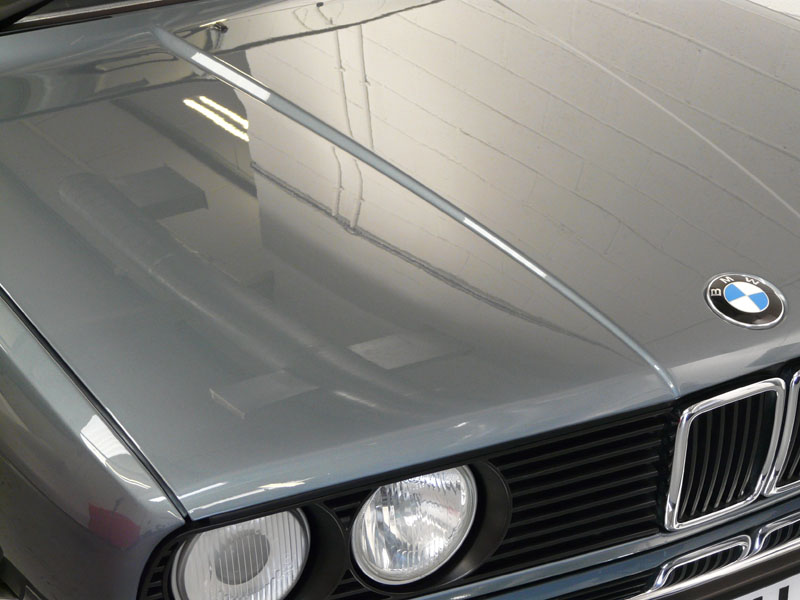 Once fully dried the engine was dressed using Meguiar's Engine Dressing and the soft top protected with Gtechniq I1 SmartFabric – a highly water repelling nano-coating which encourages water to bead and disperse without the soft top ever becoming wet. With the fabric now completely hydrophobic, any dirt contained in rain water will not adhere to the surface resulting in the material staying cleaner for longer.
The best way of ensuring the soft top is fully protected is to use a cloth to work the Gtechniq SmartFabric into the pores of the hood. That way you get the maximum water protection and beading – Master Detailer, UDS
The glass was polished using Nanolex Premium Glass Polish to remove fine scratches, then cleaned using Nanolex Premium Glass Cleaner. When the glass was perfectly prepared it was sealed with Nanolex Ultra Glass Sealant which contains very high levels of nano-sized SiO2 (silicon dioxide) particles and other active ingredients which repel water and dirt. This improves visibility during poor weather conditions and makes for a safer, less tiring journey for the driver!
The rubber seals, mud guards and bumper surrounds were conditioned using Swissvax Seal Feed, a conditioner specially formulated to rejuvenate and protect natural rubber. The chrome trim was polished using Gtechniq M1 All Metal Polish, the interior was vacuumed and then protected with Gtechniq I1 SmartFabric Coat and the tyres dressed with Swissvax Pneu to give a clean, satin sheen.
The customer wanted the whole car looked after, rather than just opting for a paintwork treatment. It is incredibly satisfying to take an holistic approach and restore the whole car, inside and out to its former glory – Master Detailer, UDS
To complete the restoration, the small stone chips found on the front of the car were treated with the innovative Chipex system using the factory paint code for the E30, in this case Cirrusblau Metallic, paint code 189. Once these were filled, blended and smoothed down they were allowed to cure.
The final stage was a couple of layers of Swissvax Crystal Rock carnauba wax, buffed by hand to provide an unbelievable clarity and depth of shine to the E30's metallic paint.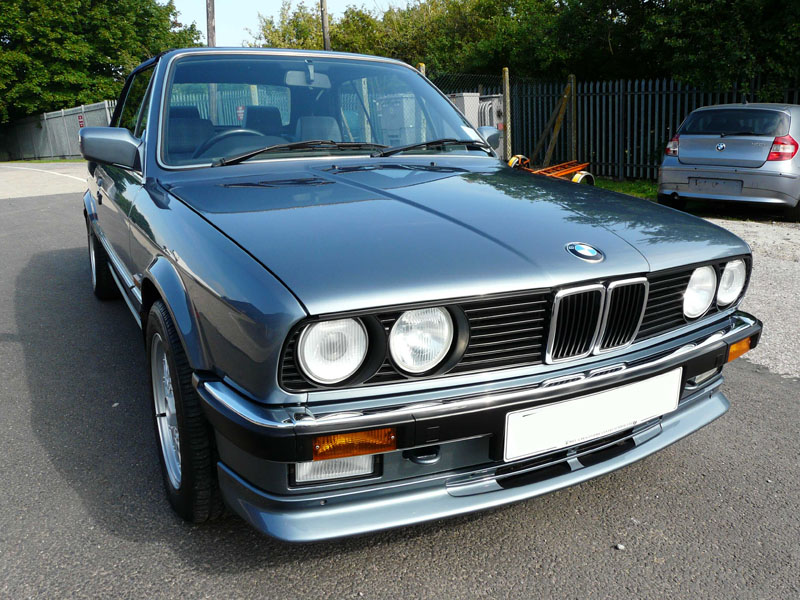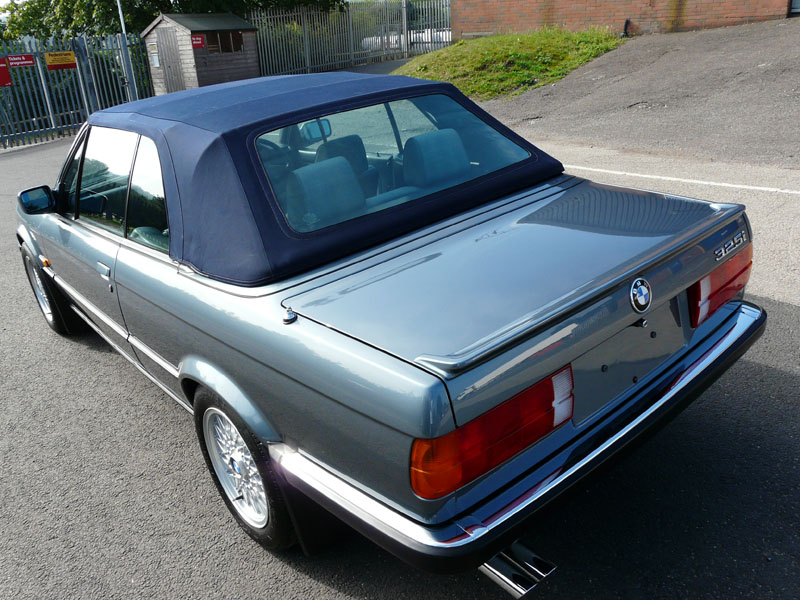 Ultimate Detailing Studio – Award Winning Detailing. Call 0845 838 1200 to discuss your requirements and arrange a free vehicle appraisal.
Ultimate Finish – Legendary Automotive Care since 1999.