BMW F10 M5 M Performance Edition – Matt Protection Package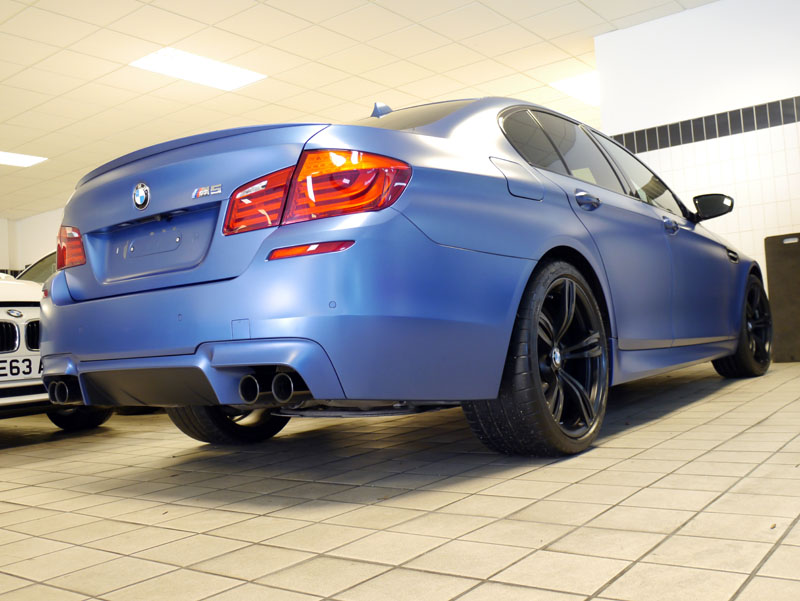 If you're a fan of performance cars, seeing a BMW M5 will no doubt send a little tingle of excitement around your body, making the hairs stand on end, and automatically conjure up visions of one charging down a section of autobahn at full throttle, exhausts bellowing and wailing, whilst you sit surrounded by absolute luxury and comfort.
Yes, the first BMW carrying the M5 badge of honour was available in 1985, and was powered by a 3.5 litre 6-cylinder engine, which took the car from zero to sixty miles per hour in just 6.5 seconds, and on to 153 mph – a fast car by even today's standards!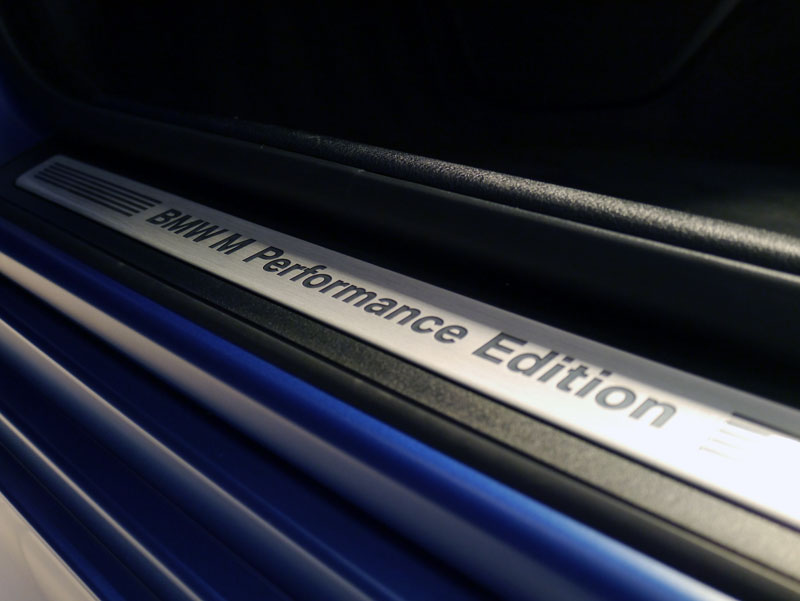 A customer recently purchased the younger relative of that first car, and a special version of it at that – the 2012 BMW F10 M5 M Performance Edition, one of just 30 built for the UK market.  Each of these limited edition cars are finished with an exclusive to BMW, 3M matt vinyl wrap, 10 in Frozen Blue (including this one!), 10 in Frozen White and 10 in Frozen Red. This M5 is all about rarity, although the higher price isn't just for the limited 'One 0f 30' commemorative plaque inside the car, as you get just about every conceivable extra as standard.
Power is the same as the regular F10 M5, which is still actually anything but regular, let's face it. The 4.4 litre twin-turbo V8 puts out a huge 560 horsepower and 413 lb ft (680 Nm) of torque, pushing the BMW up to 62 mph in 4.3 seconds, and sliding the needle in the dial to a 190 mph maximum speed.
Although BMW sell both the M5 and M3 in these matt finishes, strangely they are not currently able to offer customers any treatment or after-care products for the cars, fortunately, we can.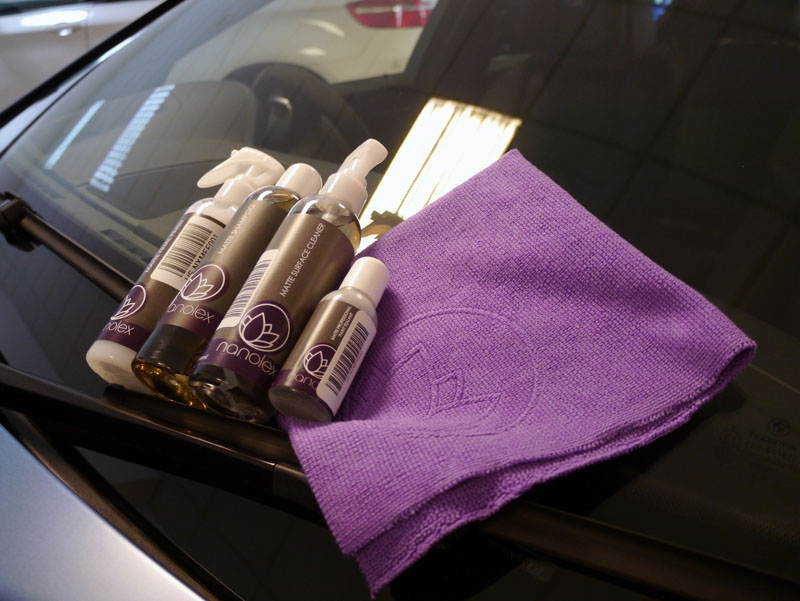 The customer chose a Matte Protection Package, part of the Award Winning Detailing services offered at Ultimate Finish. The unique range of matte products are manufactured by Nanolex, and were developed in co-operation with BMW M Division HQ based at Garching, near Munich in Germany. Nanolex MATTE Paint & Alloy Sealant is the only sealant currently available that is developed specifically for matte finishes.
Instead of using our Brands Hatch based detailing studio, this time the work would be undertaken at the supplying dealership – Sytner BMW High Wycombe, whose pdi and valeting bay facilities were absolutely second to none.
Normally, we would use various degreasers followed by a detailing clay bar to remove contaminants before machine polishing, but as the finish is vinyl matte – and to an extent, delicate – we would only be cleaning and refining by hand using the excellent Nanolex Matte Professional range.
We started by using Nanolex MATTE Shampoo, which is pH-neutral and does not contain gloss-enhancing properties, therefore keeping the finish the same. Instead, it has lubricants that enable dirt and grime to be washed away easily, and there are also special ingredients that revive any previously applied Nanolex sealant.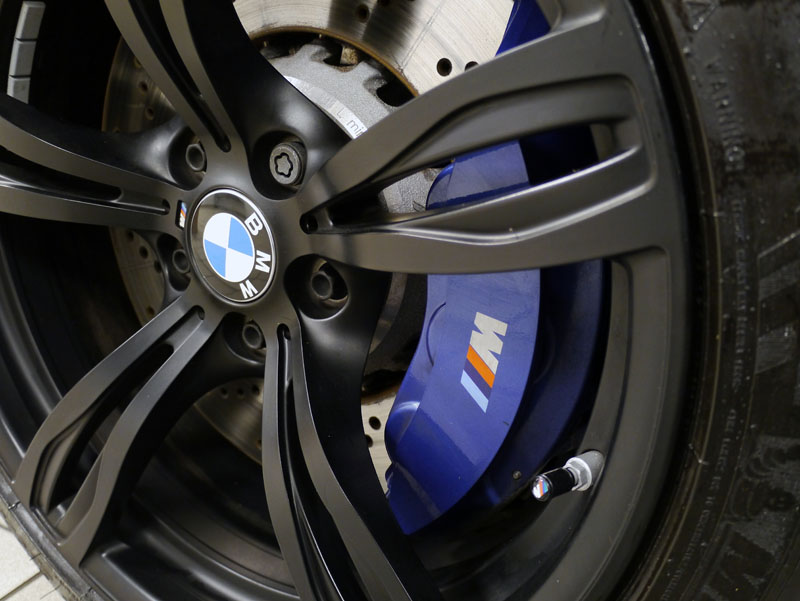 That done, the matt surface needed any industrial or natural fallout (metal particles, bird droppings, tree sap etc.) removing before we could apply the sealant. For this, Nanolex MATTE Surface Cleaner was put into action, removing bonded contaminants, finger prints, dust, oils and grime highly effectively, but without leaving any messy-looking streak marks.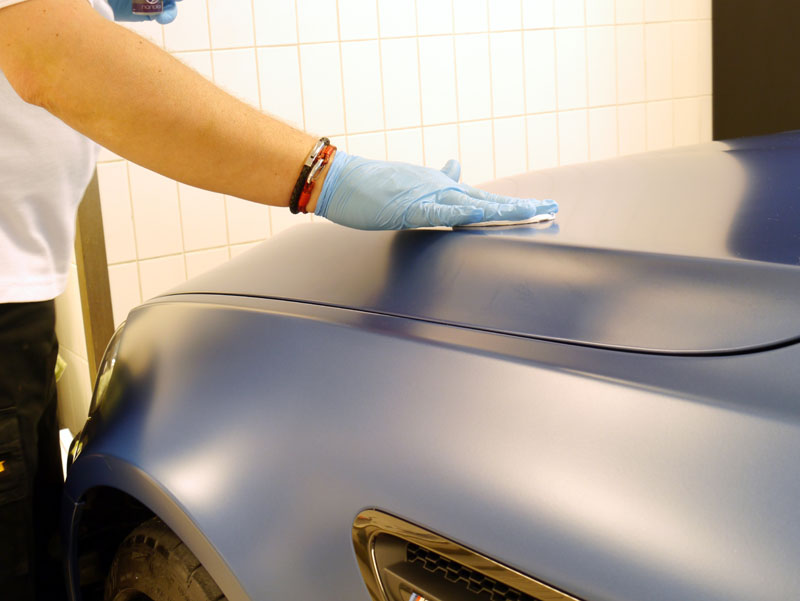 The surface refreshed and thoroughly clean, it was time to lay down some protection on the F10 M5's muscular flanks and wheels. Nanolex MATTE PRO Sealant was applied, which gives all the protection of a normal Nanolex sealant, without the gloss.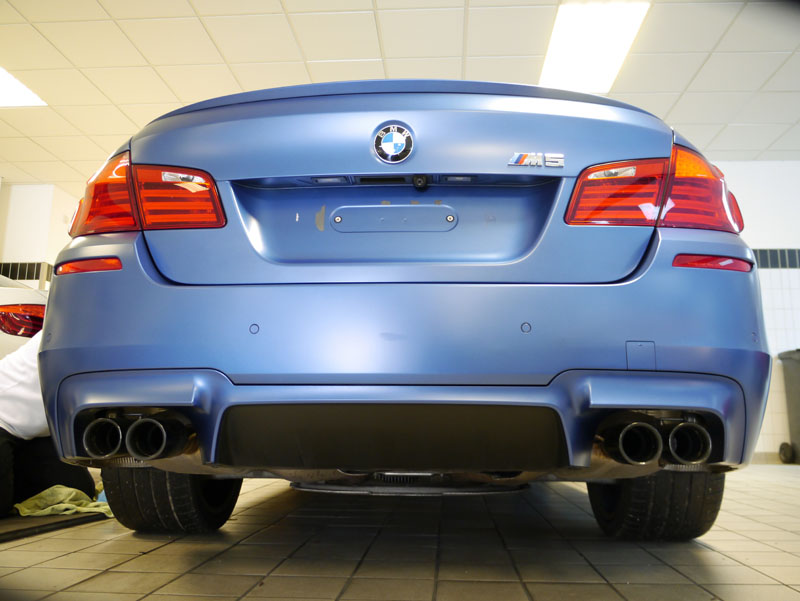 To complete the treatment, Nanolex MATTE Final Finish Quick Detailing spray was used, as the pH-neutral formula gives an extra slickness whilst removing any fingerprints, watermarks or light dust. Unlike conventional polymer based sealants, Nanolex MATTE PRO offers protection against oil, road grime and water for at least 18 months.
Prior to collect the customer was supplied with a complimentary Nanolex MATTE Aftercare SET, ensuring this very special F10 M5 will continue to look as fantastic and alluring in the future as it does now.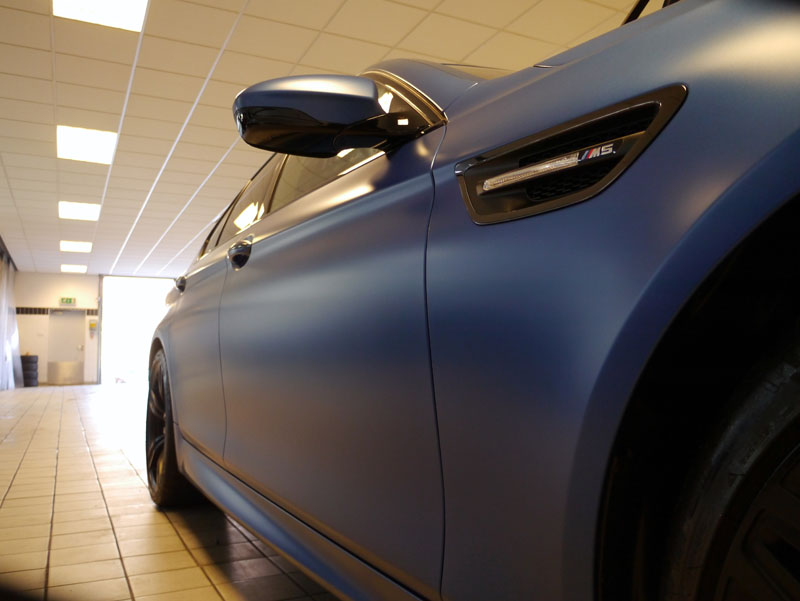 Ultimate Detailing Studio – Award Winning Detailing. Call 0845 838 1200 to discuss your requirements and arrange a free vehicle appraisal.
Ultimate Finish – Legendary Automotive Care since 1999.