A Guide To Detailing – Total BMW Magazine Teams Up With UF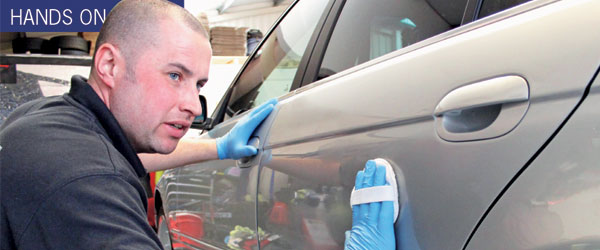 Total BMW Magazine recently collaborated with Ultimate Finish on a series of articles surrounding car detailing. Editor, Adam Tait, spent some time in our Ultimate Detailing Studio talking to Master Detailer, Rob Tomlin about how his readers could revive their BMW paintwork and bring back the showroom shine.
Keen to make the article accessible to all the detailing process was conducted entirely by hand – no machine polishers allowed! To aid continuity Adam wanted to stick as much as possible to items featured in the previous article, Detailing To A Budget. They did decide on using the Ultimate Snow Foam Kit though, as it was agreed most readers would have pressure washers at home. So they set to work, Rob using the products and going through the process, Adam taking photos to create for his article.
First the Ultimate Snow Foam. Then to the wheels, cleaned with R222 Special Performance Gel Wheel Cleaner, a pH neutral wash ideal for sensitive alloys along with the Dodo Juice Captain Crevice Wheel Mitt and the Valet PRO Large Sash Brush. The car was then washed using Meguiars NXT Car Wash and a Swissvax Waschpudel. Once cleaned the BMW's paintwork was dried off and the Valet PRO Yellow Poly Clay bar used to decontaminate the surface from tar deposits, tree sap, etc. Then Meguiars Ultimate Compound was used to remove fine swirls and scratches that had accumulated in the paintwork over the years. Meguiars Deep Crystal Step 2 was then used to prepare the paintwork for the wax layers and they used Dodo Juice's Hard Candy to finish it all off. Adam was very impressed with the results, and from what we hear readers of Total BMW found the article very useful.
You can read the full article as featured in the Total BMW Magazine using the link below.
Ultimate Finish Detailing Guide, Total BMW – Page 1
Ultimate Finish Detailing Guide, Total BMW – Page 2
Ultimate Finish Detailing Guide, Total BMW – Page 3
Ultimate Finish Detailing Guide, Total BMW – Page 4
The finished article is a very handy, photographic step by step guide to detailing your vehicle at home.