Detailing The Interior Of Your Car
Total BMW enjoyed working with us so much on the 'Detailing To A Budget' feature they came back and we helped out with a feature on detailing the interior of a car.
Most detailing articles concentrate on the exterior of the vehicle, because it's the most visible part of the vehicle – the exterior gives you the wow factor. However getting the interior part right is extremely satisfying to the owner – it gives you that "clean sheets" feeling!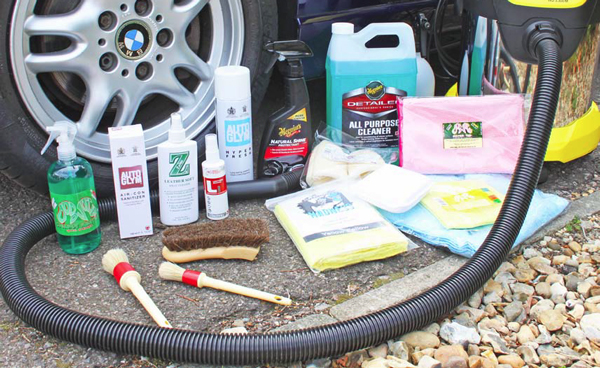 Total BMW began their quest for a cleaner interior started with carpet cleaning. So they grabbed the Meguiar's All Purpose Cleaner, diluted it using the corresponding APC Mixing Bottle with Heavy Duty Spray Head and gave the carpets a good spritz. Because Meguiars APC has optical brighteners it works hard to not only lift out grime but to bring a 'like new' feel to them. Using it on the headlining works well too, not forgetting door shuts – this bit gets missed out a lot, but the build-up of grease and dirt in these areas happens very quickly and gets unbelievably messy to sort out if not attended to regularly! Using a brush, such as the ValetPRO Sash Brush makes sure you get into those tight nooks and crannies much more easily than a sponge or a cloth.
Dodo Juice new Basics of Bling range is aimed at simplifying the detailing process for the newbies and uninitiated, so the 'Basic' means 'Easy' rather than 'Budget'. The Basics of Bling Drying Towel passed the test for Total BMW.
Door seals and rubbers should be treated too in order to maintain their appearance, keeping them from drying out and cracking whilst helping to maintain their "plumpness", which helps reduce cabin noise. Total BMW used Meguiar's Natural Shine Protectant, but other products to consider include ValetPRO's Dionysus Trim Glitz and Swissvax's Seal, specifically designed for rubber.
Seats, particularly the driver's seat take a lot of wear and tear, so it's important to clean them on a regular basis. Most BMWs have leather seats, so Total BMW gave Zaino's Z-9 Leather Soft Spray Cleaner a whirl and gave it the thumbs up. Z-9 has a clean, natural smell and Total BMW said it left their leather feeling very supple. For older leather in need of extra care Zaino's Z-10 Leather in a Bottle Treatment & Conditioner leaves a non-sticky, non-greasy finish and helps to keep leather supple. However, having tried Gtechniq's Clear Vision Glass Kit, Total BMW wanted to try out their L1 Leather Guard and they weren't disappointed! But if you're looking for the pinnacle of leather care the Swissvax Leather Care Kit is hard to beat.
For the cockpit a ValetPRO Dash Brush works well on the air vents and the creases in the dashboard whilst the Meguiars Natural Shine Protectant "is great because it doesn't leave that tacky Arthur Daley sheen on any surfaces". Wipe the dash down with Dodo Juice's Mr Pink Interior Detailing Mitt for a subtle sheen result. Dodo's new Clearly Menthol Glass Cleaner is an alcohol-based cleaner which really works a treat even for those who have trouble cleaning glass without leaving smears everywhere. For the finishing touch you need a decent air freshener. Total BMW gave Autoglym's Clean Linen a try: "Hyper Fresh is a worthy replacement for a conventional 'hanging' and often useless, air freshener. It emits a ballistic amount of product at the touch of a button and the fragrance is …..nice and fresh".
Getting your car spick and span means paying attention to the detail – shiny paintwork is only the start of it – together with Total BMW we hope we've shown you how to get the most from interior detailing. Now, take the lollipops off the kids and put the dog in the boot!
You can read the full article as featured in the Total BMW Magazine using the link below.
Ultimate Finish Interior Detailing Guide – Total BMW September 2011