Ferrari Testarossa – Gloss Enhancement Treatment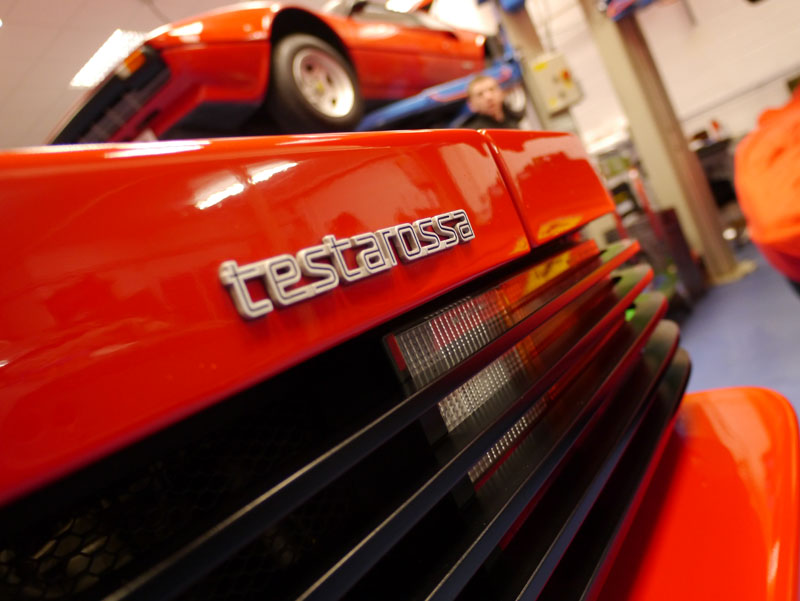 Produced from 1984 to 1991, the Ferrari Testarossa – alongside the Porsche 911 Turbo – is possibly the car that defines the Eighties, quite literally in this case – to a T.
Bold strakes for cooling, stability and aerodynamic purposes, but also for strange rules in several countries that didn't allow large 'openings' on car bodywork in the design, along with hugely over-the-top flared arches and an aggressive look, plus a powerful 4.9 litre 'Ferrari Colombo' flat-12 cylinder engine, matched the arrogant wealth-hungry stockbrokers of the day, with their big shoulder-padded suits and even bigger hair.
The Testarossa's design is certainly striking, and thanks to it being possibly one of the most-used cars in posters and calendars of the day, the Testarossa is likely, also one of the easiest Ferrari's to identify by even non car enthusiasts today.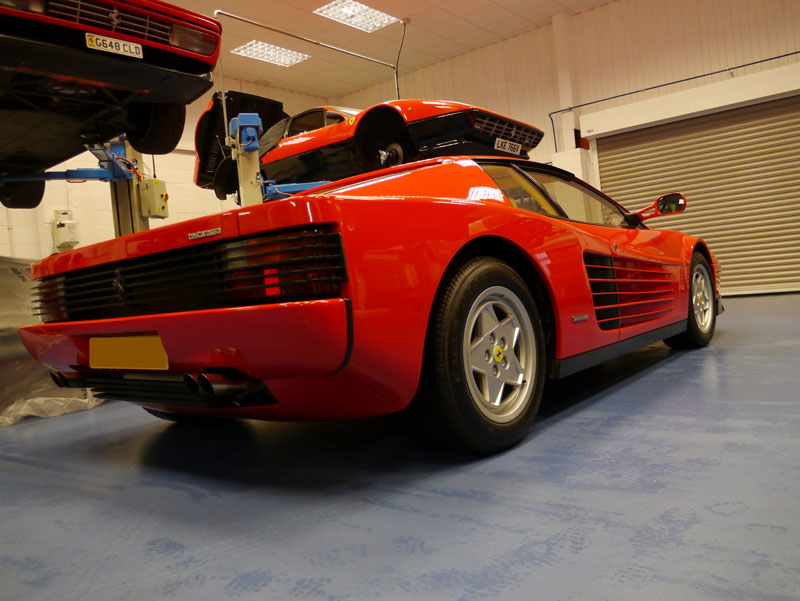 Going back to the glorious mid-mounted flat-twelve, 48-valve engine, it produces 390 horsepower and 361 lb-ft of torque, meaning a 0 – 60 mph time of just 5.2 seconds and a 180 mph top speed. A fast car for the day. It was also a car that handled well, and was hugely popular with motoring journalists at the time.
This fine example, commissioned by Foskers Ferrari for a Gloss Enhancement Treatment, came off the line in the last year of production, 1991. Incidentally, the production year quoted doesn't include the 512 TR and F512 M models, which were made up until 1996.
The Testarossa has covered a mere 12,000 miles since its birth, and understandably was mechanically in very good condition when it rolled up to our Brands Hatch studio. The paintwork however needed revitalising, as there were a visible signs of swirl marks within the paint's finish, taking much away from the beautiful red hue.
Firstly, the 16″ star-design alloy wheels needed decontaminating and thoroughly cleaning with Bilt-Hamber Korrosol spray to remove rust-inducing any metal particles within them, before using the excellent Valet Pro Bilberry Wheel Cleaner with the luxurious and alloy safe UF Wheel Woolies.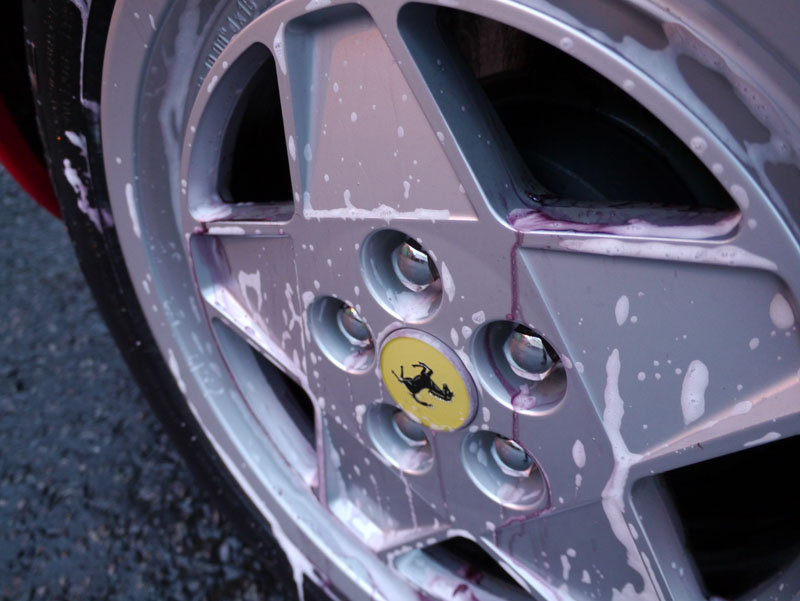 Wheels completed, all the panel gaps, wheel arches and door shuts were decontaminated and degreased using Meguiar's All Purpose Cleaner Plus.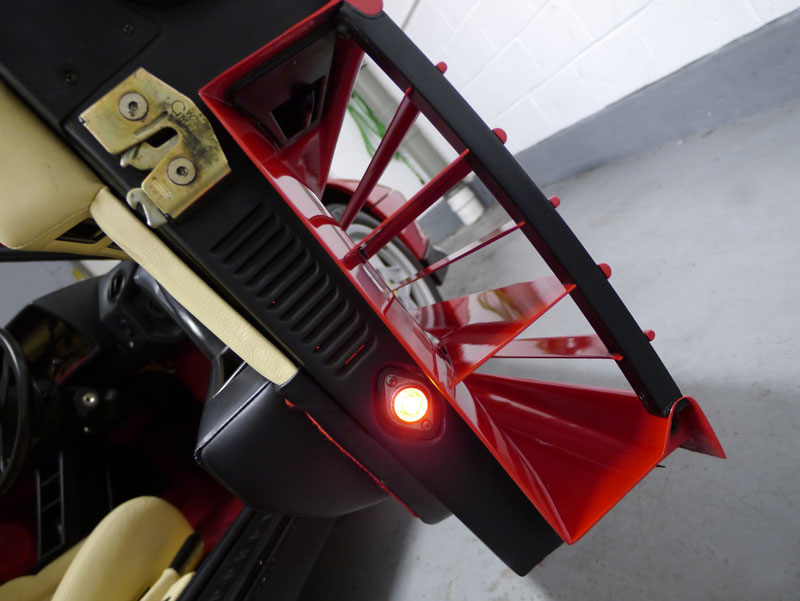 The next stage was to give the Testarossa a thorough pre-wash with the simple-to-use, highly effective Kranzle Ultimate Snow Foam & Lance Kit.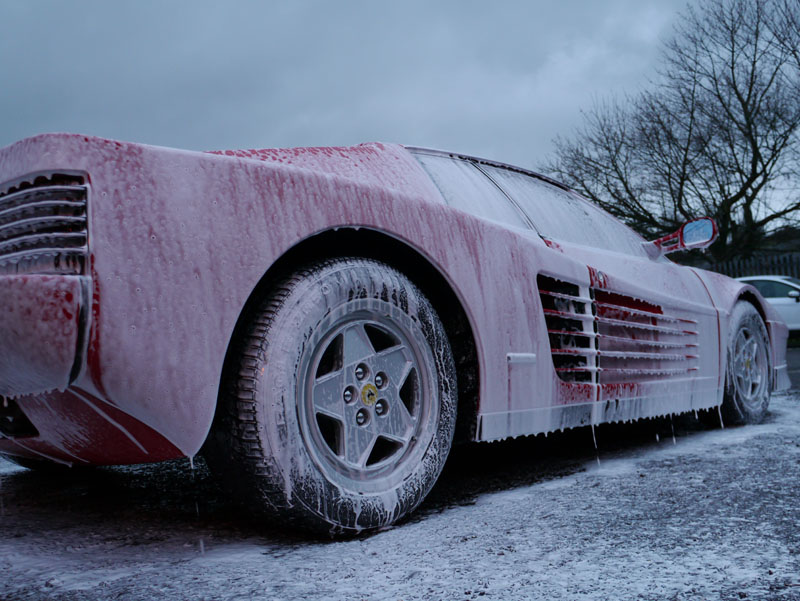 Foam – and the grime from the bodywork rinsed away, the next wash stage was to shampoo with the wax-free Swissvax Car Bath, a super-soft Meguiar's Lambs Wool Washmitt, and then rinsed with water firstly run through an Aqua Gleam 0ppm De-ionising Water Filter, to ensure zero water marks as well as a quicker drying time. Any sitting water was soaked up with the highly absorbent Microfibre Madness Dry Me Crazy cloth.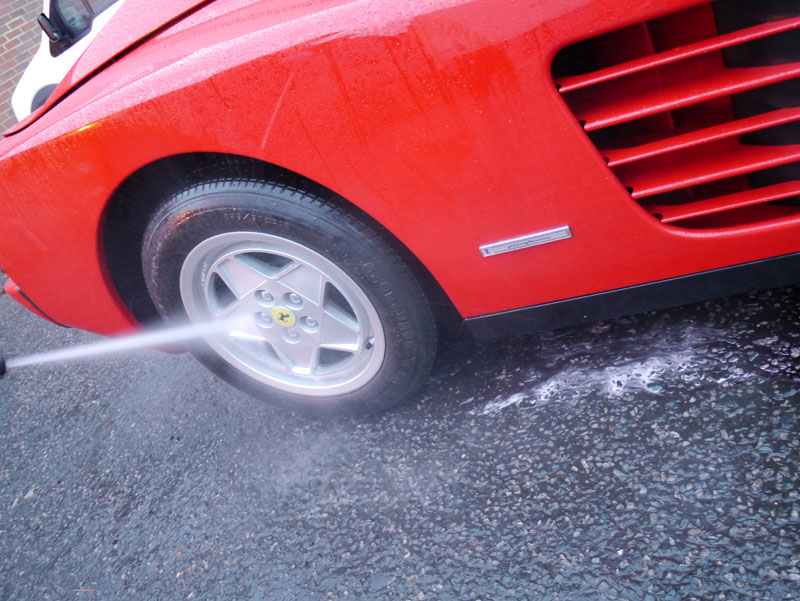 The Ferrari was now clean, at least to look at, but needed to be further decontaminated to remove any fallout engrained in the finish. Swissvax Paint Rubber, a mineral based compound was used over a traditional clay bar, and was aided by Swissvax Quick Finish.
With the paint as smooth as glass and completely decontaminated, the paintwork correction process could begin. The Testarossa's paint is hard, and as with all solid colours of the era had no clearcoat, and therefore required a coarse enough product to successfully polish it.
A FLEX PE14-2 Rotary Machine Polisher was used for the correcting, and for the first polishing stage the one-step SCHOLL Concepts S17+ High Performance Compound was chosen, as it quickly removes even deep scratches with ease. The pad used was a SCHOLL Concepts Orange Foam Polishing Pad, for its specific usability on weathered paintwork.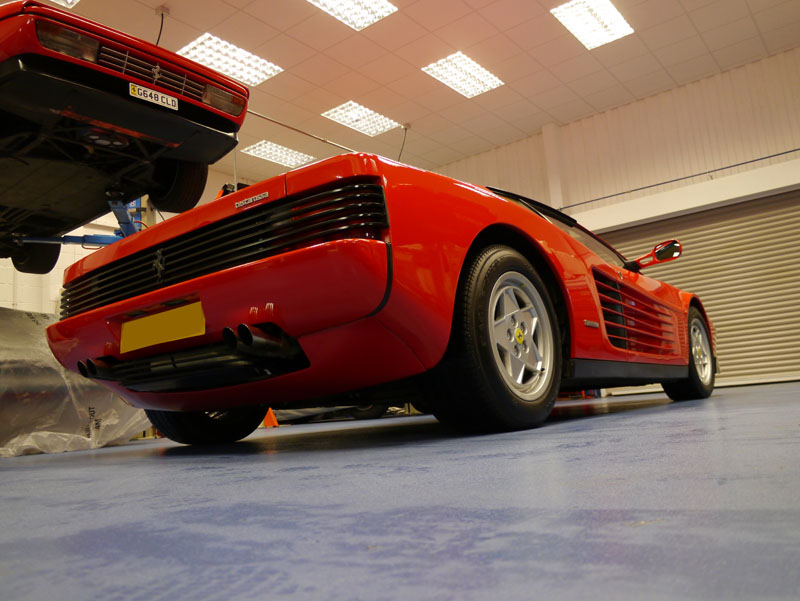 The refining stage was completed with SCHOLL Concepts S40 Anti-Swirl Compound, as it uses nano-compound technology, breaking down until it becomes a polishing agent to remove scratched and swirls without adding any further marring. It was applied using a soft SCHOLL Concepts Black SOFTouch Waffle Finishing Pad.
The paintwork was now free of blemishes and swirls, and refined to a high shine, but was in need of protection to seal in the newly optically clear finish. Suitably, Swissvax Scuderia Wax – which contains a high volume of natural and pure Brazilian No 1 grade carnauba wax, and which was developed specifically for Italian marques – was applied by hand. The wax was left to cure for a short while and then buffed off with one of the heaviest-weight cloths available – the Microfiber Madness Summit 800. This is a borderless, ultrasonically cut cloth and extremely soft and safe to use on all paint finishes.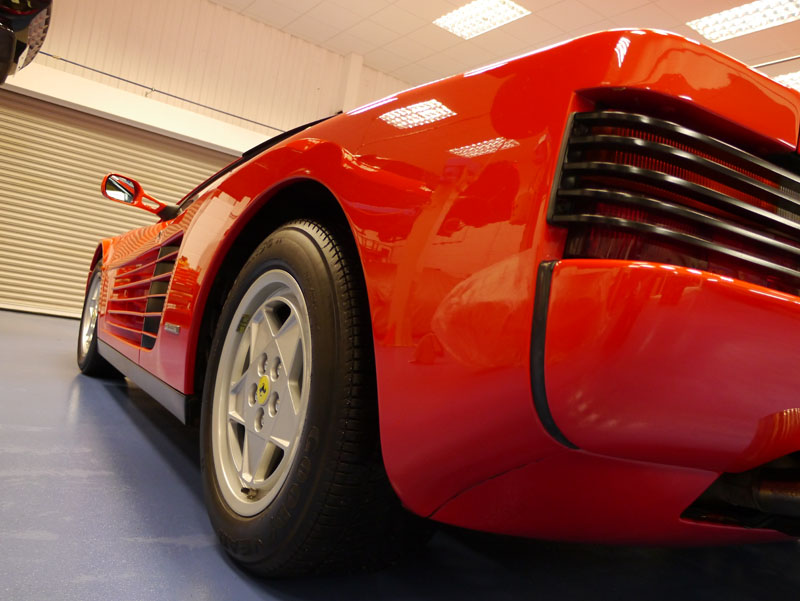 With the Gloss Enhancement Treatment completed, the red paintwork was restored to the rich, deep and luscious finish synonymous with Ferrari's, there's one word that sums up our thoughts on this now-refreshed Ferrari Testarossa – Bellissima!
Ultimate Detailing Studio – Award Winning Detailing. Call 0845 838 1200 to discuss your requirements and arrange a free vehicle appraisal.
Ultimate Finish – Legendary Automotive Care since 1999.