Perfectly Restored Jaguar XK140 Ultimately Finished !
Occasionally an object of classic perfection crosses your path. When a beautifully restored Jaguar XK140 Drophead Coupe purred into our Ultimate Detailing Studio recently, everyone put down their machine polishers and gathered round to admire.
The XK140 roared on to the scene in late 1954 featuring a number of modern upgrades from the XK120, including flashing turn signals operated by a switch on the dashboard and wind-up side windows! It also sported an emblem on the boot lid with the words "Winner Le Mans 1951–3" and boasted an increase in horsepower, bringing it's rating to 190bhp.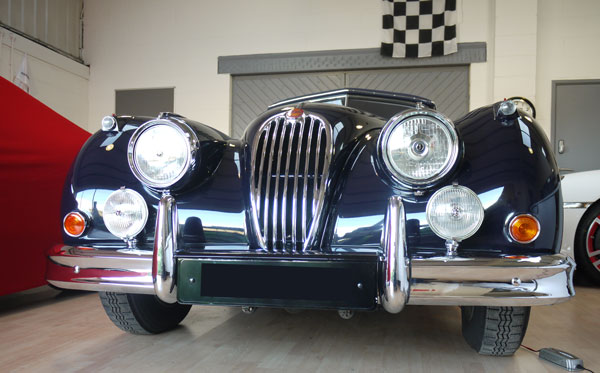 This example has been perfectly restored by JD Classics of Malden; Mediterranean Dark Blue paintwork, dark blue leather interior, classic burr walnut dash and door trim, shining chrome bumpers and wire wheels, with just a little nod given to helping navigate through modern driving conditions: up-rated front brakes! As a result of its recent restoration all that was required was a complete paint cleanse using Swissvax Pre-Wax Cleaner Oil prior to a couple of layers of high grade carnauba wax. Swissvax "Swissvax Best of Show" was the perfect choice to make the paintwork really glow.
View more images of the Jaguar XK140 here.