UF Teams Up With Meguiar's UK To Prepare A Classic Porsche 911 Turbo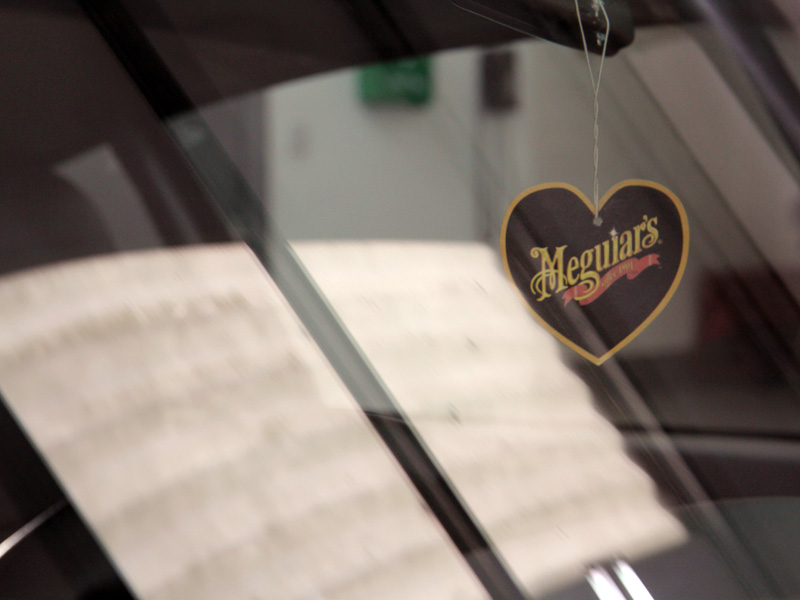 Meguiar's is one of the biggest names in car care. What started in America in 1901 as a cottage industry providing wood polish from a garage laboratory has evolved into a hugely successful international, car care brand with a global following. Meguiar's products have been popular with UF's customers for many years, so when Meguiar's wanted one of their customer's cars looking after, UF was only too happy to help.
The car in question was a 1990 Porsche 964 Turbo belonging to Rich Good, Managing Director of KW Automotive UK Ltd, the UK subsidiary of KW Automotive GmbH, providers of premium tuning and suspension parts and systems used by racing teams worldwide. Rich has been involved with Meguiar's UK for many years and has, on many occasions, loaned Meguiar's one of his cars for display and demonstration purposes at shows around the country.
Introduced in March 1990, the 3.3 litre Turbo was the first generation of Porsche 964 to have forced induction, enthusiasts would have to wait until 1993 for the larger 3.6 litre M64 engined cars. Although using the same basic 3.3 litre block from the Porsche 930, the 964 Turbo gained from some careful tweaks. With 316 bhp at 5750 rpm and 450 N·m (332 lb·ft) of torque at 4500 rpm, the revisions dealt with a previous issue of turbo-lag and boosted power considerably. No slouching off the line for this Turbo!
Meguiar's UK provided a range of their enthusiast products to ensure the 964 received the full treatment and would be back in 'showroom' condition by the time UF had finished with it.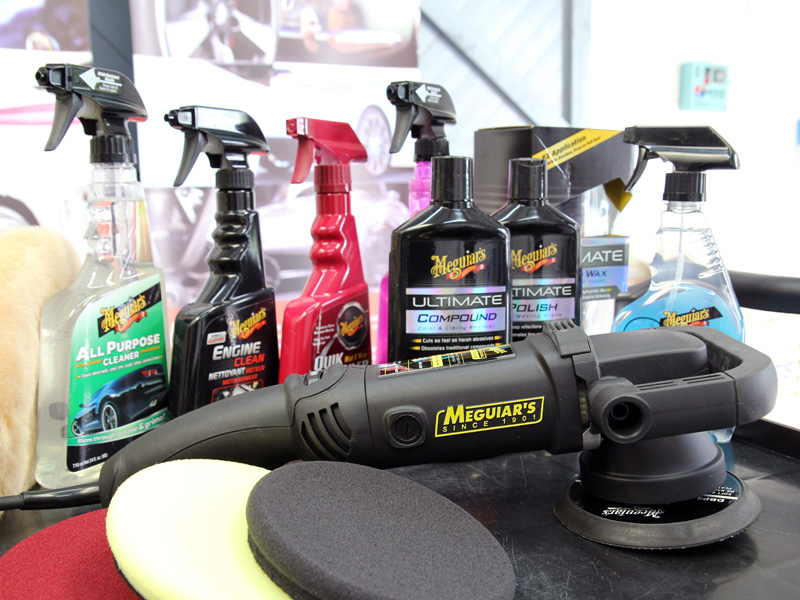 Once the car arrived, it was time to get to work. First order of the day was to decontaminate and clean the car thoroughly.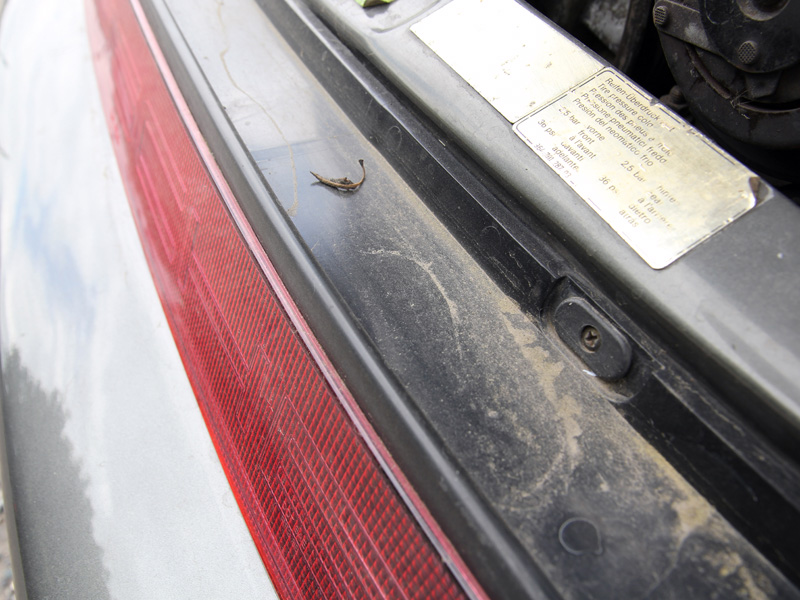 Meguiar's All Purpose Cleaner was used to remove diesel and petrol splatters, oily grime and residue from the bodywork and wheels and from around the petrol filler cap. Also available as part of the professional 'Detailer' range, All Purpose Cleaner cuts through grease quickly without harming the paintwork or leaving white spots on black trim.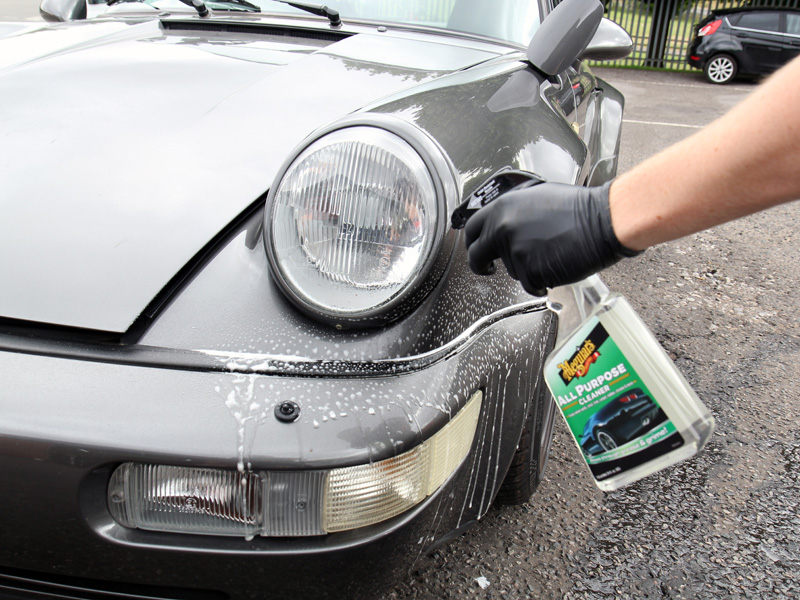 The wheels and tyres were treated with Hot Rims All Wheel & Tire Cleaner. The foam clings to vertical surfaces to provide extra cleaning power for hard-working wheels. An Ultra-Safe Wheel Brush was used to ensure the wheels were cleaned through the spokes and the tyres were scrubbed to ensure all residues of old dressing were removed.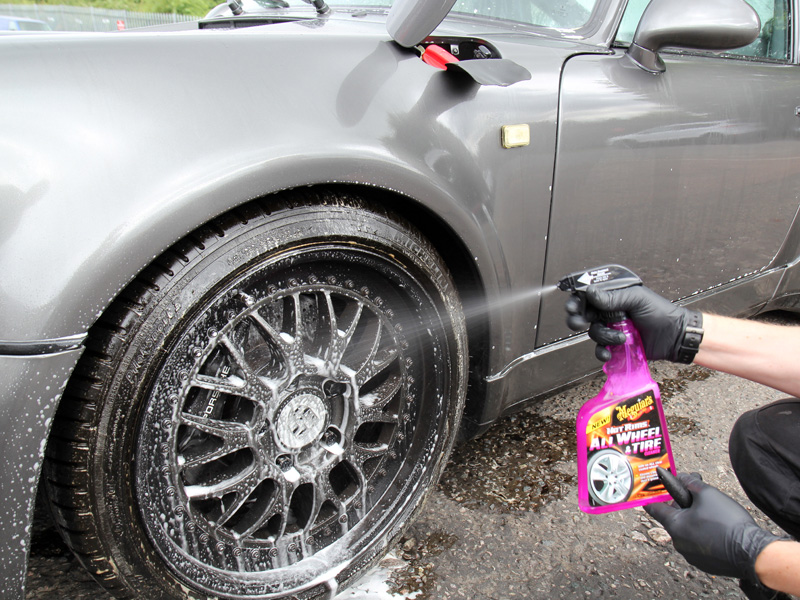 The engine bay was cleaned and degreased using Meguiar's Engine Clean and a detailing brush which was used to agitate the solution to make sure it penetrated the hard to reach areas.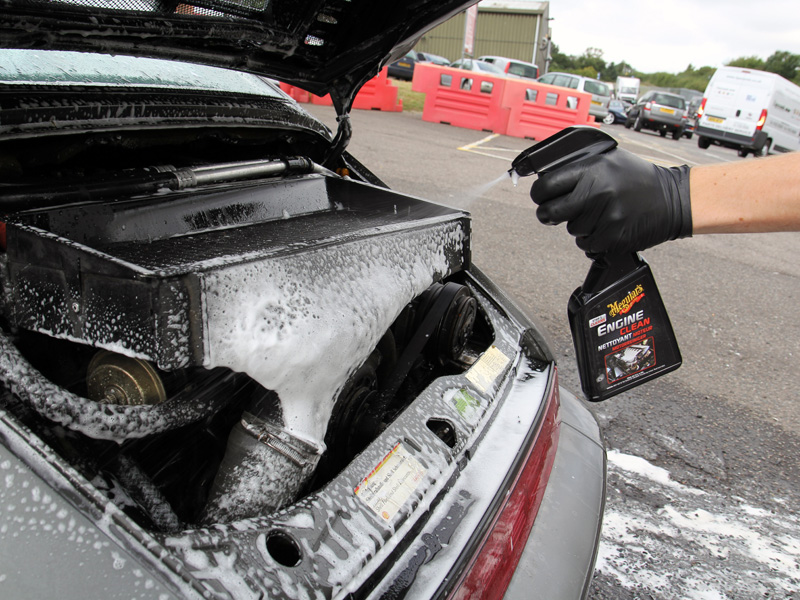 The car was then washed using Meguiar's Ultimate Wash & Wax and a Lambswool Wash Mitt. The mesh netting on one side of the mitt is ideal for removing bug squash from windows.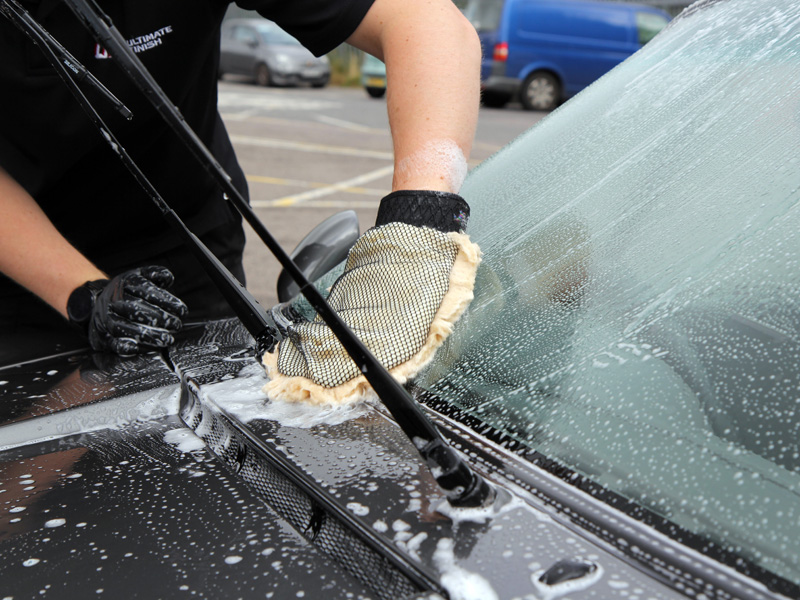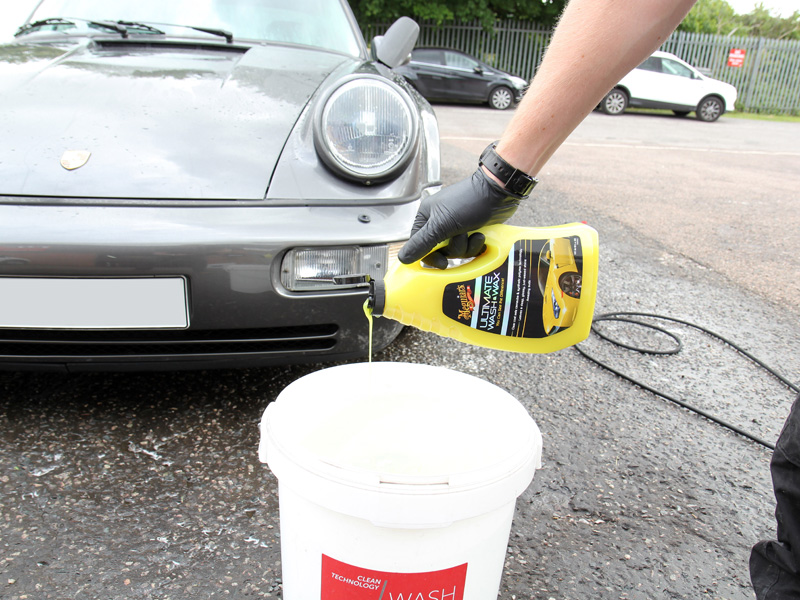 Pro Tip: Ultimate Wash & Wax is an ideal maintenance product as it contains glossing agents which boost the hydrophobicity and gloss of existing wax protection. As this vehicle is to be machine polished, typically Hyper Wash, a straight-forward car shampoo without the added polymers would be used as machine polishing will take any protection off!
Once clean, the car was carefully dried using a Meguiar's Water Magnet Drying Towel.
Pro Tip: While the car is still wet, mist Last Touch Spray Detailer over each panel, then using a soft microfibre drying towel, careful dry the vehicle. This will aid the drying process, ensuring a smooth finish free from water spot marks or streaks.
To remove bonded contamination from the paintwork, wheels and glass, Meguiar's Smooth Surface Clay Kit was used. This contains a clay bar and Quik Detailer, to act as a lubricant. Quik Detailer is sprayed onto to the surface and, using fingertip pressure, the clay is rubbed back and forth over the surface.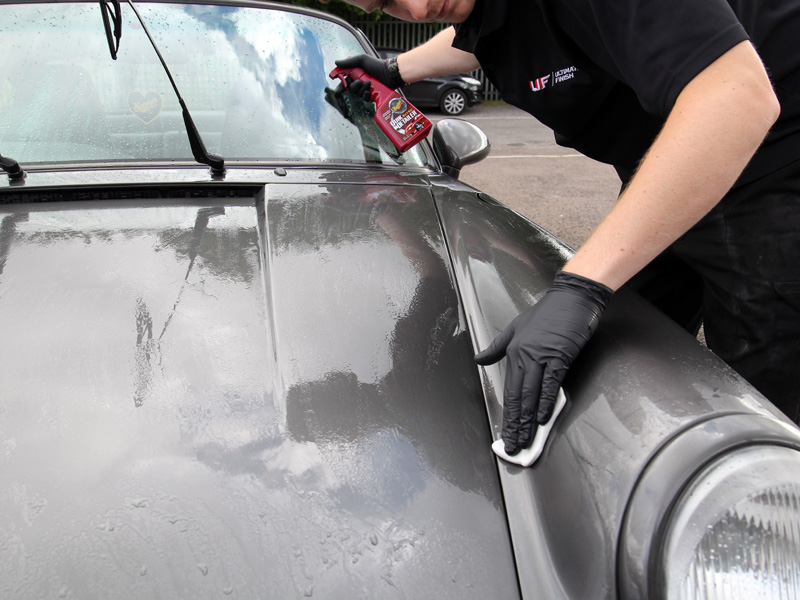 This action shears away bonded contamination such as tar, tree sap and iron contamination. The clay is folded repeatedly so that a clean face is presented to the surface of the paint at all times.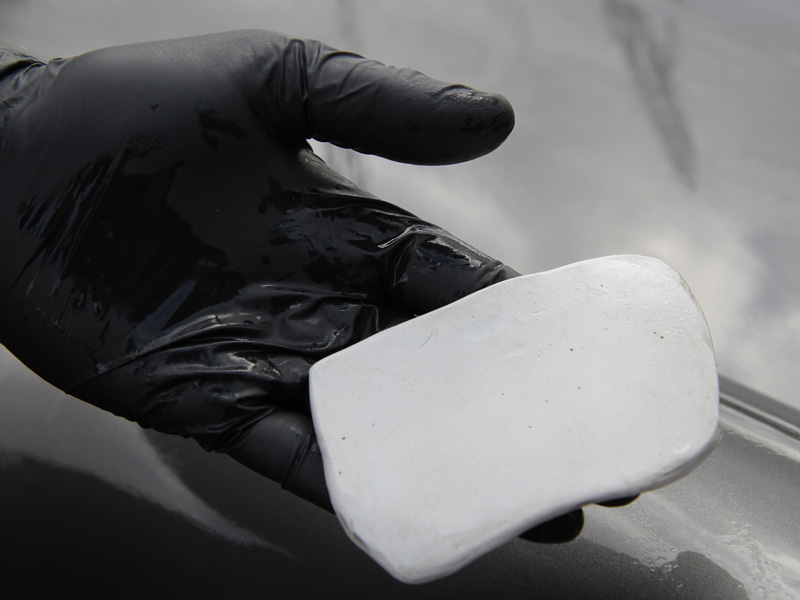 Our Quik Detailer is designed specifically to be used as a lubricant with the clay bar – the other QDs in the Meguiar's range contain additional polymers which, if used with a clay will simply clog up and prevent it from doing its job, so for example, Ultimate Quik Detailer is great for topping up protection, adding extra gloss and maintaining water beading, but if you're claying, stick to Quik Detailer for best results. – Dom Berry, Meguiar's UK

Pro Tip: Before starting to use a clay bar, cut it into small pieces, then if you accidently drop a bit on the floor (thereby irrevocably contaminating it), you still have clean, fresh clay to finish the job!
The 964 was now ready for machine polishing. Meguiar's MT320 is the successor to the enormously popular G220 Dual Action Polisher. Completely redesigned, the MT320 features all-new electronics, including Digital Torque Management (DTM) to maintain pad rotation even when under load. Combined with a powerful motor, the MT320 offers increased torque for an intensive polishing action and a more uniform finish. The billet counterweight built into the body of the machine balances it perfectly in the hand and reduces user fatigue.
We've made a number of improvements to the MT320 over the G220. It looks and feels like a rotary and certainly produces results you'd expect to see in a professional environment. The trigger pull has a locking mechanism and the speed dial can be more easily controlled with the thumb so it's less tiring to use. Plus, the Cruise Control feature has been upgraded so it's a lot more responsive. People who've used the G220 and liked the results will be blown away by the results they achieve with the MT320! – Dom Berry, Meguiar's UK
Meguiar's soft buff machine polishing pads have also been redesigned – the thinner profile of the foam gives a smoother polishing experience and improved feedback.
We've put a lot of time into redesigning the pads. Thinner foam pads follow the lines of a car more easily than the thicker pads because they can flex more. Our cutting disc, in particular, has been completely redesigned – it's a totally different foam. The old cutting pad wasn't as effective with a DA polisher but the new, lower profile cutting disc works brilliantly with the MT320. We gave a lot of thought to the diameter of the pads too and came to the conclusion that for the most part, a five-inch pad works best – it's the perfect compromise for coverage and for accessing tighter areas. – Dom Berry, Meguiar's UK
The Meguiar's MT320 Ultimate Machine Polishing Kit consists of three pads and three compounds to complete the cutting, polishing and finishing stages. Ultimate Compound is a good multi-purpose cutting compound and when used with the Soft Buff Foam Cutting Disc removes scratches and swirls quickly and easily.
Pro Tip: Prior to using foam pads, prime them all over with a small amount of product. This allows some of the polish or wax to sit on the surface of the pad improving performance and reducing product waste.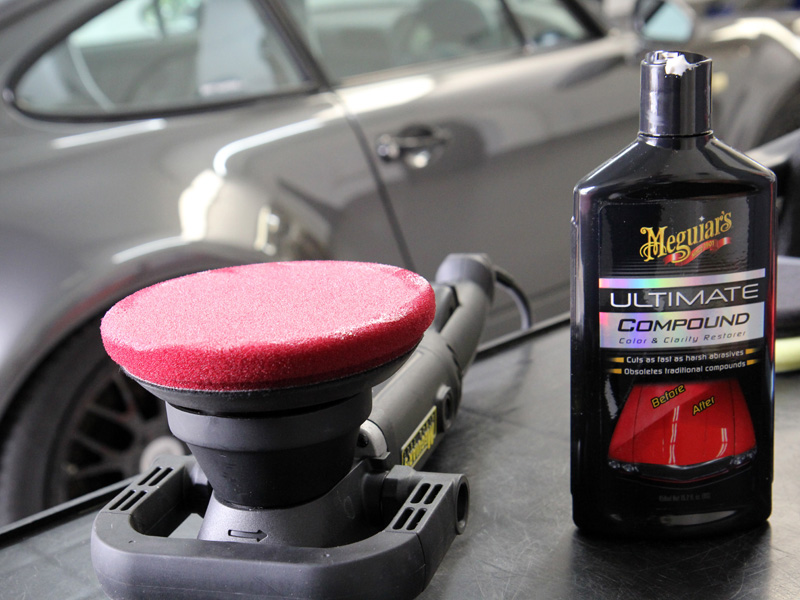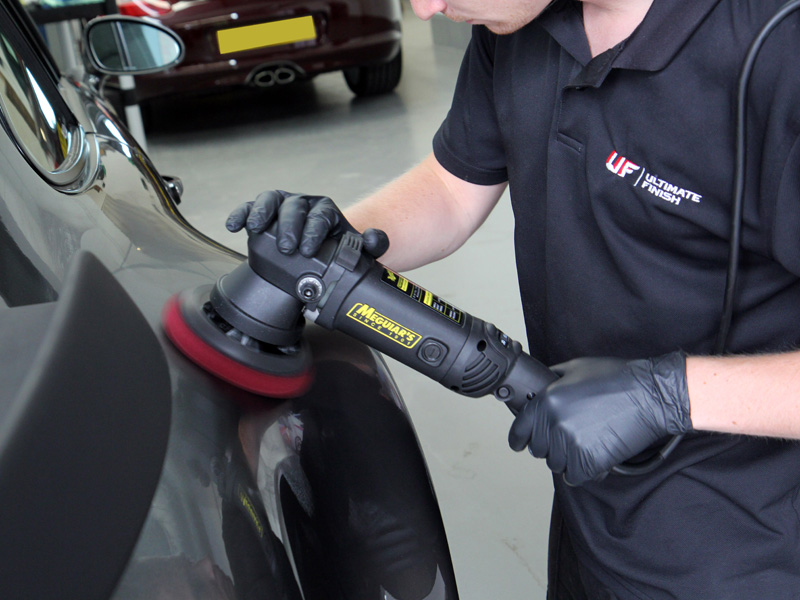 Pro Tip: The combination of Meguiar's compounds and pads when used with the MT320 Dual Action Polisher is perfectly safe for enthusiasts, however, when working with more aggressive compounds it's a good idea to use a paint depth gauge to determine the paint thickness. The aim is to achieve the best finish by removing the least amount of clearcoat in order to preserve the integrity of the UV protection it offers. You can read more about automotive clearcoats here.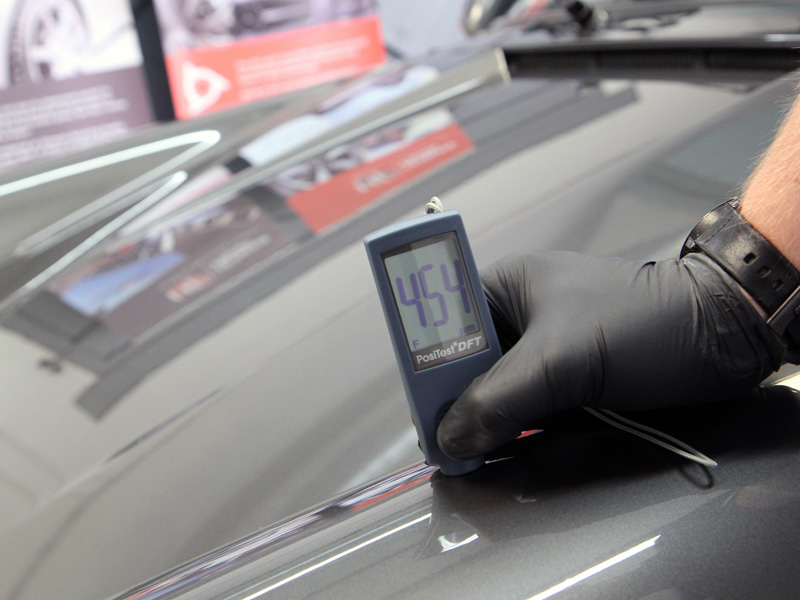 The second machine polishing stage was completed with Meguiar's Ultimate Polish on a yellow Soft Buff Foam Polishing Disc. Ultimate Polish contains rich polishing oils that remove any fine swirls and holograms, leaving a high-gloss finish ready for a final protective layer of wax.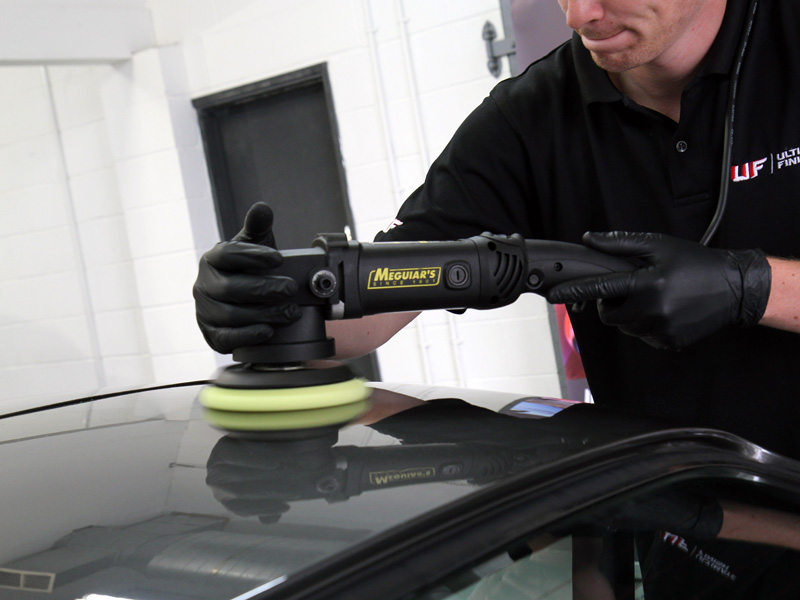 Pro Tip: After each machine polishing stage, mist Meguiar's Mirror Glaze #34 Final Inspection onto the surface to help identify any areas which may require additional correction.
To protect the finish, a layer of Meguiar's Ultimate Liquid Wax was applied by machine using the Soft Buff Finishing Disc. Containing pure polymers, the Meguiar's 'Thin Film' technology increases the surface tension of the wax, for intense water beading.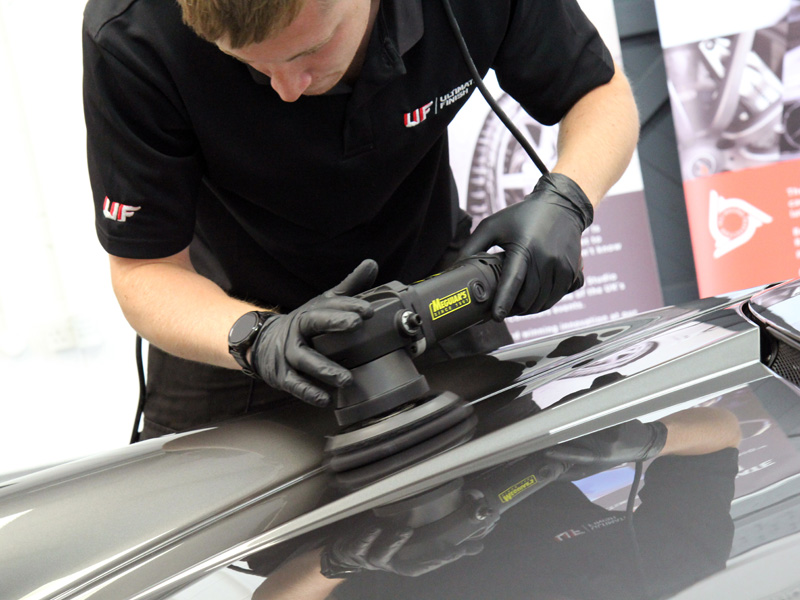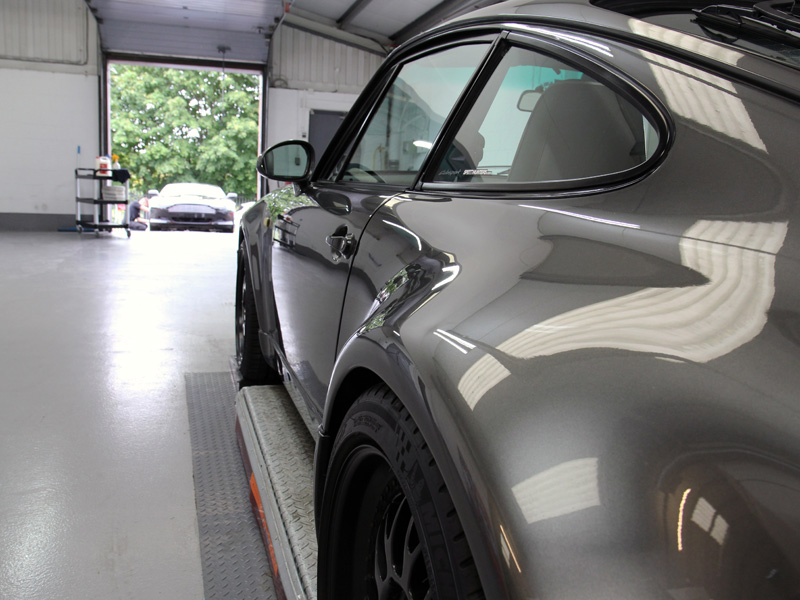 The glass needed a good clean so Meguiar's Perfect Clarity Glass Cleaner was used. Its anti-hazing formula cuts through greasy residues from cigarette smoke or sticky fingerprints to leave perfectly clean, streak-free glass.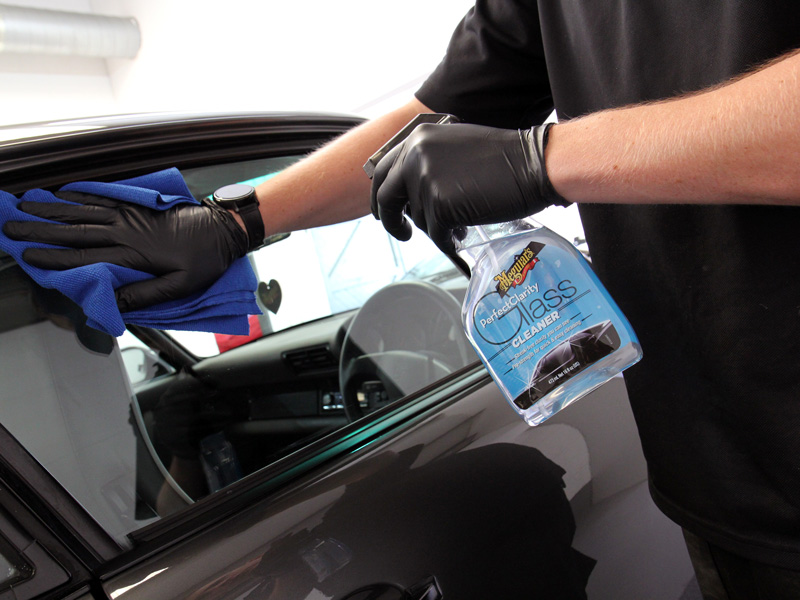 Pro Tip: When cleaning glass, use a vertical motion for one side of the glass and a horizontal motion for the other side. Then, should you end up with smears, the direction of the smears will tell you which side of the glass needs an extra buff!
To complete the look, the tyres were dressed using Meguiar's Endurance Tyre Gel applied with a specially shaped Tyre Dressing Applicator Pad. Unlike many watery tyre dressings, Endurance is a thicker gel formulation. This makes it easier to apply and allows it to be easily worked into the rubber for longer lasting results.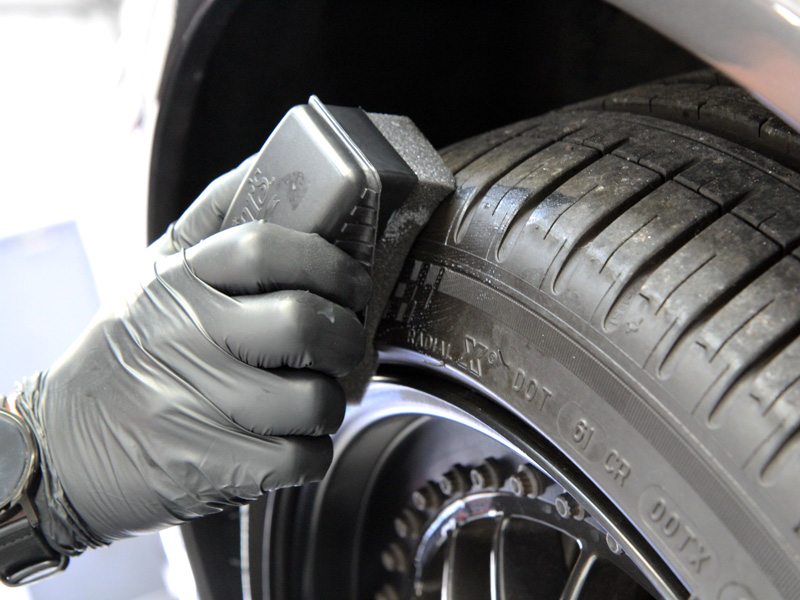 Pro Tip: If you prefer a satin finish to a high gloss look, rub the tyres down with a microfibre. This takes the edge off the shine but still preserves the longevity of the finish.
The final result was nothing short of spectacular, proving why, after 115 years Meguiar's remains a firm favourite amongst car care enthusiasts.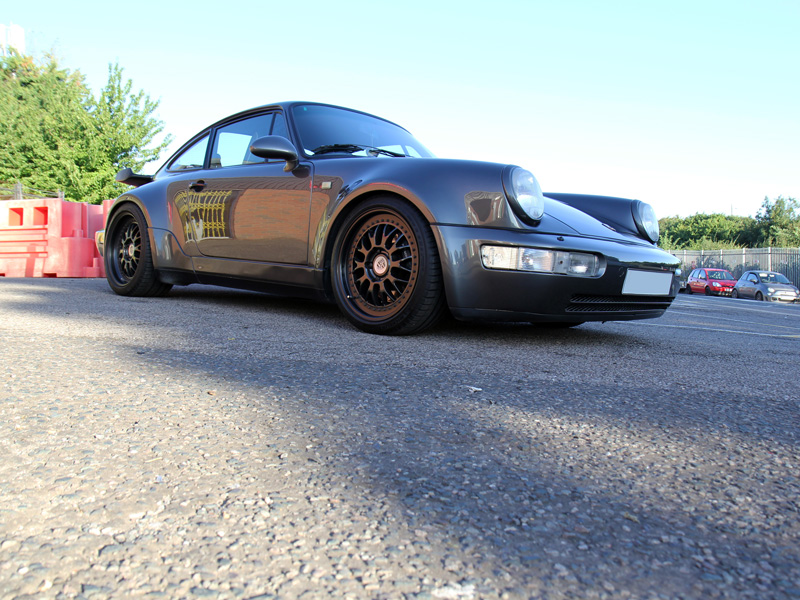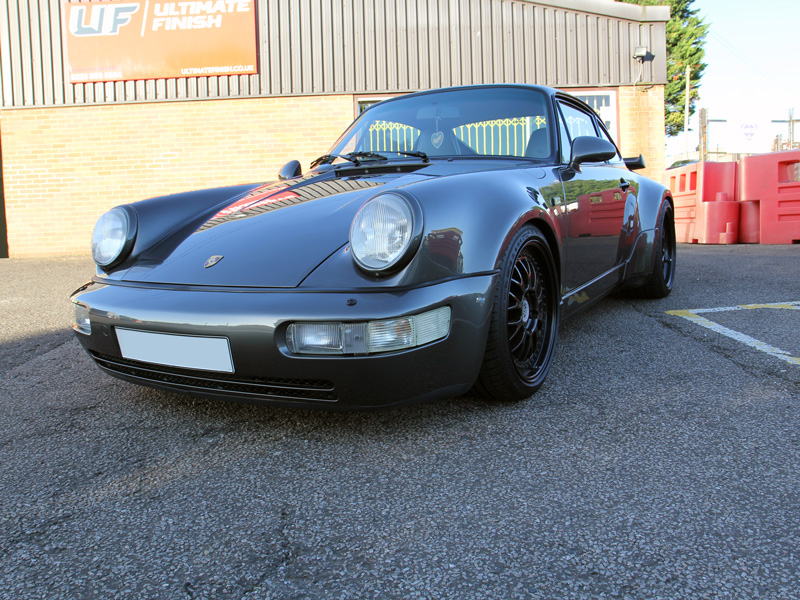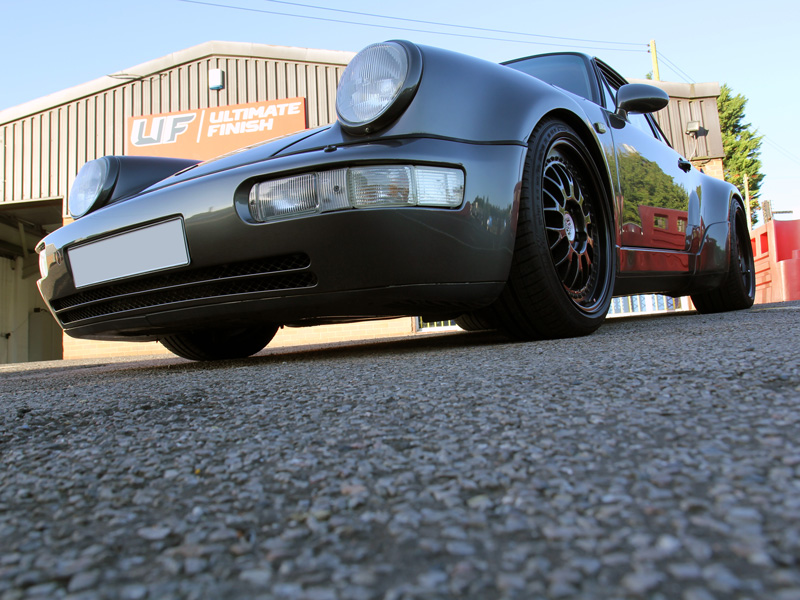 The Meguiar's Enthusiast, Detailer and Bodyshop ranges are available from UF alongside other leading manufacturers including Autoglym, Bilt-Hamber, Poorboys, Nanolex, Gtechniq, PolishAngel, Dodo Juice, Swissvax and many more.
If you have any product questions, please get in touch either by emailing sales@theultimatefinish.co.uk or calling on our new landline and mobile-friendly number, 0333 800 8004. The team is on hand, Monday to Friday, 8am thru 6pm to take your call.
UF Detailing Studio – Award Winning Detailing. Call 0333 800 8004 to discuss your requirements.