SANSOM launches on Ultimate Finish
The immediate reaction upon seeing a new detailing brand launch onto the market (a modestly priced one at that) may be to dismiss it, completely. If it's cheap and produced for the mass market, how can it stand toe to toe with the big detailing hitters? Quite often, this can be the case. But with SANSOM, things are quite different.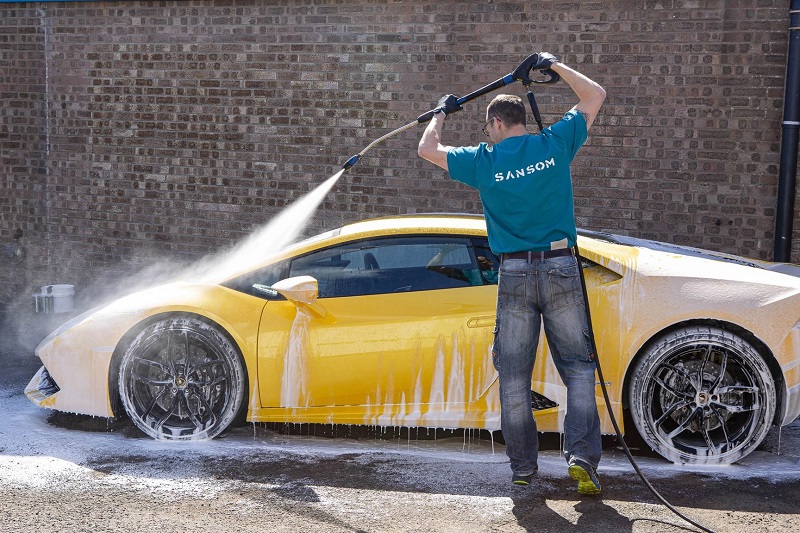 The Chemist Behind The Creation
Creator and founder, Sam Hogan, paid us a visit at our Brands Hatch Studio to tell us what his new SANSOM brand was all about. His visit was refreshing and for several reasons. Instead of rolling up in a suit with a fistful of brochures to market to us, he instead, rolled up his sleeves and insisted on showing us what his box full of products could do. His confidence in what he had developed was undoubtedly clear.
With his chemistry background, Sam is well tuned in to the industry and is close to key names involved with established brands. So, after several conversations and insights gained (including many light bulb moments), the conception of the SANSOM brand landed.
"I have a background in building a car care brand from nothing to something substantial, but I was always embarrassed by the products because they were frankly, mediocre. I knew we could do better but working in that corporate environment holds you back – it's always about chasing the profit which means lowest cost and highest selling price. So, I decided to leave and start again but this time to do things properly – to build a product range from the ground up, using the best ingredients and innovation. Something I could really be proud of. I immersed myself in the world of detailing, worked out what was going on and started formulating". – Sam Hogan, Founder, SANSOM
One For All & All For One
Sam teamed up with several heavy hitters in the UK detailing scene and worked with them for 18 months refining the usability and performance of the products.
"The idea was to create a maintenance range for people at home to quickly and easily clean, shine and protect their car. Something for people new to detailing – forgiving products with an easy process. Affordable and accessible. But I wanted the products to be good enough to pass the test of pro-detailers. So I went to a few top guys and asked for their help in testing, refining and validating the range. And at the end of it, I found the pro's rated the products highly enough that they wanted to use them too". – Sam Hogan, Founder, SANSOM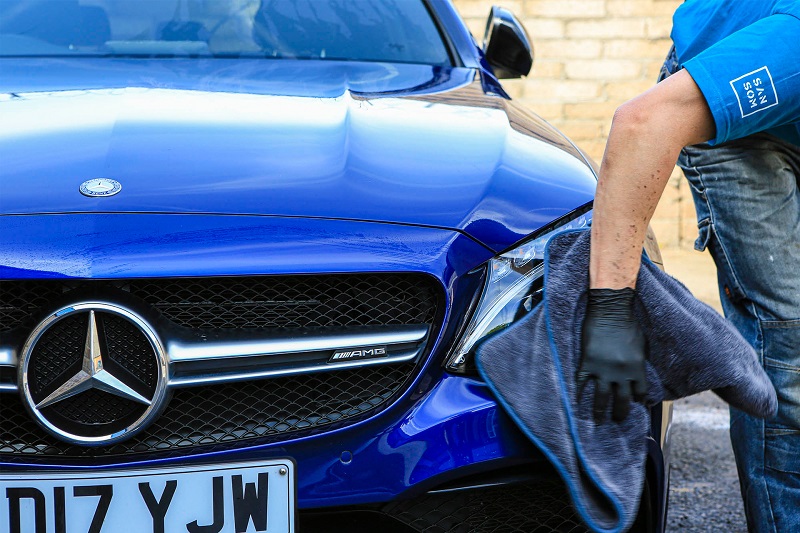 "Every brand has one or two signature products that we'd recommend but there's not one brand that covered all bases". – Sam Hogan, Founder, SANSOM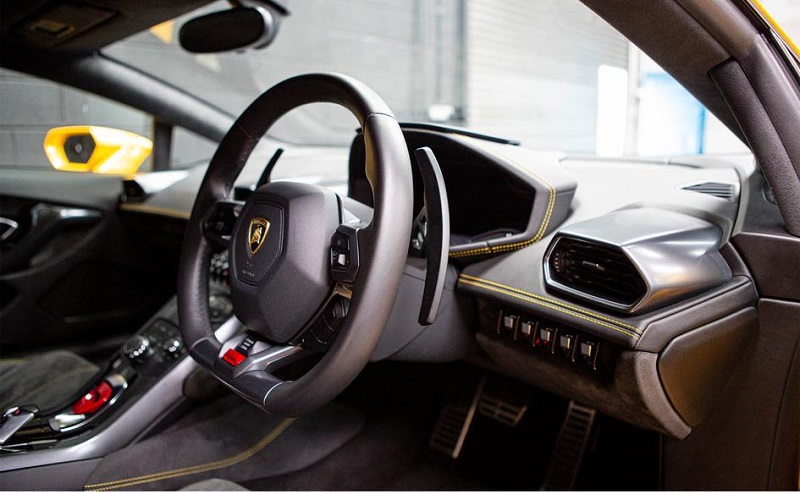 Crafted by professionals, trusted by enthusiasts, but suitable for anyone who wants to keep their car looking its best.
The end result from SANSOM is a selection of products which will not overwhelm a potential buyer. Nor will the application methods required cause confusion. But, at the same time, there is no reason a professional should turn their nose up, not by any means.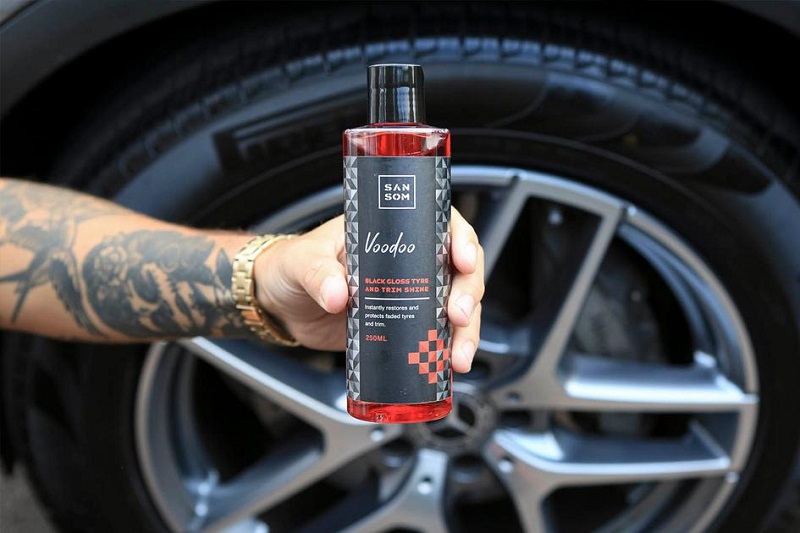 Used and Recommended by the UK's Top Pro-Detailers
You might not have heard of SANSOM but there is a loyal and growing fan base amongst professional studio-based detailers. From his visit to our Brands Hatch Studio, it's easy to see why. There is something credible and authentic about what he's trying to achieve.
"Being around studio based pro-detailers a lot, I saw that a lot of clients will often ask – "now you've corrected and protected my car, how can I best maintain it? I want SANSOM to be that brand that detailers recommend to their clients".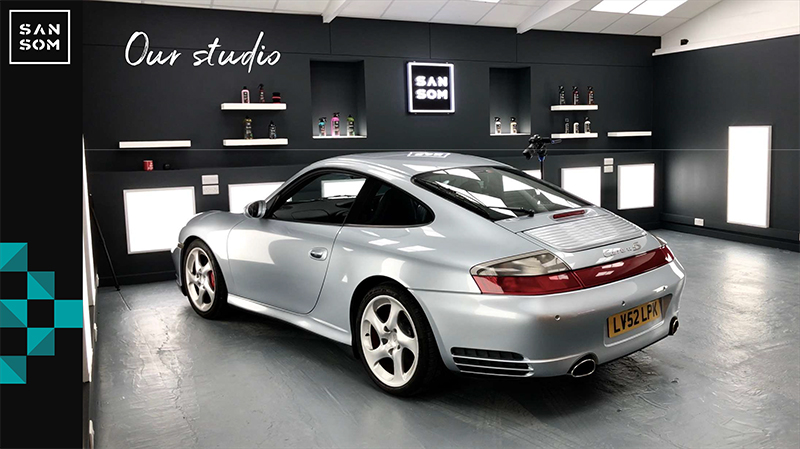 "We have a pretty simple philosophy: To make products that we actually enjoy using every day and are proud to recommend.
Minimum effort, maximum results". – Sam Hogan, Founder, SANSOM
Made By Chemical Craftsmen With Love and Devotion In The UK
Sam is the first to acknowledge that there are plenty of great brands out there and it is hard to find something unique about the formulations to set them apart.
"Yes, it's hard to innovate in a shampoo or tyre dressing for example, but we're just making the best possible versions we can make. We're focussing on the user experience – products that work well, smell nice and are as kind to the vehicle, your skin and the environment as we make them without compromising performance!
Our overheads are low so I can use the best materials and a lot of the innovative chemistry that the bigger brands can't use as it will make the products too expensive".
And where did the name 'SANSOM' originate? Well, Sam regards his father in law as one of his life mentors and so, plucked his wife's maiden name to front the brand. It's a nice touch and the logo does look striking.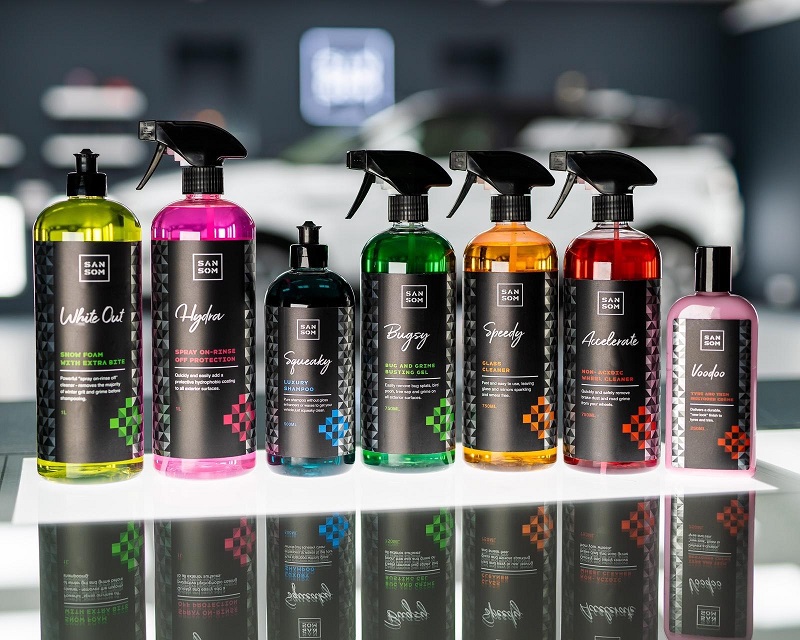 SANSOM Product Picks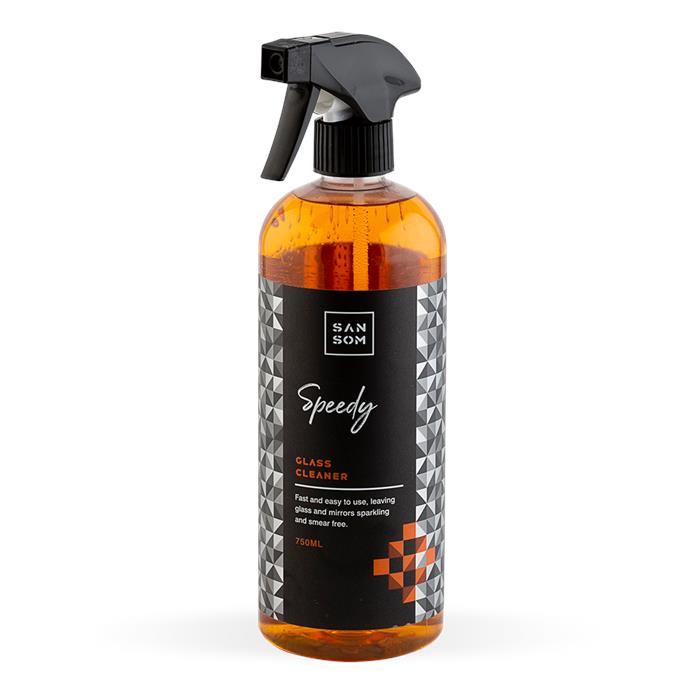 SPEEDY Glass Cleaner £7.95
Unlike any other glass cleaner out there, no alcohol or vinegar. For internal and external use, the smear-free formula smells great and works fast, leaving glass/mirrors sparkling.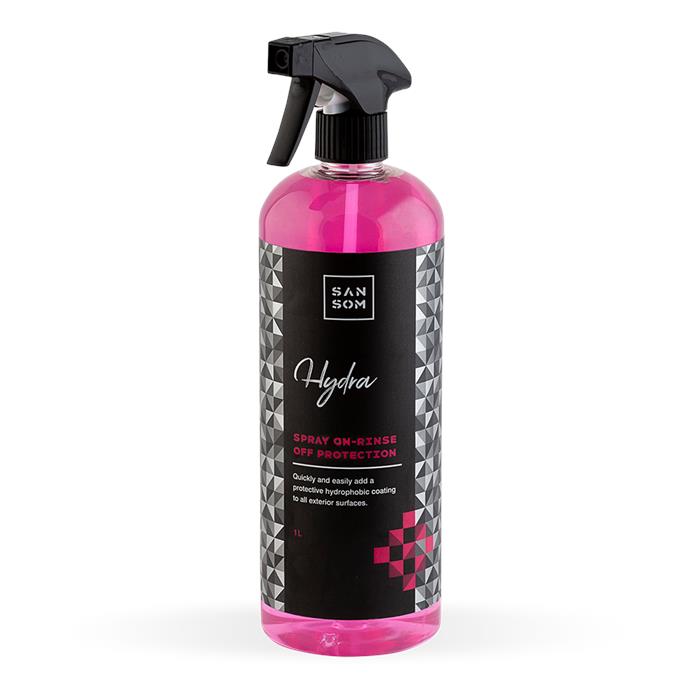 HYDRA Spray On Rinse Off Protection £16.95
The quick and simple way to add a long-lasting protective coating to all exterior hard surfaces including paintwork, glass, trim and wheels. Spray onto wet surface and rinse off.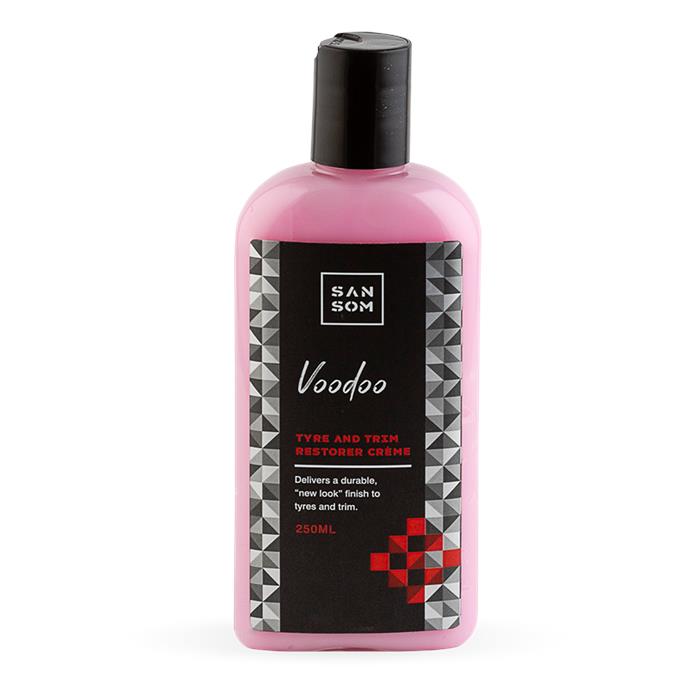 VOODOO Tyre & Trim Restorer Creme £9.95
A long-lasting dressing that delivers a lovely "new look" finish that lasts and lasts. Added plus of no messy hands on application.
Our Verdict
As mentioned, we've used several of the SANSOM range in the UF Studio with impressive results. The endorsements from the 'people in the know' are testament to SANSOM and their hunger to produce quality. Meticulous testing and product testing from the best in the industry means by the time stock hit the shelves, this was the absolute best they could produce.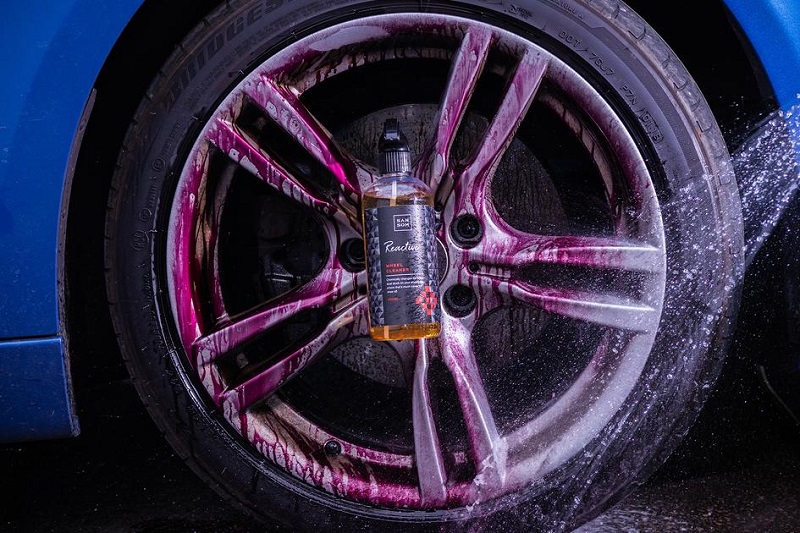 The SANSOM collection is now EXCLUSIVELY available from Ultimate Finish.

Visit Ultimate Finish for the best car care and detailing products from around the globe.

Have a question on any of our products? Email sales@theultimatefinish.co.uk or call 01474 360 360.
Our team is on hand, Monday to Friday, 8am-5pm.