Supercharged AK 427 AC Cobra Replica – EXO Part I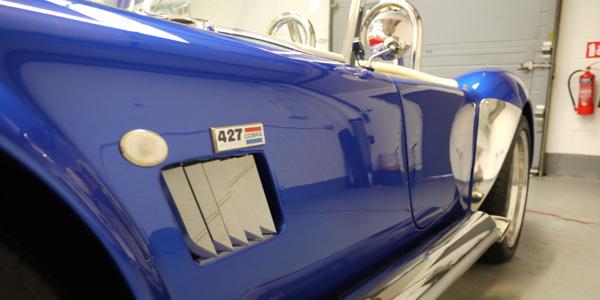 When a supercharged AC Cobra comes roaring into the Ultimate Detailing Studio everyone knows about it! As a boy our customer always wanted an AC Cobra, it was his dream car, so he's making the most of it now!
Our customer brought 'Jezabel', an AK Sports Cars 'AK 427' Cobra in Princess Blue with white racing stripes in to the Ultimate Detailing Studio for a Gloss Enhancement Treatment, wheel refurbishment and an interior Leather Protection Treatment.
The AC Cobras have lots of detail on them which make them quite labour intensive to detail properly. All the roof studs need removing and extra care and attention has to be paid around the headlamps, side lights and so on, to ensure the gaps are all kept free of residues. It's such a gorgeous colour though I knew it was going to look fantastic when I'd finished with it! – Master Detailer, Ultimate Detailing Studio
To start with the AC Cobra was pre-washed using Ultimate Snow Foam, then shampooed with Gtechniq G-Wash. The wheels and arches were cleaned with Valet Pro Bilberry Wheel Cleaner. Thoroughly rinsed with an Aqua Gleam de-ionising water filter, the car was brought into the studio. Using a Defelsko PosiTest DFT Paint Depth Gauge the paint thickness was measured and close inspection with a 3M Colour Check Light revealed a moderate amount of swirling and scratches.
Removing the roof studs, catches and the number plates, our Master Detailer got to work with a FLEX PE14-2-150, a Dodo Juice Fin Cut Green Polishing Pad and SCHOLL Concepts S3 Gold.
The paintwork was fairly swirly but nothing out of the ordinary. Although it did seem the body had been resprayed in places the quality of the paint was very good which made it much easier to work with. – Master Detailer, Ultimate Detailing Studio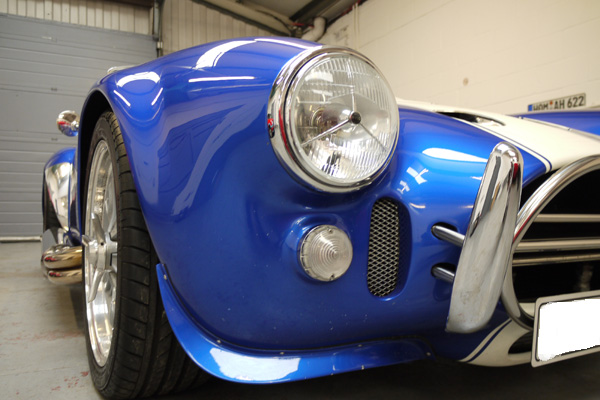 Once thoroughly prepared the attention switched to the britework – and on the AC Cobra there is a good proportion of britework – our Master Detailer polished all of it thoroughly using the FLEX polisher, a 3M Yellow Spot Polishing Pad and Mothers Mag & Aluminium Metal Polish. It was followed up with a layer of 22PLE VM1 Rim & Metal Coat to keep it looking pristine.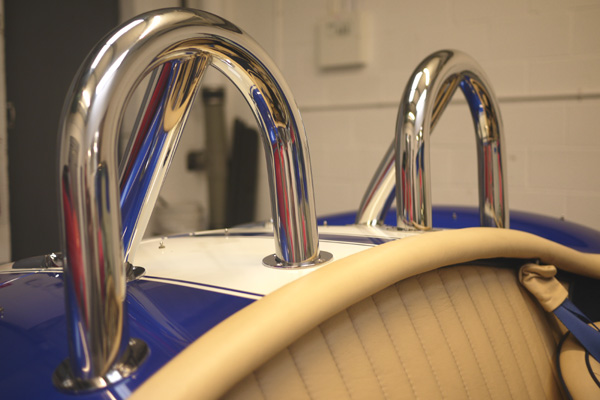 With the car now looking very shiny it was time for three applications of Gtechniq EXO Ultra Durable Hybrid Coating. Apart from its hydrophobic, oleophobic and dirt repellent properites, EXO provides a glossy, slick finish and can be used on a whole variety of substrates!
As the wheels are being refurbished they were not sealed, but tyres were still treated to an application of Gtechniq Tyre N Trim and the glass with Gtechniq G1 ClearVision Smart Glass.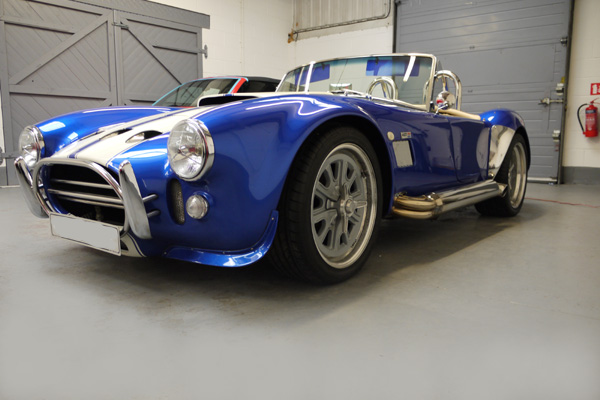 Next on the 'to-do' list is the convertible hard top (which our customer will be dropping in to us shortly), followed by a Leather Protection Treatment for the cream and blue leather interior. Check back soon to read Part II and to see this striking car when it has been completely finished.
AK 427 Build Specification:
Exterior:
Paintwork in colour of your choice
17 inch Hallibrand replica wheels with spinners
Choice of Stainless Steel Side pipes 4 into 1 or underfloor exhaust system
Front and rear nudge bars with over-riders
Stainless steel splitter wing
Stainless steel single driver roll bar
Aluminium stoneguards
Stainless steel side vents
AK badge front and cobra badge rear
Interior:
Andrew Muirhead leather interior to colour of your choice
Jaguar quality carpets fitted to interior including boot
Three point Willans seat belts
Smiths Classic instruments
Mountney steering wheel
Wind wings
Sun visors
Boot gas rams
Engine Bay:
Re-built 350 Chevy 5.7 fuel injected engine
Getrag 5 speed manual gearbox
Reconditioned/serviced axles front and rear
Stainless steel engine bay cladding
Stainless steel header tank
Stainless steel washer bottle
Bonnet gas rams
Ultimate Detailing Studio – Award Winning Detailing. Call 0845 838 1200 to discuss your requirements and arrange a preliminary inspection.
Ultimate Finish – Legendary Automotive Care since 1999.