Ultimate Finish Exclusive – Worldwide Launch of Gtechniq EXO
Launching today exclusively at Ultimate Finish is the long-awaited EXO Ultra Durable Hybrid Coating from Gtechniq, home of Smart Surface Science.

Gtechniq's C1+ Crystal Lacquer quartz-based sealant revolutionised the way professionals looked at car surface protection and has proven to be vastly superior to traditional types of polymer sealants. Its super durable, highly dirt repellent and scratch-resistant properties continue to be class leading and Gtechniq were looking to expand this concept to a product that was equally suitable for enthusiasts and professional detailers to apply. So, using some clever science and ingredients borrowed from the semi-conductor industry, EXO was born!
EXO consists of organic and inorganic ingredients to boost shine and significantly improve hydrophobic and dirt repellent properties over and above those expected from sealants currently available. What makes it so special is that for very little effort in application, EXO provides amazing protection from UV, high levels of shine and fantastic water beading properties. It is also extremely dirt repellent – very handy, as most swirls and scratches are introduced to paintwork during the wash process! What's more, it's as easy to apply as a quick detailer; simply spray it on to a microfibre, wipe it on to the surface and then buff it off. EXO can be layered for added durability whilst providing a slickness and a wet-look shine that rivals any synthetic sealant or carnauba wax.
We're really excited about EXO – it offers a fantastic return for very little effort on the part of the user. Its durability alone makes it a winner, but add in the shine and beading factors, plus its versatility and you know it's something really special. We expect this to be a big success, not only in the automotive care sector but also in the marine and aviation industries. It even has its uses around the home! – Rob Earle, Managing Director, Gtechniq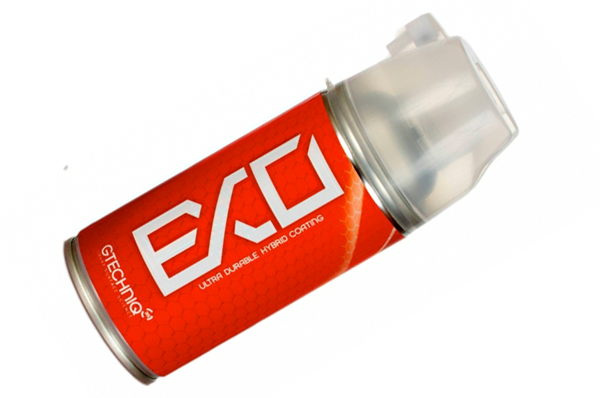 EXO is extremely versatile and can be used as a sealant/protectant on a variety of surfaces. As well as all types of paintwork, use it on:
Automotive engine bays, plastic trim, glass, carpets, soft tops
Marine superstructures, decks, stainless steel, brass & steel fittings, bimini covers, sails, marble, glass, Perspex & fabrics
Aviation exteriors, leading edge contamination prevention & interior fabrics
RVs, caravan & motor homes exterior surfaces, interior fabrics & canvas awnings
Household UPVC door & window frames, fabrics, sun shades
For additional longevity EXO can be topped up with Gtechniq C1.5 Silo Seal
[youtube TQB0oRKDJ_Y nolink]
[youtube qbmz25noz-o nolink]