Aston Martin V12 Vanquish – Lives To Gloss Another Day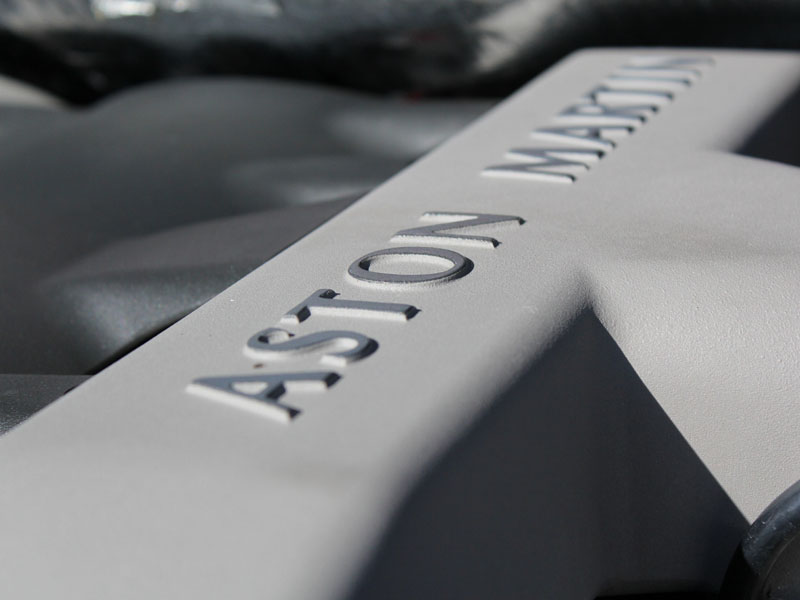 Aston Martin V12 Vanquish; the modern day James Bond car, first entered the public's consciousness driven by Pierce Brosnan in Die Another Day. Whilst it may not have been the most memorable Bond movie, the car was a clear tribute to the original DB5 seen in Goldfinger, with Tungsten Silver bodywork, charcoal leather interior and of course, replete with the various gadgets necessary for 007 work.
This particular V12 Vanquish arrived at the Ultimate Detailing Studio for a Gloss Enhancement Treatment. Unusually the bodywork was Basalt Black, originally a popular Porsche colour. With no ejector seat in evidence, the Master Detailer moved the car into position to begin the cleaning process.
Initially the Vanquish was treated with Valet Pro Dragon's Breath Iron Contamination Remover to remove any deposits of metal filings which may have bonded to the bodywork and wheels. These usually come from brake pads – as the brakes are applied they become hot, causing shreds of the pad to flake off. Being hot, these then embed either onto the wheels or the bodywork of the vehicle where they oxidised which causes them to swell. Dragon's Breath works to shrink the deposits, causing them to break their bond with the substrate and allows them to be rinsed away without any excess scrubbing. Dragon's Breath changes from clear to bright red, highlighting the areas where it is working.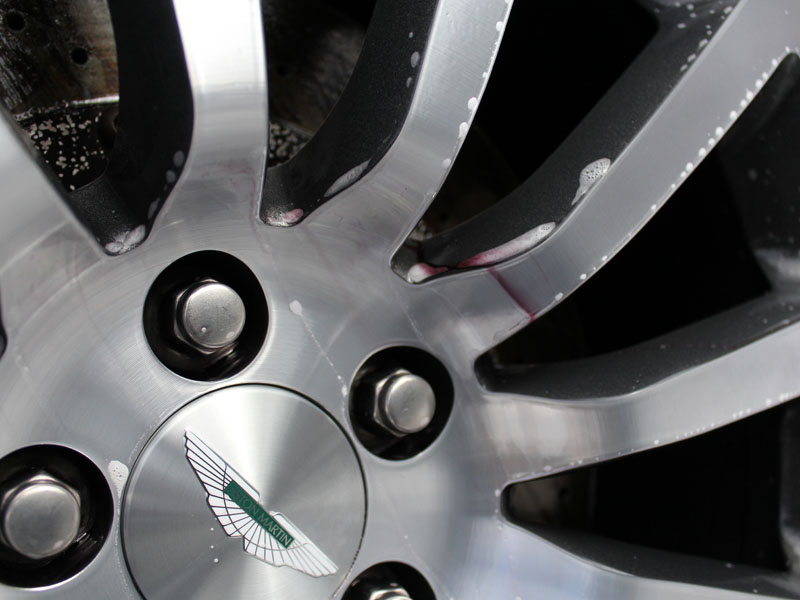 Once rinsed clean the Vanquish was then treated with Valet Pro Citrus Tar & Glue Remover, to dissolve any tree sap or tar deposits which had collected on the bodywork and wheels. Then R222 Total Auto Wash was used as a degreaser, removing traffic film deposits and Valet Pro Bilberry Wheel Cleaner was used to ensure the wheels were thoroughly clean. Finally the Vanquish was pre-cleaned using Ultimate Snow Foam.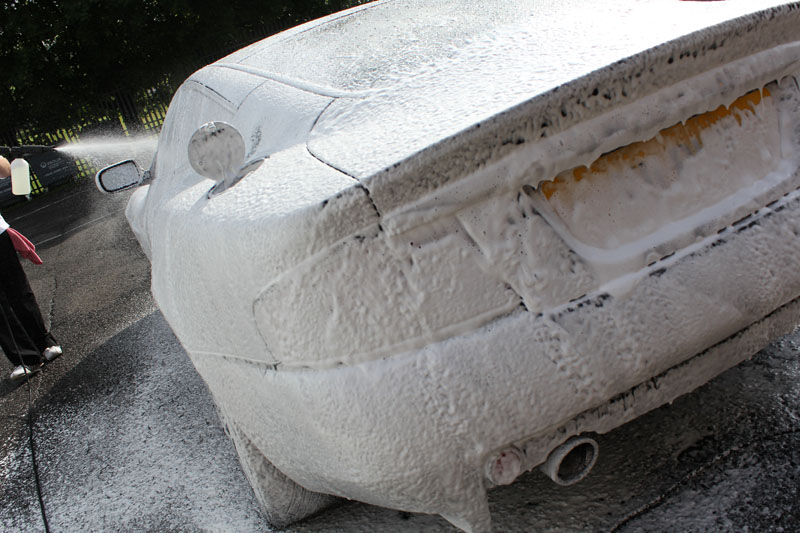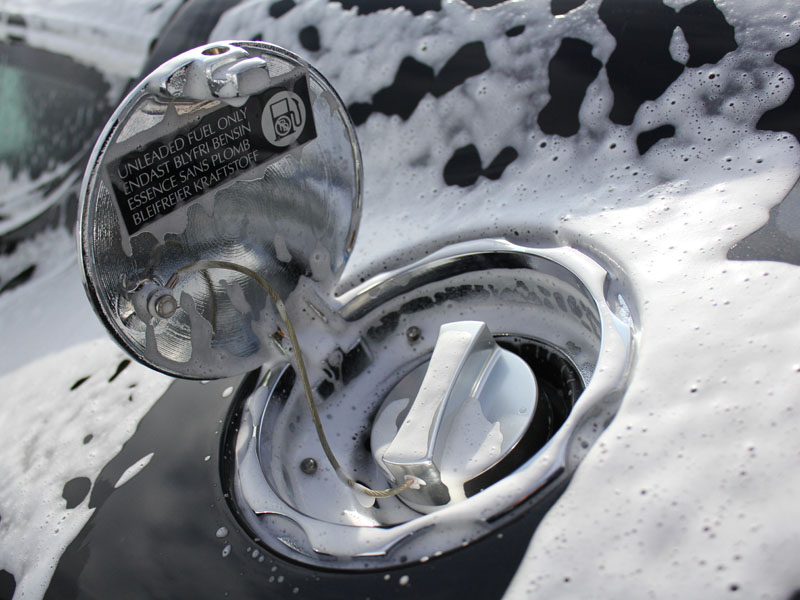 With black paintwork it's very easy to see all the imperfections in the paintwork. Although I was going to be machine polishing I didn't want to incur any additional swirls or scratches so the decontamination and degreasing processes were very important. Pre-cleaning with Ultimate Snow Foam is always a good idea too and it means every possible non-contact method of pre-cleaning has taken place before the main wash process starts. This means even less chance of putting more marks into the paintwork. – Master Detailer, UDS
The Vanquish was then washed using the Two Bucket Method, a Microfibre Madness Increditmitt and R222 Bodywork Conditioning Shampoo and patted dry with Gtechniq Zero Scratch Microfibre Drying Towels. Then, bringing the Vanquish into the studio, the paintwork was inspected using a Rupes Swirl Check Portable LED Light.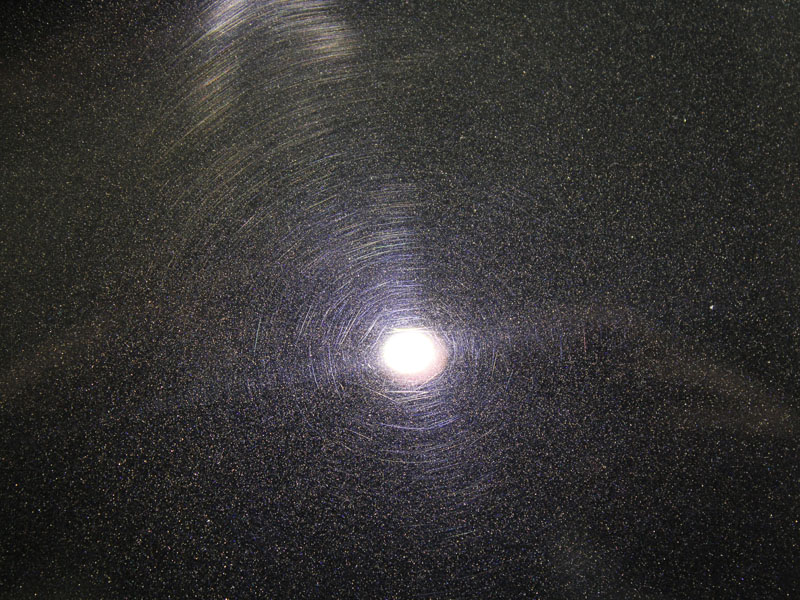 There were a few swirls and scratches in the paintwork, but nothing I wouldn't have expected from a car of this age, particularly as it actually gets used regularly. When I took paint measurements all the paint depths were fairly consistent, suggesting there hadn't been a respray of any of the panels which surprised me, considering it's been painted in a Porsche colour. I suspected that the paint was going to be harder than is usually found on newer Aston Martins. – Master Detailer, UDS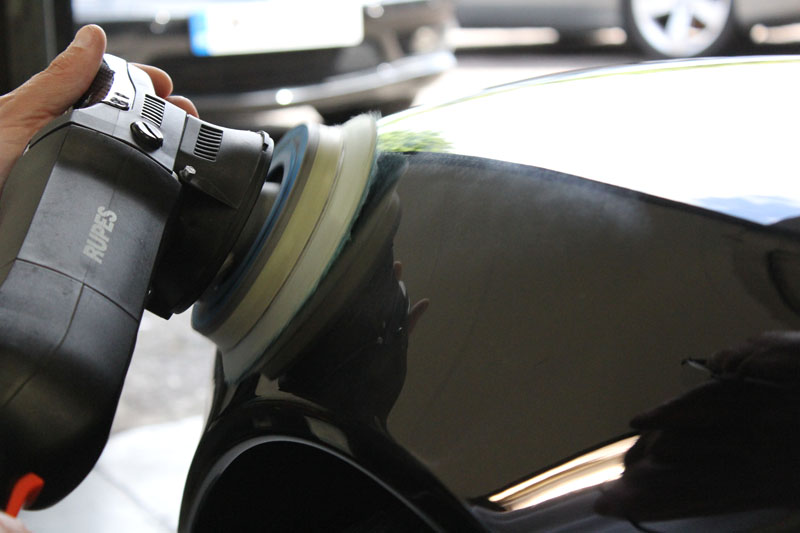 To remove the blemishes from the paintwork the Rupes BigFoot LHR15ES was used, along with the Rupes Blue Coarse Cutting Microfibre Pad and PolishAngel Glasscoat | Invincible 9H Primer which contains colour enhanced flakes to leave a highly polished finish. Invincible Primer also contains a preparation hardener which allows the last step sealing product, PolishAngel Glasscoat | Cosmic 9H, to bond fully with the paintwork.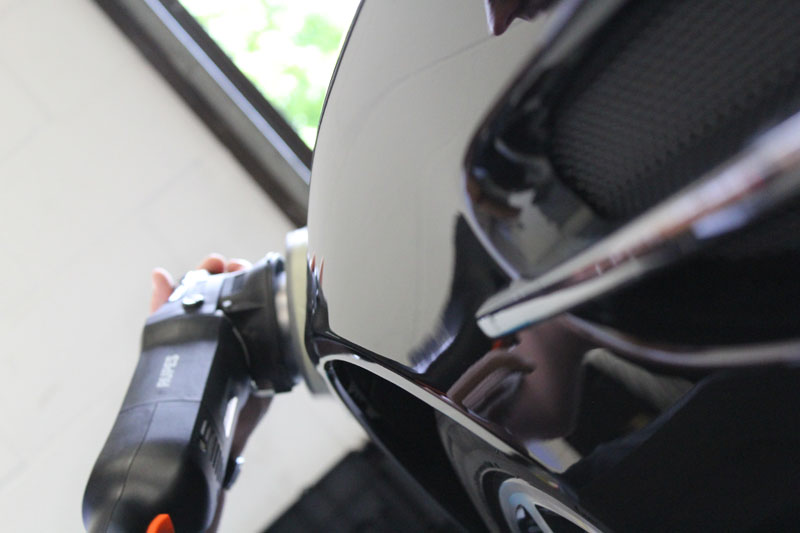 Invincible Primer worked perfectly with the Rupes Blue Microfibre Pad and because the BigFoot does not hologram paintwork no further refining was necessary. This meant I could just go straight from enhancing the paintwork to protecting it. Cosmic 9H works in tandem with Invincible Primer and is a fantastic product to use on black because not only does it cure very hard, but it also contains micro pigments which augment the natural colour of the paintwork beautifully. – Master Detailer, UDS
The alloy wheels were first cleansed with Gtechniq Panel Wipe, to ensure no cleaning product residue or silicones remained, before being protected with Gtechniq C5 Alloy Wheel Armour, a highly heat resistant coating which inhibits brake dust build up and makes maintenance cleaning much easier.
The interior was vacuumed, the seats cleaned and treated with L1 Leather Guard, a non-sticky, abrasion resistant coating. The dash was treated with PolishAngel Intimate and then sealed with PolishAngel SnowCake to protect it from UV. Snowcake leaves a matte sheen to the surfaces and also has a nice marzipan smell!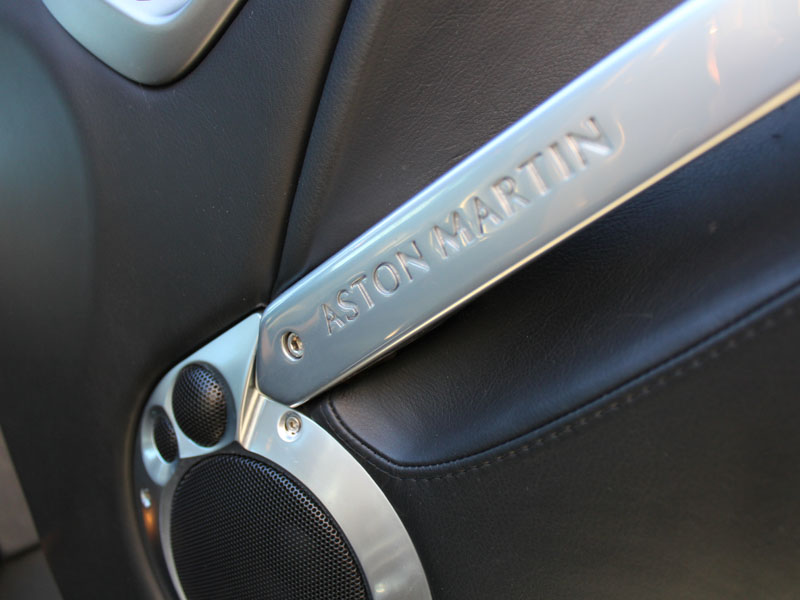 As the Vanquish gets used on a regular basis, the customer had opted for Gtechniq ClearVision Smart Glass to be applied to his windscreen. G1 encourages water to bead and disperse when driving in the rain, making it less tiring for the driver to navigate. Finally the tyres were dressed with Swissvax Pneu, leaving a subtle clean sheen to the complete the classy appearance of the Vanquish.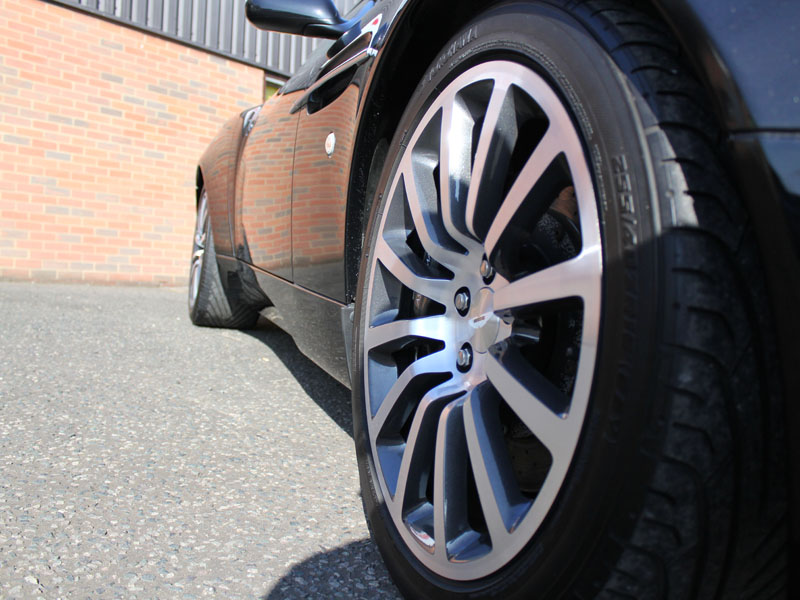 When the customer came to collect his Vanquish he was very pleased with the results which had far exceeded his expectations. We were sure James Bond would have approved too!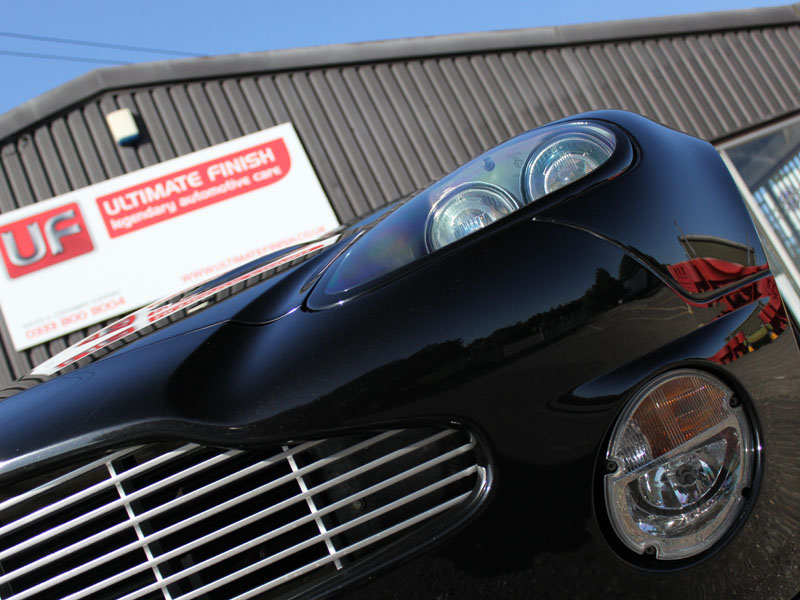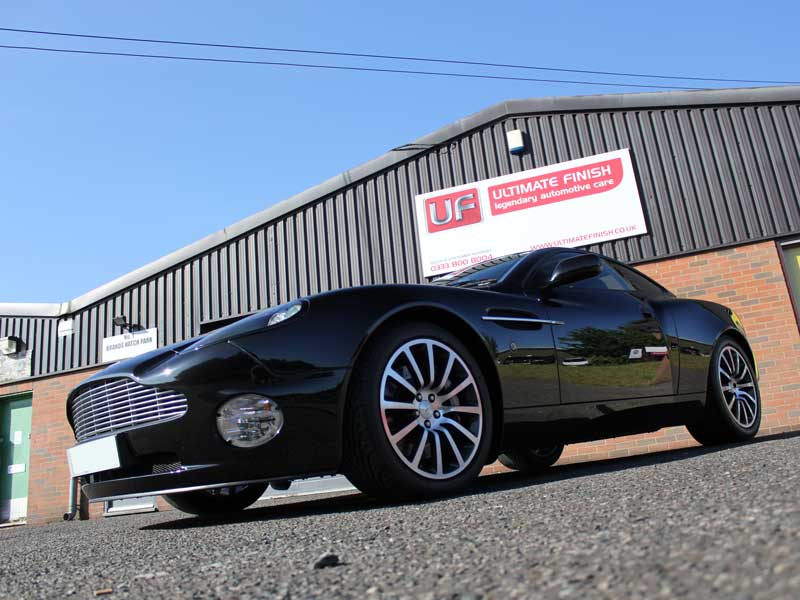 Ultimate Detailing Studio – Award Winning Detailing. Call 0845 838 1200 to discuss your requirements and arrange a free vehicle appraisal.
Ultimate Finish – Legendary Automotive Care since 1999.