Aston Martin V12 Vantage 'Carbon Black' – The Ultimate Dark Side
'Vantage' is a name Aston Martin has attached to previous models, but the release of the 2 door, 2 seater sports car in 2006 gave the Vantage its own unique position in the Aston Martin line-up. A lean and nimble sports car designed to rival the enduring popularity of the Porsche 911 range, the Vantage V12 features a stunning 6 Litre 510 bhp engine capable of achieving 0-62mph in 4.1 seconds. To keep the Vantage V12 lean, the bonnet and boot lid were crafted from carbon fibre, ventilated carbon ceramic brakes replaced the standard steel and a stylish rear wing helped keep it firmly attached to the road!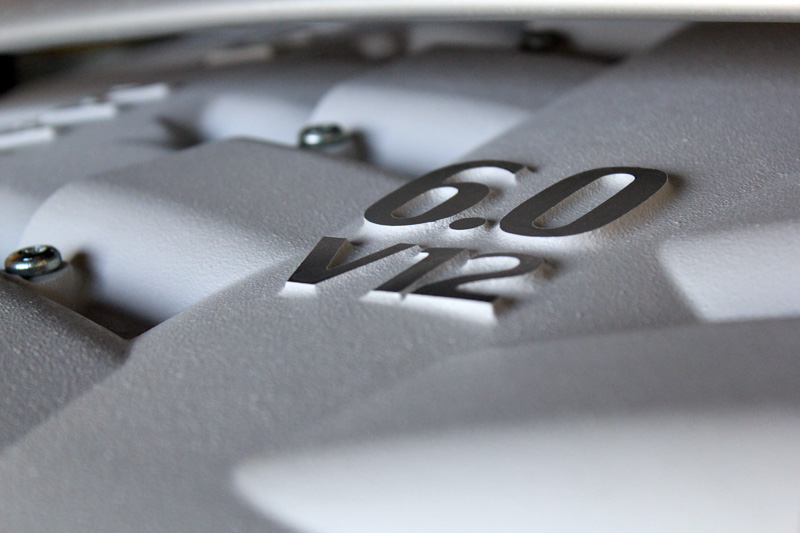 Between 2010 and 2012 Aston Martin released a 'Carbon Black' Edition of the popular Vantage model. Limited to one car per dealership making them very rare, the 'Carbon Black' Editions sported metallic black paintwork with a distinctive silver fleck. The iconic Aston Martin side strake was fashioned from real Carbon Fibre further reducing weight and complimenting the bonnet louvres.
Inside, the lucky few V12 Vantage owners were treated to Obsidian Black leather highlighted with coarse contrast silver stitching. Lightweight seats formed from Carbon Fibre and Kevlar saved 17 kilos over the standard seat together with 'Piano Black' facia trim, centre console and anodised black sill plaques completed the carbon theme. An Aston Martin 700 watt Premium Audio System was delivered as standard in the V12 Vantage 'Carbon Black'.  Gloss black 10-spoke diamond cut alloy wheels completed the aggressive styling.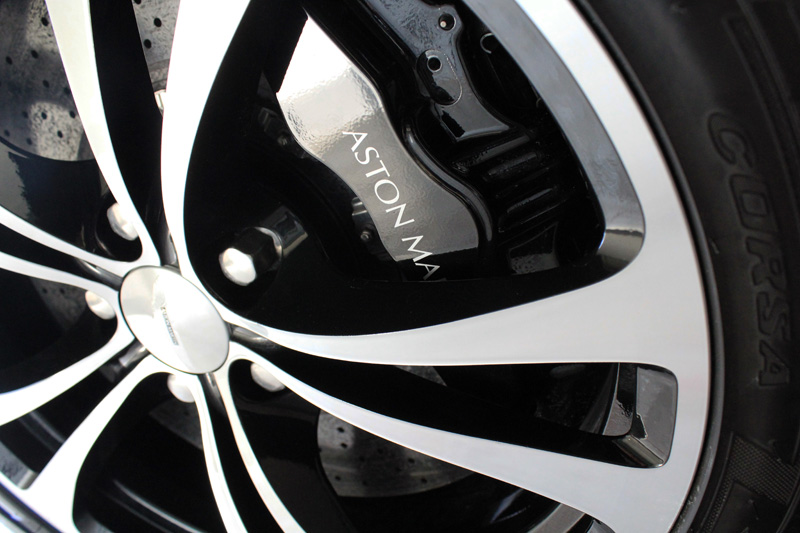 The overall impression is darkly inviting, as though the car itself is daring you to drive it!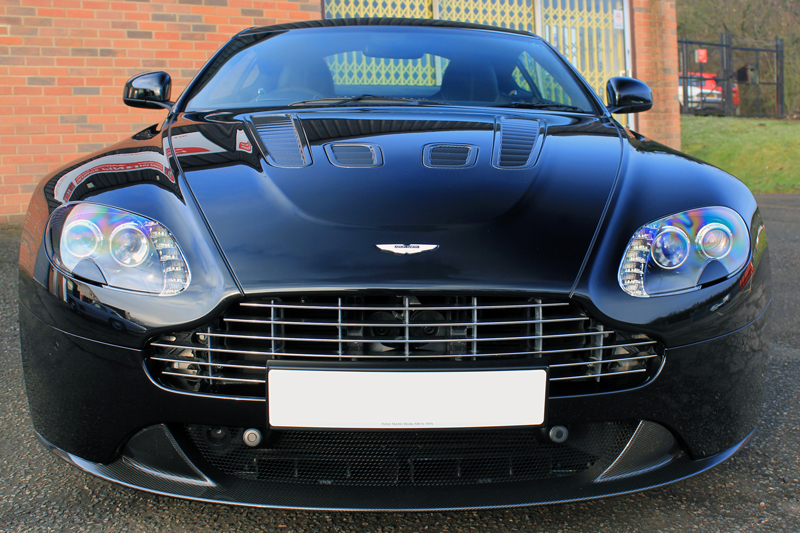 The effect is much more powerful when the paintwork is looking its best and so this rare 'Carbon Black' Edition found its way to the Ultimate Detailing Studio for a Gloss Enhancement Treatment. It had collected a fair amount of road debris and environmental fallout, so was in need of a thorough decontamination before any corrective work could commence.
Initially the V12 Vantage was treated with Gtechniq W7 Tar & Glue Remover to dissolve sticky residue from tar deposits and tree sap. After rinsing the Vantage was then treated for stubborn bug squash with W8 Bug Remover which tackles even the stickiest of deposits, eliminating the need for scrubbing the paintwork with a wash mitt in order to remove them. Then the car was completely degreased with Gtechniq W5 All Purpose Citrus Cleaner to eliminate any unwanted wax and polish.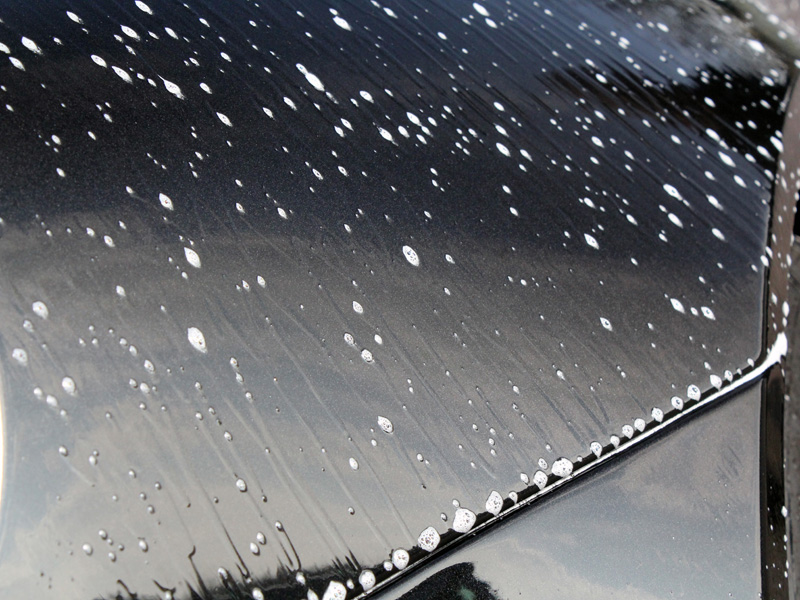 The car was once again rinsed free of suds using a Kranzle K1152 TST Pressure Washer to ensure all traces of product were removed.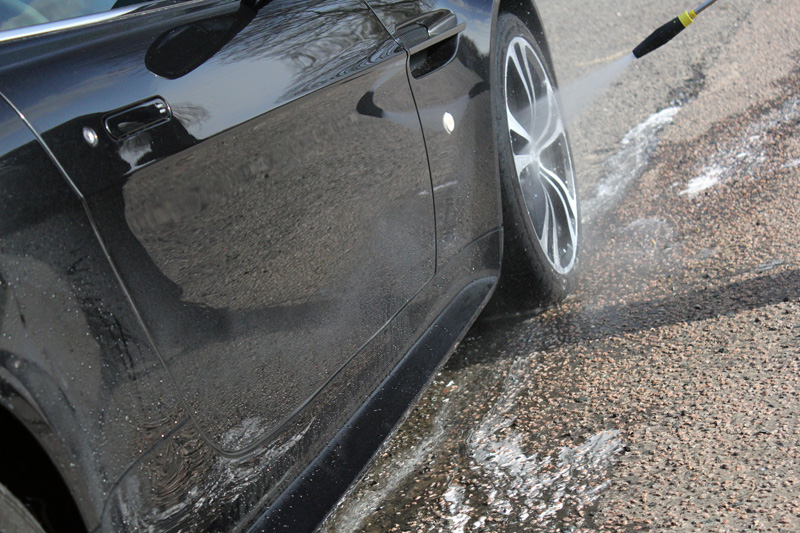 The front grille had some stubborn water calcification marks etched on to it.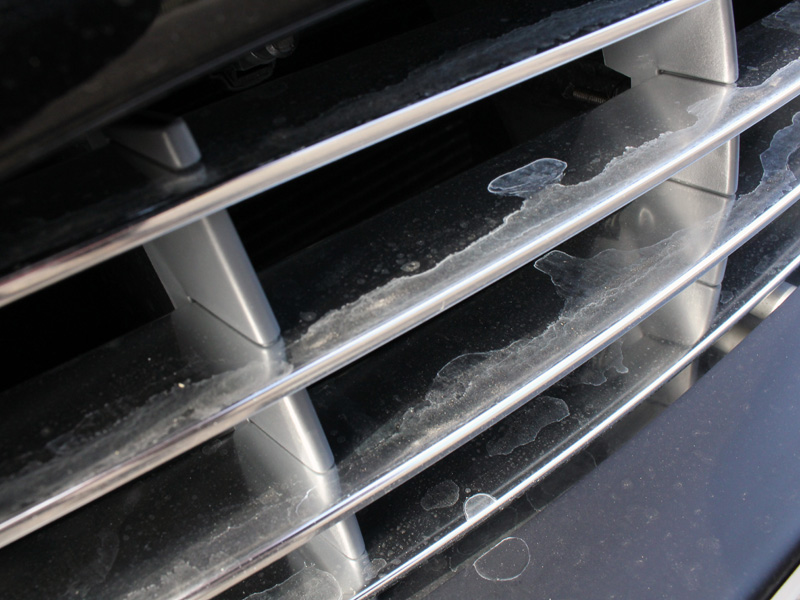 These were treated with GYEON Q2M WaterSpot, a very mild acidic solution which dissolves the alkaline deposits and allows them to be freely rinsed away. Then the Vantage was treated with Ultimate Snow Foam to remove the larger particles of dirt and grit remaining on the surface of the paintwork.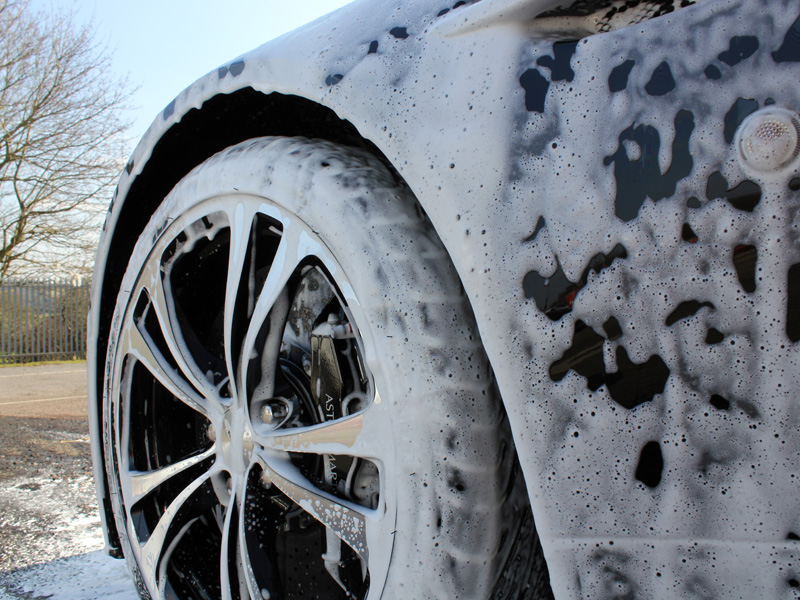 This was rinsed away before a second application of Ultimate Snow Foam became the lubricant for the final decontamination stage: a Dodo Juice Square Sponge Clay Pad was used to shear any remaining nubby contamination away from the paintwork. This was also rinsed before the car was given a thorough wash using the invaluable Two Bucket Method, a UF Ulti-Mitt Double Sided Wash Mitt and Gtechniq G-Wash Shampoo. A separate UF Wheel Bucket & Scratch Shield was used to clean the wheels – an additional protective measure for the paintwork. After the suds were rinsed away the car was given a final, pure water rinse using an Aqua Gleam De-ionising water filter. These filters neutralise the elements in normal tap water that cause unsightly water spot marks. The Vantage was then dried and brought into the studio for inspection under high intensity lighting. Dual Action (DA) sanding marks, wash swirls and scratches were immediately obvious in the dark paintwork.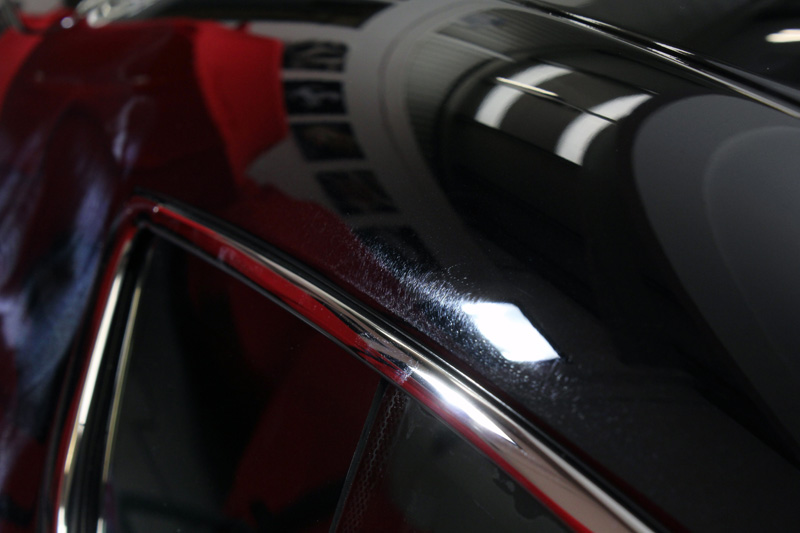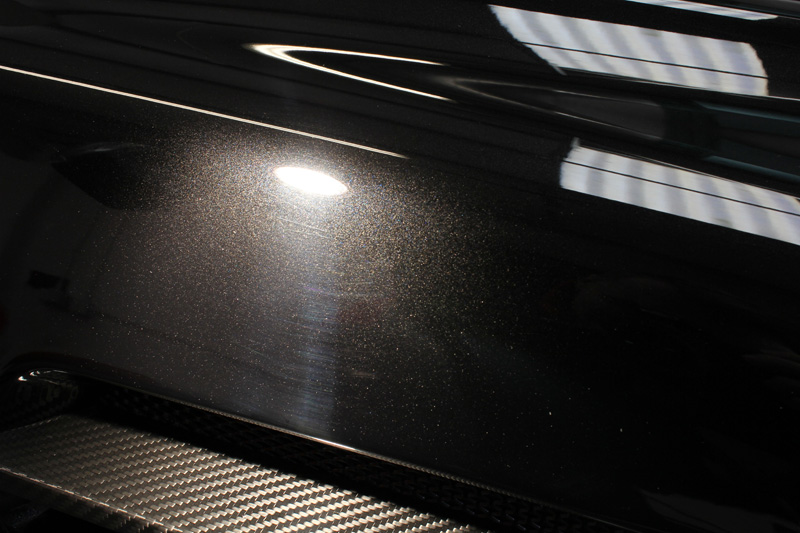 The V12 Vantage paintwork was quite badly marked – someone had tried to polish it with a DA and there were tell-tale marks all over the car, plus there were swirls and some random deep scratches (RDS). It wasn't really focused in one area, it was all over, so I needed something that was going to work quickly, in one step and without making too much mess! – Derek Ginger, Master Detailer, UDS
To correct the paintwork the RUPES UHS One-Step System was used. This comprises of UHS (Ultra High Solid) Easy Gloss Compound on the UHS Polishing Foam used with the RUPES BigFoot LHR15ES Dual Action Polisher.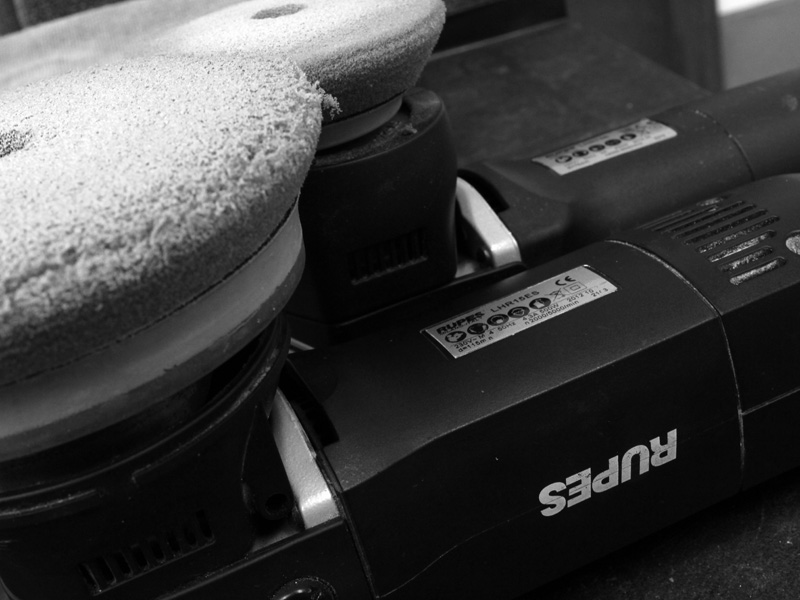 For the boot shut and other tighter, hard to reach areas, the RUPES BigFoot LHR75E Mini was used.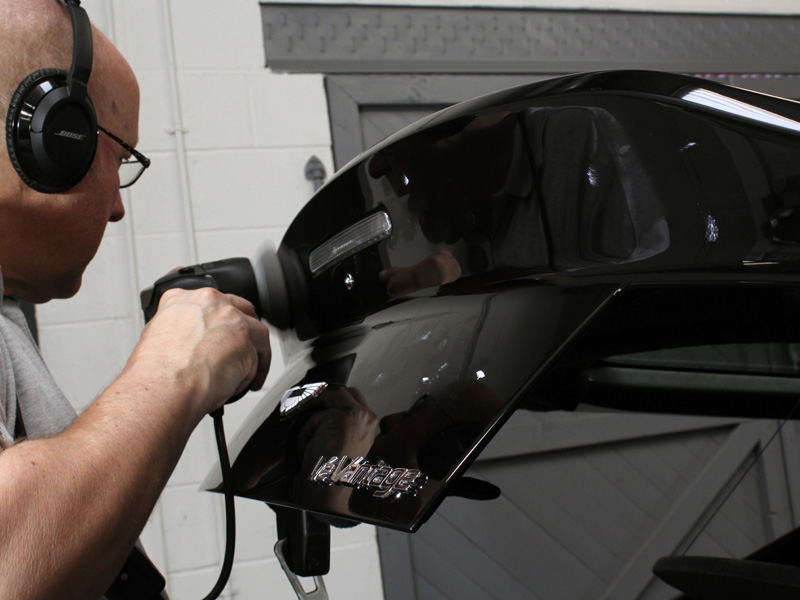 Once the paintwork had been corrected the bodywork and wheels were cleansed using Gtechniq Panel Wipe. This cleanser contains aromatic solvents which dissolve any silicones or polish residues and then flash off, leaving the surface completely bare and preparing it for the final stage sealant.
The V12 Vantage customer had requested we use Gtechniq Crystal Serum as the final protective layer. This nanotechnology-based sealant forms a double-layered coating: the bottom 7H (a measure of hardness) layer provides flexibility and the 9H top layer provides superior swirl resistance. In addition to being incredibly tough, Crystal Serum is virtually impervious to harsh wash chemicals and is resistant to industrial and environmental fallout. The slick, hydrophobic coating repels water, dirt and greasy road grime making the car easier to maintain during the weekly wash. In turn this helps to prevent wash swirls from being introduced to the paintwork. Gtechniq is so confident in the performance and longevity of Crystal Serum they've attached a 7 year guarantee! To be fully effective it must be applied in tightly controlled conditions and for this reason, Crystal Serum is a 'professional' coating, available as a service through Gtechniq approved detailing studios only. Aside from the functionality of the coating, the gloss and reflectivity it leaves on the paintwork is nothing short of spectacular, particularly on dark colours!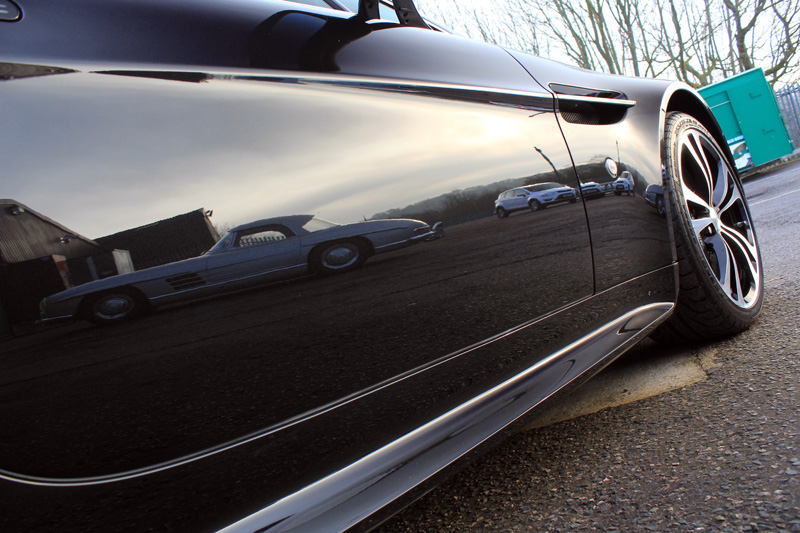 The glass was cleaned and then treated with Gtechniq G1 ClearVision Smart Glass, a hydrophobic coating which repels rain water, causing it to form into beads which then blow away whilst driving. Due to the water repellency, snow and ice do not adhere as firmly to treated glass, making frosty mornings easier to deal with!
The V12 Vantage wheels were coated with Gtechniq C5 Alloy Wheel Armour. This heat resistant nanotechnology-based coating bonds with the wheels surface to provide comprehensive protection from road grime and brake dust build-up. This feature makes cleaning easier and negates the requirement for strong acid or alkaline-based cleaners. The tyres were protected with Gtechniq T2 Tyre Dressing to finish the pristine look.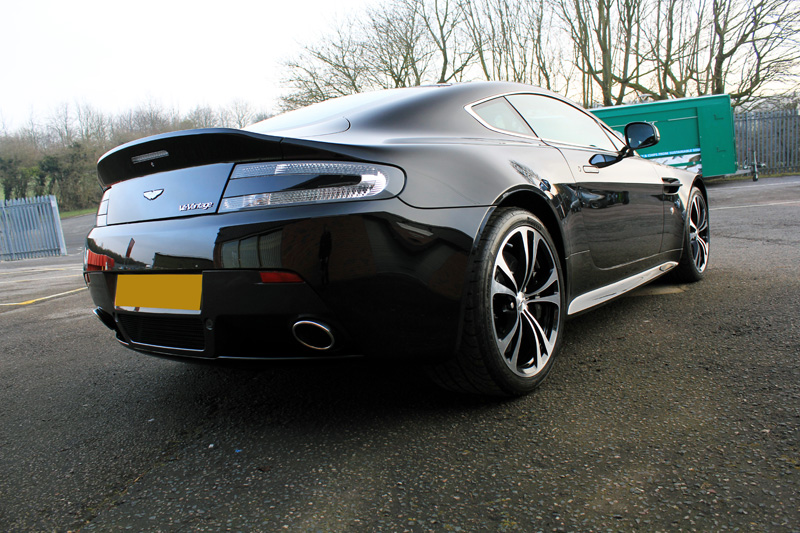 With the warranty for Crystal Serum registered with Gtechniq HQ, the customer collected his Vantage remarking on the 'chalk and cheese' effect – almost as if he were collecting a different car to the one he had dropped off. It's safe to say, this Vantage will be fully protected from the worst of the British weather for years to come!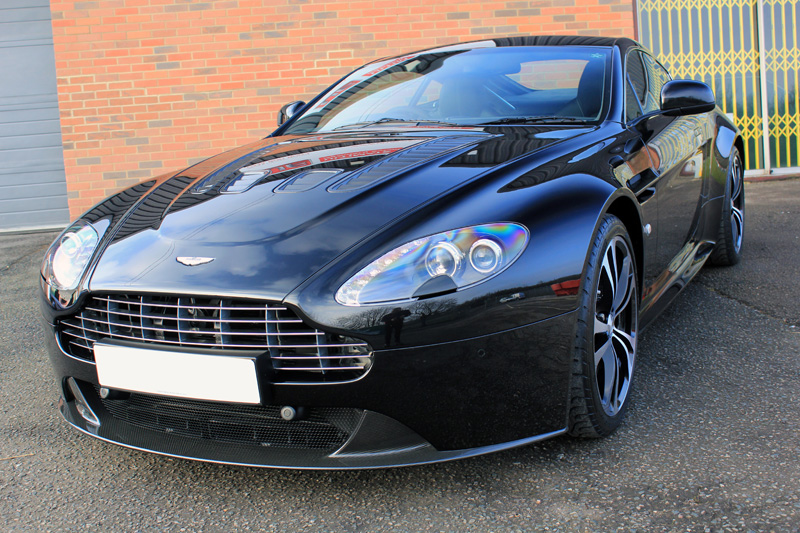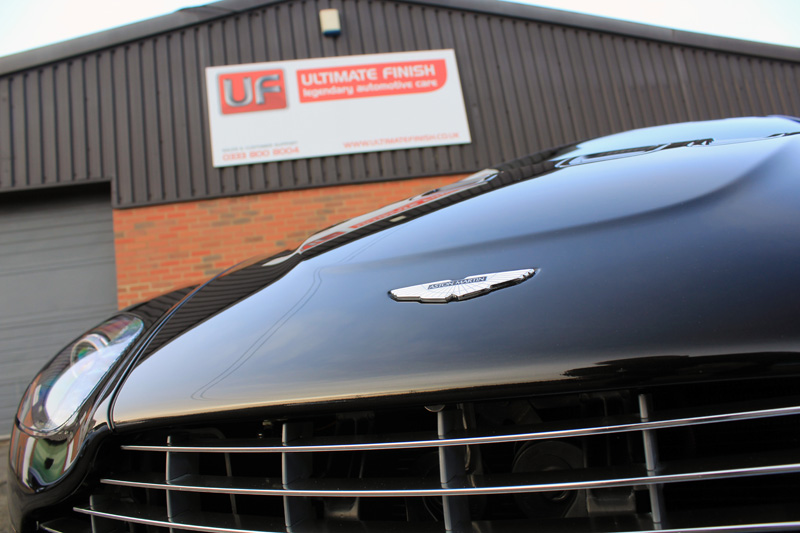 Ultimate Detailing Studio – Award Winning Detailing. Call 0333 800 8004 to discuss your requirements and arrange a free vehicle appraisal.
Ultimate Finish – Innovative Automotive Care since 1999.