Ex-Demo 2018 Aston Martin Vantage Made 'Show Room' Again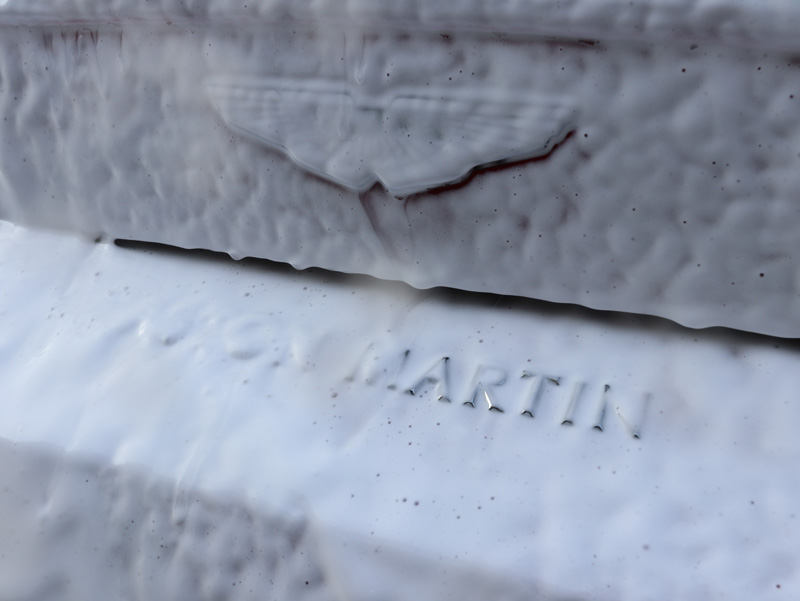 The Vantage is described by Aston Martin as the archetypal hunter: a born predator, raw, and instinctive. Its sleek, iconic lines and 4.0 litre twin-turbocharged V8, producing that distinctive, visceral Aston Martin roar certainly builds that impression. The Vantage's athletic stance and agile handling add to the legend and achieving 0-62 mph in 3.6 seconds and a top speed of up to 195 mph underlines the reality of it.
The Vantage that arrived at UF Studio was a dealership ex-demonstration model and so, although relatively low mileage, repeated hurried washing had left swirl marks, particularly on the soft, piano black trim. There was evidence of inexpert attempts at machine polishing too, leaving pigtail marks on the paintwork.
The Vantage presented with a variety of issues that were plainly niggling away at the owner – as you would expect: it's an iconically beautiful car but it didn't look 'as new' and the overall condition really wasn't doing it justice. A 2-Stage Gloss Enhancement would rectify that and the owner could begin really enjoying his new car! – Matt Back, Master Detailer, UF Studio
Whilst at the studio, the owner decided to take the opportunity to have a number of bolt-on services carried out including the leather interior thoroughly cleaned and the matte finish wheels protected with a ceramic sealant.
The Vantage first needed fully decontaminating.
Typically, dealerships do not have the time, the expertise or the incentive to comprehensively detail a vehicle. This results in a build-up of unseen contaminants such as tar and brake dust. Simply washing a vehicle will not remove these, instead, dedicated products are required. At UF Studio, we use products specifically formulated to eliminate these types of issues. – Matt Back, Master Detailer, UF Studio
The registration plates and holders were removed to allow for more thorough cleaning. Then, the wheels and wheel arches, typically the dirtiest parts of a car were cleaned.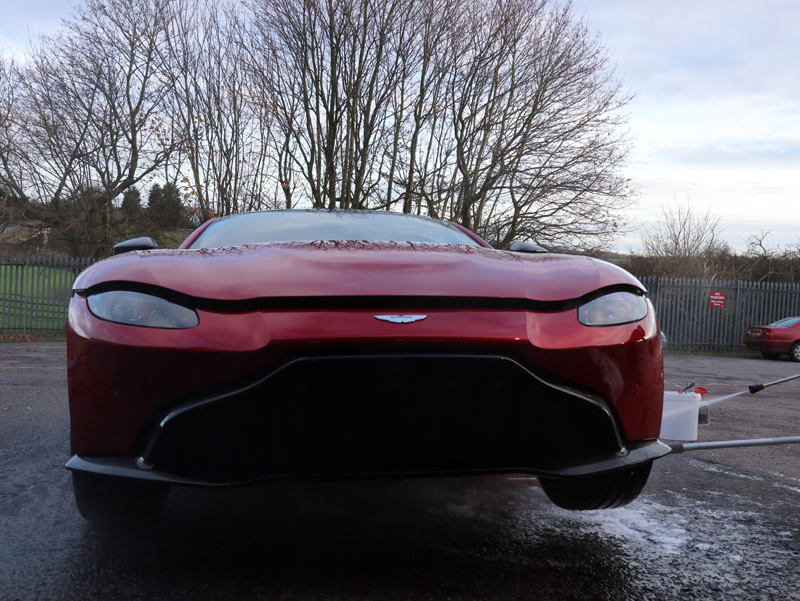 UF Safe Wheel Cleaner was sprayed onto the matte wheels and allowed to dwell before being agitated with long-handled Wheel Woolies, reaching through the intricate wheel design to clean through to the rear of the rim.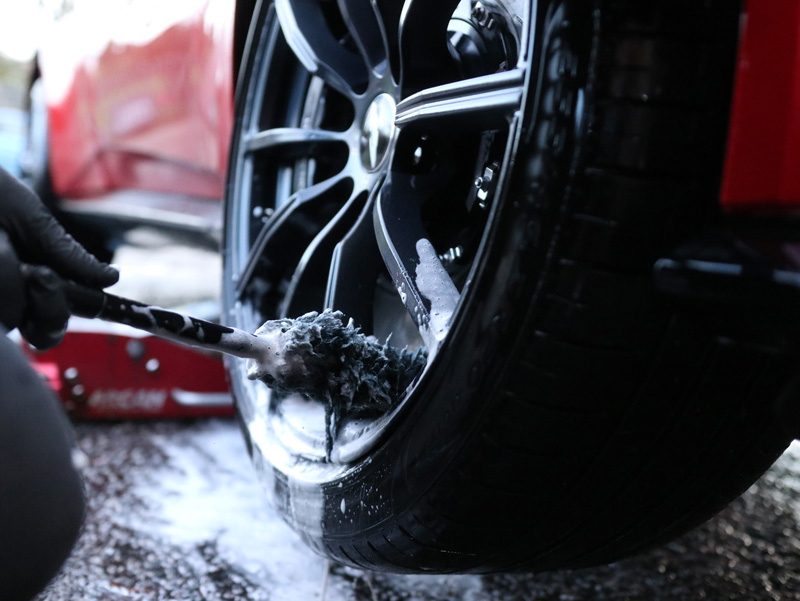 Loose dirt removed, the wheels were treated for iron contamination (brake dust) using UF Iron + Fallout Remover. The active ingredient changes colour on contact with ferrous particles. When the colour peaks, the particles are neutralised and solution is ready to be rinsed away.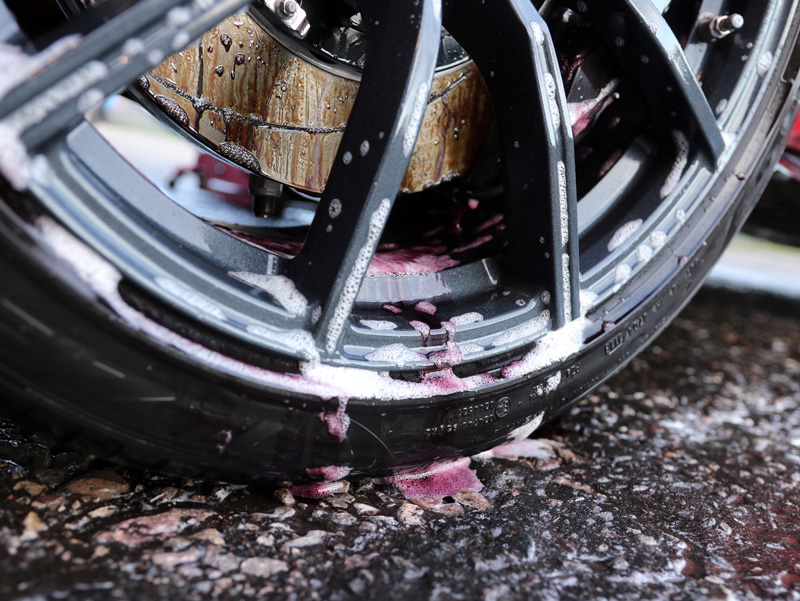 After degreasing the bodywork and also treating it for brake dust particles, Ultimate Snow Foam was applied to remove larger particles of dirt and grit prior to the main wash. Using a pre-wash cleaner such as this helps to protect the paintwork from swirls and scratches caused when dirt becomes trapped in a wash mitt and is repeatedly dragged back and forth over the panel.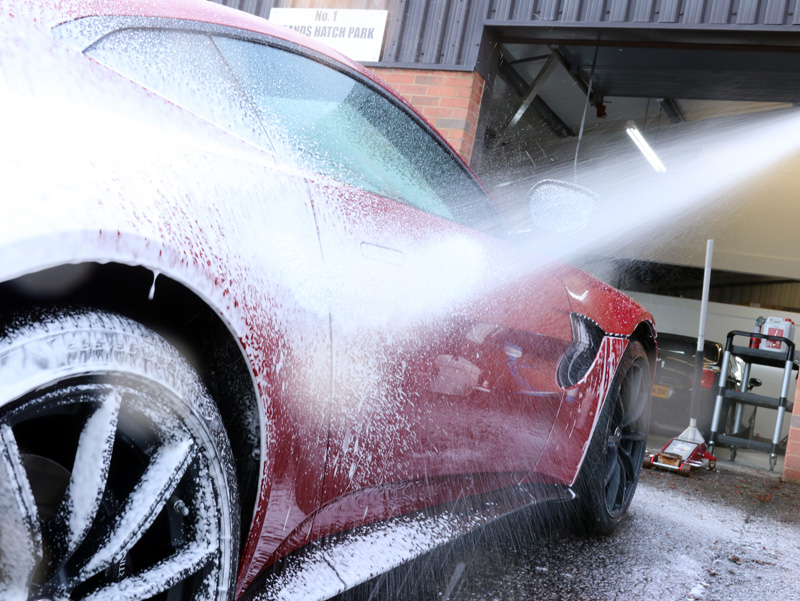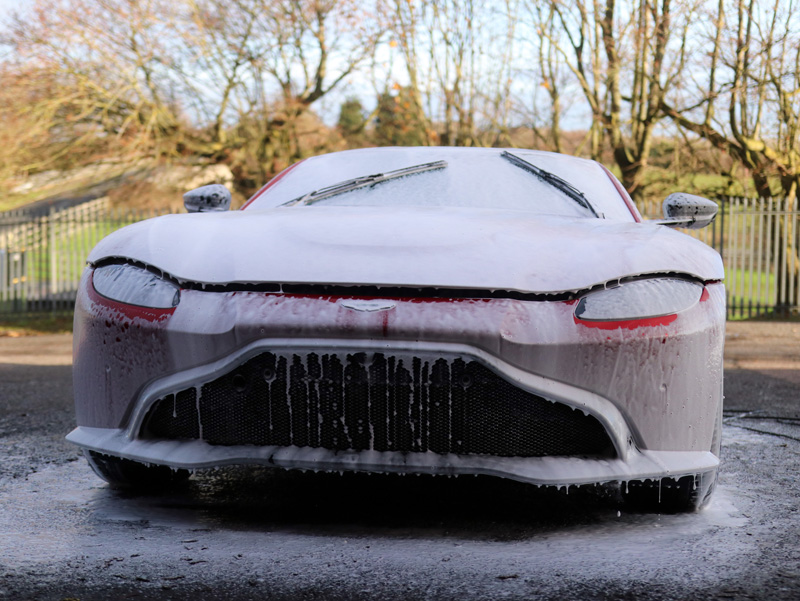 A detailing brush was used to ensure areas that naturally trap dirt and contamination, such as around badges and lettering, were thoroughly clean.
A detailing brush was used to clean the exhaust tips, removing loose soot and dirt build-up.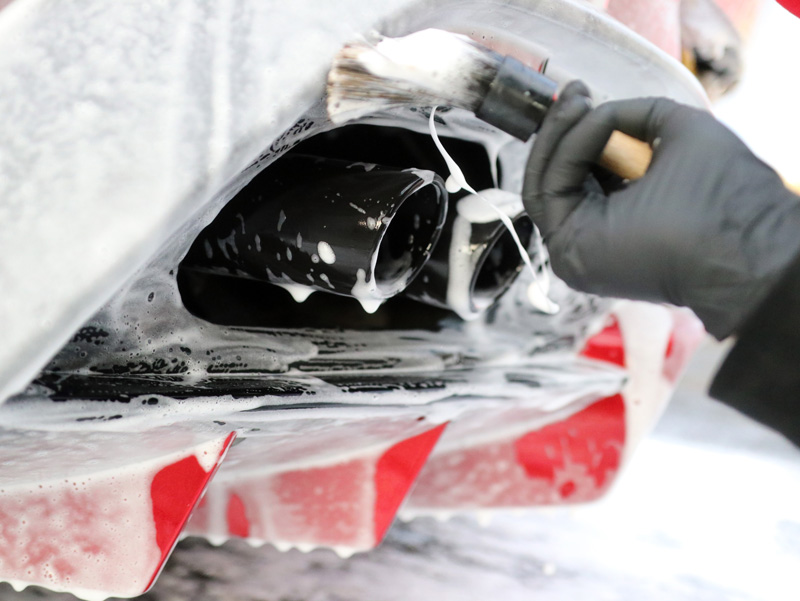 After rinsing the solution away, the Vantage was carefully washed using the Two Bucket Method designed to preserve the integrity of the paintwork. The Vantage was given a final pure water rinse using an Aqua Gleam filter before being brought into the studio and dried using a BigBoi BlowR Pro, a touchless car dryer that forces water out from behind badges and grilles, preventing water streaking down the paintwork at a later point.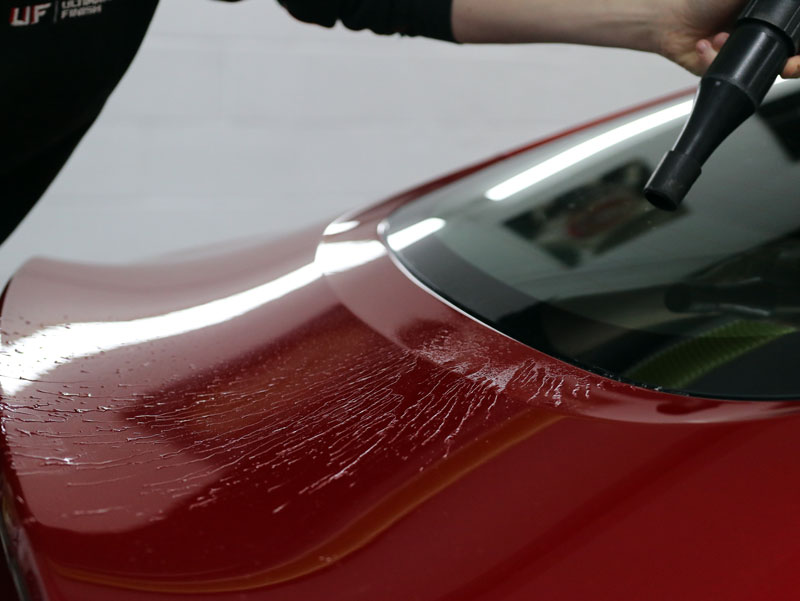 Once dry, the Vantage was inspected under SCANGRIP high-intensity lighting. Areas of concern, such as the pigtail marks were noted on a Vehicle Appraisal Sheet for reference during the correction stage.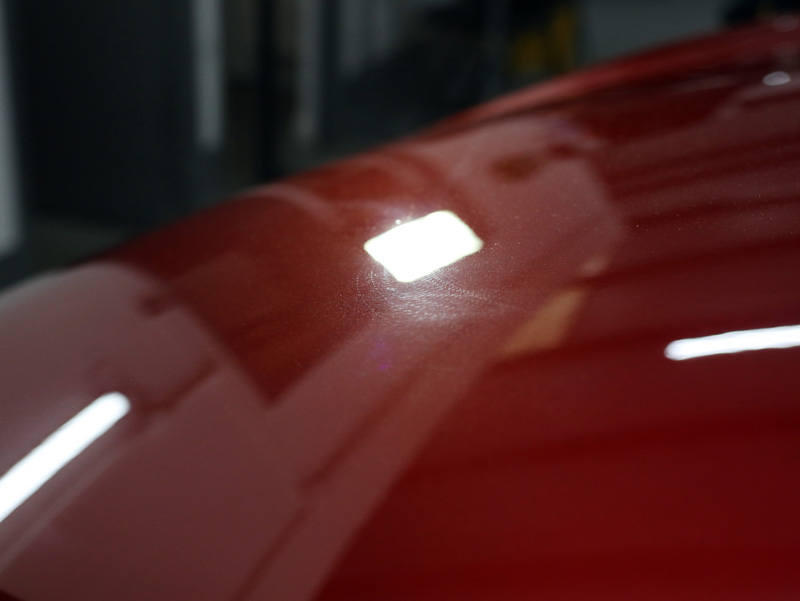 Meguiar's Microfibre Pads were used with Koch-Chemie H8.02 Heavy Cut Compound to tackle the more severe blemishes. In areas where they were particularly heavy, the compound was upgraded to Menzerna Super Heavy Cut 300 for more effective results.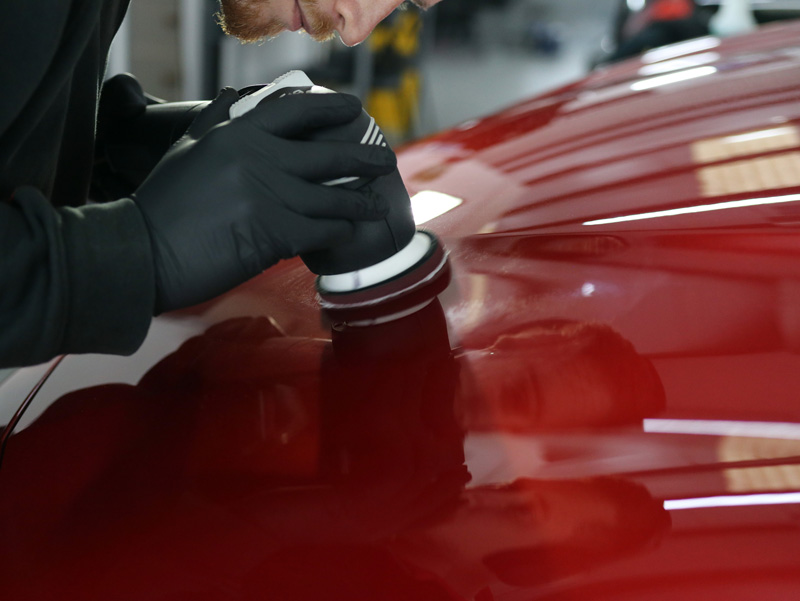 Menzerna Super Finish 3500 was used to refine the paintwork using a 3M PERFECT-IT III Black Polishing Pad.
The piano black trim was corrected using a RUPES Yellow Polishing Pad and Menzerna Super Finish Plus 3800, the combination providing just enough cut to remove the swirl marks without incurring further scratches. It was then finished using Menzerna 3800 and a RUPES White Finishing Pad to bring the gloss up to true piano reflectivity.
The wheels and bodywork were prepared for the final protective coatings with Gtechniq Panel Wipe, a blend of pure alcohols and aromatic solvents that eliminate polish residues. The paintwork was then protected using Kamikaze Collection Miyabi Coat.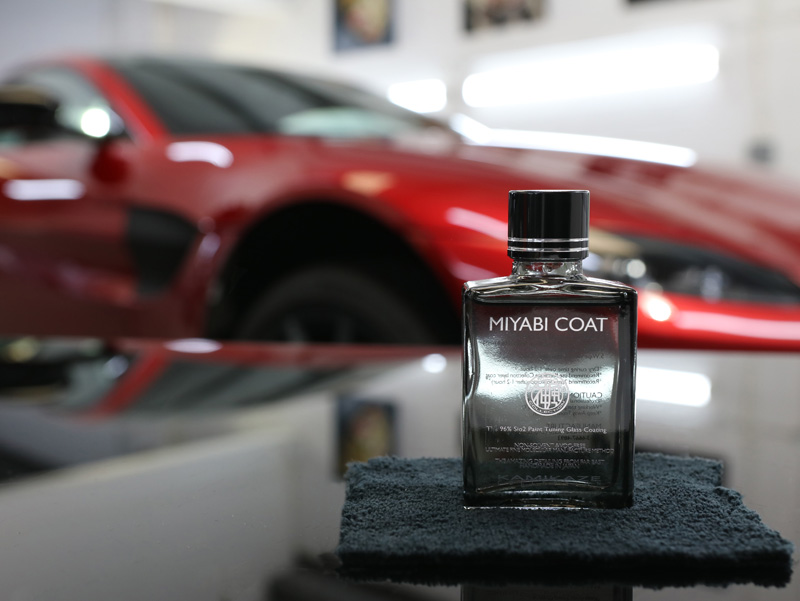 Named after the Japanese word 'miyabe', representing the aesthetic ideal of elegance and refinement, Miyabi Coat brings a uniformity to paint lacquer that sets off the colour's pigment and enhances gloss and reflectivity. As one of the coatings offered as the Standard service, UF Studio provides a durability guarantee of twelve thousand miles.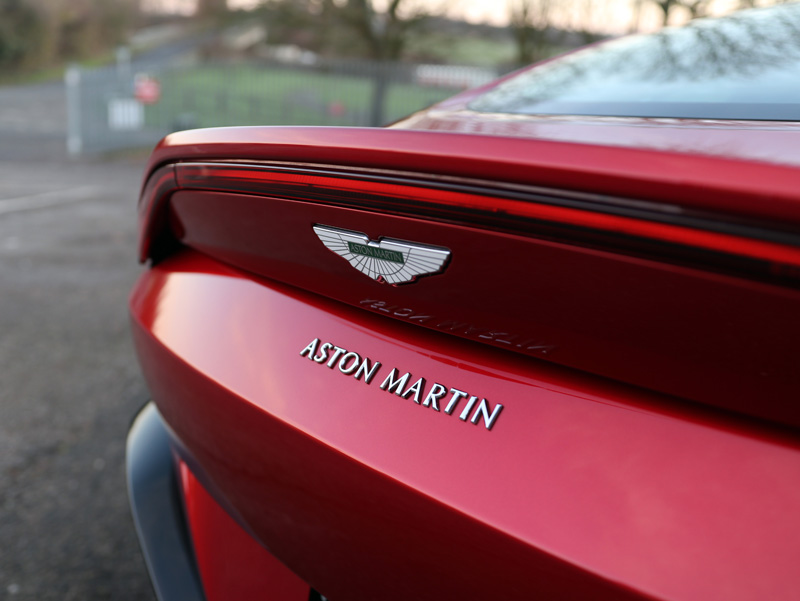 The matte wheels had a textured surface that attracted dirt and contamination, encouraging them to adhere to the surface. To help repel these, Gtechniq C1 Crystal Lacquer+ was applied. This hardwearing, heat resistant and hydrophobic nano-coating repels water, oils and dirt, inhibits brake dust build-up and is virtually impervious to extremes of pH. The formulation is non-gloss enhancing and therefore was the ideal protection for matte finish wheels.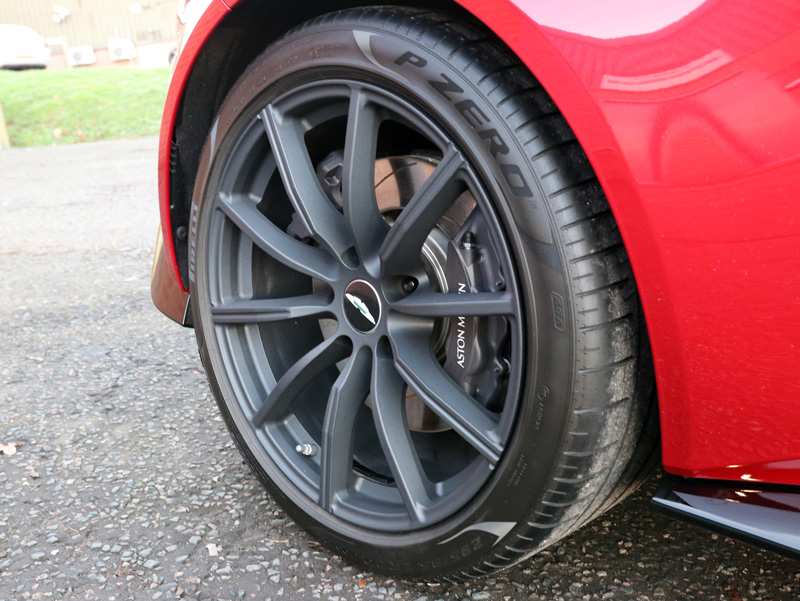 The leather interior was cleaned with Colourlock Mild Leather Cleaner, the foaming solution applied with a foam sponge to lift dirt out from the leather grain.
As an ex-demonstrator, the Vantage has probably had quite a number of people test-driving it. As a result, we expected the leather to have collected a reasonable amount of dirt and grime. Colourlock Mild Leather Cleaner is an excellent product for removing dirt and oils to refresh the appearance. – Matt Back, Master Detailer, UF Studio
The clean leather was then protected with an application of Colourlock Leather Shield, providing a natural finish that repels dust, oils, and stains from water-based spillages. Leather Shield also contains UV inhibitors, helping to protect the leather from the damaging effects of the sun, helping to keep it supple and maintain the pigment colour.
Restored to better than new, the Vantage was ready for collection and for whatever the British winter has in store!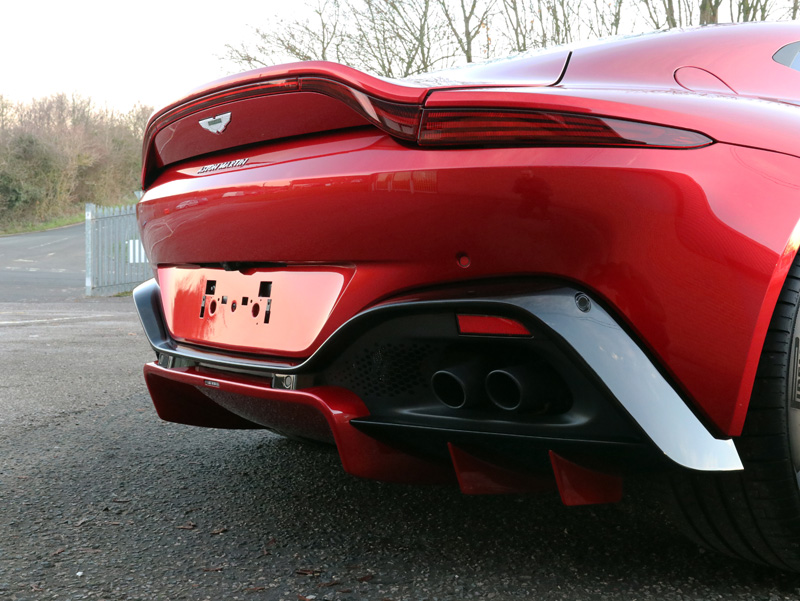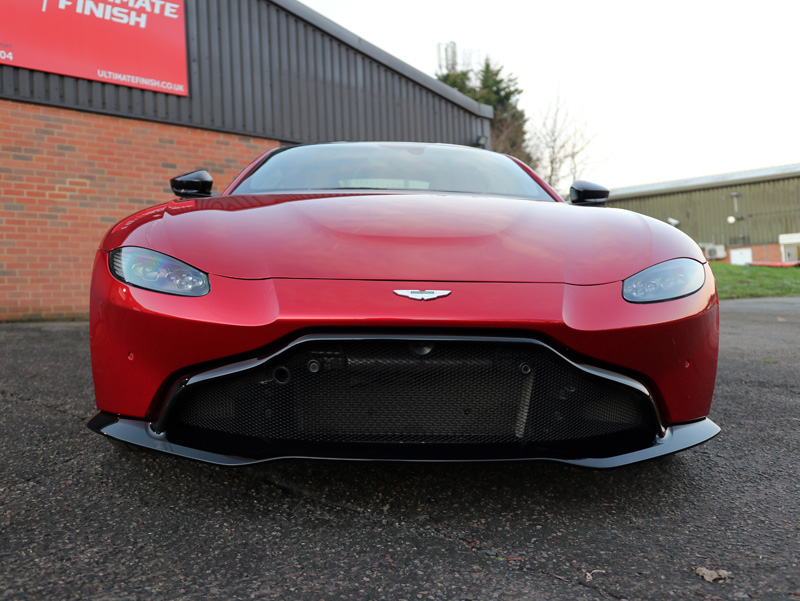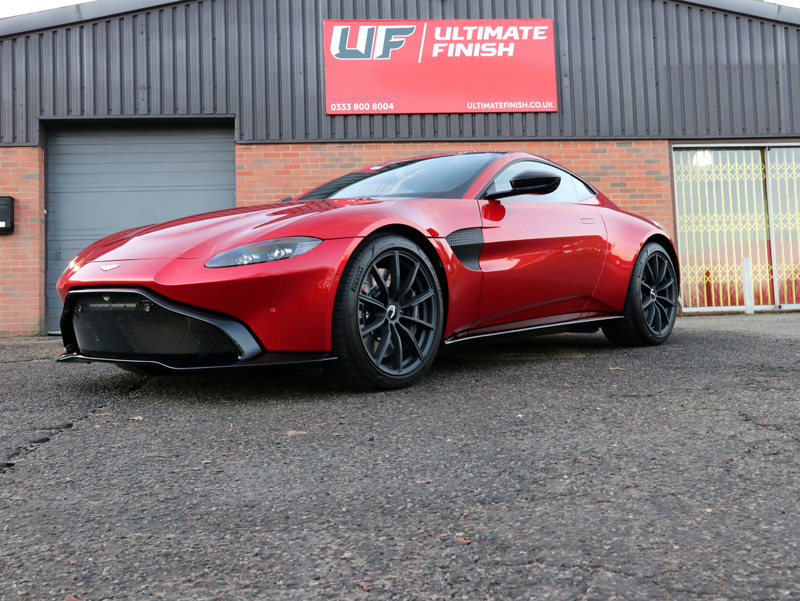 UF Studio – Award Winning Detailing. Call 0333 800 8004 to discuss your requirements or complete the online enquiry form here to receive a bespoke no-obligation quotation by email.
UF Direct – Shop The World's Best Car Care Products