SL350 Mercedes-Benz: Germany's Finest Combine to Refine & Protect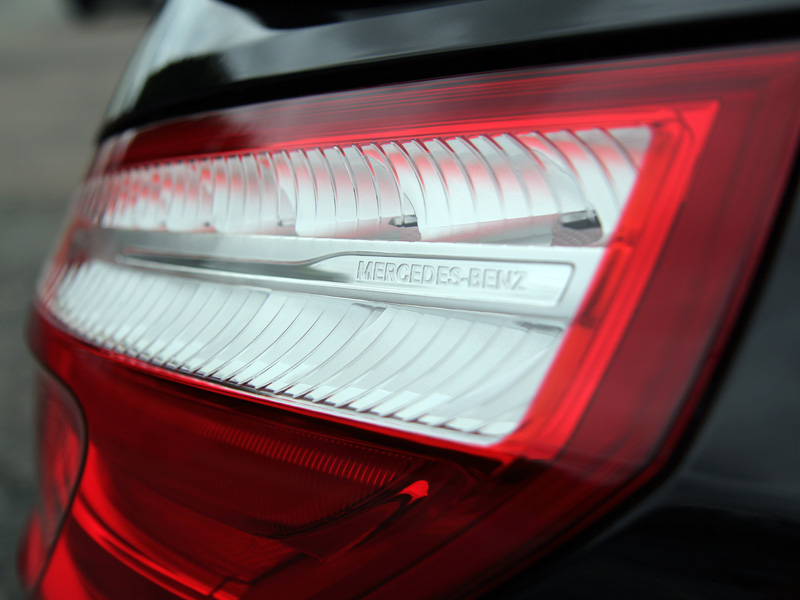 It would be hard to argue anything other than the Mercedes Benz SL350 is a head turner! From the sleek, swooping body lines to the newly styled imposing grille and headlight set up, every inch of the exterior commands attention. The nimble automatic gearbox and lighter engine give it an impressive agility whilst the sound from under the bonnet growls inspiringly. Smooth and responsive handling coupled with an engine that achieves 0-62mph in 5.9 seconds gives the SL350 a decidedly sporty feel.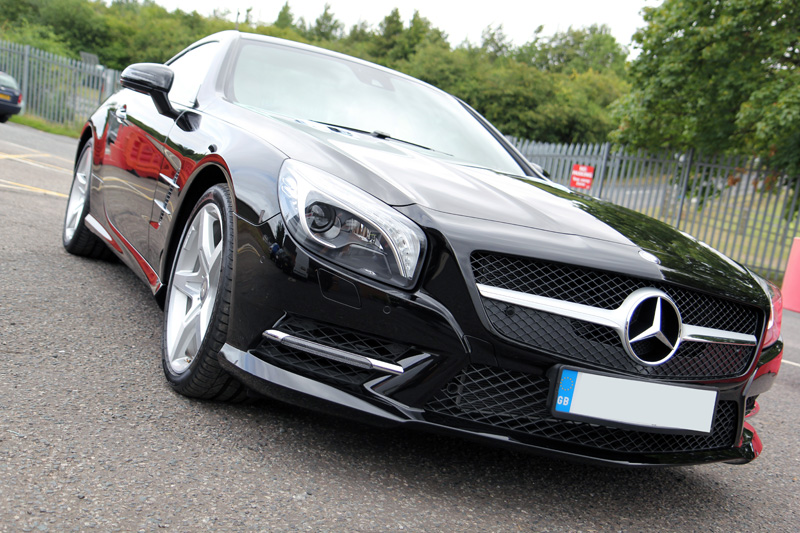 The SL350 is a serious piece of road-going real estate and as such, represents a significant investment. To preserve both its aesthetics and the potential resale value the customer opted to have a protective sealant applied by an independent detailing studio, rather than a dealership package.
Dealerships are usually tied into one manufacturer for their protection products so it limits the customer's choice. Additionally, many dealerships outsource their car care to contractors so there's a potential for quality control issues. Detailing is part of our core business, so customers know we'll take the greatest care of their vehicle. Employing a prescriptive approach to the products we use allows us to give completely impartial advice. – Jez Gilman, Managing Director, UF 
Although bought new from a main dealer, this particular SL350 had been used as a demonstrator. As such it had already covered around 800 miles and been subject to many washes to keep it looking respectable for those wishing to test drive it. Unsurprisingly there were some swirls and scratches already in the paintwork requiring machine polishing to remove. The car was therefore booked into the detailing studio for a Gloss Enhancement Treatment.
The number plates were removed to allow for thorough pre-cleaning and decontamination.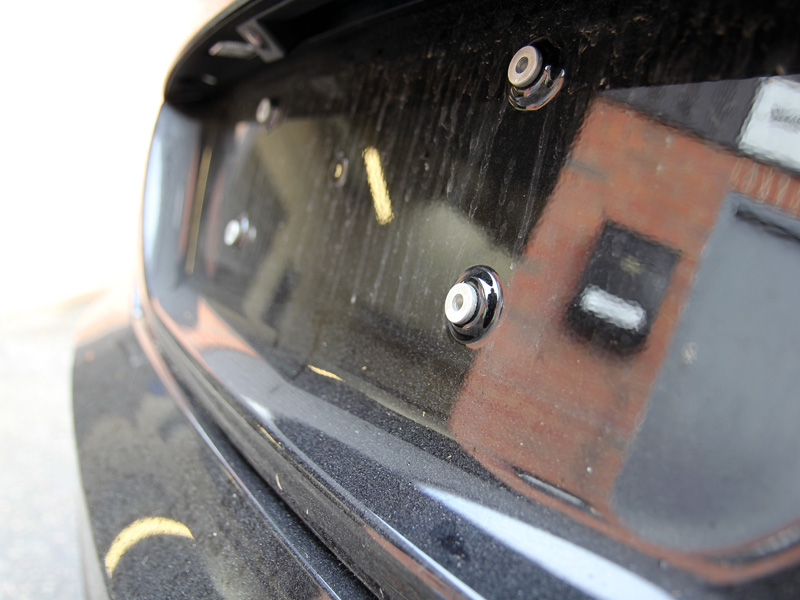 Initially the bodywork and wheels were treated with Nanolex Wheel Cleaner & Iron Remover to remove bonded metal particles. The contamination derives mostly from brakes pads that shred when under pressure from the discs. The hot, tiny particles become airborne and land on the nearest surface, collecting mostly along sills and wheel arches as well as on the wheels themselves. The hot particle bonds to the substrate and subsequently begin to oxidise. This causes them to swell and, left untreated may cause permanent pitting in the surface. Wheel Cleaner & Iron Remover is a powerful cleaner which dissolves ferrous contamination without the need for scrubbing at the paintwork – the key point where scratches and swirls can be introduced. The colour-change function shows the product is neutralising the iron particles and is ready for the contamination to be safely rinsed away.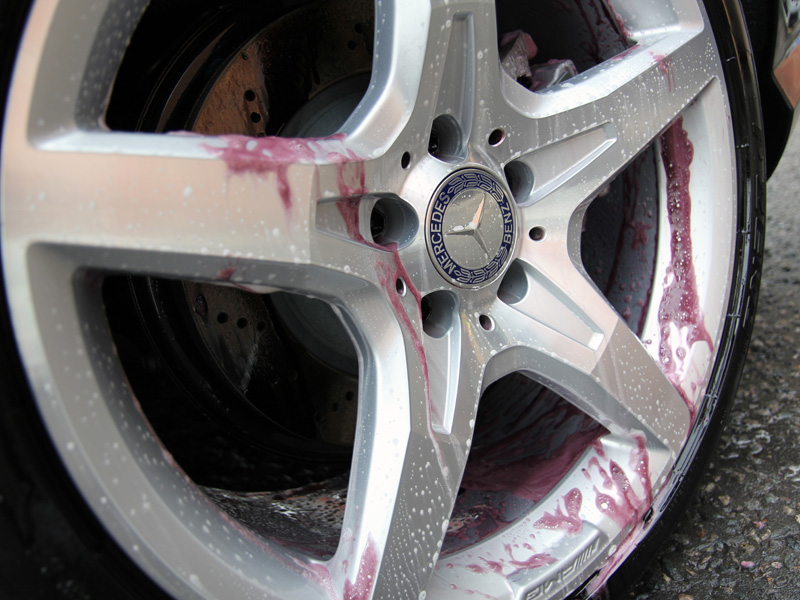 After rinsing, the car was degreased using Meguiar's All Purpose Cleaner to remove any build-up of oily grime and diesels splattered up from the road. Particular attention was paid to the bonnet, boot and door shuts where remnants of sticky transportation wax is often left by untrained valeters working under time constraints.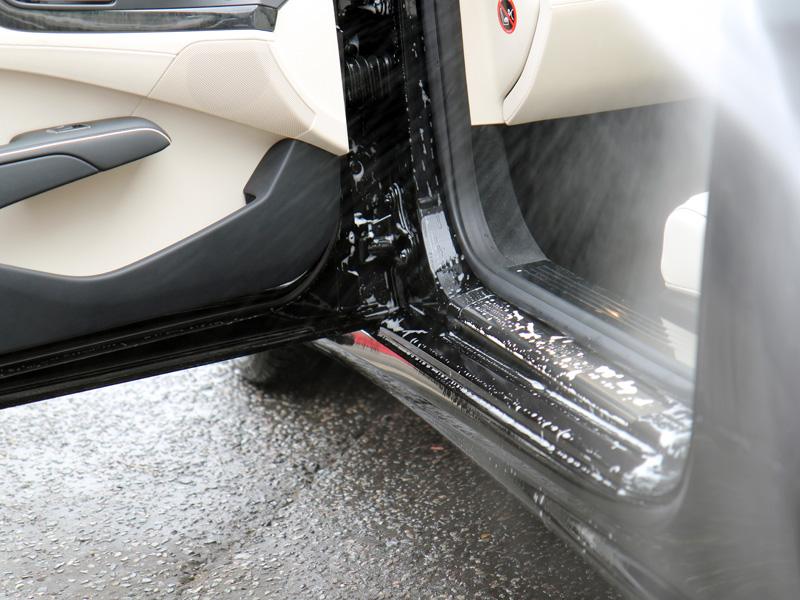 After another rinse the car was pre-cleaned with Ultimate Snow Foam to remove remaining larger particles of dirt and grit from the surface.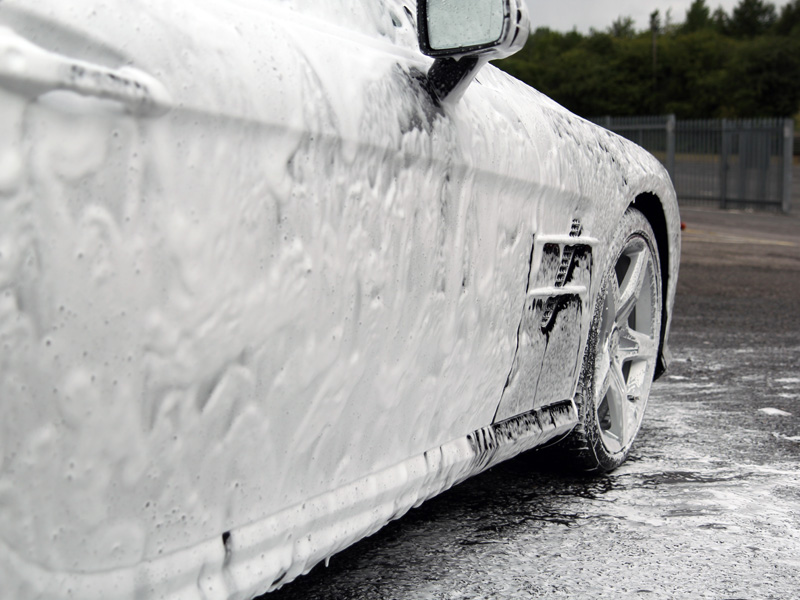 It's essential to do as much of the decontamination process as possible using non-contact methods. This reduces the chances of incurring swirls and scratches, usually caused by rubbing a wash mitt over the particles and dragging them back and forth over the paintwork. It's even more important with darker coloured paints, which show up every little blemish. – Derek Ginger, Master Detailer, UF Detailing Studio
Once the Ultimate Snow Foam had been allowed to dwell, lifting contamination away from the surface, the thick foam was rinsed away with a pressure washer. A second treatment of Ultimate Snow Foam was applied and used as a lubricant for a clay mitt.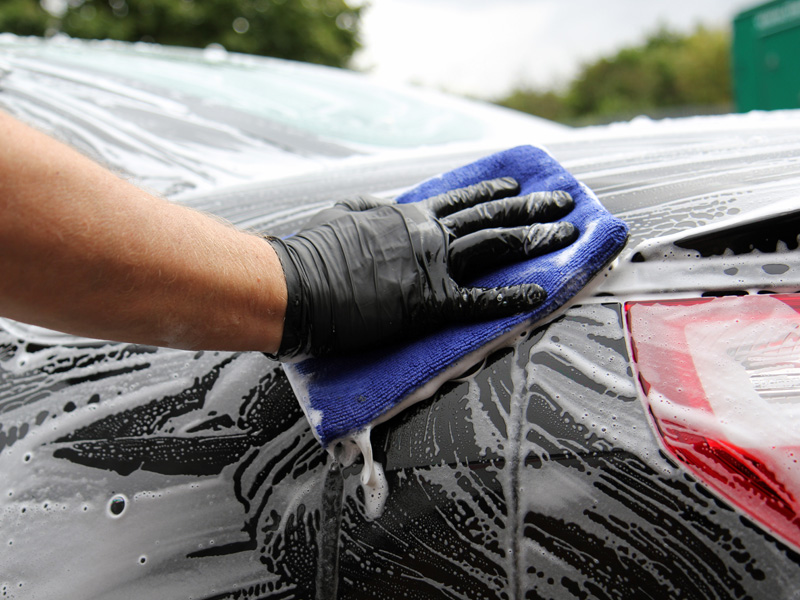 These mitts act in the same manner as the traditional clay bar, shearing nubby contamination off the paintwork to leave it smooth as glass to the touch.
Clay mitts are very useful as they can be washed and reused, but they can be quite aggressive so you do have to be careful using them. Make sure you always have plenty of lubrication to keep the mitt gliding over the paintwork to prevent marring. – Derek Ginger, Master Detailer, UF Detailing Studio
After rinsing again the SL350 was ready for the main wash process. This was carried out using the Two Bucket Method, Nanolex Pure Shampoo and an Ulti-Mitt Double Sided Merino Wash Mitt. The car was then rinsed free of suds before an Aqua Gleam De-ionising water filter was attached to the hose to give the car a final, pure water rinse. Once dried the car was brought inside the detailing studio for inspection under high intensity lighting to reveal the extent of the damage.
Close inspection of the paintwork revealed some swirling and a few scratches – but Mercedes paintwork is very hard so it really wasn't as bad as it could have been. It seemed the perfect opportunity to try out the latest SCHOLL Concepts compound as their products are made in Germany specifically with scratch-resistant paints in mind. – Derek Ginger, Master Detailer, UF Detailing Studio
To correct the random deep scratches (RDS) and swirling a FLEX PE14-2 Rotary Polisher was used with a SCHOLL Concepts Orange Foam Polishing pad. This multi-purpose pad is constructed from a closed cell flexible polyurethane foam which provides a concentrated action for the task at hand: with a compound it cuts well, with a polish or glaze it refines and buffs to a high shine. Used with SCHOLL Concepts newest compound, S20 Black Real 1-Step Compound it has the opportunity to provide both actions. S20 Black contains the latest in intelligent Powder Technology (iPT), a high purity aluminium oxide which diminishes gradually, removing deeper blemishes and fining out without leaving holograms in the paintwork – usually a particular issue for darker coloured paintwork. Diminishing abrasives require longer working times than standard compounds. The abrasive particles start out larger to remove deeper blemishes; gradually wearing down to ever smaller particles which refine the paintwork to leave a high gloss without holograms. As a result there's no requirement for a separate refining stage. The Orange Foam Polishing Pad works with the diminishing abrasives to provide a perfect finish.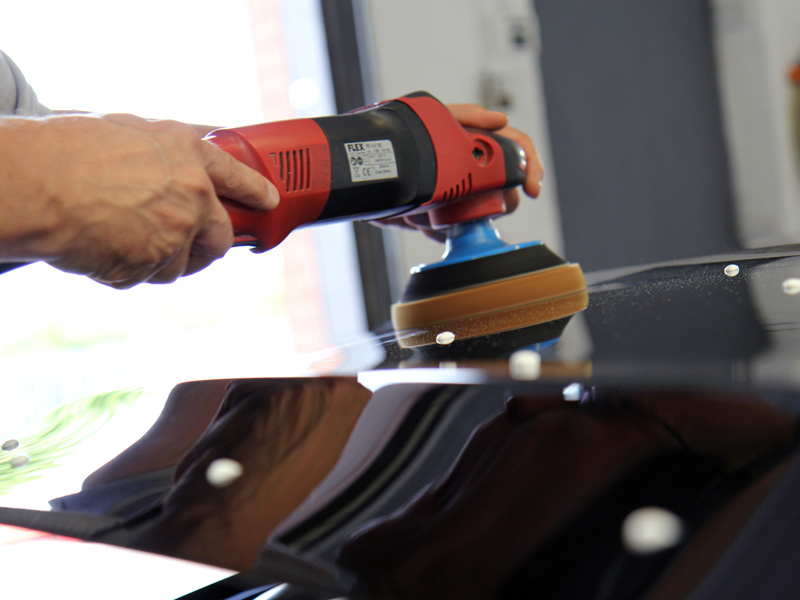 S20 Black does have to be worked longer but SCHOLL Concepts have formulated it so that it remains workable: it's not greasy but is still lubricated enough so that it doesn't stick, even when the paint is being worked for longer periods of time. Additionally, all their compounds are water-based. Other compounds can be solvent (petroleum distillate) based and they have a slight filling action, so you can't always get a clear picture of whether all the imperfections have been removed. With the SCHOLL Concept products you don't get that drop-back: if the blemish appears to have been eliminated then it's truly gone and won't reappear next time you wash the car or it gets wet! This is particularly important when apply long-lasting sealants as you need to ensure the paint is as perfect as possible. – Derek Ginger, Master Detailer, UF Detailing Studio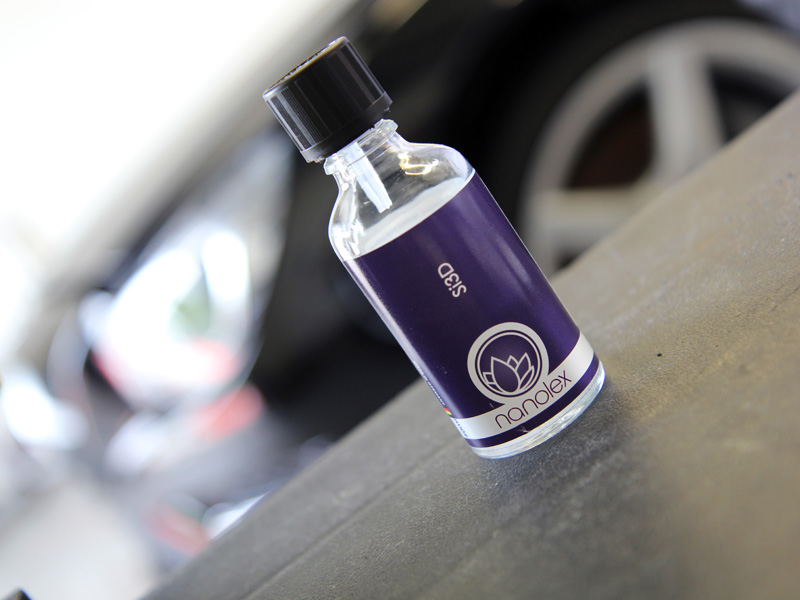 Once perfected, the bodywork, wheels and glass were cleansed with EX Residue Remover to remove any traces of polish residue. This leaves substrates free of any substances that might interfere with the bonding process of the sealant. To protect the SL350, Si3D was selected; the most advanced nanotechnology-based sealant Nanolex offers. Si3D contains silica, nitrogen, hydrogen and organic compounds such as carbon and combines them with thermoplastic components to form a hydrophobic, flexible, cross-linked protective matrix. These high-performance polymers are 'aromatic' solvent and fluorine free, which means the product is safe to handle and use in enclosed environments. However, non-aromatic solvents are an essential component for any sealant as they affect the viscosity of the liquid. This impacts the ease of application but can interfere with the efficacy of the coating. Si3D has effective 'solvent release' properties: 90% of the contained solvents evaporate within the first 24 hours, with the remaining 10% evaporating within one week. This means the coating cures fully to provide a highly durable protective barrier resistant to abrasion and extremes of pH such as those found in acid rain as well as some types of car washing products. The unique properties of Si3D lend an additional darkness to paintwork making the Obsidian Black Metallic paint deeper and glossier.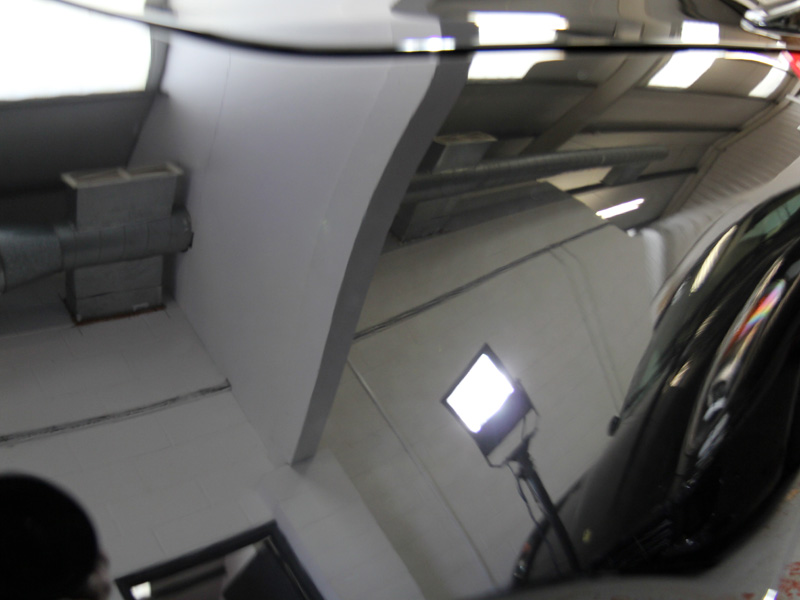 The SL350 wheels were sealed with Nanolex Professional Paint & Alloy Sealant. Resistant to high temperatures, high alkalinity and low acidity, Professional Paint & Alloy Sealant repels water, dirt, oils and brake dust to keep wheels cleaner longer. They're also easier to maintain during the weekly wash without the requirement for harsh wash chemicals. The tyres were dressed with Nanolex Tyre & Rubber Restorer to protect them from UV-induced fading and leaving a natural satin sheen.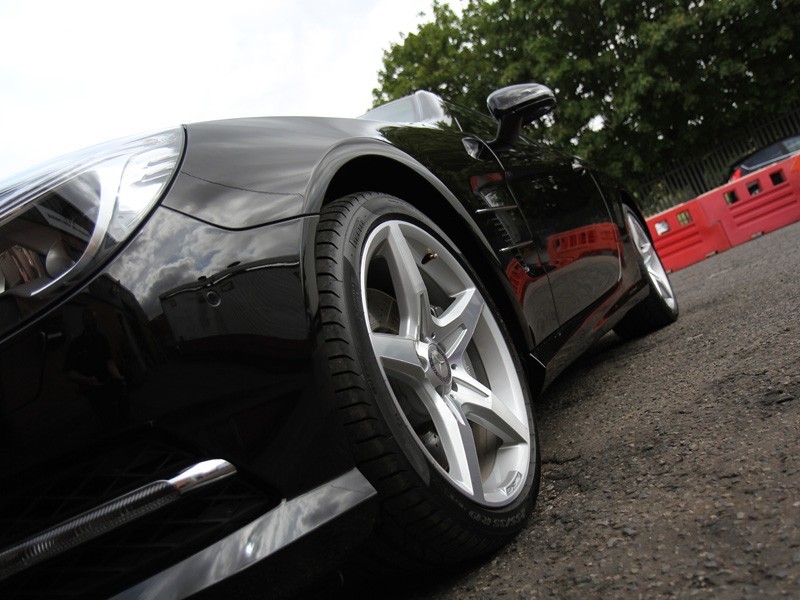 Nanolex Urban Glass Sealant was applied to the glass to lay down a hydrophobic coating. This causes rain water to roll into beads on contact, allowing them to be blown away even when driving at lower speeds. This makes driving during inclement weather conditions easier and less tiring for the driver. Then the trim was protected with Nanolex Trim Rejuvenator to protect from UV rays and repel contamination.
The final result on the SL350 was absolutely stunning. Fully protected the reflective qualities were mirror-like whilst the black paintwork looked almost impossibly glossy. Safe to say the customer was pretty happy with the result too!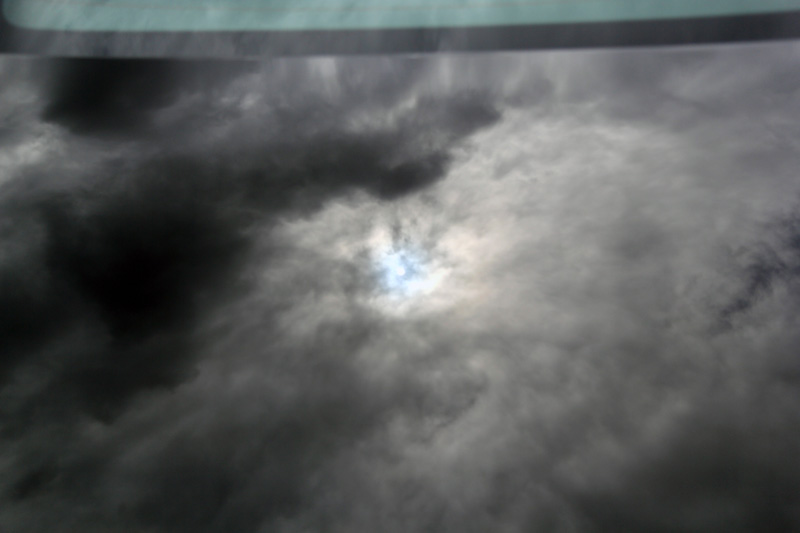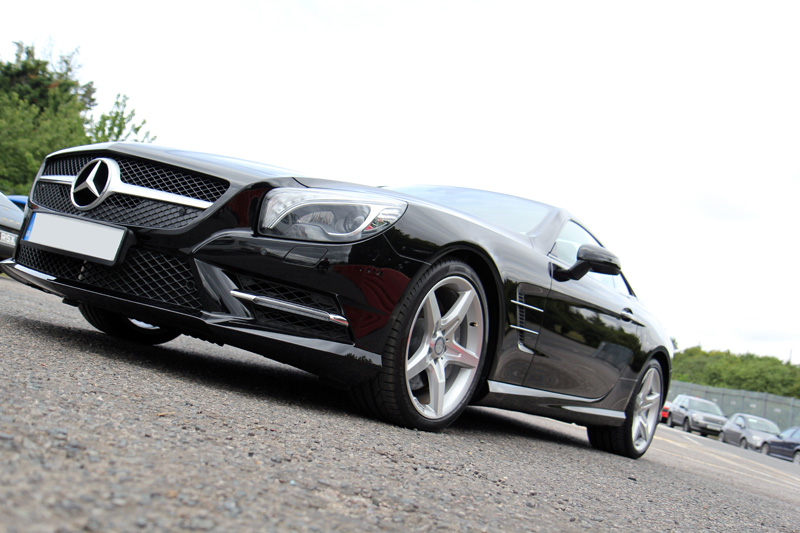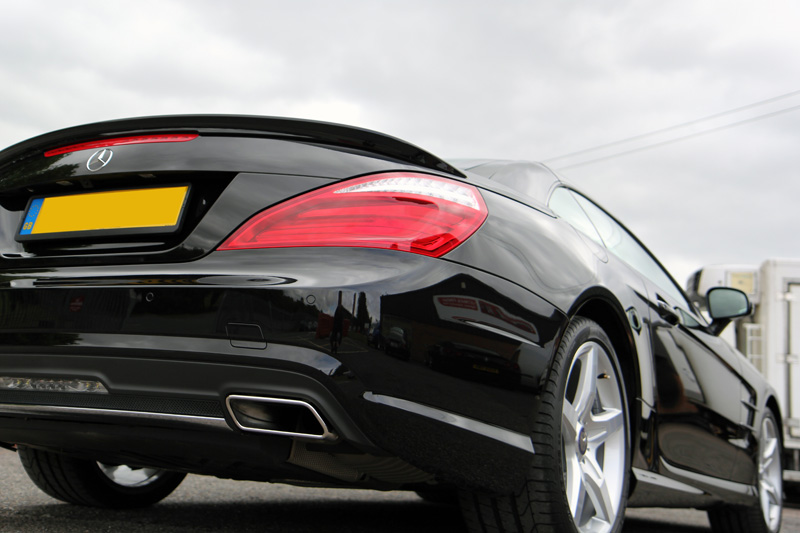 UF Detailing Studio – Award Winning Detailing. Call 0333 800 8004 to discuss your requirements and arrange a free vehicle appraisal.