Lotus Turbo Esprit prepared for the Lotus 70th Anniversary Party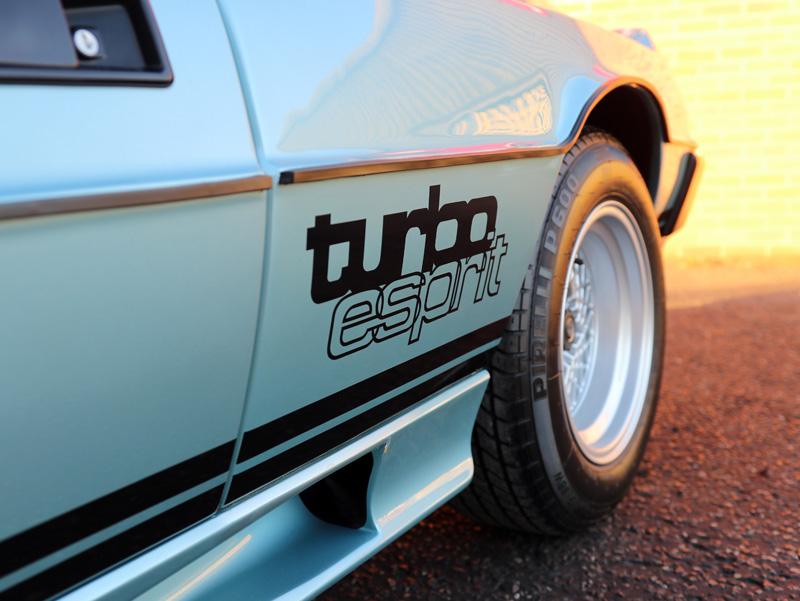 Lotus is a British manufacturer of lightweight sports cars and racing cars. Founded by Colin Chapman who built his first competition car in 1948, Lotus Engineering was inaugurated in 1952 and has gone on to enjoy success both on the track and off. Now a global brand, Lotus is celebrating its 70th anniversary with a grand party at their headquarters at RAF Hethel, Norfolk. For the party, Lotus is handing out free tickets to owners of their cars and party guests will be able to tour the factory, and Classic Team Lotus will be there with a selection of their amazing F1 cars providing on-track entertainment.
As part of the celebrations, Lotus is putting on a 'One of every Lotus car ever made' parade and it is to this that the owner of this very special Turbo Esprit had been invited. And special it is! One of two cars built for the Lotus exhibition stand at the 1982 London Motor Show, this car had been spec'd by Mike Kimberley, the then Managing Director of Lotus, who had been appointed by Colin Chapman. As a showpiece for what Lotus could offer, this Turbo Esprit has a range of options that weren't necessarily available for this particular model. This includes touches such as a fully upholstered luggage area, body-coloured, rather than black mirror casings and a full leather interior. Additionally, this Turbo Esprit is painted in Ice Blue rather than the more commonplace Calypso Red, further underlining its remarkable pedigree.
Keen to ensure justice was served to this rare car, on receiving the invitation to take part in the Lotus 70 special parade, the owner wasted no time contacting UF to discuss making his Turbo Esprit show-ready. Booked in for a Gloss Enhancement Treatment, the owner refrained from washing his vehicle again and brought it to the Brands Hatch studio for professional attention.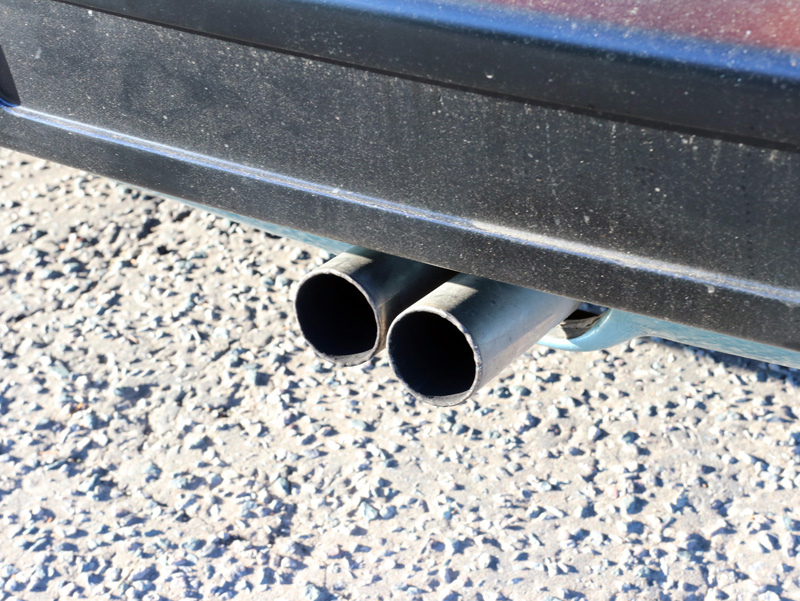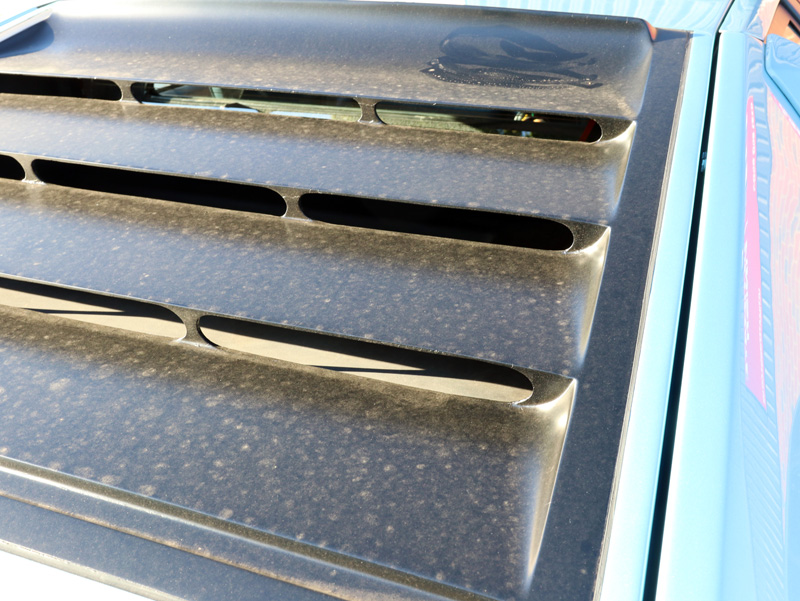 Dirt quickly builds up in hard to reach areas, such as in corners and crevices, particularly on door shuts and especially on low-riding cars. All these areas would need meticulous attention to ensure the car was ready for the Lotus 70 show.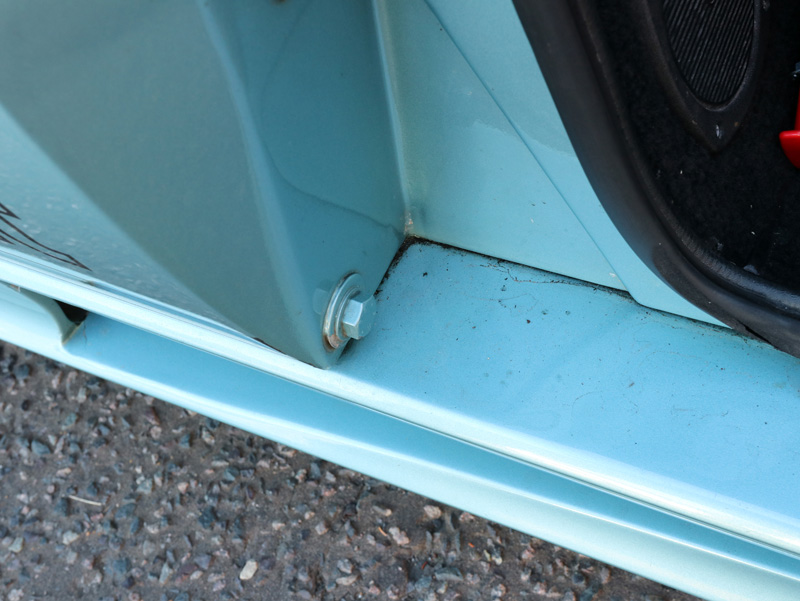 The first areas to tackle were the wheels and wheel arches as these tend to be the dirtiest and cleaning them first ensures the contamination isn't splattered further around the car.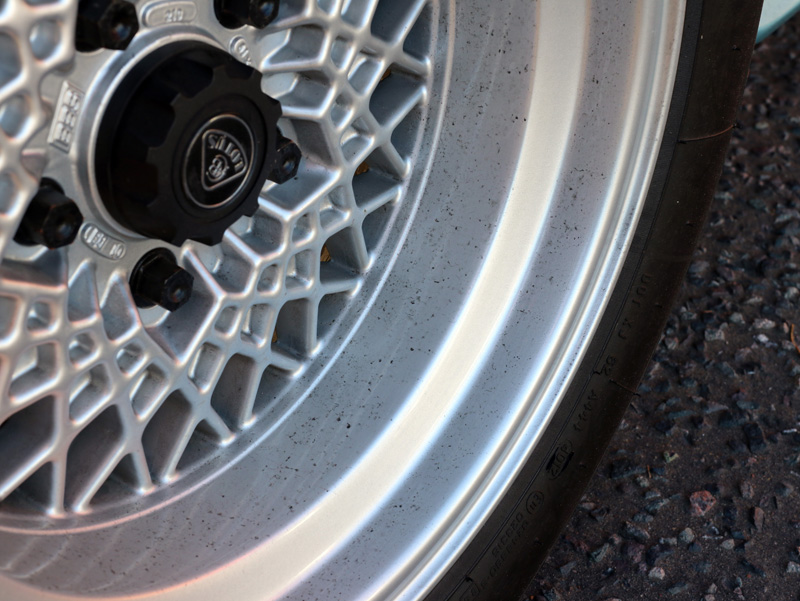 UF Safe Wheel Cleaner was applied to the wheels, the thick formulation clinging to the surfaces for increased dwell time and therefore enhanced cleaning power.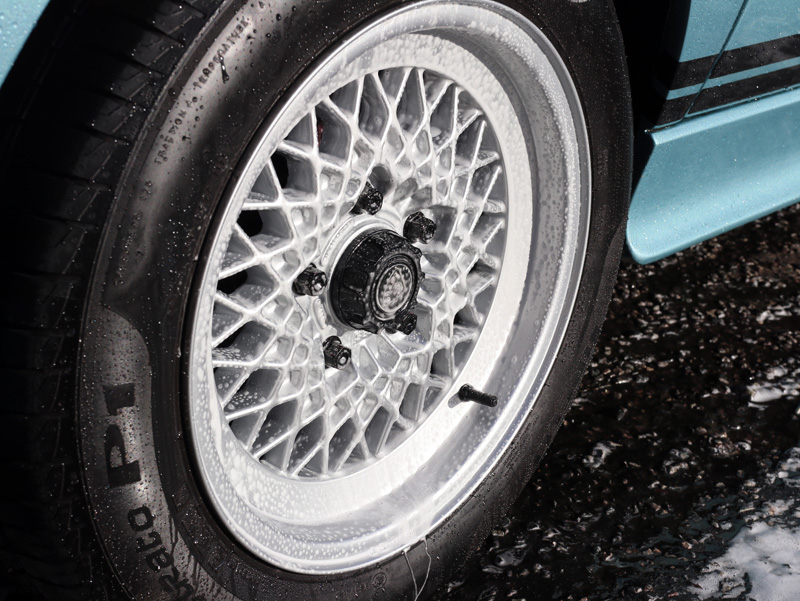 The intricate wheel design required careful cleaning to ensure dirt and grit were removed from every crevice. Wheel Woolies were used to fit through the spokes to clean the rear of the rim and detailing brushes were used to clean debris from between the spokes.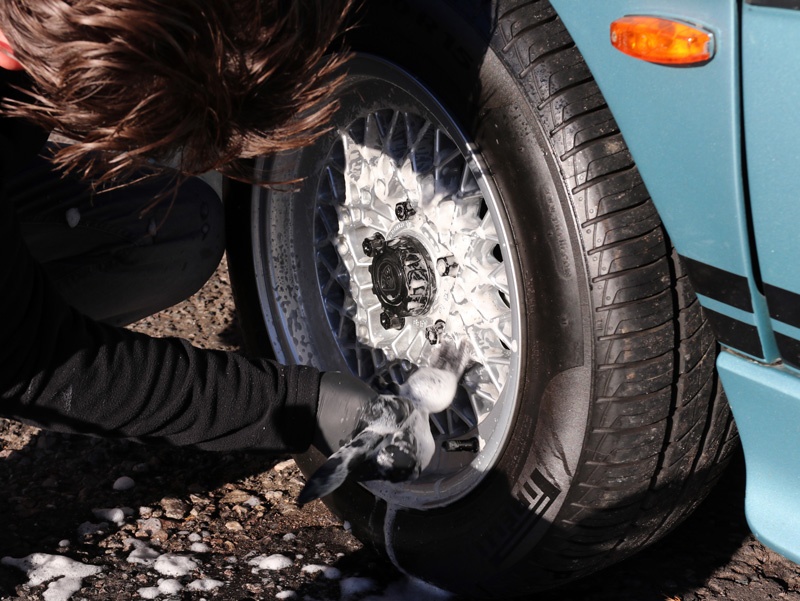 The wheels and wheel arches were treated for greasy contamination using Bilt-Hamber Surfex HD. The rest of the car was then treated with Surfex HD before UF Iron + Fallout Remover was applied to ensure any traces of brake dust and other contamination were eliminated. Then, the Turbo Esprit was pre-cleaned using Ultimate Snow Foam applied through a foam lance attached to a Kranzle K-1152 TST pressure washer. This creates a thick lather that lifts larger particles of dirt and grit away from the surface of the car and allows it to be easily rinsed away. This helps to reduce the chances of introducing scratches and swirls to the paintwork which typically occur when dirt is unknowingly rubbed across the surface with a wash mitt.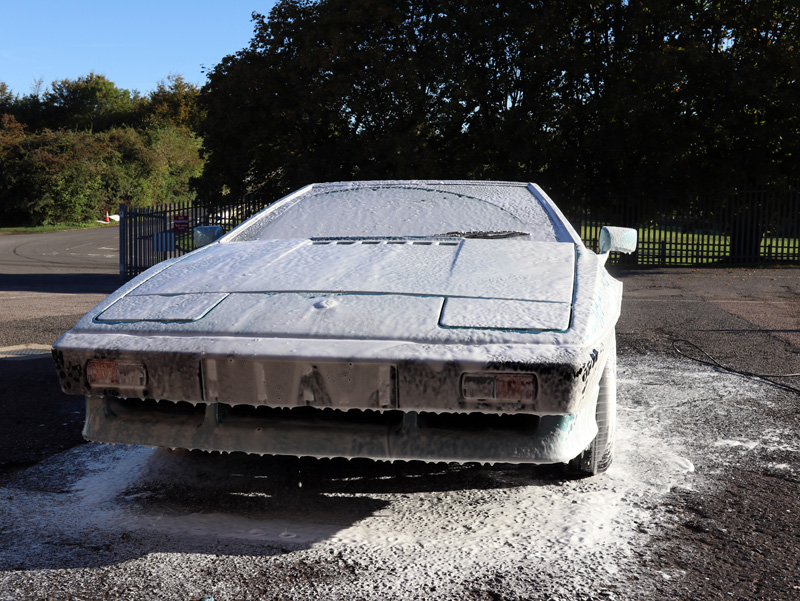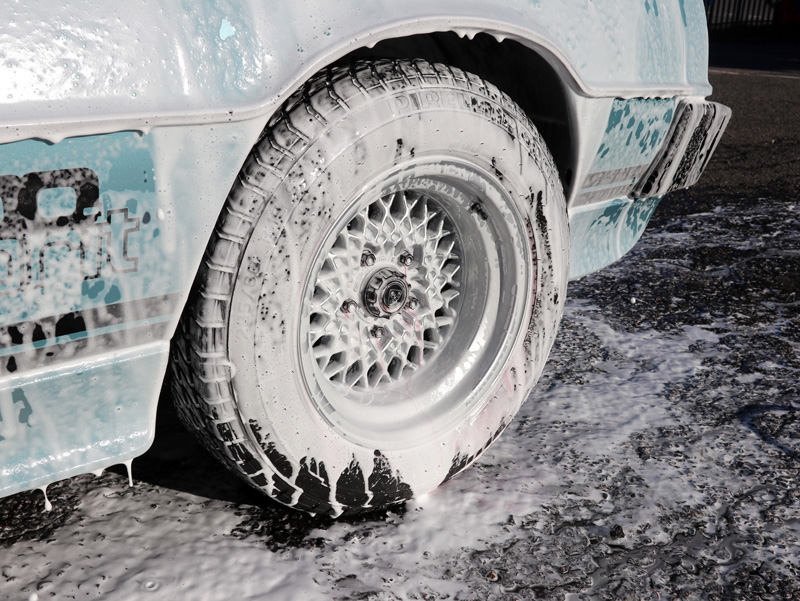 After rinsing the foam away, the Turbo Esprit was carefully cleaned using UF Pure Shampoo, keeping wash solution in a separate bucket from the rinse water to help prevent the reintroduction of contamination back on to the car, helping to keep the clear coat safe from scratches and swirls. Once the car was clean, the suds were rinsed away before an Aqua Gleam De-ionising Water Filter was used to deliver a final pure water rinse. The Turbo Esprit was brought into the studio and placed on a hydraulic ramp so it could be raised and lowered, allowing easier access to all areas. A BigBoi BlowR Pro touchless car dryer was used to chase the water off the panels and out from the seams, grilles and other hard-to-reach areas that naturally hold on to water. The condition of the paintwork could then be assessed under high-intensity lighting. Unsurprisingly, given the age of the vehicle, the paintwork was heavily swirled with several deep scratches. The paintwork was also relatively hard.
With the paintwork being hard, we had to use quite an aggressive compound to eliminate the defects and at the same time, we had to be really careful around the decals which were all original 1982 stickers. Machine polishing over the top of them could scratch them. In the end, we spent a long time cleaning around the decals as the edges had trapped a lot of dirt and grime over the years. Cleaning up the edges made the decals look sharper. – Matt Back, Master Detailer, UF Studio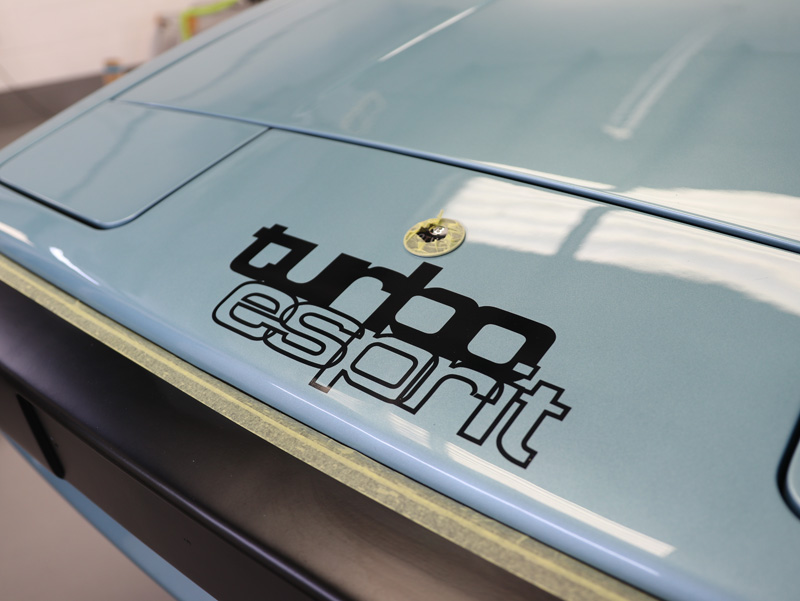 Koch-Chemie Heavy Cut H8.02 with a Meguiar's Microfibre Cutting Disc on a FLEX XFE 7-15 150 Roto Random Orbital Polisher took care of the majority of the gloss enhancement process.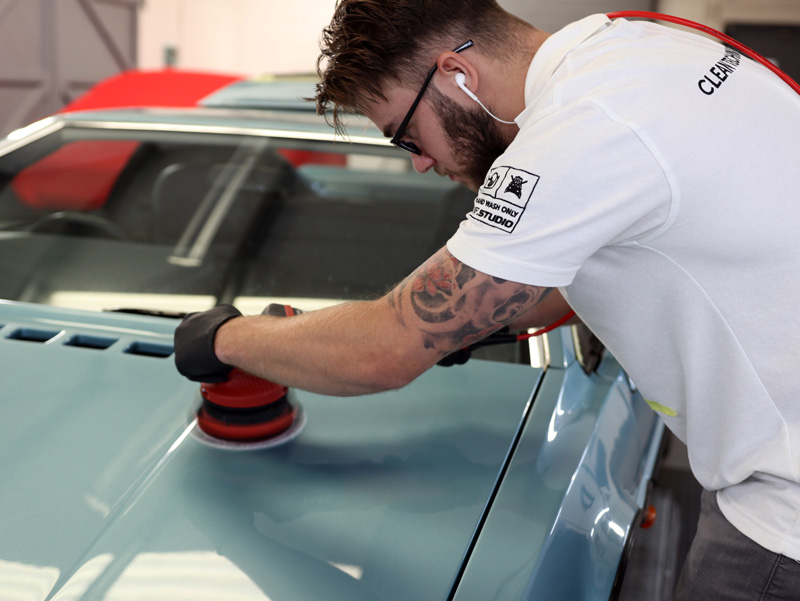 For some areas where the swirls were particularly heavy, Menzerna Super Heavy Cut Compound 300 was used. For curvier areas, a FLEX XFE 7-12 80 Roto Random Orbital Polisher was used, the 12mm free-spinning orbit making it ideal for spot repairs and paint correction in tighter areas.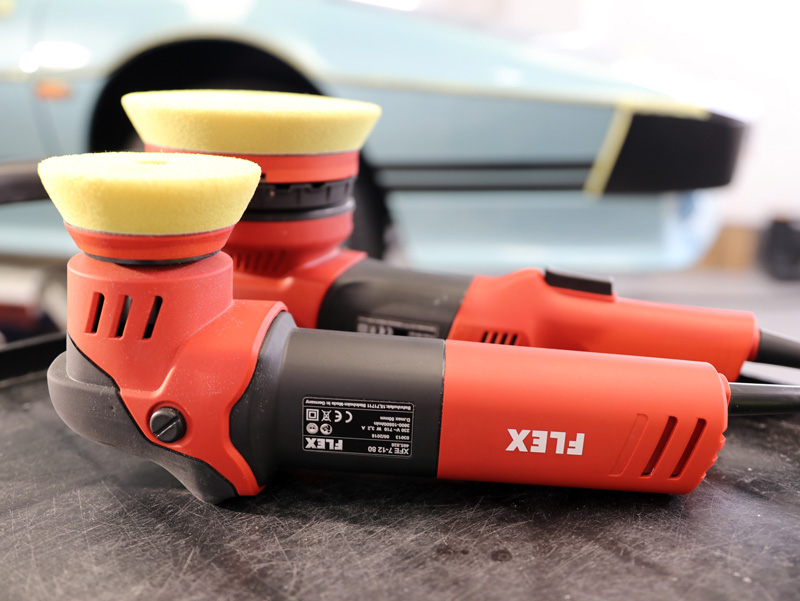 Refining the now corrected paintwork was completed using Menzerna Super Finish Plus 3800 on a RUPES Yellow Foam Polishing Pad. The paintwork was then treated with a solution of panel wipe to remove polish residue and prepare the surface for two layers of Gtechniq EXO v4 Ultra Durable Hydrocarbon Coating.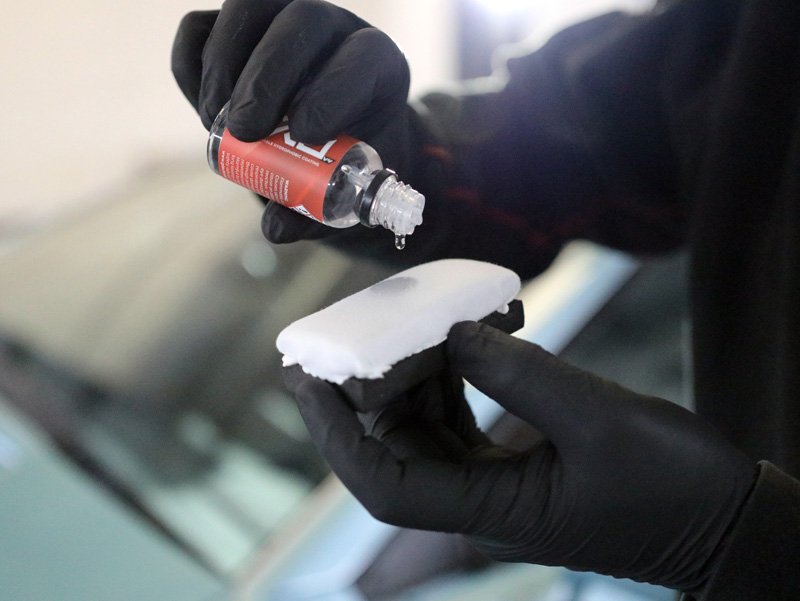 Surfaces treated with EXO v4 exhibit extreme hydrophobic properties, with rainwater and waterborne contamination sliding away from the surface. This helps keep treated surfaces cleaner for longer and makes washing and maintaining the car much easier. One of EXO's most stunning features is the stunning gloss it imparts.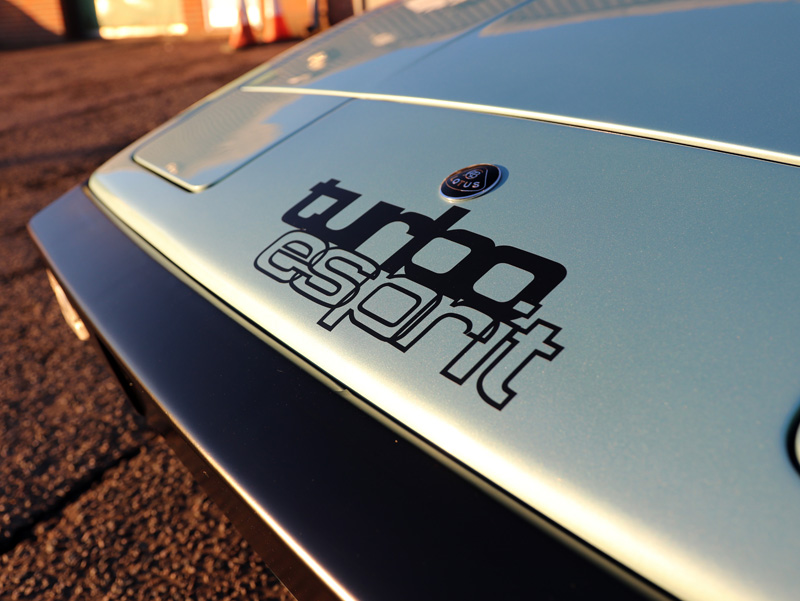 Another benefit of EXO v4 is its flexibility which makes it ideal for use on a variety of substrates, including plastic light covers and bumpers.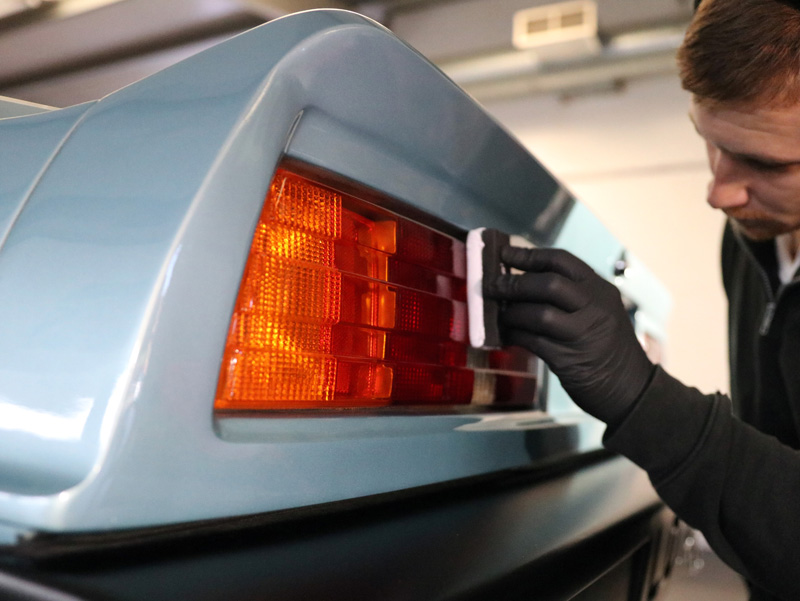 Whilst EXO v4 was curing, the exhaust tips were polished and protected using Britemax Easy Cut Metal Polish and Britemax Final Shine Metal Sealant, popularly known as Britemax Metal Twins.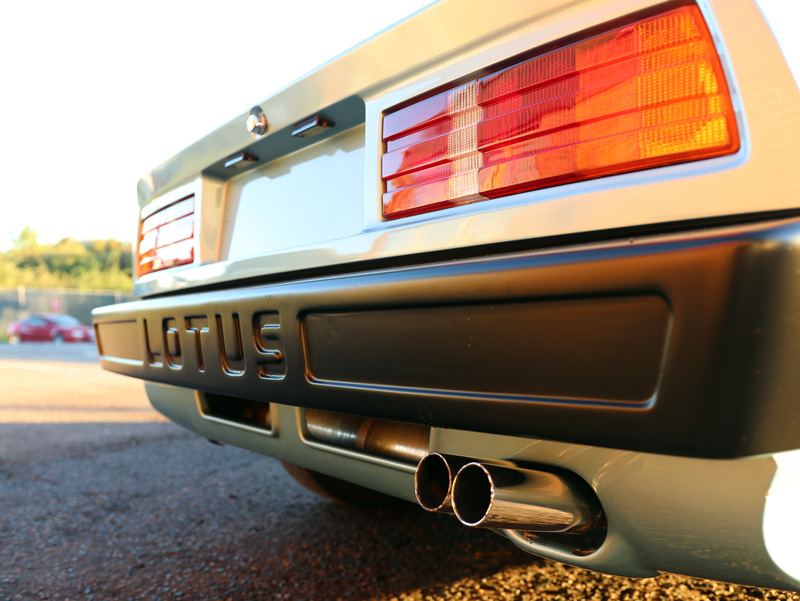 With the paintwork now looking better than when it left the factory some 36 years ago, the Turbo Esprit was ready to proudly take its place amongst the many other classics on display at Lotus 70.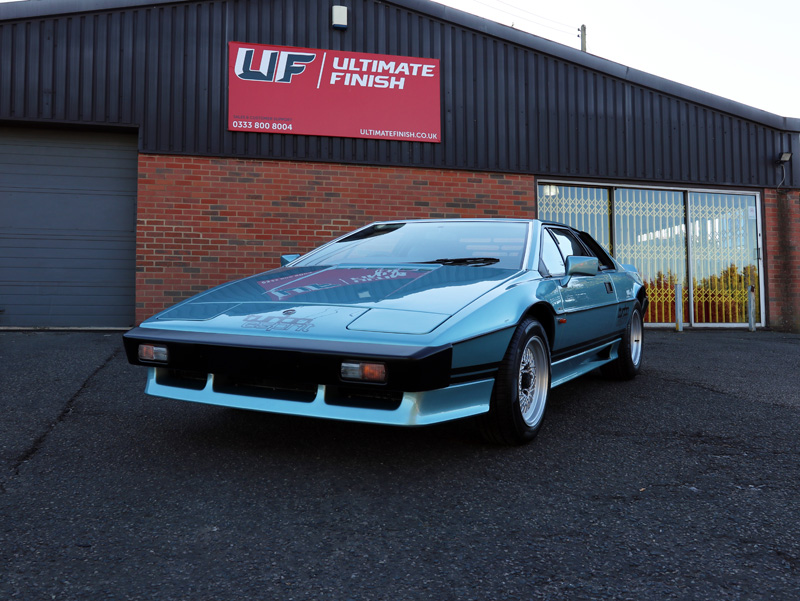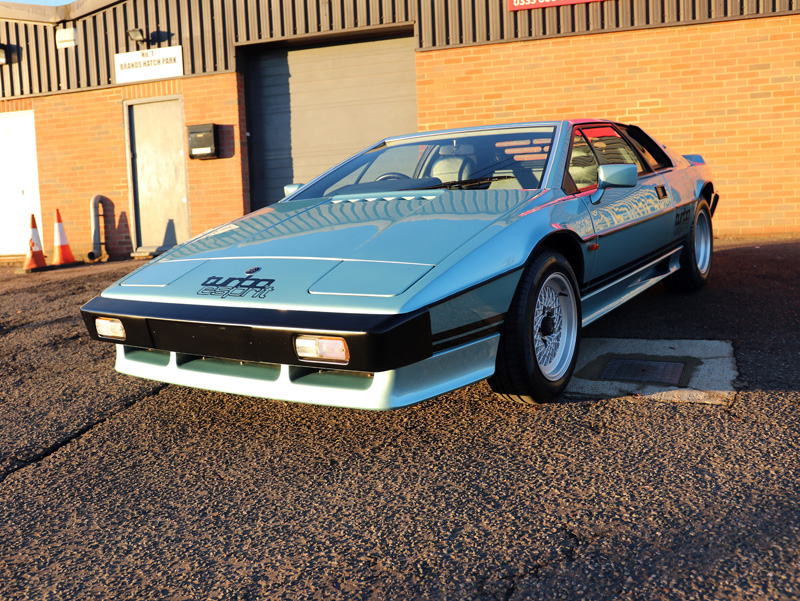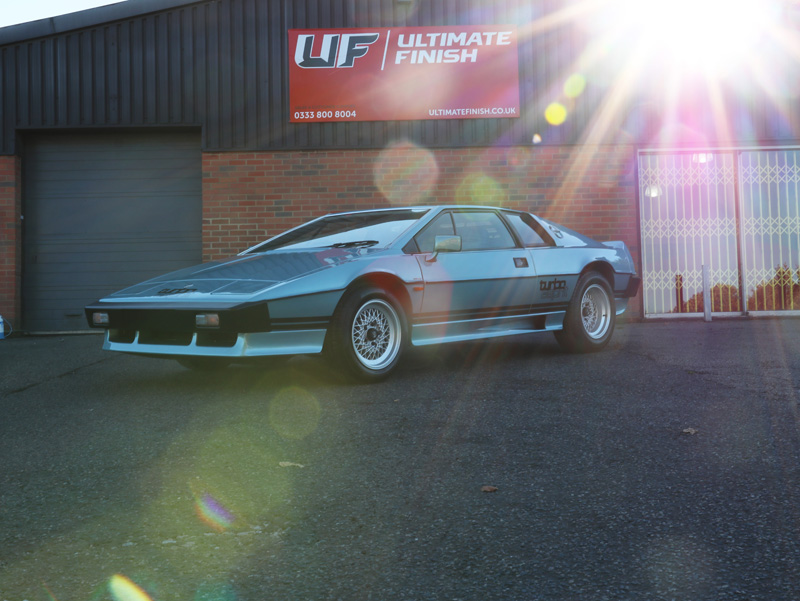 UF Studio – Award Winning Detailing. Call 0333 800 8004 to discuss your requirements or complete the online enquiry form here to receive a bespoke no-obligation quotation by email.