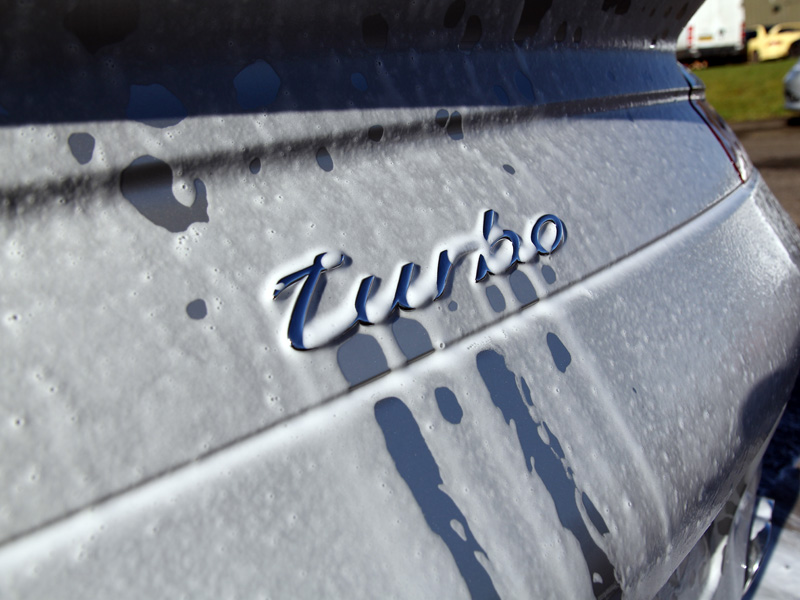 The Porsche 911 has a long and illustrious history since it launched in 1963. Manufactured by Porsche AG in Stuttgart, the basic concept of the 911 has proved a winning one and therefore remained largely the same: a sports car providing an exhilarating drive for those looking for excitement on or off the track.
As the first departure from air-cooled engines to water-cooled, the 996 model has been the subject of much debate, with Porsche 'purists' arguing its validity as a true 911. However, the 996 Turbo along with limited editions of the 964 and 993 is now the latest to join the long line of 911s now achieving collector's item status. What has singled the 996 Turbo out over the standard versions is partly to do, not surprisingly, with the engine.
The 996 Turbo engine was designed by Hans Mezger, who has been designing Porsche's remarkable engines since the 1960's. Whereas the standard 996 engines feature an integrated dry-sump system, the M96/72 'Mezger' engine was originally designed for use in the twin-turbocharged 911 GT1 Le Mans race car. As a result, it uses a true dry sump system allowing for constant oil pressure even during hard cornering. This engine technology was used in other road-going variants including the 996 GT2 and the all-wheel drive 996 Turbo featured here. Mid-range grunt is the 996 Turbo's party trick and whilst the 420 bhp on tap might not sound that impressive today when there are others around that have considerably more, it still feels seriously rapid. With the 996 Turbo a legend was born, some mighty say the first Porsche supercar of the modern era!
The owner of this 2002 Arctic Silver 996 Turbo had purchased it several months previously and, having read the value of having paintwork professionally corrected and then protected, decided to arrange an appointment with UF Detailing Studio for a Gloss Enhancement Treatment. The purpose of the Gloss Enhancement was to not only improve the aesthetics of the car but also to enhance its potential resale value, which, as a modern classic, is increasingly significantly and exponentially!
The car had been driven through country roads after recent rains, so the first task was to decontaminate the paintwork and thoroughly clean it.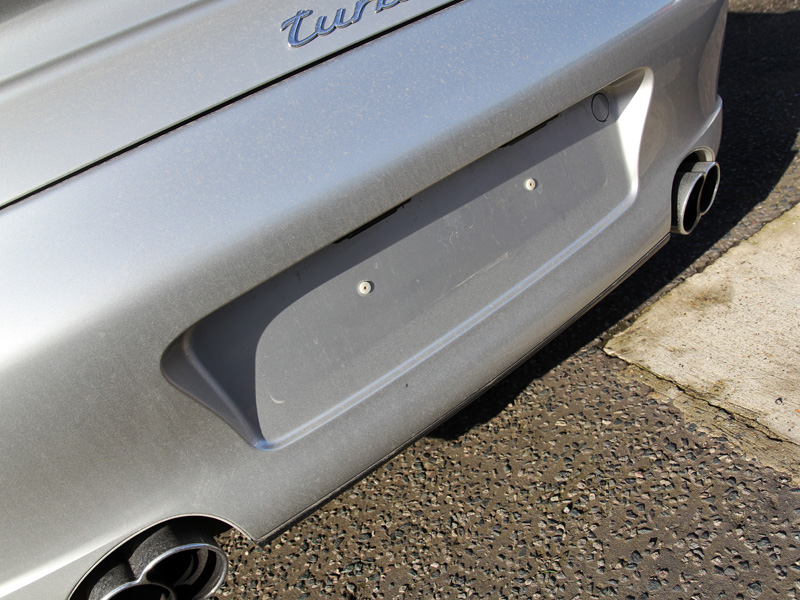 Initially, Gtechniq W6 Iron & General Fallout Remover was used to remove any traces of iron contamination, derived from pads shredding when the brakes are applied. The hot tiny particles bond with paintwork and wheels and immediately begin oxidising. As they oxidise they expand and left in place can cause permanent pitting in the substrate. W6 acts on the particles to shrink them, causing them to break their bond and so can be safely rinsed away without the requirement for scrubbing at them with a mitt.
The next stage was to degrease the bodywork. Gtechniq W5 Citrus All Purpose Cleaner was used, a versatile cleaner which can be used in different dilution ratios depending on requirements. A stronger solution was mixed for cleaning inside the petrol cap, boot, bonnet and door shuts where grease tends to collect.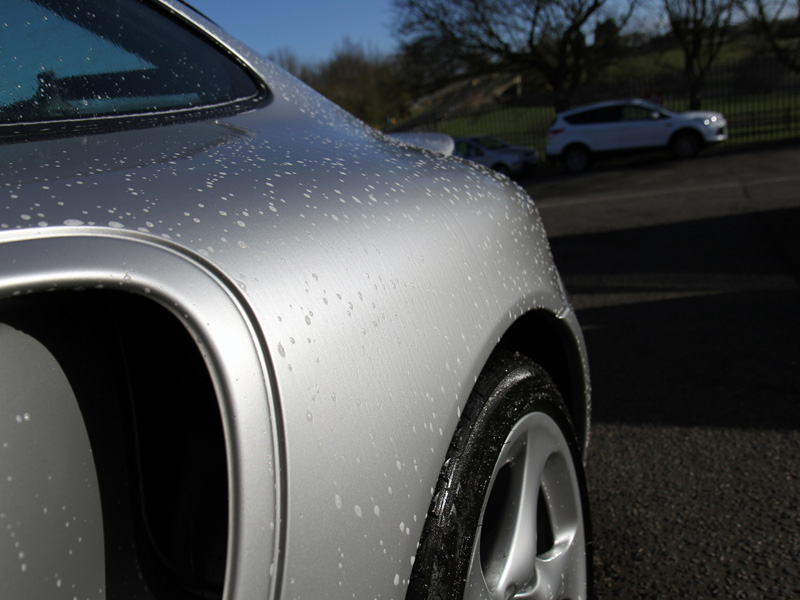 After rinsing, the 996 Turbo was pre-cleaned using Ultimate Snow Foam. The thick foam clings to vertical surfaces, lifting larger particles of dirt and grit away from the surface of the vehicle and allowing them to be freely rinsed away. This makes the main wash process safer, removing the key components which can cause wash swirls and scratches.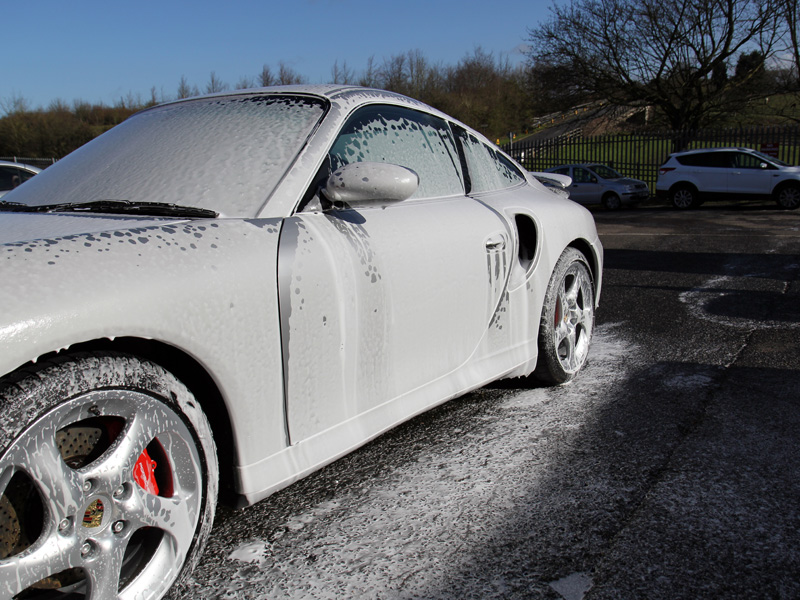 After decontamination and pre-cleaning, the car was washed using the Two Bucket Method, Gtechniq G-Wash Car Shampoo and an Ulti-Mitt Double Sided Merino Wash Mitt. The car was then rinsed again before an Aqua Gleam De-Ionising Water Filter was connected to the hose to give a final, pure water rinse. After drying using UF Ultra-Soft Microfibre Drying Towels, the 996 Turbo was brought into the studio for inspection under high-intensity lighting.
Before carrying out any form of machine polishing it's essential to take a close look at the paintwork so you can see exactly where the defects are and what they are, so you can better assess which pad and compound combinations will work most effectively. Paint depth readings should also be taken to determine areas where the car may have been resprayed, or where the paint is already thin. In this instance, the paintwork itself was in very good condition although thicker paint at the front did suggest a front-end respray, common on 996's. – Rory Nisbet, UF Detailing Studio
To correct and enhance the silver paintwork, the RUPES UHS Easy Gloss One-Step System was selected.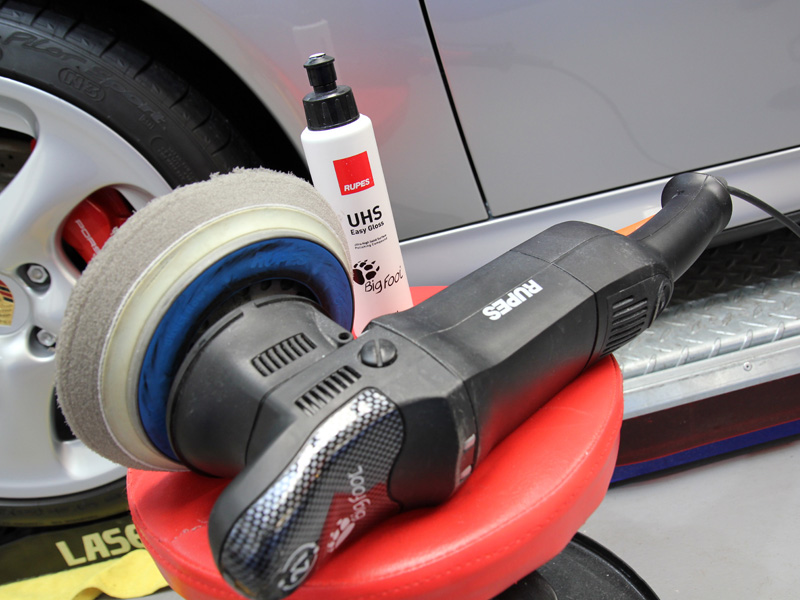 This one-step system was designed specifically for European scratch resistant paintwork and comprises of the RUPES UHS Easy Gloss Compound and UHS Polishing Foam for use with the RUPES 'BigFoot' Random Orbital Machine Polishers. The pad is a thermally reticulated open cell structure, giving a more active cutting action whilst dispersing friction-generated heat. As a result, heat build-up is reduced allowing the compound to be worked for longer without drying out and without causing hologram in the paintwork. The compound contains diminishing abrasives which break down as they are worked, gradually fining out the imperfections to leave a high-gloss finish.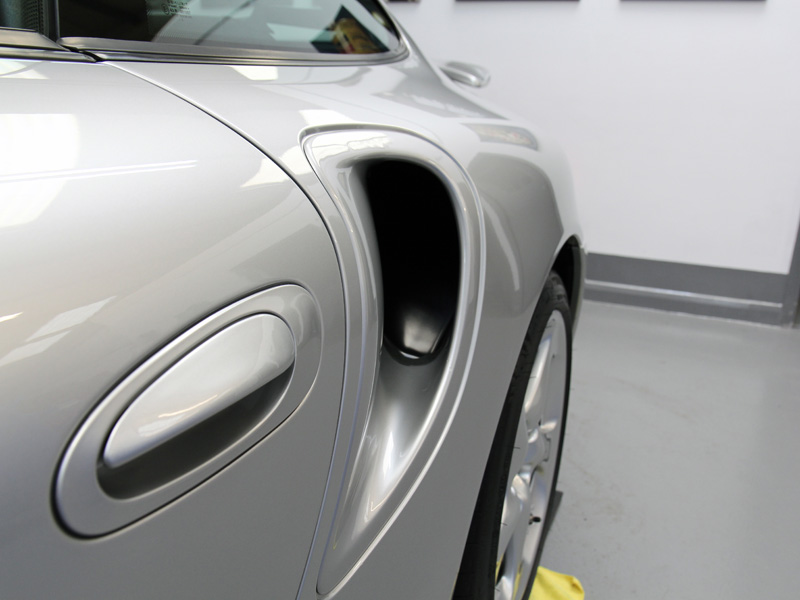 Gtechniq CS Black treatment was used to protect the paintwork and wheels. This system uses Gtechniq's Crystal Serum protective nano ceramic sealant over coated with a layer of Gtechniq EXO to enhance the gloss and provide additional hydrophobicity.
Crystal Serum is applied as a single coat, but it actually cures as a dual layer. The lower layer cures to a hardness of around 7H on the pencil scale of hardness. This allows for flexibility in the coating, so rather than fracturing as hard, brittle substances do, this layer flexes with pressure. The top layer cures to a hardness of 9H so it's very tough and also virtually impervious to extremes of pH. As such, the result is a tough, flexible layer which protects against industrial and environmental fallout, such as acid rain, as well as providing resistance to wash-induced swirls. – Rory Nisbet, UF Detailing Studio
Before the sealant could be applied, Gtechniq Panel Wipe was sprayed on to all panels and buffed off to ensure that all polishing residues were removed. Fully cleaned the bodywork and wheels were coated with an initial layer of Crystal Serum and then allowed to cure for 3 hours under controlled conditions. The shine imparted on the Arctic Silver paintwork by Crystal Serum was already translucent!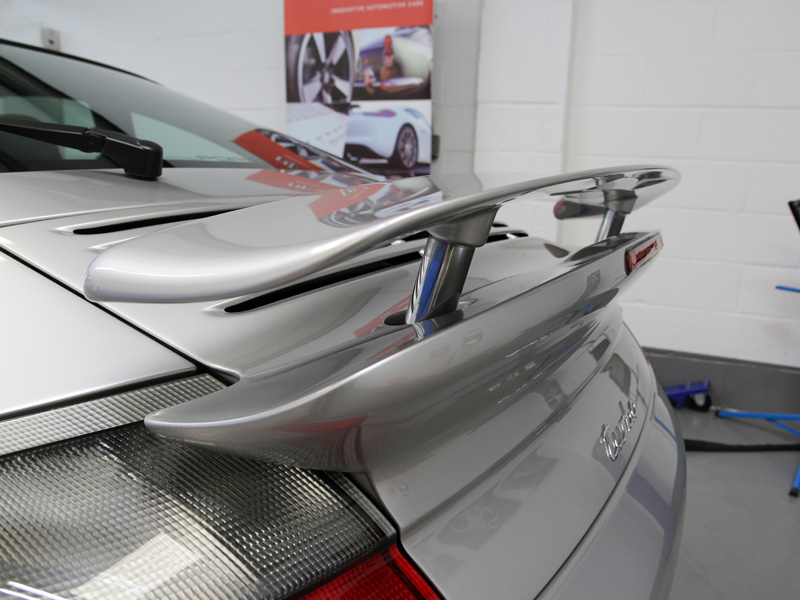 Once cured, EXO was applied to give an additional level of gloss, slickness and to improve the water beading properties.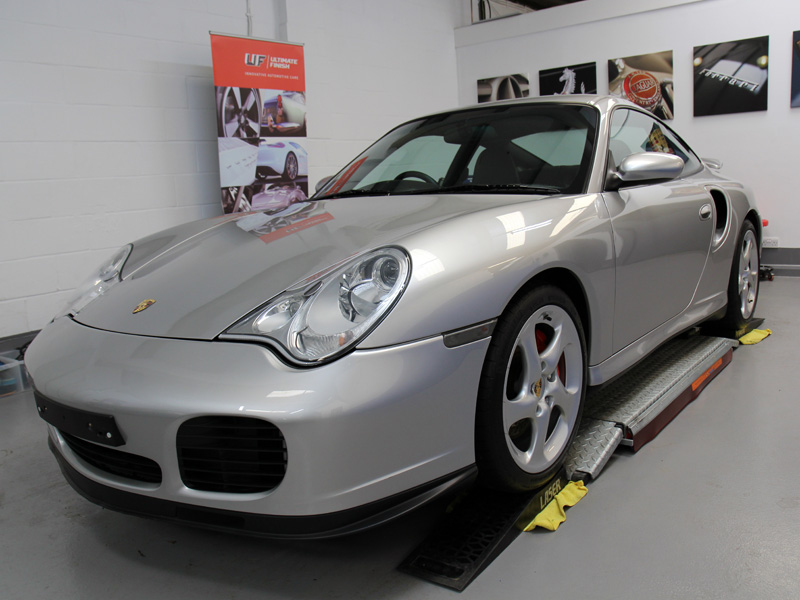 The tyres were dressed with Gtechniq T2 Tyre Dressing to provide a long-lasting, natural satin sheen, completing the look. The result was nothing short of stunning.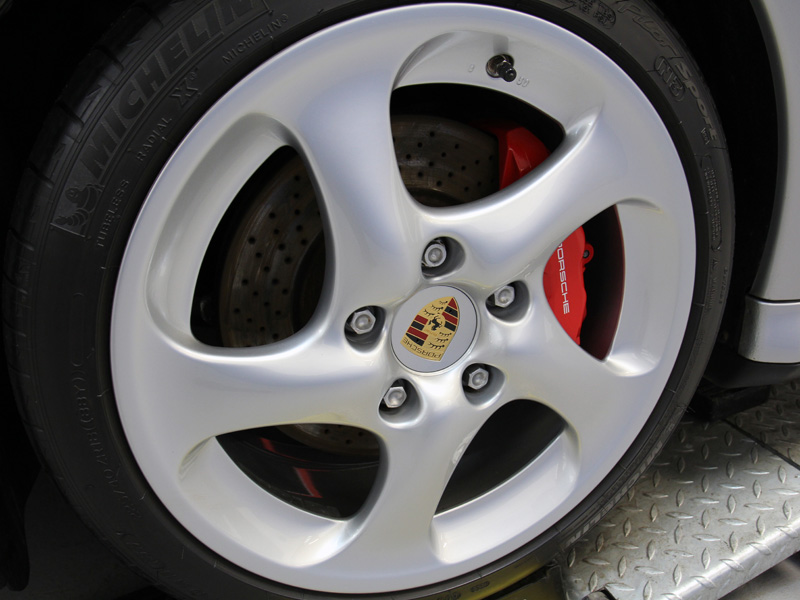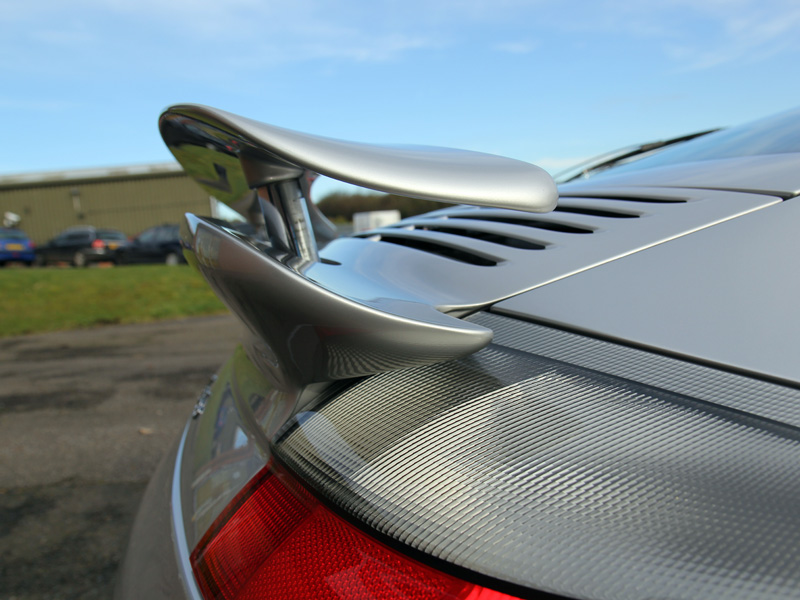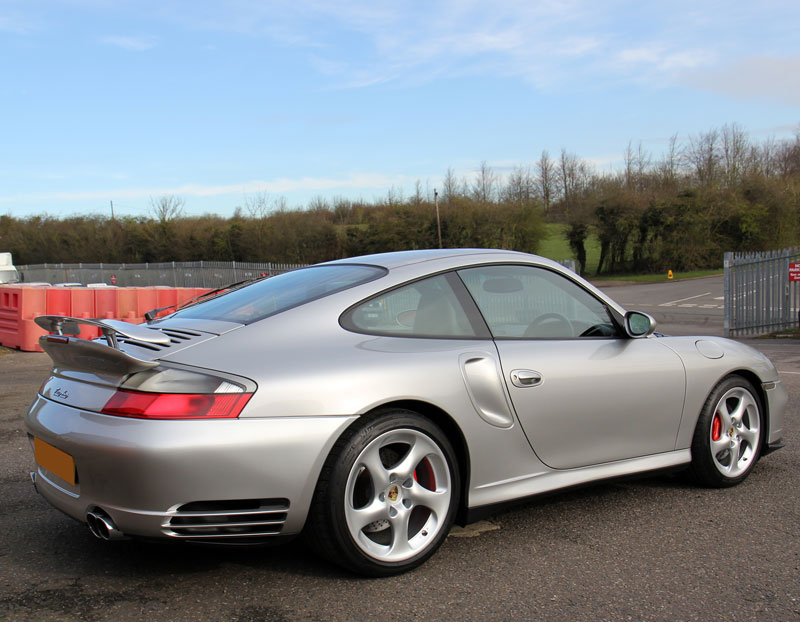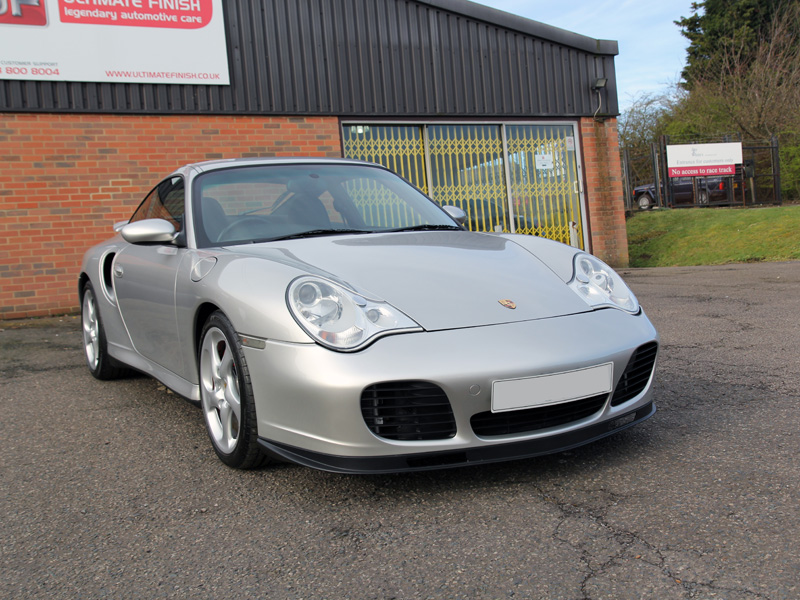 UF Detailing Studio – Award Winning Detailing. Call 0333 800 8004 to discuss your requirements and arrange a free vehicle appraisal.