Angelwax – Heaven Scent Wicked Finish Comes To UF
Quite often with great inventions, they are forged by chance or a fortunate fall of circumstances. What can begin as a very small scale experiment or a simple bit of fun, can soon snowball and before you know it, the demand for what has turned out to be a brilliant creation starts to go through the roof. Our case in point here, Angelwax.
Now an established detailing brand with a global following, the creation of Angelwax came into being through (and in the words of Angelwax Director Matthew Yates) 'a complete fluke'! There was absolutely no desire or aim for a detailing product company to be created at all, but thankfully for car care lovers, events would conspire for the inception of Angelwax.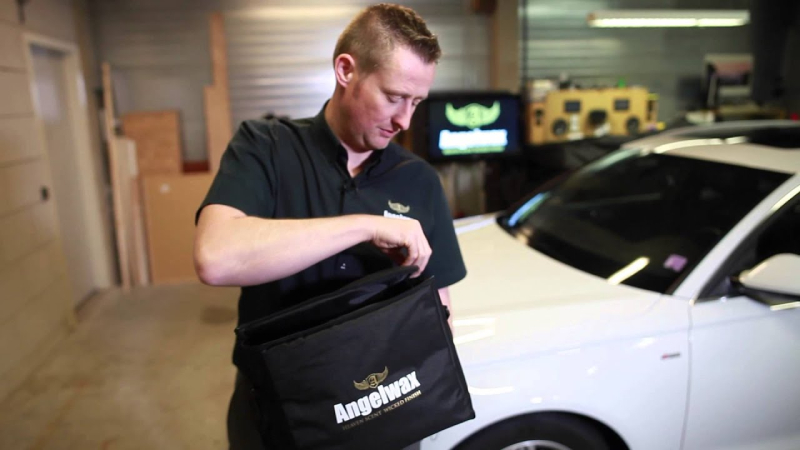 The Beginning of a Recognisable Brand
Roots can be traced back to an ink manufacturing company called Onink Ltd and three individuals who would be key in the founding of Angelwax – Bob Yates, Matthew Yates and John Hogg.
Onink are now in their 20th year of business and are owned by Bob – this would be the base for Angelwax, including the hub where all the chemicals and time were put in to get Angelwax off the ground. The three Angelwax directors all worked for an adhesives and coatings business in the 1980 and 1990's, however, Bob worked at Walpamur (Crown Wallcoverings & Paints) in the 1960's at their lab in Darwen, Lancashire.
This combination of technical knowledge and manufacturing experience within the coatings industry is extremely vast, with over 100 years combined between Bob, Matt and John. It would prove to be pivotal in the inception of Angelwax.
The First Wax, The First of Many
As luck would have it, in 2007, a friend of the Angelwax trio, brought samples of carnauba and a few other waxes in little bags to their factory asking if they would be able to manufacture a car wax for him as the company he was a distributor for, didn't have one. The rest as they say, is history.
An enormous amount of testing was undertaken for this very first wax (Formulation #1) and once they knew they had something tangible, further experimentation with various wax blends, carriers and natural oils would occur.
Soon, the same would follow with a shampoo. Then a wheel cleaner and glass cleaner – 10 years later, an array of products have now been formulated, bottled and sold to the public to ensure every surface of a vehicle can be beautifully treated. During the evolution of the brand, Angelwax have also added their prestigious Enigma range to sit alongside their regular products. The unique Enigma offering boasts high-tech formulations containing a blend of ceramic components which will rejuvenate surfaces like no other.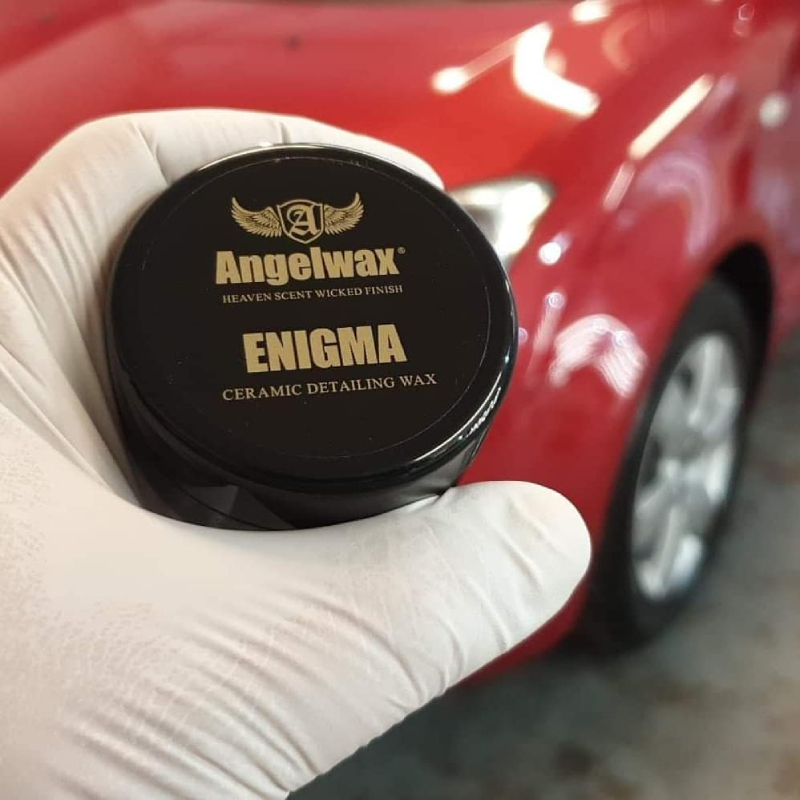 With Matt concentrating on the appearance of the brand and its truly recognisable logo, the names of the products clearly follow a successful theme to create a strong sense of desirability. John is the 'chemist' and concentrates on the technical side of production, looking to incorporate the latest raw materials to ensure the world of vehicle detailing can sample the very best experience.
One of the biggest advantages of the Angelwax set up though, is that everything is formulated, developed and manufactured in house up in Renfrew, Scotland. They know exactly what goes into every product and can always be sure that only the best raw materials are used for creation.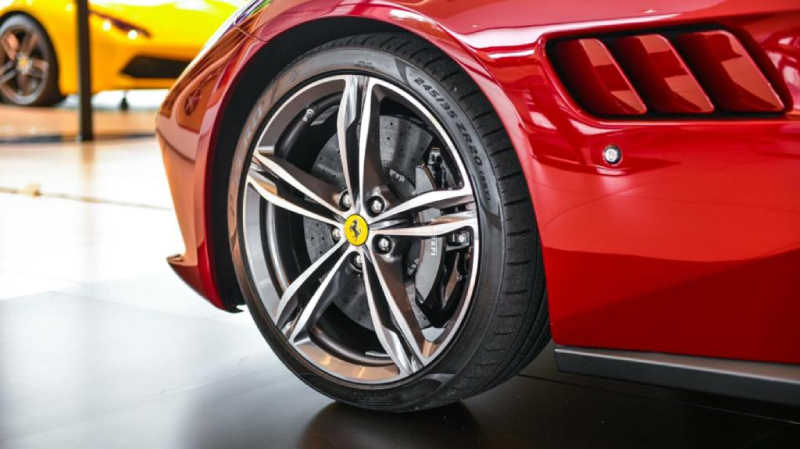 Now a fully-fledged producer and provider, Angelwax ship their products all over the World for some of the finest cars in production to proudly wear. Today, we can also proudly say that we are an official UK stockist for this fantastic car care brand and an introduction to what Angelwax has to offer, here is a run-through of some our featured product picks.
Revelation Fallout Remover From £8.95
Fallout Removers are a must for any budding car care enthusiast and Revelation from Angelwax will certainly stand up to any task that is asked of it. Slightly clearer and thicker in consistency when compared to most products of this nature, the pH neutral formulation means it is safe to use on all types of wheels and vehicle surfaces. Quite simply, it offers the complete solution for removing harmful ferrous metals from wheels and bodywork.
Once the solution is sprayed onto the vehicle, colour changing properties take place when contact is made with the ferrous particles. The satisfying colouration is the product forming a bond to the sintered iron on the vehicle paintwork/wheel surface and crucially the state of the iron is then changed which makes it water-soluble for a safe removal.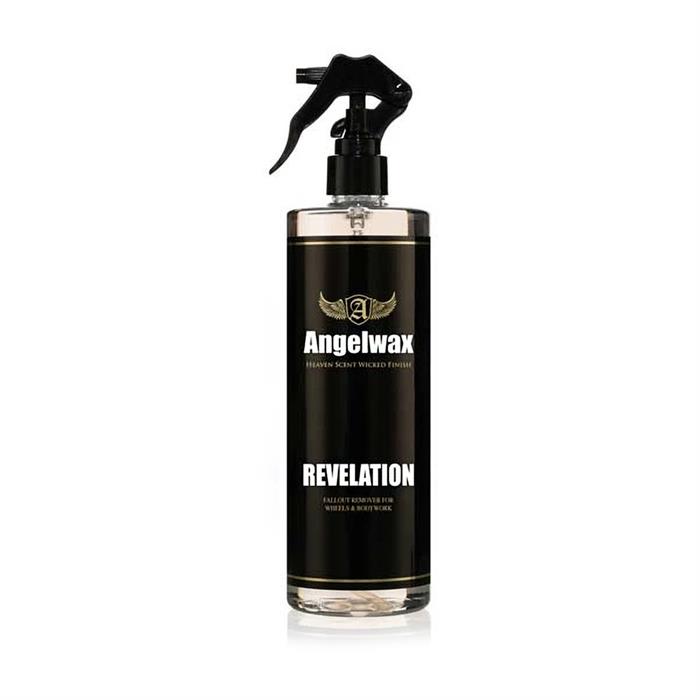 pH-neutral formulation
Safe to use on all wheel types & paint surfaces
Colour change properties to show the product is working
Makes iron contamination removal easy
Enigma Ceramic Shampoo £18.95
The role of a shampoo during car care has changed rather a lot in recent years. No longer is it expected to just provide the basis for a simple clean using a lathery application, far from it. Enigma Ceramic Shampoo comes as part of Angelwax's classy 'Enigma' range, meaning like all the products wearing the Enigma name it's infused with super hi-tech Ceramic components. In the case of Enigma Ceramic Shampoo, ceramic molecules mean a bond to the vehicle is formed and a protective coating will be laid down on all exterior surfaces it is applied to.
This unique formulation is perfect for anyone looking to add that additional layer of protection on top of any pre-existing wax or ceramic coatings that may be in place. Not only that, the cosmetic appearance will be enhanced even further and extend the life of any of the aforementioned coatings.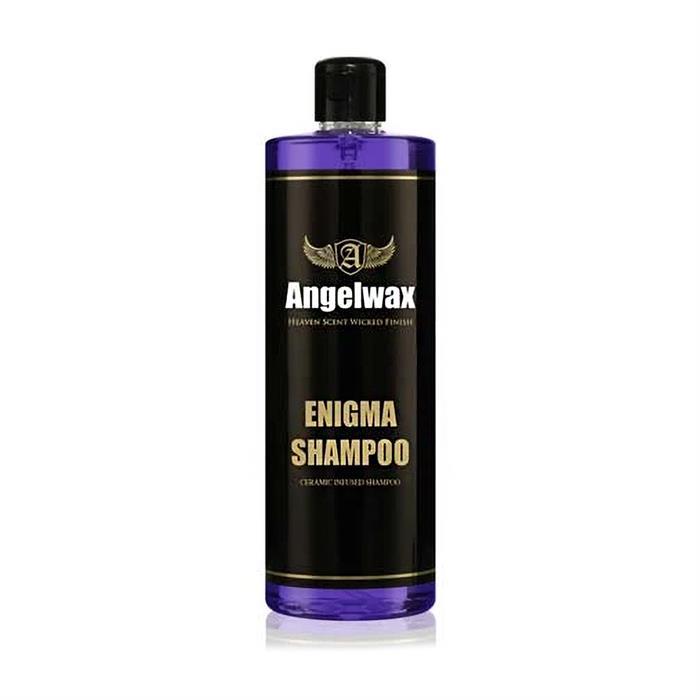 Treats all exterior surfaces
Ceramic technology
Bonded coating for protection
Enhances the cosmetic appearance
Extends existing sealant lifespan
Bilberry Wheel Cleaner £8.95
We mentioned how meticulous the planning and testing is that goes in to each and every one of the Angelwax range, this being especially important in the end result given from Bilberry Wheel Cleaner. With so many wheels needing that extra special attention and care taken during their cleaning process in order not to inflict any lasting damage, Bilberry has been designed and formulated for safe use on all alloy wheels or wheel trims.
The pleasant smelling solution will gently remove brake dust and contaminants and you can be safe in the knowledge it will not harm the wheel surface or any other sensitive areas such as centre caps or badges.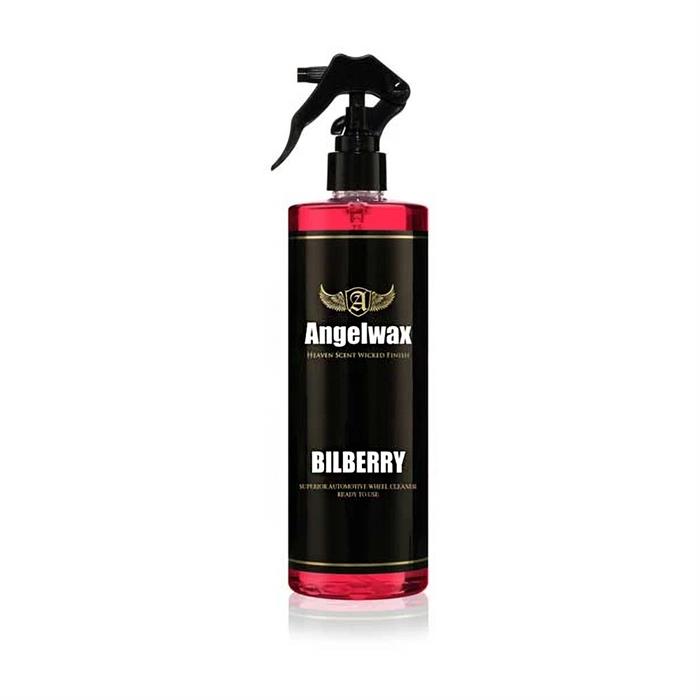 Cleans brake dust & other contaminants
Includes trigger spray and comes ready to use
Powerful but safe for use on sensitive parts
Non-acidic, pleasant odour
Formulation #1 £29.95
We couldn't assemble our product picks without recommending the wax with where the Angelwax story all started! In a world where ceramics are fast making their way to the front of the protective coating league table for so many enthusiasts, there is still plenty of demand for a lovely wax.
This is exactly what Formulation #1 is – it offers a high-quality, affordable option which contains only the finest natural oils and waxes, it's as pleasurable to apply as it is to soak up and vantage once you've finished. No surprises that Formulation #1 is one of the most popular products among the Angelwax faithful.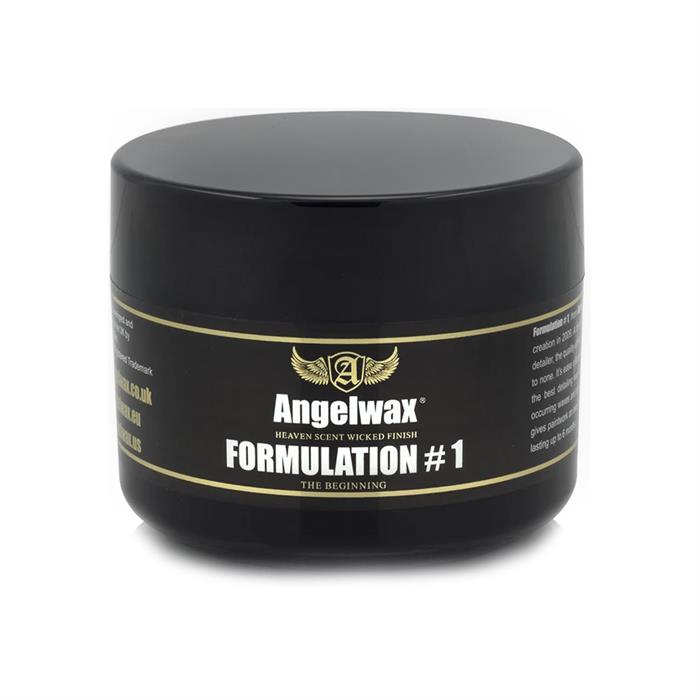 Up to 6 months durable protection
Contains high grade, natural wax & oils
High-quality wax at affordable price
Gives paintwork a wet look, high gloss finish
Easy to apply
Shop the full Angelwax collection with Ultimate Finish here.

Visit Ultimate Finish for the best car care and detailing products from around the globe.
Have a question on any of our products? Email sales@theultimatefinish.co.uk or call 01474 360 360.
Our team is on hand, Monday to Friday, 8am-5pm.