Car Cover Selector – Finding The Right Cover For Your Car

It's possibly a familiar story – you need a cover for your vehicle but, whilst you have an idea of whether you want an indoor or an outdoor cover, trying to work out which size or pattern is the right one for your car can be more challenging! As an online retailer our job is to make it easy for the customer to find what they are looking for. Historically, the finer points of matching cars to cover patterns has been tricky to reduce to a concise, user-friendly format.
Until now……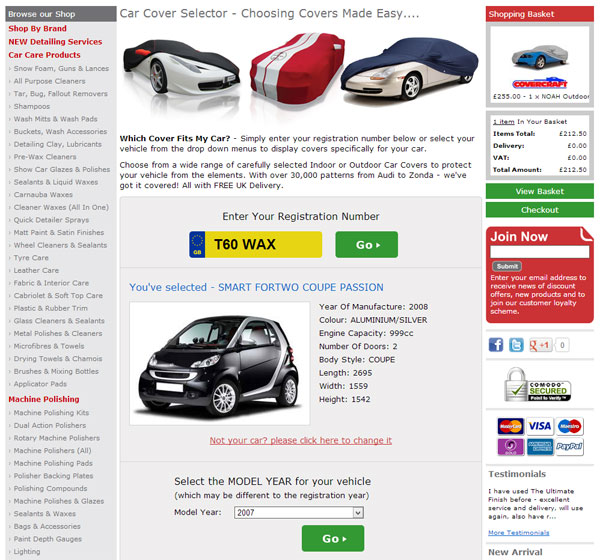 The clever technical guys at UF have created an interactive database which works in partnership with information provided by the DVLA to simplify the process of choosing your car cover. Now, rather than wading through pattern books trying to figure out which permutation of the 911 patterns is the correct one for your 996, all you need do is enter your registration number in to the 'number plate' on our site. The Car Cover Selector retrieves the information for your vehicle and displays your cover options with the correct pattern already selected for you. Then the only thing you need to decide is whether to opt for a fully tailored or semi-tailored fit. Whichever you select, the correct pricing is displayed according to the specifics of your vehicle. With car covers from industry leading UK & US manufacturers such as Specialised Covers, Covercraft, Moltex and Supertex, you can be sure that we have got it covered.
We have access to over 80,000 patterns at our fingertips to cover everything from the Audi A3 to the R8, the Ford KA to the Ford Kuga, the Volkswagen Fox to the Volkswagen Touareg. As well as all the modern European, Japanese, etc. car marques, we also have a huge pattern database for classic vehicles, everything from the 1930's Alvis to the classic Ferraris, Jaguars and Porsches. We mustn't leave out the American patterns as we can cover 1930's Model T Fords, 1940's Chevrolet pickup trucks, Packards and T-Birds as well as modern day monsters like the Escalades and the Yukon Denalis!
The Car Cover Selector database is constantly growing, with details added on a daily basis. So the chances are we have the pattern you need even if you can't see it yet! So if your vehicle isn't listed, get in touch and one of our Team will be pleased to help.
Ultimate Finish Car Cover Selector – from Audi to Zonda – we've got it covered!
Ultimate Finish – Legendary Automotive Care since 1999.