Dodo Juice Millennium – The World's Largest Car Wax
It's been 5 years since The Dodo landed – that landing brought a new dawn in the era of car care.
Before the Dodo arrived carnauba waxes were considered to be exclusive, expensive, only for those with well lined pockets. But the Dodo dispelled the myth that getting your car looking good and keeping it that way was exclusively for the rich and famous. The Dodo made the "showroom shine" affordable to everyone.
From the humble beginnings of Rainforest Rub, Dodo Juice has expanded in to an extensive car care range with a worldwide fan base. Attend any car show throughout the year and you can guarantee there will be a myriad of cars that have been "Juiced".
To commemorate the 5th anniversary, Dodo Juice has created Millennium, the world's largest ever car wax.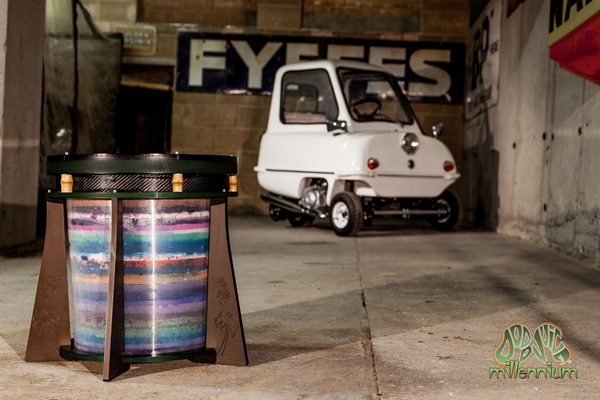 Sitting on five fins (one for each year) and housed in an anodised green and brown aluminium chassis, Millennium weighs as much as a baby hippo, sits almost half a metre tall. The smoked acrylic lid seals the container via five allen bolts running through pieces of bamboo cane, to prevent the 20 litres of wax (hand poured over a period of 12 months) from drying out or becoming contaminated. Dom Colbeck from Dodo Juice explains:
Every time we poured a wax, we siphoned a little off for Millennium. The result is the largest jar of wax in the world, representing every recipe that we make… as can be seen by the multi-coloured layers.'
You only need 5ml of a Dodo Juice wax to give a small car three months worth of Juicing. That's the size of a teaspoon. Millennium contains 20 litres – meaning it would be good for 4000 layers (on a small to medium sized car) which means Millennium would give shine and protection to your car for 12000 months – for a millennium actually! In Dom's words:
To put it into an historical perspective, if William the Conqueror had been given a jar to celebrate the Battle of Hastings, there'd still be 216 wax layers left in the jar today. And in 3012, as your ancestors near the end of your wax jar, they are more likely to be applying it to a spaceship rather than a hatchback.
Fittingly, the container was designed and manufactured by a supplier of engineering components to the F1 and motorsport community.
The World's Largest Car Wax is shown with the World's Smallest Car, the Peel P50 – another hand made British product with a cult following.
Price: Dodo Juice Millennium: £ not for sale!
Availability: Coming soon to a car show near you!
Ultimate Finish has been supplying Dodo Juice products to their discerning customers ever since the Dodo launched Rainforest Rub. Big congratulations to Dodo for their first 5 years and we look forward to seeing what the next 5 years bring! Full range can be found here.