Kamikaze Collection – Wash Maintenance No.1 – 4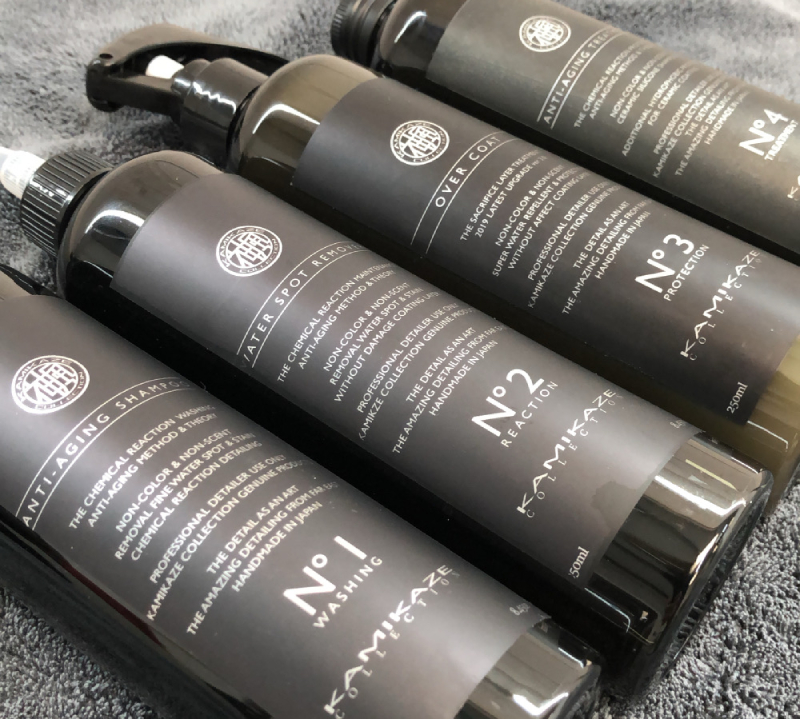 For professional detailers and budding car care enthusiasts whose desire is to maintain an impeccable finish, Kamikaze Collection has become quite the established brand in what is now a busy market place. Spearheaded by their star quality ceramic sealant offering, the Japanese detailing producers have certainly earned their right to sit at the top table and can now be regarded as one of the best detailing providers available today.
An important part of ensuring any of these aforementioned, super-quality ceramic sealants continue to deliver robust durability and an aesthetically pleasing performance, is the careful maintenance of the surfaces in the weeks and months that follow a new coating.
With that in mind, Kamikaze Collection have recently added 'No.4 Anti-Aging Treatment' to their repertoire, providing the fourth piece in the wash maintenance jigsaw! Here's a run through of all four products and although the range is numbered to what seems like a strict sequence, it's not necessary for each product to be used at every wash you undertake.
No.1 Anti-Aging Shampoo
Kamikaze Collection's Anti-Aging Shampoo is designed to make it easy for you to regularly wash your car without diminishing the life of your wax, sealant, or coating. Anti-Aging Shampoo creates great foaming qualities that allow you to safely and effectively wash away dirt and contaminants from the surface of the paint, significantly reducing the possibility of scratching your car's finish.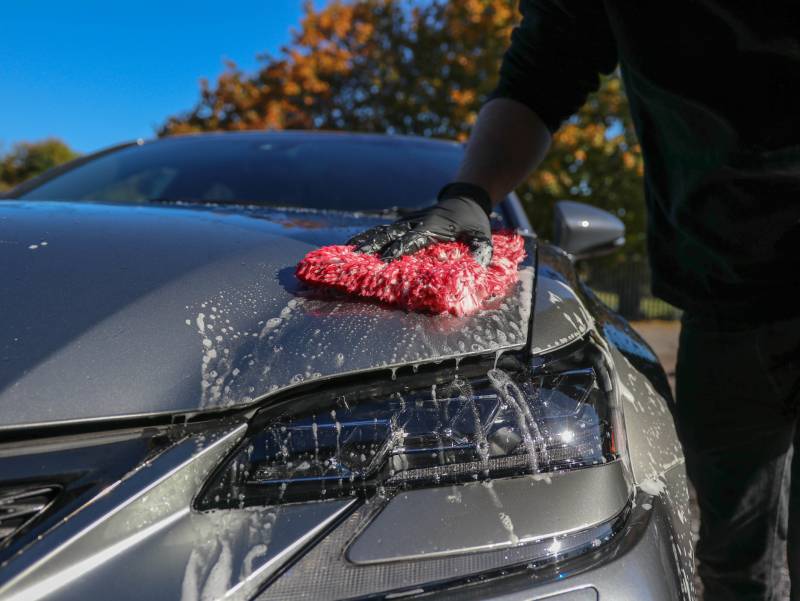 Anti-Aging Shampoo contains no gloss enhancers or waxes, meaning it won't leave any of that commonly found streaky or smeary residue. This type of wash soap is ideal for enhancing the effects of the wax, sealant, or coating you are using, rather than masking the protection.
Suitable for application via a few caps in a bucket or the more commonly found foam cannon reservoir bottle, enough foaming soap solution is produced to provide around 2-3 full washes.
When Should You Use Anti-Aging Shampoo?
The Anti-Aging Shampoo will provide all things needed for a safe wash and also remove small amounts of mineral deposits at the same time. This make No.1 the best solution when being used with a ceramic coating because it helps keep it clear from the specific issues that over time will reduce a ceramic coatings performance.
No.4 Anti-Aging Treatment
The latest addition to the Kamikaze Collection range is indeed the Anti-Aging Treatment. For use in the early wash stage – alongside the Anti-Aging Shampoo – it has become recognised as a treatment because the performance is in effect a sacrificial film.
Acting as a 'top-up', Anti-Aging Treatment contains surfactants that do not penetrate into painted surfaces thanks to the type of hydrocarbon compounds and modified silicones as found in Kamikaze ISM Coat. Importantly for the durability and quality that is delivered, that includes ceramic properties.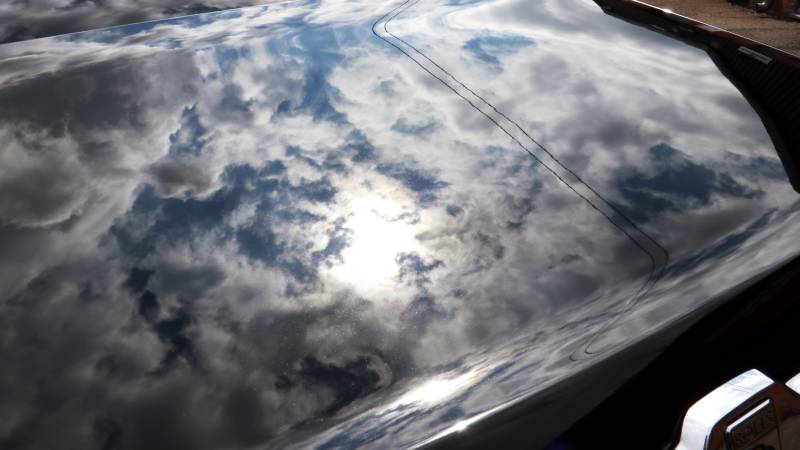 Excellent for water spot prevention, Anti-Aging Treatment is also equipped to fill in light surface scratches as the product forms a quick sacrificial film. Once cured and hardened, treated paintwork can expect to wear a high-shine finish with surfaces protected for several months ahead.
The theory behind these Anti-Ageing products is very much relatable to our skin and how we take care of it, plus the requirements they have for specific products to be used. Use the right products and you'll maintain cosmetic feel and appearance, with performance remaining high. Deploy the wrong products and coatings will age quicker, compromising the overall appearance of the surface.
When Should You Use Anti-Aging Treatment?
Anti-Aging Treatment, No. 4, is a safe and effective shampoo that will also leave behind a protective layer. The product is best utilised on un-coated vehicles due to the protection it provides, but just like No. 3 (coming up later), it can be used with or without a ceramic coating being present.
No.2 Water Spot Remover
With several water spot removal options now available to those who are in the market for one, the No.2 Water Spot Remover by Kamikaze Collection is a little different due to how it has been specially engineered. Unlike its rivals, it has the best interests of coatings in mind, specifically Kamikaze's protective range (both ceramic and hybrid wax) and of course, the Anti-Aging Shampoo which has come before.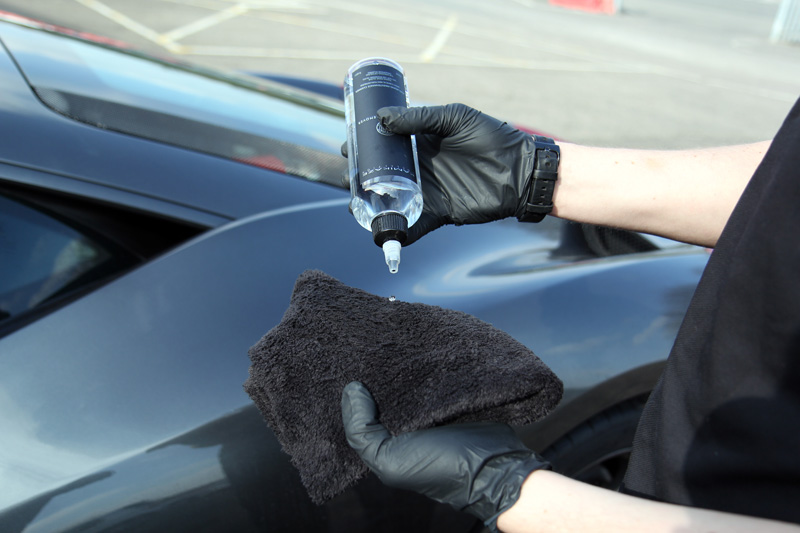 So given that we know it is safe to use on existing coatings without compromising them or the surface, the non-hazardous material is a very easy way to effectively remove water spots, but in a safe manner. One can assume that regular users of the new Anti-Aging Treatment above, can expect to find less water spotting treatment required, but if the water spots have been present for a prolonged period of time, it is likely they may have etched into the surface in a similar fashion to that of bird dropping. If the markings are this aggressive, it can be expected that a polisher and compound will be needed, however, relatively fresh water spotting can easily be removed with Kamikaze's No.2 Treatment.
When Should You Use Water Spot Remover?
Water spot remover is the ideal product for attempting to unclog ceramic coatings which have been left unattended for too long. This usually means very visible water-spotting will be present, which No. 2 will remove.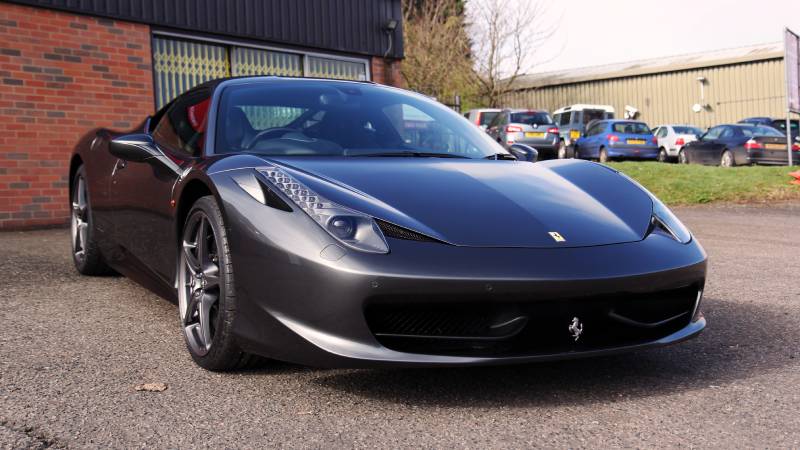 No.3 Over Coat
The original Over Coat was one of the first products in the Kamikaze Collection range designed to be a sacrificial coating for the ceramic coating (in itself, a sacrificial coating for the clear coat). Thus, Over Coat was designed to produce enhanced protection at the same time as providing a solution to the issue of water spotting, an inherent problem for inorganic coatings.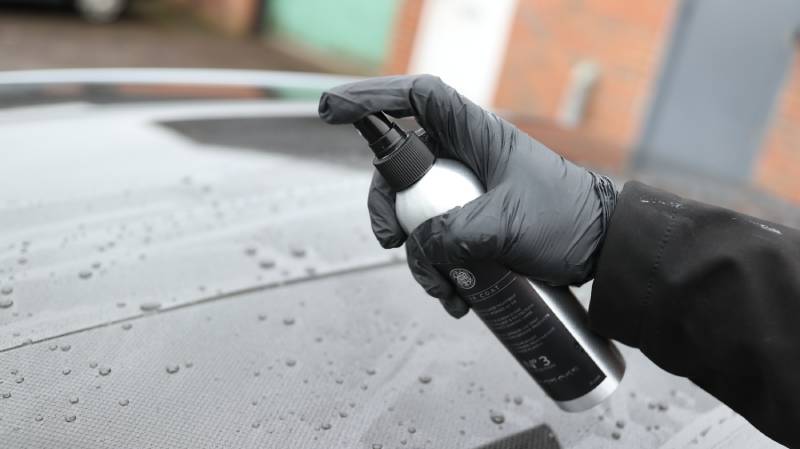 Over Coat presents a very simple way to protect a coated vehicle, acting as a great tool in the maintenance routine to ensure the finest durability and gloss is secured for as long as possible. It has been designed for a super-easy application over the top of any existing durable base layer coating e.g. ISM Coat or MIYABI Coat. One of the main areas that Over Coat excels is its ability to take the brunt of what all the elements has to throw at surfaces and at the same time providing protection to the underlay. Maintaining the appearance of your vehicle is made extremely easy using Over Coat once every 2-3 months.
It is also one of the products to deliver the most impressive water beading and hydrophobic properties we've seen at UF!
When Should You Use Over Coat?
Over Coat is a sacrificial layer that provides extremely good water repelling properties to the surface – protecting in-between washes but for use with or without a ceramic coating. More commonly it is used without though, as any good ceramic coating shouldn't need to be treated to a 'boost' under proper maintenance for quite some time. However, using on top of a ceramic coating is perfectly fine and provides yet another layer to the surface.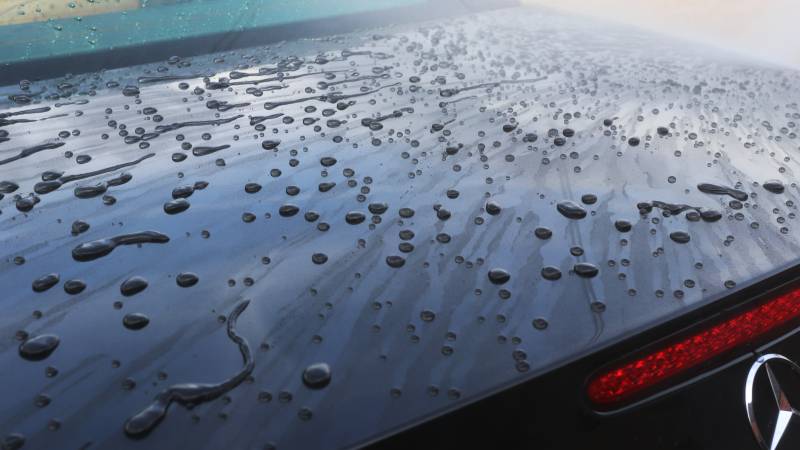 The reason for having a numbered system of products that aren't always used together, is presumably so that the kamikaze range can do what it does best. Focus on specific issues and address them with extremely high quality products for maximum return!

The Kamikaze Anti-Aging Kit is now available to buy in a complete package here, along with all other Kamikaze Collection products which are exclusive to Ultimate Finish, available to buy from our online store here.
Featured Products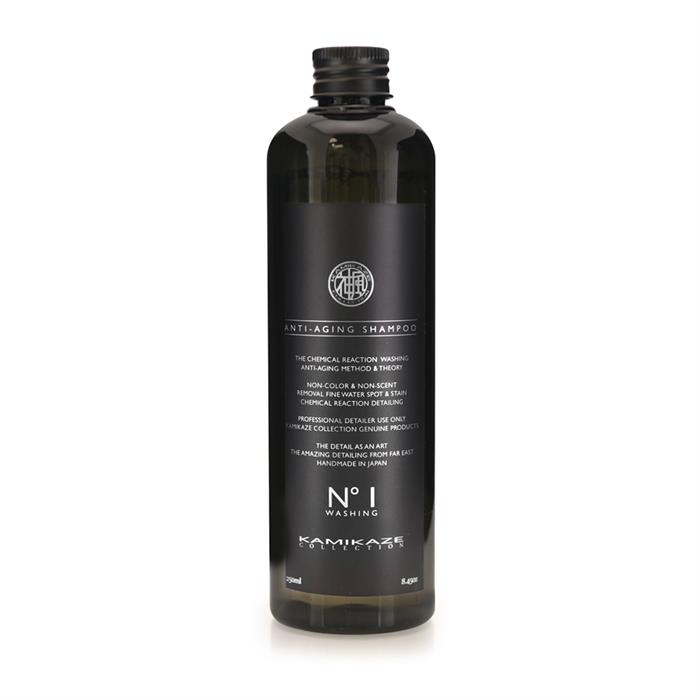 Kamikaze Collection Anti-Aging Shampoo £20.00
Designed to work with all ceramic coatings and hybrid waxes
Ultra foaming properties to remove dirt, grime, etc
Contains no additives that leave residues (which impede water beading)
Actively revives the hydrophobic function of existing ceramic coatings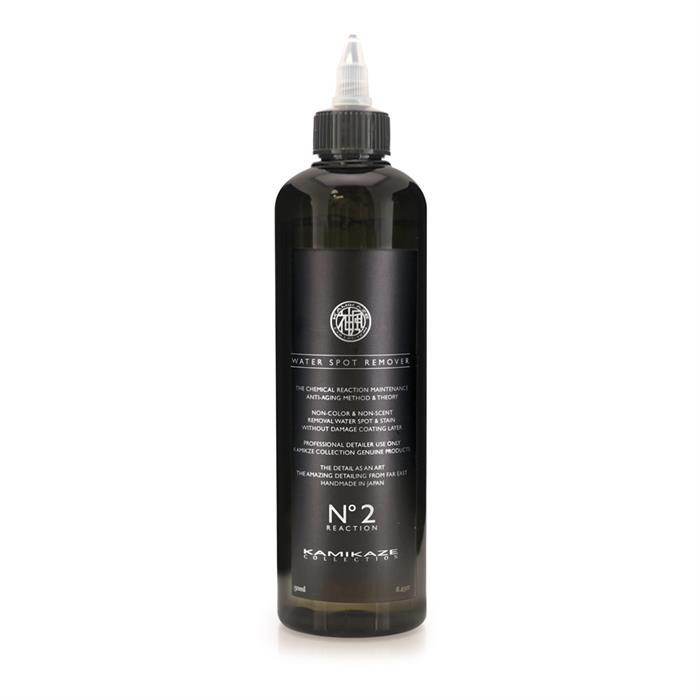 Kamikaze Collection Water Spot Remover £23.00
Removes new water spot deposits without compromising ceramic sealants
Does not contain heavy cleaners or surfactants
Enables quick & easy maintenance of the vehicle's surface
Easy to use formulation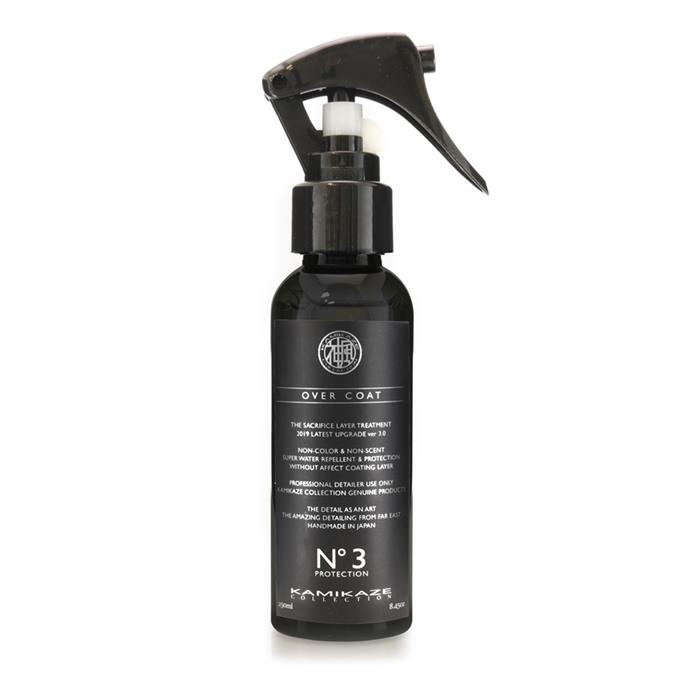 Kamikaze Collection Over Coat V3 From £48.00
Significantly enhances water beading
Prolongs the life of existing sealant layers
Can be used as a stand-alone product (durability 3 – 6 months)
For use on wet or dry car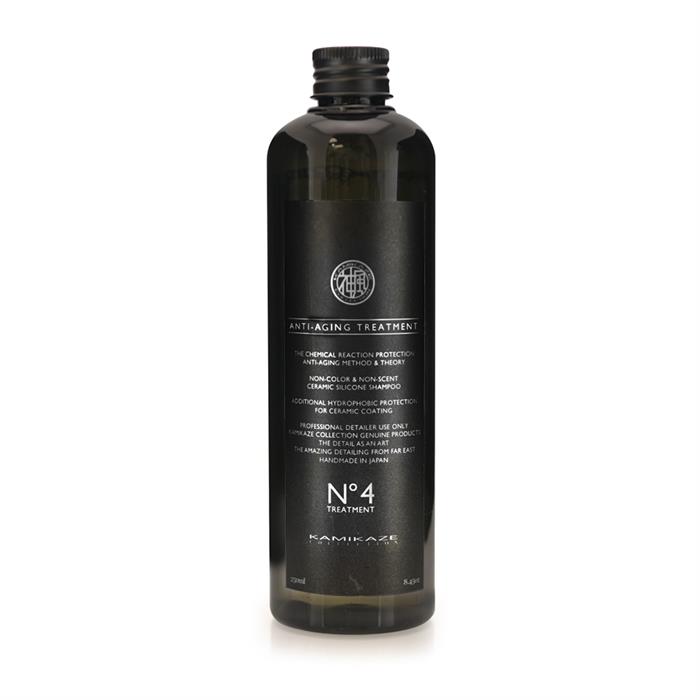 Kamikaze Collection Anti-Aging Treatment £55.00
Tops up sealants during the wash stage
Can be applied to paint, glass and wheels
Does not contain additives that leave residues (which impede water beading)
Hardened surface once cured similar to ISM Coat properties
Prevents water spotting & conceals light scratches
Shop The World's Best Car Care Products – Ultimate Finish
UF Detailing Studio – Award Winning Detailing. Call 01474 360 360