Kamikaze Collection – New Products For 2018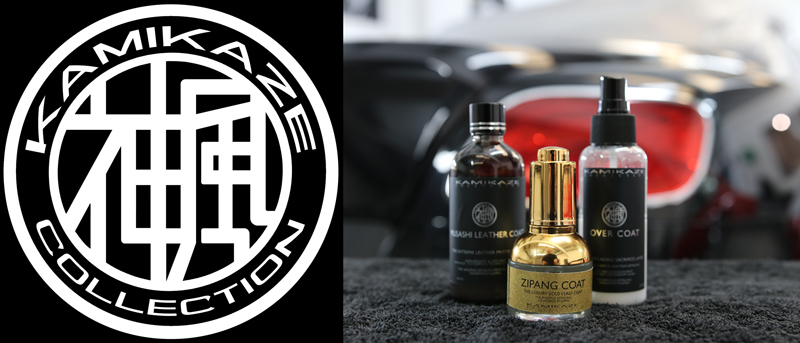 The Kamikaze Collection range has established itself as a firm favourite among professional detailers, largely as a result of the impressive performance of their nano-coatings and their continuous efforts to introduce products that perform a truly unique function. Innovation is a key driving principle for the Japanese manufacturer, headed by Kai Morita.
As an avid detailer, Kai founded Kamikaze Collection in 2013. Drawing on a decade of experience within Japan's domestic product development network, Kamikaze Collection has relationships with forward-thinking, technologically advanced partners to produce a range that is truly revolutionary. They have steadily released a stream of successful car care products each of which has sought to solve a previously unsolved problem. An example of which is Artificial Clear Coat, a primer for soft paint finishes. Softer paint can be tricky to refine and can mark during the application of a ceramic coat. Artificial Clearcoat hides minor imperfections and leaves an optically clear, hardened surface that will then accept a ceramic coat layer. The innovation doesn't stop with the development of new products; even application methods are examined and experimented with in order to ensure the maximum performance is achieved from every product. To this end, Kamikaze Collection also developed Artificial Clear Coat Machine Application Pad, a special pad for applying Artificial Clear Coat and determined this pad worked best when used on a dual action polisher with a smaller throw.
Conscious of the hype surrounding ceramic coatings, Kamikaze Collection is careful not to over exaggerate the performance of their products or to make 'false claims' preferring instead to let the performance of their products speak for themselves. Their growing loyal base of customers appreciates their refreshing approach and their commitment to delivering the best car care products available.
An exacting eye for the detail has gone into every product and through employing the 'kaizen' approach; Kamikaze Collection seeks to continuously improve car care solutions. Keen to ensure the level of attention is perpetuated, Kamikaze Collection has developed two of their coatings for professional use only. Around 50 professional detailers are now part of Kamikaze Collection's exclusive network spanning the UK, from Inverness to Cornwall, Norfolk to Dublin, Hull to Lisburn. To qualify, each detailer is required to undertake training by Kamikaze Collection. On successful completion of the training, detailers are presented with a certificate and subsequently given exclusive access to Kamikaze Collection's professional-only coatings including their flagship product, ENREI Coat.
OVER COAT V2 – Anti-Aging Sacrificial Layer
The original Over Coat was one of the first products in the Kamikaze Collection range designed to be a sacrificial coating for the ceramic coating (in itself, a sacrificial coating for the clear coat). Thus, Over Coat was designed to produce enhanced protection at the same time as providing a solution to the issue of water spotting, an inherent problem for inorganic coatings. This improved formulation has seen alterations made in the concentration of various ingredients along with some modification to the siloxane content. The result is a coating with noticeably improved performance over the original version, regular users of which will be amazed by the deeper gloss achieved with Over Coat 2.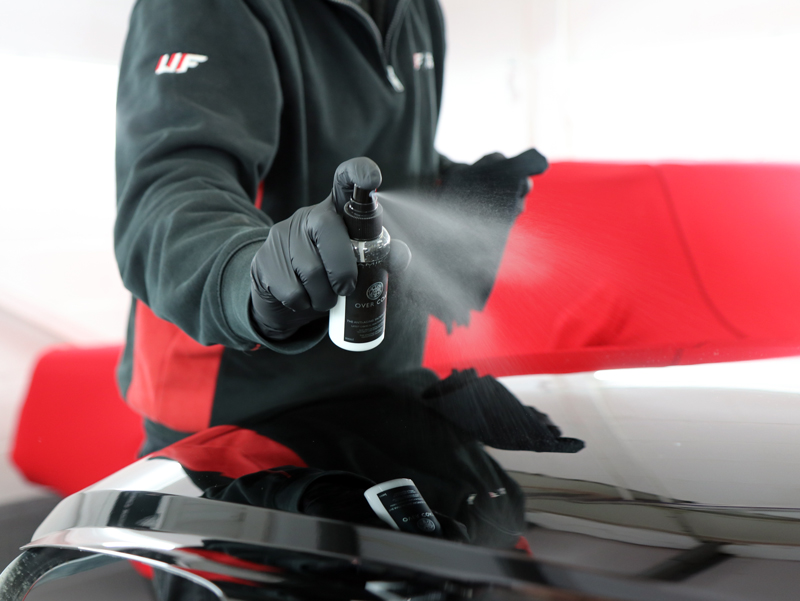 ZIPANG COAT – Luxury Gold Class Coating (pro-only)
Zipang Coat is the latest, professional-only nano coating in the Kamikaze Collection range and is an evolutionary progression from ISM PRO.
Whilst ISM COAT remains a key coating in their consumer line-up, ZIPANG COAT has replaced ISM PRO and following application testing at UF HQ displays the same ease of use and extreme gloss levels as its predecessor but with the added benefit of claimed self-healing properties which is currently under evaluation. – Jez Gilman, Managing Director, UF
The word 'Zipang' is derived from the name Marco Polo gave to Japan on discovery, calling it The Land of Gold. In developing Zipang Coat, Kamikaze Collection wanted to produce 'a beautiful coating' that would bring out the gloss and 'fire' in paintwork. Drawing on knowledge attained through the development of ISM PRO and combining this with new chemical wizardry, Zipang Coat has used an enrichment formula to provide even deeper levels of gloss than its predecessor. A key distinguishing feature of Zipang Coat is its self-healing property, activated by warmth. The appearance of minor swirls will reduce with exposure to sunshine or hot water so long as the temperature is 75 degrees Celsius or above. Kamikaze Collection recommends using Zipang Coat in conjunction with Overcoat 2, adding a few microns of protection, further enhancing the barrier against the elements for extended longevity and even more shine. Zipang Coat is currently undergoing testing at UF HQ.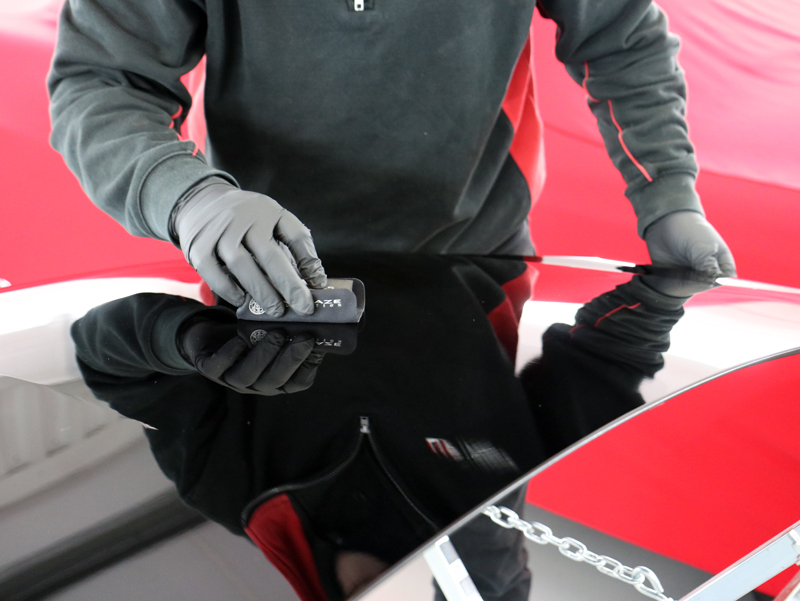 MUSASHI LEATHER COAT – Extreme Leather Protection
Leather interiors require special protection in order to keep them looking at their best. Traditional leather care usually involves a heavy cream formulation but this is wholly unsuitable for modern leather which is already sealed. As a result, traditional 'nourishing' creams simply sit on the surface of the leather and cannot be absorbed. The glossy finish attracts dust which becomes trapped in the cream and forms an abrasive paste. Repeated rubbing of materials across this paste, such as happens when entering and exiting the car, as well as general movement whilst sitting in in the seats, causes this paste to grind away the protective sealant layer of the leather, causing the material to become scuffed and worn. The leather's pigment is then exposed to UV rays and becomes more susceptible to stains from accidental spillages.
Kamikaze Collection has been developing and testing a solution to this problem for many years the result of which is Musashi Leather Coat. Formulating a product to provide the necessary protection, over an extended period of time was challenging. The product had to be water-based yet hard wearing and strong enough to provide the necessary protection without sacrificing the texture of the leather. The coating had to be able to flex with the leather in order to ensure on-going protection. Musashi Leather Coat contains fluorosurfactants and fluoropolymers making it highly stable even at high temperatures such as those experienced when sunlight is magnified by glass, as well as providing a hydrophobic and non-stick function. This also inhibits dye transfer, so it's ideal for preventing lighter coloured leather being stained by Denim and dark materials. It is claimed that one application will last for 2-3 years.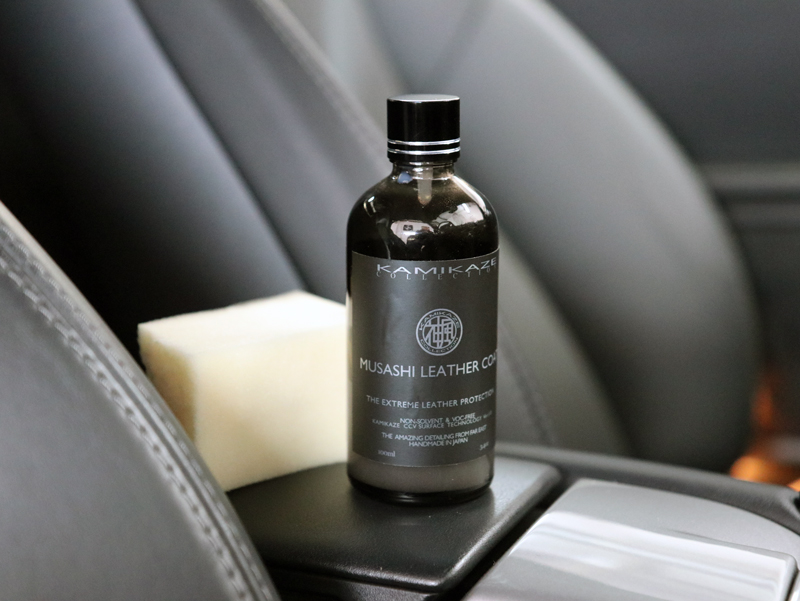 All of the new for 2018 Kamikaze Collection products are currently under evaluation at UF's Brands Hatch-based detailing studio and are expected in the UK sometime in March.
If you have any questions regarding the Kamikaze Collection range, or any of the products available on the UF website, please get in touch either by emailing sales@theultimatefinish.co.uk or calling on our landline and mobile-friendly number, 0333 800 8004. Our team is on hand, Monday to Friday, 8am thru 6pm to take your call.