POLISHANGEL® – A Unique Perspective On Car Care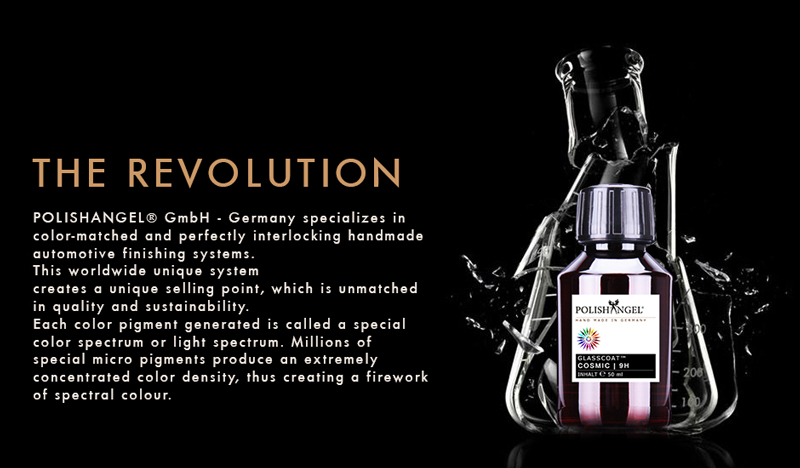 In time for the start of the 2014 Car Care Season, Ultimate Finish is delighted to announce the addition of POLISHANGEL® to their extensive range of exclusive car care products available at www.theultimatefinish.co.uk
UF is always looking out for new and innovative product that offer customers something over and above 'the norm'. POLISHANGEL combines carnauba with glasscoat sealants and a unique method of imparting colour charge to paint. We were really excited by the idea, and following extensive testing at our Brands Hatch studio, we were confident that our customers were going to agree. – Jez Gilman, Managing Director
Made in Germany, POLISHANGEL encompasses a comprehensive, fully harmonised car care system, providing enthusiasts with easy to use products guaranteed to produce stunning results.
We have been testing the POLISHANGEL range in the Ultimate Detailing Studio for several weeks. I was impressed with how easy it is to use – simply spread it on and buff it off. It's a pleasure to work with and the results are truly head-turning. – Master Detailer, UDS
The Range:
Shampoos: The addition of wax to a car shampoo is not an original idea, however POLISHANGEL has taken it two steps further; CarnaubaFlakeWash contains a staggering 100g of premium carnauba flake per 200ml bottle. Glissante Carnauba Gel contains 'Gleitpolymere' – 'sliding polymers' in a carnauba gel solution, ensuring maximum water sheeting as well as high gloss shine. So, whichever you choose, these two shampoos will boost and protect existing sealant or wax layers with each use.
The Compounds: Master Compound Polish I and Master Final Polish II work together to remove blemishes from paintwork. Ideal for use with a machine polisher but can also be applied by hand, these two compounds perfect paintwork prior to the application of Master Sealant. A hybrid sealant containing carnauba within its glasscoat formulation, Master Sealant provides tough protection whilst enhancing paintwork to a mirror finish with a depth of shine only carnauba can provide.
The Glasscoat range: Glasscoat | Invincible and Glasscoat | Cosmic 9H is a two-step process for polishing paintwork and protecting it from scratches, swirls, UV and environmental fallout. Glasscoat | Invincible contains diminishing abrasive particles, so one polish is all you need to remove moderate scratches, swirls and other paintwork blemishes. Containing colour-enhancing flakes, Glasscoat | Invincible brings out the clarity of colour without using fillers to mask impurities. Glasscoat | Cosmic 9H is a nanotechnology-based glasscoat sealant containing micro pigments to further enhance colour. Additionally Glasscoat | Cosmic 9H contains carnauba within its glasscoat formulation, giving the customer the best of both worlds – the toughness and durability of a glasscoat sealant along with the colour enhancement of a carnauba wax.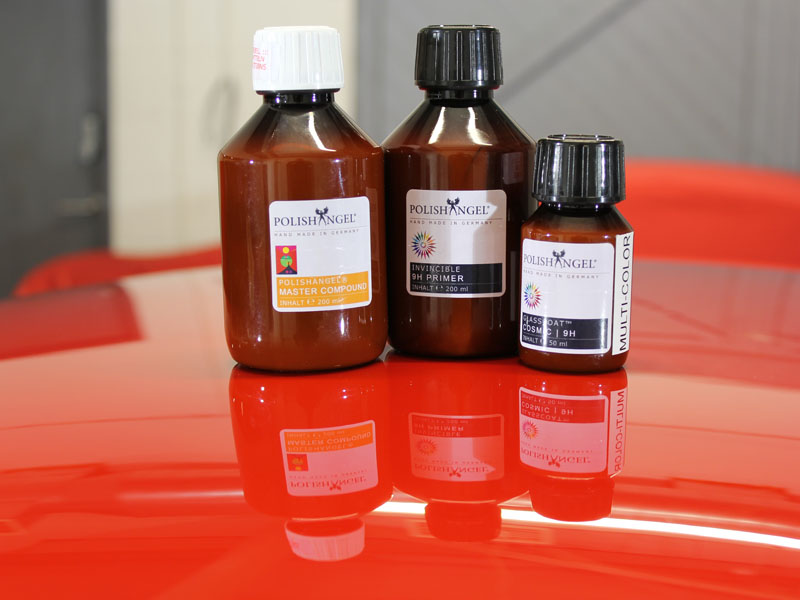 Carnaubaflockencreme: Carnauba Flake Creme Waxes – formulated to be extremely easy to apply and buff off, this wax range provides colour charged protection for specific colours of vehicle: Passion, for vibrant and red paintwork, Centurion for black and dark shades of paintwork, Famous – for pale or yellow paintwork and Snowwhite for pure white paintwork.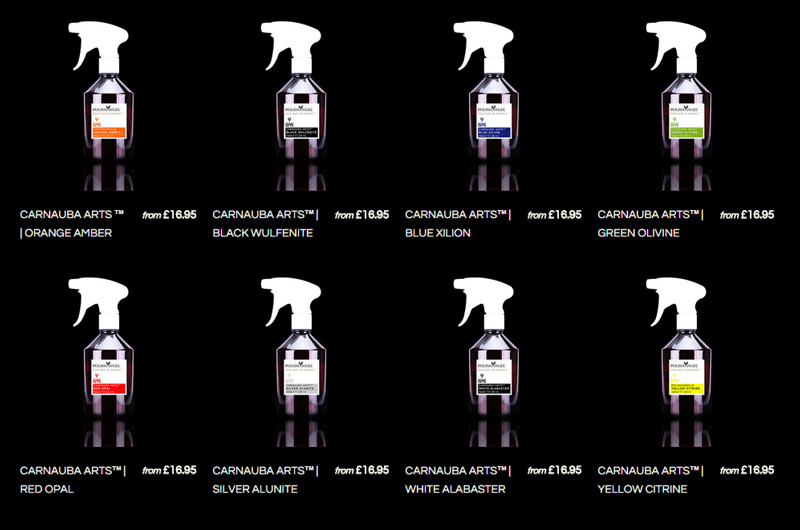 CARNAUBA ARTS™: This innovative range uses reduced carnauba flake to provide an ultra-high gloss shine, protection and durability in a spray-on formulation. Easy to use and quick to apply, these specifically colour-charged waxes offer an instant solution to paintwork protection:
In addition, POLISHANGEL offers all the other products expected from a comprehensive car care range including a colour-neutral spray wax, quick detailer and an extra tough sealant called Viking Shield – designed to stand up to the harshest Nordic winter conditions. Interior, leather, tyres and wheels are all provided for too, as well as products for glass and windscreens. With the POLISHANGEL range car care enthusiasts are ensured a no-fuss, affordable way of keeping their prized possession in showroom condition.
POLISHANGEL will be available from week commencing March 31st onwards with FREE UK Delivery* on orders over £29.95
See POLISHANGEL results in Ultimate Detailing Studio.