RUPES Extend Their 'BigFoot' Range Of Machine Polishing Kits

The RUPES BigFoot Random Orbital Polishing System has been a Dual Action revelation both for the enthusiast and the professional detailer. They have recently extended the range, bringing out new kits for both the LHR15ES and the LHR21ES machines.
The RUPES BigFoot System was designed to make machine polishing easy – easy for everyone and anyone. The LHR15ES BigFoot Random Orbital Polisher has a large 15mm throw and has been designed specifically with the detailing market and the avid car care enthusiast in mind. The 15mm throw allows the user to cover larger and contoured areas quickly and easily whilst retaining firm control over the machine whilst the LHR21ES BigFoot Random Orbital Polisher has an even larger 21mm throw, perfect for bodyshops where speed and efficiency are of the essence. Both machines are incredibly smooth running and easy to use.
Professional detailers have traditionally preferred to use a rotary polisher for heavy compounding and paint correction, but rotaries can introduce holograms into the paintwork. The BigFoot System works entirely differently, changing long held beliefs and proving it is possible to achieve heavy compounding without introducing holograms. The  RUPES BigFoot System has truly changed the face of machine polishing.
Both the LHR15ES and the LHR21ES are available as part of a Standard Kit and a Deluxe Kit. The Standard Kits contain two pads and two compounds designed to make routine maintenance quick and easy. The Deluxe Kits contain all four Gel Compounds and all four grades of pads. In addition the Deluxe Kits feature a RUPES BigFoot branded carry bag to keep all the supplies in and a BigFoot branded apron – to keep clothes free from polish residues.
RUPES BigFoot Standard Kits, available with 15mm or 21mm throws: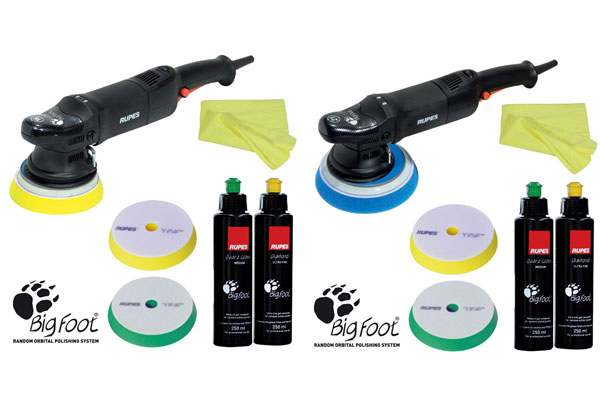 RUPES BigFoot Deluxe Kits, available with 15mm or 21mm throws: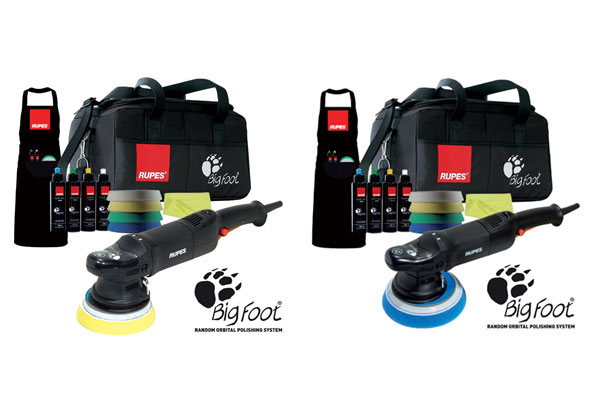 All the compounds now come in a smart new black packaging with blue, green, yellow and white coloured tops to match the relevant pad – so even for someone who has never before picked up a machine polisher this system just couldn't be easier to use!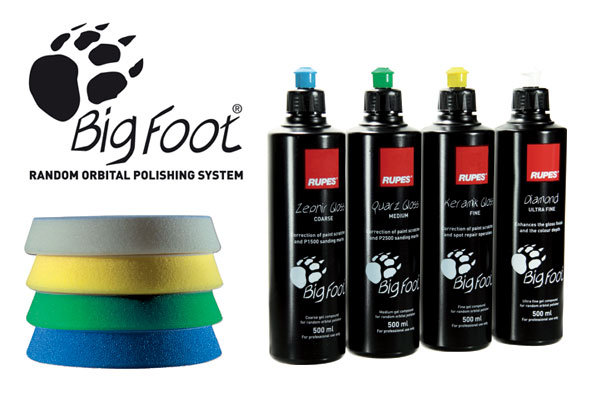 All RUPES Kits are now available to order through Ultimate Finish – Legendary Automotive Care since 1999.