RUPES 'BigFoot' Random Orbital Polishing System

Traditionally Random Orbit (or Dual Action machine polishers as they're also known), have been considered the domain of those new to machine polishing who simply want to improve the overall appearance of their vehicle's paintwork. Rotary polishers require experience and careful handling and so true paintwork correction has always been the remit of the professional detailer or the seriously serious enthusiast!
Paintwork correction with a Dual Action polisher has (so far) had only two serious contenders: the FLEX 3401VRG Positive Drive Orbital Polisher and the Meguiar's DA Microfibre Correction System. The FLEX features a forced rotation or direct drive for the additional 'bite' but this motion requires control and deters some users. The Meguiar's DA Microfibre System provides excellent results but it takes a bit of getting used to in order to achieve its maximum potential.
The RUPES BigFoot Random Orbital Polishing System looks set to change the game all over again with an increasing number of professional detailers using the RUPES BigFoot random orbital for their heavy compounding work, right up to the final polishing stages.
Why? Because RUPES has managed to accomplish the unthinkable: an easy to use dual action machine polishing system capable of correcting most paintwork imperfections on most types of paint in significantly less time than a rotary polisher! The RUPES BigFoot LHR 15ES with its 15 mm throw allows even the most inexperienced user to achieve results beyond those achievable with traditional Dual Action polishers, around 40% faster and using up to 40% less energy! A much favoured feature is the lack of the traditional Dual Action 'wobble' which can cause problems when polishing softer, 'sticky' paint finishes and make the machines more tiring to handle, particularly over long periods of use.
The RUPES BigFoot system is amazing, it saves half the time on paintwork correction and gives better results than a rotary, no unwanted buffer marks or swirls and no sticky paint issues. It's super-easy to get perfect results, even for beginners!  Paul Dalton, Miracle Detail, Surrey, UK

Every now and then a new polishing machine comes along that just changes the way that paint correction is performed, and the new RUPES LHR15E is definitely one of them! Todd Cooperider, Esoteric Detail – Ohio, USA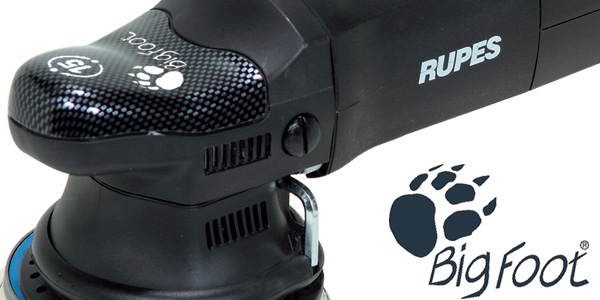 Features, Benefits & Why It's So Good!
15mm throw – larger pad-to-paint contact area, cutting up to 40% off work time
Large throw allows for more effective paint correction
Maximum control – far less "wobble" than conventional Dual Action Polishers
Does not 'grab' like rotary polishers
Provides hologram-free compounding & polishing
Ideal for one-step products
Easy to use – even for the inexperienced
Does not allow paint surface to overheat
Up to 40% more energy efficient than other machine polishers
Ergonomic handle for maximum control & comfort during prolonged use
Leaves a superior finish compared to other Dual Action polishers
The RUPES 'BigFoot' Random Orbital Polishing System consists of 4 pads and 4 products (2 compounding and 2 finishing) guaranteed to give even the most inexperienced user amazing results. The pads are constructed from a specially formulated foam resin designed specifically to maximise the yield of the compound and fully benefit from the mechanical stress generated from the motion of the large (BigFoot!) random orbit.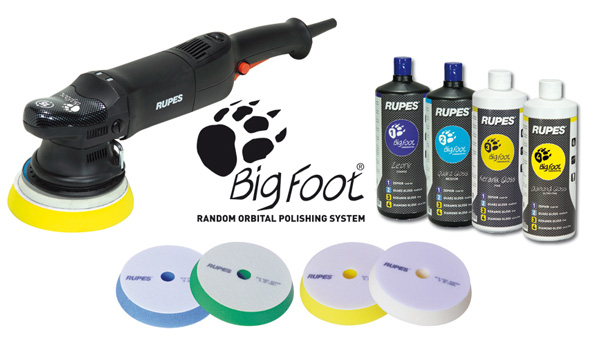 The BigFoot System has four components to it, although depending on the type of paint and the level correction required, it may not be necessary to follow all four stages.
VIDEO: RUPES BigFoot in action
More information on the wonderfully unique RUPES 'BigFoot' Random Orbital Polishing System can be found here