Valet PRO Extended Range for 2013

Valet Pro has featured in the Ultimate Finish line up for many years. Recently the range has been extended, with a larger selection now available and additional sizes of all our customers' favourite products.
The pH-Neutral Snow Foam is a big hitter and now Valet Pro has re-worked the formulation to give Advanced pH-Neutral Snow Foam – for even better cleaning power whilst being extra wax-friendly. Another product given a re-vamp is the Advanced Poseidon Carnauba Car Wash – now extra sudsy and leaves even more protection behind than before.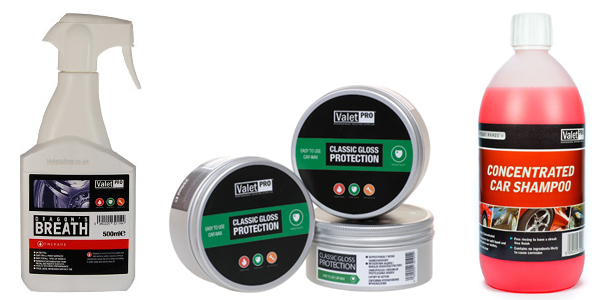 All new is the Classic Gloss Protection, a carnauba wax hybrid with PTFE which discourages dirt and oil from sticking to surfaces whilst providing up to 3 month water beading and protection.
One of the most exciting new products is Dragon's Breath – an iron particle remover. Dragon's Breath is an easy-to-use, spray on solution which actively targets particles such as brake pad filings on wheels. Simply spray on to the wheel (the thick liquid clings well to the vertical surface), wait for the colour to change to let you know the product is working, agitate with a brush if you feel a little encouragement is in order – then rinse with a hose to reveal sparkling wheels. Dragon's Breath is pH-neutral, so it's safe on all paintwork and even on the most sensitive of wheel finishes.
https://www.youtube.com/watch?v=aTGDtUGYDbk
Ultimate Finish – Legendary Automotive Care since 1999.