FLEX Cuts The Cord With New Cordless Machine Polishers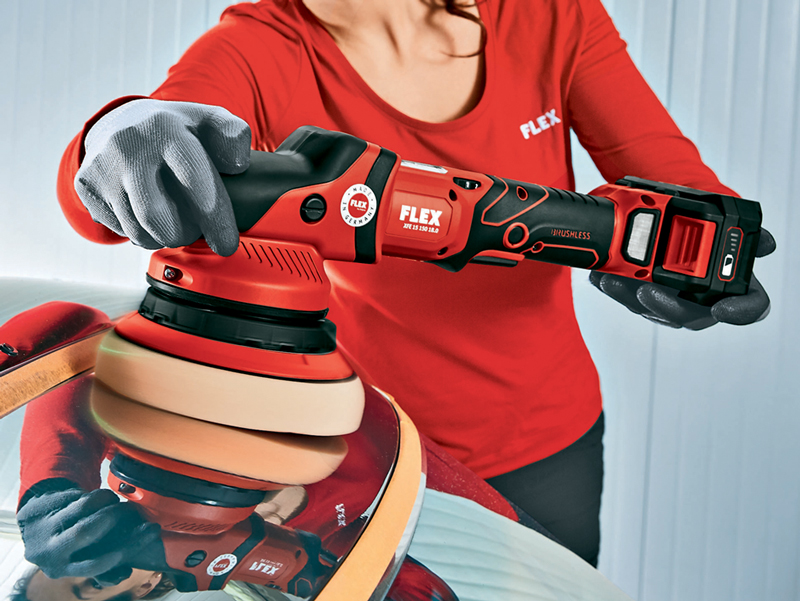 FLEX has been developing and manufacturing power tools since 1922 and introduced their first machine polisher specifically for the automotive industry in 1987. Since then, FLEX has gained a well-deserved reputation for engineering excellence. In 2012, RUF, renowned worldwide for its Porsche bodied cars, partnered with FLEX to use their PE14-2-150 Rotary Machine Polisher for refining and finishing the paintwork on their hand-built cars. These days, FLEX Machines Polishers are used worldwide by professional detailers and car care enthusiasts alike.
FLEX take pride in their commitment to the development of innovative machining solutions and responsiveness to consumer demand. As such, the FLEX range continues to grow encompassing standard, lightweight, and mini rotary polishers, standard and mini dual action polishers and the XC 3401 VRG, a forced rotation dual action polisher. The latest and possibly the most exciting development is the introduction of two cordless machine polishers, the XFE15 150 Cordless Random Orbital and the PE-150 Cordless Rotary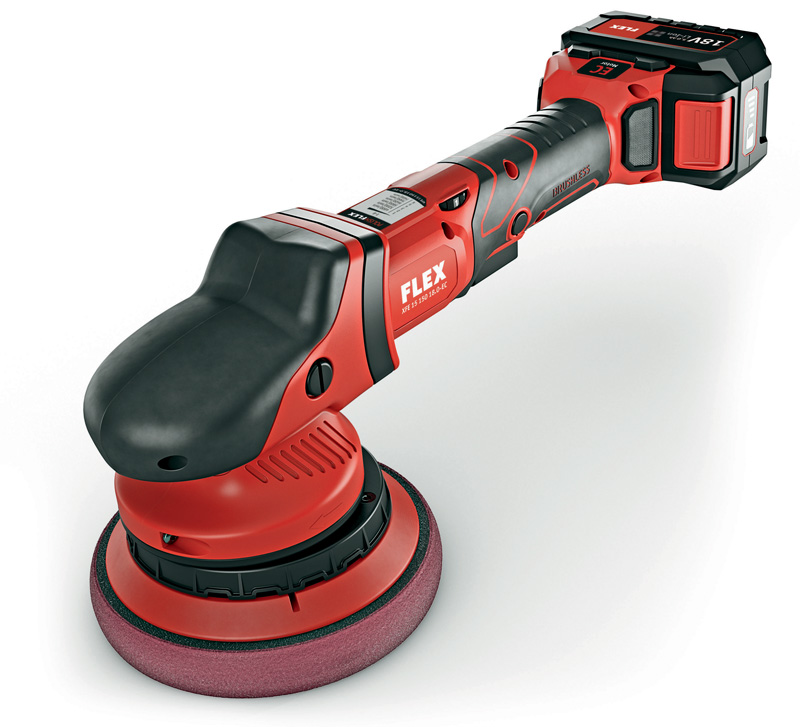 The advent of cordless machine polishers is an exciting development. Anyone who has spent time trying to reach across a large bonnet, or a roof, knows how tricky it can be to prevent the power cable from trailing down onto the paintwork, which increases the chances of scratching or marring as the cable rubs back and forth over it. If you've spent time correcting that section and you drop the cable on it, you may have to start again which takes more time. A cordless machine polisher has been on every detailer's wish list for a long time but until now there hasn't been a solution to the loss of power typically associated with battery operated polishers. The key to FLEX's success has been to develop a battery system capable of providing enough power for a sufficient period of time. – Matt Back, UF Studio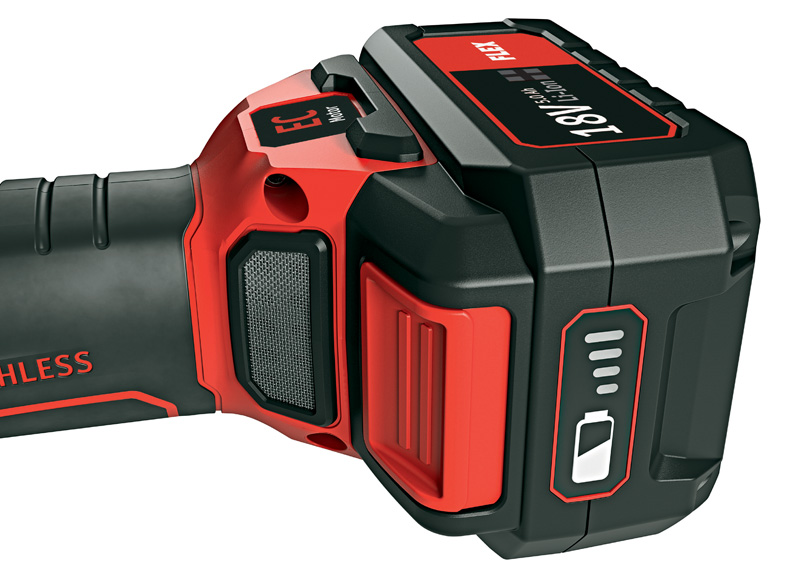 Both the XFE15 150 Cordless Roto Random Orbital Polisher and the PE-150 Cordless Rotary Machine Polisher draw on the design of previous polishers, with controls easily accessible: the speed control dial has been conveniently placed to be operated by the thumb. The hold point has been fitted with FLEX's own 'SoftGrip' rubberised material, reducing vibration and making the polishers more comfortable to hold for longer periods of time. Both machines feature a chart on the upper side of the body, displaying revolutions per minute (RPM) or orbits per minute (OPM) for the corresponding speed dial number, removing the guess work and allowing for a more scientific approach to paint correction.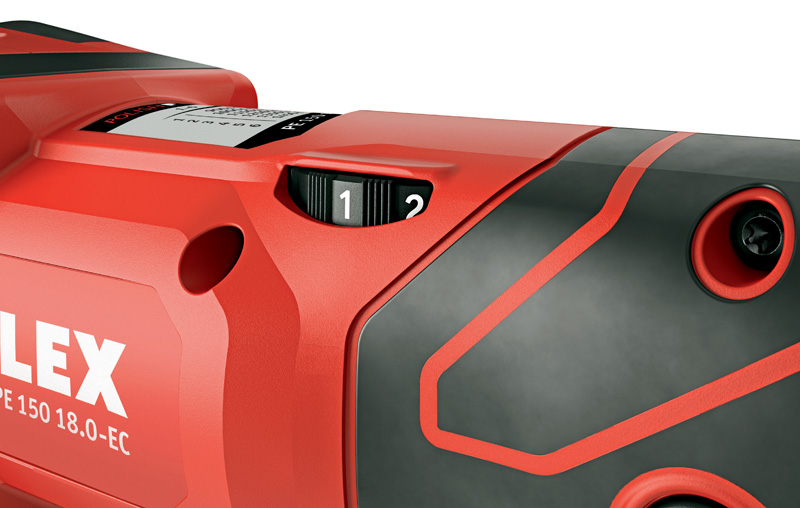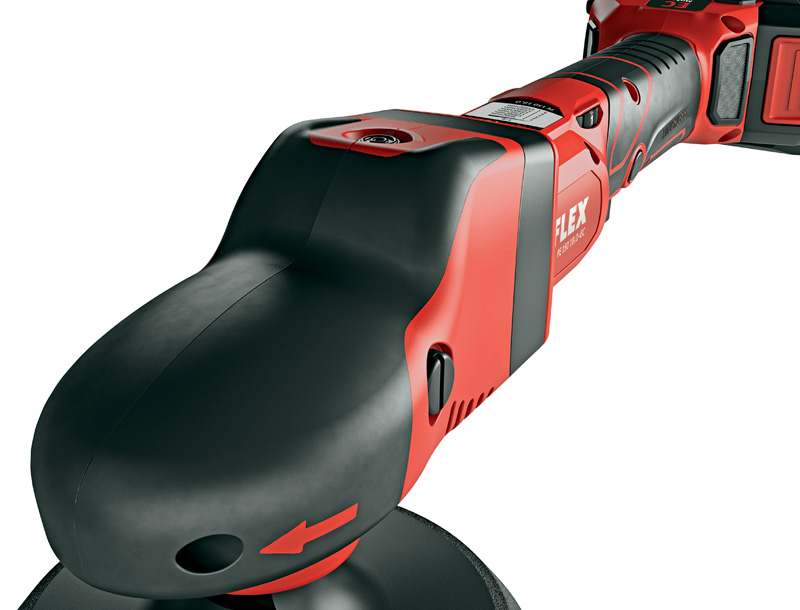 Of course, the usual FLEX technology has gone into the machines, including an electronic management system to protect the machine, extend the service life and increase overall polishing efficiency. Whereas most machine polishers rely on brushes which require changing at intervals and tend to fail at the most inconvenient moment, both the XFE15 150 and the PE-150 are brushless, making the machines maintenance-free.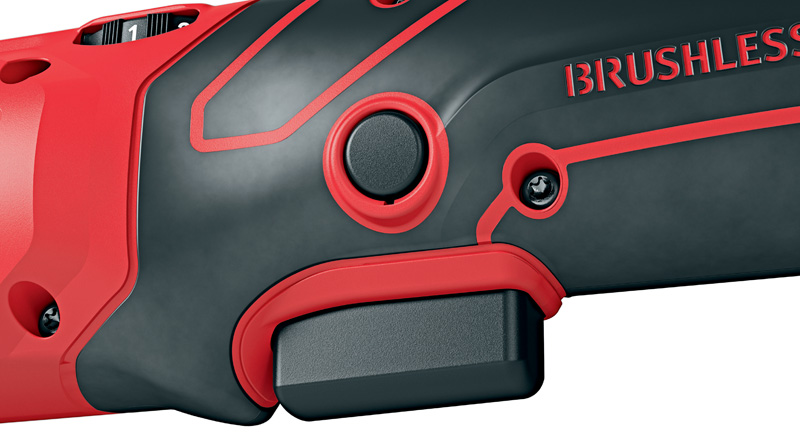 The XFE15 150 benefits from a 15mm throw, larger than the average for a dual action polisher, cutting working times. The inclusion of a counterbalance makes the machine easier to control, offsetting the 'wobble' associated with dual action polishers and making it more comfortable to use. The PE-150 Rotary uses an innovative combination of planetary and angular gears to keep operating noise to an absolute minimum.
Undeniably though, the powerhouse driving the success of both machines is the development of the FLEX Li-Ion battery system.

FLEX has developed an interchangeable battery pack system, so owners of other cordless FLEX power tools can use those battery packs with the cordless polishers. The 18V lithium-ion batteries are available in capacities of either 2.5Ah or 5Ah, allowing a choice between weight and working time. When used with a PE-150 Rotary, a 5Ah battery delivers around 30-37 minutes of working time and recharges in 45 minutes. For the XFE15 150 Random Orbit Polisher, a 5Ah battery delivers around 40-48 minutes working time with a recharge time of 45 minutes. FLEX's Rapid Charger uses a special process to charge either battery pack from flat to 80% capacity in just 30 minutes. Each battery has its own charge indicator; at the press of a button, the level of residual power is displayed. When placing a battery pack on charge, the Rapid Charger's LED display shows the time required to charge the pack. To safeguard the battery packs, both the packs and the charger have been fitted with cooling fans to keep the batteries cool and the air is filtered through a wire mesh prior to circulation to help prevent dust ingress. The Rapid Charger has overheating, discharge, and overload protection built-in.
Both machine polishers are available with or without battery packs, as those customers who already own cordless FLEX power tools may not require additional batteries. The polishers are supplied with a L-BOXX® carry case. This robust storage and transport system is made from impact-resistant, splash-proof plastic designed to protect the equipment inside. A moulded plastic insert keeps the contents snugly in place during transport and also helps to keep the contents tidy and easily accessible. A single L-BOXX® can carry up to 25kg of equipment whilst multiple L-BOXX® carry cases can be connected together quickly and easily with FLEX's connection clips and can carry a combined weight of up to 100kg.
VIDEO: FLEX XFE15 150 Cordless Random Orbital Polisher Promo
At FLEX, we pride ourselves on developing systems that work together to make life easier for our customers. We knew that to make cordless versions of our most popular rotary polisher and also a dual action polisher would be a big hit with car care professionals and with enthusiasts too, but only if we could deliver similar power performance. I'm delighted to say that, with the XFE15 150 and the PE-150, we have done just that and we're sure our customers are going to love the results they achieve with these two polishers. – Morten Wimshurst, National Account Manager (UK), FLEX
The XFE15 150 Cordless Roto Random Orbital Polisher and the PE-150 Cordless Rotary Machine Polisher are available for pre-order now with delivery expected in April.


If you have any questions on the new FLEX machines or any of the other products in the UF portfolio, please get in touch either by emailing sales@theultimatefinish.co.uk or calling on our new landline and mobile-friendly number, 0333 800 8004. Our friendly and knowledgeable team is on hand, Monday to Friday, 8am thru 6pm to take your call.