A Hands On Guide To Machine Polishing with Total BMW
These days machine polishing is not just for the professional detailer – many amateur enthusiasts are using it to improve the appearance of their vehicle without having to pay someone "in the know" to come in and do it for them. Total BMW Editor, Adam Tait decided it was time to de-mystify the world of machine polishing. Adam came back to the Ultimate Detailing Studio to pick the brains of resident Master Detailer, Rob Tomlin, for an insight into the world of machine polishing.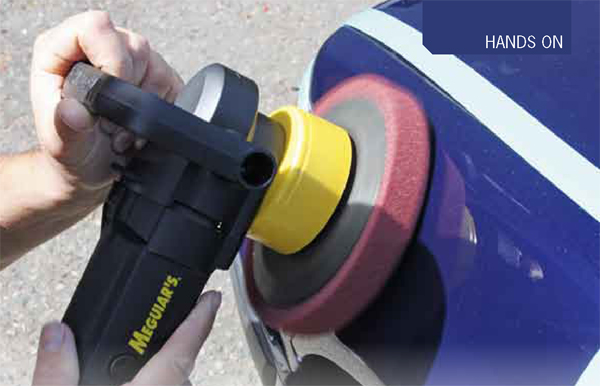 Adam brought along a faded Montreal blue BMW E36 which had been sitting exposed to the elements for a year, unloved and neglected on his driveway. Before getting to work with the new Meguiar's G220 V2 dual action polisher, Master Detailer Rob Tomlin got the 3M blue tape out and masked up the trim and badges to protect them from the polishing compounds. The paint correction process began with Meguiar's #105 Ultra Cut Compound on a Soft Buff 2.0 Cutting Pad. With the worst of the paint defects removed Rob moved on to the Soft Buff 2.0 Polishing Pad and the #205 Ultra Finishing Polish to refine his work. Dodo Juice Lime Prime was then applied by hand prior to a final finish layer of Dodo Juice  Hard Candy, a generic hard wax which can be used on all colours.
Throughout the day Rob took the time to explain the various processes to Adam, what he was doing, how he was doing it and why he was doing it that way. Adam turned all of this information into a easy to follow photographic guide for his readers.
You can read Adams full article written exclusively for Total BMW here.