Audi A6 TDi Quattro S-Line Looks Better Than New With 3D Protection!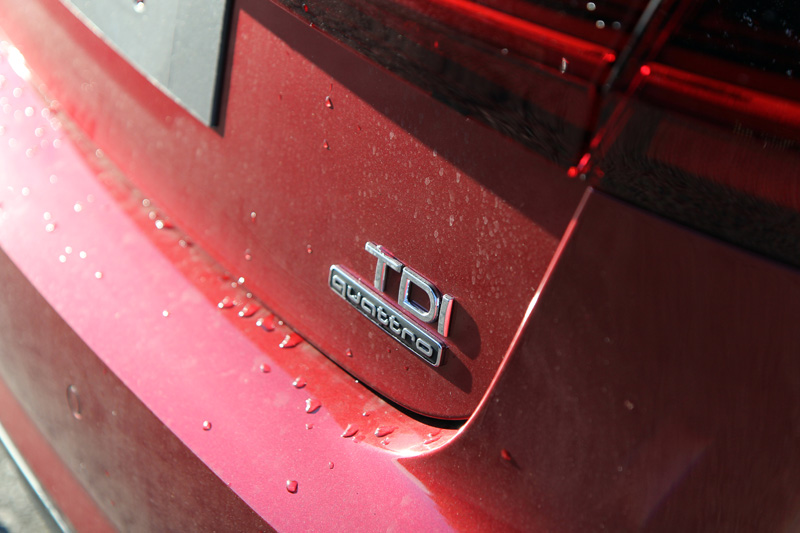 Collecting a new car is one of those simple pleasures in life. Brand new, untouched and untainted by anyone else, you can smell the excitement and anticipation emanating from every vent, spoke and grille, along with the unmistakable 'new car' smell. Keeping that 'brand new' sensation is the goal of the new-car owner, which is why New Car Protection Treatments are becoming increasingly popular.
A new car represents a significant financial investment and these days, customers are changing their cars more frequently than ever. Consequently, whilst there is the initial thrill of picking up a brand new car, the focus is also on preserving the appearance so that when it's time to sell, the car has retained its maximum resale value. More and more, customers are appreciating the benefits of protecting their investment from the moment they collect the car. – Jez Gilman, Managing Director, UF
Audi is a brand synonymous with quality, technology and innovation and the A6 underlines that point in an exquisitely understated way. Solidly built, innovatively designed, the diesel engine performs quietly whilst delivering 190bhp metered through the efficient, 7-speed, direct-shift gearbox, (Direkt-Schalt-Getriebe in its native language), commonly known as DSG. Electronically controlled, the dual-clutch multiple-shaft manual gearbox eschews the conventional clutch pedal – freeing up a foot for some toe tapping to the impressive in-car entertainment system.
The S-Line has a few details to give it just a slight indication of its enhanced pedigree: S-Line front and rear bumpers, side ventilation grilles and side skirts S-Line badges on the front wings and the Platinum Grey front spoiler lip and diffuser insert. On the interior, the light S-Line touches can be seen in the black Valcona leather seats with the S-Line logo embossing, inlays in brushed matt aluminium, door sill trims with the S-line logo and door insert trims in Alcantara. Subtle touches that complement the overall elegantly understated appearance.
On advice received from UF, the owner of this A6 asked the dealership to avoid washing and polishing the car prior to collection.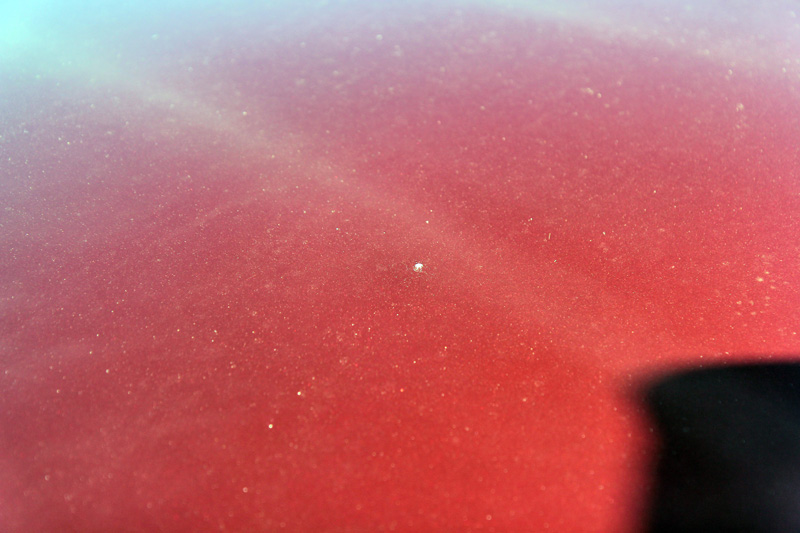 Typically, dealerships outsource the preparation of cars with a limited budget and little time in which to complete the work. As a result, new cars do not always receive a great deal of care and attention which unfortunately can result in the paintwork becoming scratched and swirled. To avoid this, it is preferable for the car to be delivered directly to one of UF's studios unprepared. In this way, we can control the process from start to finish, ensuring the paintwork is correctly preserved. – Matt Back, UF Detailing Studio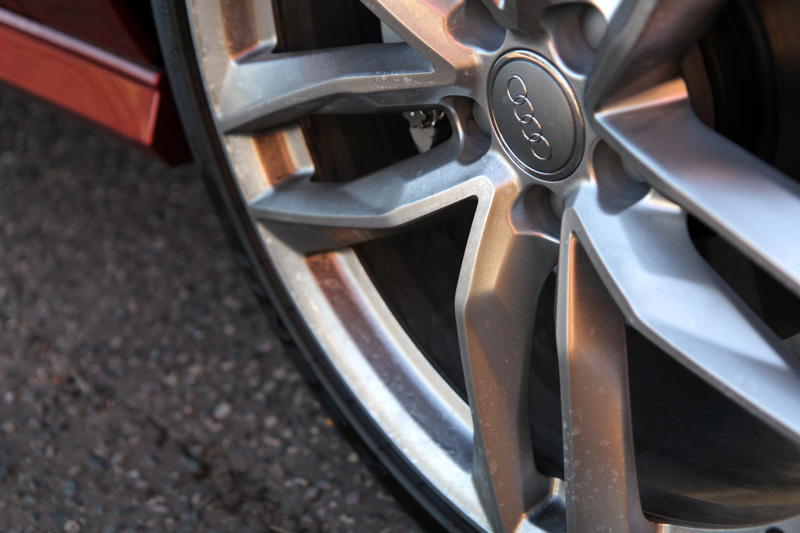 Using Nanolex Wheel Cleaner & Iron Remover, the bodywork and wheels were treated for iron contamination. The rear of the 18 inch, 5 twin-spoke alloy wheels were thoroughly cleaned using Wheel Woolies, long-handled brushes available in a variety of sizes, which can fit through the spokes to clean the rear of the rim.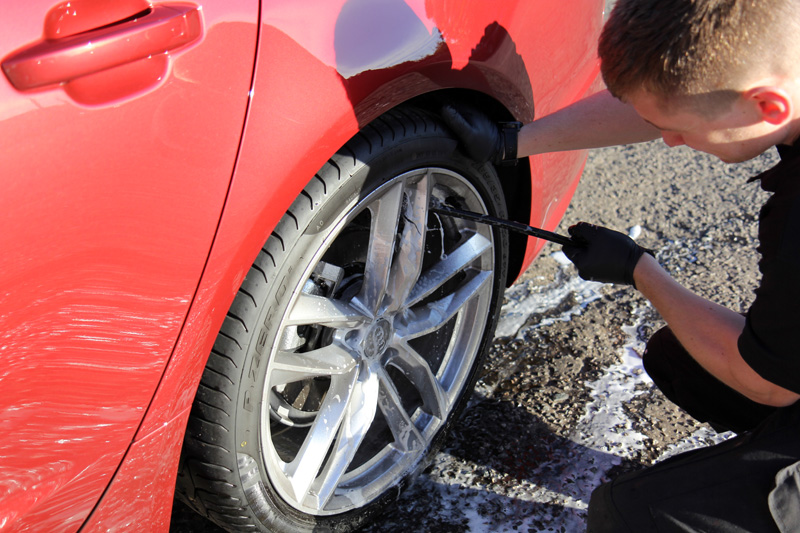 It's not uncommon for iron contamination to be found on new cars. Usually, they collect it whilst being transported to the dealership as often, part of the journey is made by rail and so the cars can be stored in railway sidings. When trains brake, small hot metal splinters from the wheels, rails and breaking systems become airborne and attach to whichever surface they come into contact – often it's the new cars they're transporting! The metal splinters can be difficult to remove and rubbing at them with a wash mitt is a bad idea – they're sharp and if you dislodge them you'll be rubbing them over the paintwork. Using an iron contamination remover is better: spray it on, allow it to dwell so it can work on the particles, and then rinse everything away. It's a much safer alternative, but it's a step often missed out by dealership-contracted valeters. – Matt Back, UF Detailing Studio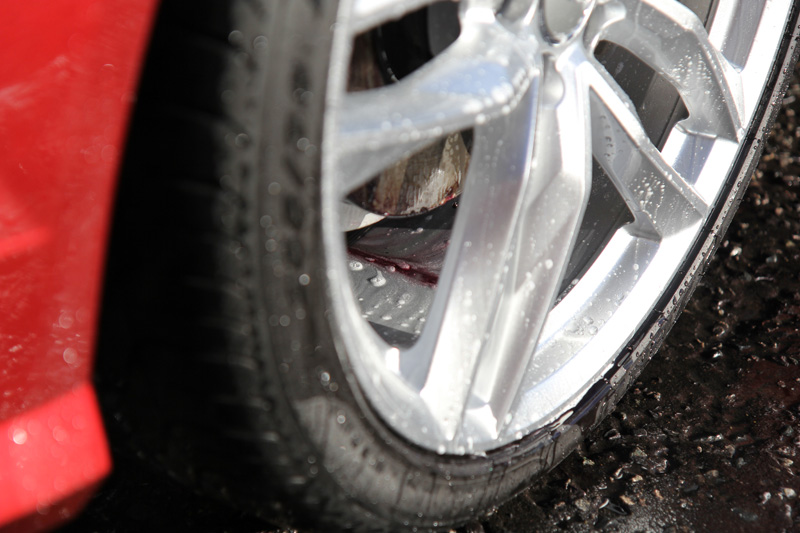 The A6 was then treated with Bilt-Hamber Surfex HD, a degreasing solution that removes oily residues, diesel splatters and road grime. Particular attention was paid to the natural traps, such as the door shuts and around the grille and trims.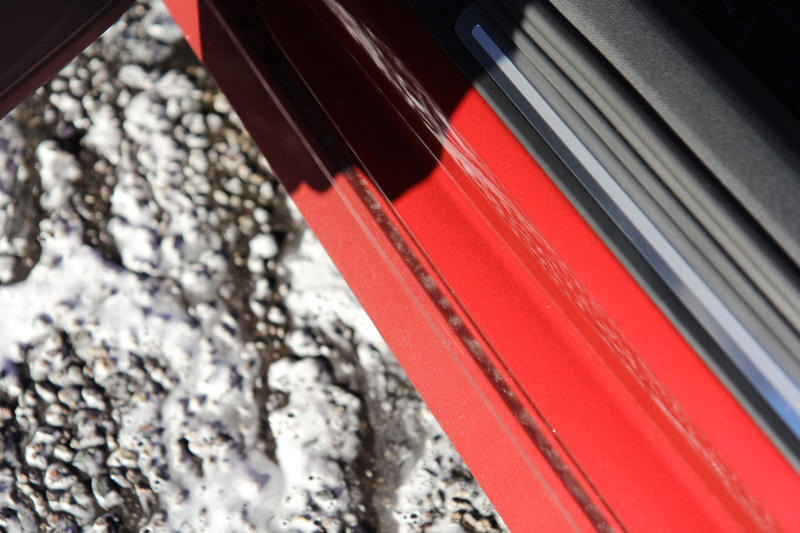 Then it was treated with Nanolex Bug Remover and then Nanolex Tar Remover to dissolve all organic and non-organic sticky contamination. In this way, the film of protective transportation wax was removed completely.
Before transport, cars are treated with grease-based rust inhibitors and have protective wax or tape applied to certain areas, all of which leave behind greasy or sticky residues that encourage other contamination to stick to it. It's essential to remove these elements so that the sealant bonds to the paintwork properly. – Matt Back, UF Detailing Studio
The final decontamination stage was an application of Ultimate Snow Foam to remove any remaining large particles of dirt and grit from all the nooks and crannies.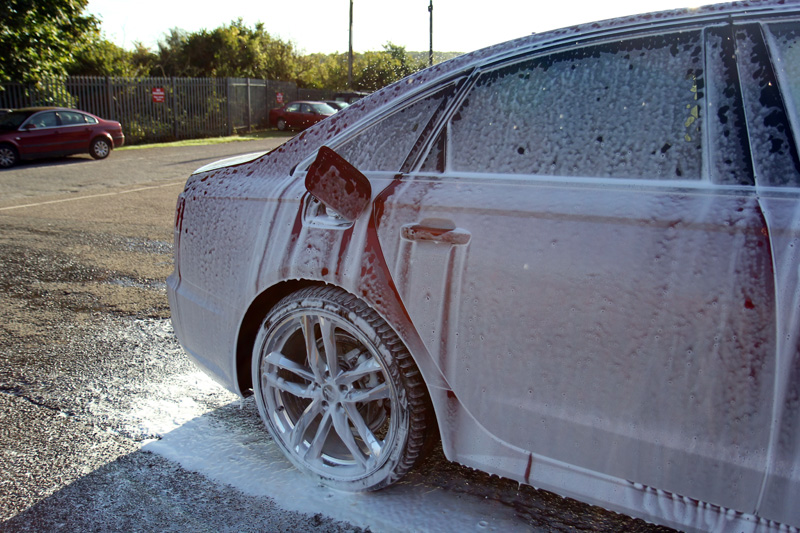 The car was rinsed and then given a full wash, using the Two Bucket Method, an Ulti-Mitt Double Sided Merino Wash Mitt and Nanolex Pure Shampoo.
When using a shampoo it's important to select one that rinses completely away, without leaving any kind of residue behind. Residues interfere with the sealant's ability to bond and therefore it will not perform effectively or last as long as it should. – Matt Back, UF Detailing Studio
After rinsing, an Aqua Gleam De-ionising Water Filter was attached in-line with the hose to give the car a final pure water rinse before it was dried with soft microfibre towels and brought into the detailing studio. Here the water trap areas, such as around badges, grille and trim were dried thoroughly using an air blower.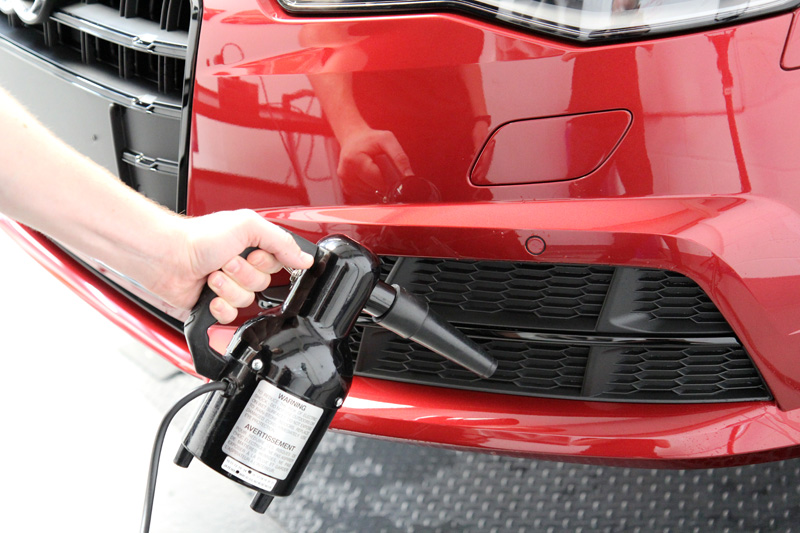 The paintwork was then inspected under high-intensity lighting for signs of swirls, scratches or other damage. Finding none, the panels were polished by hand using Menzerna Super Finish Plus 3800 to increase the reflectivity of the deep red paintwork. Then, to ensure there were no residues were left behind, the panels were prepared using Nanolex EX Residue Remover before Nanolex Si3D HD* sealant was applied.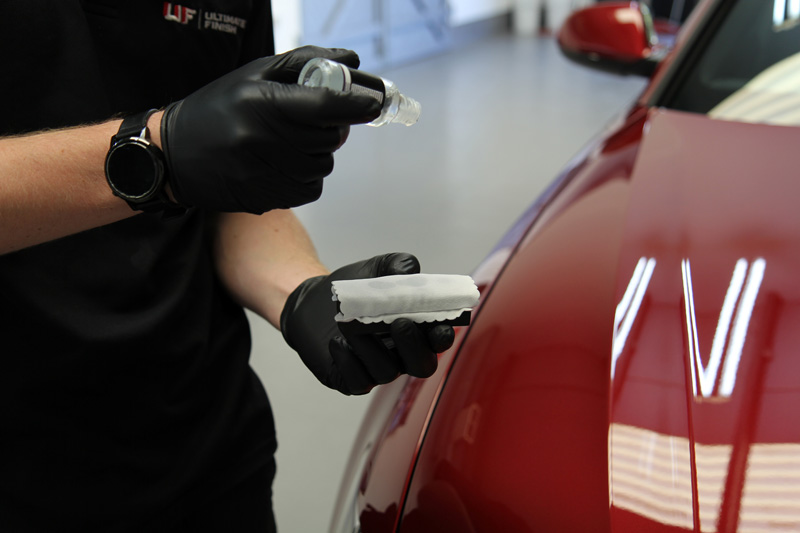 Si3D HD is the latest nanotechnology-based sealant from Nanolex. It works differently to other sealants by laying down a thick protective matrix. The molecules that make up the matrix actually rise to form a three-dimensional coating, with microscopic 'hairs', the way small hairs on a plant leaf encourage water to bead, the Si 'hairs' repel dirty water and other contamination. It's very effective, only one layer is required. In fact, it's so effective even another coat of Si3D won't stick to it! – Matt Back, UF Detailing Studio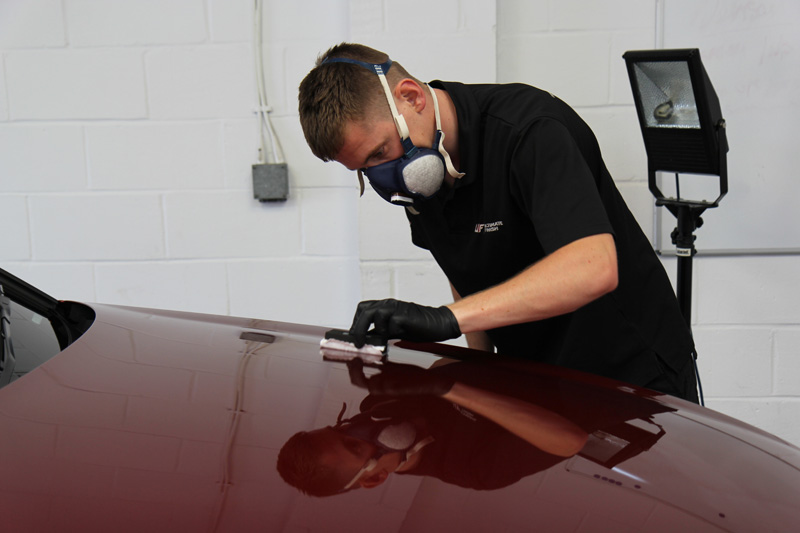 Whilst the Si3D HD coating was curing, attention turned to the other substrates on the vehicle.
New Car Protection isn't only about protecting the paintwork – there are other areas that benefit from protection too, such as the wheels and other metal items such as the exhaust tips and badges, as well as plastic trim and glass. New cars benefit from the interiors being protected against accidental spills and stains. – Matt Back, UF Detailing Studio
The interior leather was protected using Gtechniq L1 AB Leather Guard, a nano-coating that guards against UV fade – a key concern for black leather. Leather Guard does not leave a greasy residue, instead, it adds a dust repelling layer of sealant protection, helping to prevent stains from liquid spills. The 'AB' designation indicates it has an antibacterial function, leaving a persistent germ-killing layer behind. Perfect for helping to stop the unwanted smells that can arise from the breakdown of organic matter by bacteria.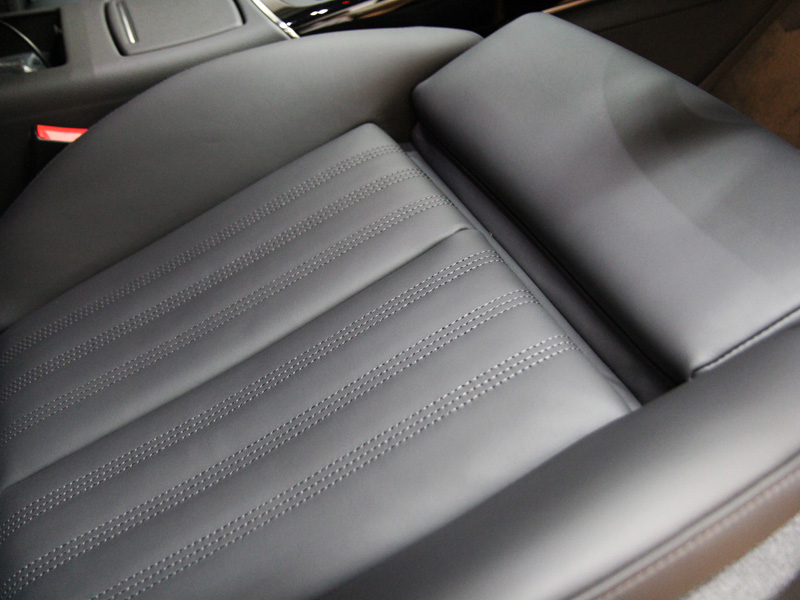 The glass was sealed using Gtechniq G1 ClearVision Smart Glass, a hydrophobic coating that repels rainwater and prevents snow and ice from bonding as aggressively to the glass. This makes driving less tiring during bad weather conditions as well as making early starts easier on frosty mornings!
Plastic trim was coated with Gtechniq C4 Permanent Trim Restorer, a nanotechnology-based coating that forms a chemical bond with the plastic and providing a tough coating that protects from UV fade. Being hydrophobic, it won't wash off or streak in the rain or during the weekly wash. In fact, one application can last up to two years.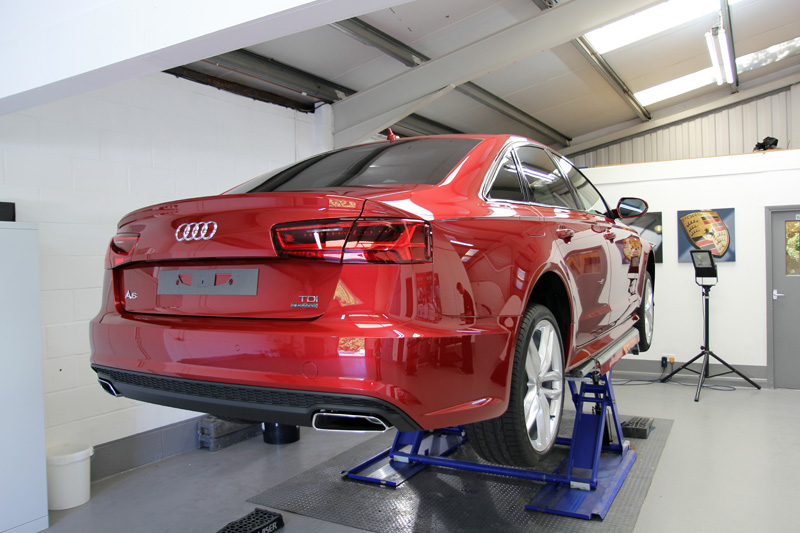 The metal details and exhaust tips were lightly polished and then protected using Britemax Metal Twins. The alloy wheels and brake callipers were protected using Gtechniq C5 Alloy Wheel Armour. This heat resistant, nano-coating is heat resistant, so will not burn off when they become hot. Hydrophobic and oleophobic (oil repelling), C5 also inhibits the build-up of brake dust, making the weekly clean up much easier!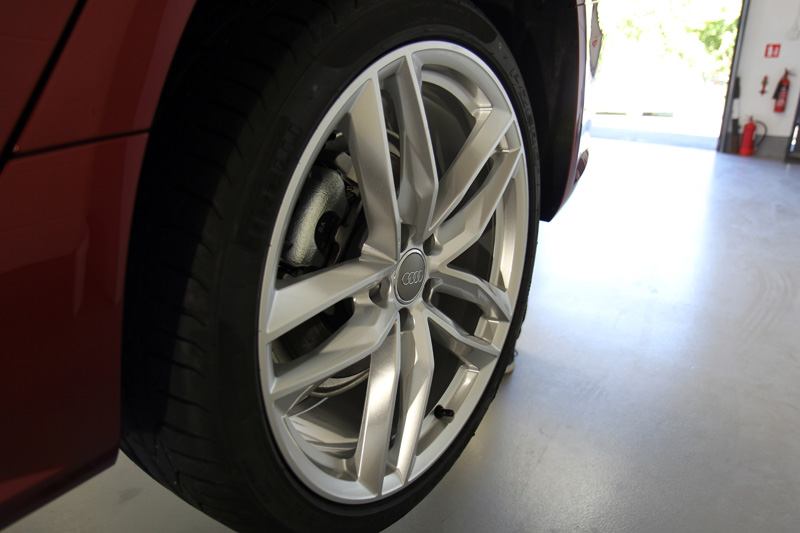 Finally, the tyres were given a layer of Fireball Tyre Coating (Blue), to give a natural look to accompany the astonishing level of gloss provided by Nanolex Si3D.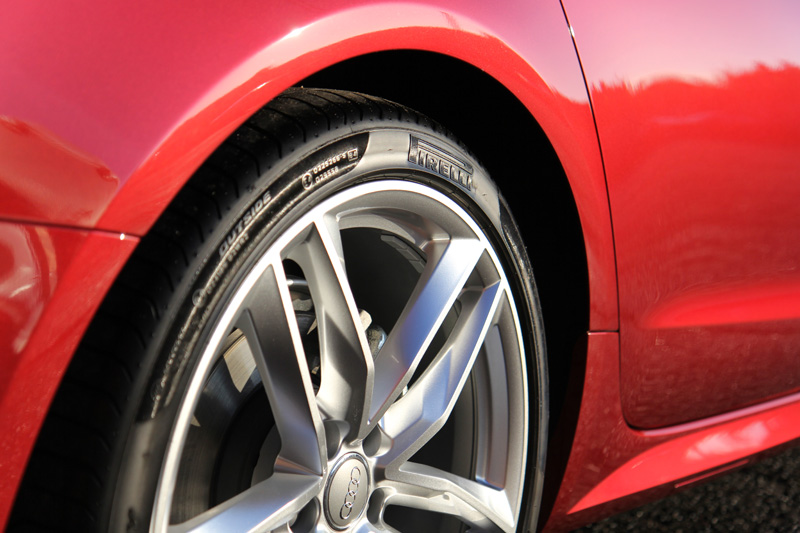 New Car Protection Treatment – the A6 Quattro S-Line looked better than new!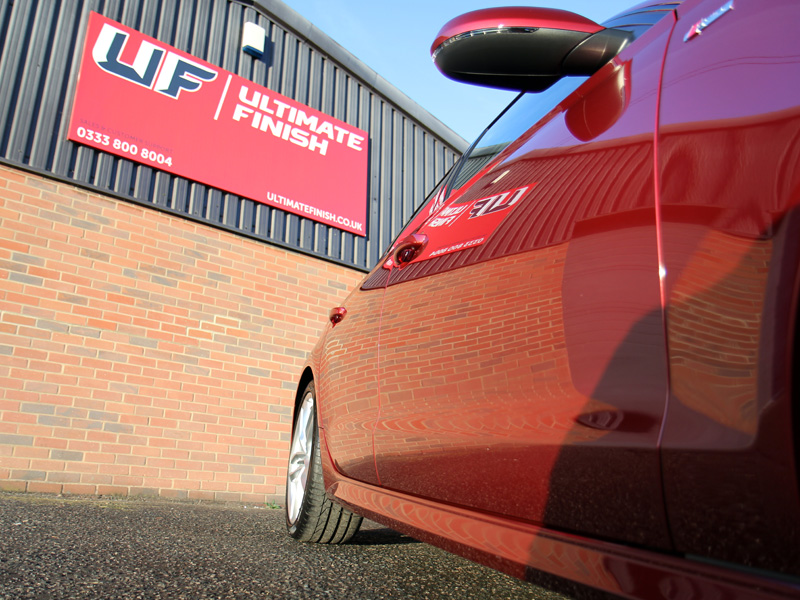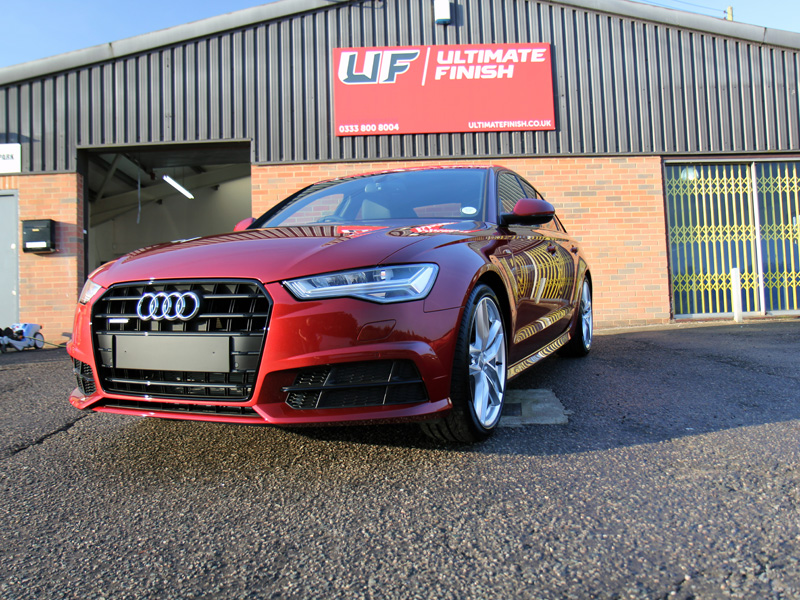 * Nanolex Si3D HD is authorised for use only by Nanolex-accredited detailers and is available as an 'Ultra' option with UF Detailing Services.
UF Detailing Studio – Award Winning Detailing. Call 0333 800 8004 to discuss your requirements.