BMW Z4 M40i: Uncovering Paint Damage On A New Car
March 1st saw the launch of 2020 registered vehicles in the United Kingdom and if you were lucky enough to get your hands on a brand new set of keys, you'll most likely want to give those new wheels the best chance of preserving their pristine exterior, right from the off.
New Car Protection is something all dealerships will likely look to include as part of the deal you enter and it's a subject we've covered in more detail here. The idea is, if you protect your new investment from environmental and industrial fall out right from the beginning, it'll far outweigh the alternative of putting miles on the car, which will in turn create damage that'll cost you more to rectify later down the line.
The proud new owner of this brand new BMW Z4 contacted us here at Ultimate Finish to get protected immediately and was duly booked in for a New Car Protection Treatment.
The BMW Z4 is in its third generation of production, with the G29 the latest rendition of this now 18 year old 2-seater. Like every present day BMW, those kidney bean grills have certainly shown huge growth since making their debut and there are an abundance of swooping lines and detailing now in place – it has certainly given it a much sportier look. We tend to think it hasn't done the aesthetics any harm. The new Z4 is incredibly photogenic, as you will go on to see in our finishing shots later in this article!
This 2020 registration M40i version packs quite the punch. The 3-litre straight-six produces 335 BHP which propels you to 60 mph in 4.5 seconds and maxes out to the restricted 155 MPH. BMW has also done away with the retractable hardtop roof for now too – a good old fashioned rag-top is in place.
How Perfect Was This New BMW Z4?
When a new car leaves the factory, they are delivered to the dealer coated in transportation wax, where it is then removed. Given the volume of new cars arriving at a dealer, time is often of the essence in preparing them, therefore, the techniques used in the removal process can be unsafe and rushed. As far as the dealer is concerned, wax out of sight is wax out of mind, so most will be removed, but at the same time damage to the paintwork will be inevitable.
Like so many we have seen before here at the UF Studio, the paintwork on this BMW Z4 had paid the price and only emphasises the importance of using safe cleaning methods.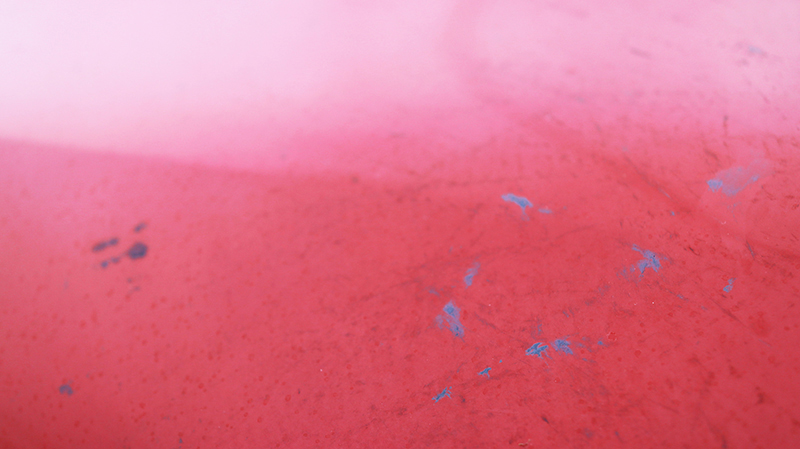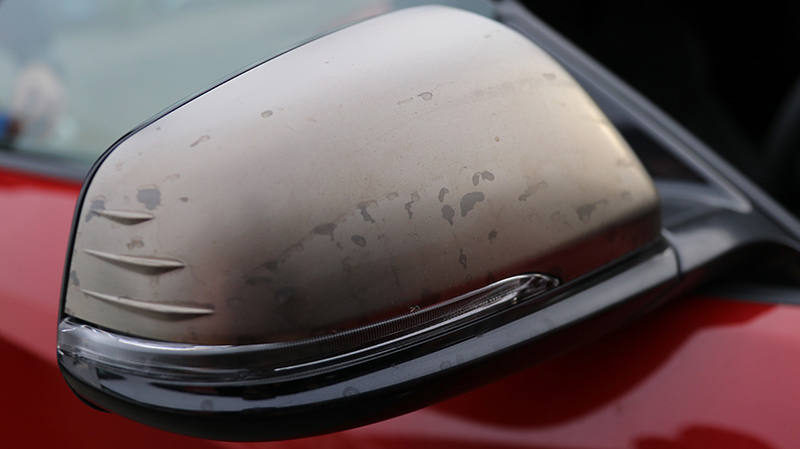 As you can see the mirrors and wings on our customer's BMW Z4 were still visibly marred by the transportation wax that had failed to be removed – potentially a good thing as at least what remained would be removed safely by our pro-detailer. By this stage, we were mindful this was more than likely to be a Gloss Enhancement service and not the initial New Car Protection service as anticipated – all would become clear once under our studio lighting.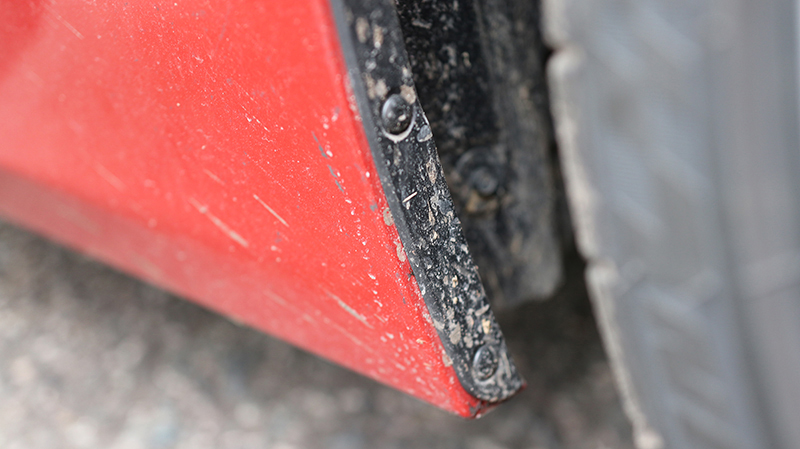 The Z4's number plates are both removed as they are often a gathering ground for dirt and grime to hide away. Not only will their removal allow easy access to clean, it will also eliminate the chance of moisture trickling down later and leaving unsightly streaks on the nearby surfaces.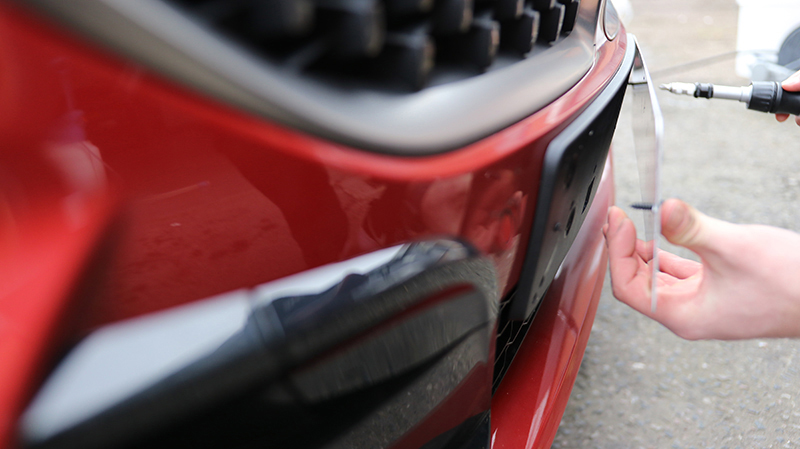 Wheels are treated using UF Safe Wheel Cleaner, which is a pH-balanced wheel wash featuring a viscous formulation. Thanks to the viscosity it means the cleaner can cling to the vertical surfaces of the wheels for a longer dwelling period, plus enhances the overall cleaning strength. Baked on dirt and loose debris are easily removed.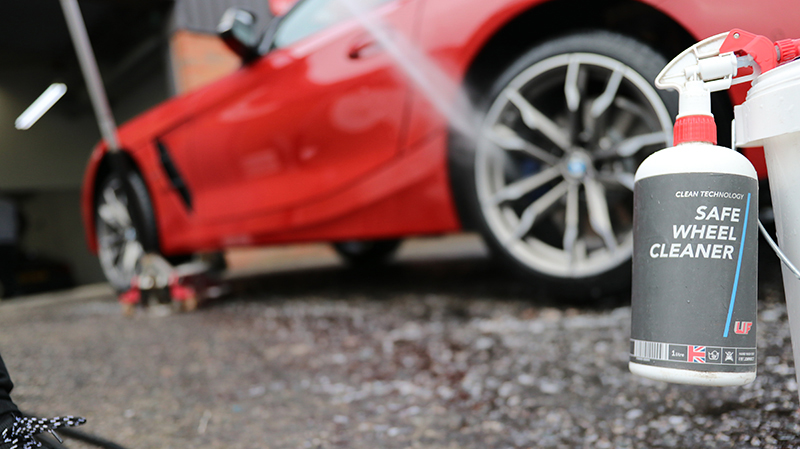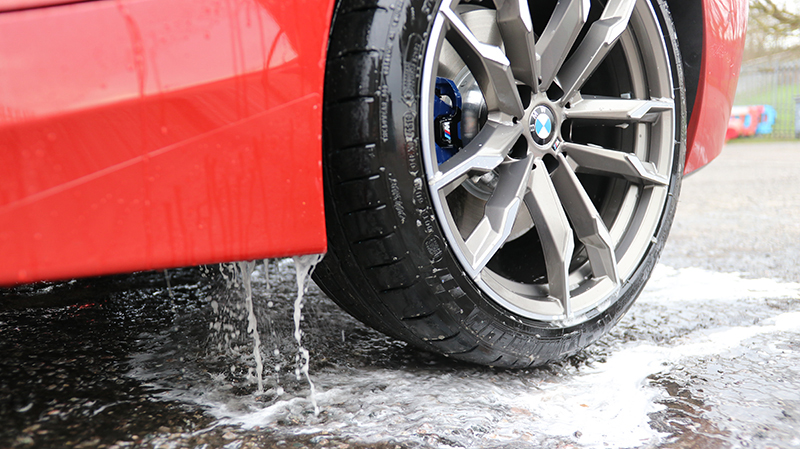 To agitate contaminants in and around the wheels, a combination of brushes are put to use. A Medium and Large Wheel Woolies Brush provide both a wide and long reach, whilst a gentle bristle Valet PRO Large Sash Brush is also used for those smaller, harder to reach areas such as the wheel nut housings.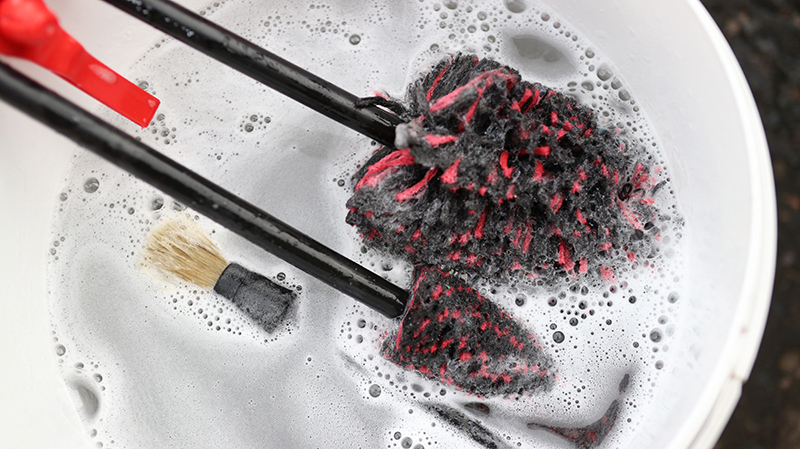 All door shuts are treated with Bilt Hamber's Surfex HD using a Kwazar Pump-Up Sprayer for ease of application and any remains of grease are safely degraded once the product has been allowed to dwell for a few minutes. Shuts are then carefully blasted down with a pressure washer ensuring water does not enter the car's interior.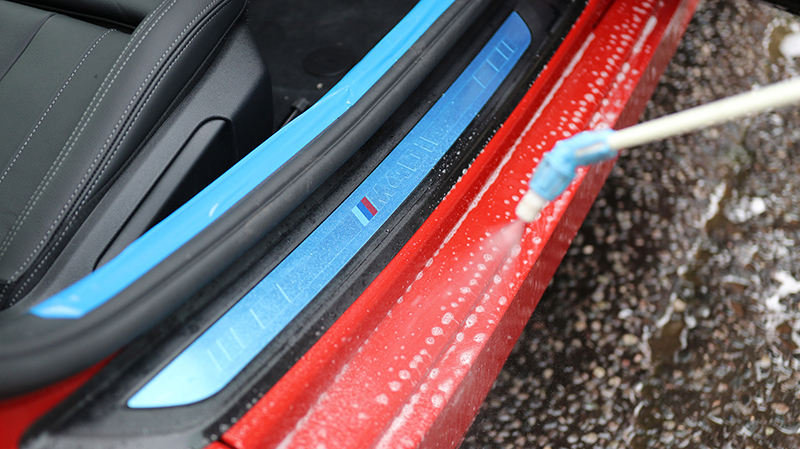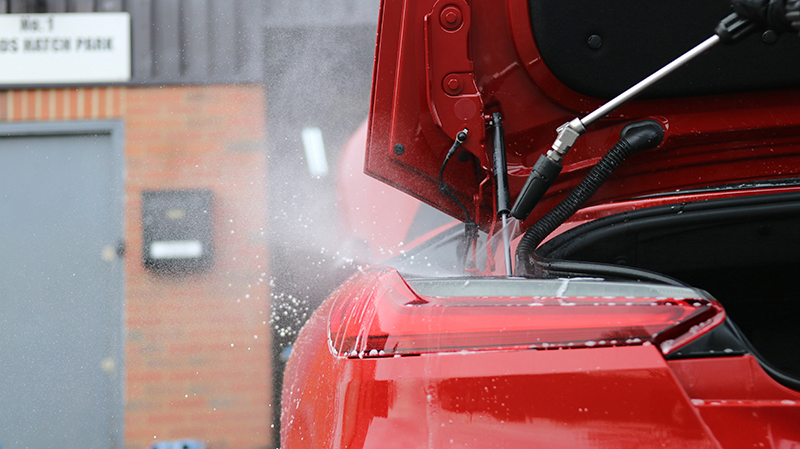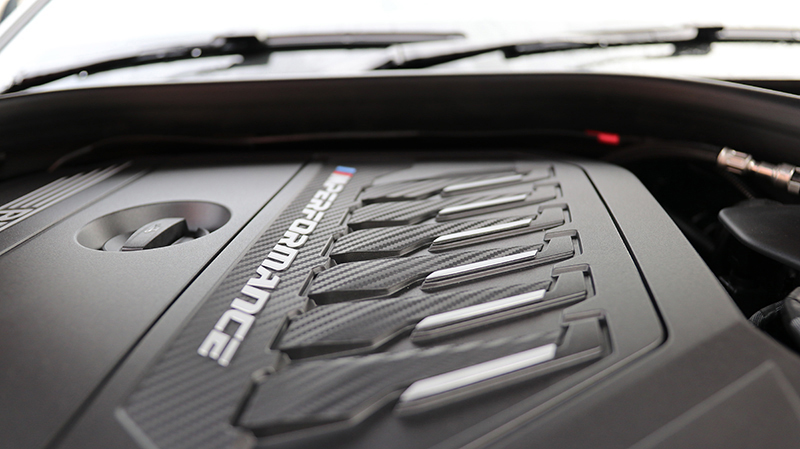 The BMW is snow foamed courtesy of Valet PRO's Foamula 1 – a new luxuriously thick foaming pH neutral product which possesses high clinging properties. Any larger particles of grit and grime which we mentioned earlier, especially on the wings, are grabbed onto by the foam and are safely broken down. This is where the snow foam really excels, making itself busy on vertical services during its dwell time of a few minutes and enabling safe removal when jet washed down with our pressure washer.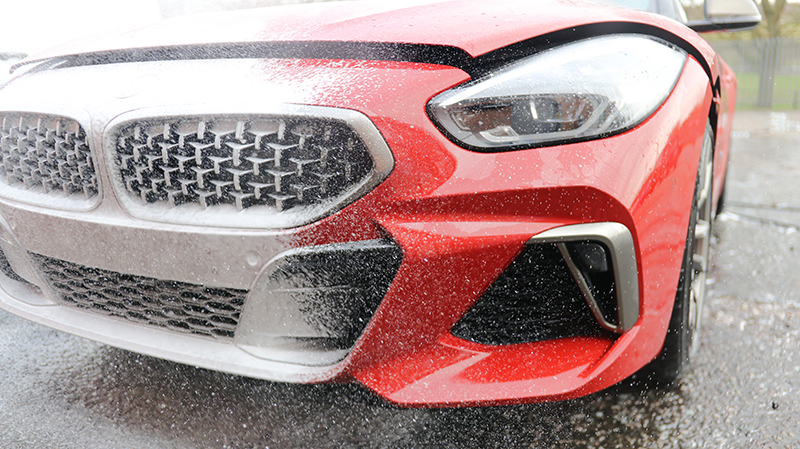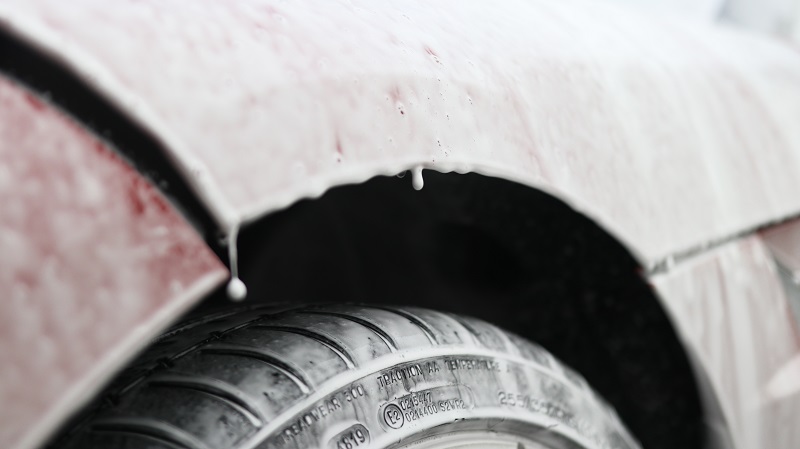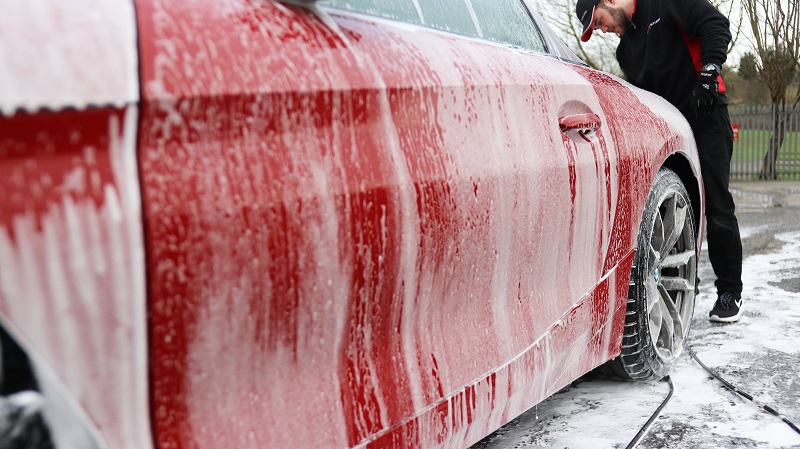 Wash Stage: Achieving The Smoothest Of Surfaces
Entering the wash stage, contact cleaning can commence now that our pro-detailer is happier with the level of remaining contamination. Using the Two Bucket Method, a thick pile WM2 Microfibre Wash Mitt from Gtechniq works in tandem with the suds of UF Pure Shampoo to cover the BMW Z4's exterior surfaces.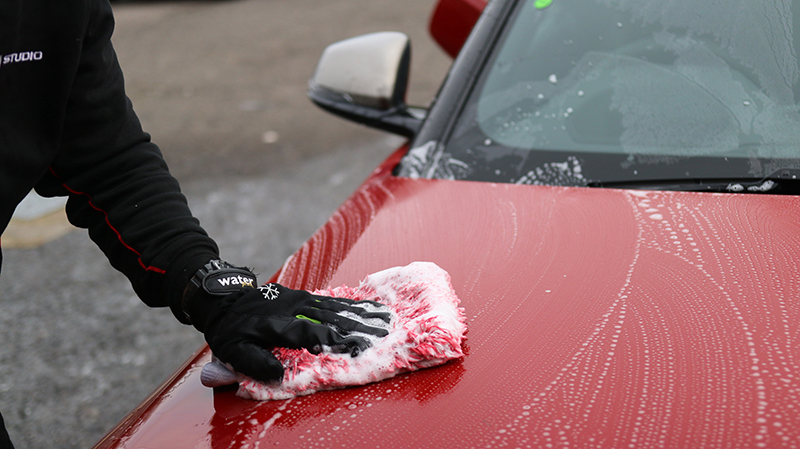 After a rinse with the wash mitt, the paintwork is then given a second treatment, this time using a Flexipads Clay Mitt (fine grade). An essential part of car care preparation is to ensure all surfaces are as smooth as can possibly be prior to the machine polishing that will take place later on. The clay mitt uses the shampoo as a lubricant and grabs on to particles of dirt, grit and tar that remain using the polymer clay face. An advantage of the Flexipads Clay Mitt is that it is also fully reusable once carefully washed through.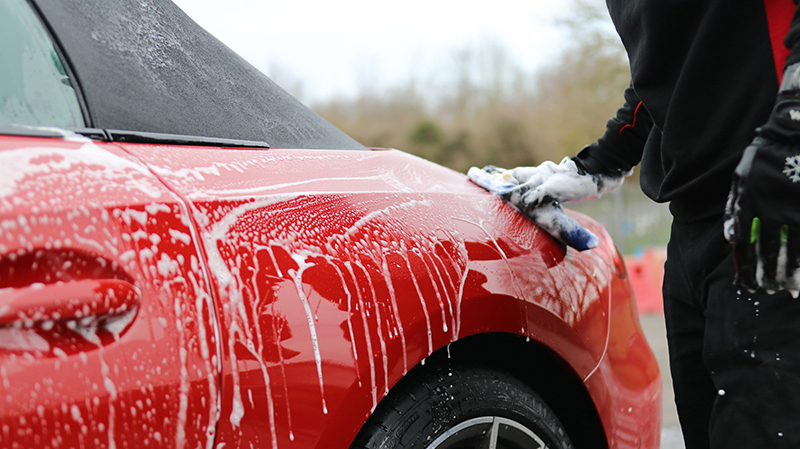 Assessing The Damage
With the BMW Z4 now fully cleaned and dried, the paintwork could be analysed in greater depth under our high intensity lighting. The anticipation for swirls and scratches was of course pretty high given the condition of the car on arrival, but in reality, the level of scratches were even greater than expected.
Both the paintwork and the piano black trim were littered in swirls and light scratches – as a result the type of service required would now be elevated from a New Car Protection to a Gloss Enhancement Treatment in order to rectify.
Areas noted down where markings were especially aggressive included the wings and surrounding trim as pictured below – these are worked on with a RUPES Mini, Wool Pad Coarse Blue and Koch-Chemie H8.02 cutting compound.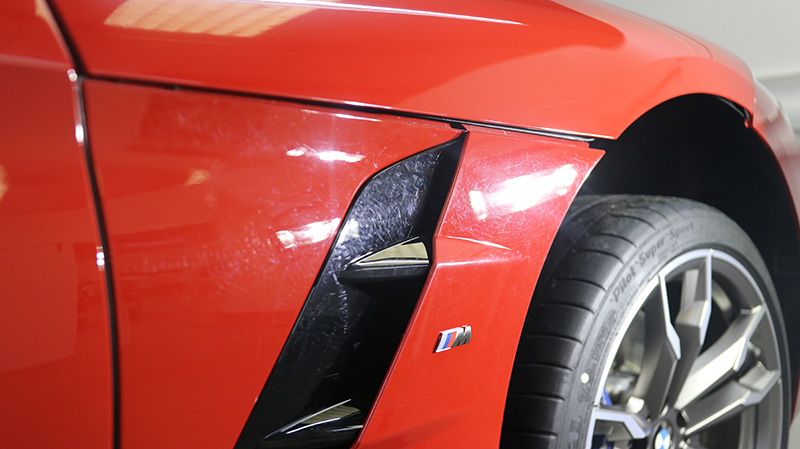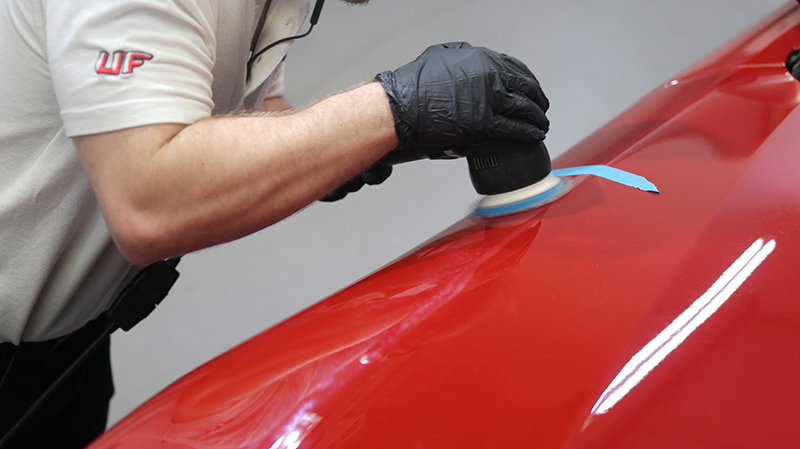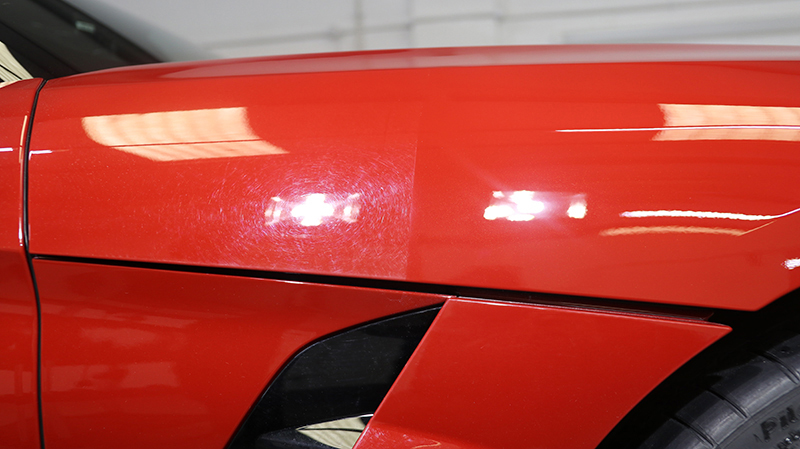 After a couple of passes with the RUPES Machine Polisher, a pretty impressive 50/50 picture is produced. A real eye opener to think the section on the left (pictured above) has left the dealership as a 'new' car.
A combination of different sized RUPES machines are used to treat all other sections of the BMW Z4 and remove remaining swirls and scratches before the refinement stage, where Koch-Chemie M3.02 Micro Cut is deployed – this is a particularly good fit due to its non-aggressive finishing qualities.
Protecting The BMW Z4
Kamikaze Collection's flagship 'ENREI' is chosen by our customer as the desired paint protection. It's an ultra high-tech nano-technology sealant which is applied in 2-steps using specially designed applicator pads.
Under a strict temperature controlled environment within UF's Brands Hatch Studio, base coat No.1 is laid down in uniformed straight lined application and once allowed to cure for the required length of time, is wiped away using a microfibre. The base coat is now essentially acting as a primer for step 2 to be applied later on.
Once coat No.2 is laid down, cured and buffed away it grips into the base coat, fuses, then forms a super high-gloss finish with extremely long-lasting hydrophobic properties to ensure the highest grade of protection from future contamination.
Kamikaze's ENREI comes as part of their professional range and is available as a paid-for detailing treatment only from Certified Kamikaze Collection Trained Detailers. This is due to the strict application techniques and specific studio environment required in order to ensure maximum quality is achieved.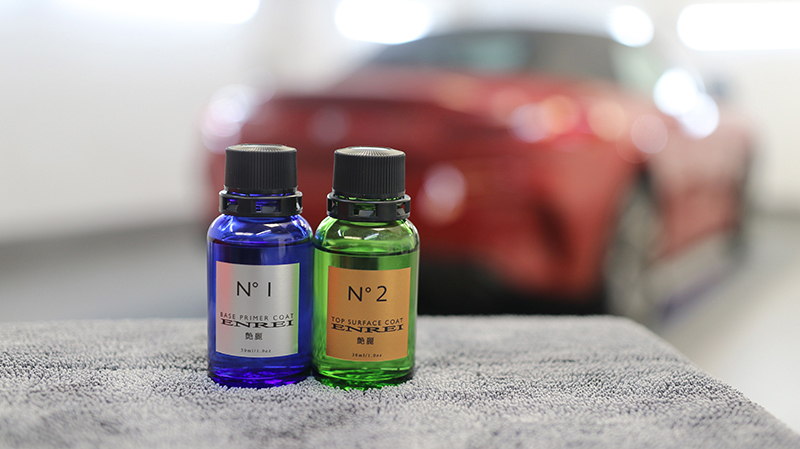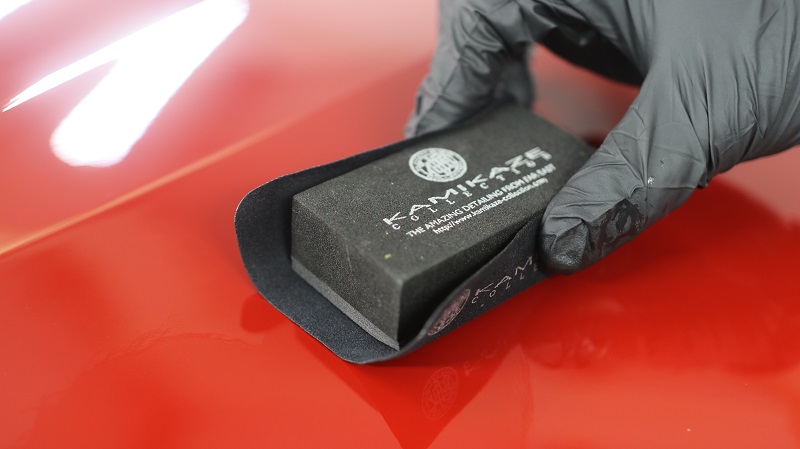 We protect the BMW Z4's brand new leather interior with UF Leather+ Protector to ensure the nourishment of the surface. The Leather+ is applied using a Gtechniq Dual Layered Soft Foam Applicator Pad and will provide a barrier against drying out, cracking and UV damage.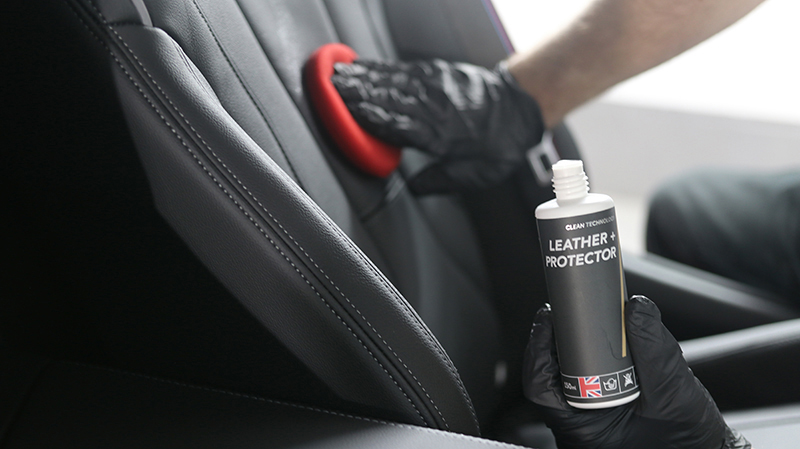 And Finally, As Good As New
When this car arrived at our studio, you'd be hard pressed to believe it was a 2020 registered car, putting the transport protection clues aside. But, after a few days in our studio, the BMW Z4's red paintwork finally looked befitting of the new car it actually was and the new owner can be safe in the knowledge that the high gloss red paint is protected for many miles to come.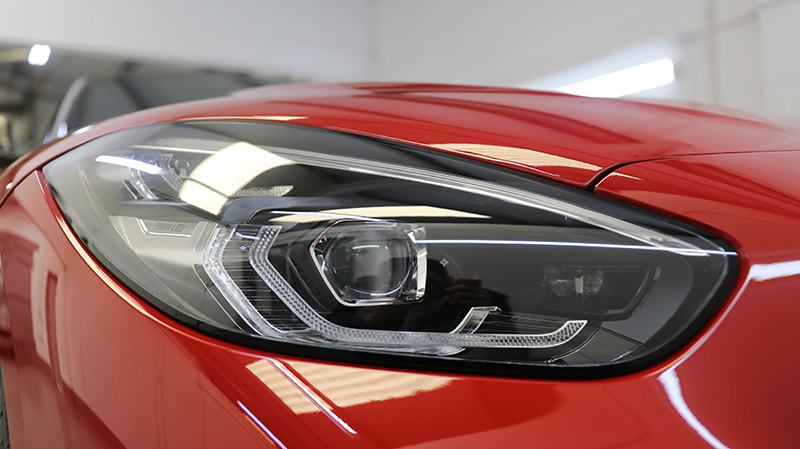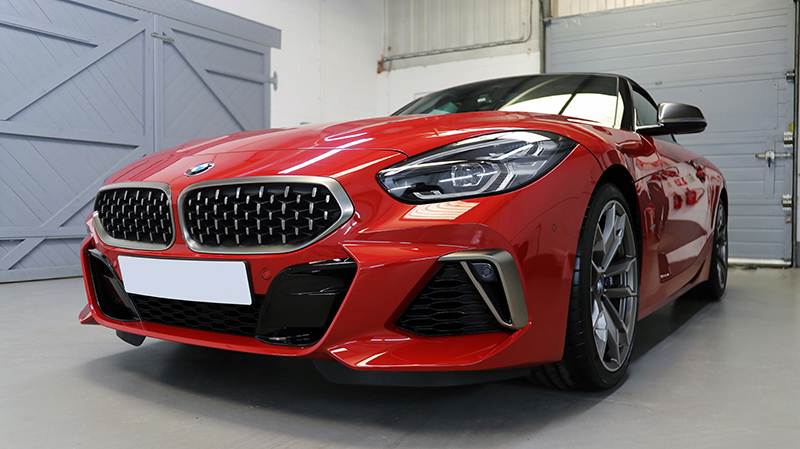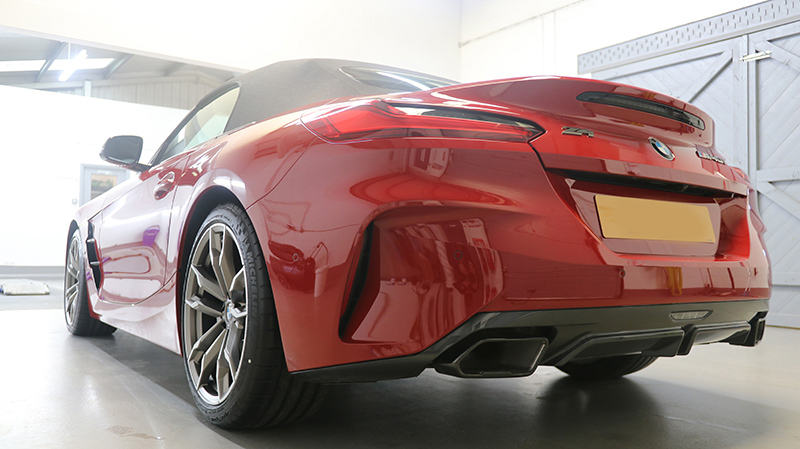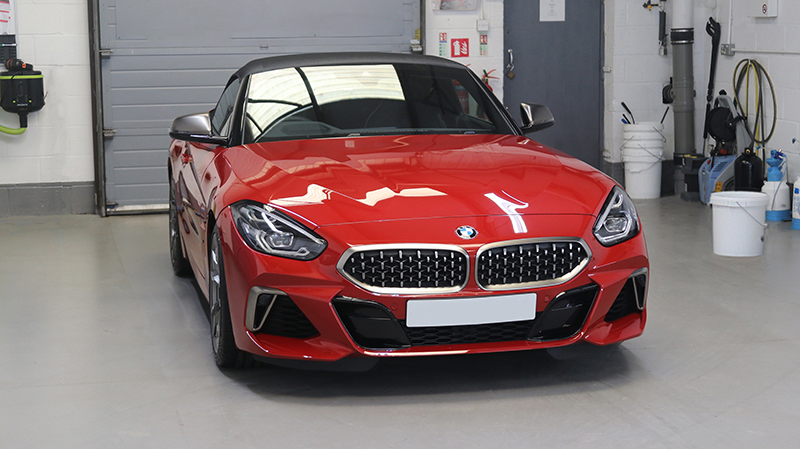 Featured Products Used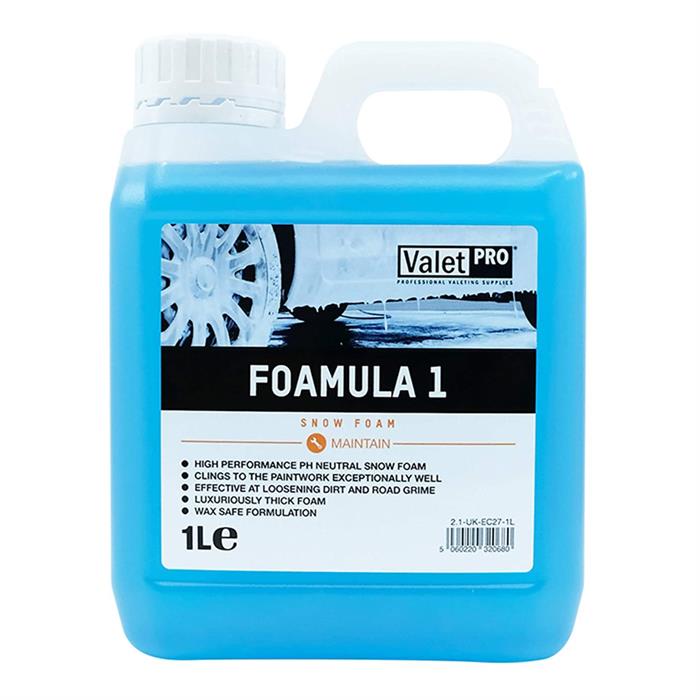 Valet PRO Foamula 1 Snow Foam £9.00
Strong performance pH neutral snow foam
High-clinging qualities & effective dirt loosener
Thick foam
Wax safe formulation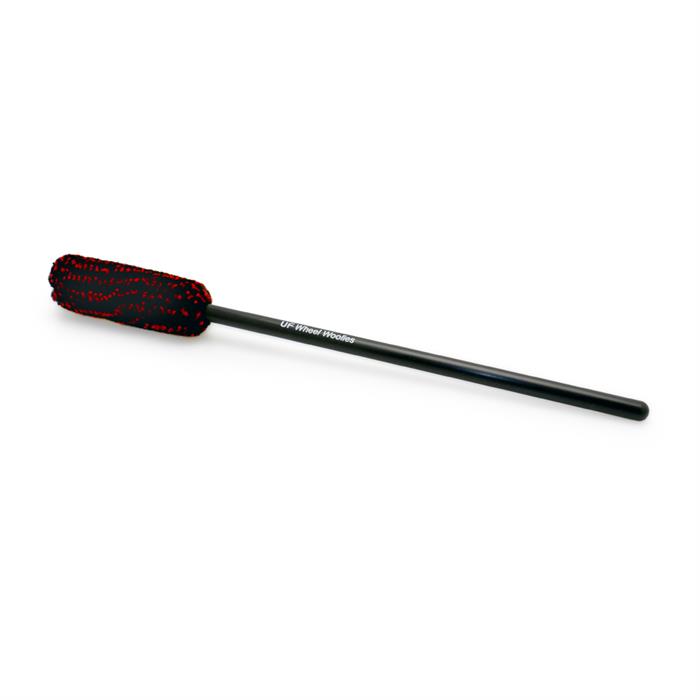 Wheel Woolies (Medium) £21.50
Ultra-Soft polypropylene fibre heads
Super-Strong flexible non-scratch handles
100% metal free
Suitable for all wheel types & finishes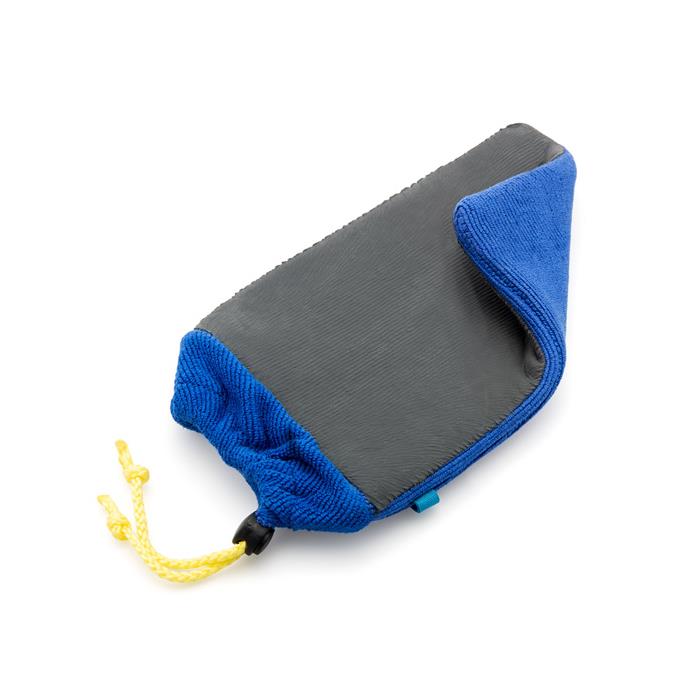 Flexipads Clay Mitt £25.00
A reusable mitt with polymer clay face
Fine grade clay – removes tar deposits, tree sap residue & brake dust build-up
Use in conjunction with lubricating pre-wash or shampoo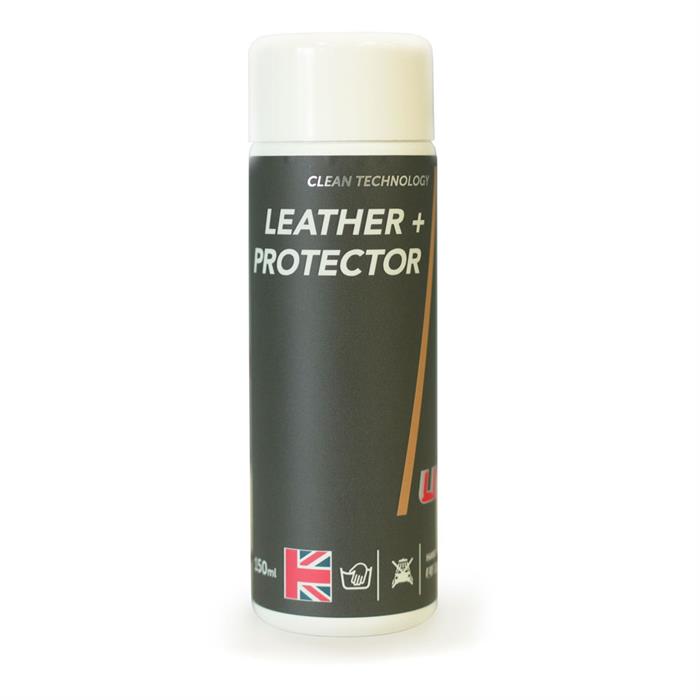 UF Leather+ Protector £11.00
Protects against friction damage
Contains antioxidants to inhibit UV fade
Nourishes and protects the leather to keep it supple
Helps prevent drying out and cracking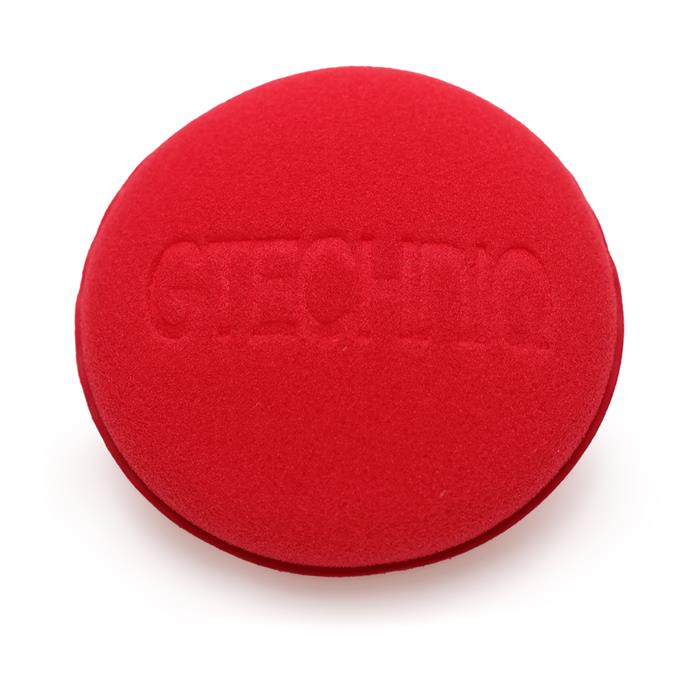 Gtechniq AP3 Dual Layered Soft Foam Applicator £2.50
Soft foam applicator pad
10cm diameter
Machine washable
Use for applying interior & exterior dressings
Want your vehicle's appearance cosmetically enhanced or protected? To discuss the most appropriate detailing treatment call 01474 360 360 or complete the online enquiry form here. We provide a bespoke, no-obligation quote via email.

Shop The World's Best Car Care Products – Ultimate Finish
Award-Winning Detailing – UF Studio