Dual-Layer New Car Protection For A 'Catalunya Red' Audi TT RS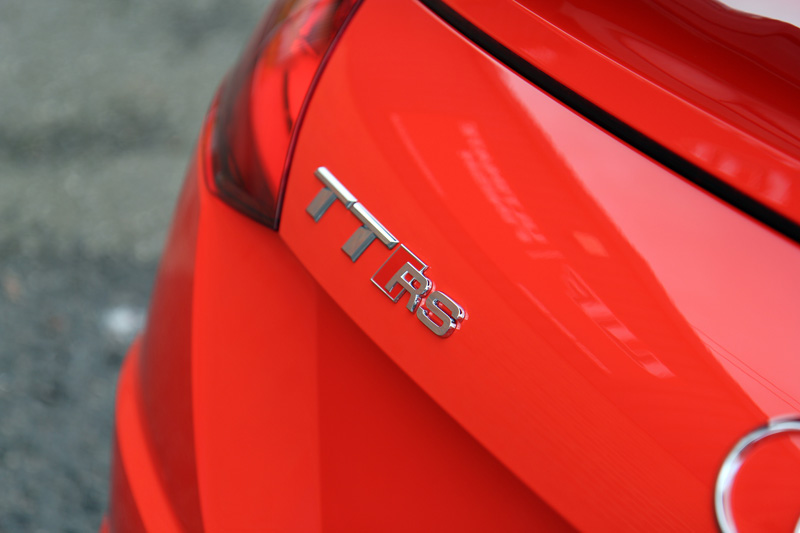 The new Audi TT RS is a veritable force to be reckoned with. Coinciding with the 40th anniversary of the initial launch of the Audi five-pot engine, the TT RS with its turbocharged 2.5 litre engine is faster out of the traps than a Porsche 911 Carrera 4S. The 2017 model is lighter than ever (35 kilos lighter than the previous incarnation) produces 394bhp and 354lb ft of torque, the latter available from just 1,700rpm! All this power is meted out through Audi's seven-speed, dual clutch, S-tronic transmission. The TT RS grips the road more aggressively than ever before through a combination of technical wizardry and selective controls which allow the driver to determine where the focus of all that torque should be directed.
Utterly responsive steering, Quattro grip and a firmness of body control, the TT RS is ten millimetres lower than the standard TT and produces a thoroughly enjoyable driving experience. Through all of this it retains that familiar Audi-safety net feeling re-enforced by the bucket seats which firmly grip you in place. The engine burbles, growls and snarls convincingly, and with the optional upgrade of the sports exhaust produces a satisfyingly rich sound.
Audi claims the RS is capable of achieving an eye-watering 0-62mph in 3.7 seconds. Recently, EVO put this to the test and managed the same sprint in 3.4 seconds. That's faster than they made it in the Ferrari Enzo and plants the RS closer to the McLaren F1 league. Safe to say, the new TT RS is quick!
The owner of this Catalunya Red RS grew up with performance cars as her father was a big fan. Having spent formative years tinkering with and driving a selection of fast cars and hot hatches, when she had the opportunity to get her hands on the latest TT RS she jumped at it. Having joined the Audi TT forum and conducted some research, opting for New Car Protection, Alloy Wheel Protection and Glass Treatment seemed, in her words, a 'no-brainer'. Wanting the best possible protection, she opted for the 'Gold' sealant upgrade, to provide dual layer paintwork protection.
The RS was driven from Canterbury to UF's Detailing Studio at Brands Hatch and subsequently was in need of thorough cleaning and decontamination before the protection treatment could be started.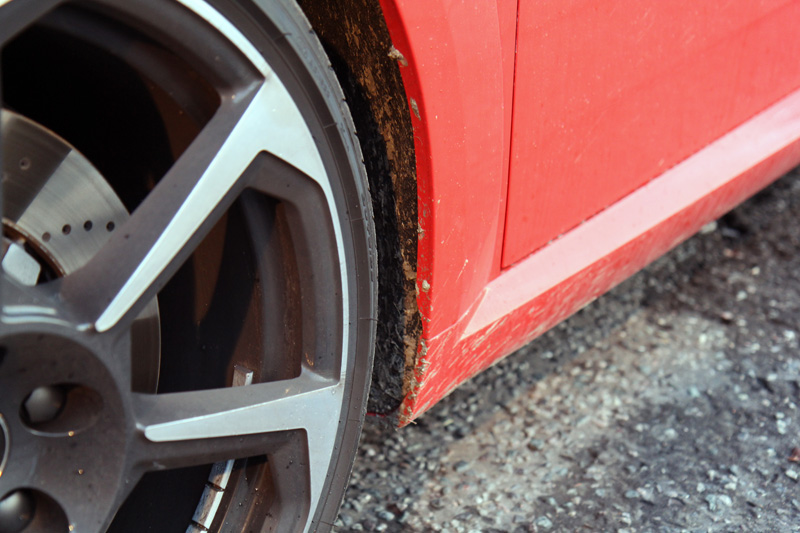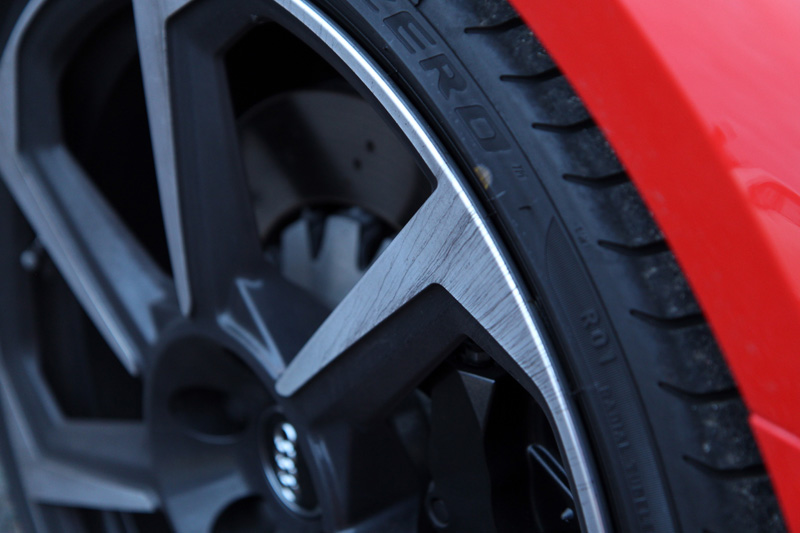 Nanolex Wheel Cleaner and Iron Remover was applied to the wheels and bodywork to ensure any iron contamination was eliminated. Sprayed on, it is left to dwell for a few minutes, the active ingredient shrinking the particles and causing them to break their bond with the substrate. These sharp, potentially damaging particles can then be rinsed away. Treating the TT RS with Bilt-Hamber Surfex HD, the bodywork and wheels were degreased, removing oily deposits, diesel and petrol splatters thrown up by wet roads. The wheels were washed and cleaned using Wheel Woolies, long-handled brushes with different sizes of heads that fit through the spokes of the alloys to clean the rear of the rims.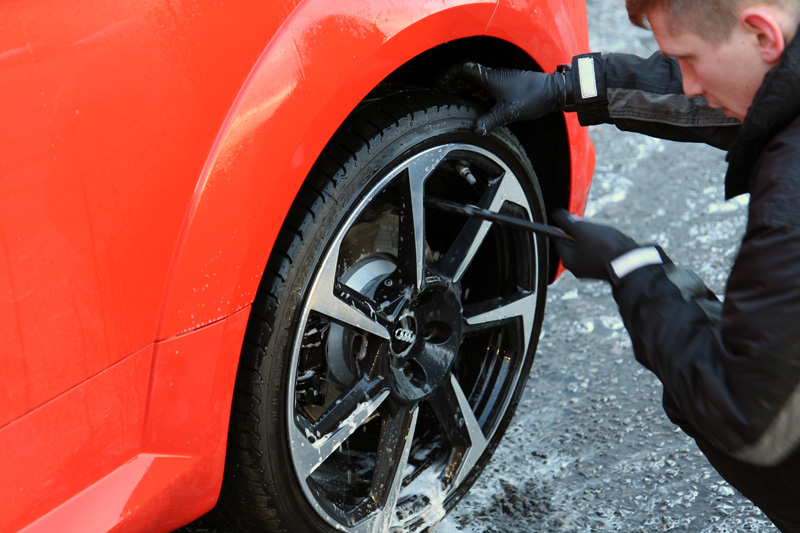 The filler cap and surrounding area are natural traps for petrol splashes, so this area was carefully cleaned using a detail brush to ensure any contamination was removed from the crevices.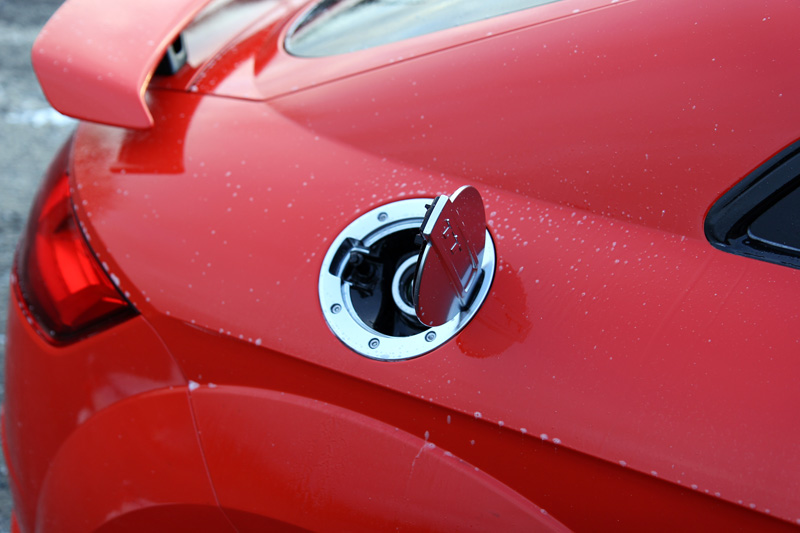 The TT RS was then pre-cleaned using Ultimate Snow Foam applied through a Kranzle-adapted foam lance attached to a Kranzle K-1152 pressure washer.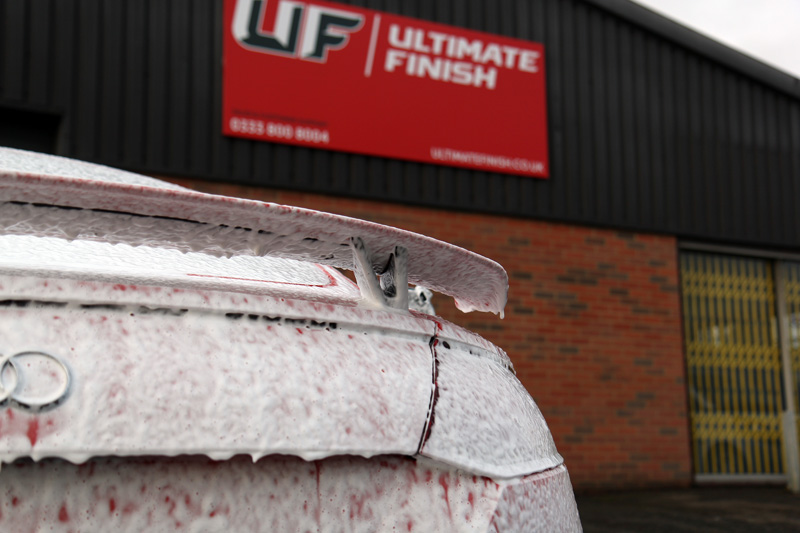 The thick foam clings even to the vertical surfaces of the car, getting into all the nooks and crannies, lifting particles of dirt and grit away and encapsulating them within the foam. The contamination is then rinsed away before a wash mitt comes into contact with the paintwork, making the wash process much safer.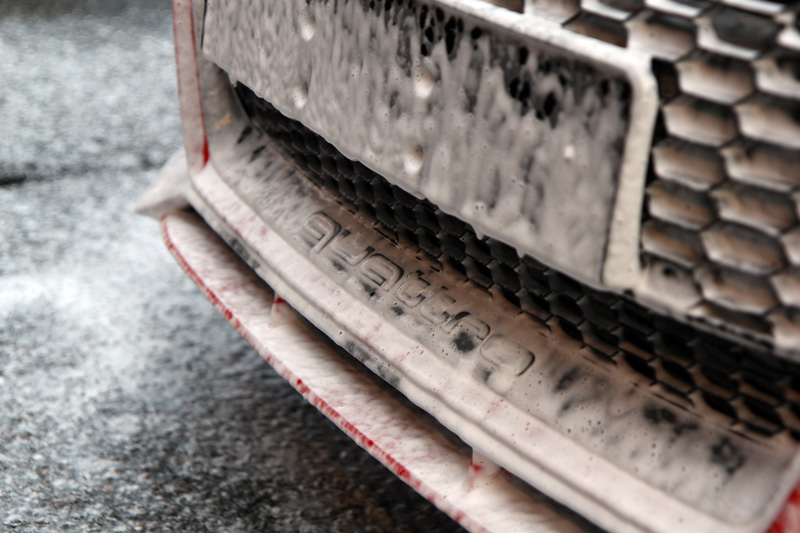 After the initial application of Ultimate Snow Foam was rinsed away, a second application was used as a lubricant for a clay mitt. These mitts act in a similar way to traditional clay bars, shearing away stubbornly bonded contamination and leaving the paintwork feeling smooth as glass to the touch. The RS was then washed using the Two Bucket Method, an Ulti-Mitt Double Sided Merino Wash Mitt and Gtechniq G-Wash, a pure shampoo devoid of glossing agents which may interfere with the final protective coating.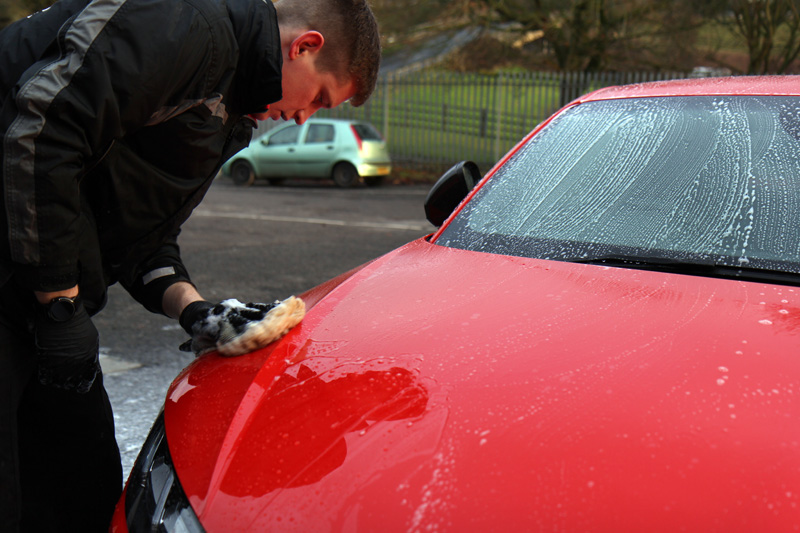 After rinsing the suds away, an Aqua Gleam De-ionising Water Filter was attached in-line with the hose to give the car a final, pure water rinse. The TT RS was dried using soft microfibre drying towels and brought into the studio where it was checked for any residual moisture by using an air blower. This forces trapped water out from between crevices, preventing them from later interfering with the coating application.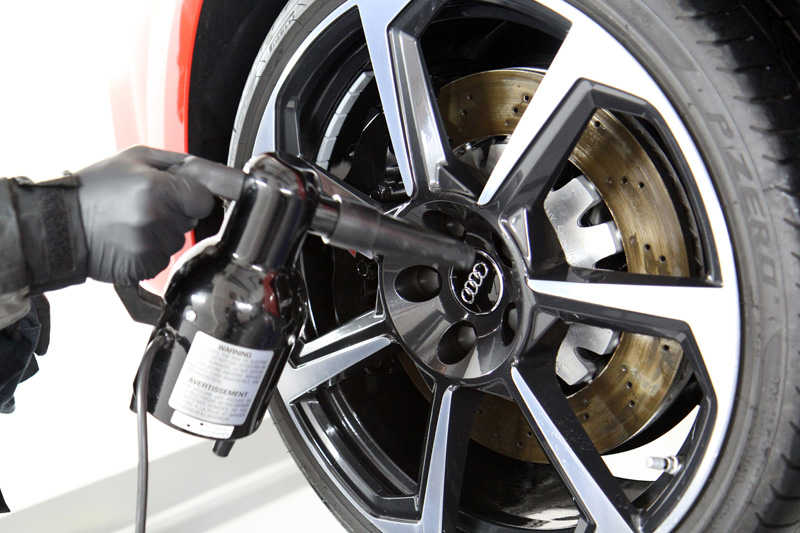 The paintwork was inspected under high-intensity lighting to reveal its true condition. A few minor swirls coupled with fine scratches were discovered on the unprotected paintwork indicating that incorrect washing techniques may have been used at some stage prior to delivery.
Unusually for Audi, the paintwork was not as hard as we have come to expect. However, the swirls and scratches needed to be removed before a sealant could be applied, so time was a consideration. I selected a rotary polisher and worked at a higher speed using a soft pad with an excess of finishing compound to maintain lubrication, relying on the higher speed to tackle the blemishes. This process eliminated the requirement for a two-step correction process. – Matt Back, UF Detailing Studio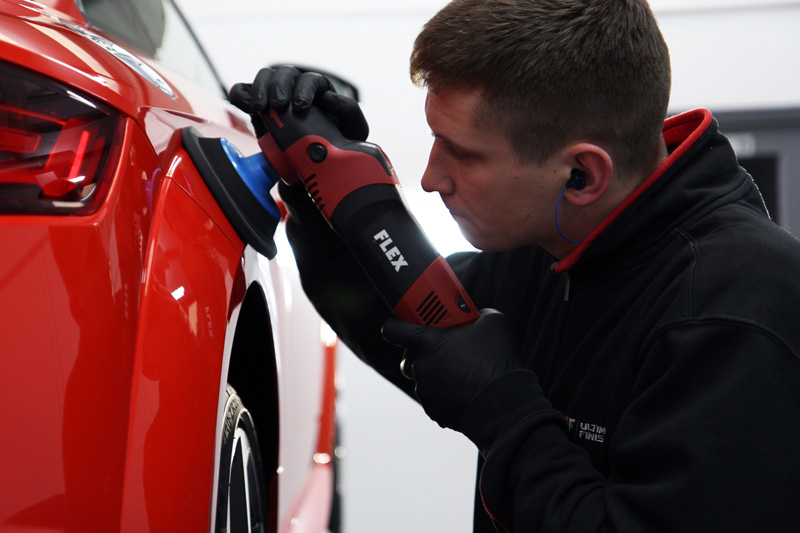 To protect the refined paintwork, Gtechniq Crystal Serum was applied. This innovative nano-ceramic sealant cures as a dual layer. The lower layer is slightly softer and therefore flexible, better able to absorb impact. The upper layer cures much harder to resist swirls. The combined effect is a durable high shine finish which resists wash swirls as well as being virtually impervious to extremes of pH. During winter driving conditions this is a particularly helpful feature!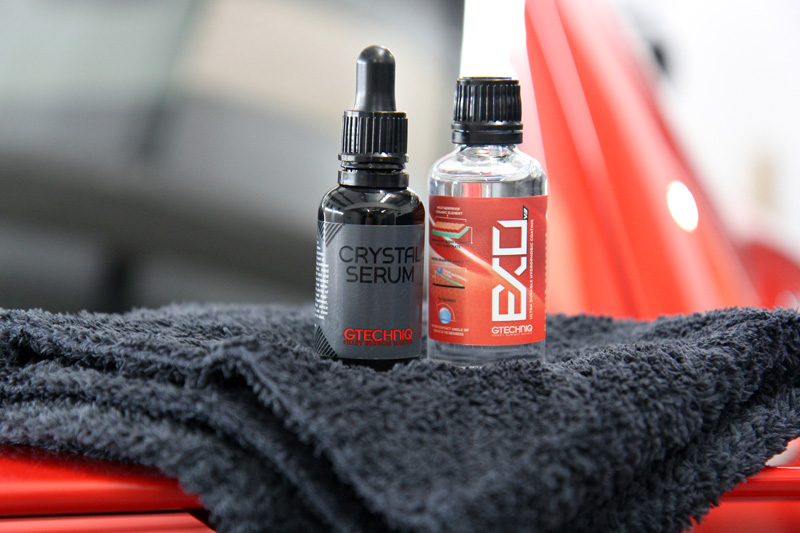 As with most of the professional-only sealants, Crystal Serum must be applied in tightly controlled conditions in order to ensure maximum performance and durability, so is available only as a service through Gtechniq-approved centres. Gtechniq is so confident in its coating that they guarantee the performance for seven years. To add extra *hydrophobicity, Gtechniq EXO v3 was applied. This Crystal Serum / EXO V3 combination is referred to as CS Black and is one of the sealant upgrades available with any of UF's Award Winning Detailing Services.
*In chemistry, hydrophobicity is the physical property of a molecule (known as a hydrophobe) that is seemingly repelled from a mass of water. (Strictly speaking, there is no repulsive force involved; it is an absence of attraction.)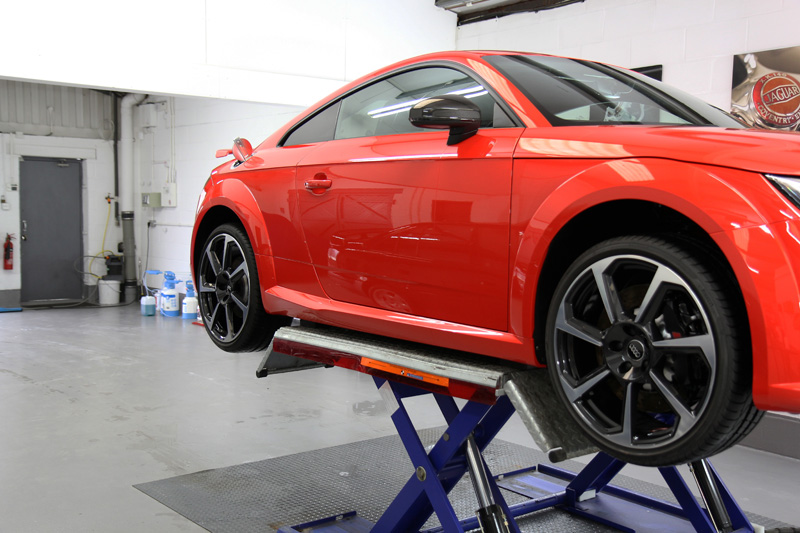 For the windows, Kamikaze Collection Intenso Window Coat was applied. This water repelling coating causes rainwater to roll into beads on contact and allows them to be easily blown away, even when driving at relatively low speeds.
To protect the alloy wheels, Kamikaze Collection STANCE Rim Coat was applied. Specifically, STANCE is designed to withstand the unique challenges faced by rims, STANCE Rim Coat is hydrophobic, heat resistant and is able to repel contamination, including brake dust which does not adhere as readily to treated surfaces.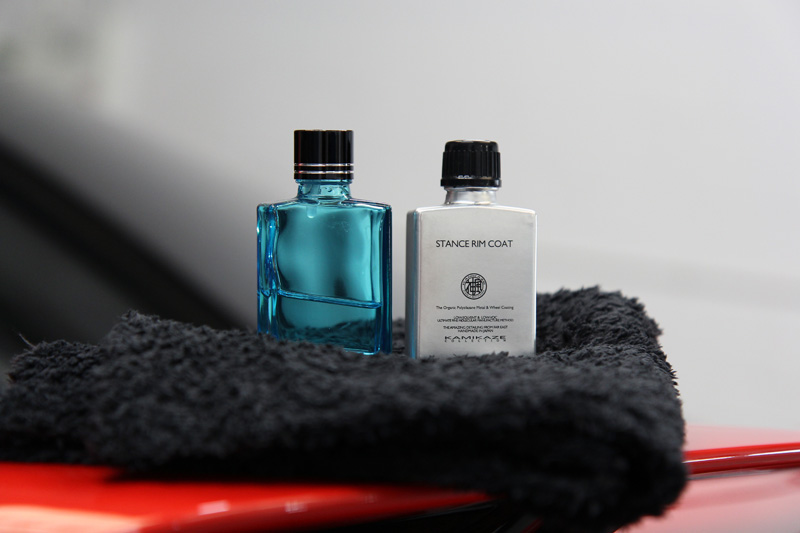 Wheels, glass and paintwork protection treatments completed, this Audi TT RS is now ready to take on the world!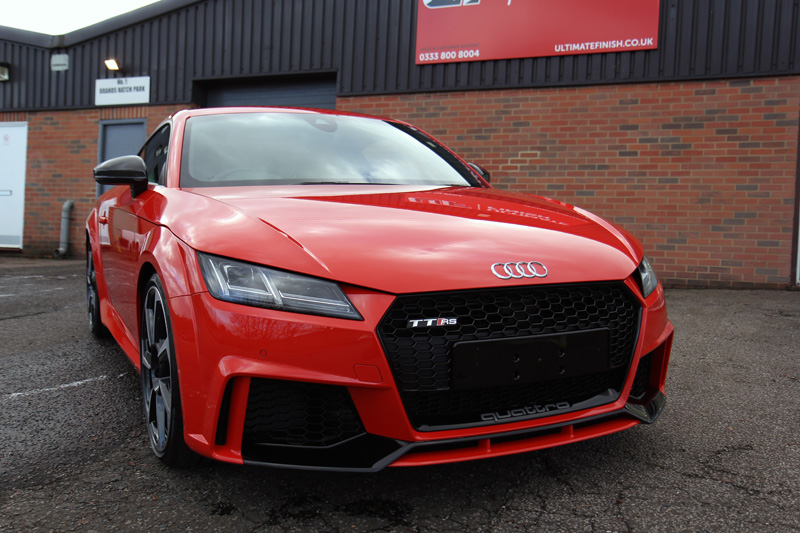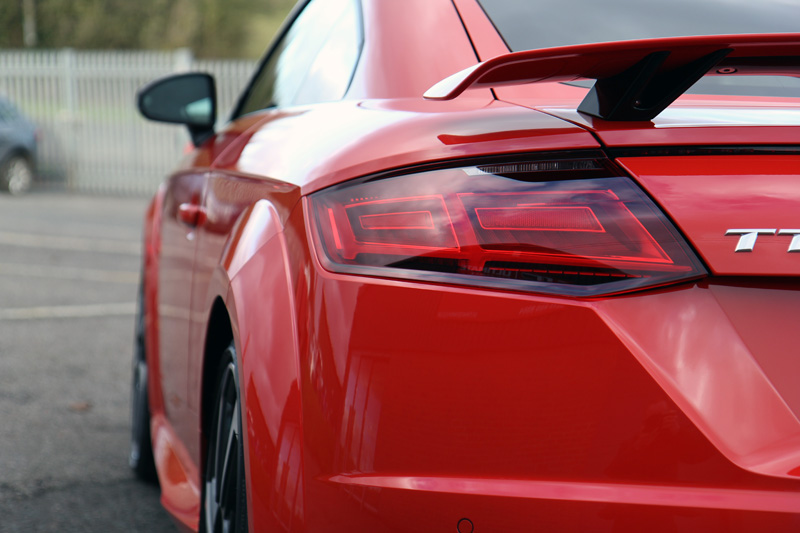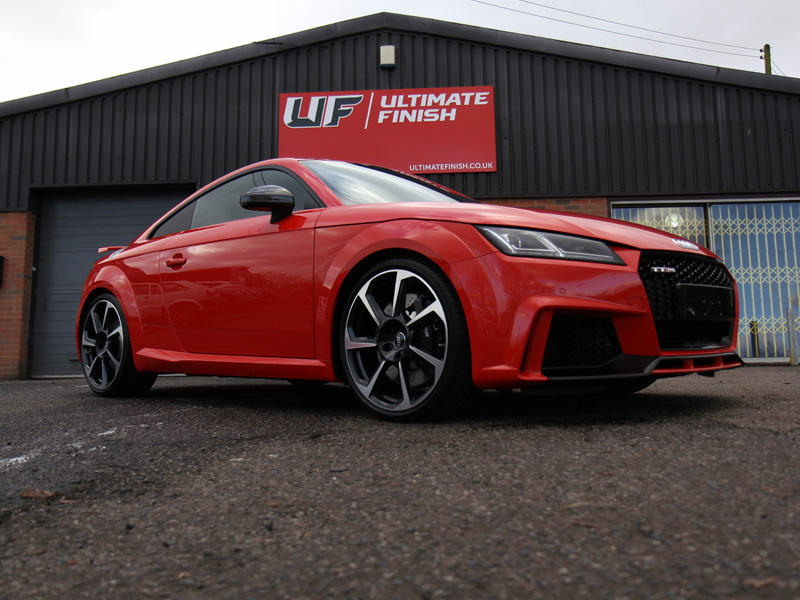 UF Detailing Studio – Award Winning Detailing. Call 0333 800 8004 to discuss your requirements.