New Audi A4 'Allroad': Go-Anywhere Protection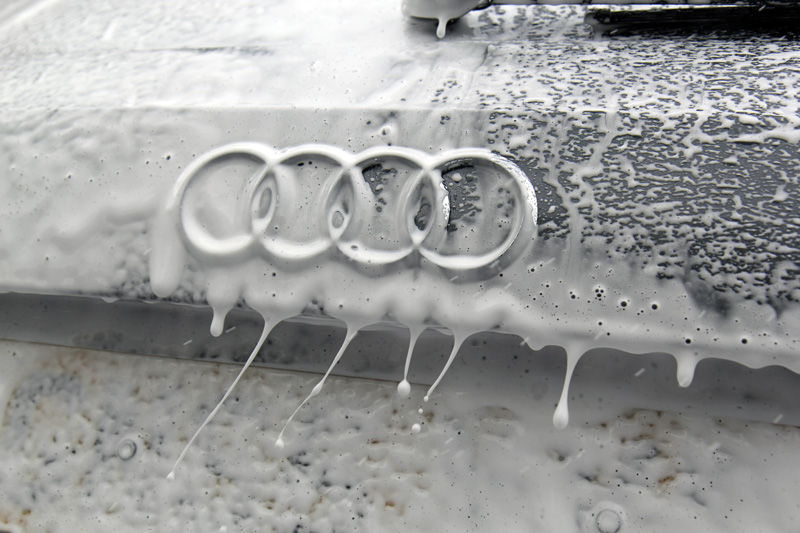 The Audi A4 Allroad was introduced to give the discerning driver the most practical of cars. An estate car on steroids, the beefed up body with its raised ride height (37mm above the standard A4 Avant) and muscly black plastic cladding gives the Allroad increased road presence. The estate style body gives plenty of room for carting large items around and the all-wheel drive capability certainly gives the driver the 'anywhere, anytime' confidence usually reserved for SUVs.
The A4 Allroad is a car marketed with the promise of adventure, designed to be driven in all conditions and over a variety of terrains. As such, when one turns up at UF Detailing Studio for a New Car Protection Treatment, a nanotechnology-based glass (aka ceramic or quartz) coating was recommended to provide a durable, chemically resistant protection to the car's various surfaces.
Prior to treatment it is important to thoroughly decontaminate the vehicle. Part of the reason ceramic sealants are so durable is the strong chemical bonds they form with the substrate, and they can't form those bonds effectively if there are residues present. Additionally, before application you need to ensure the paintwork is scratch and swirl free, as once these coatings are cured they're semi-permanent – and there's nothing more irritating than defects sealed in beneath a durable coating. – Matt Back, UF 
It was apparent that the customer had driven the Allroad to the studio direct from the dealership as the identification markings were still present on the windshield.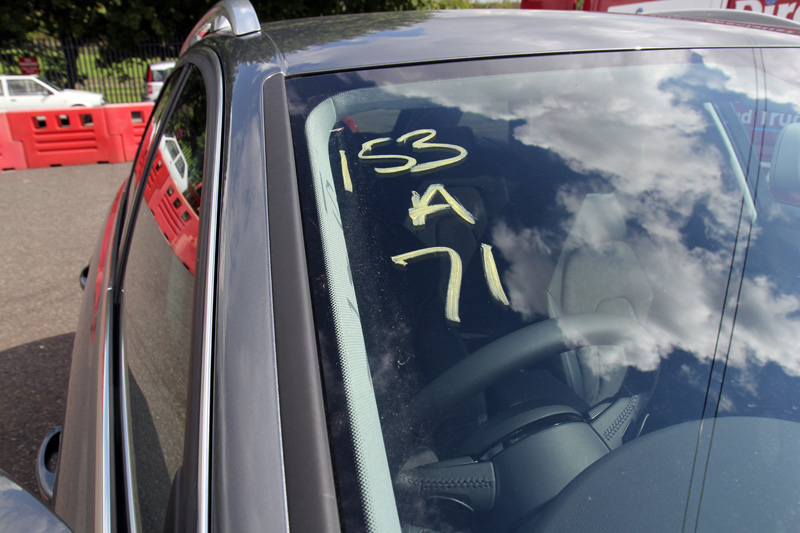 During the drive the car had collected a reasonable amount of debris around the sills and wheel arches.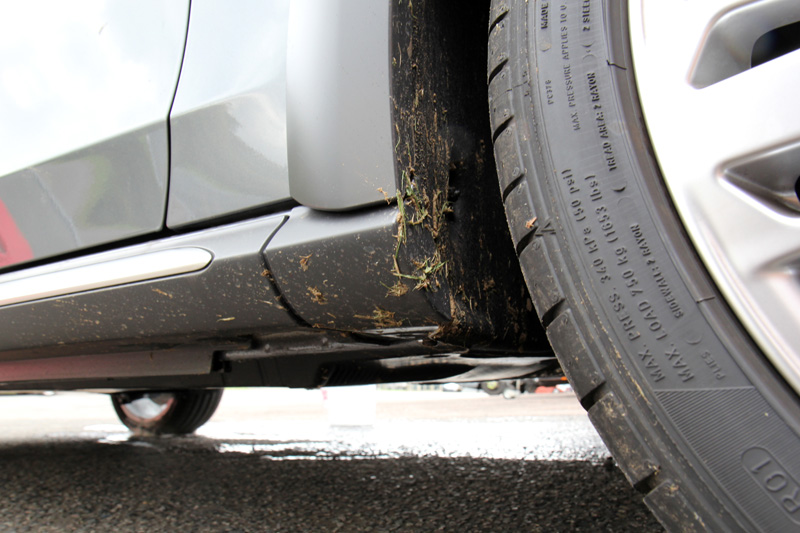 It had also been raining hard, so fallout was evident on the vehicle's flat surfaces.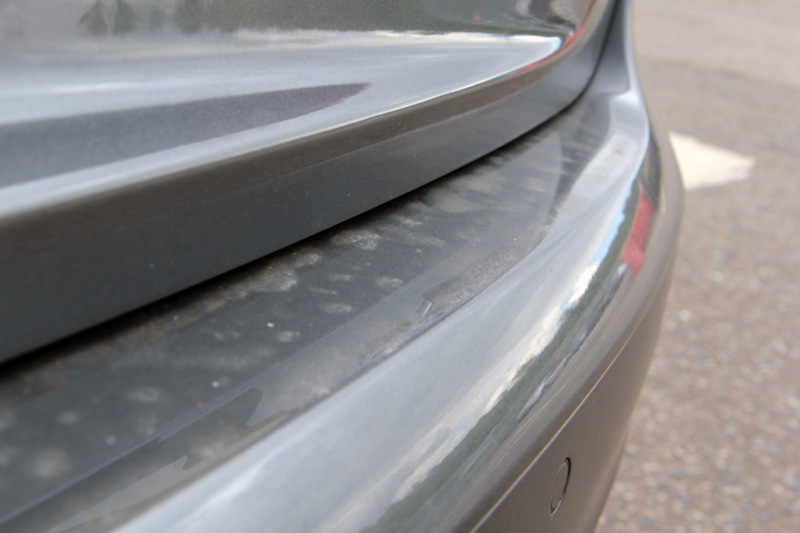 Initially the car was treated with GYEON Q2M Iron to remove traces of ferrous contamination that may have been collected whilst the car was in transit, either from the manufacturer to the supplying dealership or during the drive to UF's Brands Hatch based Detailing Studio.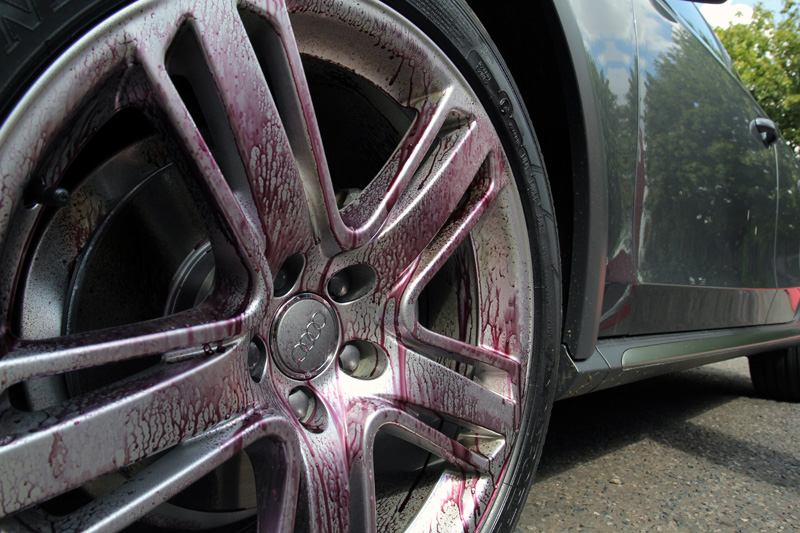 Then GYEON Q2M Tar was applied to remove any tar deposits. Glue residues from the protective transportation wax were discovered on the piano black door pillars and Q2M Tar dissolved these without the need for agitation.
Piano black is incredibly sensitive to pressure. If we'd attempted to remove the glue residue by scrubbing at it with a wash mitt the gloss surface would very quickly have become swirled. Q2M Tar dissolved the sticky residue allowing it to be safely rinsed away. – Matt Back, UF
At this point an accumulation of an unidentified contaminant was found along the bottom lip on the boot lid.  Despite a thorough degrease with an all-purpose cleaner this contamination remained firmly in place. The car was then pre-cleaned twice with Ultimate Snow Foam, a non-contact, high foaming cleaner which removes larger particles of dirt and grit.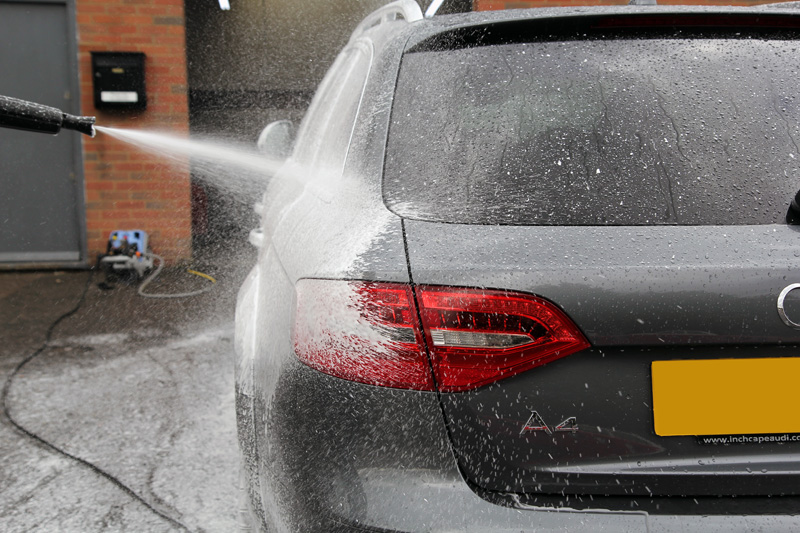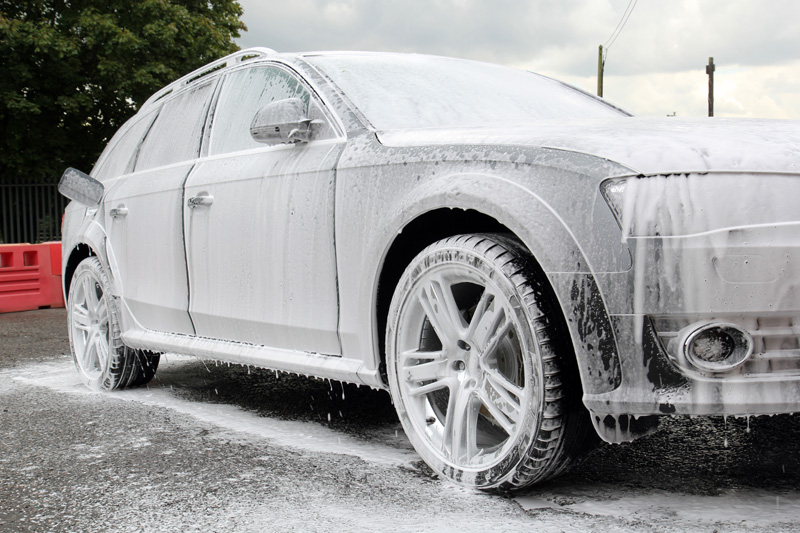 On the second application of Snow Foam a clay mitt was used to remove the remaining stubborn contaminants.
You would not normally need to use a Clay Mitt on a brand new car during the preparation process. However, this contamination was so heavily bonded to the paintwork there was nothing else that would shift it. Exercising caution to avoid marring, the clay mitt took care of it nicely though. – Matt Back, UF
The A4 Allroad was then washed using the Two Bucket Method, GYEON Q2M Bathe shampoo and an Ulti-Mitt Double Sided Merino Wash Mitt. After rinsing, an Aqua Gleam De-ionising Water Filter was connected in-line to give the car a final, pure water rinse before it was carefully dried and brought into the studio. Here, multiple paint depth readings were taken over each panel and then the paintwork inspected under high intensity lighting to check for damage.
Even on brand new cars you sometimes find discrepancies in the paint depth readings which can indicate a smart repair. It's also not unusual to find scratches and swirls in brand new paintwork as a result of hurried, poor washing techniques at the dealership. German paintwork is notoriously tough though: a result of the strict laws Germany has controlling the disposal of wastewater. As Germans are prohibited from washing their cars at home they have to use car wash facilities and German marques have addressed this problem with increasingly scratch resistant paint. In this case though the Allroad paintwork was in reasonably good condition. – Matt Back, UF
The Allroad was given a light refining polish using SCHOLL Concepts S40 Anti Swirl Compound with a SCHOLL Concepts Black SofTouch Waffle Pad to give the paintwork a glossy, high shine finish. Then the bodywork, wheels and plastics were cleansed using GYEON Q2M Prep, a cleanser that removes traces of polish residues that may be lingering on the substrates and could therefore interfere with the sealant's bonding process.
To protect the vehicle, the GYEON Q2 Mohs+ system was selected. GYEON Q2 Mohs+ system is available for professional application only through the GYEON authorised detailer network as the preparation and application processes and environments must be carefully controlled. Once applied, GYEON guarantees the performance of Q2 Mohs+ for two years.
Using a pipette, GYEON Q2 Mohs was applied to a suede applicator cloth. Then, working one panel at a time the product was wiped on to the surface and allowed to dwell for three or four minutes before being carefully buffed off with a soft microfibre fleece to ensure there were no smears or hazing. The initial layer was then allowed to cure for an hour before a second layer was applied. After allowing the layers to cure for a further twenty-four hours the whole car was finally over coated with GYEON Q2 Phobic.
The dual product system works in tandem to offer a very high level of protection. Q2 Mohs builds up protective layers, adding a hardness to the underlying clearcoat to provide resilience to a variety of factors: external pressure and extremes of pH, protecting the paintwork from dulling from wash swirls and from acid rain fallout, harsh wash chemicals, etc. Q2 Phobic adds a layer of extreme hydrophobicity, repelling rain water and the inhibiting contamination from adhering to the treated substrate. The two work together to provide a tough, comprehensive protection system. – Matt Back, UF
The glass was treated with GYEON Q2 View, an easy to apply hydrophobic coating. Rain drops and water spray roll into beads on contacts and are easily blown away even when driving at lower speeds. As a result, driving during bad weather conditions is easier and less tiring.
The wheels were treated with GYEON Q2 Rim, a heat resistant coating that repels water, dirt and oils, as well as inhibiting the adhesion of hot brake dust particles to rim. As a result the alloy wheels will stay cleaner, longer and be easier to maintain during the weekly wash process. The tyres were dressed with GYEON Q2 Tire, a sealant that penetrates the pores of the rubber to provide a long lasting, satin-sheen finish.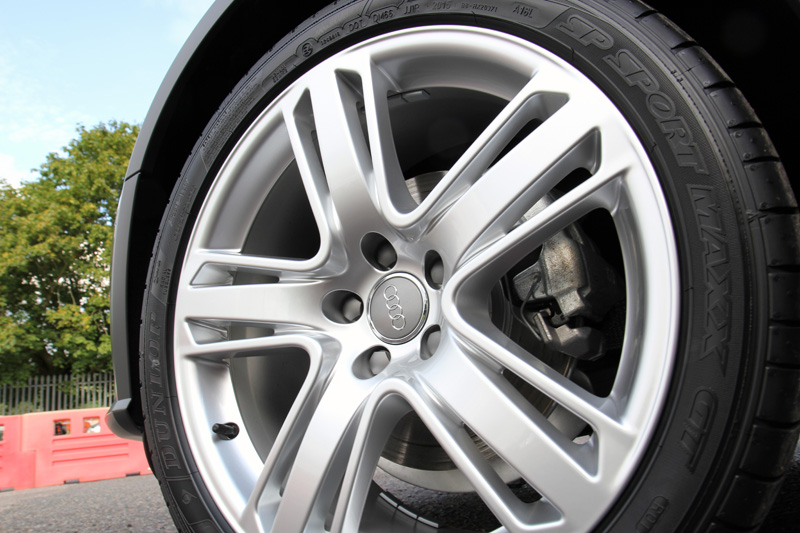 The final result was nothing short of stunning. Whatever gets thrown at this Audi A4 Allroad – it will now be able to handle it!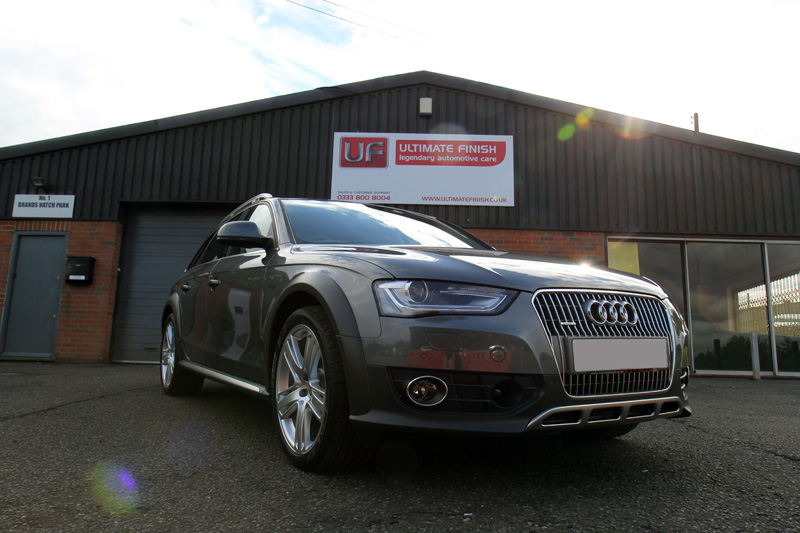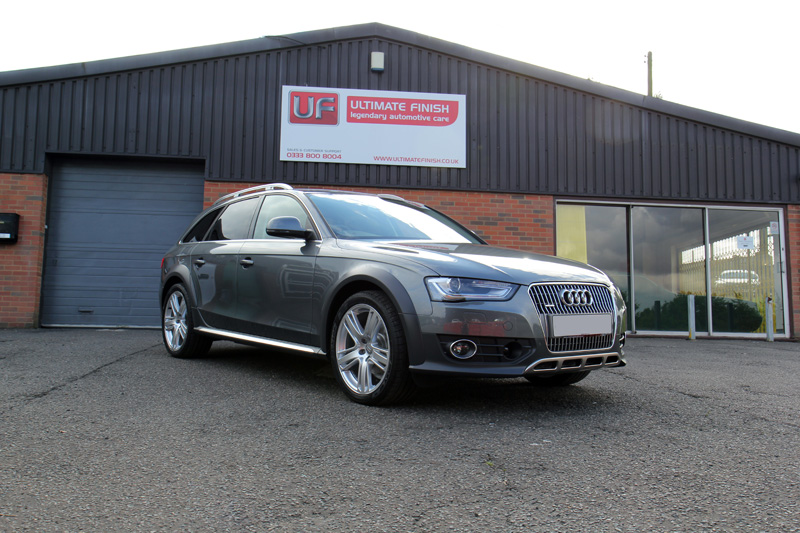 Interested in reading more from Robert and Jeremy, founders of GYEON? Read our interview with Jeremy.
UF Detailing Studio – Award Winning Detailing. Call 0333 800 8004 to discuss your requirements and arrange a free vehicle appraisal.