Guarding Porsche Motorsports Youngest Child – The New Cayman GT4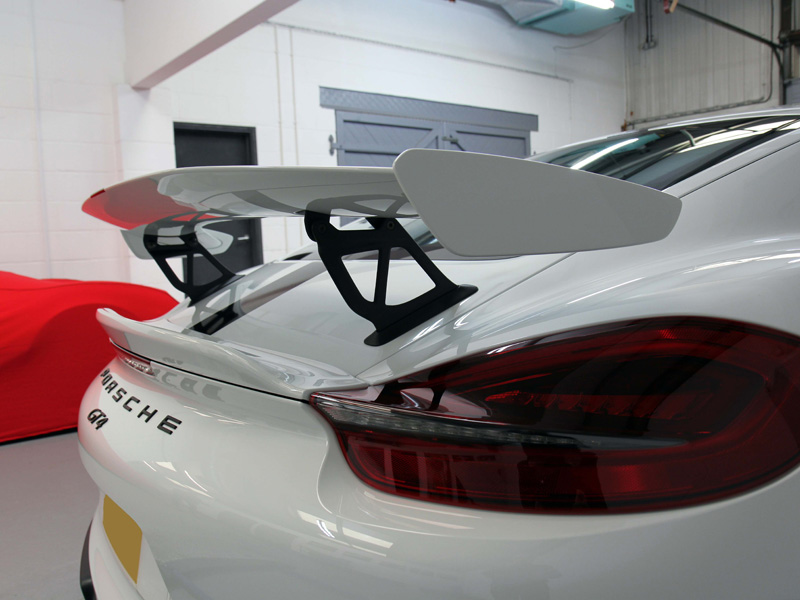 The new Cayman GT4 is a legend in the making. Track oriented, driver-centric, this latest offering from Porsche exudes power, dominance and control. A body design where every form has a function, from the scoops and air intakes to the spoilers and wings, each part has been designed to provide the ultimate track day experience.
A myriad of spoilers at key areas increase down-force over the axles, whilst the chassis sits 30mm lower than the previous Cayman. These factors combined with wide tyres for better traction and an integrated dry sump provide better cornering. The mid-chassis Flat-6 engine delivers 283 kW (385 bhp) at 7,400 rpm and an impressive maximum torque of 420 Nm from 4,750 to 6,000 rpm. A low weight-to-power ratio of 4.7 kg/kW (3.5 kg/bhp) delivers 0-62 in a mere 4.4 seconds to the explosive sound of the twin sports exhaust pipes. The lightweight six-speed manual transmission with specially tuned gear ratios allows the driver to lay down the power in an exacting manner while the Sports button activates automatic throttle-blipping for down-shifts and provides sporty gear changes. The gear lever is close to the sports steering wheel and the centrally located titanium-coloured rev counter, with a yellow needle and increment markers, provide clear information for the driver with split seconds to make crucial decisions. Handy, when, all in, top speed for the Cayman GT4 is 183mph.
Video review by Autocar

To enhance the track-inspired aesthetics, the owner of this white Cayman GT4 had opted for racing stripes to be added to the bodywork. Prior to booking the car into UF's Brands Hatch based Detailing Studio for a New Car Protection Treatment, he called to ascertain whether the stripes should be completed before the protection treatment. As ceramic sealants add non-stick properties to the paint, it was important for the vinyl stripes to be applied first. Once they were in place, the Cayman GT4 was driven to the studio to start the treatment.
New Car Protection is all about preserving the 'as new' look of your vehicle. Paintwork and trim often quickly becomes dull as a result of UV, acid rain etching, swirls caused by poor washing techniques. Coating the various substrates with a nano sealant inhibits the wear and tear caused by these elements. Nano-sealants form a strong chemical bond with the surfaces of your vehicle and are virtually impervious to extremes of pH. This is true even for vehicles living in cities and heavily urbanised areas, where pollution is washed out of the atmosphere during rainfall. Fallout, brake dust, dirt and grime cannot grip the slick treated surfaces, so are easier to remove during the weekly wash. Rather than having to scrub at the paintwork with a mitt (a principal cause of wash-induced swirls), contamination slides off easily. Nano sealants also leave a high-gloss shine, keeping your car looking 'as new' for longer. – Derek Ginger, Master Detailer, UF Detailing Studio
The car had collected a fair amount of road debris on its journey to the studio. This contamination needed removing prior to the protection treatment being carried out.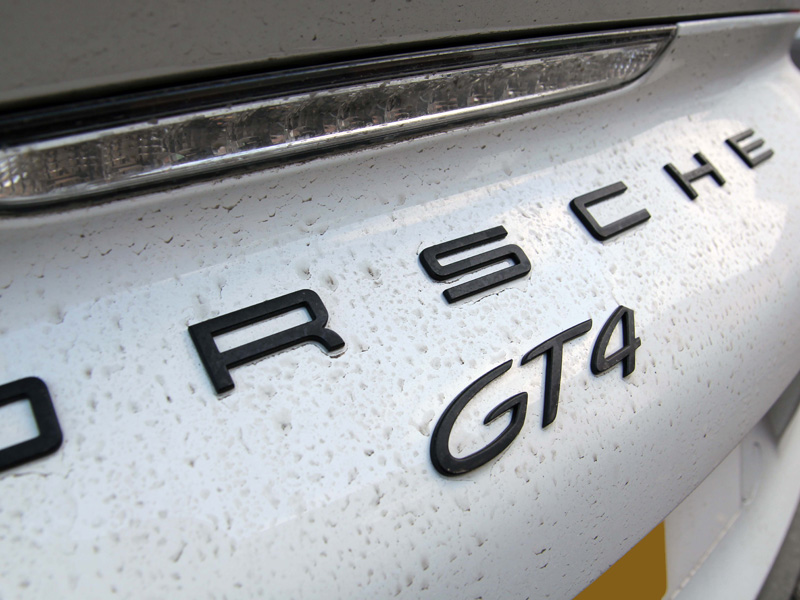 The bodywork was first treated for iron contamination using Gtechniq W6 Iron & General Fallout Remover. Next, the bodywork and wheels were degreased using Gtechniq W5 All Purpose Citrus Cleaner to remove traces of diesel and greasy road grime.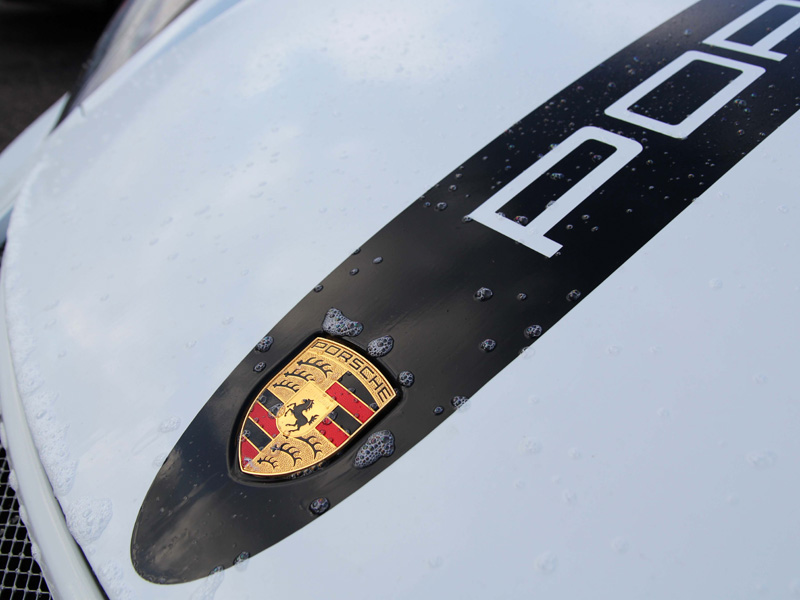 After rinsing, W6 was sprayed on to the wheels and Ultimate Snow Foam applied to the wheels and the bodywork.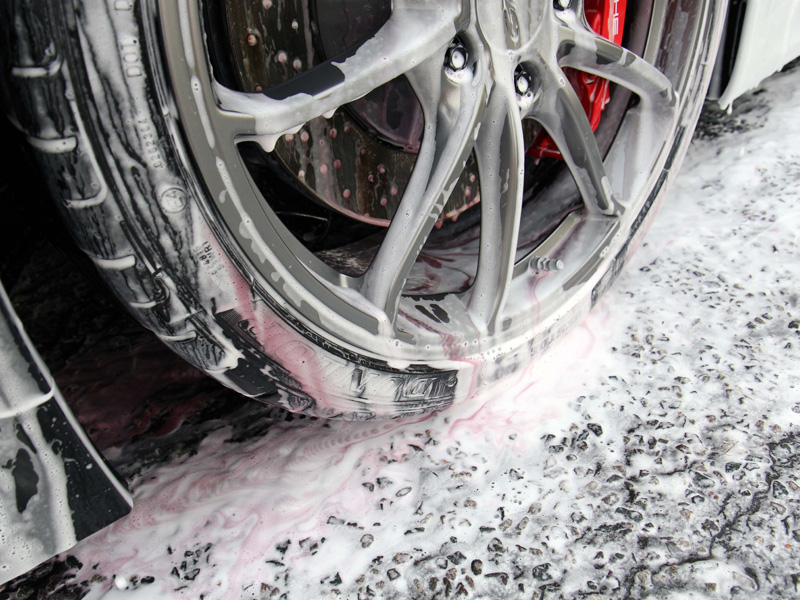 Because the wheels were quite dark it was difficult to see the colour change which happens when W6 comes into contact with iron particles. By spraying W6 on first and then applying Ultimate Snow Foam over the top, it is much easier to see the purple streaks indicating both the presence of iron contamination and also that the product is working to remove it. When the colour has fully developed you know it's time to rinse the solution away. – Derek Ginger, Master Detailer, UF Detailing Studio
On the bodywork, Ultimate Snow Foam works to lift larger particles of dirt and grit away from the surface, transferring it to the foam so that it may easily be rinsed away. In this manner, contamination which would otherwise be caught in a wash mitt is removed from the car before physical contact is made. This helps keeps the paintwork safe from wash-induced swirls.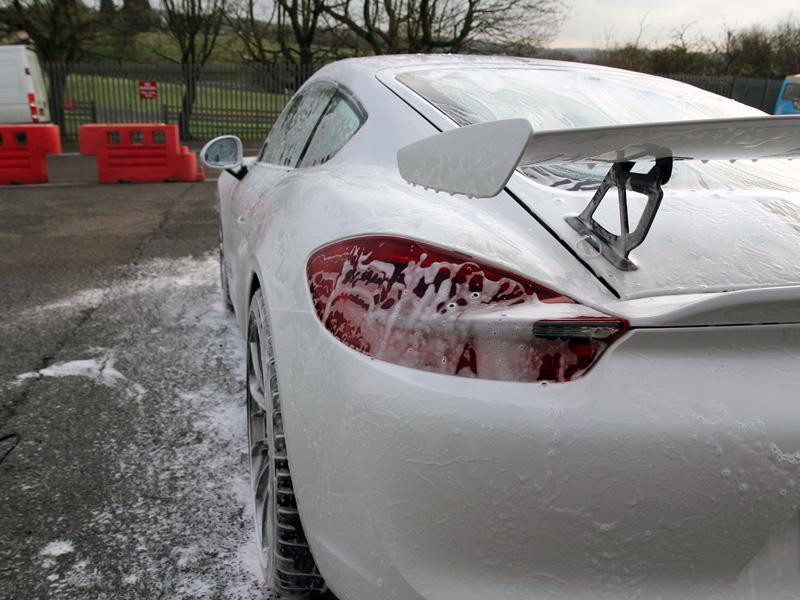 After the suds and W6 solution were rinsed away, the car was then washed using the Two Bucket Method, an Ulti-Mitt Double Sided Merino Wash Mitt and Gtechniq G-Wash Shampoo. After another rinse, an Aqua Gleam De-ionising Water Filter was attached to in-line with the hose to give the car a final, pure water rinse. The Cayman was carefully patted dry using UF Ultra-Soft Microfibre Drying Towels and brought into the studio where the paintwork was inspected under high-intensity lighting.
It's usually expected that new cars are in perfect condition, but unfortunately, that's not always the case. In order to be sure the paintwork is pristine, we take a close and careful look under bright lights that show up every little detail. Once the nano-sealant goes on, any imperfections will be sealed permanently beneath, so it's imperative to get this stage right. Porsche paintwork is typically reasonably hard and scratch-resistant, so I wasn't expecting much if any damage to the clearcoat and I was right; all it needed was a light polish to take care of a couple of minor swirls and to enhance the shine. – Derek Ginger, Master Detailer, UF Detailing Studio
To enhance the gloss, a FLEX PE14-2 Rotary Machine Polisher was used with a 3M PERFECT-IT III High Gloss Polishing Pad and Menzerna Super Finish Plus 3800. The light abrasive content was sufficient to remove the few slight blemishes and leave a 'show car' gloss. The bodywork and wheels were then sprayed with Gtechniq Panel Wipe to ensure all polishing residues were removed, leaving a completely bare surface for the nano-sealant to bond with.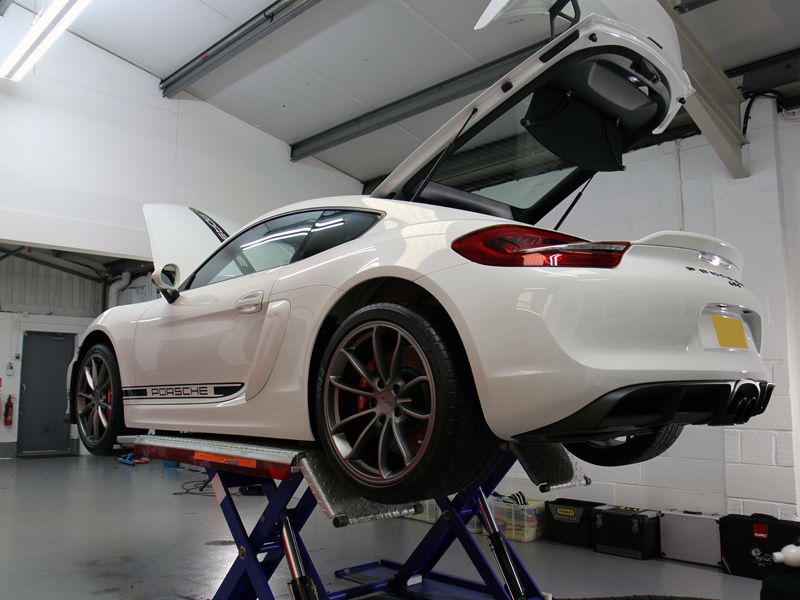 The owner had requested Gtechniq CS Black be used as the final sealant. This comprises a layer of Crystal Serum followed by a layer of EXO v2. Crystal Serum is an innovative nanotechnology-based sealant which cures as two separate layers. The lower layer cures to a hardness of around 7h, providing some flexibility to the coating. The top layer cures to a hard 9h. Together they provide a tough yet flexible coating with superior levels of resistance to extremes of pH and wash swirls. Once cured, Crystal Serum is so tough it requires machine polishing to remove and as a result, is available only as a service provided by Gtechniq-authorised studios. Gtechniq is so confident in the performance of Crystal Serum they guarantee the coating for seven years!
To enhance the hydrophobic properties, EXO V2 was applied over Crystal Serum.
The idea behind using EXO V2 in addition to Crystal Serum is to make the surface as slick as possible. Dirty rainwater is encouraged to bead and slide off the surface, taking contamination with it. Oils, dirt, chemicals, none of these will bond as readily with a treated surface, so the car stays cleaner for longer and is also easier to wash. – Derek Ginger, Master Detailer, UF Detailing Studio
The glass was coated with Gtechniq G1 ClearVision Smart Glass, providing a hydrophobic layer that encourages raindrops to bead and blow away. This makes driving less tiring during bad weather conditions.
The trim was coated with Gtechniq C4 Permanent Trim Restorer. Another nano-based sealant, this coating chemically bonds with the plastic trim to provide up to twenty-four months protection from UV fade.
The wheels were coated with Gtechniq C5 Alloy Wheel Armour. This tough nano-sealant repels water, dirt and oils, as well as inhibiting the build-up of brake dust. Heat resistant, C5 will not burn off even when the wheels become hot. Finally, Gtechniq T2 Tyre Dressing was applied to the tyres to give a long-lasting satin sheen.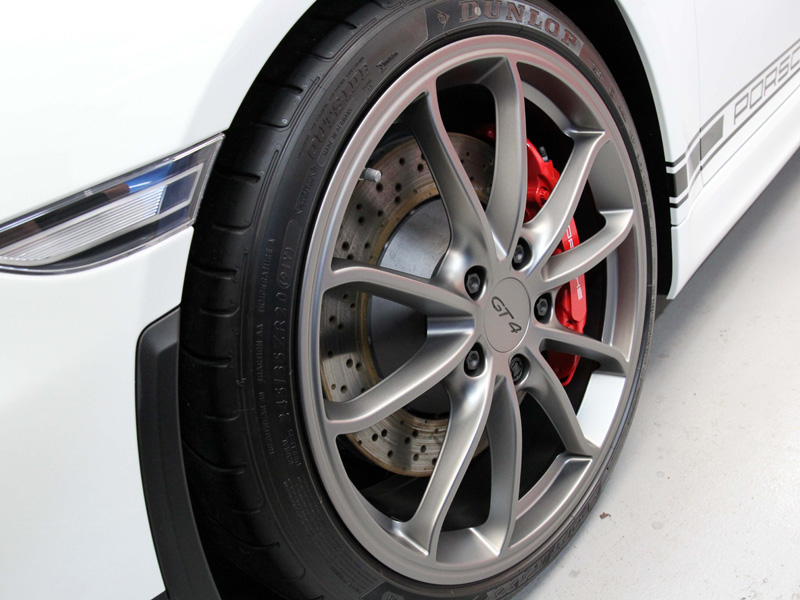 Fully protected, the Cayman GT4 was ready to take on the world!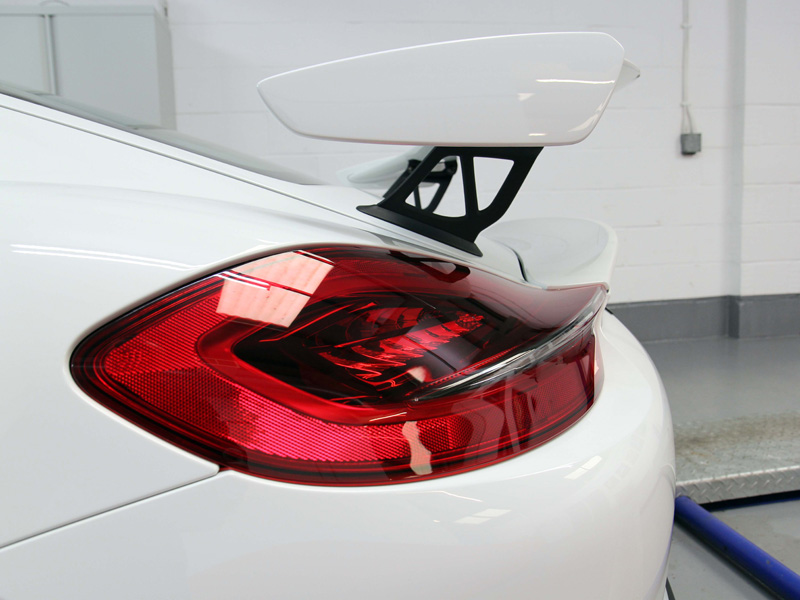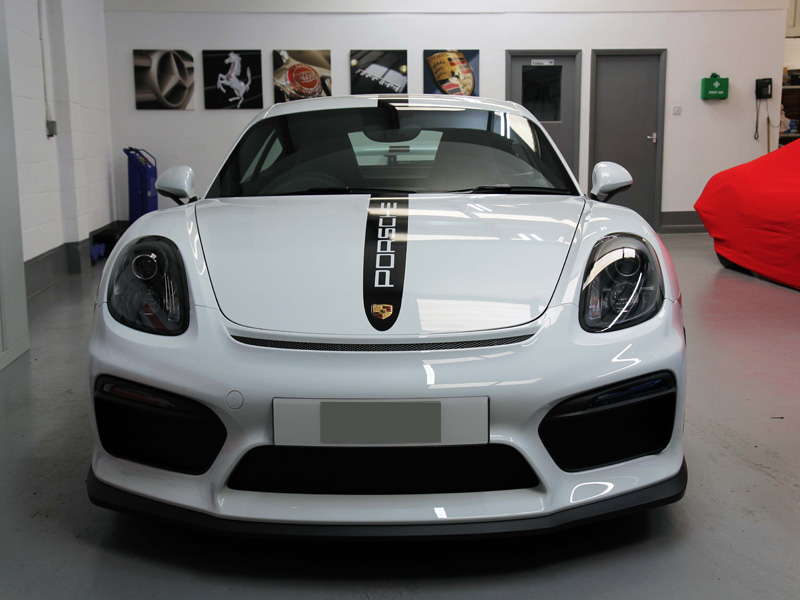 UF Detailing Studio – Award Winning Detailing. Call 0333 800 8004 to discuss your requirements and arrange a free vehicle appraisal.