'Ultra' Protection For The New Jaguar F-PACE First Edition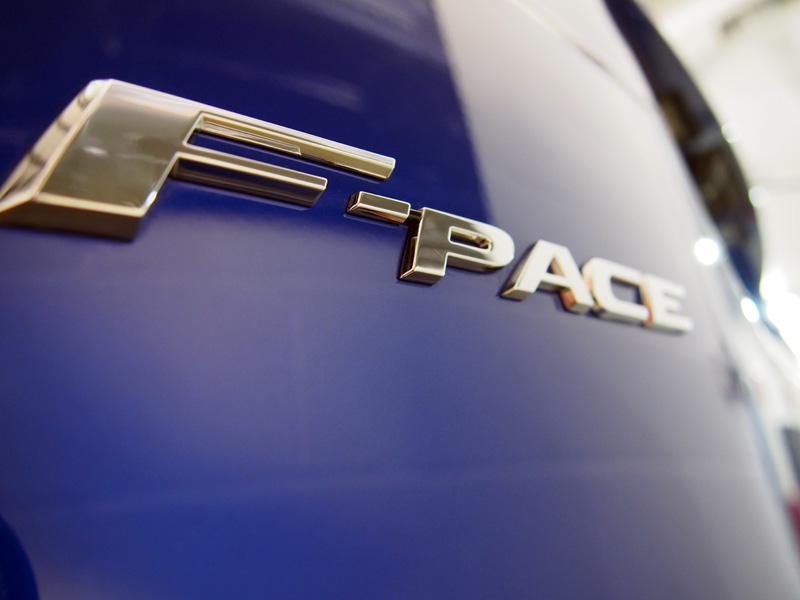 The F-PACE is Jaguar's Sports Utility Vehicle offering and they describe it as an 'SUV with sports car DNA.' The First Edition was inspired by the C-X17 concept vehicle, first revealed at the Frankfurt Motor Show in September 2013, Jaguar's Design Director, Ian Callum said of the inspiration behind it:
'We designed the C-X17 from the ground up from a distinct set of principles…. Assertive and powerful, yet with a beautiful sensuality about it, the C-X17 is boldly, distinctively Jaguar.'
Incorporating an aluminium-intensive modular architecture, the F-PACE combines the performance of the F-Type with the practicalities of an SUV. 650 litres boot capacity and a stated combined MPG of 47.1 recommend it for the daily life of a family car. The 3.0 litre V6 Turbocharged diesel engine delivers 300PS and is capable of achieving 0-60mph in 5.8 seconds – so it's also capable of putting a smile on your face whilst the all-wheel drive train provides grip and stability, no matter the weather. The Houndstooth embossed Windsor Leather sports seats, and an all-new predictive navigation system lends a touch of luxury to what is an already well-appointed interior.
Timings and everyday life meant the owner of this Jaguar F-PACE had been unable to arrange his vehicle for a protection treatment when he collected it from the dealership. As a result, the F-PACE had been used daily for a couple of months before being brought to UF's Luton-based detailing studio and had around two thousand miles under its belt. Consequently, the car had collected a good deal of road grime, industrial and environmental fallout, all of which needed removing before a protection treatment could be carried out.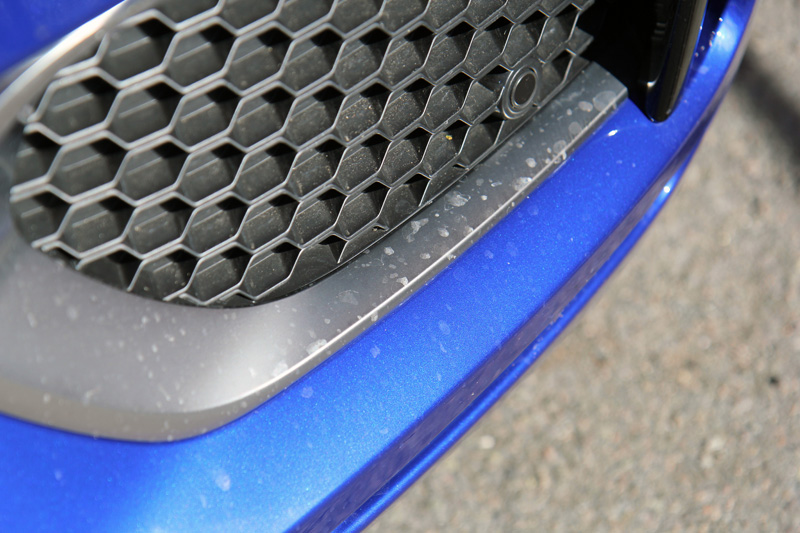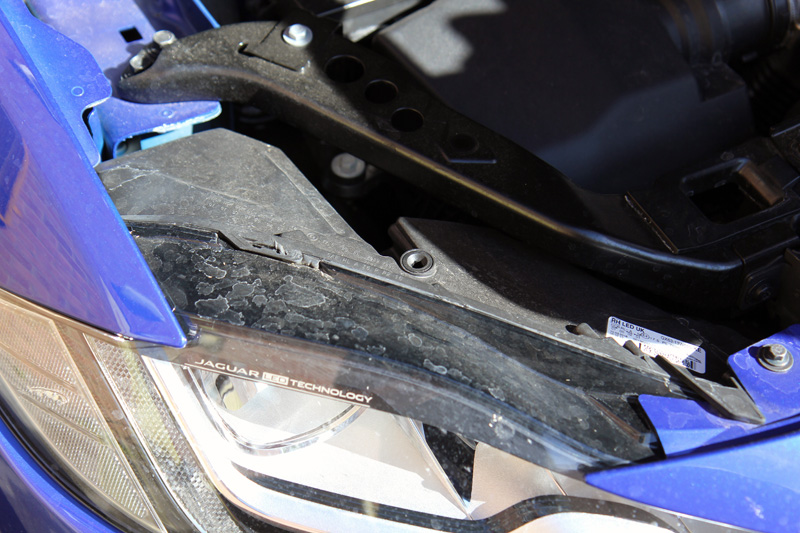 Ideally, brand new cars are delivered to us, unprepared, direct from the dealership. This ensures the paintwork is 'virgin'. However, we appreciate life has a tendency to get in the way and it's not always possible for this to happen. The owner brought the car in as soon as he could after he'd purchased it, but unfortunately, some damage had already occurred. – Derek Ginger, Master Detailer, UF Detailing Studio
The F-PACE was first treated for iron contamination using Bilt-Hamber Korrosol. Brake pads shred when the brakes are applied, causing hot, tiny particles of metal to become aerosolized. These bond with the first substrate they come into contact with, so commonly the worst of this type of contamination is found around the sills and on the wheels. Traditionally, these are removed by using a detailing clay, but using too much pressure with the clay, not using enough lubricant or failing to fold the clay to present a clean face to the paintwork can easily result in paintwork scratches. Korrosol contains an active ingredient which causes the particles to shrink, thereby breaking the bond they've formed with the underlying substrate and allowing them to be freely rinsed away. This non-contact method is therefore potentially safer for the paintwork than using a clay bar.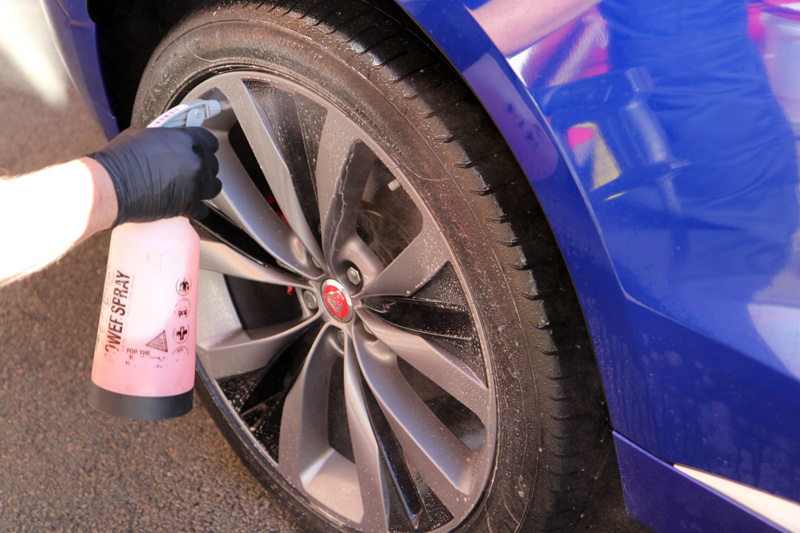 During inclement weather, roads can be covered in diesel and oily residues, so any grime that's thrown up has a tendency to stick to the lower parts of the car. To remove this residue, the F-PACE was degreased using Bilt-Hamber Surfex HD applied through a Kwazar Orion Super Pro+ 6 Litre Pump-Up Sprayer. This applies a fine mist in a controlled area, ideal for targeting tight spots such as along door shuts and around the engine.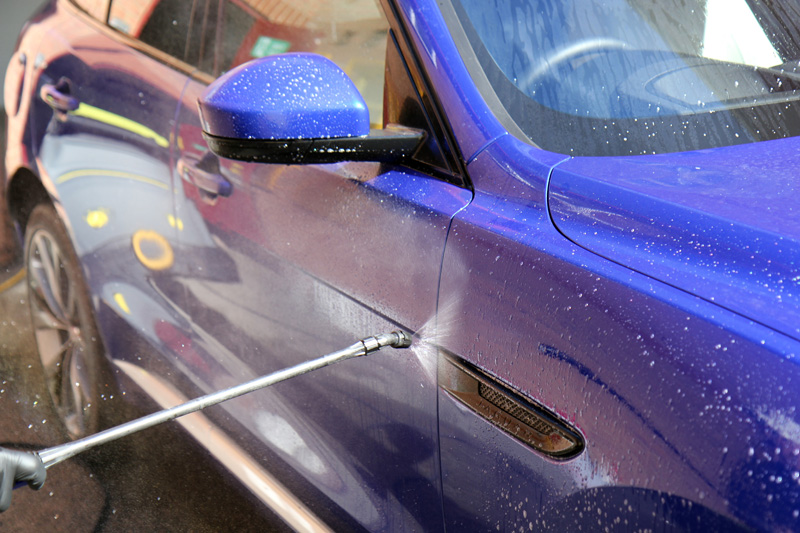 Careful attention was paid to the underside of the wheel arches to ensure debris and all traces of road grime were removed.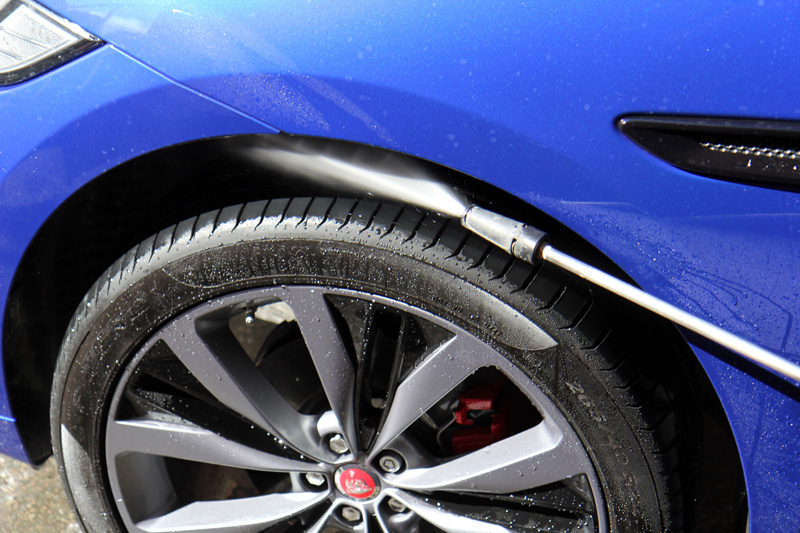 The engine and engine bay were also cleaned using a degreaser solution.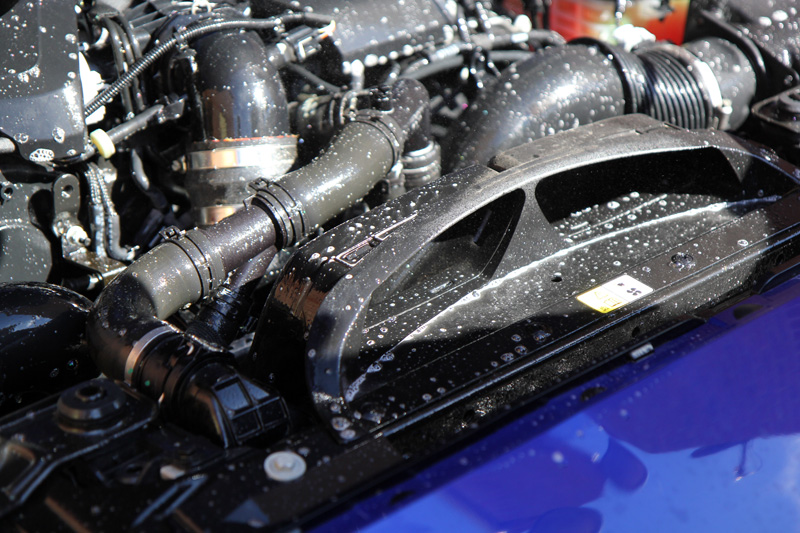 Engines are often overlooked, but they get very dirty very quickly, so keeping on top of the cleaning is much easier than having to go through a major degunking process! Washing it down regularly with a degreaser will remove the oily deposits grime sticks to. Just be sure to cover any sensitive electronics or intakes first to prevent water getting into places it shouldn't. – Derek Ginger, Master Detailer, UF Detailing Studio
The tyres had previously been glossed using a silicone based tyre dressing, leaving a dark, oily residue on the surface of the rubber. This was removed using a concentrated solution of Meguiar's Super Degreaser.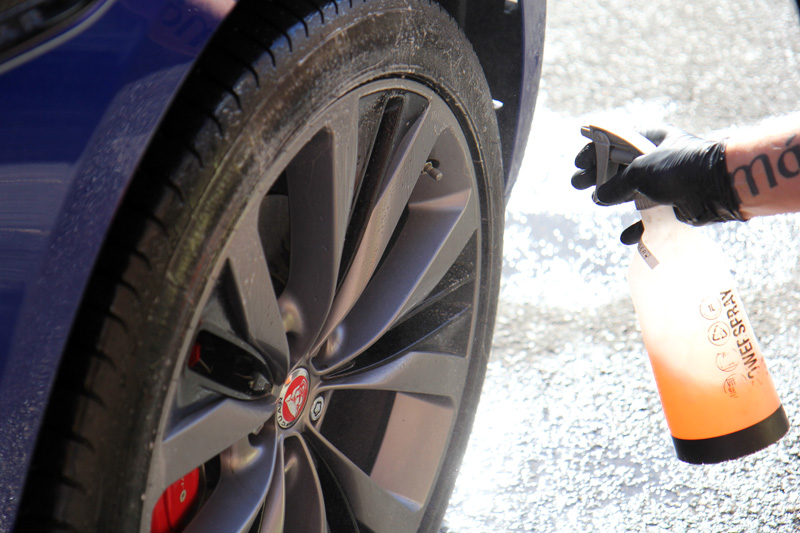 To remove the larger particles of dirt and grit, Ultimate Snow Foam was applied using a Kranzle-adapted foam lance and a Kranzle K 1152 TST pressure washer. This creates a thick foam that clings to vertical surfaces and lifts particles away, encapsulating them in the foam before safely rinsing then away.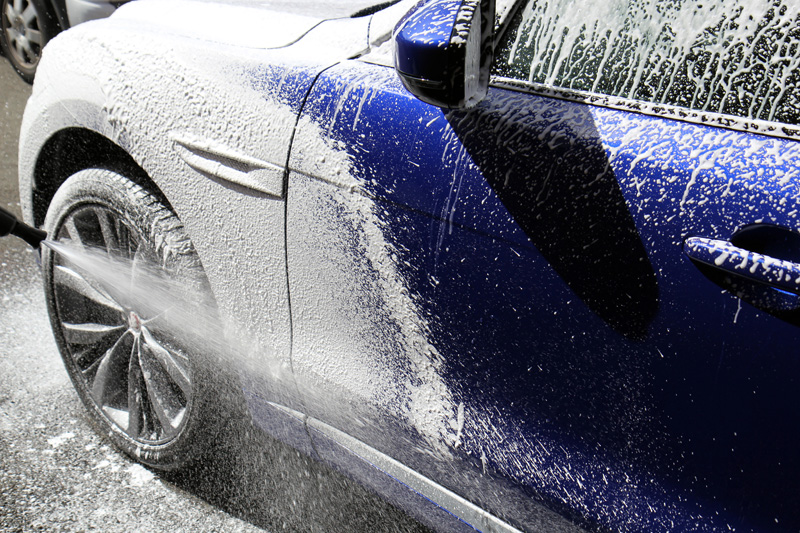 A second application of Ultimate Snow Foam was used as a lubricant for a clay mitt. These mitts act in a similar way to clay bars, shearing any stubborn nodular contamination away and leaving the surfaces perfectly smooth.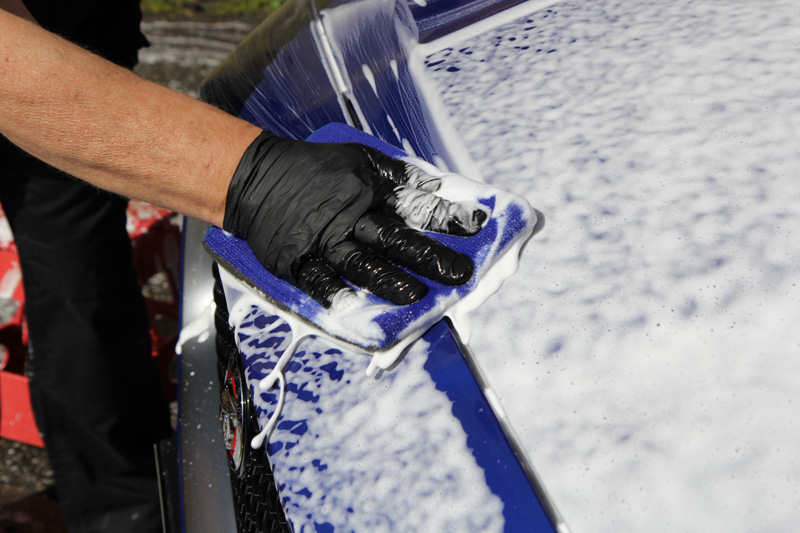 After rinsing all the suds away, the F-PACE was washed using the Two Bucket Method, Gtechniq G-Wash Shampoo and an Ulti-Mitt Double Sided Merino Wash Mitt. Ensuring every part of the car was completely clean, it was then rinsed again before an Aqua Gleam De-ionising Water Filter was attached in-line to give a final, pure water rinse. The car was dried using Ultra Soft Microfibre Drying Towels and brought into the studio where an air blower was used to ensure all water was removed from around badges, trim, and headlight recesses etc.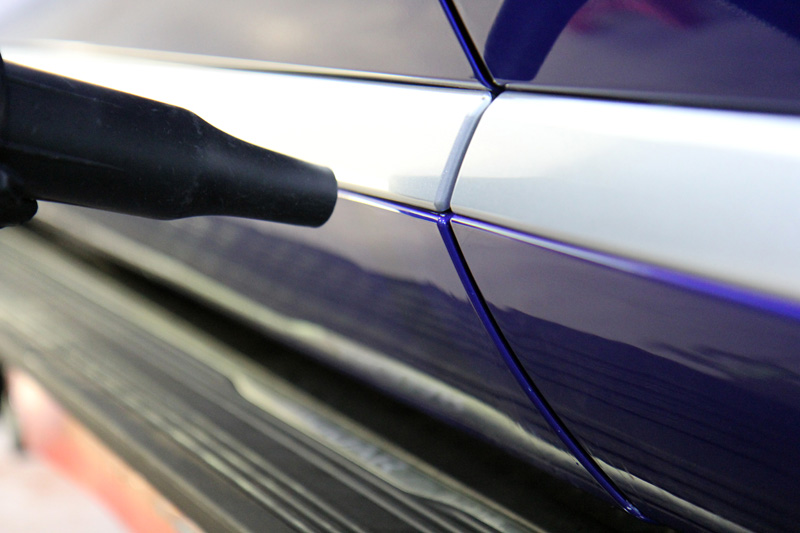 Once dry, the car was ready for inspection under detailing lights.
We had already established the paintwork had sustained some swirls and scratches but once the paintwork is thoroughly clean it's possible to fully establish the areas of damage. The high-intensity lighting shows up every mark, particularly on this vibrant, Caesium Blue paintwork. New Car Protection Treatments, strictly speaking, do not involve machine polishing, however, we always inspect paintwork thoroughly before sealing it because once it's sealed any damage is locked beneath the coating. In order to correct it, the sealant would have to be machine polished off. The paintwork really does need to be as good as it can be before a sealant is applied. – Derek Ginger, Master Detailer, UF Detailing Studio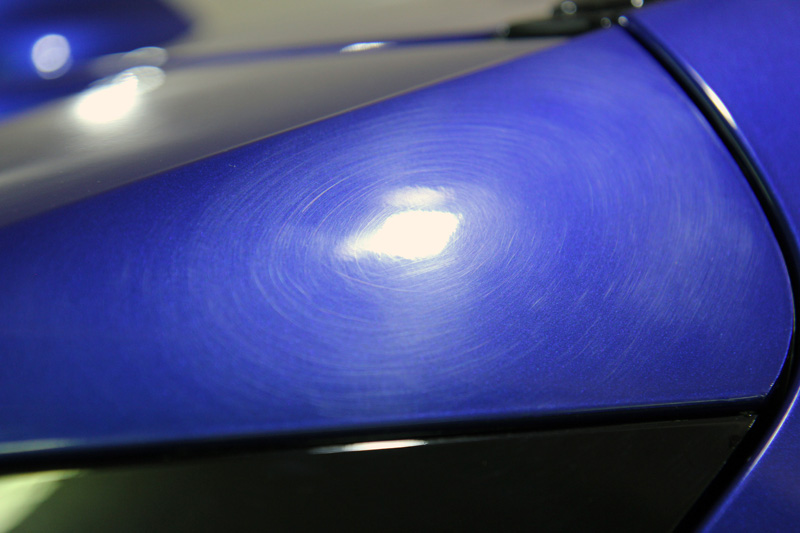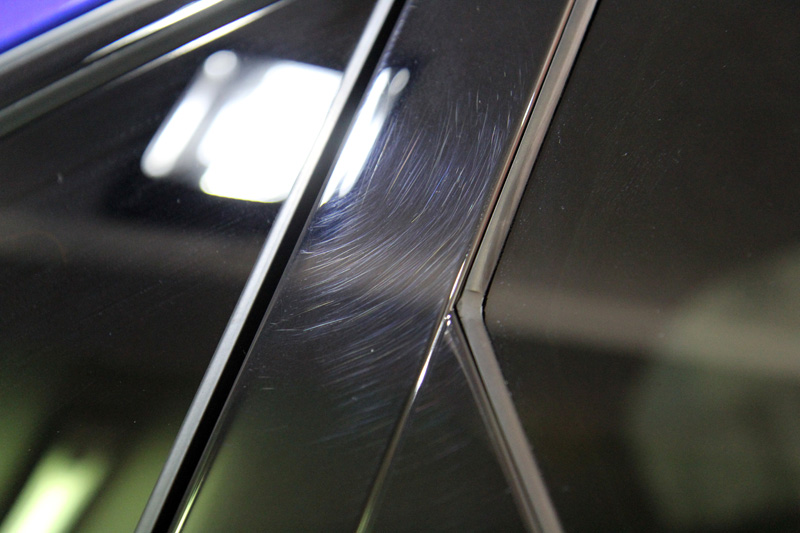 Some areas had more intensive examples of swirls and scratches, so to remove these a 3M PERFECT-IT III Green Compounding Pad was used with Menzerna Medium Cut Polish 2500 and a FLEX PE14-2 rotary machine polisher.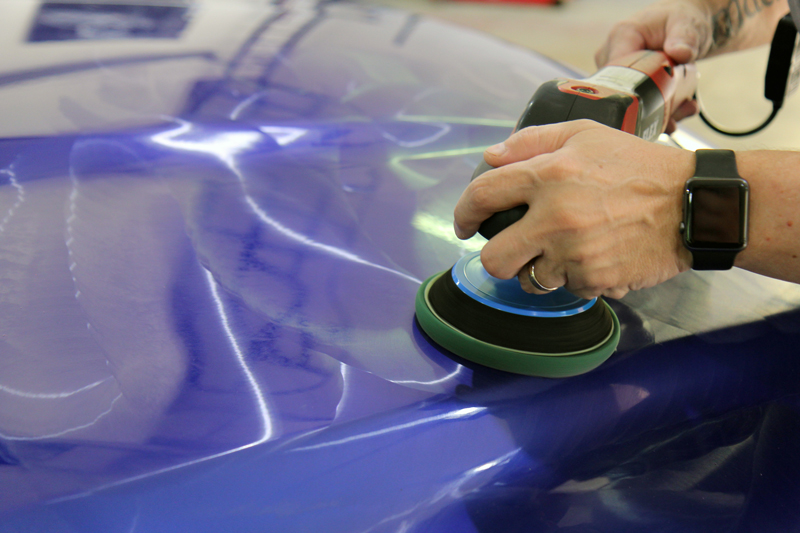 To access the smaller areas a backing plate extension was used with the SCHOLL Concepts 75mm Backing Plate and a 3M spot pad, allowing for greater control and concentrated precision. This works particularly well when eliminating swirls from the black door pillars.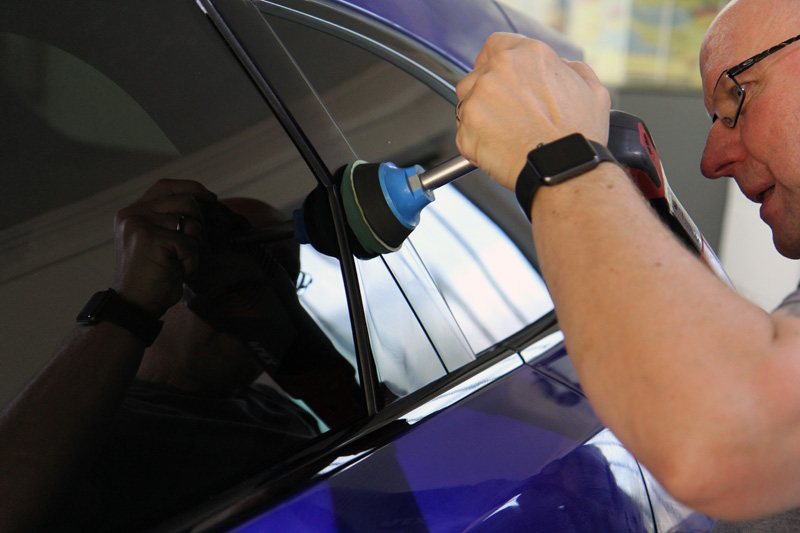 The car was refined using a 3M PERFECT-IT III Black Polishing Pad and Menzerna Super Finish Plus 3800 to leave a high gloss finish. The car was then cleansed using Gtechniq Panel Wipe to ensure any polish traces were removed, preparing the car for the sealant layer.
The owner of the F-PACE intended to use the car on a daily basis and as a result wanted a sealant with excellent durability. Gtechniq Crystal Serum is a tough, nano-ceramic sealant, resistant to swirls and extremes of pH, so provides protection during the wash process as well as from industrial and environmental fallout. In order to guarantee performance, Crystal Serum must be applied in tightly controlled conditions and as such is available only through Gtechniq-approved detailing studios. After curing for 2-3 hours an additional layer of Gtechniq EXO V2 Ultra Durable Hybrid Coating was applied over the top of the Crystal Serum. Provided a simple forward maintenance regime is followed, Crystal Serum (CS Black) has a seven-year manufacturer's performance guarantee.
Crystal Serum provides a tough dual layer of protection – it cures with a softer under layer that has some 'give' to it, whilst the top layer cures hard, to give it the resistance. As a result, in comparison with other ceramic sealants, it's highly resistant to wash swirl damage. It's virtually impervious to highly acidic or highly alkaline solutions, so treated surfaces aren't susceptible to acid rain etch. To add extra gloss and hydrophobicity, EXO is applied. That extra slickness really makes paintwork shine and rainwater just rolls away, carrying dirt and contamination with it. All of this helps to keep the car cleaner for longer, as well as making the weekly wash easier because dirt doesn't adhere as readily to treated surfaces. – Derek Ginger, Master Detailer, UF Detailing Studio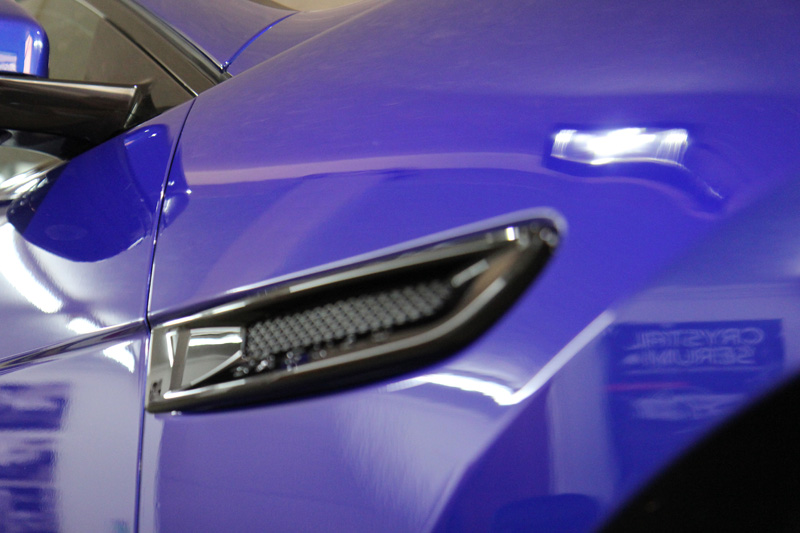 The wheels were wiped with Panel Wipe before being protected with Gtechniq C5 Alloy Wheel Armour.
Wheels take the brunt of a lot of the contamination and they're also usually quite expensive components. The F-PACE had 22-inch rims – a lot of road-going real estate! C5 forms a heat resistant, hydrophobic, oleophobic barrier, inhibiting brake dust build-up, repelling dirt, water and oily grime. Wheels are easier to maintain during the weekly wash and harsh wheel cleaning chemicals are not required. – Derek Ginger, Master Detailer, UF Detailing Studio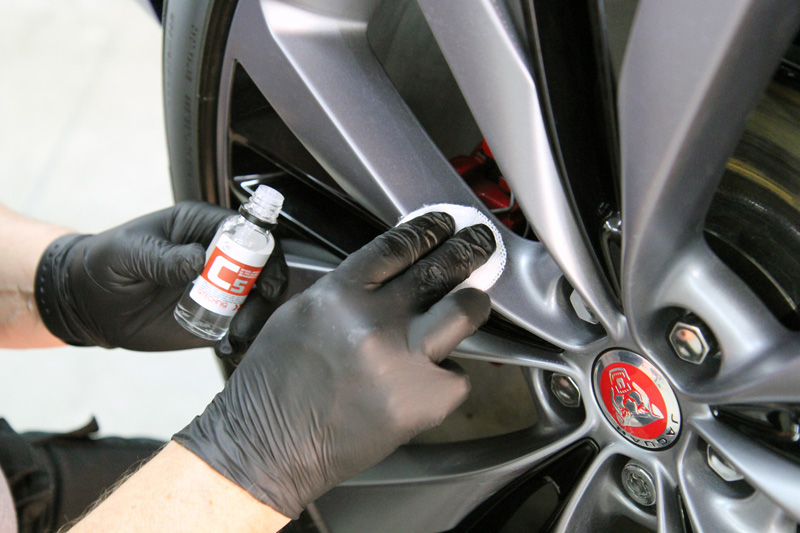 The glass was also protected with a hydrophobic sealant to repel rainwater, making driving less tiring during bad weather conditions. Gtechniq G1 ClearVision Glass Coat lasts for up to two years, and also has the benefit of repelling snow and ice, making frosty morning starts easier to deal with!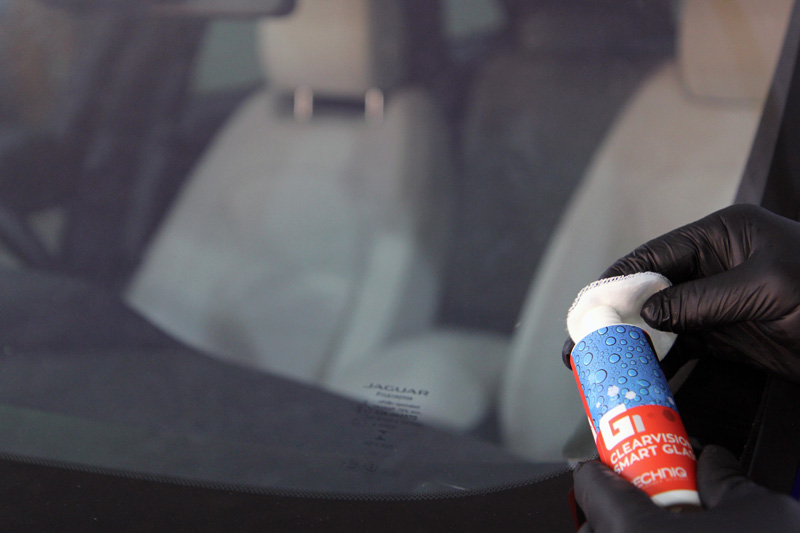 The tyres were given a coat of Gtechniq T2 Tyre Dressing, a nano-based sealant that leaves a protective, natural satin sheen.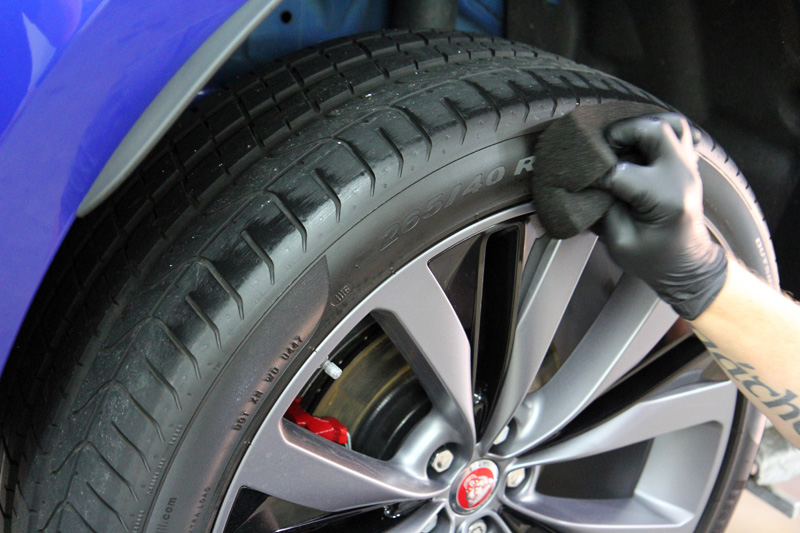 With the paintwork now looking better than new and fully protected, this big cat was ready to prowl for many years to come!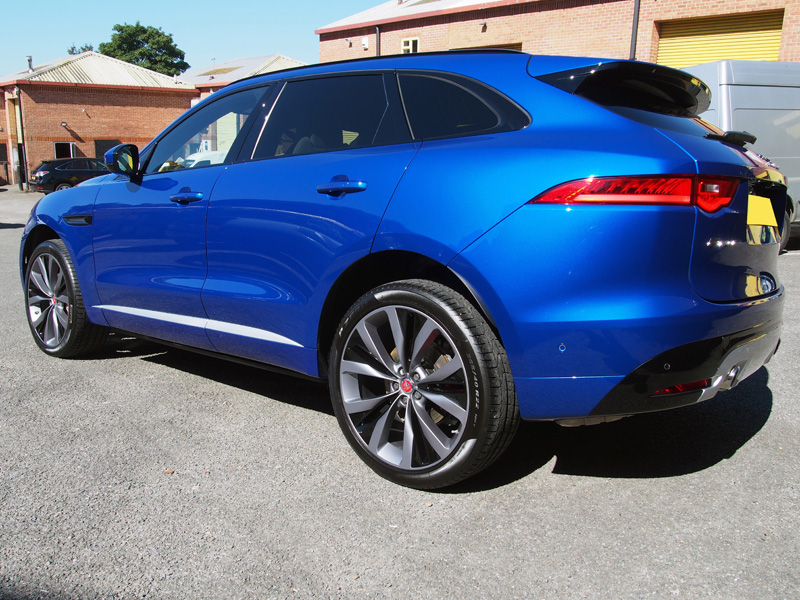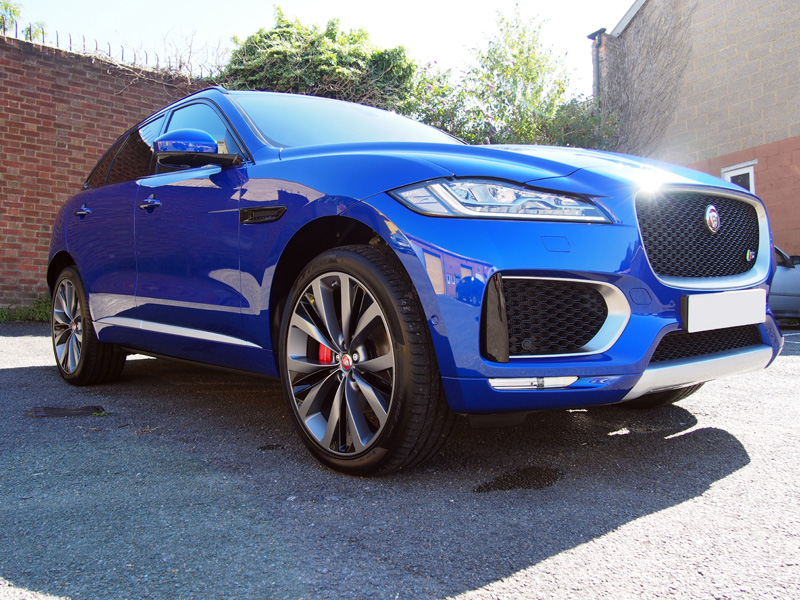 UF Detailing Studio – Award Winning Detailing. Call 0333 800 8004 to discuss your requirements.
Video: The Frozen One | Jose Mourinho drives the new Jaguar F-PACE on ice