Hi-Tech Protection For A Mercedes-Benz GLC 250 AMG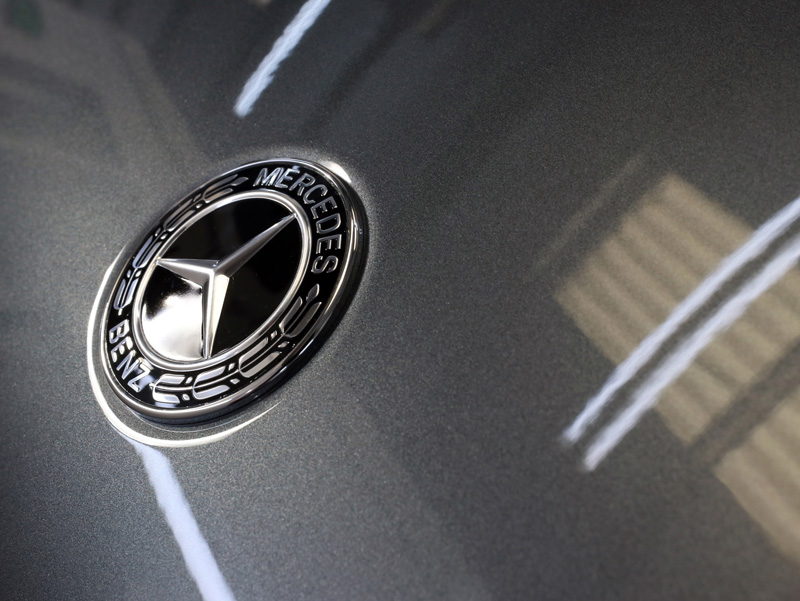 If you're in the market for a compact SUV with serious road presence, the Mercedes-Benz GLC is a worthy contender for a spot on your driveway. The designation 'GLC' is derived from the model base name, 'G',  which represents Geländewagen, the German word for an off-road vehicle. L links to the letter C, indicating this is the SUV equivalent to the C-Class in terms of refinement and luxury.
And refined it certainly is. The interior features ARTICO leather seats, the front seats being all electric with four-way adjustable lumbar support and matt black wood centre console. The sprinkling of metal highlights across the dashboard is pleasantly illuminated by the 2-piece sliding panoramic sunroof. It's practical too, with plenty of room for four adults, and an enviable boot load space that delivers 550 litres, expanding to 16,000 litres with the rear seats folded down!
The GLC that arrived at UF Studio for a range of New Car Protection treatments was the AMG version and so benefitted from AMG body styling and 19″AMG alloy wheels painted in titanium grey. It's a capable off-roader too, with sports suspension firming up the suspension, reducing body roll and making it more comfortable over uneven terrain. AMG sports pedals, branded floor mats and flat-bottomed steering wheel help present the tougher, sportier feel of the SUV. Delivering kW 155 (HP 211) of power @5500, 350 Nm, it's no slouch even though it's a relatively heavy car. 
This GLC had been driven directly from the dealership to the studio and so had had little opportunity to collect too much road debris. Presented in Selenite Grey Metallic, a paint option, the new owner was keen to ensure the car maintained its 'as new' look for a long as possible.
New Car Protection treatments are designed to maintain the cosmetic appearance of each substrate on a vehicle. Although modern paint and clear coat technologies are leagues ahead of where they started, they're still susceptible to swirls and scratches the majority of which can happen during the wash process. The more swirled the paintwork is, the less glossy it appears until you get to a point where the finish looks dull and lacklustre. Add in damage from harsh chemicals from cheap car washes, industrial and environmental fallout out, and it's hardly surprising cars lose their 'as new' look. Our New Car Protection Package uses ceramic coatings to protect the various surfaces of the car, acting as a sacrificial layer, preserving the integrity of the clear coat. – Matt Back, Master Detailer, UF Studio
The owner of the new GLC had selected a paint protection treatment with a platinum coating upgrade to Kamikaze Collection ENREI Coat. In addition, the glass, wheels and leather were all to be protected with nano-ceramic coatings to help preserve their appearance.
First, the GLC was decontaminated to ensure it was completely free from hidden particles that would interfere with both the ceramic coating's ability to bond with the substrates and that would also affect the overall finished appearance. UF Iron + Fallout Remover was sprayed onto the wheels and under the wheel arches, to ensure any brake dust particles were eliminated. Then, the same areas were treated with Bilt-Hamber Surfex HD to combat oil-based road grime. Finally, the wheels were cleaned using UF Safe Wheel Cleaner using Wheel Woolies to ensure the rims were cleaned, front and back, removing every trace of dirt. Once the wheels and wheel arches were clean, the whole car was treated for iron particles, then degreased. The final stage for decontamination was to treat the bodywork for adhesives such as tar, as well as the residue from protective transportation coverings.
Ultimate Snow Foam was applied through a Kranzle-adapted foam lance attached to a K-1152 TST pressure washer. The thick lather clings even to vertical surfaces for longer dwelling times, allowing larger particles of dirt and grit to be lifted away from the surface and encapsulated within the foam. They can then be easily rinsed away.
Once a ceramic coating is applied, debris and contamination will slide off the car more easily keeping it cleaner for longer. This is a key factor in how ceramic coatings help maintain the aesthetics of the car. In addition, the inherently tough chemical composition of the coating resists swirls whilst being virtually impervious to extremes of pH, so the paintwork is protected from acid rain fallout and the harshest of winter conditions. – Matt Back, Master Detailer, UF Studio
The GLC was cleaned using UF Pure Shampoo and two buckets to keep wash and rinse water separate: a further process designed to keep paintwork safe. Once clean, the suds were rinsed away before the car was given a final rinse with water purified through an Aqua Gleam De-ionising Water Filter.
Once inside the studio, the GLC was carefully placed on a hydraulic ramp so it could be lowered and raised, facilitating the detailing process. A BigBoi BlowR Pro was used to dry the car, the twin motors generating a stream of warm, filtered air to chase water off panels, away from areas liable to trap water such as mirror housings, and to more effectively dry hard to reach areas such as around wheel nuts.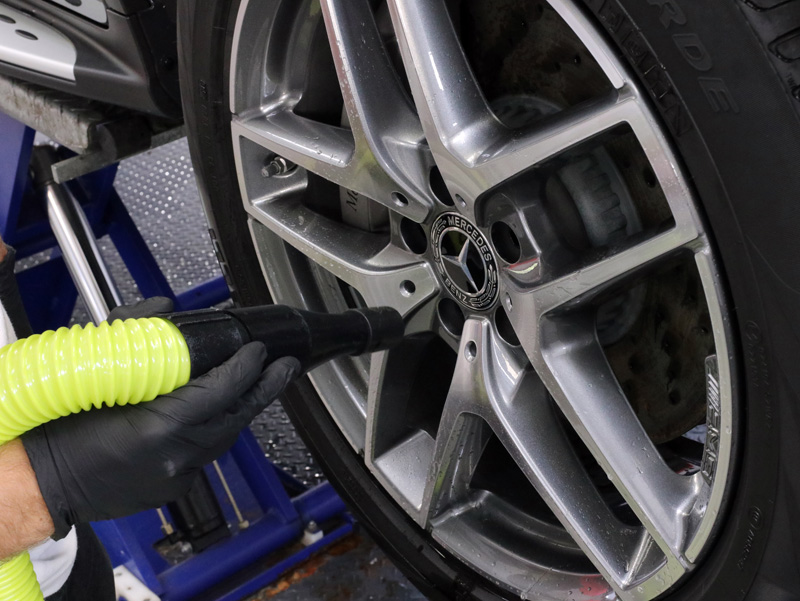 With the car now decontaminated and clean, the paintwork could be properly appraised. Using SCANGRIP lighting, panels were inspected for damage that may require machine polishing prior to sealing.
New cars aren't always in pristine condition, as sometimes paintwork has already incurred damage either in transit or through hurried wash techniques employed by dealerships. As the ceramic coating is going to last for years, it's essential to ensure the paintwork is in perfect condition prior to its application, otherwise, you're sealing the imperfections permanently beneath the coating. – Matt Back, Master Detailer, UF Studio
The paintwork was determined to generally be in good condition, although a scratch was discovered on the lip of the boot.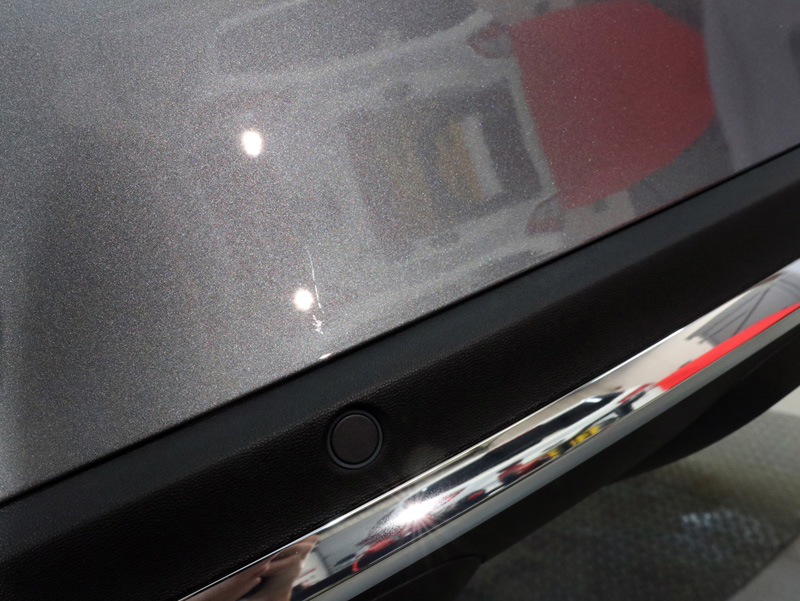 A FLEX XFE-7-12 80 Roto Random Orbital Polisher was used with a Meguiar's 3-inch Microfibre Cutting Disc and Koch-Chemie H8.02 Heavy Cut compound, an ideal combination for hard, scratch resistant paintwork.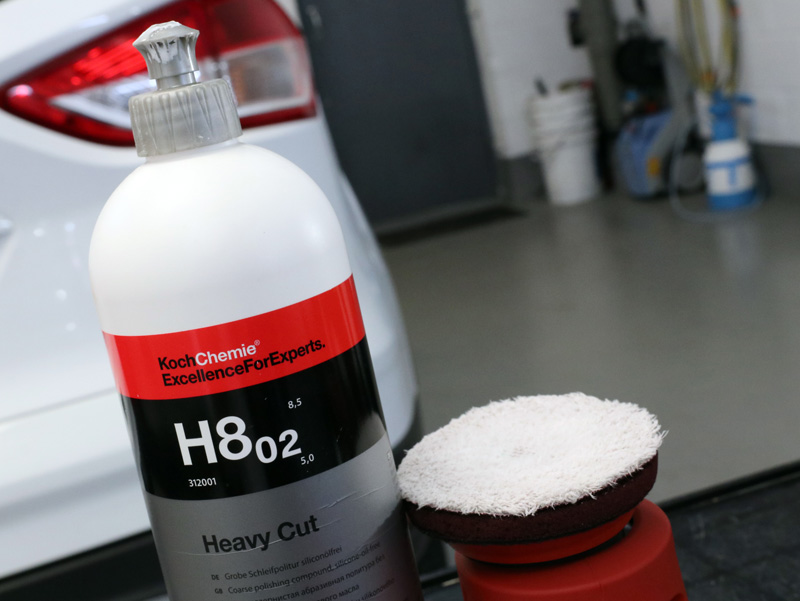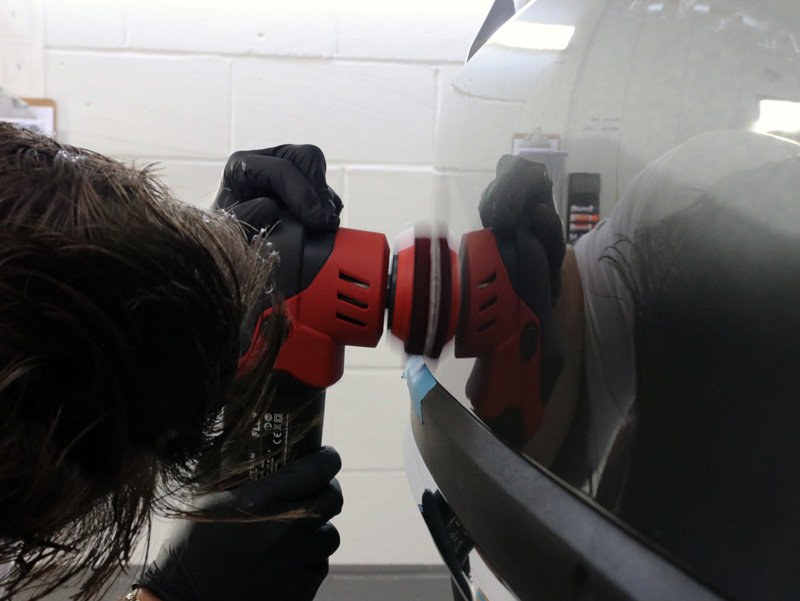 To ensure the rest of the metallic paintwork was as glossy as possible, it was given a light machine polishing using a FLEX XFE 7-15 150 with a Flexipads 'Coolshine' Black Finishing Pad together with Menzerna Super Finish Plus 3800. The combination of the soft finishing pad with the fine abrasives in the polish brought the Selenite Grey Metallic paintwork out beautifully.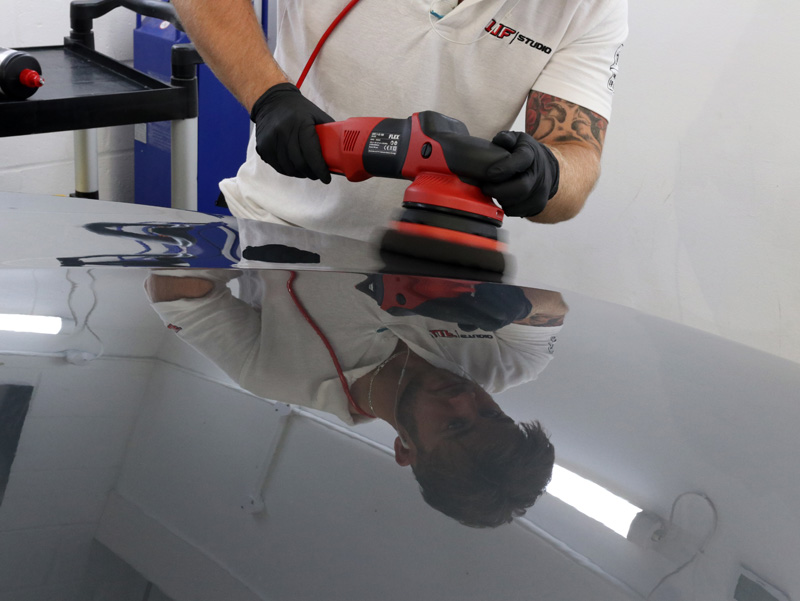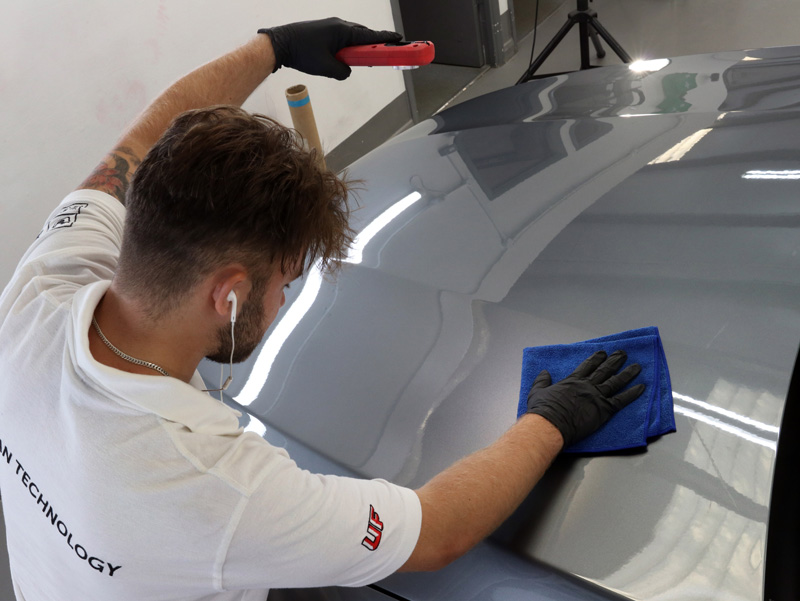 To ensure all polish residue has been removed Gtechniq Panel Wipe was sprayed onto the panels and wiped with a microfibre. This uses a blend of aromatic solvents and pure alcohols to dissolve any polish residues and 'flash' off, leaving a completely decontaminated surface ready to receive the ceramic coating.
The owner had elected to have Kamikaze Collection ENREI Coat applied to protect the paintwork.
ENREI Coat is Kamikaze Collection's flagship coating, a two-stage system consisting of No.1 Base Coat Primer and No.2 Top Coat. The base coat is designed to have a high chemical affinity for the clearcoat, whilst offering an enhanced anchoring layer for No.2 Top Coat. ENREI imparts a hydrophobic slickness to treated surfaces, repelling rainwater and waterborne contamination inhibiting environmental and industrial fallout from adhering. This makes treated surfaces easier to keep clean and reduces the requirement for excessive rubbing at the panels with a mitt during the weekly wash. This, combined with the natural swirl-resistance of the coating helps protect clear coats from damage. However, the efficacy of ENREI is reliant not only on the formulation of the coatings but also in the application process which has been extensively researched and developed by Kamikaze Collection. In addition to a strict application protocol, ambient air temperature and humidity must be within specific parameters to allow the coatings to bond and cure fully, during which time the vehicle must be kept away from the elements. For all of these reasons, ENREI Coat is available only as a service through the Kamikaze Collection trained and certified detailer network.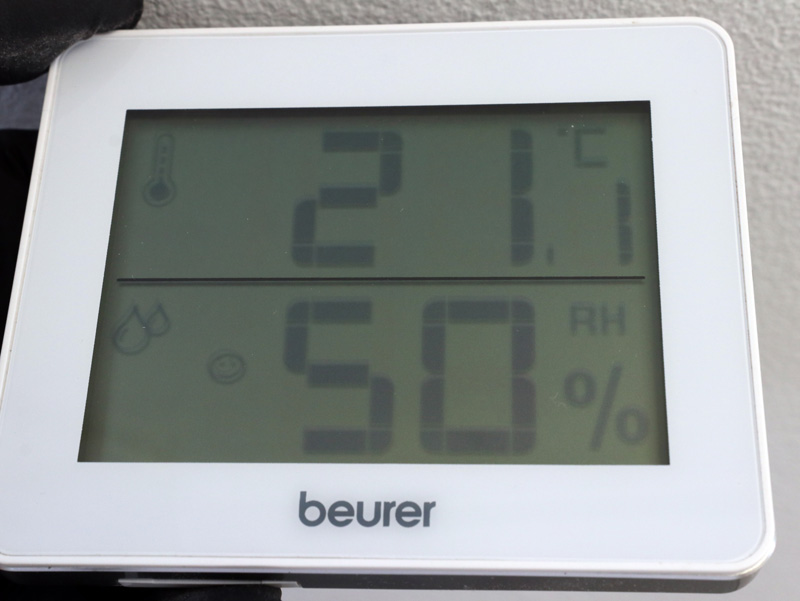 ENREI No.1 Base Coat Primer is applied using a specific microfibre cloth applicator wrapped around a foam block for stability.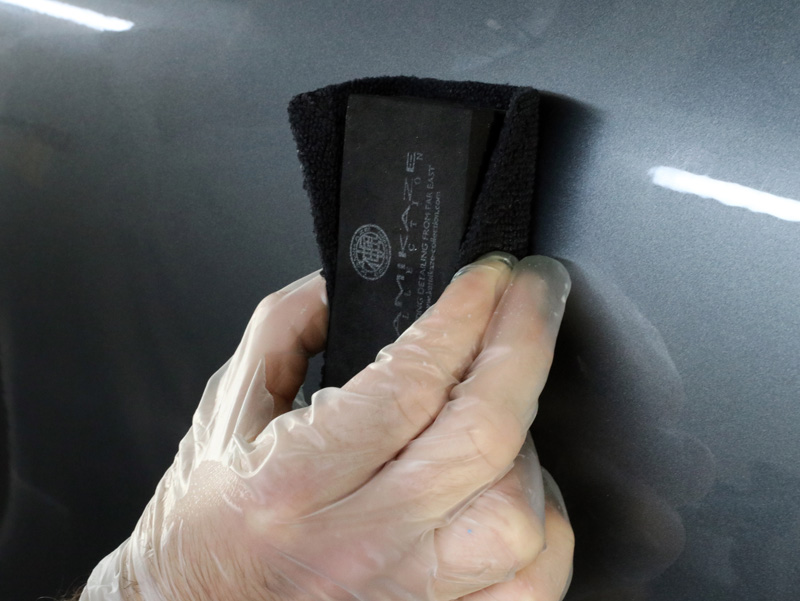 The first coat is allowed to cure for around five minutes. No.2. Top Coat is allowed to cure for between 5 and 10 minutes.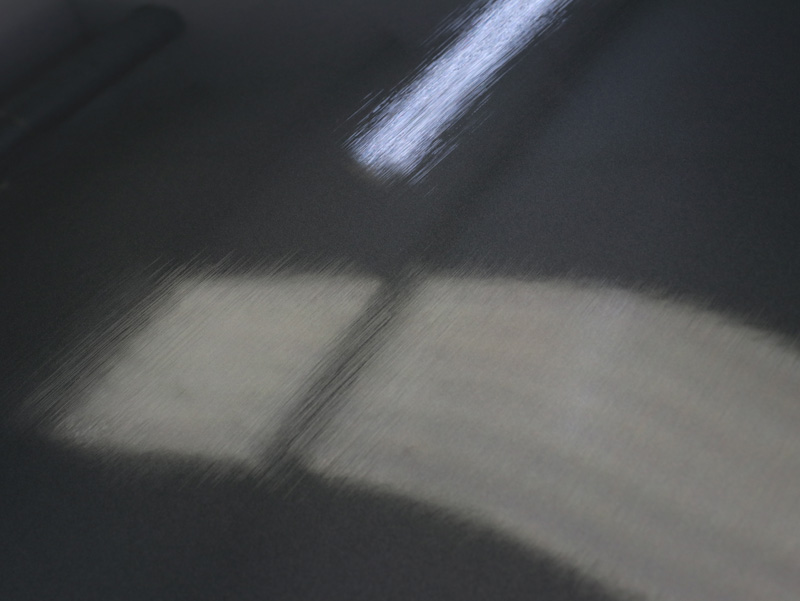 Once the curing time has passed, the residue is buffed using soft microfibre cloths.
As well as having the paintwork protected, the GLC's wheels were protected using Kamikaze Collection Stance Rim Coat.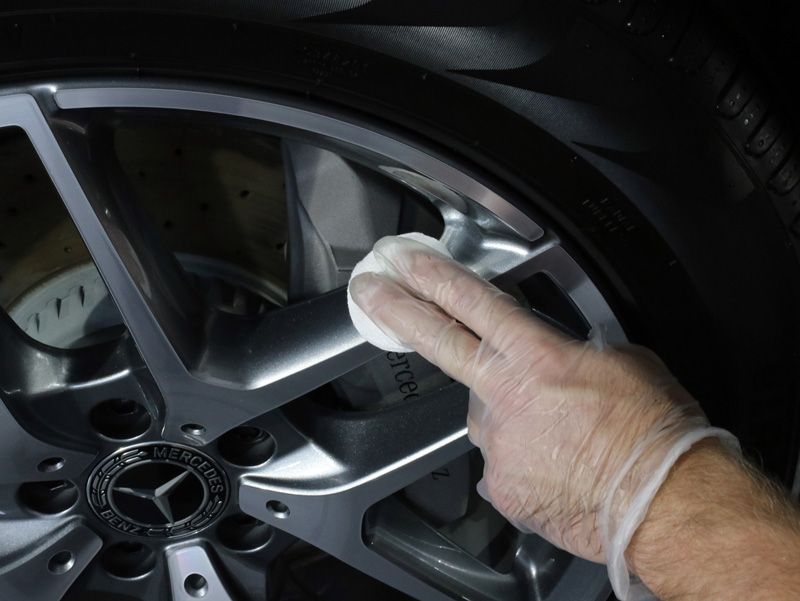 Impervious to extremes of pH and resistant to high temperatures, Stance Rim Coat will not wash away with astringent wash chemicals nor burn off when the wheels become hot. Treated wheels are protected against brake dust build-up, road grime and chemicals associated with winter roads. The tyres were then dressed with Gtechniq T2 Tyre Dressing to impart a natural satin sheen to complete the look.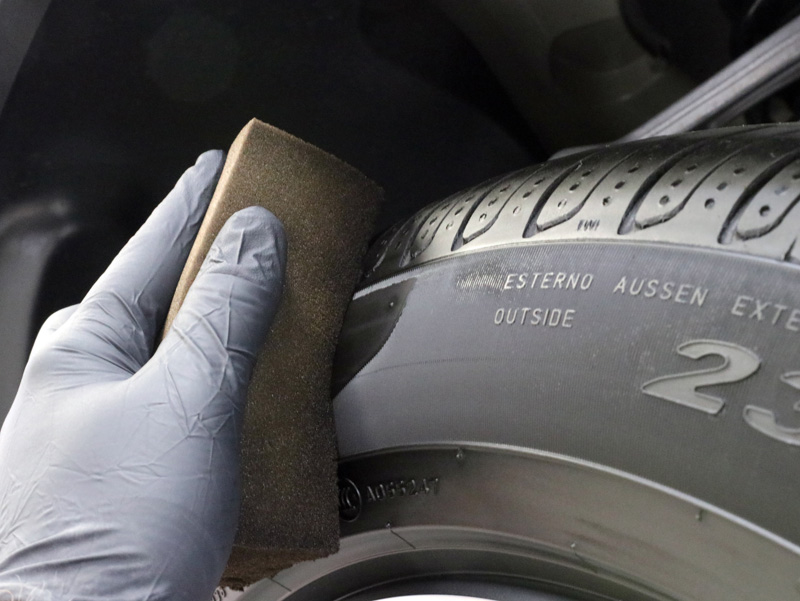 The windows were sealed using Gtechniq G1 ClearVision Smart Glass, a hydrophobic coating that encourages rainwater to roll into beads on contact so they blow away even whilst driving at relatively low speeds. This helps keep the windscreen clearer making conditions less tiring for the driver when travelling in poor weather conditions.
The owner had decided to switch the original plates for personalised registration plates, so the new plates were also protected using ENREI Coat. Some polish stains were visible on some of the black plastic trim surrounding the mirror housings so the black was revived and protected using Gtechniq C4 Permanent Trim Restorer.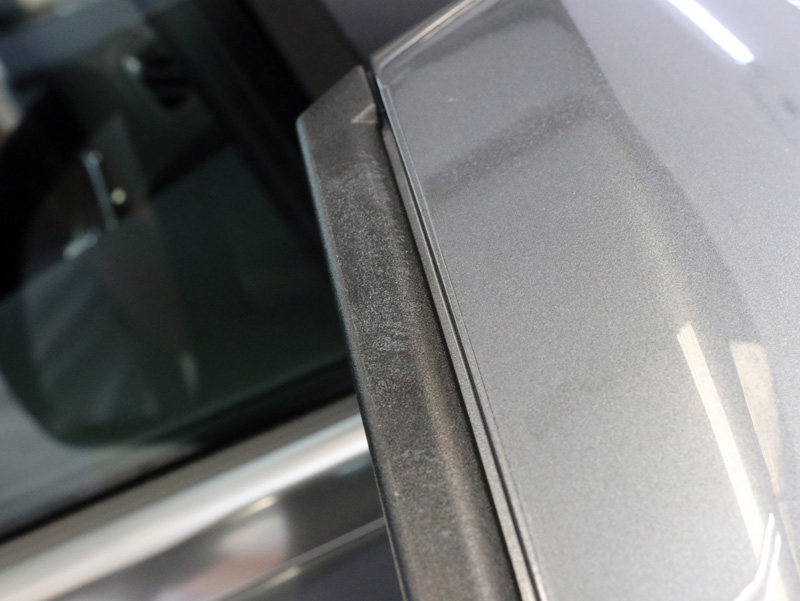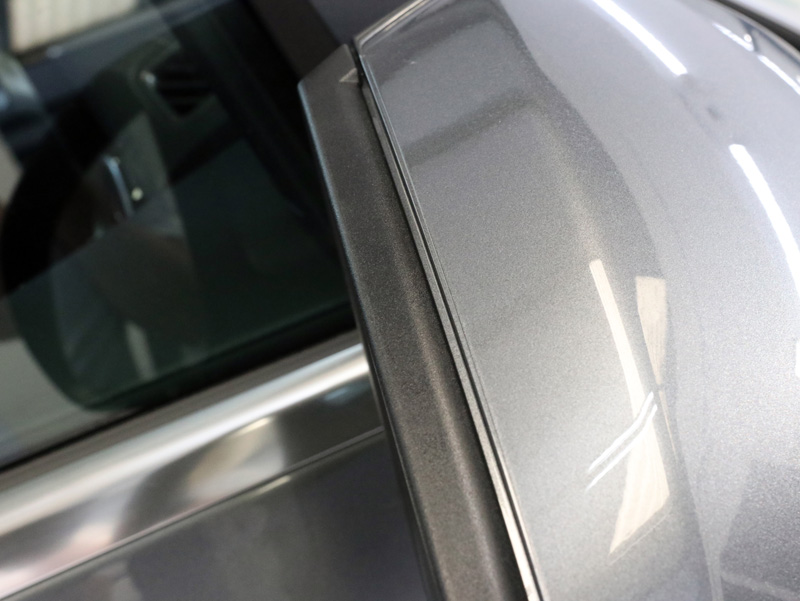 In addition to having the exterior surfaces protected, the owner was keen to ensure the ARTICO leather interior was treated too. Colourlock Mild Leather Cleaner was used first to ensure the leather upholstery was completely clean. After allowing the material to dry, Gtechniq L1 Leather Guard AB was applied. L1 AB provides a water and abrasion-resistant barrier, helping to prevent stains and scuffs, whilst the UV inhibitors help prevent the colour fading as a result of exposure to strong sunlight.  The 'AB' denotes L1 imparts a persistent anti-bacterial function, so surfaces are kept germ-free.
Some customers opt for only protecting the exterior of a new car but protecting the interior as well is highly recommended: after all, you spend more time looking at the inside of a car than you do the outside! Keeping both in a premium condition not only makes a car more attractive to prospective buyers but also helps preserve resale values. – Matt Back, Master Detailer, UF Studio
Fully protected, this GLC AMG is ready for anything the roads can throw at it – and a few green lanes too!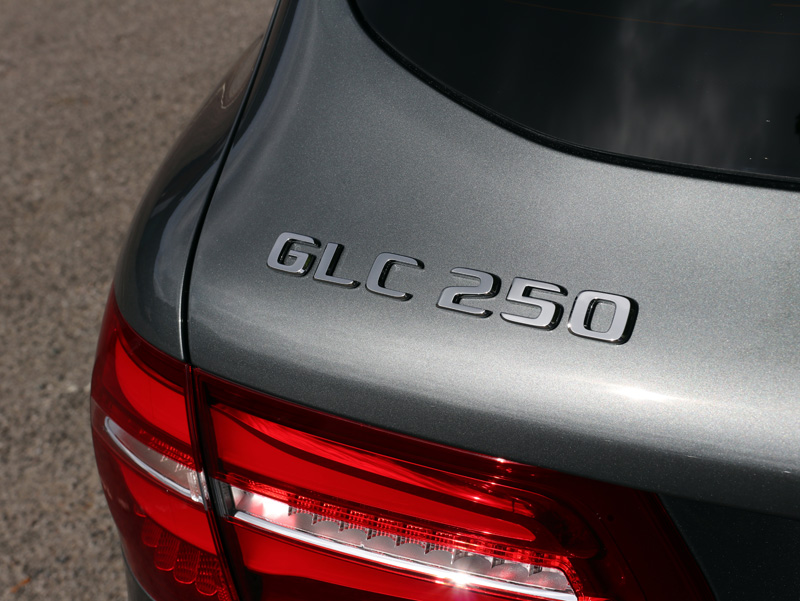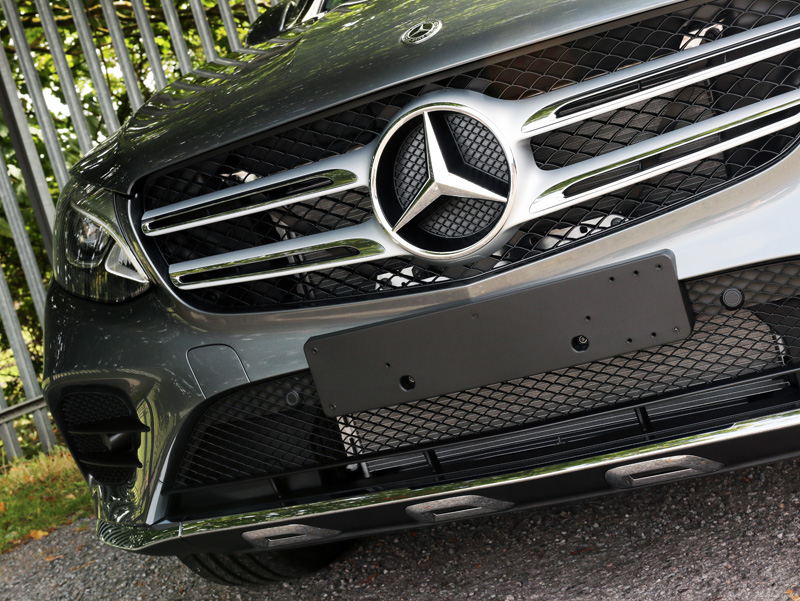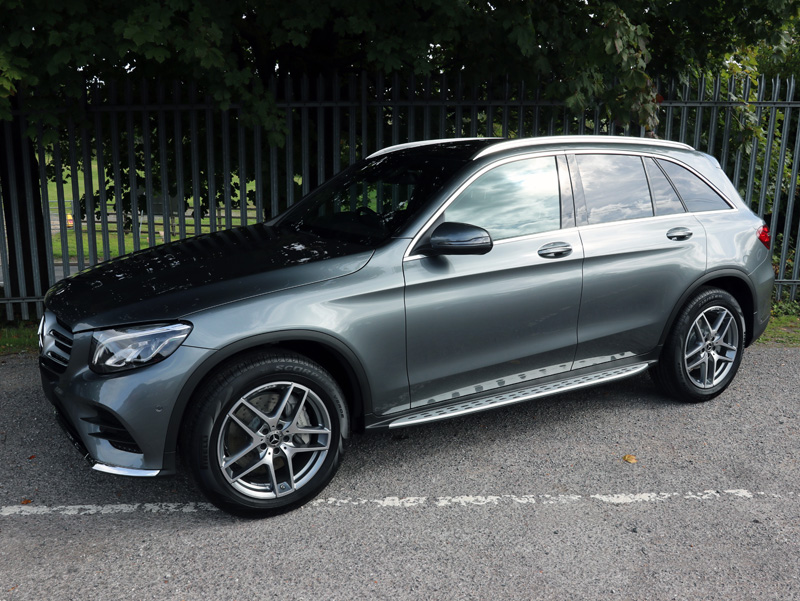 UF Studio – Award Winning Detailing. Call 0333 800 8004 to discuss your requirements or complete the online enquiry form here to receive a bespoke no-obligation quotation by email.