1K-Nano Protection For Porsche's New Cayenne S E-Hybrid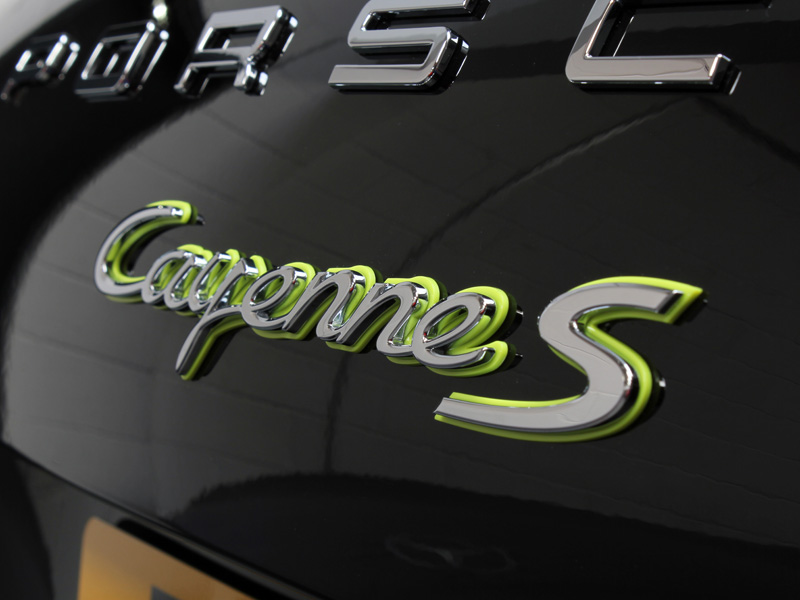 In the increasingly competitive hybrid market, Porsche has a new offering aimed particularly at the eco-friendly and budget conscious business buyer. The new Porsche Cayenne S E-Hybrid, replaces the former Cayenne Hybrid. Using more advanced electric motor and battery technology from the Panamera E-Hybrid, the Cayenne S E-Hybrid offers a combined parallel hybrid petrol-electric output of 410bhp capable of propelling from 0-62mph in around 5.9 seconds, topping out at 151mph – no mean feat for a car that weighs in at 2350kg. The 10.8kWh lithium-ion battery recharges in just 3.5 hours and in pure EV mode has a range of 22 miles, achieving a maximum electric speed of 78mph. Safe to say the electric hybrid has come a long way. Porsche fans will not be surprised by Porsche's ability to rise to the challenge.
Taking advantage of the concierge service offered by Ultimate Detailing Studio, this brand new Cayenne S E-Hybrid was booked in for a New Car Protection Treatment and subsequently collection was arranged from the customer's home. Unfortunately, between the customer purchasing the car and it being collected, the neighbour's cat decided to admire the Cayenne close up!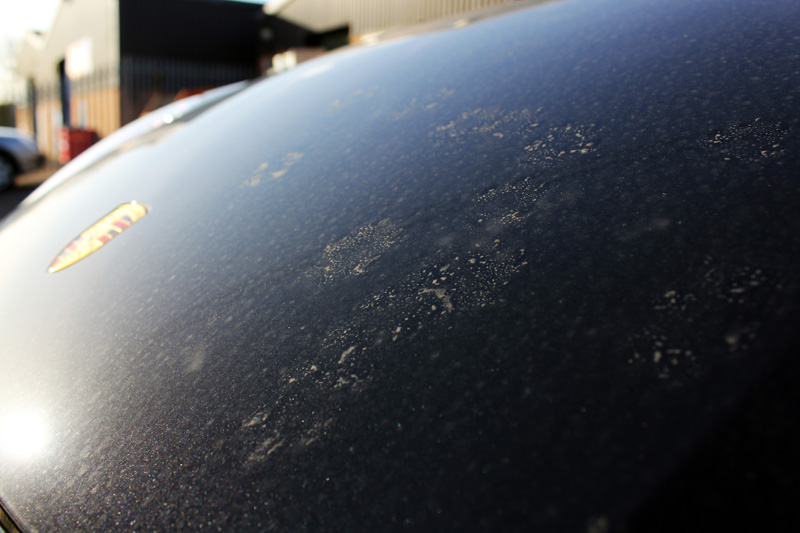 We would always suggest bringing a new vehicle directly to the studio to get the protection treatment in place immediately. However this isn't always practicable and unfortunately in this case, the neighbour's cat had jumped on to the bonnet of the Cayenne. Apart from leaving muddy paw prints over it, the cat also scratched the bonnet. There isn't a sealant that would prevent scratches such as these but a slicker surface may have discouraged the feline from attempting to investigate it! – Derek Ginger, Master Detailer, UDS
Apart from the cat scratches, overnight rain had left the Cayenne covered in road grime and as seems to be the norm these days, a considerable amount of environmental fallout.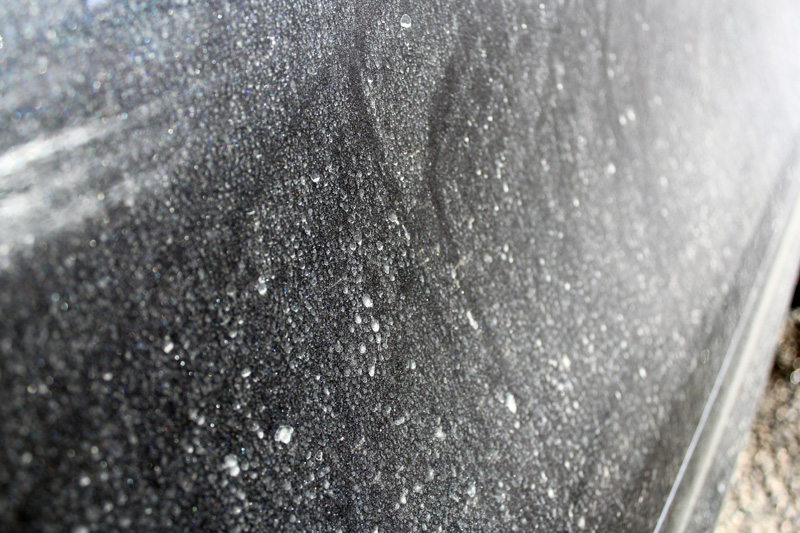 Before the car could be protected, it first had to be thoroughly cleaned to near clinical standards. That process begins with a complete decontamination process. The first step was a treatment of Koch-Chemie Reactive Wheel Cleaner, a ferrous contamination remover which shrinks iron particles on contact, breaking the bond with the underlying substrate and allowing the particles to be freely rinsed away. The colour change function demonstrates areas of iron particle build up.
After rinsing the Cayenne was then treated with Gtechniq W5 Citrus All Purpose Cleaner to remove grease and road grime deposits.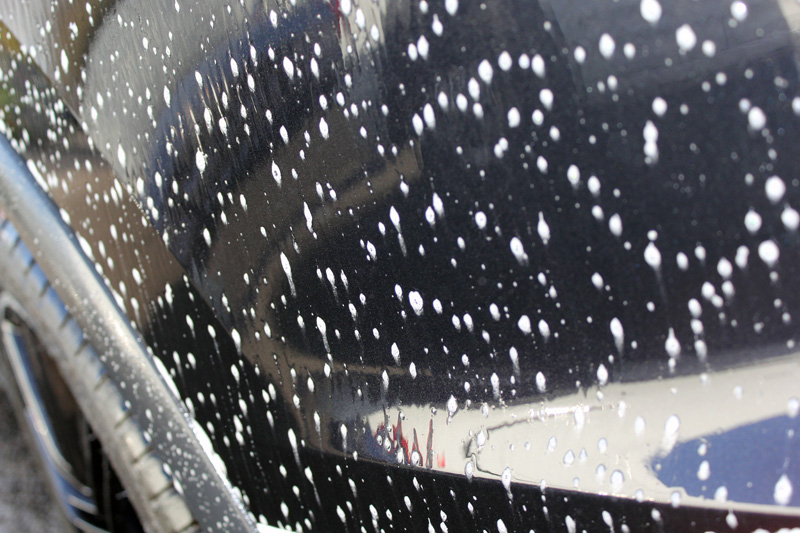 Then the Cayenne was pre-washed using Ultimate Snow Foam to remove any remaining larger particles of dirt and grit.
The paintwork had already collected some wounds from the cat and being Basalt Black it showed up every mark. To help eliminate the chances of putting additional scratches into the paintwork during the main wash process I used Ultimate Snow Foam. This high foaming pre-cleaner gets under the dirt particles, lifting them away from the surface of the car and allowing them to be rinsed away with a pressure washer prior to contact with a wash mitt. – Derek Ginger, Master Detailer, UDS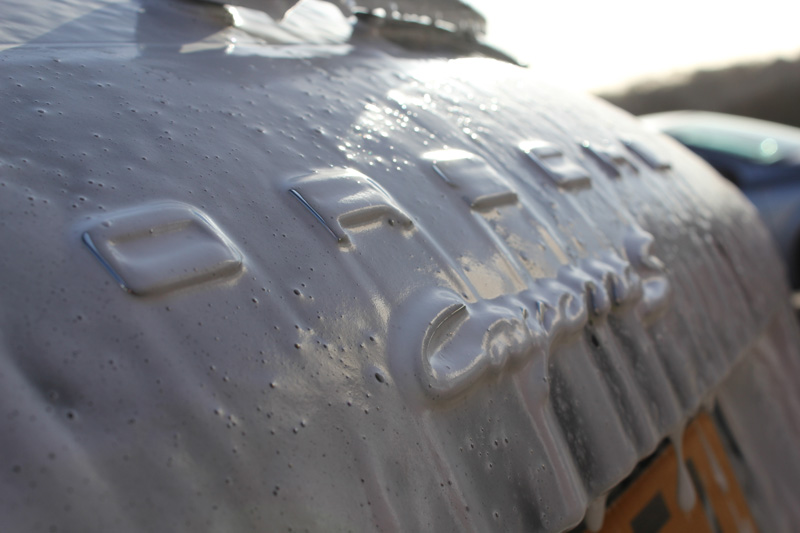 Using a Kranzle 1152 TST Pressure Washer, Ultimate Snow Foam was safely rinsed away. The Cayenne was then washed using the Two Bucket Method, an Ulti-Mitt Double Sided Merino Wash Mitt and Koch-Chemie NanoMagic Shampoo. With the paintwork and wheels clean and rinsed, an Aqua Gleam De-ionising water filter was connected to the hose and the Cayenne given a final, pure water rinse. This filter neutralises the impurities in tap water which otherwise leave unsightly water spot marks. The Cayenne was dried using soft microfibre towels and brought in to the detailing studio. At this point the wheels were removed to allow access to the lime green brake callipers which the customer had specifically requested be protected.
The paintwork was inspected under high intensity lighting to gauge the condition of the paintwork. With the exception of the cat scratches the rest of bodywork exhibited only light swirl marks.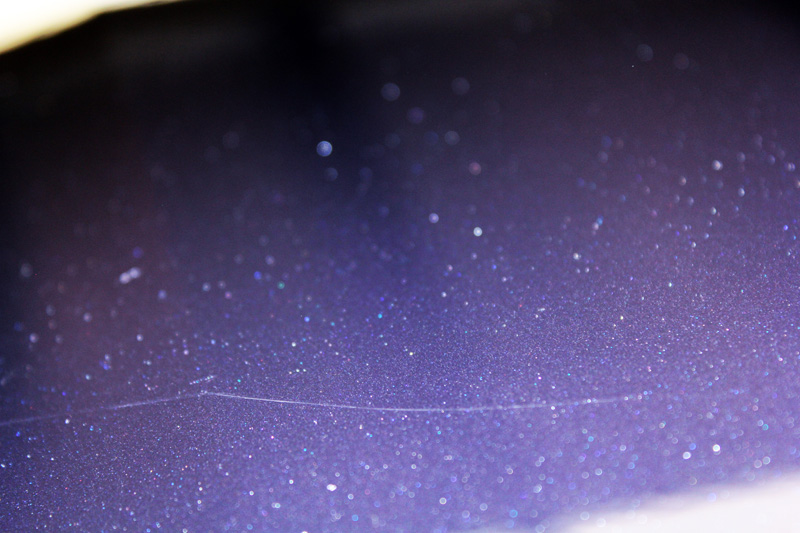 New Car Protection Treatments shouldn't require paintwork correction prior to the sealant being applied, but in this case the damage needed correcting first. Porsche paintwork is typically quite hard so I selected a Black 3M Polishing Pad with SCHOLL Concepts S40 Anti-Swirl Compound Black on a FLEX PE14-2-150 rotary polisher. This removed the light swirls quite quickly and I simply worked the cat scratch areas for longer, using the same combination. It's always best to use the least aggressive pad and compound combination to ensure only the minimum amount of clearcoat is removed. – Derek Ginger, Master Detailer, UDS
With the paintwork now restored to 'showroom' condition, two layers of Koch-Chemie 1K-Nano sealant were applied to protect the surface. The sealant was applied using a RUPES random orbital machine polisher for a perfectly uniform finish, which when buffed off delivered a gloss and slickness to the paintwork that is difficult to match!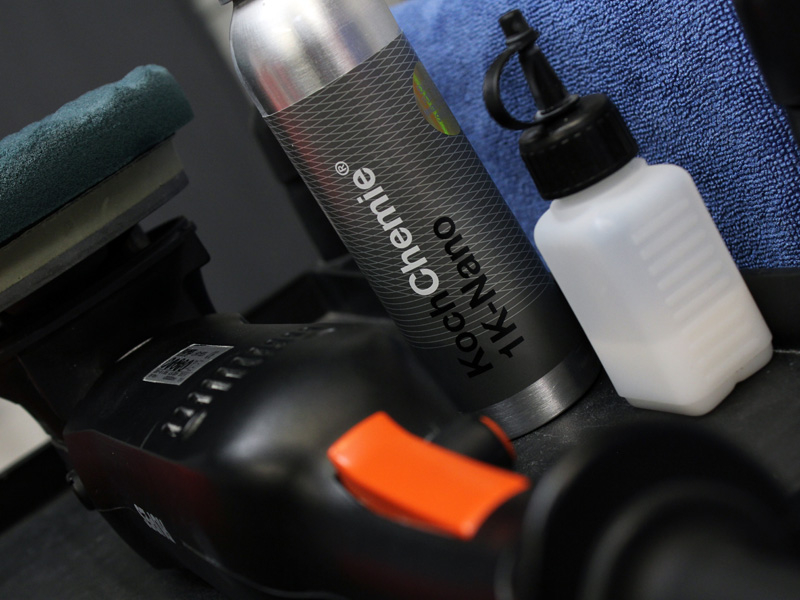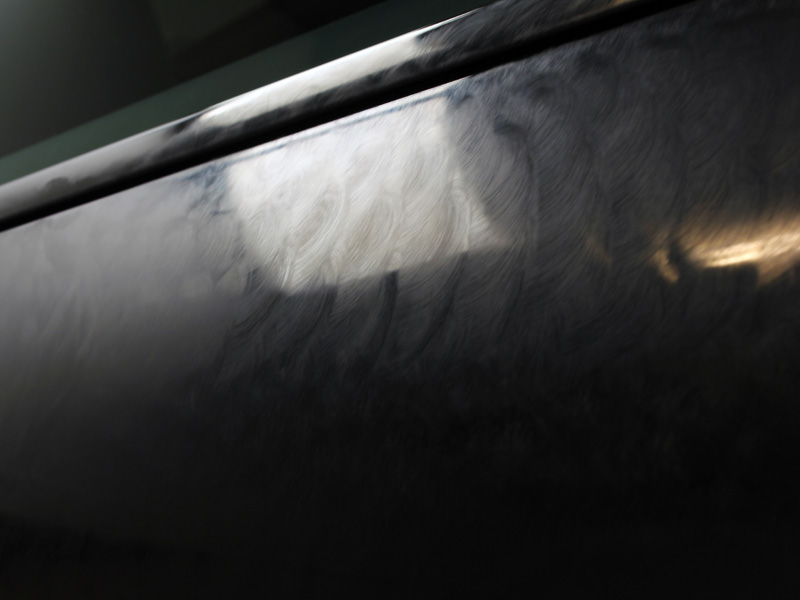 1K-Nano leaves a high gloss, deeply reflective, slick finish. The beading properties are remarkable so it has the effect of repelling dirt and water – quite handy with such a big car. By layering 1K-Nano it is possible to build up increasing levels of protection from wash chemicals, industrial and environmental fallout. And, as Koch-Chemie supplies car care products to Porsche in Germany, as well as a number of other prestigious German marques, it seemed the perfect choice for Porsche's latest show piece. – Derek Ginger, Master Detailer, UDS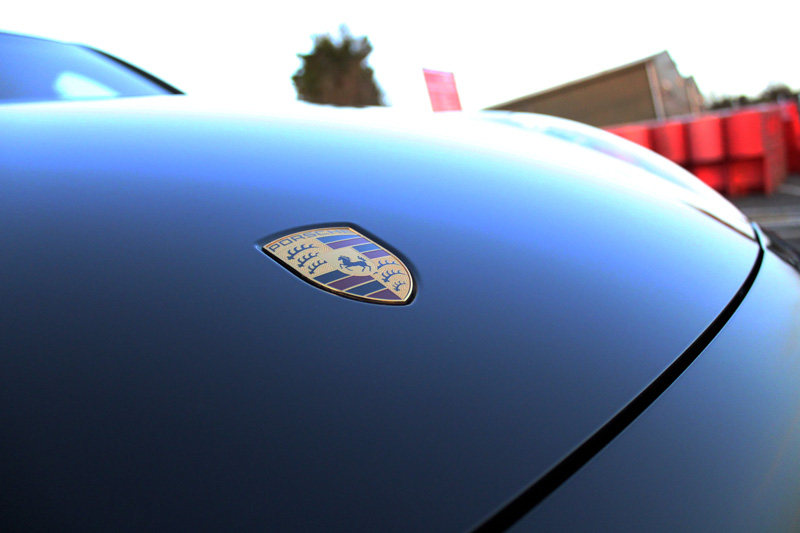 The alloy wheels and brake callipers were cleansed using Gtechniq Panel Wipe to ensure any residual traces of silicones were removed before being coated with Gtechniq C5 Alloy Wheel Armour. This highly heat resistant coating lays down a barrier which is hydrophobic and oleophobic (oil-repelling). Brake dust and road grime will not adhere to treated surfaces making them easier to clean and negating the requirement for harsh wash chemicals.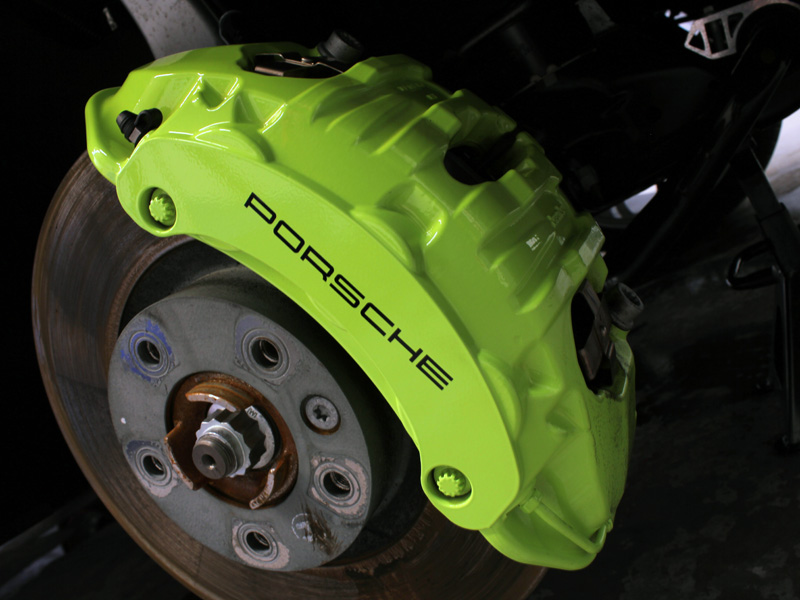 The glass was cleaned and then the exteriors treated with Gtechniq G1 ClearVison Smart Glass. This forms a hydrophobic barrier which causes rain water to bead on contact and allows it to be easily blown away whilst driving, even at lower speeds. To polish the exhaust tips Gtechniq M1 All Metal Polish – a chemical cleaner which burnishes brightwork – was used. M1 leaves a glowing lustre unseen with conventional abrasive metal polishes. Finally the tyres were dressed with Gtechniq T2 Tyre Dressing to leave a natural satin sheen.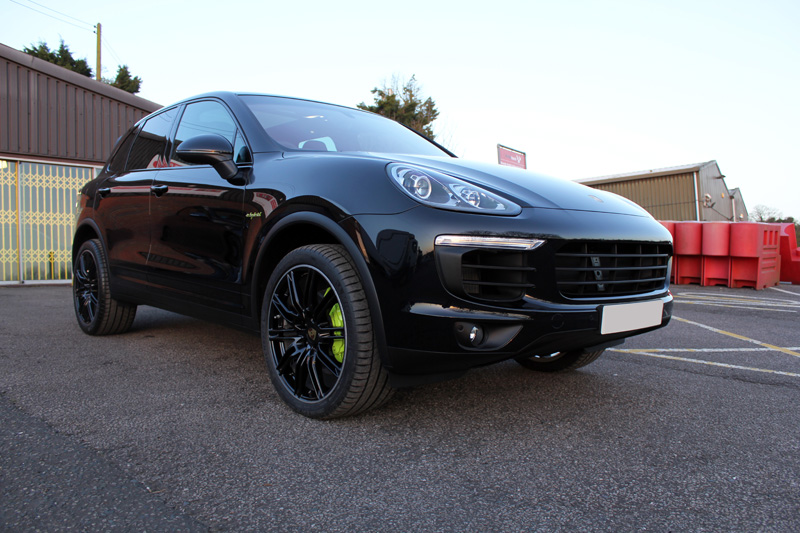 On delivering the Cayenne S E-Hybrid back to the customer, he was ready and waiting, eagerly anticipating delivery. Having been incredibly disappointed with the condition it was in when he last saw it, his reaction was heart-warming. The enhanced depth of shine and clarity of the metallic black paint reflected his expression perfectly!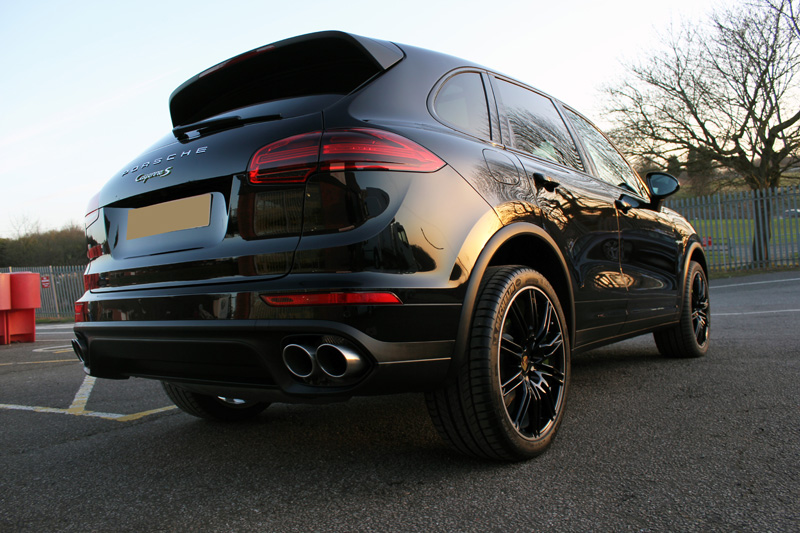 Ultimate Detailing Studio – Award Winning Detailing. Call 0333 800 8004 to discuss your requirements and arrange a free vehicle appraisal.
Ultimate Finish – Innovative Automotive Care since 1999.